Every Maryland girl has a recipe for two things: crab cakes and steamed shrimp, not to be confused with shrimp cocktail which is a totally different thing.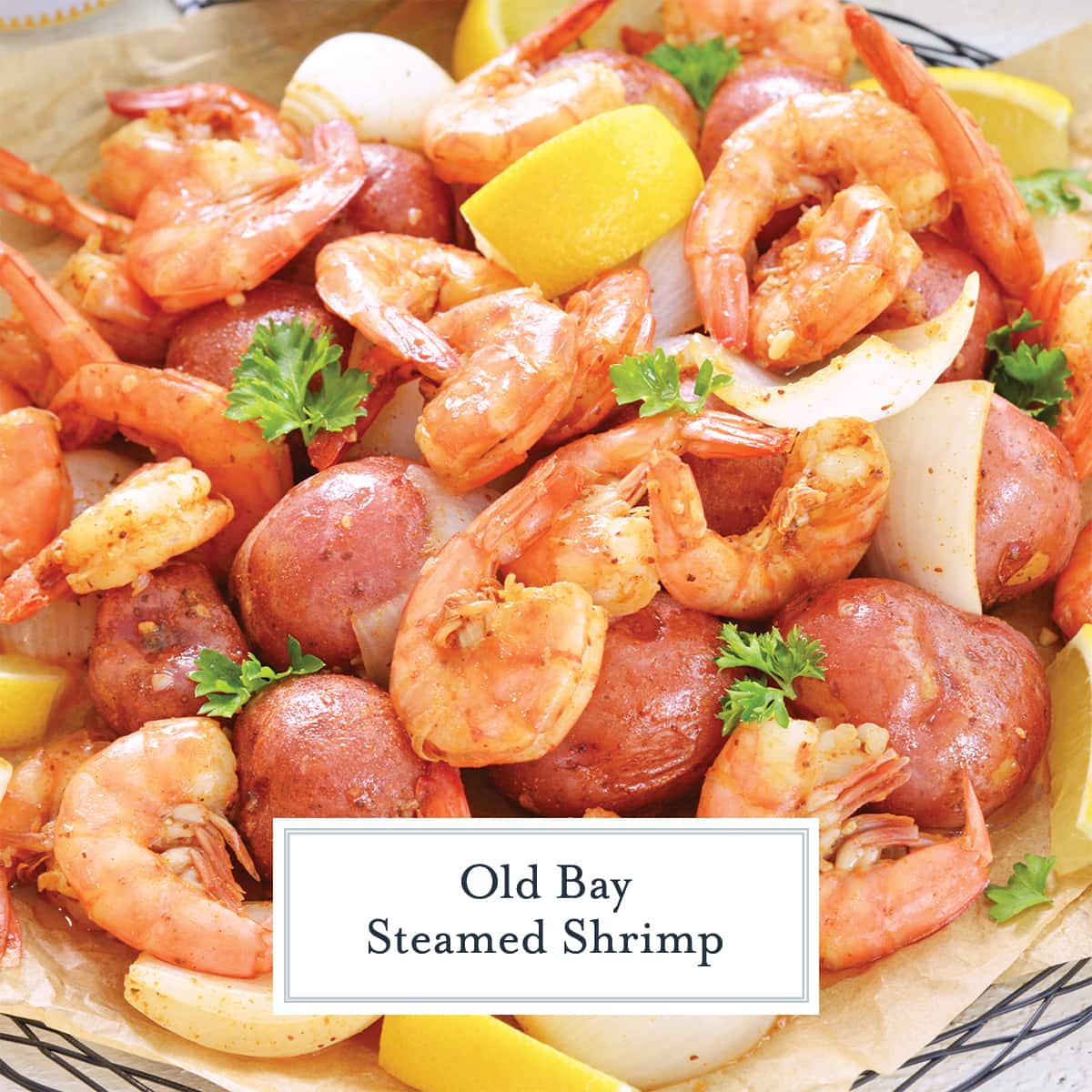 Marylanders take their seafood very serious and these two dishes top the list. Crab cakes don't include much filler or any veggies. Shrimp need to come with onions, potatoes and a healthy does of Old Bay seasoning. And if you are truly making them authentic… they don't get steamed in water, they get steamed in beer. Natty Boh to be specific.
Beer For Water
Let's discuss the reasoning here. Beer is much more flavorful. Many old bay steamed shrimp recipes call for the addition of vinegar; white apple cider or even red wine and this is an acid. Beer is also an acid so it provides the same flavor additions.
Natty Boh is about as Maryland as you can get for mass produced beer selections. While the iconic blinking face used to be made and bottled on Brewer's Hill in the heart of Baltimore City, it is now manufactured somewhere in Pennsylvania. Marylanders still hold in their heart as a true Maryland brew.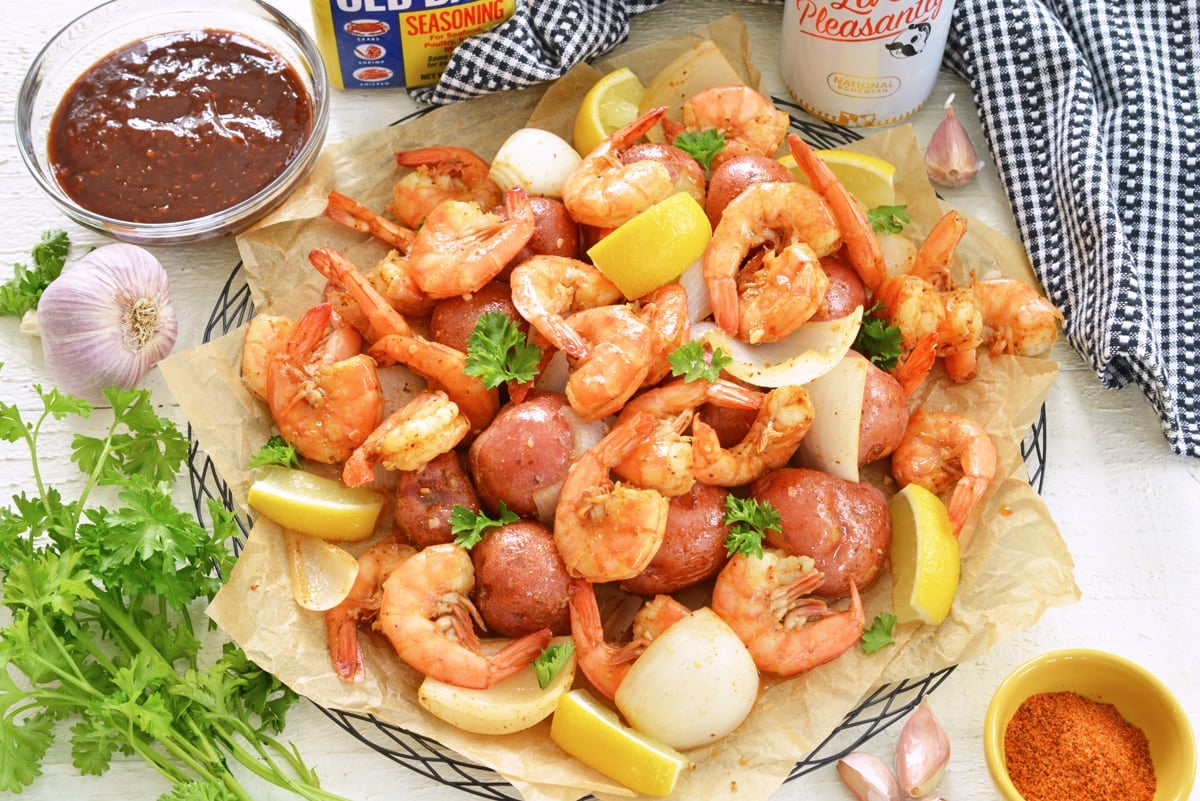 If you can't find Natty Boh, swap it out with any other light beer. And if you don't want to use beer at all, use water with 1-2 tablespoons vinegar. The alcohol content will burn off during cooking, so no need to worry about getting anyone drunk.
Types of Shrimp
What type of shrimp is best for steaming? This is a question I get a lot. Some people just buy whatever shrimp is at the store, shrimp is shrimp, right? But it isn't… and some shrimp withstands steaming better than others.
For steaming, pick by size first. Larger shrimp tend to do best and so do pink and white shrimp. The other will do if you prefer them, just make sure they are a size
White shrimp: Either caught wild or farmed, white shrimp tend to have less flavor than pink. The flavor they do have has been described as nutty or sweet. They are better with rich and flavor-forward sauces and spices. Their raw shells are a greyish-white and the while the shell turns pink when cooked, the actual shrimp stays white.
Pink shrimp: Most come from the gulf and these have a shrimp-ier flavor. They are mild and sweet and do best with mild and delicate sauces so you can actually taste the shrimp. When raw they have pink shells and both the shell and meat will be even more pink when cooked.
Brown shrimp: Another contender for shrimp flavor, these are sometimes mislabeled as white shrimp because the shells tend to be greyish as well. They are usually smaller and darker because of iodine content. They do turn pink when cooked and do best in hearty sauces because of their firm texture.
Royal red shrimp: They have a bright red shell and often look like little lobsters. They have sweet, tender meat and can be subbed for recipes calling for chopped lobster or langostinos.
Tiger shrimp: These are the big boys of shrimp and are sometimes called prawns. They have sweet, buttery meat and best served by themselves for a shrimp cocktail or with a light sauce. They are also ideal for grilling because they are large enough to not fall through the grates.
Rock shrimp: They have a spiny shell that is rough instead of smooth. The are smaller, but their meat is also comparable to lobster and great as a substitute.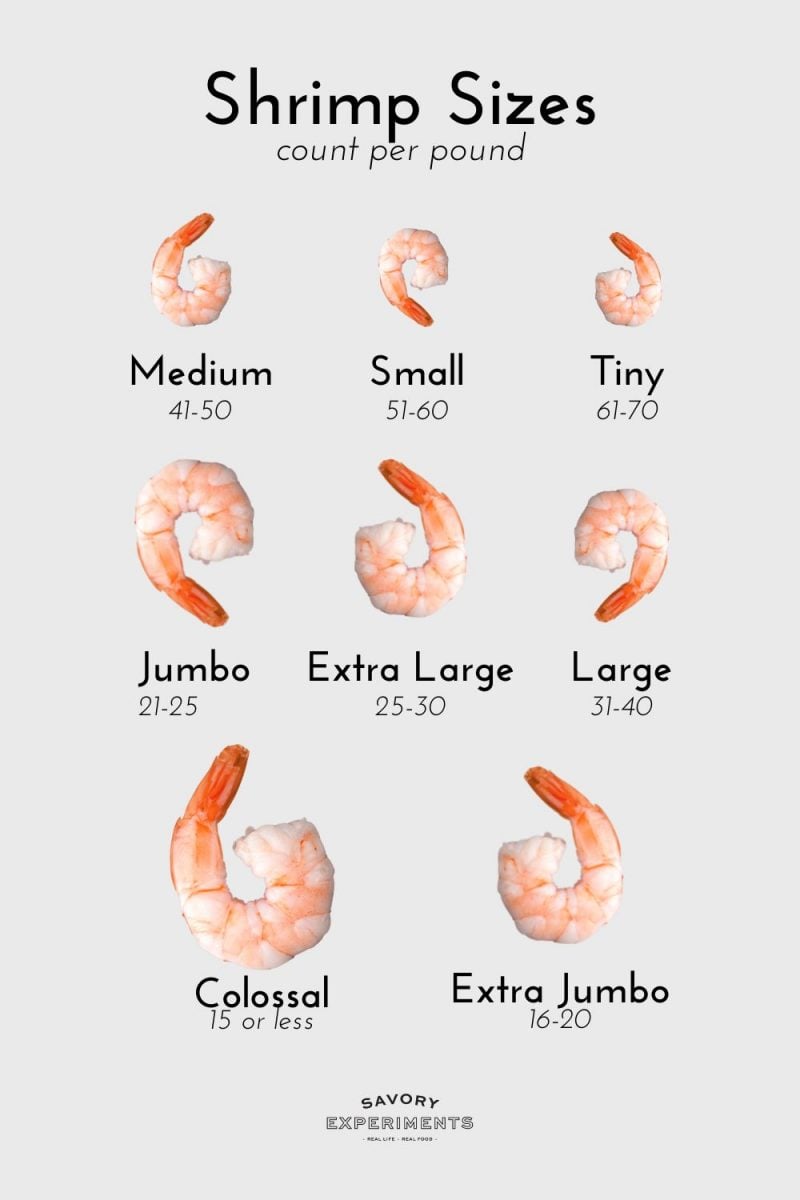 Shell On or Off?
The next question is always about the shell. Should you steam shrimp with the shell on or off?
There is a school of folks that would prefer the work to be done by the time they get down to eating and another that prefer the social aspects of peel-and-eat shrimp.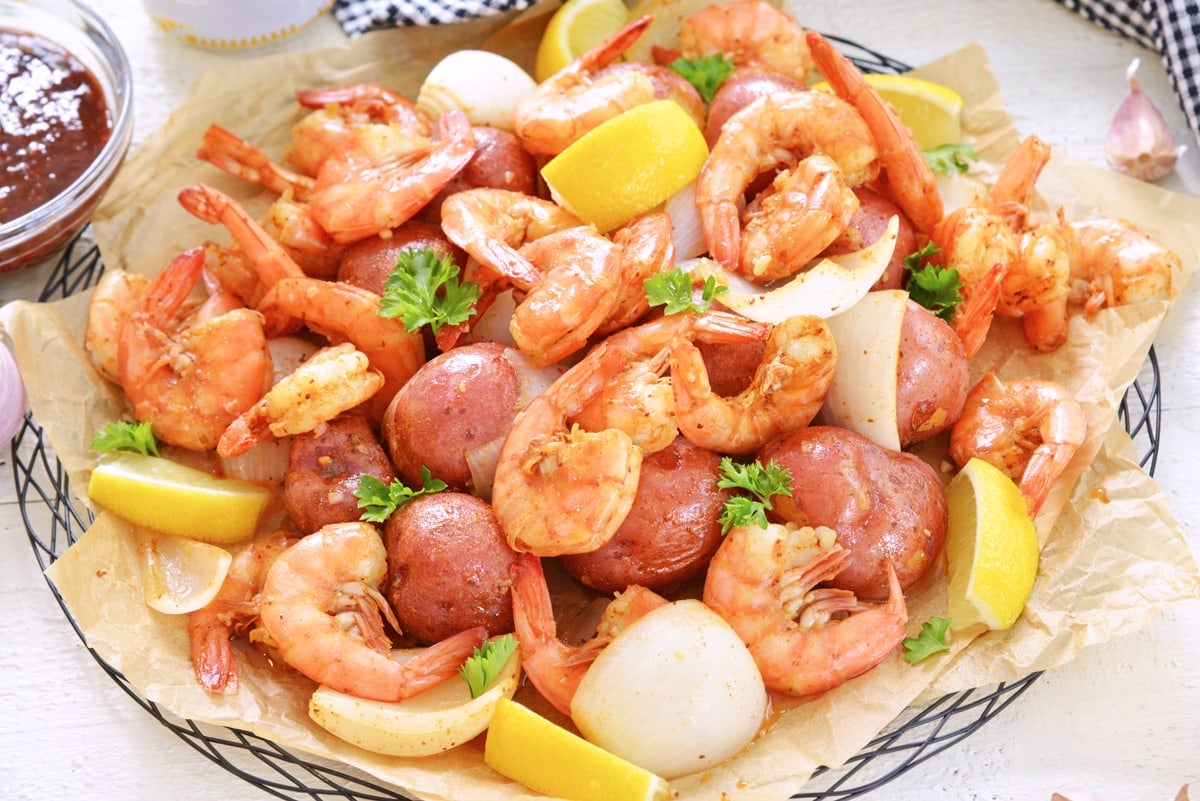 Leaving the shell on is proven to give a better result. There are two reasons for this.
It provides flavor.
Protects the delicate meat.
I do, however, vein the back vein before steaming. No one wants to be face-to-face with the poop shoot when eating. Don't toss te shells- use them to make a nice seafood stock. You can use them immediately or freeze them until you have time.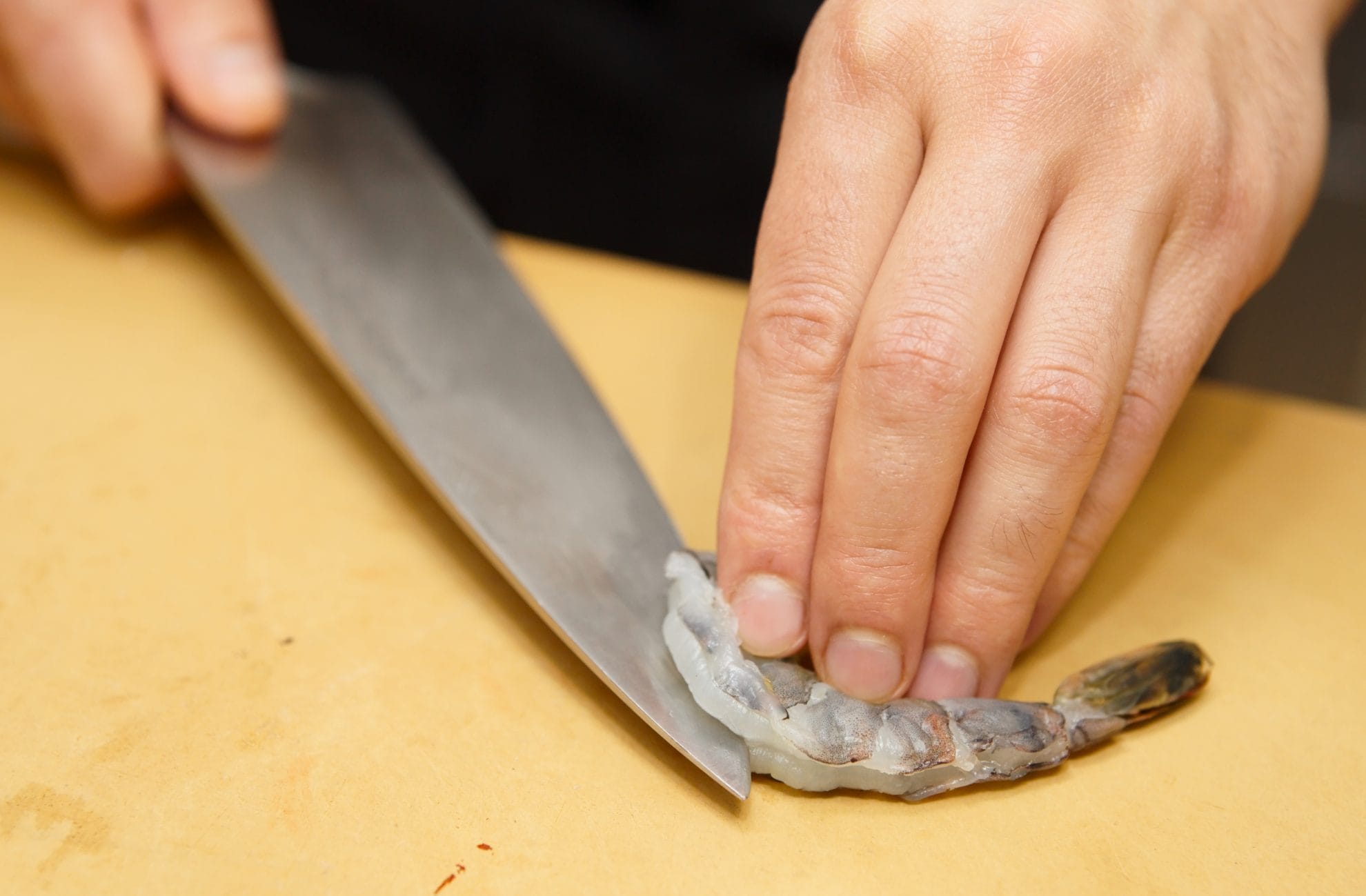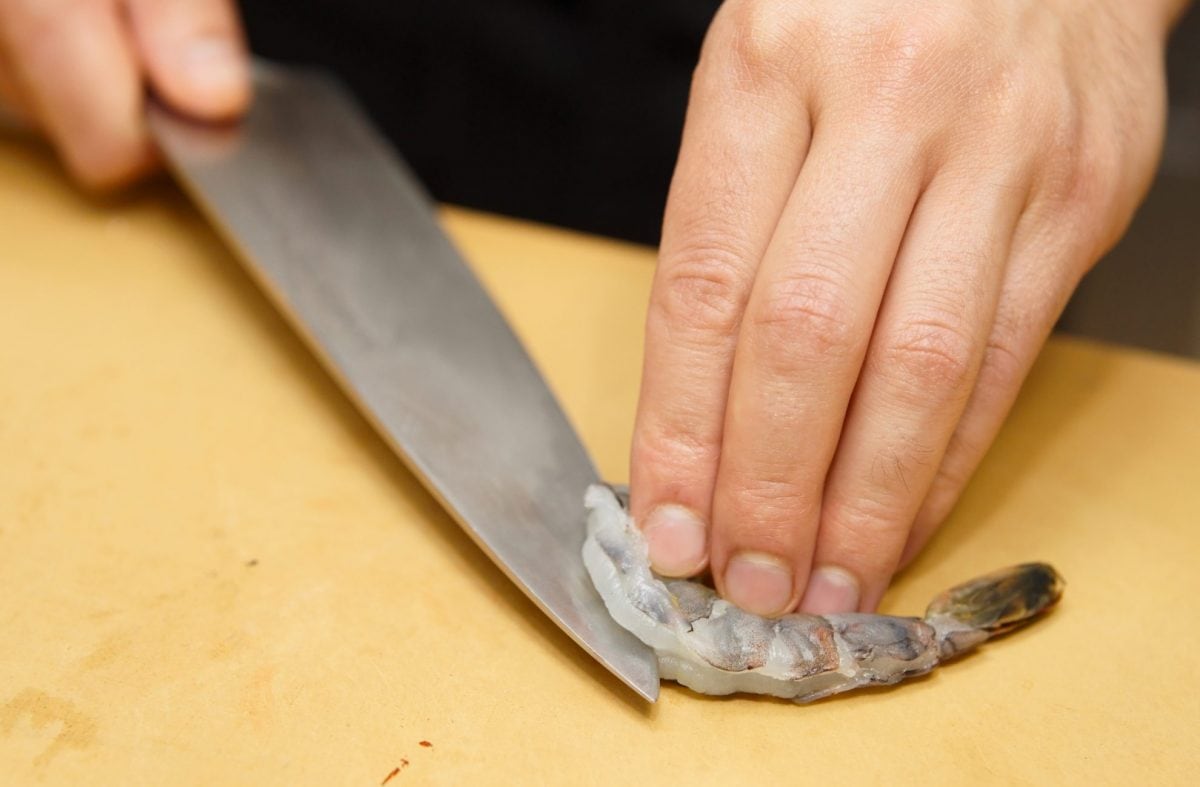 Ditch the Steamer Basket
But isn't this boiling shrimp then? Not so much. Instead of a steaming basket, we are using the height of the potatoes to lift the shrimp off the base of the pot and prevent them from being submerged in liquid.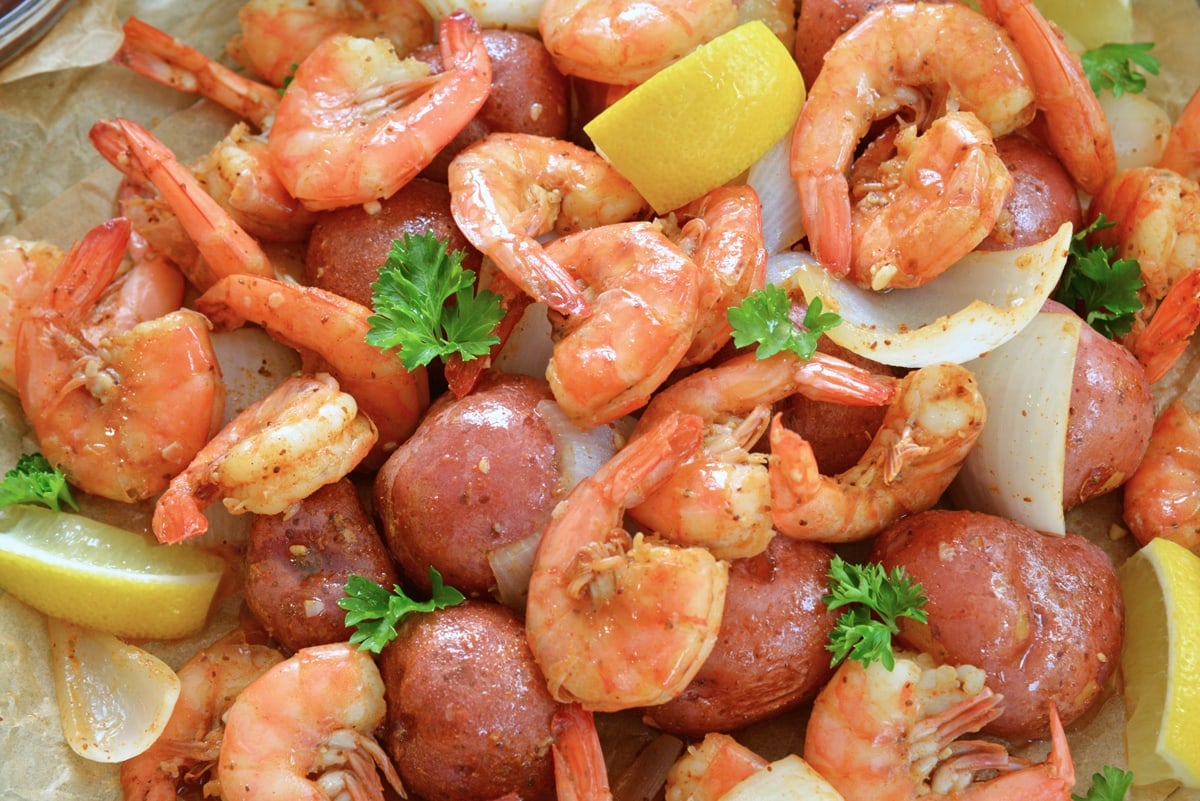 Potatoes need longer to cook that the onions or the shrimp, so they go in first providing this base. You can, of course, use a steamer basket if you prefer but having the potatoes tossed in the seasoned beer adds loads of flavor.
How to Make Steamed Shrimp
The process is easy, but let me fill you in on a few tips for the best steamed shrimp.
In a large pot or Dutch oven, add potatoes, beer, water, garlic and Old Bay Seasoning. Bring to a low simmer uncovered for 10-12 minutes or until potatoes start to soften. Potatoes take a lot longer to cook, so they need to get a head start. If you add everything together, your shrimp run the risk of being overcooked. I also like my onions to be a bit toothy. If you want soft onions, add them with the potatoes.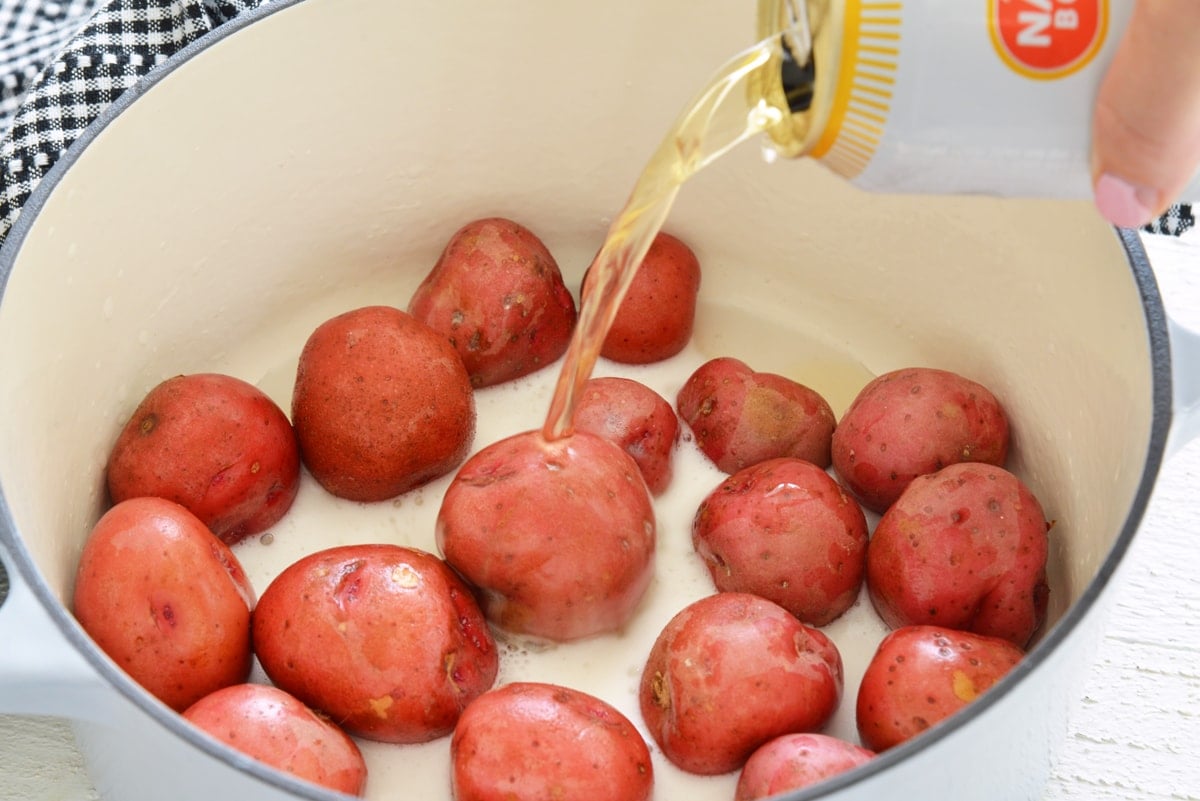 When potatoes are almost all the way soft, add your shrimp and onions. Cover the pot to create a steaming effect. If your pot doesn't have a lid, cover with aluminum foil.
Cooking time will vary based on the size of your shrimp. Here is a basic guide, but the best practice is to watch closely! People tend to overcook their shrimp and then they get rubbery or mushy. Shrimp will be pink in color and lightly curled.
| | |
| --- | --- |
| Large | 4-5 minutes |
| Extra Large | 5-6 minutes |
| Jumbo | 6-7 minutes |
| Extra Jumbo | 7-8 minutes |
Remove using a slotted spoon right after curling. While most of the liquid will soak right into the food or evaporate, there will be come left in the pot so if you just dump it, you'll liquid too.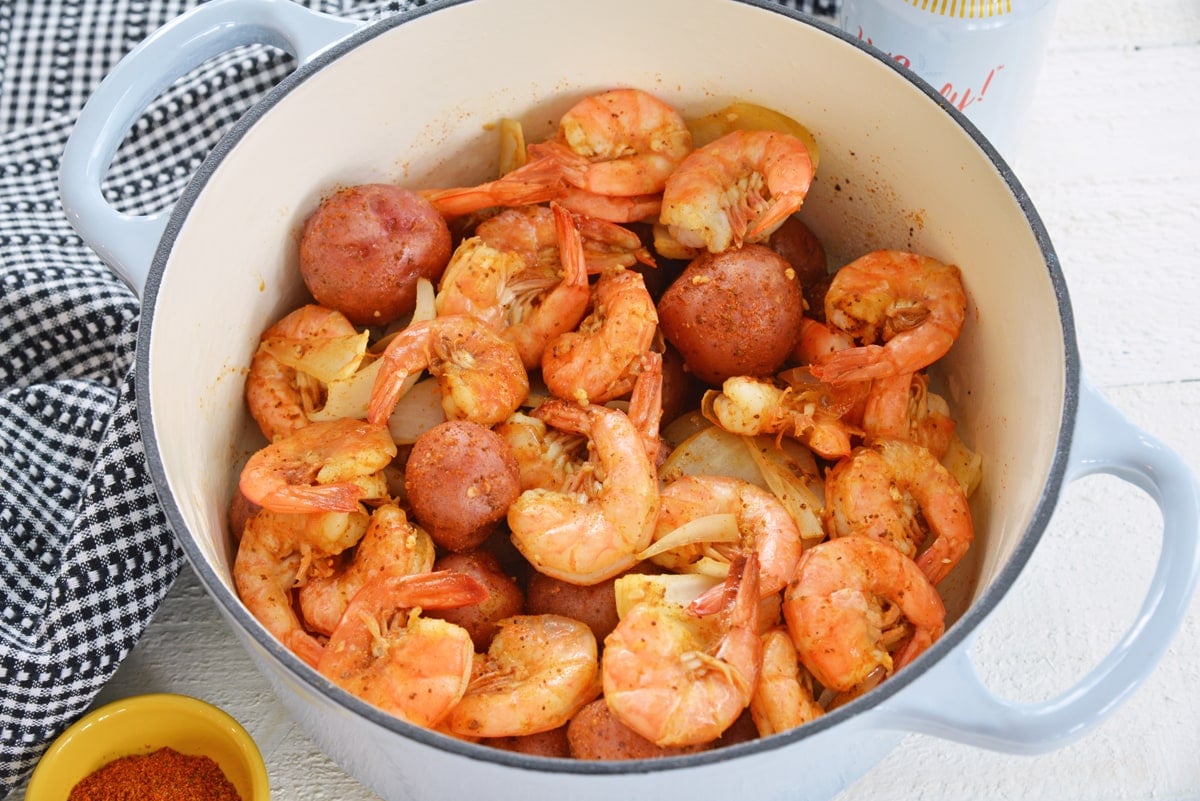 Serve immediately. While cocktail shrimp will get a cold water bath to stop the cooking process, these won't so the residual heat will continue the cooking process. If they sit for too long, the could overcook just from their own heat.
Frozen vs Fresh Shrimp
Can I use frozen shrimp? For this recipe (and most honestly) frozen shrimp are perfectly fine as long as they are thawed. If you throw frozen shrimp into the pot, it will decrease the water temperature drastically and throw off the cooking times.
In fact, frozen shrimp are usually put into a deep freeze soon after being caught so they are super fresh. And most of the "fresh" shrimp you buy at a regular grocery store as previously been frozen and is already thawed, so there really isn't much different.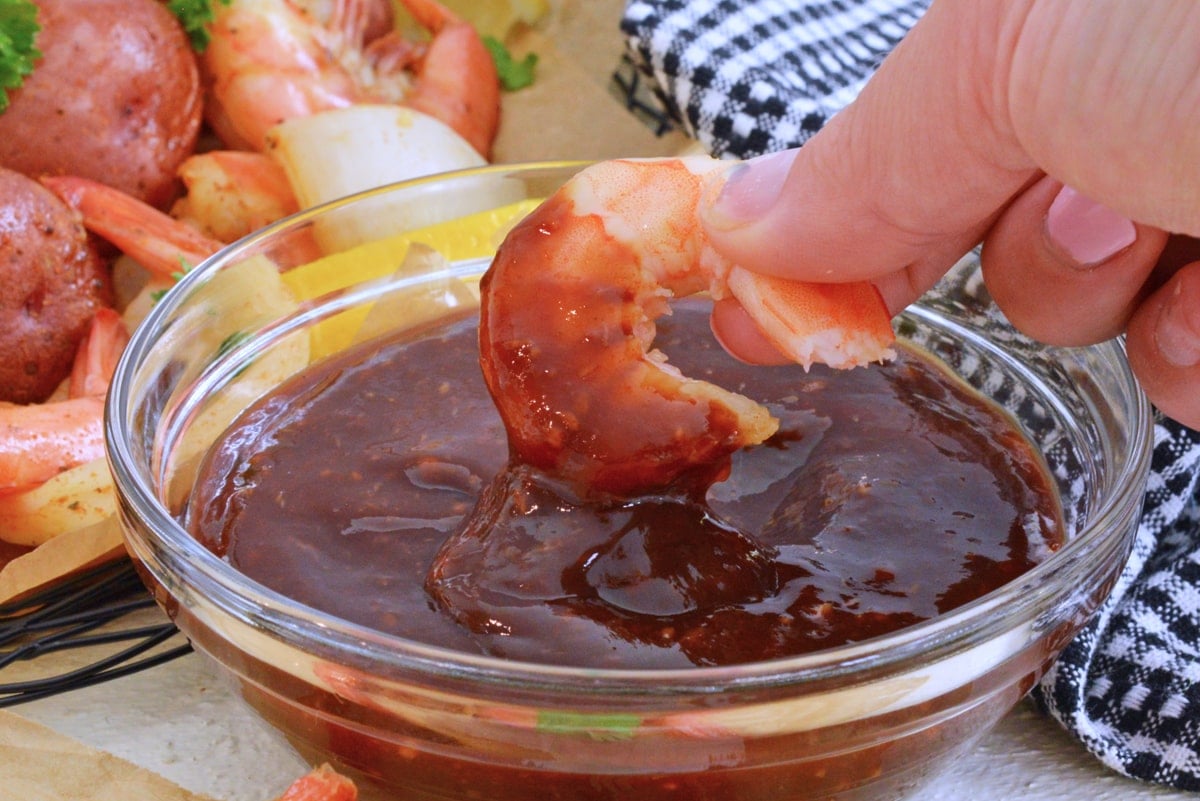 I tend to stock up on bags when they are on sale and then have them on hand. Unopened, shrimp will stay good in the freezer for up to 6 months.
Steamed Shrimp Dipping Sauce
It isn't dipping sauce, but I love a nice fresh lemon spritz on mine before I get to dipping. Classic cocktail sauce is always a nice addition. I make a killer homemade version that is way better than bottled, just read all of the reviews and comments.
But if you are looking for something different, try making my Balsamic Cocktail Sauce. It uses the zing of horseradish with the sweetness from Balsamic reduction, which you can make at home or buy at the store.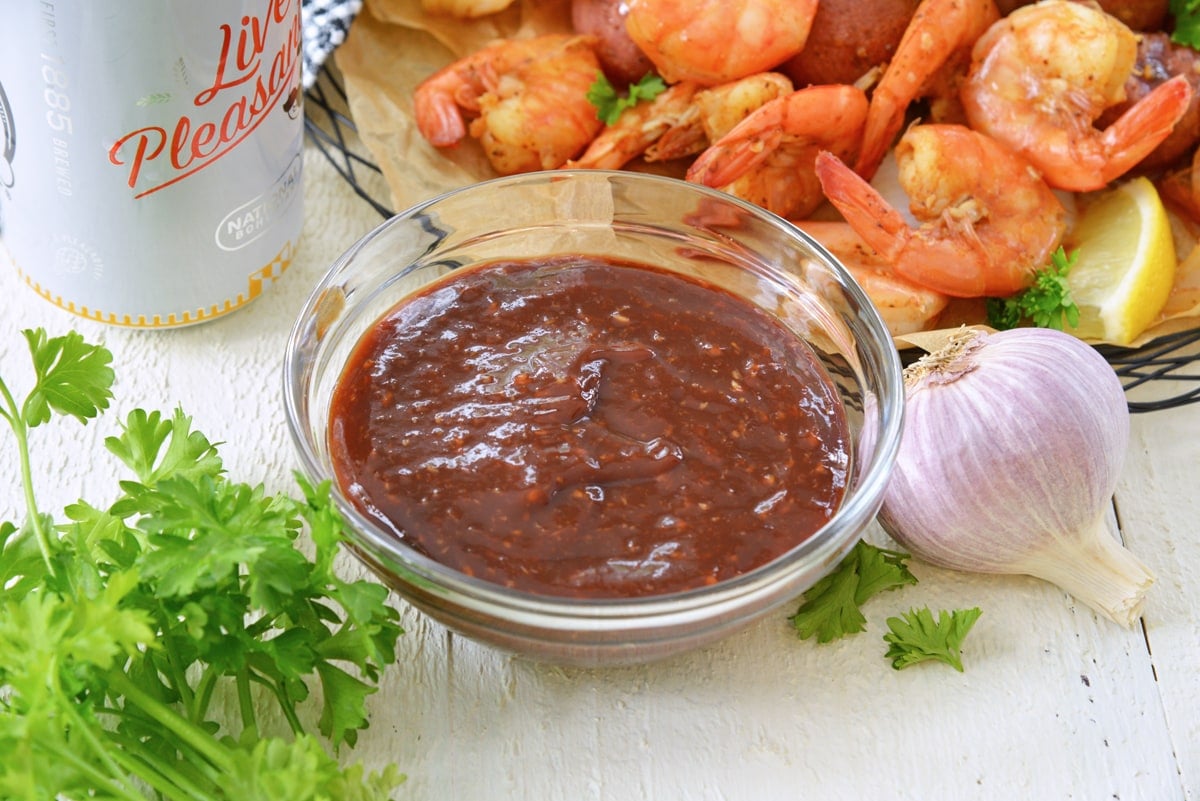 Yum Yum Sauce, Creamy Horseradish Sauce or even Horseradish Aioli are all fun too.
Storage
Steamed shrimp are by far best enjoyed right after cooking and while hot. Store leftovers covered in the fridge. I actually eat leftovers cold, like a shrimp cocktail.
You can reheat them, but this also runs the risk of overcooking. If you do, bring a small amount of water to a boil and place them in a steamer basket for 1-2 minutes.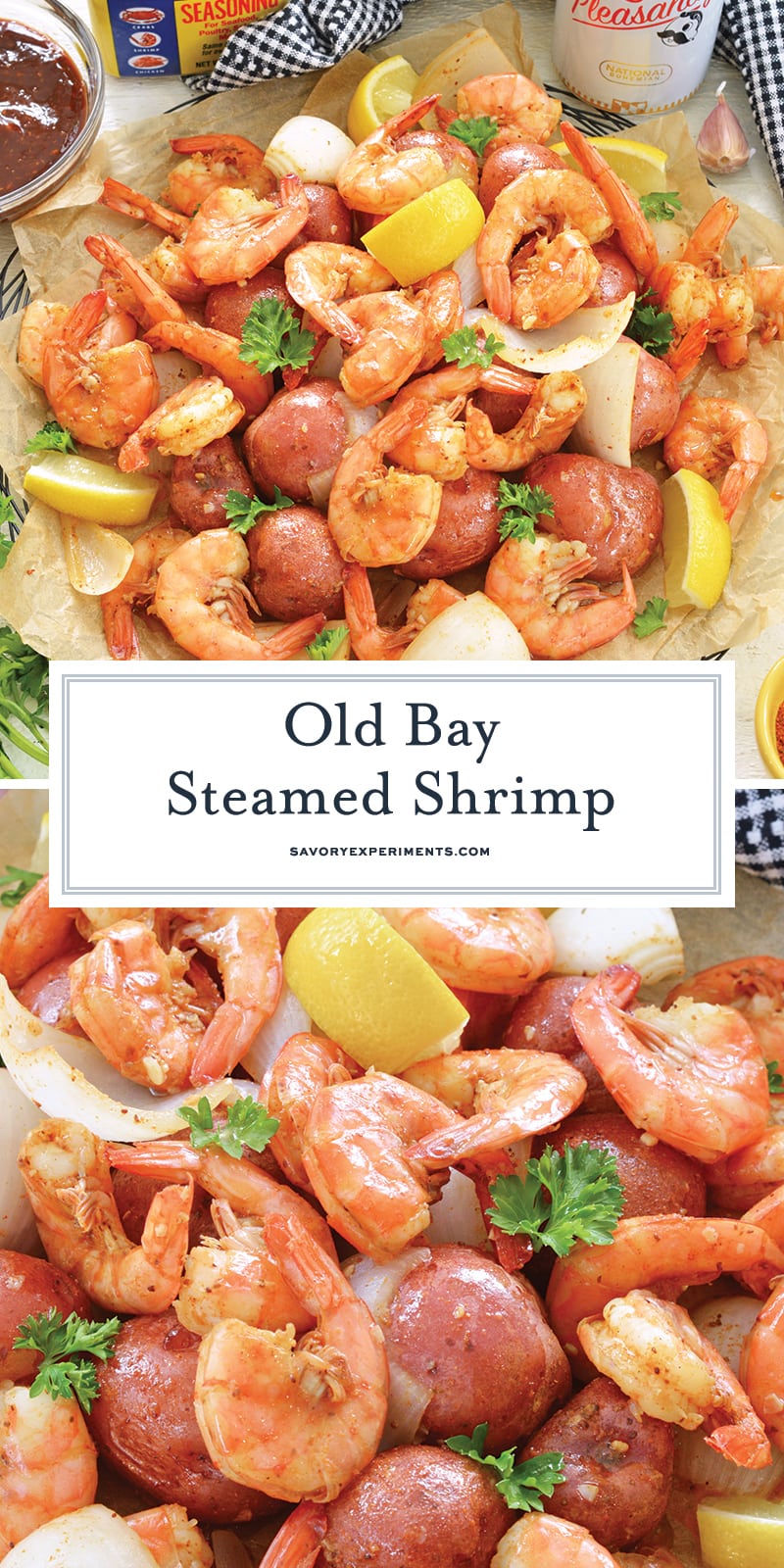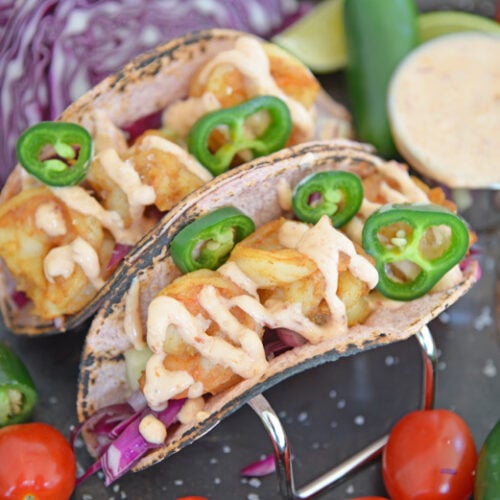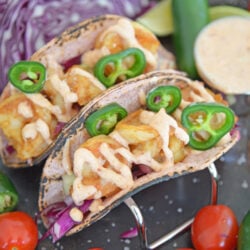 BOMB Shrimp Tacos
Easy shrimp tacos don't get any better than these Shrimp Tacos with Cabbage Slaw! Taco Tuesday will never be the same! Full of fresh flavor and seasoning!
See The Recipe!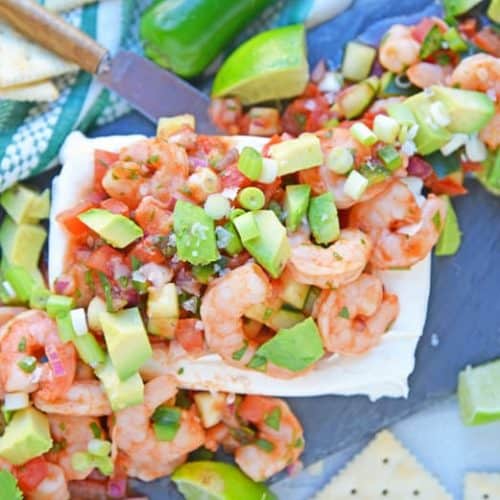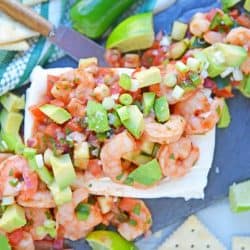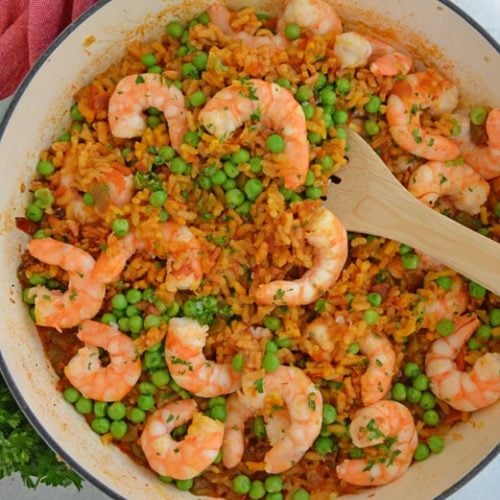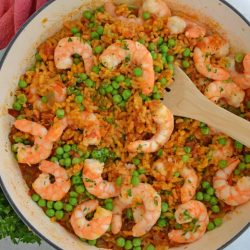 Easy Shrimp Paella
Shrimp Paella is an easy, weeknight meal requiring less than 10 ingredients, one pan and 30 minutes—all due to one secret pantry staple!
See The Recipe!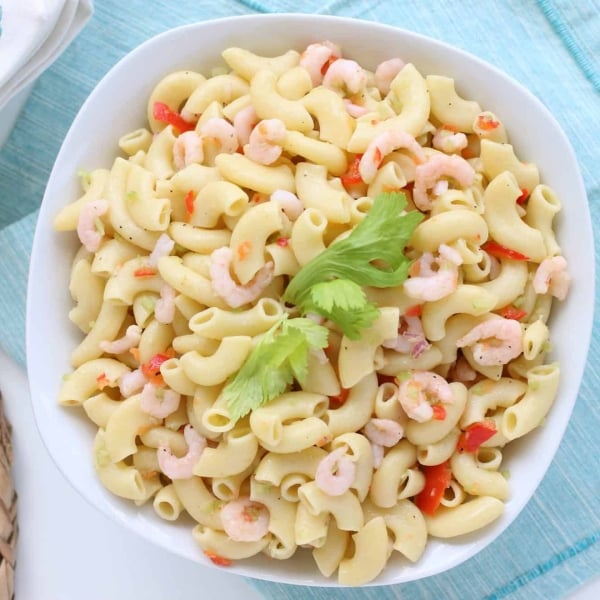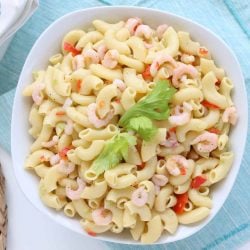 Shrimp Pasta Salad
Shrimp Pasta Salad is the best dish to bring to any party. This dish is has a zing to it that will help bring those family gatherings and neighborhood potlucks to life.
See The Recipe!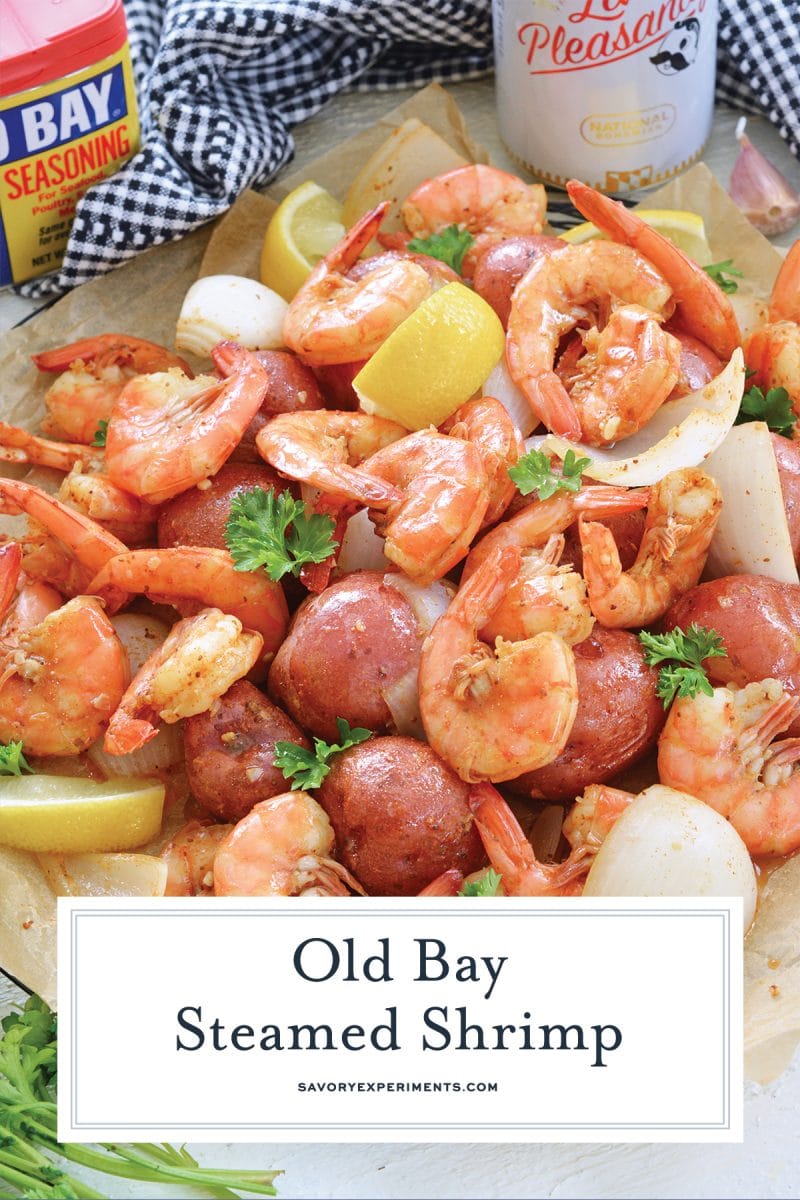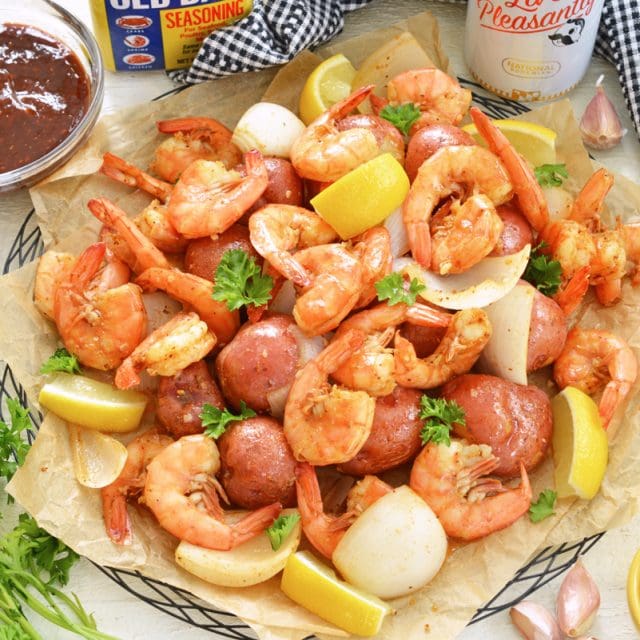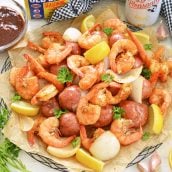 Old Bay Steamed Shrimp Recipe
Steamed shrimp with seasoned onions, potatoes and good ole Maryland seasonings of Old Bay, garlic and BEER! Great for a cookout!
Instructions
Add the beer, water, seasoning and garlic to a large Dutch oven or pot, stir to combine. Add the potatoes and bring to a low simmer, stirring occasionally. Simmer for 10-12 minutes or until potatoes are nearly cooked and all the way soft.

Add the shrimp and onions. Cover and steam for 6-7 minutes or until shrimp turn pink and start to curl. See chart for cooking times based on shrimp size.

When cooked, immediately remove to a platter and serve with fresh lemon wedges and desired dipping sauce.

If you've tried this recipe, come back and let us know how it was in the comments or ratings.
Nutrition
Calories:
355
kcal
,
Carbohydrates:
27
g
,
Protein:
49
g
,
Fat:
3
g
,
Saturated Fat:
1
g
,
Polyunsaturated Fat:
2
g
,
Monounsaturated Fat:
1
g
,
Cholesterol:
572
mg
,
Sodium:
1794
mg
,
Potassium:
823
mg
,
Fiber:
3
g
,
Sugar:
6
g
,
Vitamin A:
35
IU
,
Vitamin C:
24
mg
,
Calcium:
373
mg
,
Iron:
6
mg