Ham and Cheese Sliders are my favorite Hawaiian roll sliders. I make them all the time and there's NEVER any leftovers!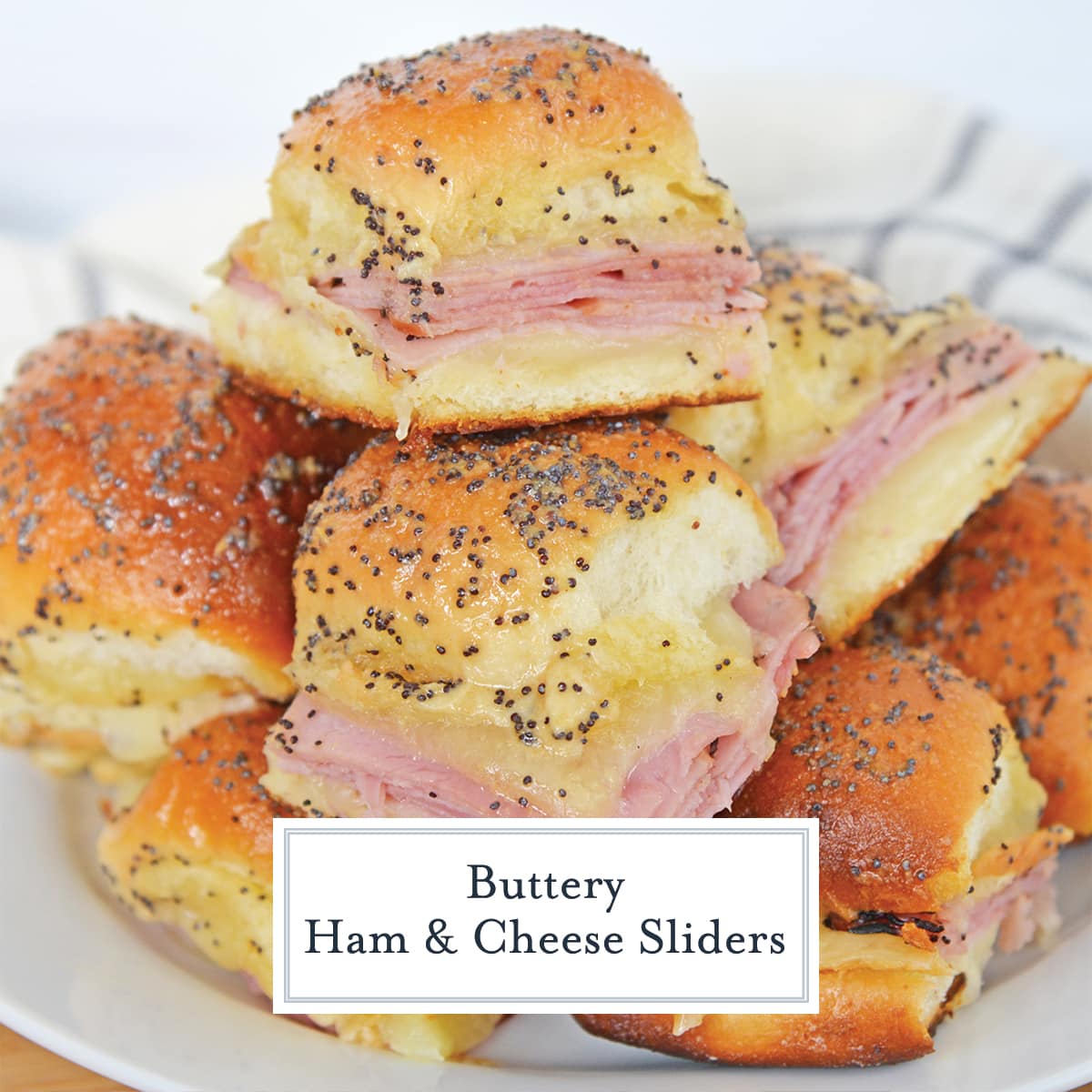 I first had Ham and Cheese Sliders at a baby shower about 10 years ago. I wanted to steal the pan, take them to a vacant bedroom and devour the whole tray.
The hostess said the recipe ran in her family for years as I snapped a pic of the handwritten note card on my phone. Turns out, Ham and Cheese Sliders aren't that secret.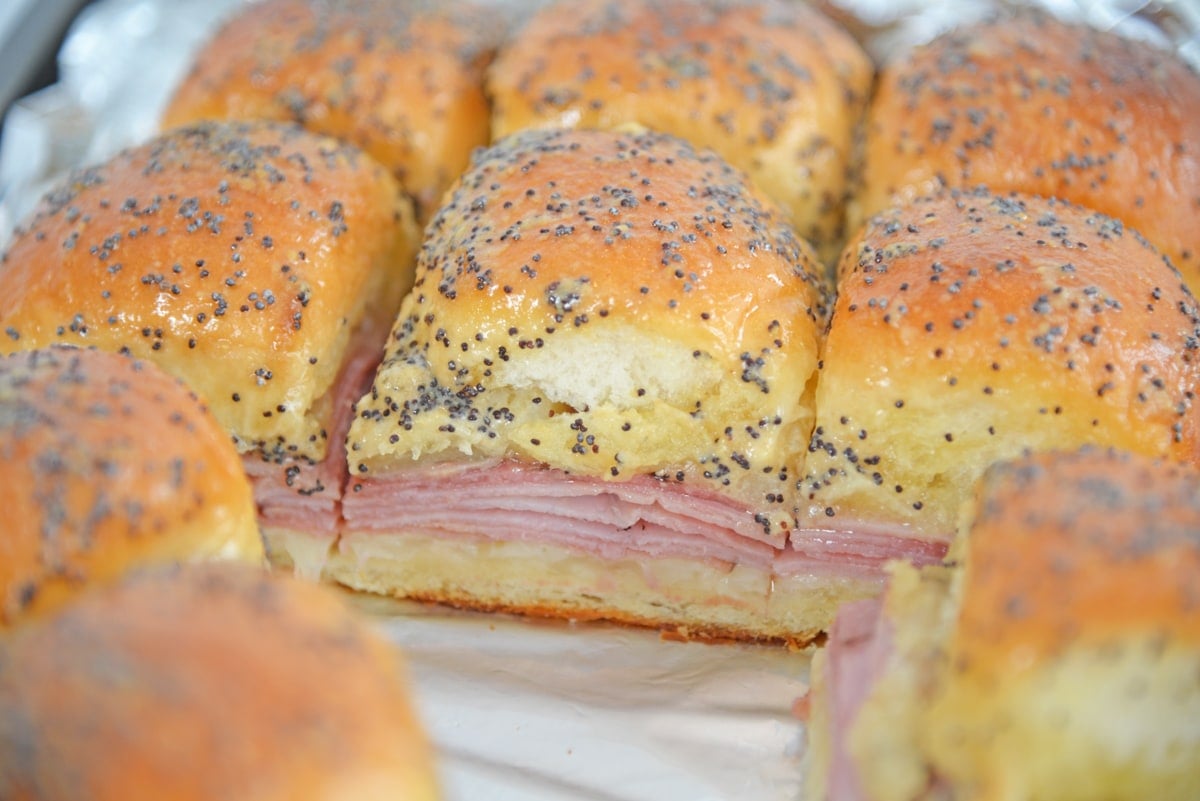 Hawaiian Ham and Cheese Sliders
These sliders sandwiches will for sure go down in history, but who gets the credit is a bit of debate. I found it very hard to find a full background so I had to piece it together.
They go by several names, but the most popular are Hawaiian Ham and Cheese Sliders, Hot Ham and Cheese Sandwiches, Baked Ham and Cheese sliders, King's Hawaiian Sliders, Ham and Swiss and just Hawaiian Ham.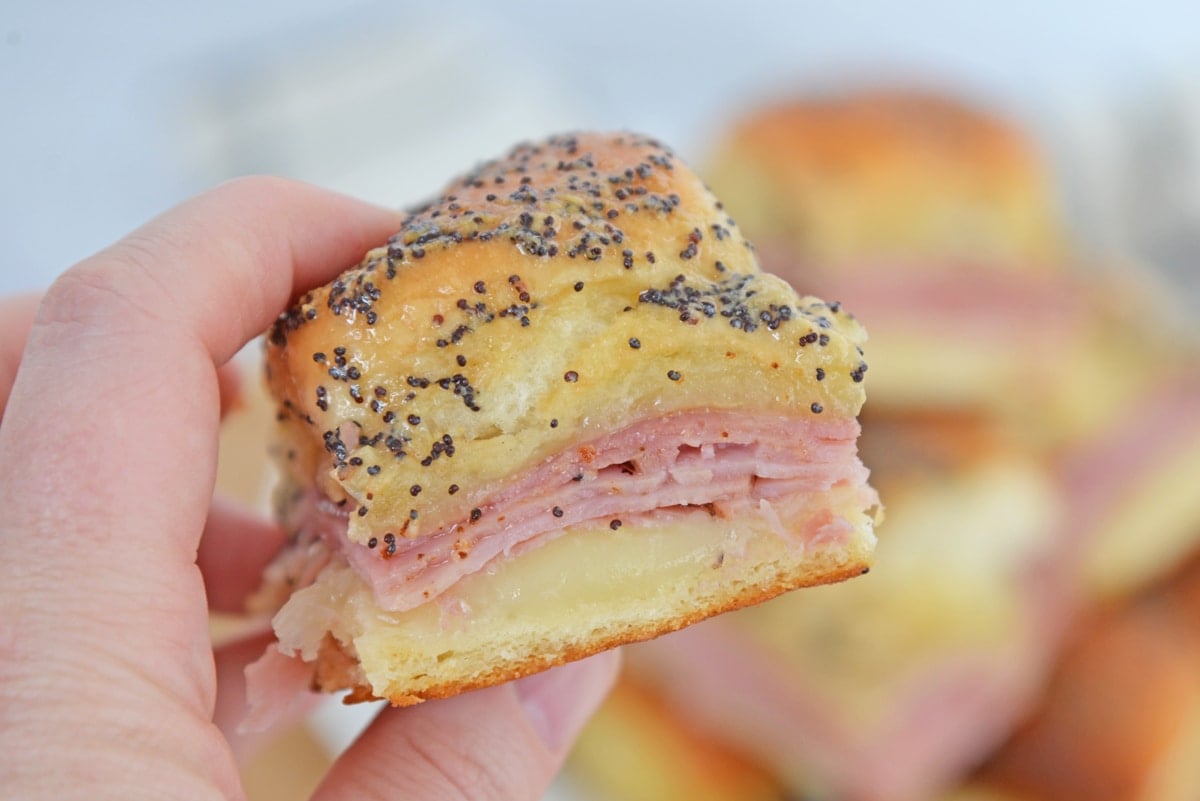 They are a fusion of the popular hot ham sandwich Croque Monsieur (a buttery French grilled cheese) and American cold ham sandwich. Toss in famous King's Hawaiian Slider Rolls and all the sudden they were now also Hawaiian.
I did find some information that eluded to the fact that the ham used to be SPAM, which would indeed, make them decidedly more Polynesian.
Hawaiian Roll Sliders
If you aren't familiar, the most popular brand is King's Hawaiian Bread. They come in a bright orange package most commonly seen on end caps at the the grocery store.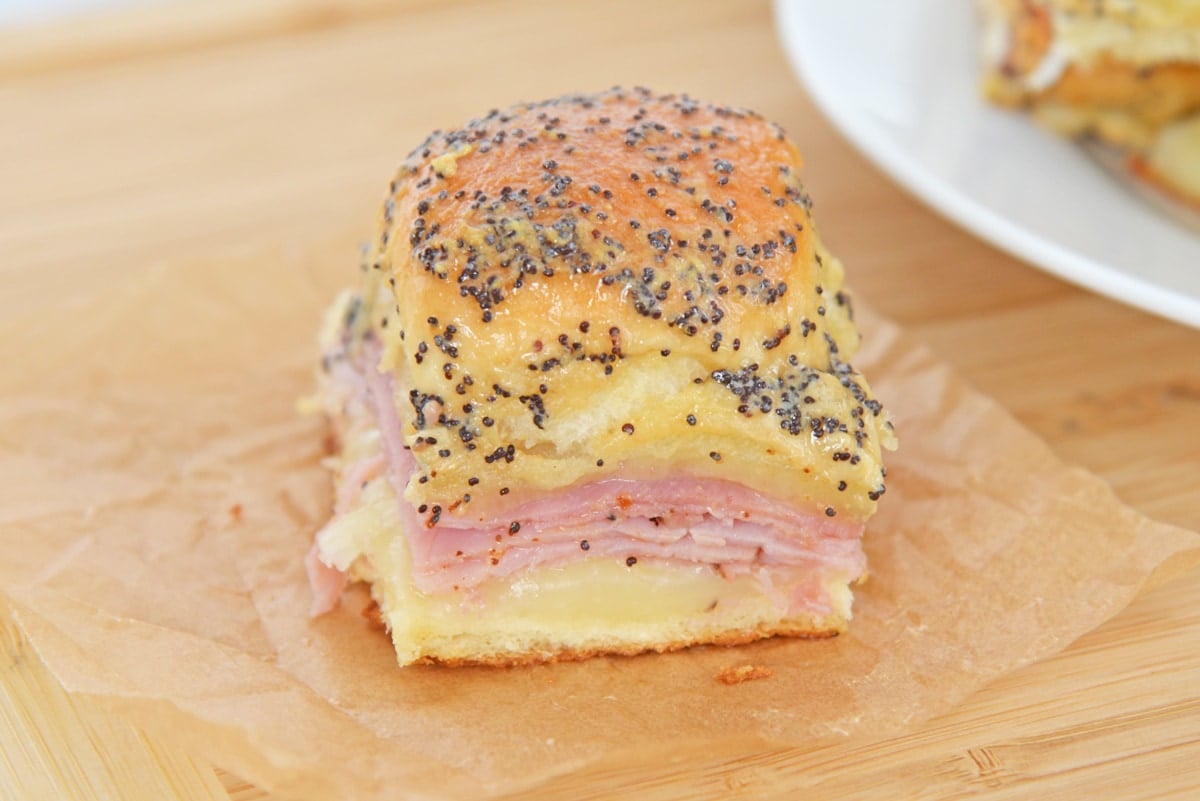 These rolls are soft, fluffy, buttery and have a touch of honey which provides the unique flavor to other types of bread. They can be easily cut horizontally while still intact, making them perfect for building baked ham sliders.
Other brands make sweet rolls and regular slider cut rolls will also work perfectly fine, but these complement the flavors of ham and Dijon dressing so well.
The Meat
Ham is clearly the star ingredients, but what type of ham gives your sliders personality. I like to play on the honey flavors of the bread, so honey ham straight from the deli is my first choice. I try to get it thinly sliced and then layer it on thick.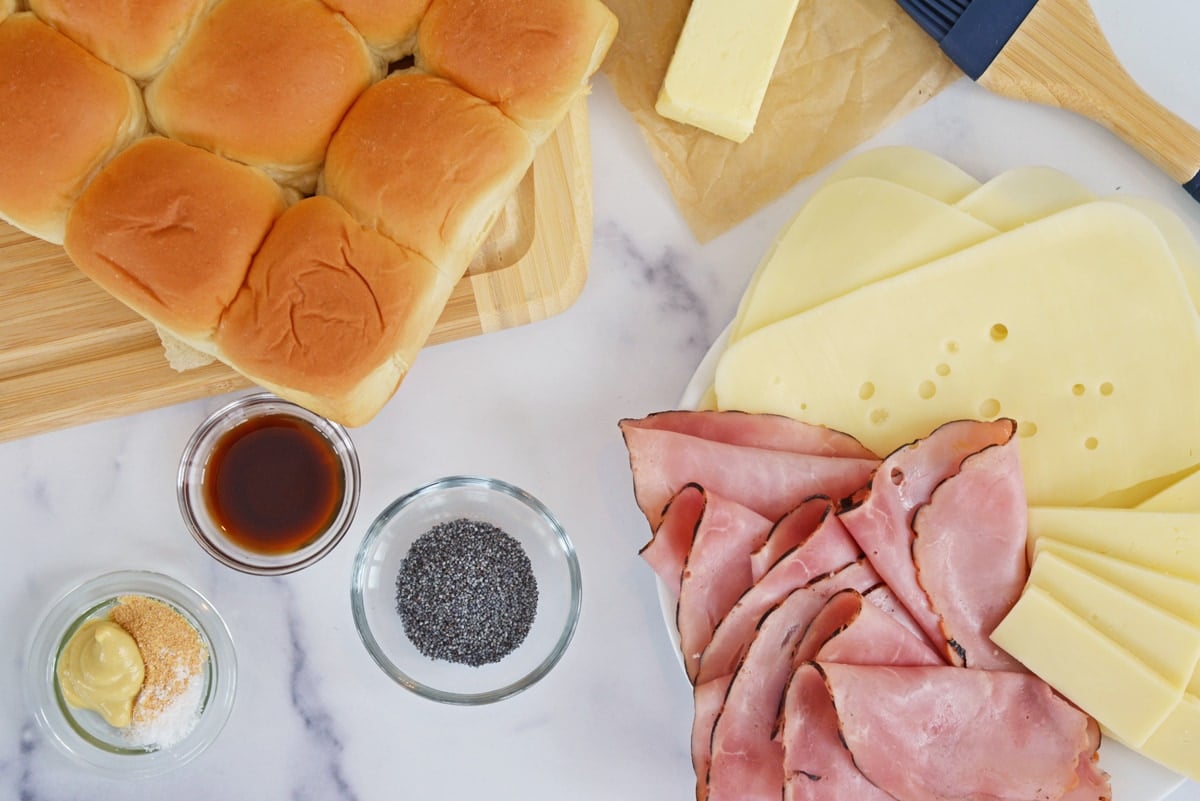 Baked, brown sugar or even boiled ham are all acceptable choices.
As is swapping out the meat for sliced turkey, chicken or roast beef. Even bacon strips are a fun addition. If you are feeling totally experimental, make it into a club and use a combo!
The Cheese
They are commonly just called ham and cheese sliders, but the majority of recipes use Swiss cheese. I used Swiss cheese and white cheddar. Again, thinly sliced will give you the best meltability.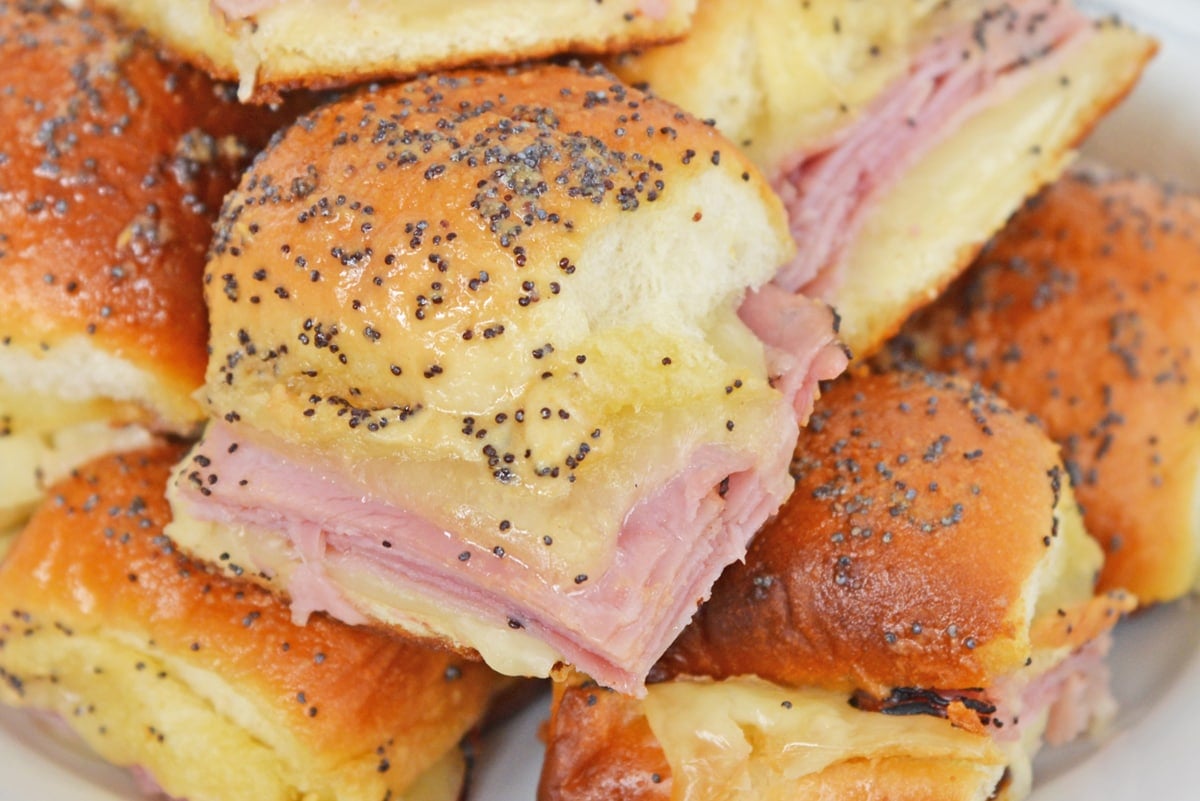 Vary this by using sharp cheddar, Jarlsberg, provolone or even a spicy pepper jack.
Dijon Butter Topping
Aw, the topping. This is really what makes these decadent and the perfect party appetizer or snack. These sandwiches are drenched in melted butter dotted with Dijon mustard, poppy seeds, Worcestershire sauce and garlic powder.
Soaking into the bread, this transform a fairly plain sandwich into lick-your-fingers good.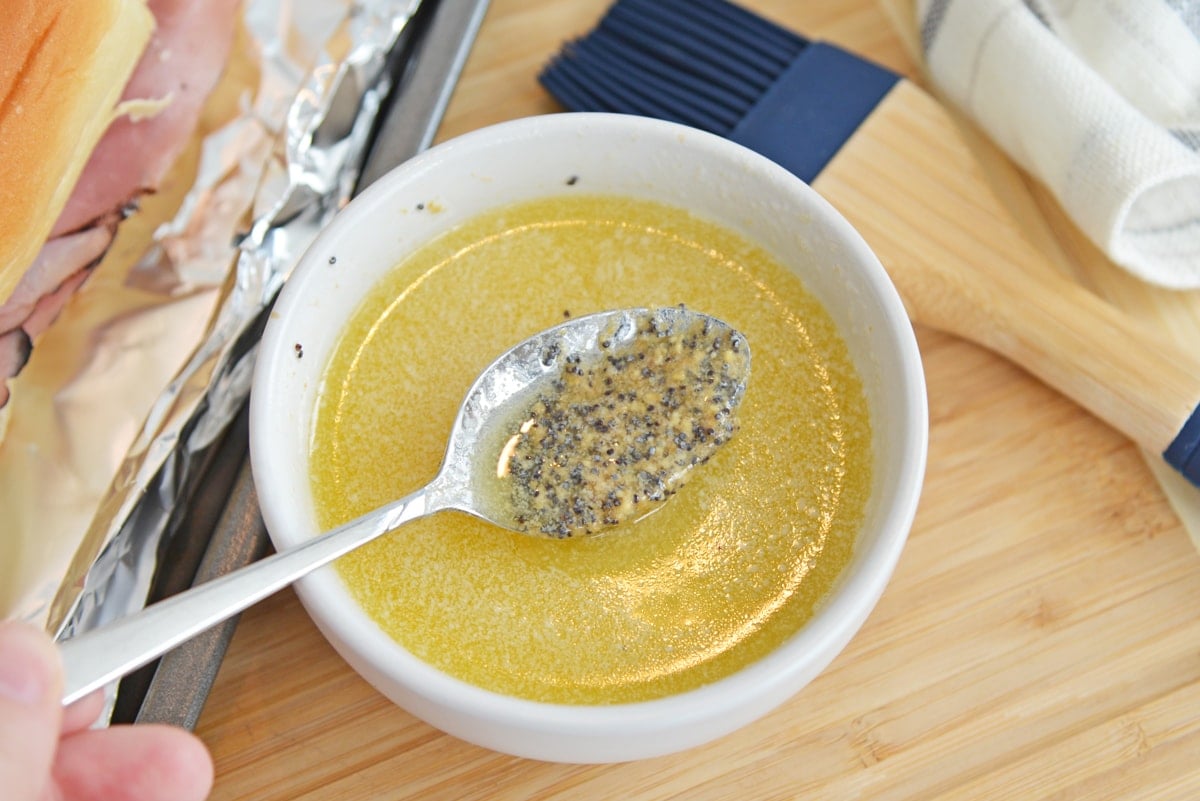 Some folks don't care for poppy seeds and they are optional. Swap them out for sesame seeds or just omit altogether.
Other variations are minced dried onion or onion powder, garlic, crushed red pepper flakes and dried parsley.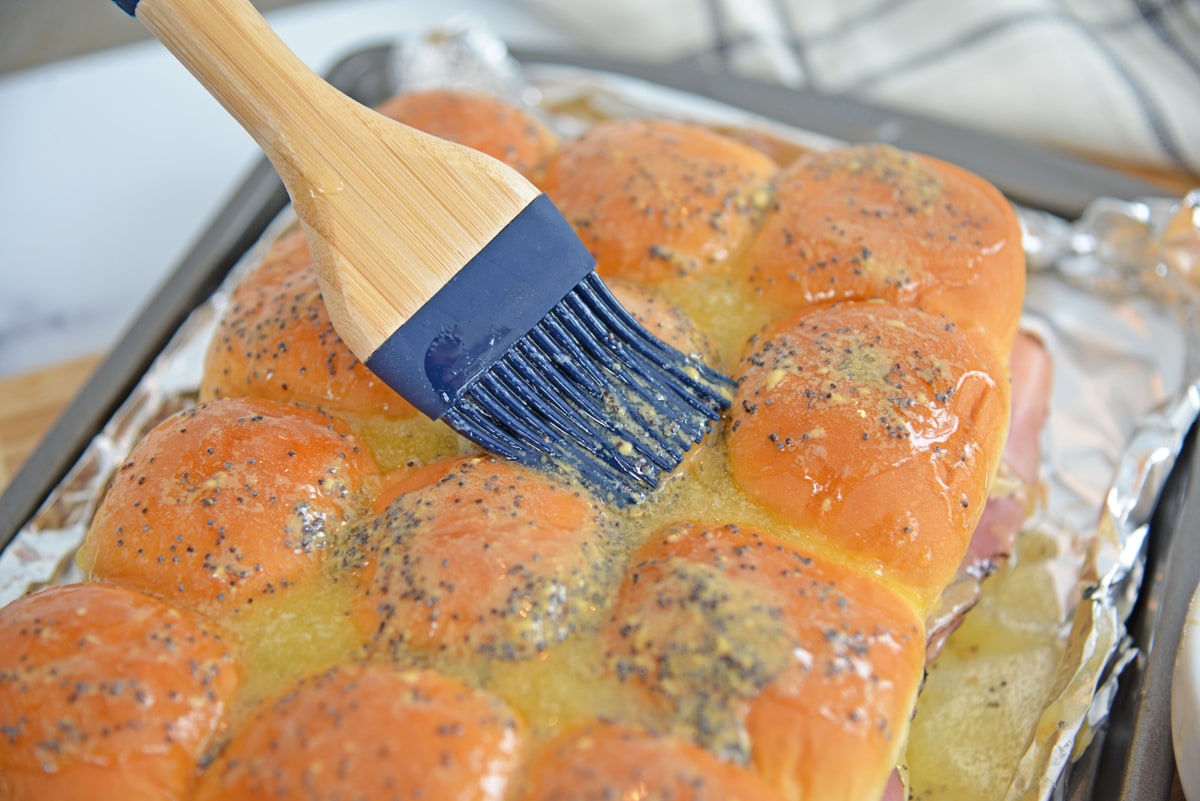 Can I leave off the butter topping? Sure! They won't have as much flavor, but they will still be good. The butter topping is really what elevates this recipes from the others.
You can also add more toppings to the actual sandwich; caramelized onions, roast garlic, bread and butter pickles and roast tomatoes are also fabulous flavor combos.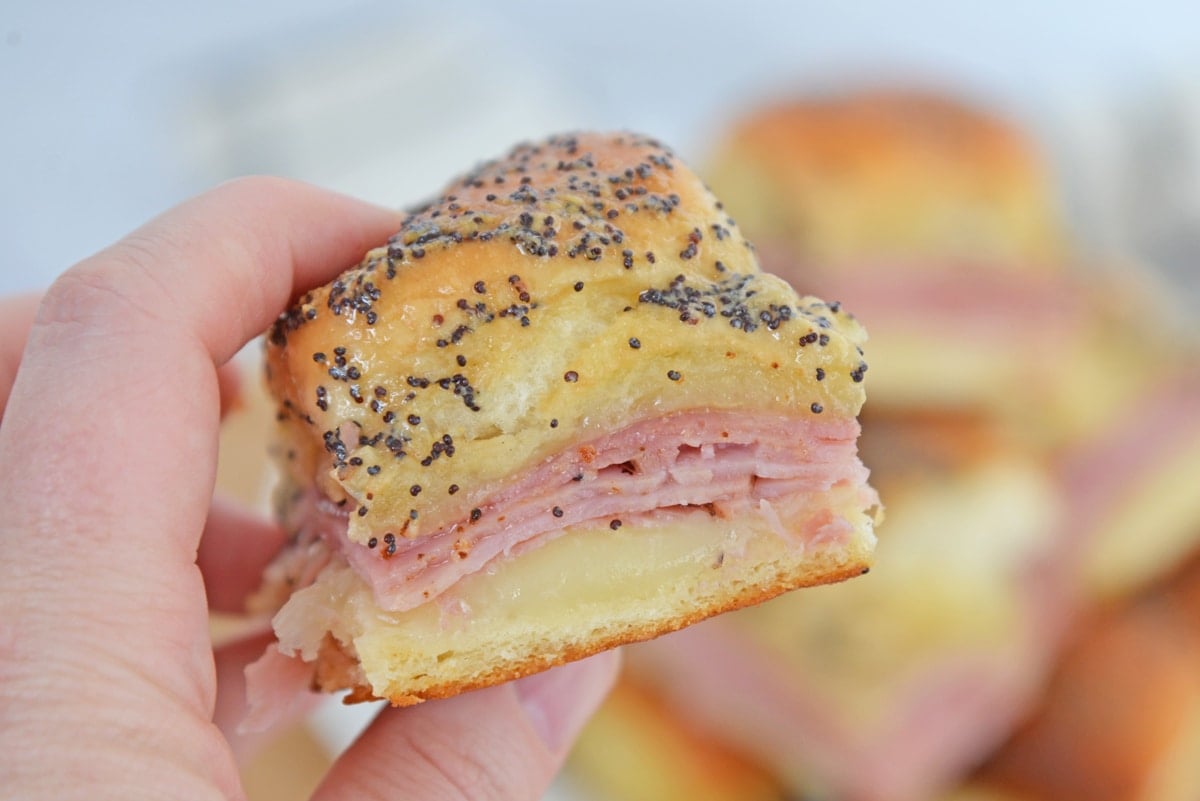 Make Ahead & Reheating
Can I make them ahead of time? You can assemble the actual sandwich and mix the butter topping, but I would wait to cover in butter and bake until ready to serve.
Can I reheat them? You can reheat anything, but it rarely tastes as good as it did fresh. Microwave or a quick jaunt in the oven at 350 degrees wrapped in aluminum foil will do the trick.
To be honest… you probably won't have any leftovers!
Can I freeze ham and cheese sliders? I don't recommend freezing these as a sandwich. They will most likely thaw being a soggy.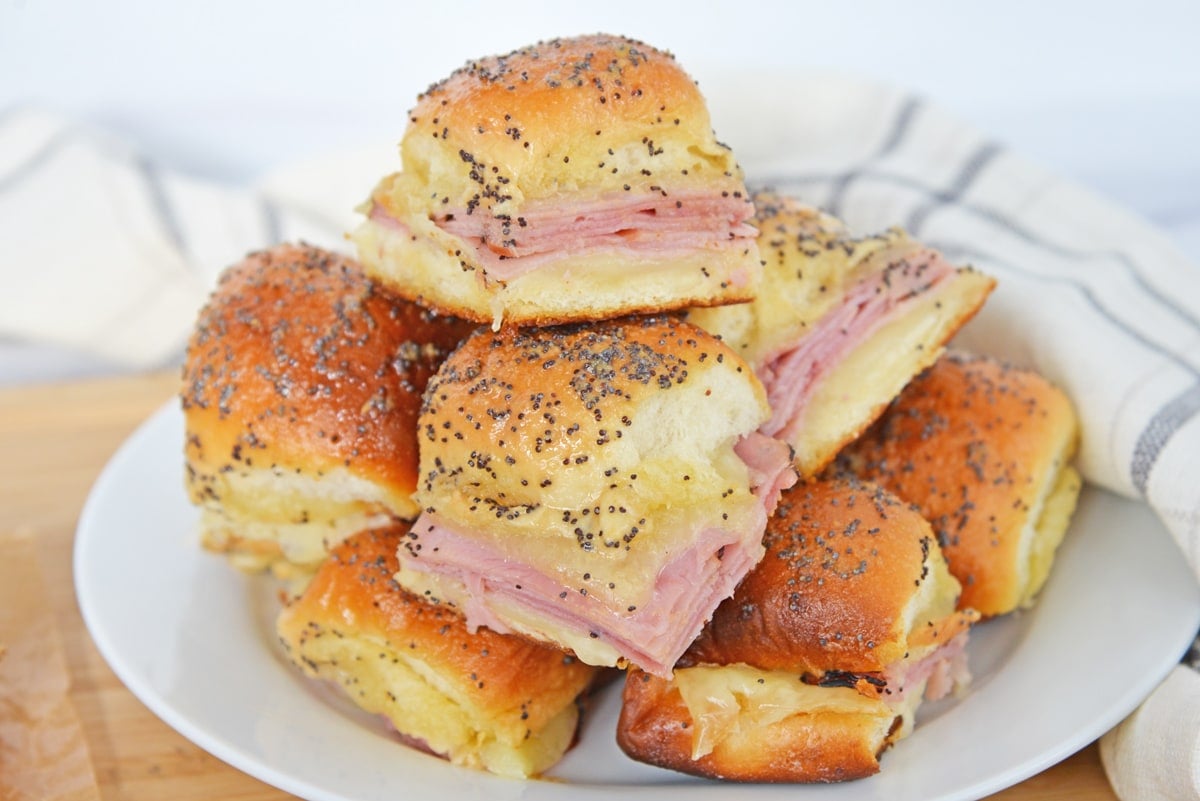 What can I serve with my ham sandwiches?
Well, I guess you need to ask yourself if you are serving these as an appetizer with other munchies or for the entree of a brunch or lunch.
If serving as an appetizer, I suggest pairing it with:
If serving as an entree, pair with these easy dinner ideas: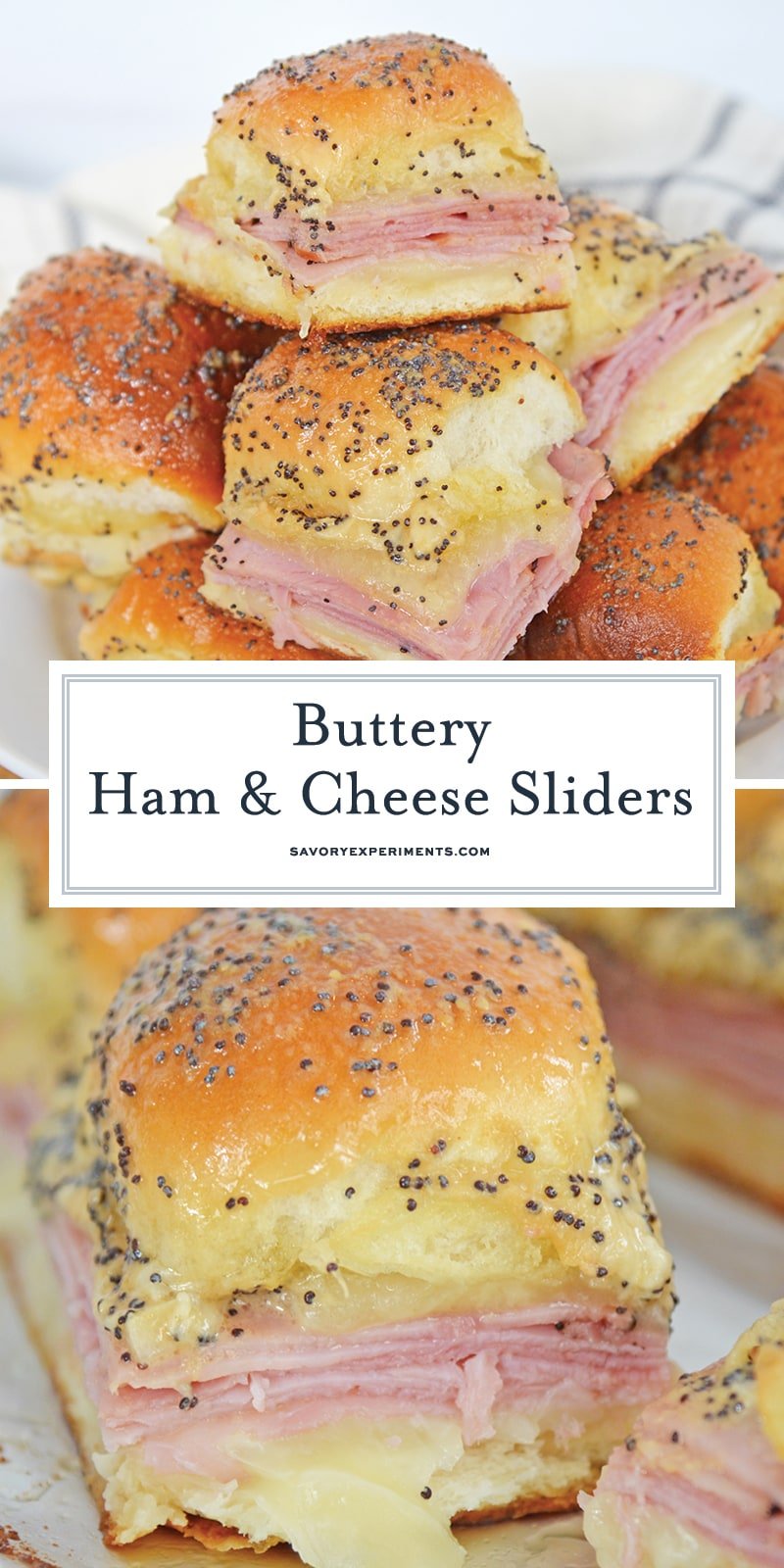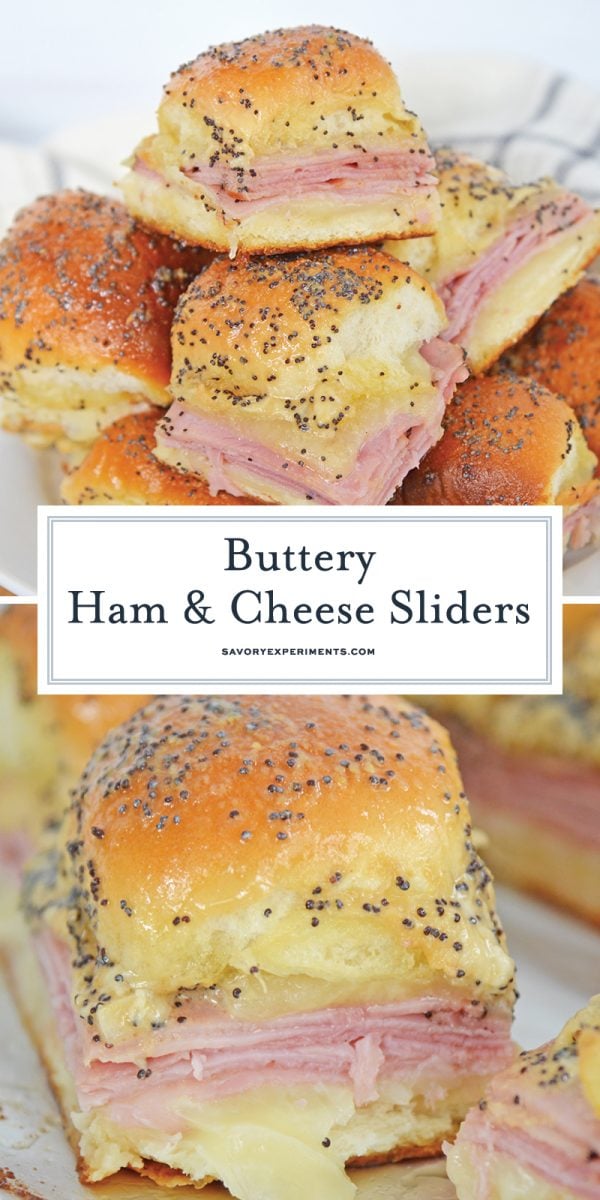 BBQ Chicken Sliders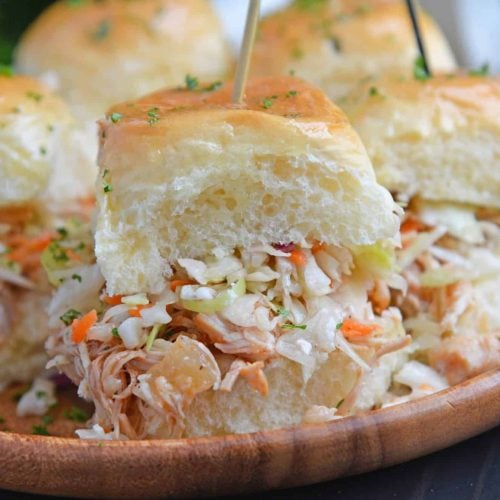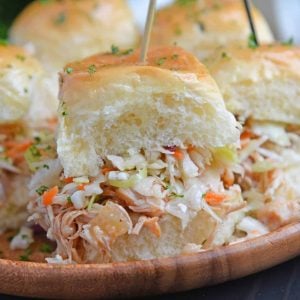 BBQ Chicken Sliders are made with 5 unique layers making them go above and beyond any other sandwich recipe. Fabulous for parties, potlucks and game day and can be served hot or room temperature!
Pizza Sliders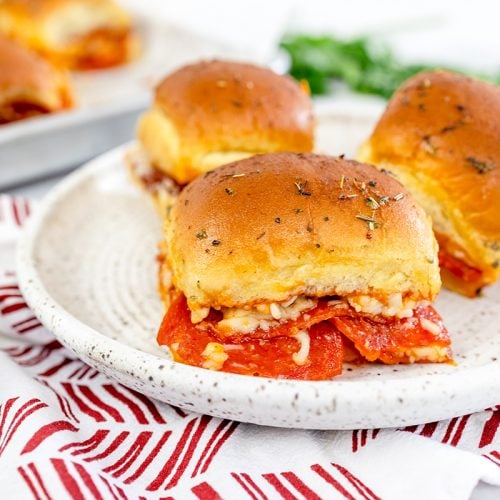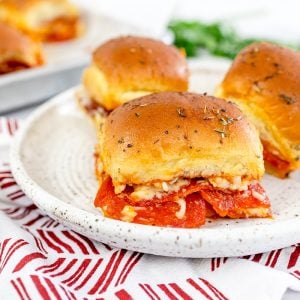 Cheesy Pizza Sliders are easy to make with just 4 ingredients and the best for parties. Loved by kids and adults!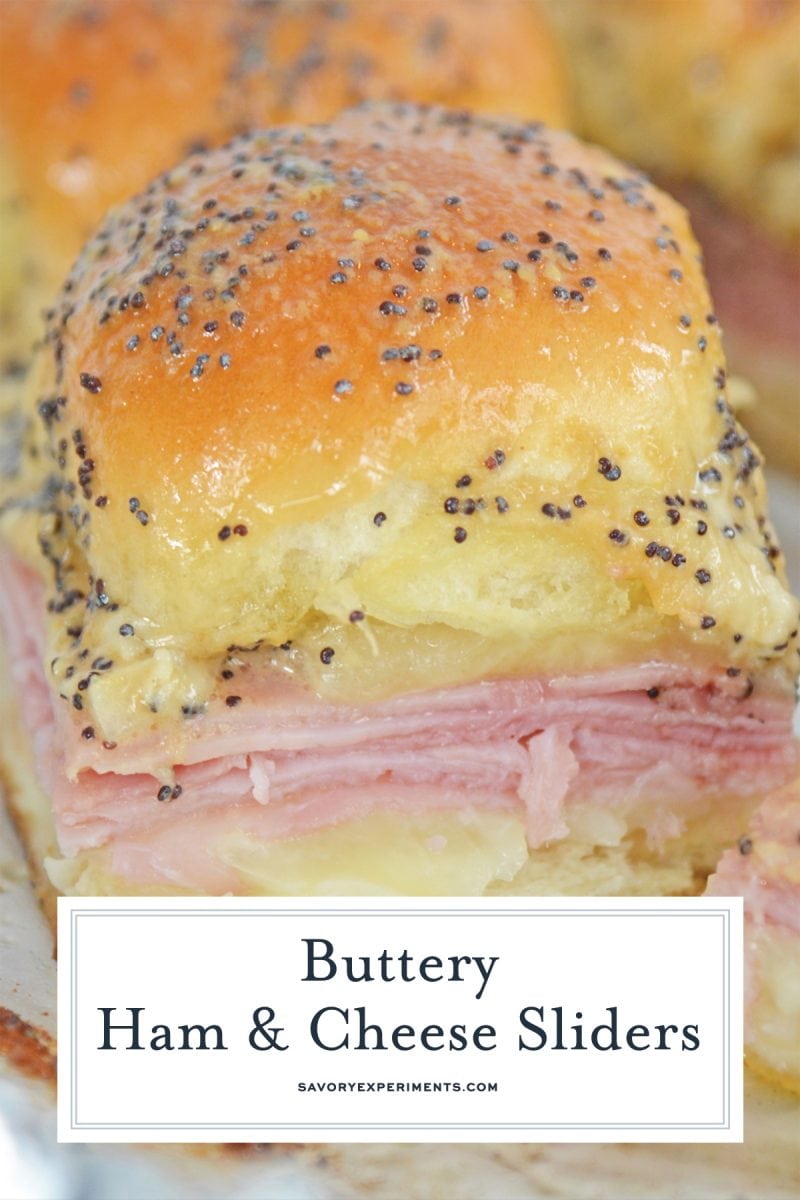 ---
---
Ham and Cheese Sliders
Ham and Cheese Sliders are easy, cheesy and delicious! One of the best recipe for parties of all types, from baby showers and birthday parties to holiday parties and casual family get-togethers.
Instructions
Place all 12 Hawaiian rolls onto a surface suitable for cutting. Using a serrated knife, slice in half while keeping tops and bottoms intact. It should be like one large sandwich.

Place the bottom layer of rolls in a 9×13 pan.

In a small bowl, combine unsalted butter, Dijon mustard, poppy seeds, garlic powder, Worcestershire sauce and fine sea salt. Place in the microwave until butter has melted, approximatly 40 seconds.

Cover with aluminum foil and bake for 20 minutes.

Remove, cut into 12 individual sliders and serve hot.

If you've tried this recipe, make sure to come back and let us know how it went in the comments or ratings.
Nutrition
Calories:
280
kcal
|
Carbohydrates:
16
g
|
Protein:
12
g
|
Fat:
18
g
|
Saturated Fat:
10
g
|
Cholesterol:
59
mg
|
Sodium:
413
mg
|
Potassium:
80
mg
|
Sugar:
4
g
|
Vitamin A:
395
IU
|
Calcium:
164
mg
|
Iron:
0.3
mg