Ham and Cheese Slider Recipe
Ham and Cheese Sliders are my favorite Hawaiian roll sliders. I make them all the time and there's NEVER any leftovers!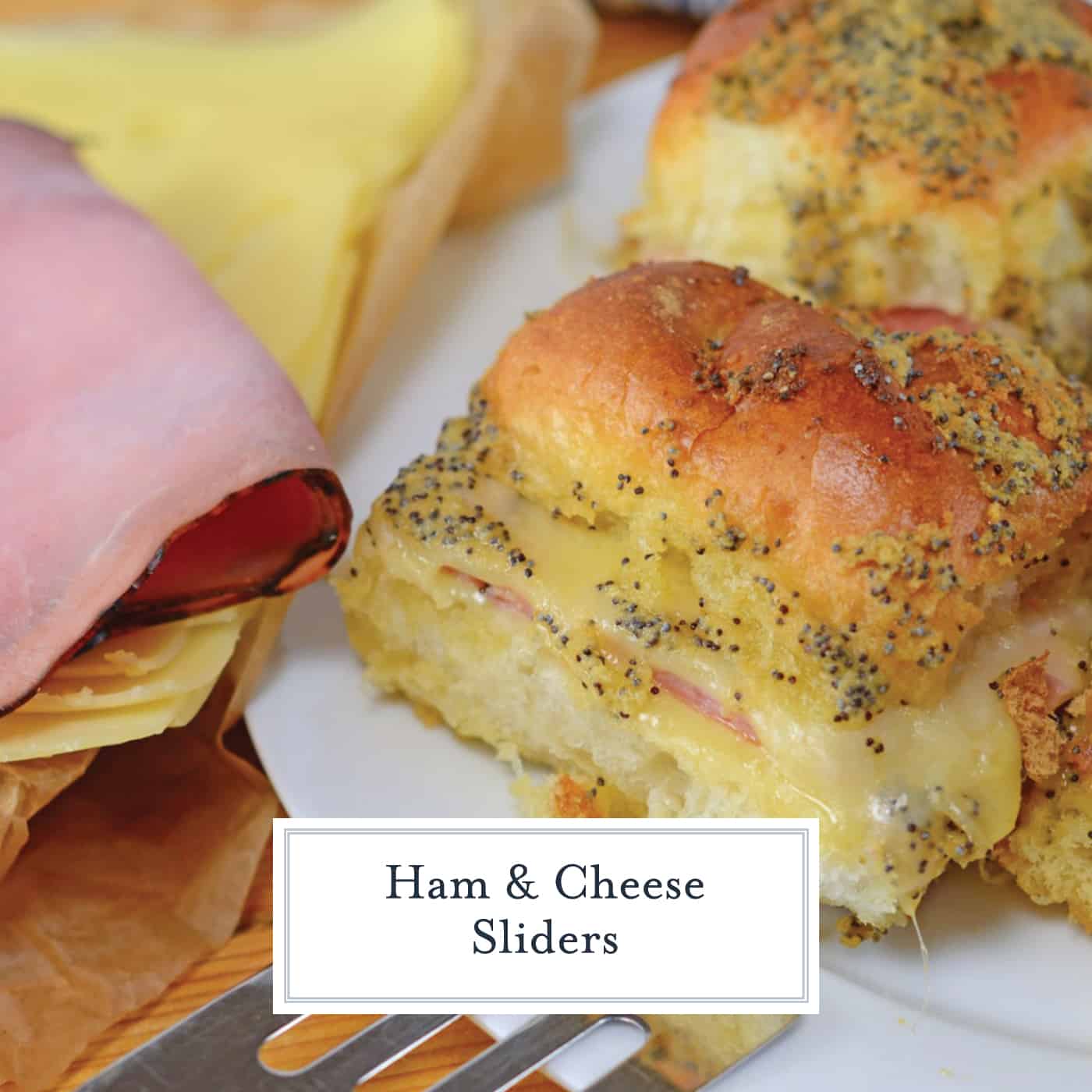 Ham and Cheese Sliders are easy, cheesy and delicious! One of the best recipe for parties of all types, from baby showers and birthday parties to holiday parties and casual family get-togethers.
I first had Ham and Cheese Sliders at a baby shower about 10 years ago. I wanted to steal the pan, take them to a vacant bedroom and devour the whole tray.
The hostess said the recipe ran in her family for years as I snapped a pic of the handwritten note card on my phone.
Turns out, I think Ham and Cheese Sliders aren't that secret.
It seems they are the recipe of many families and I'm now surprised that was my very first time eating them. Where I had been? Hiding under a rock?
Regardless, they are the perfect party food and can be made in large batches. They are delicious and there will never be any leftover. I guarantee it.
Since then, I've been working on perfecting my very own ham slider recipe. This one is very close to the first recipe I snapped a photo of, with a few tweaks.
Like using sweet Hawaiian roll sliders and the mixture poured over the top (verus spread onto the bottom half of the roll).
What else sets this recipe apart? Worcestershire sauce makes the dijon mustard and butter mixture into a robust and flavor packed sauce for the top of the rolls.
Some use honey mustard, but I liked sticking to the zesty and savory tones instead of sweet.
PRO TIP: Ham and cheese sliders are usually made with Swiss cheese, but try swapping it out for white cheddar or Jarlsberg for a fun twist!
The best thing about these Ham and Cheese Sliders is that the ingredients are so simple that it's all but impossible to find someone who doesn't like them.
Unlike my Cuban Sliders which picky eaters may not like because of the pickles, Ham and Cheese Sliders seem to be a universal favorite, from kids to adults.
As I mentioned, I first had these at a baby shower but I think ham sliders are one of the best recipes for parties of any type – birthday parties, baby or wedding showers, game day, holiday parties, etc.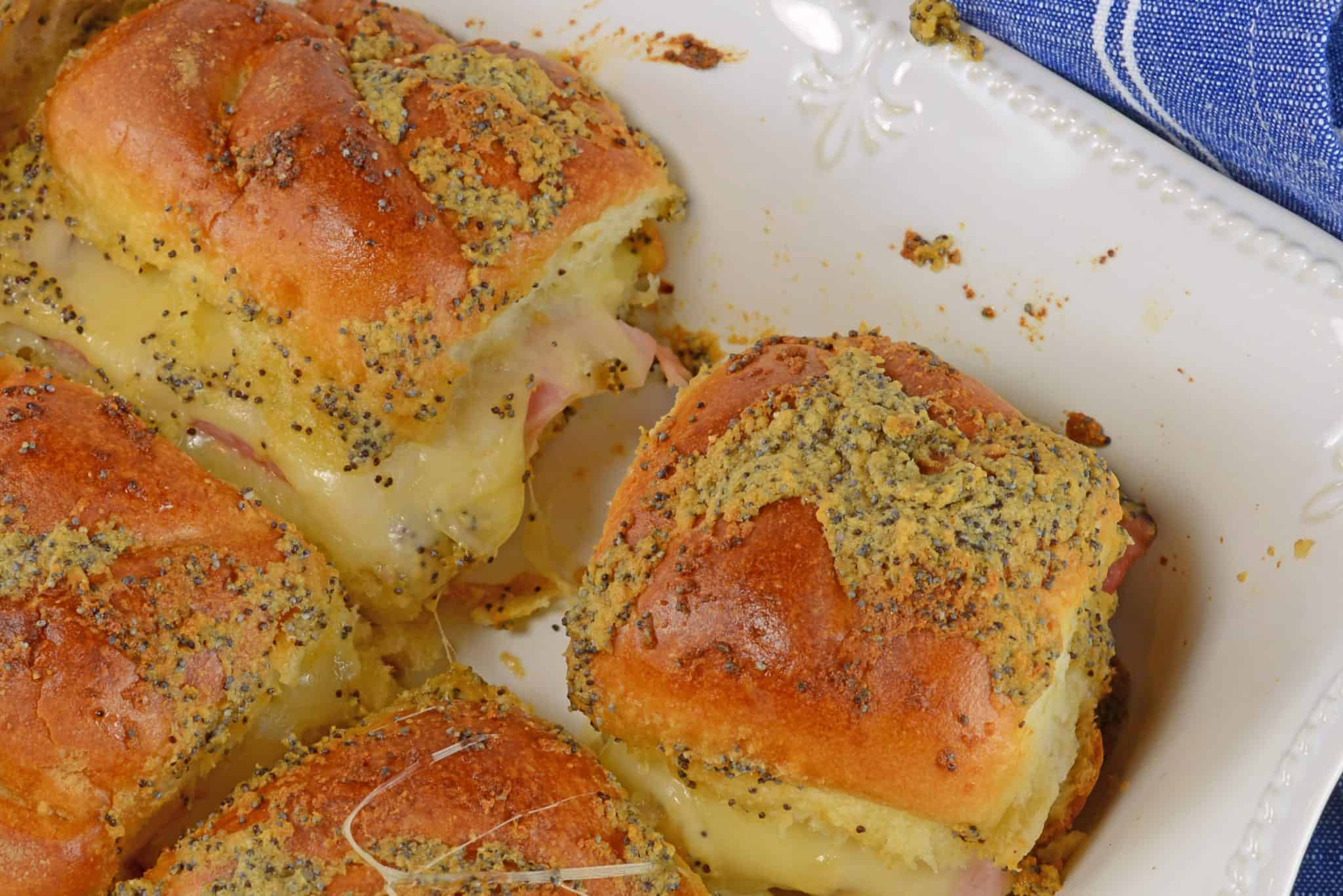 You could even switch out the honey ham for leftover holiday ham or even roast beef. It's easy to double or triple this recipe to serve a large group.
While these make a great appetizer, you could also make them for a light lunch or dinner and just eat more than one! (Because they're so good you'll want more than one anyway!)
Since you like these Ham and Cheese Sliders, you may also like these other easy slider recipes:
Tools for making Ham and Cheese Sliders:
9 x 13 Glass Baking Dish– an absolute essential for any kitchen! Use it for baking, marinating or storing. Get one with a lid, you'll thank me later.
Wood cutting board – wood won't dull your knives like plastic and if treated properly, has natural antimicrobial properties.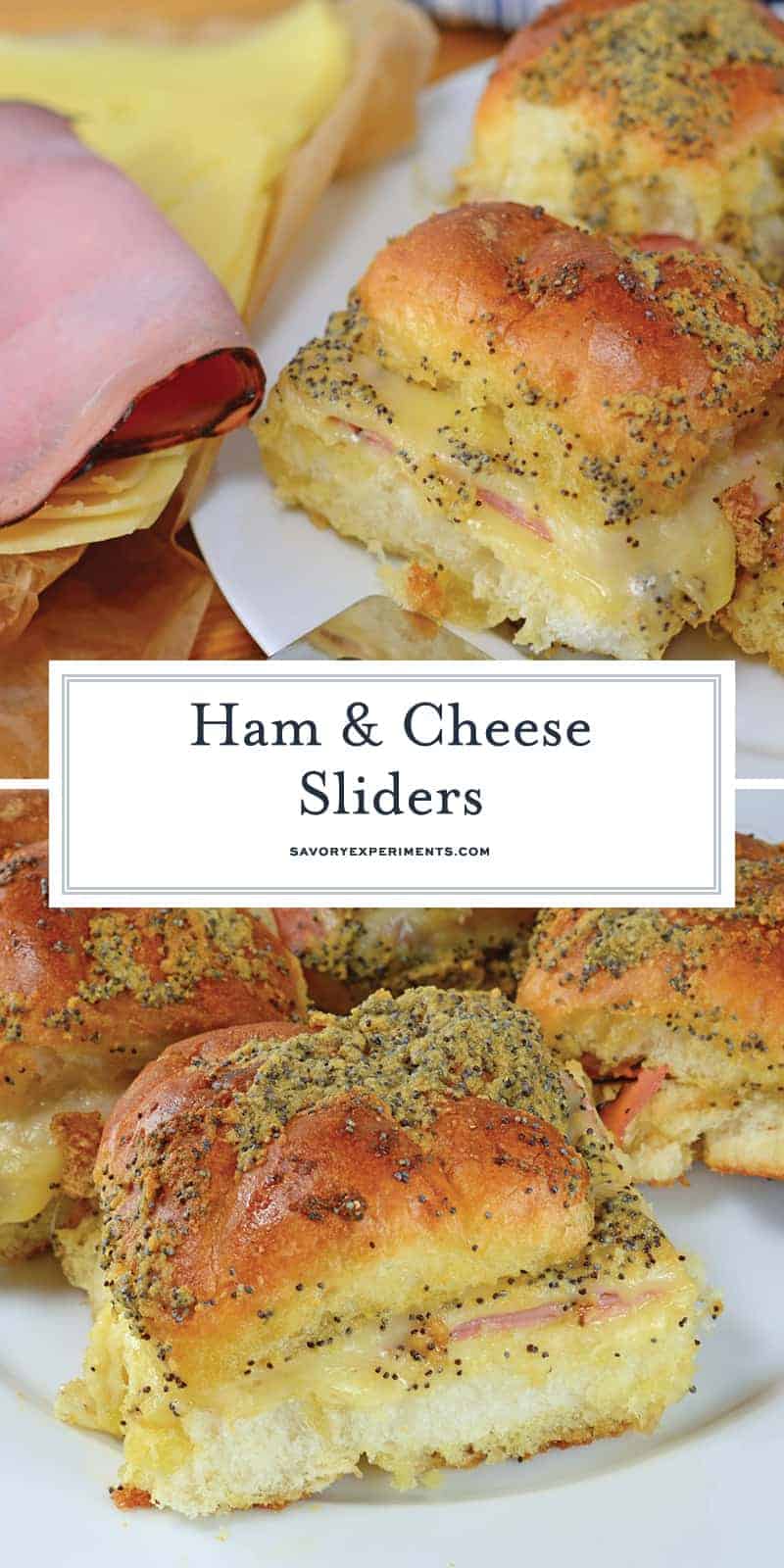 Questions you might have about how to make ham and cheese sliders:
Can I make them ahead of time? You can assemble the actual sandwich and mix the butter topping, but I would wait to cover in butter and bake until ready to serve.
Can I reheat them? You can reheat anything, but it rarely tastes as good as it did fresh. Microwave or a quick jaunt in the oven at 350 degrees wrapped in aluminum foil will do the trick.
To be honest… you probably won't have any leftovers!
What type of ham should I use? I just get thinly sliced deli ham. Sometimes smoked, other times a honey ham. And sometimes whatever is on sale!
You can also use a thinly sliced ham roast or leftovers from a ham dinner. Totally up to you.
What cheese can I substitute? Any cheese you'd like! Jarlsberg is another white, holey cheese that is often substituted for Swiss, but cheddar, gruyere or any of your favorite cheeses will do.
You can even get fancy and use a combination!
Can I leave off the butter topping? Sure! They won't have as much flavor, but they will still be good. The butter topping is really what elevates this recipes from the others.
Will eating poppy seeds make me test positive for opiates? NO! Listen, in my previous life I was the director of a substance use disorder clinic and a psychotherapist.
We ran our own personal testing, selflessly eating heavily poppy seeded bagels on the regular and testing ourselves to see just how many poppy seeds it would take to test positive.
The answer… over a week of building up poppy in your system and eating them regularly. And even then, there is another substance called quinine that can be detected to eliminate the fact that you did NOT use opiates.
You are safe to eat one, two or even twelve ham and cheese sliders with buttery poppy seed topping.
What other additions can I make? Try making your own unique topping by adding onion powder, dried onions, a pinch of cayenne or even chipotle chile powder.
You can also add different types of cheese or bread and butter pickles to the actual sandwich. Caramelized onions, roast garlic and roast tomatoes are also fabulous flavor combos.
Can I freeze ham and cheese sliders? I don't recommend freezing these as a sandwich. They will most likely thaw being a soggy.
What can I serve with my ham sandwiches? Well, I guess you need to ask yourself if you are serving these as an appetizer with other munchies or for the entree of a brunch or lunch.
If serving as an appetizer, I suggest pairing it with:
If serving as an entree, pair with these easy dinner ideas:
Check out even more slider recipes HERE in my 19+ Hawaiian slider roll recipe collection!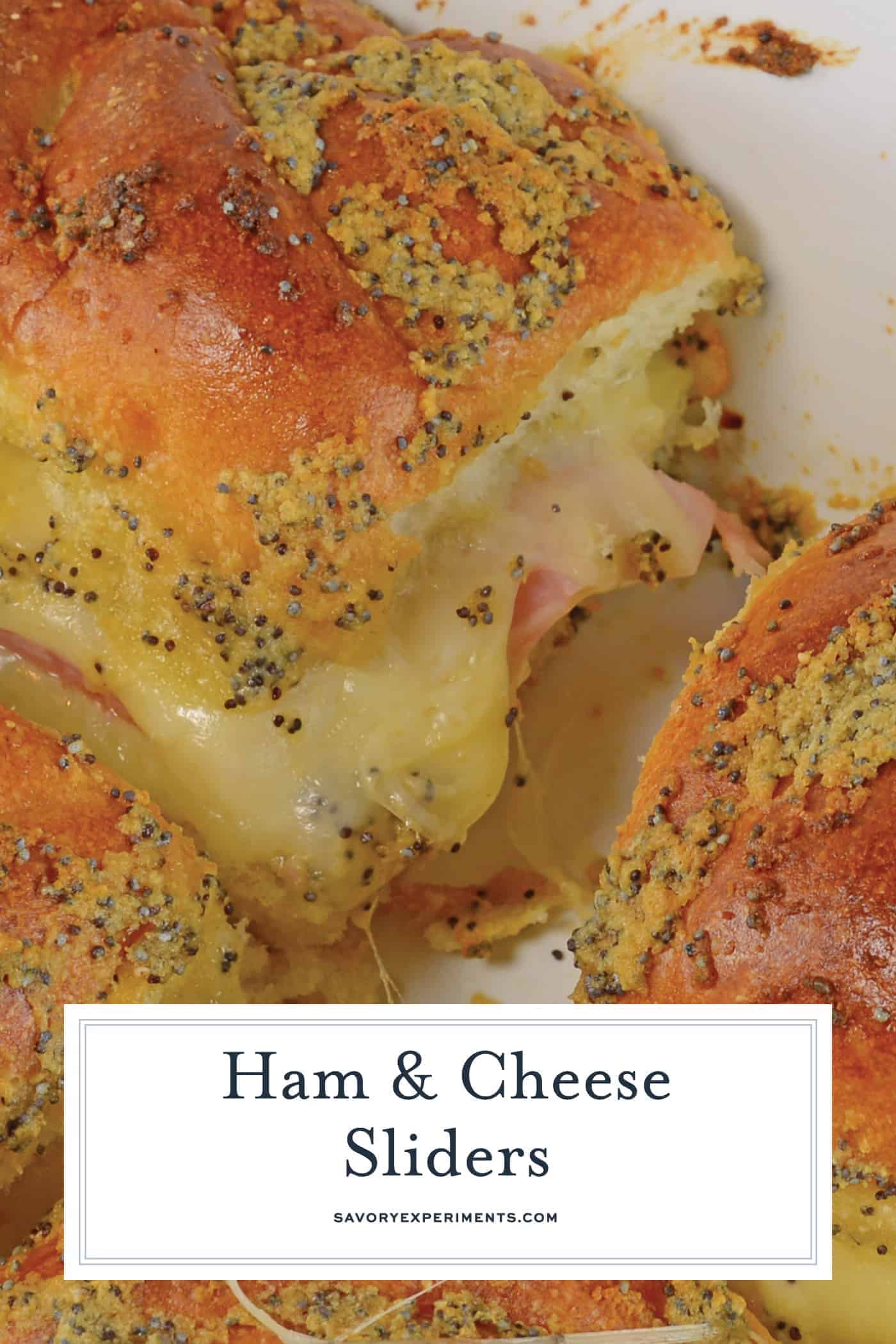 These Ham and Cheese sliders are made with delicious honey ham and Swiss cheese on Hawaiian Rolls. So good there'll never be any leftovers!
CONNECT WITH SAVORY EXPERIMENTS!

Be sure to follow me on social media, so you never miss a post!

Facebook | Twitter | Youtube
Pinterest | Instagram

Get our FREE 8 Day E-Course on How to Be a Better Home Cook. Sign up HERE!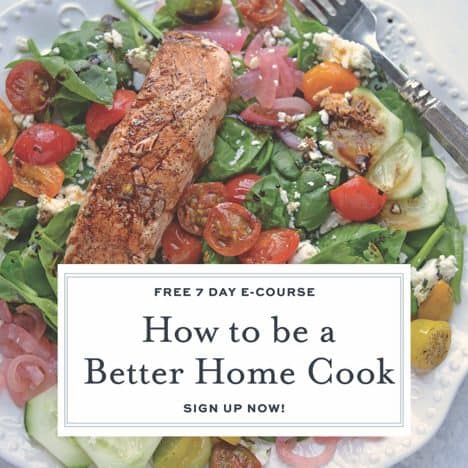 Ham and Cheese Sliders
Ham and Cheese Sliders are easy, cheesy and delicious! One of the best recipe for parties of all types, from baby showers and birthday parties to holiday parties and casual family get-togethers.
Instructions
Preheat oven to 350F.

Place all 12 Hawaiian rolls onto a surface suitable for cutting. Using a serrated knife, slice in half while keeping tops and bottoms intact. It should be like one large sandwich.

Place the bottom layer of rolls in a 9×13 pan.

Evenly layer the cheese and ham over Hawaiian roll bottoms. Place the tops back on.

In a small bowl, combine unsalted butter, Dijon mustard, poppy seeds, garlic powder, Worcestershire sauce and fine sea salt. Place in the microwave until butter has melted, approximatly 40 seconds.

Pour over the tops of the rolls, trying to get as much on top as you can.

Cover with aluminum foil and bake for 20 minutes.

Remove aluminum foil and continue to bake until tops are slightly browned and cheese has melted.

Remove, cut into 12 individual sliders and serve hot.

If you've tried this recipe, make sure to come back and let us know how it went!
Nutrition
Calories:
280
kcal
|
Carbohydrates:
16
g
|
Protein:
12
g
|
Fat:
18
g
|
Saturated Fat:
10
g
|
Cholesterol:
59
mg
|
Sodium:
413
mg
|
Potassium:
80
mg
|
Sugar:
4
g
|
Vitamin A:
395
IU
|
Calcium:
164
mg
|
Iron:
0.3
mg