Love the smell of fresh baked bread in your kitchen but don't have the time to make it? Check out my easy hack for how to make a loaf of Olive Cheese Bread in only 15 minutes!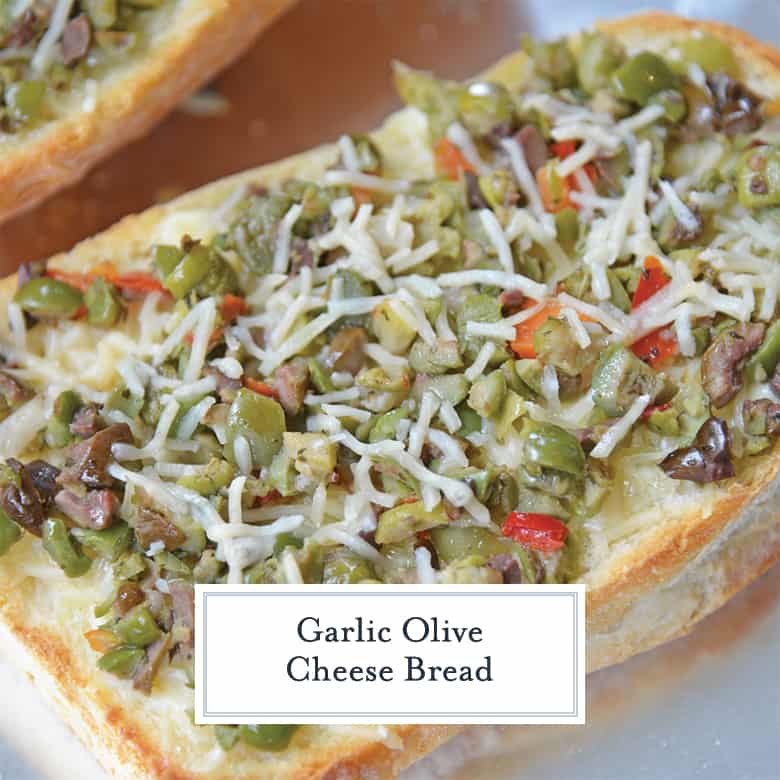 Don't have time to make homemade olive bread? Check out my hack for making this easy Olive Cheese Bread recipe. It takes no more than 15 minutes from start to finish!
Usually olive bread is a bread baked with salty olives baked inside the loaf. This Olive Cheese Bread is a little different.
On the day that I made this bread, I had leftover Olive Tapenade from a fabulous cheese platter. I wasn't really in the mood for more crackers and snacks, so I opted to make myself some garlic bread, but with olives!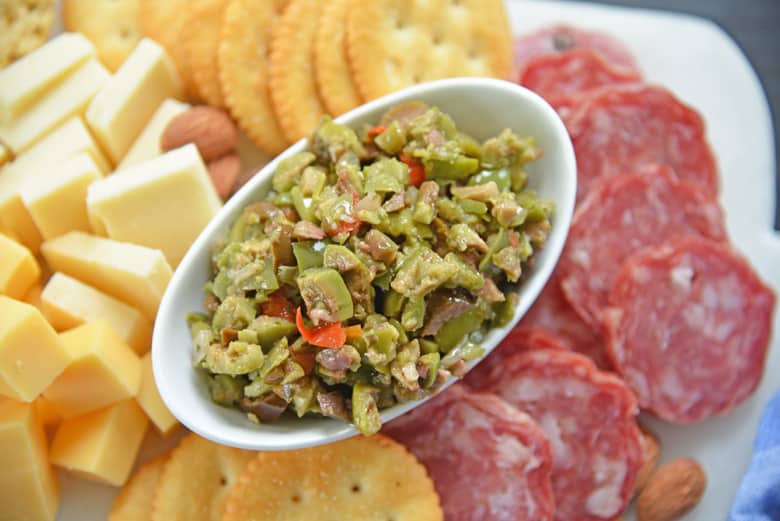 So I slathered my bread with homemade garlic aioli and topped it with freshly chopped olive tapenade and Parmesan cheese.
My olive tapenade recipe is pretty simple and easy to make. It's as simple as combing ingredients in a bowl, stirring them together, and then refrigerating.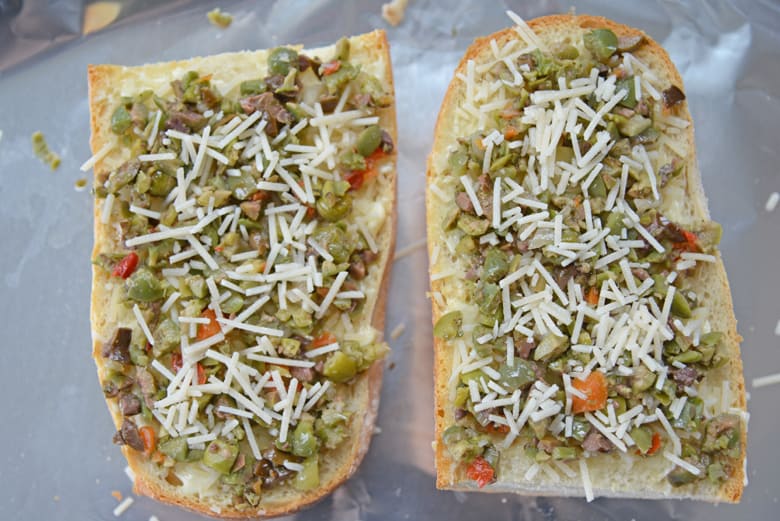 The ingredients I like to use are: green olives roughly chopped (although you could use black olives or even kalamata olives if you prefer,) white onion, capers, roasted red pepper, carrots, garlic powder and olive oil.
Combine all of those ingredients in a bowl, and you're ready to make the Olive Cheese Bread! After you've made the olive tapenade, you can preheat the oven to 350 degrees.
While the oven is preheating, cut a loaf of bread (I prefer French bread) length wise. Then place the loaf, cut side up, on a baking sheet and toast for 5-7 minutes or until lightly browned.
Next, spread the garlic aioli evenly over the bread. Then top with Parmesan cheese and olive tapenade.
Return the loaf to the oven for 3-4 minutes or until the cheese melts. Parmesan is a hard cheese and doesn't get super melty. It will be a little shiny. Then remove from the oven and it's done!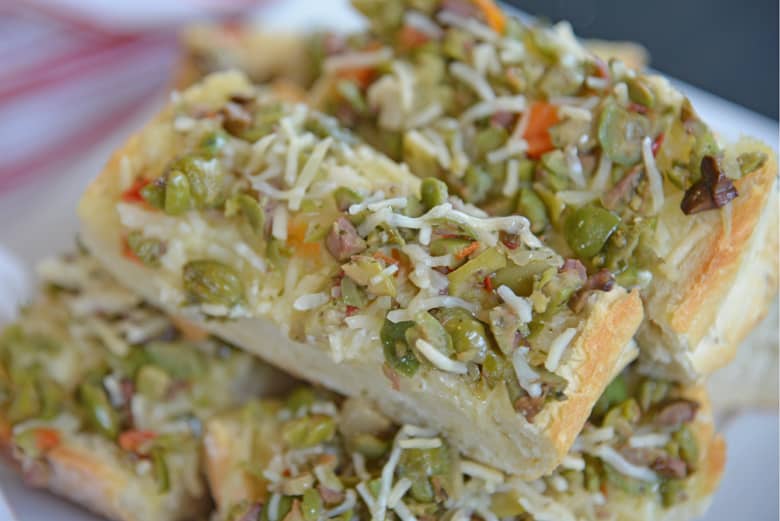 I highly recommend serving this Olive Cheese Bread hot, because fresh baked bread is always best! Am I right?
This is a great recipe to use up leftover olive tapenade like I did, but it's also perfect for a dinner party!While I love bread, and homemade bread is my absolute favorite, sometimes I just don't have the time! Especially when entertaining.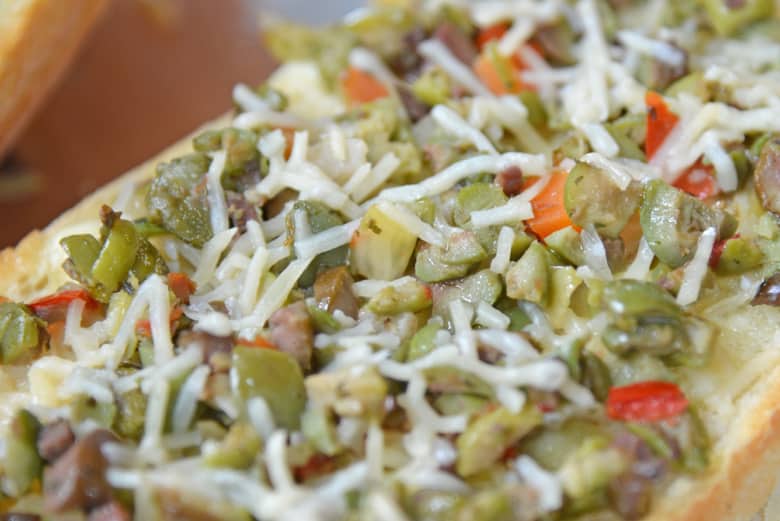 You have to knead the bread dough, wait until it doubles in size, etc. Using a loaf that you've baked before or bought from the grocery store is far quicker and easier. But if you prefer to make your own, by all means have at it!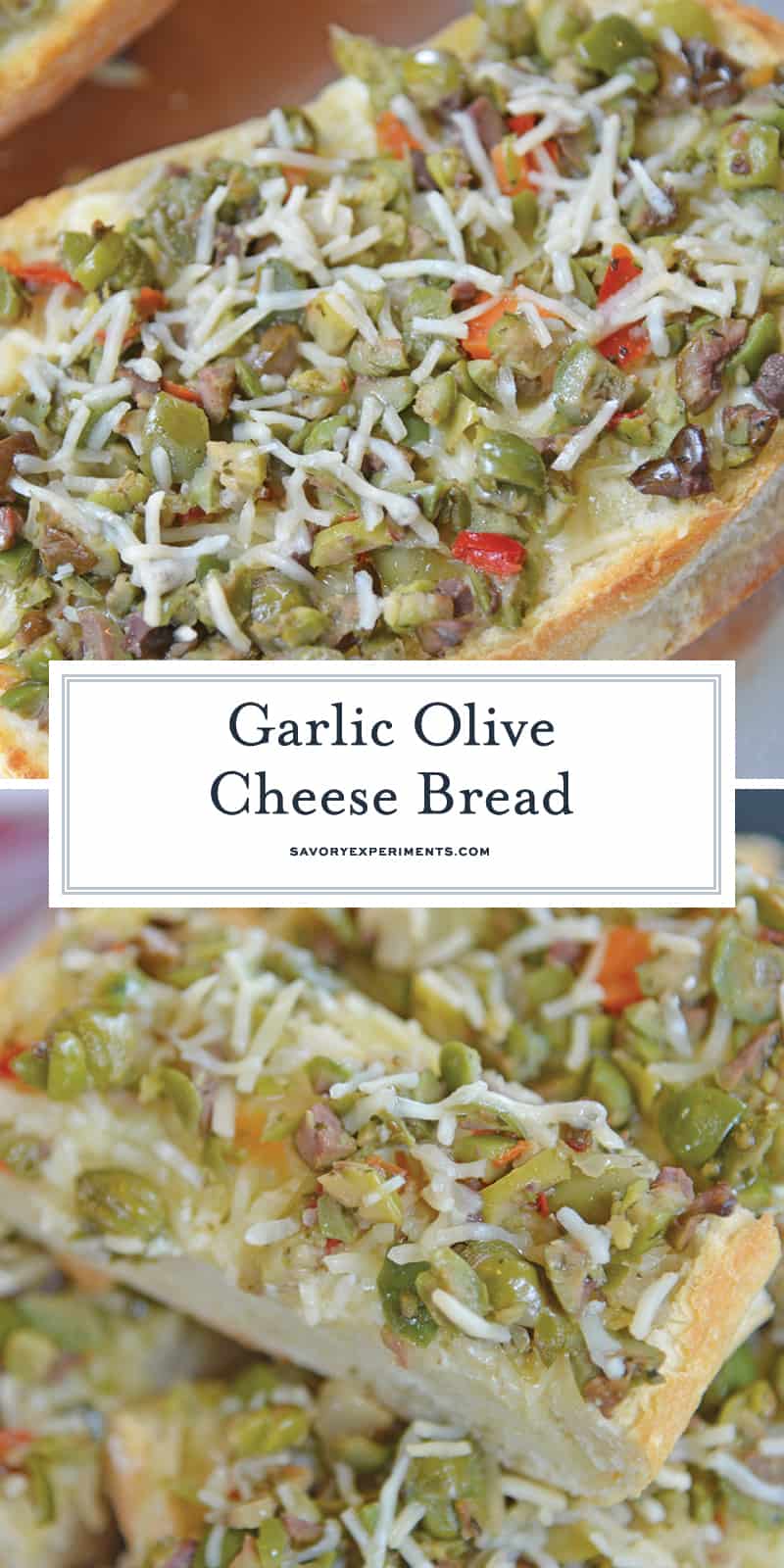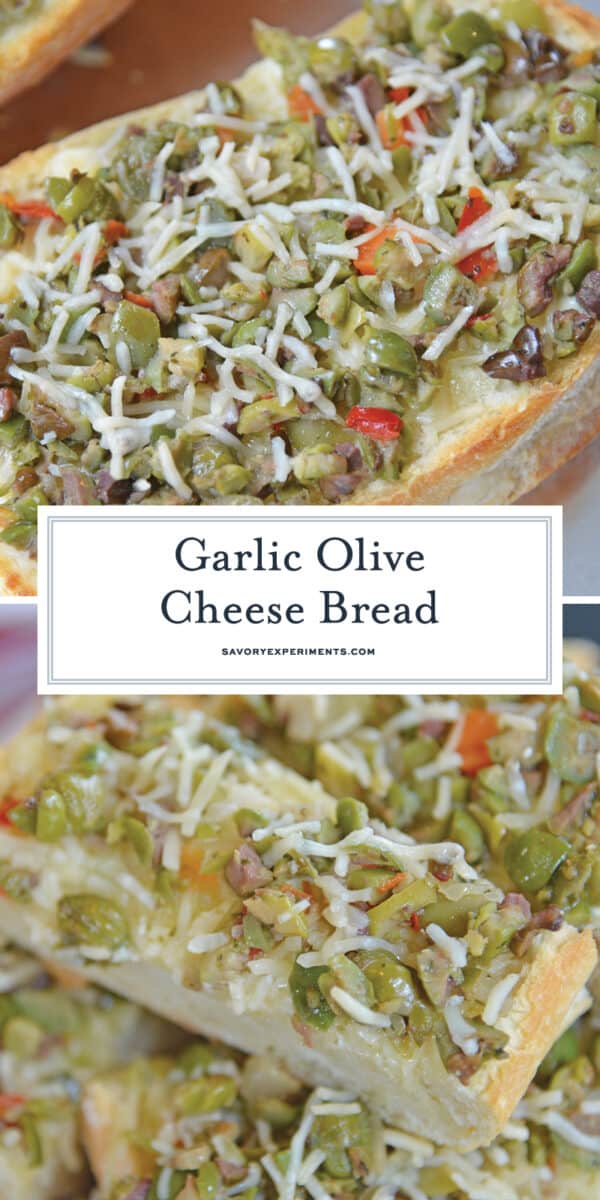 Check out these other delicious bread recipes: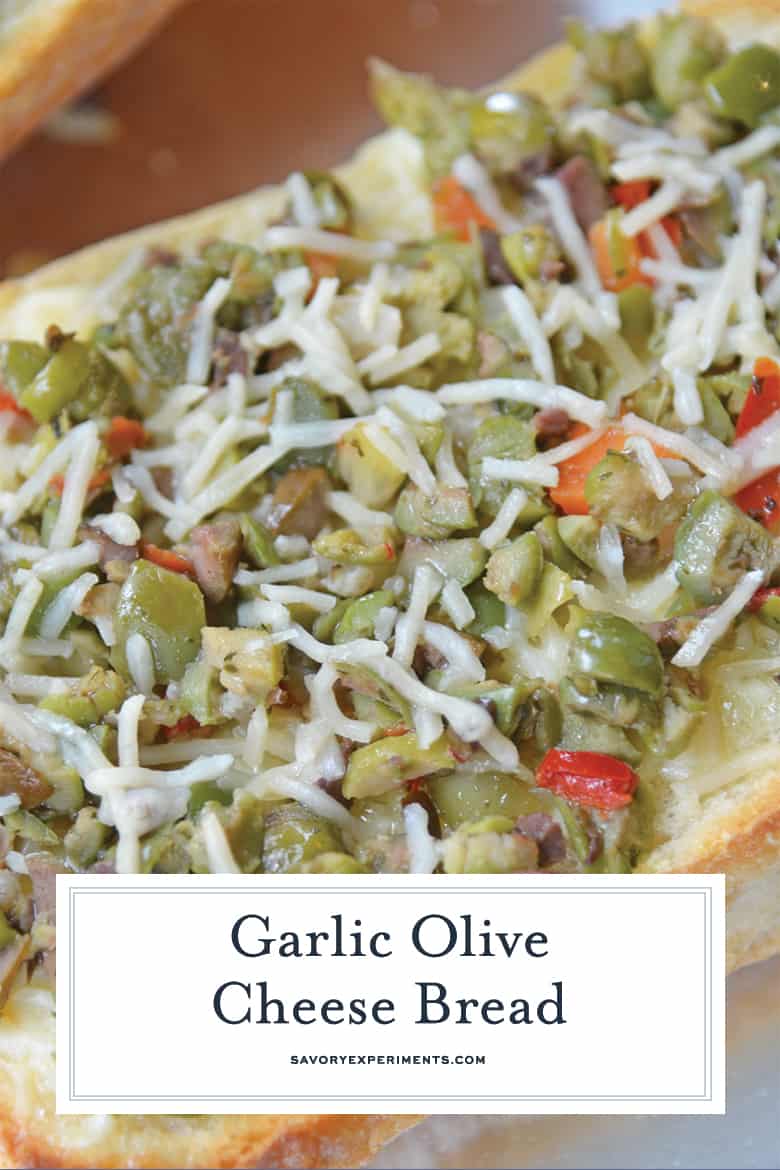 Questions you may have about this easy bread recipe:
Is olive bread good for you? Because it is high in carbs, bread in general is not the healthiest food. But it is topped with lots of vegetables, so…you win some, you lose some!
Can Olive Cheese Bread be frozen? I don't recommend freezing this bread. When the olive tapenade thaws, it will make the bread underneath quite soggy. And no one likes soggy bread!
How long does olive bread last? I would eat this bread the same day you make it. If you would like to prepare it ahead of time, just make the olive tapenade and store it in a bowl until you are ready to put the bread together and serve it.
What to serve with olive bread? Olive Cheese Bread can be served as an appetizer to a dinner party, or even on its on with other appetizers or snacks. If serving it with dinner, try it with a nice pasta dish in place of your usual garlic bread.
This bread will quickly become your new favorite alternative to garlic bread. Easy to make but with loads more flavor and olives totally count as a vegetable. (Right?)