Kale. Gosh, when did kale get so popular? It is certainly a food trend and here I am jumping on the train with kale salad. This Kale Salad with Lemon Dressing is a refreshing and healthy salad everyone will enjoy!
Kale Salad with Lemon Dressing is tossed with currants, radicchio, walnuts, and lemon dressing. Learn secret tips on making your kale salad silky smooth and how to make kale chips with the leftovers!
I have to tell you, it took me a while to jump on this kale crazy bandwagon. There was something about the flavor and texture of kale salads that weren't for me until I realized I hadn't been making them the right way.
Before we get into that, let's talk greens.
Kale is slightly sweet, slightly bitter, hearty green. It makes a wonderfully vibrant and voluminous salad, but also does well in soups and stews, like my Pork Ragu, because it doesn't breakdown as spinach would.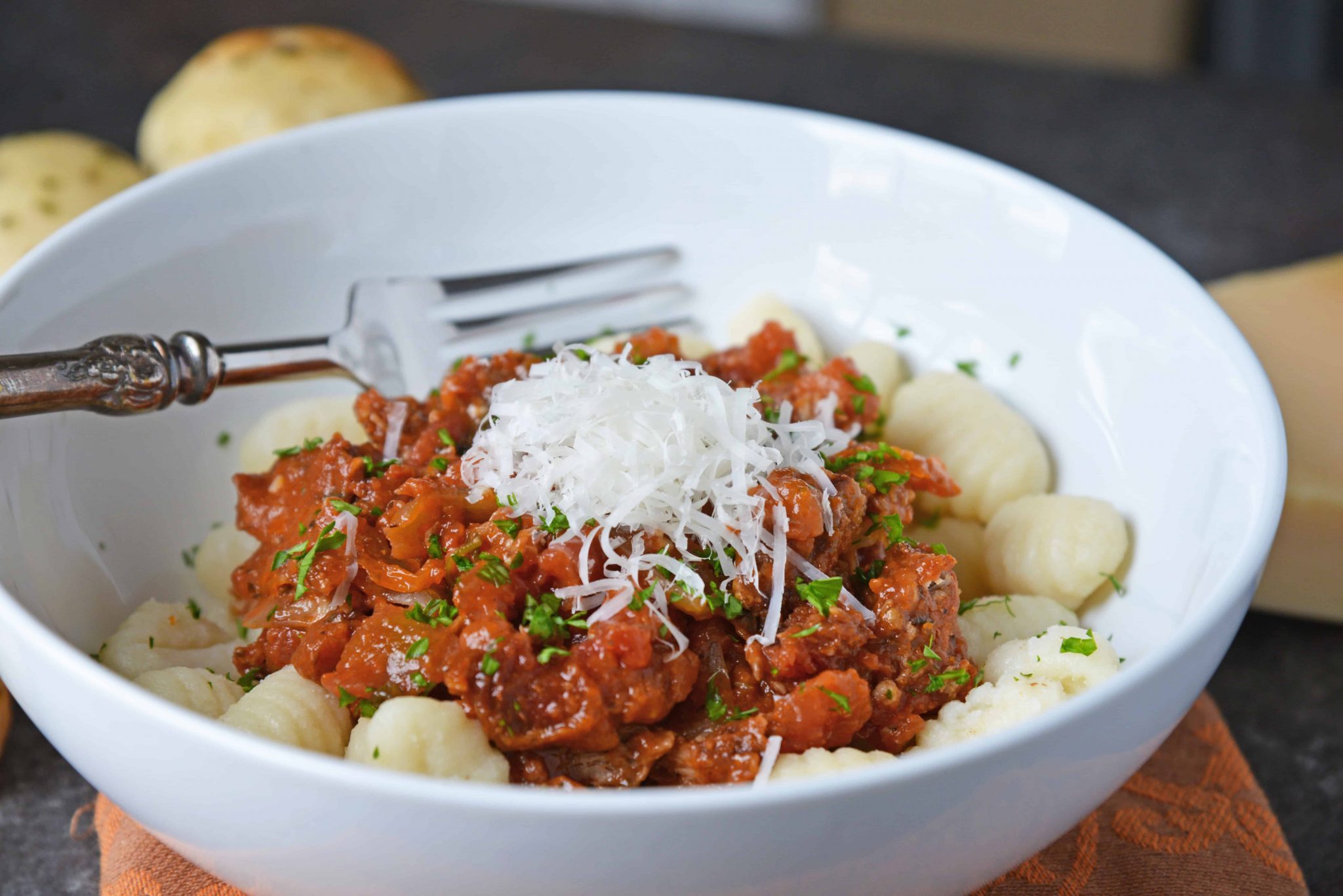 It is a year-round vegetable and an excellent choice for nutritional reasons as well. The fiber, potassium, vitamin C and B6 found in kale all support heart health.
It is also found in many green smoothies for great flavor, great texture, and all the amazing things listed above.
FACT: Kale is full of fiber, potassium, vitamin C and B6 making it a SUPERFOOD!
Back to me finally saying "yes" to kale. For too long, I hadn't been massaging it. I know what you're thinking, massaging a green for a salad?
This has to be a joke right? In all honesty, it's a thing as crazy as it sounds. Nope- you are about to give your greens a nice, long rub down and you won't regret it.
PRO TIP: Massage your kale!
Once you add your salad dressing, get in there with your hands. By rubbing the oil of the dressing into the leaves of the kale, you'll notice the color of them and more importantly the texture.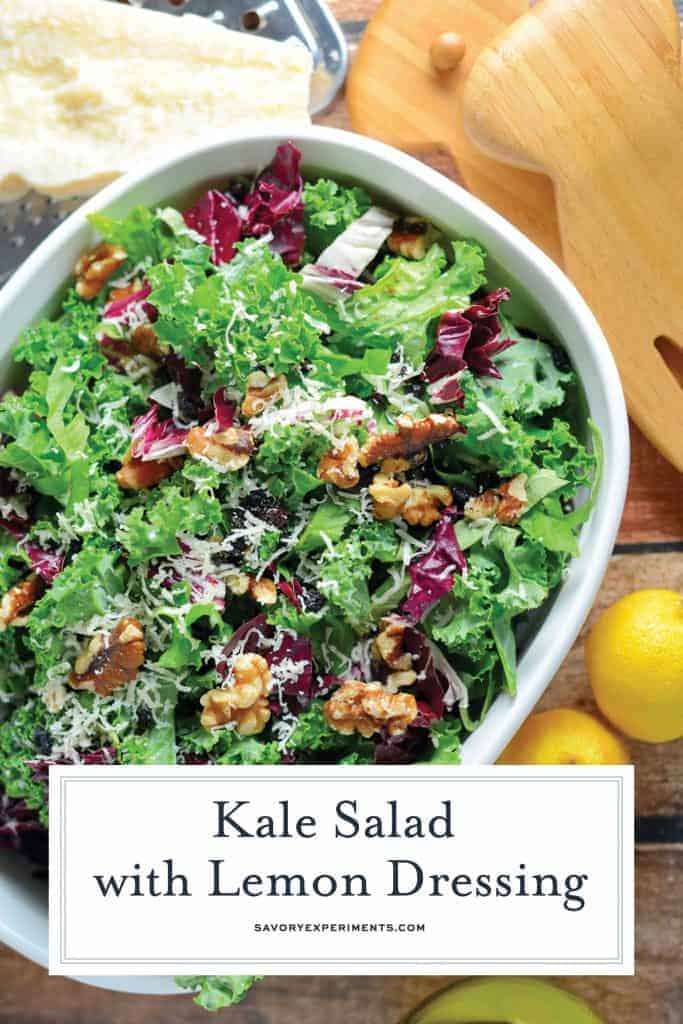 They stop feeling tough and leathery and really start to become soft and silky.
Long story short, you are rubbing it until it wilts… in a good way. I promise!
I am a firm believer that salads don't have to be boring. Just check out my tips for exciting salads, including serving yours in a beautiful salad bowl!
This kale salad is tossed with radicchio, walnuts, sweet dried currants, and basil with a basic lemon dressing and shaved cheese. Can you say deliciousness?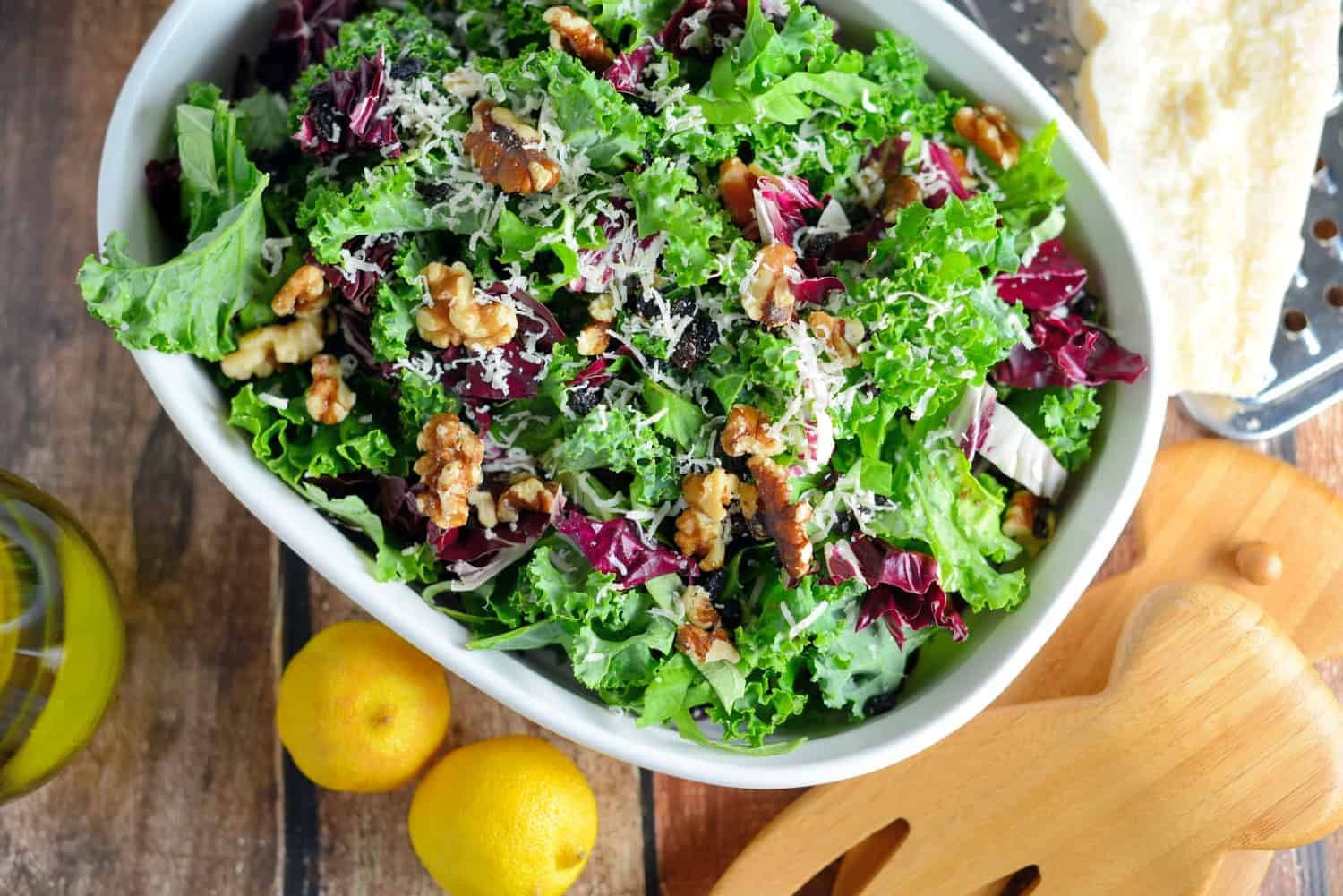 On this occasion, I sent hubby to the store, asking him for a "generous" amount of kale. He came back with enough kale to last us a month. Much more than we could every consume before it went bad.
If you ever find yourself in a similar situation (and my gut says many of you have,) I've got the perfect solution.
Kale chips! Easy to make, kale chips hit the spot when you are craving a crunchy and salty treat and don't want to waste the calories on potato chips.
For these, there is no massaging involved. Just pop in the oven and then pop in your mouth! You can even make Ranch Kale Chips.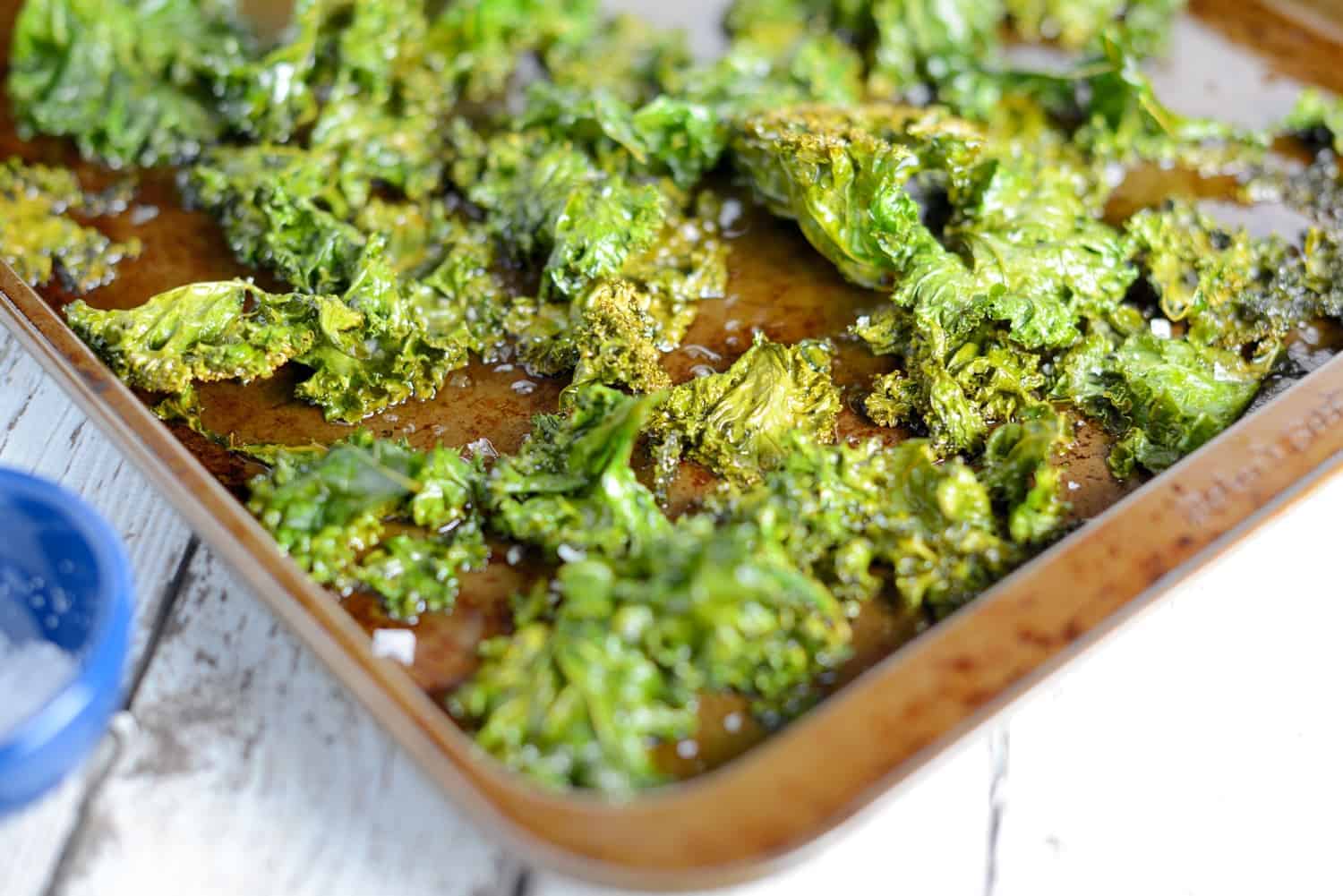 Easy salad recipes: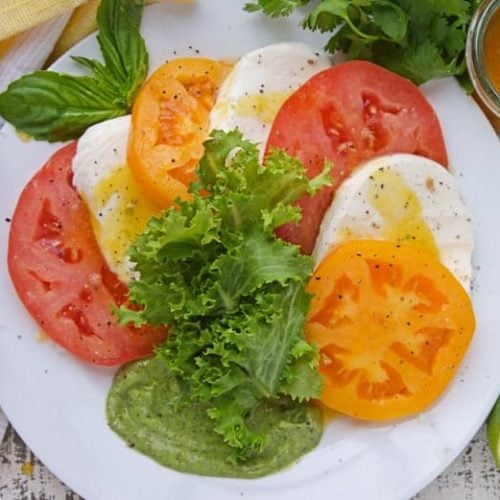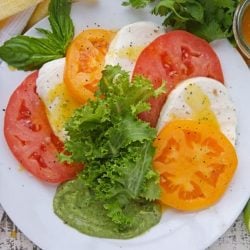 Passion Fruit Caprese Salad
Passion Fruit Caprese Salad, a summer salad offered by Omni Hotels & Resorts, combines a sweet and spicy serrano-passion fruit dressing and avocado spread with a traditional Caprese salad.
See The Recipe!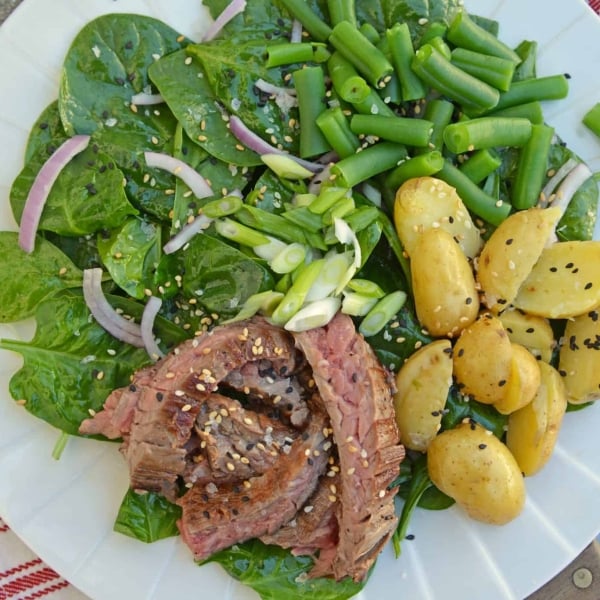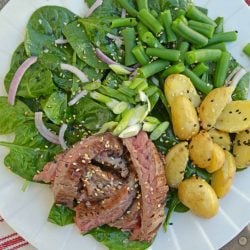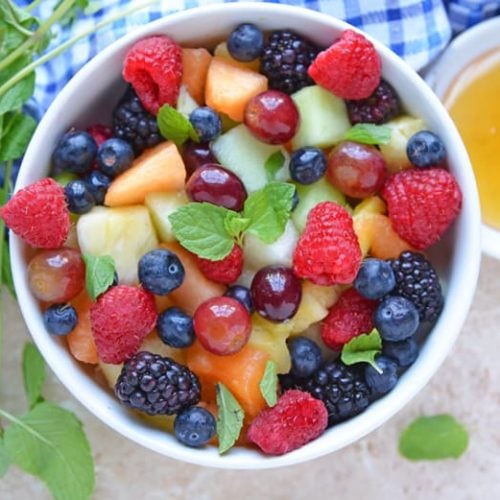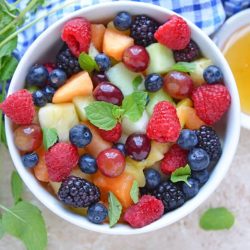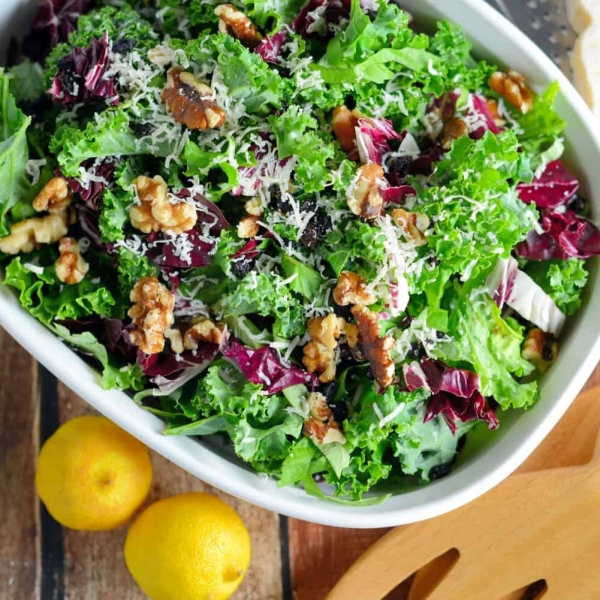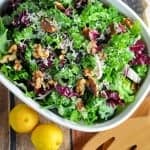 Kale Salad Recipe
Kale Salad with Lemon Dressing is tossed with currants, radicchio, walnuts and a lemon dressing. Learn how to massage kale salad and make a delicious salad!
Instructions
In a large salad bowl toss kale, radicchio and basil. Season dry greens with sea salt and freshly ground pepper. Toss.

Whisk extra virgin olive oil, fresh lemon juice and lemon zest in a small bowl.

Toss greens with 1/2 of dressing.

Add 1/2 cup cheese, currants and walnuts as well as the remaining dressing. Toss again.

Garnish with remaining 1/2 cup of cheese and enjoy!

If you've tried this recipe, come back and let us know how it was!
Nutrition
Calories:
246
kcal
,
Carbohydrates:
10
g
,
Protein:
8
g
,
Fat:
20
g
,
Saturated Fat:
4
g
,
Cholesterol:
17
mg
,
Sodium:
217
mg
,
Potassium:
330
mg
,
Fiber:
1
g
,
Sugar:
4
g
,
Vitamin A:
4530
IU
,
Vitamin C:
54.3
mg
,
Calcium:
259
mg
,
Iron:
1.3
mg