Classic, homemade tomato soup should be a hearty, stick to your ribs type of meal. Something with substance, not watered down ketchup. The purpose is to warm your heart and soul on a cold day.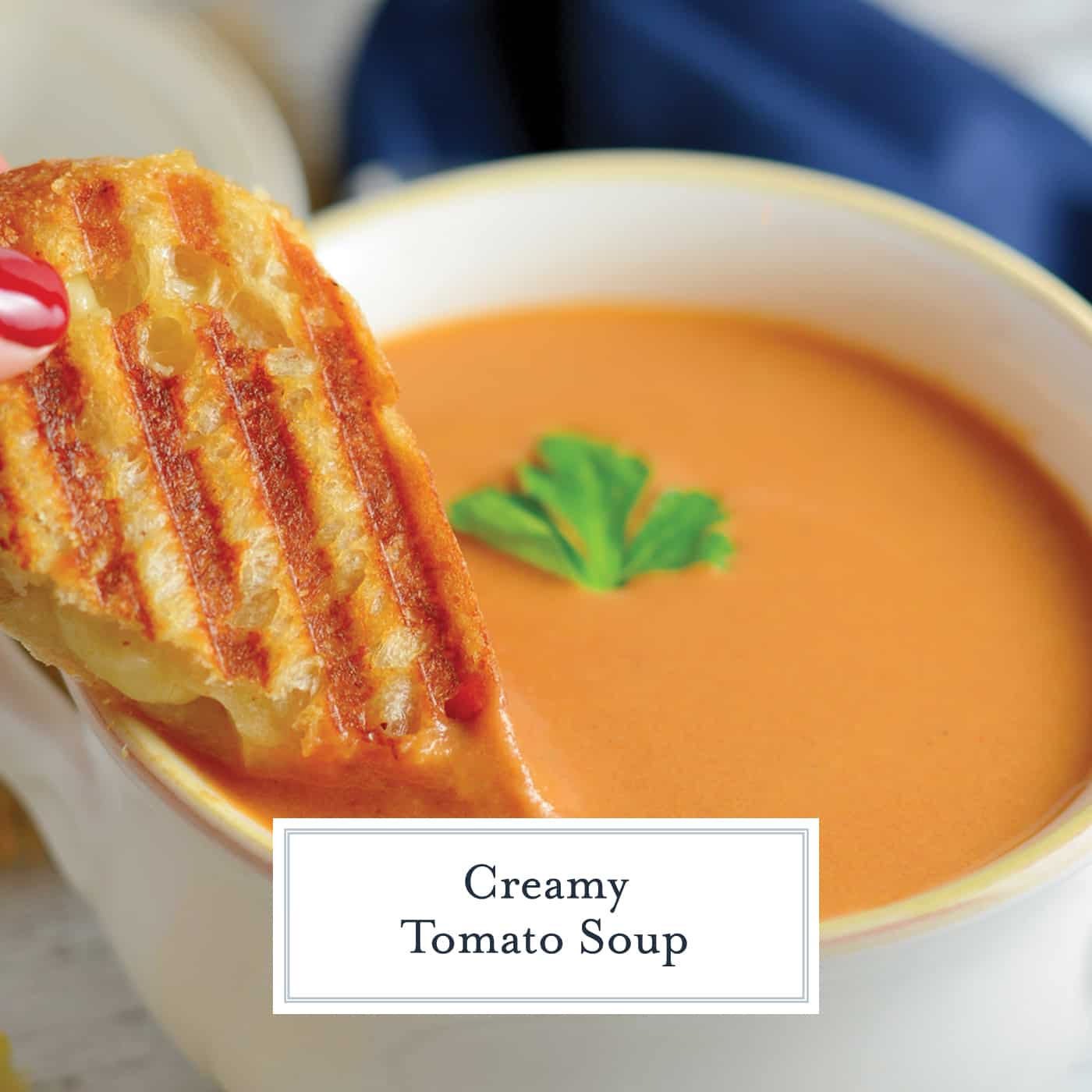 Creamy Homemade Tomato Soup is rich and creamy, full of flavor from roasted onions, tomatoes and garlic! Make-ahead and freezer friendly!
As a whole we are a busy society, taking shortcuts whenever possible, which means buying smooth, canned tomato soup. Homemade has a rustic texture and character, not over processed, tomato flavored broth and it is simple to make.
The best tomato soups seem to be made by using a variety of tomatoes, ensuring a variety of different acidic flavor. I prefer to use beefsteak or heirloom, however on this date I used 1/2 green and 1/2 heirloom.
Roma (plum) tomatoes are traditionally used in marinara sauces and have more flavor, however the goal for tomato soup isn't to have marinara, so I tend to stay way from Roma.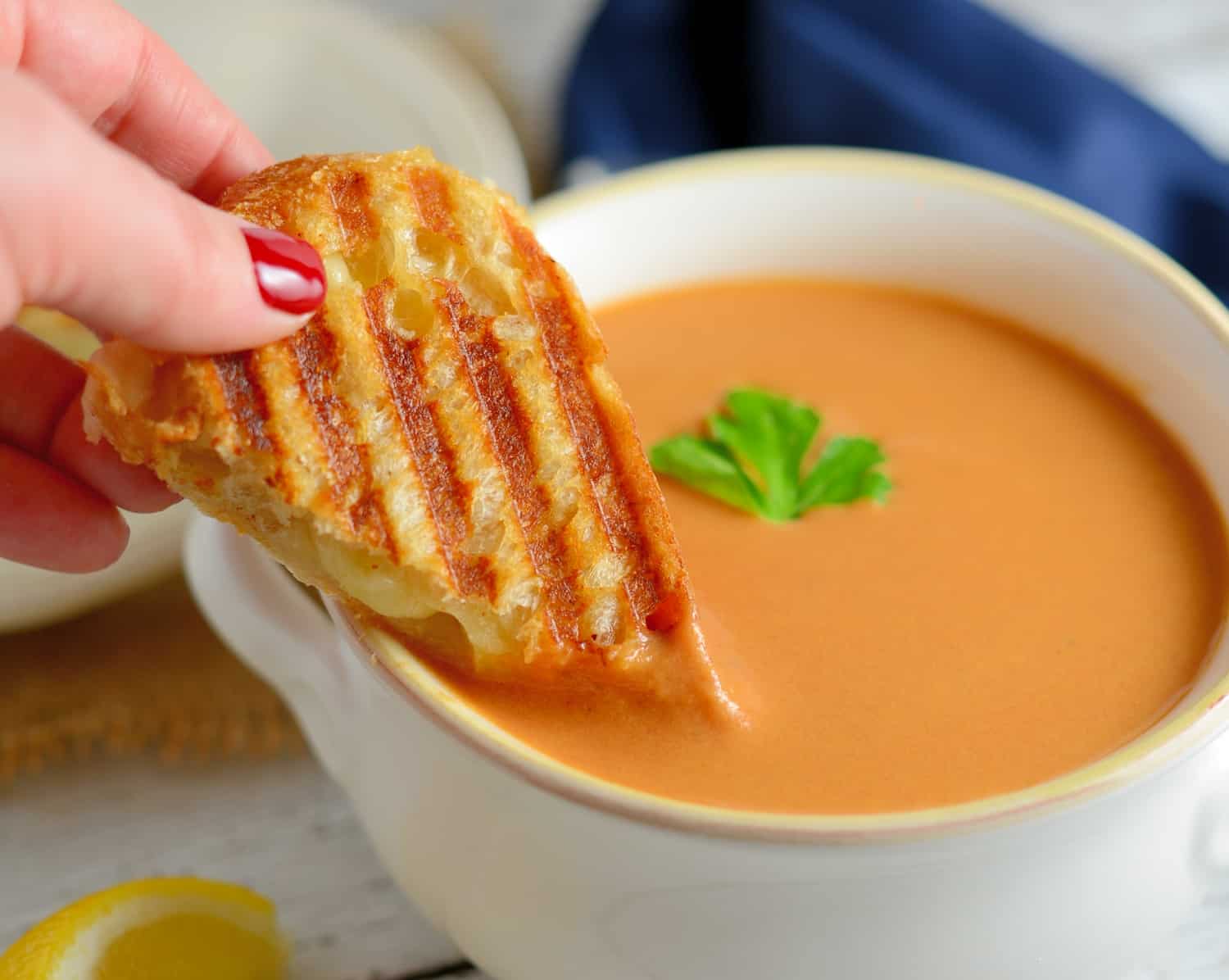 You can use whatever your heart desires, just make sure you get enough. After seeding, peeling, chopping and roasting the bulk of the tomato will have disappeared. The color of the original tomatoes will also impact the soup.
Therefore my use of some green tomatoes lessened the deep, rich red of the finished product.
And while everyone is fawning over tomato soup, I omitted basil altogether. Instead I used zesty oregano and parsley. It was a nice chance from status quo.
One thing is for sure, your Homemade Tomato Soup will need a sidekick of grilled cheese. My favorite is white cheddar on sourdough.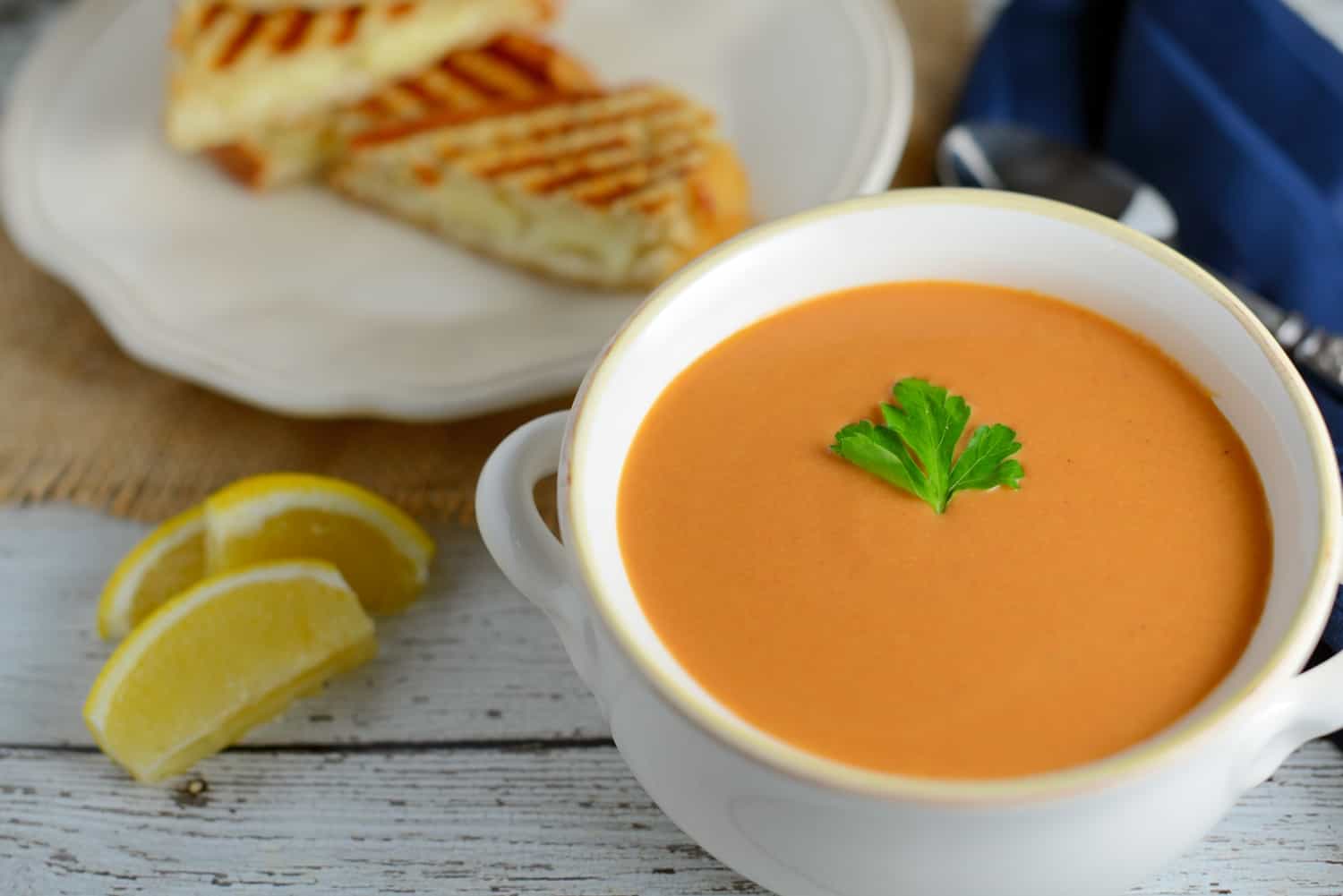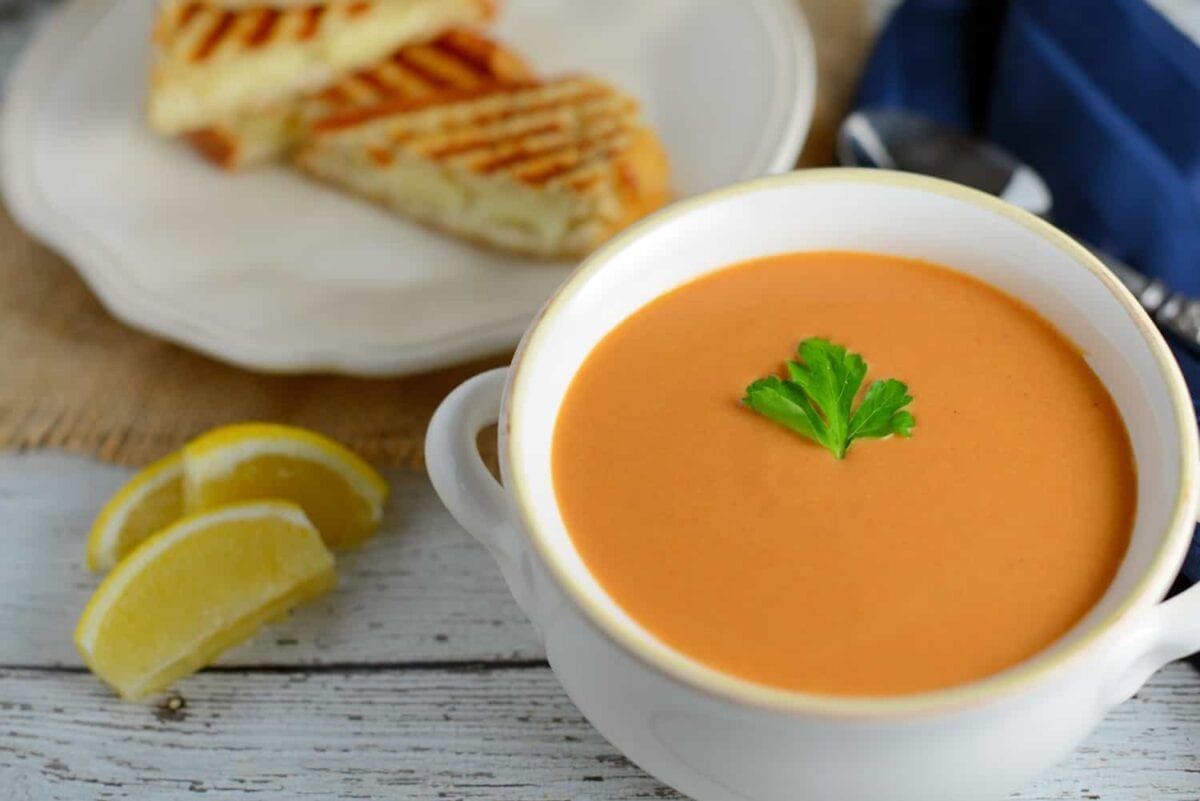 Creamy tomato soup can be served as an appetizer or an entree. Serving suggestions include topping with cheddar cheese, garlic dill oyster crackers or Hot Dog Bun Croutons.
Some prefer to have saltine crackers on the side.
If you like this soup recipe, you might also like these!
Easy Chicken Tortilla Soup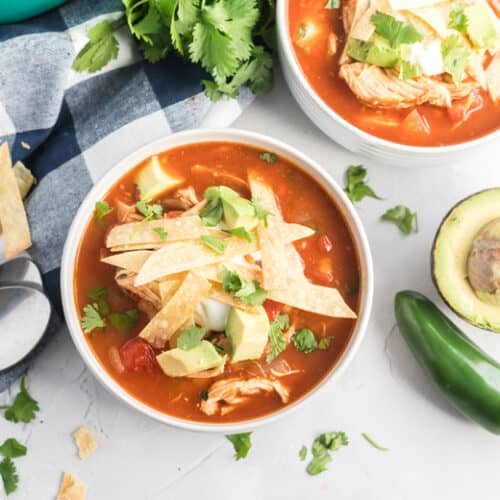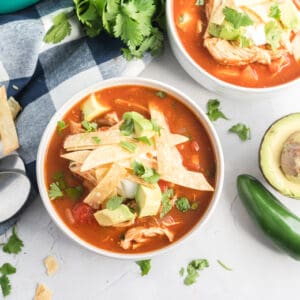 This is an easy chicken tortilla soup that can be on your table in less than an hour. A rich tomato broth with a bit of spice and large chunks of chicken make this a hearty and comforting meal!
Thai Coconut Soup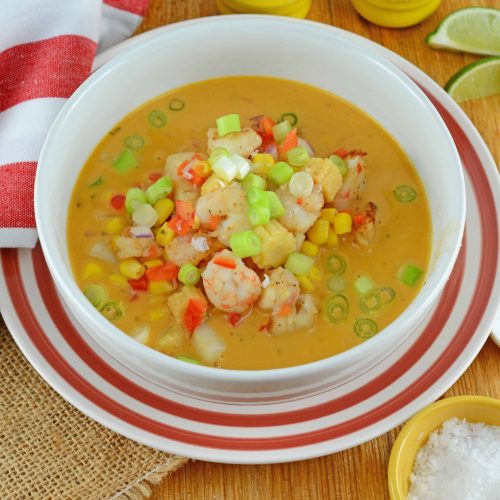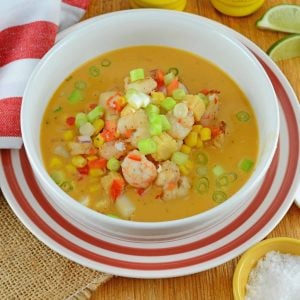 Seafood Thai Coconut Soup is an easy and healthy appetizer or entree using scallops, shrimp, vegetables and a red curry coconut broth.
Tools for making Homemade Tomato Soup:
Rimmed Baking Sheet– another kitchen staple! You'll use this for prep work, roasting and much more. I have 7 at my house.
Immersion Blender– I used to transfers anything that needed to be blended to a food processor and then back again. It was an unnecessary amount of the work for the cheap cost of an immersion blender. They are also super easy to clean.
Soup Bowls– I love soup crocks! They are just so much more fun than a dreary regular bowl and perfect for making French Onion Soup too! I like the little handles, they prevent you from burning yourself while transporting a steaming bowl of deliciousness.
CONNECT WITH SAVORY EXPERIMENTS!

Be sure to follow me on social media, so you never miss a post!

Facebook | Twitter | Youtube
Pinterest | Instagram
Get our FREE 8 Day E-Course on How to Be a Better Home Cook. Sign up HERE!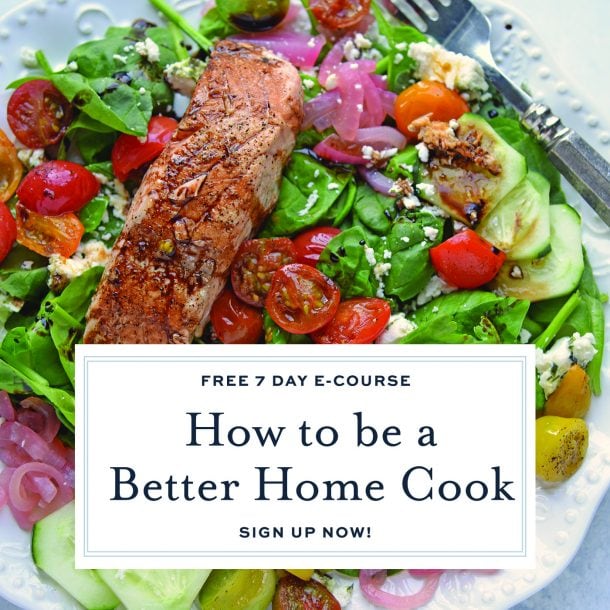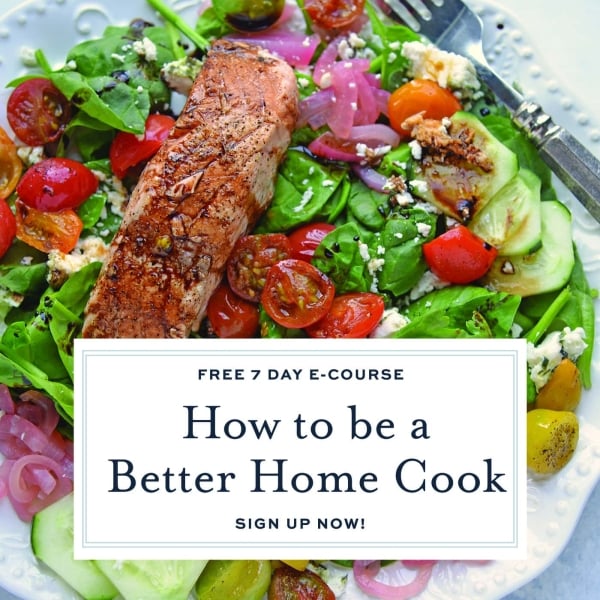 Creamy Tomato Soup
Creamy Homemade Tomato Soup is rich and creamy, full of flavor from roasted onions, tomatoes and garlic! Make-ahead and freezer friendly!
Instructions
Preheat oven to 350 degrees.

Chop off stem end of tomatoes and then quarter. Using your fingers, gently press out the pulpy seed sections. Do not worry about getting it all, just the majority.

Toss tomatoes, onion, extra virgin olive oil, parsley, sea salt, pepper and Italians seasoning in a large mixing bowl. Spread the mixture into a single layer on a large, rimmed baking sheet

Tuck garlic cloves into tomato quarters so they stay moist and do not burn, but still roast.

Roast for 45 minutes, turning once half way through cooking.

Remove from oven and allow to cool slightly. Using a slotted spoon, transfer mixture to a food processor, leaving any remaining liquid in the baking sheet. Add tomato paste.

Blend until lightly textured. This may take up to a minute for such large volume. Transfer mixture to a large Dutch oven or sauce pan.

Stir in vegetable broth. Simmer over low heat for 30 minutes, stirring occasionally.

Ladle into bowls. Divide cream evenly among bowls. Pour in the center. As you can see I attempted to make a fun design, however the density of the soup and cream did not cooperate. Top with fresh oregano. Enjoy!

If you've tried this recipe, come back and let us know how you liked it!
Nutrition
Calories:
274
kcal
|
Carbohydrates:
14
g
|
Protein:
3
g
|
Fat:
24
g
|
Saturated Fat:
6
g
|
Cholesterol:
20
mg
|
Sodium:
1048
mg
|
Potassium:
699
mg
|
Fiber:
3
g
|
Sugar:
8
g
|
Vitamin A:
2645
IU
|
Vitamin C:
37.8
mg
|
Calcium:
56
mg
|
Iron:
1.5
mg