Who said that jam had to be sweet and not savory? No on one. Bourbon Bacon Jam is a revolutionary addition to any kitchen.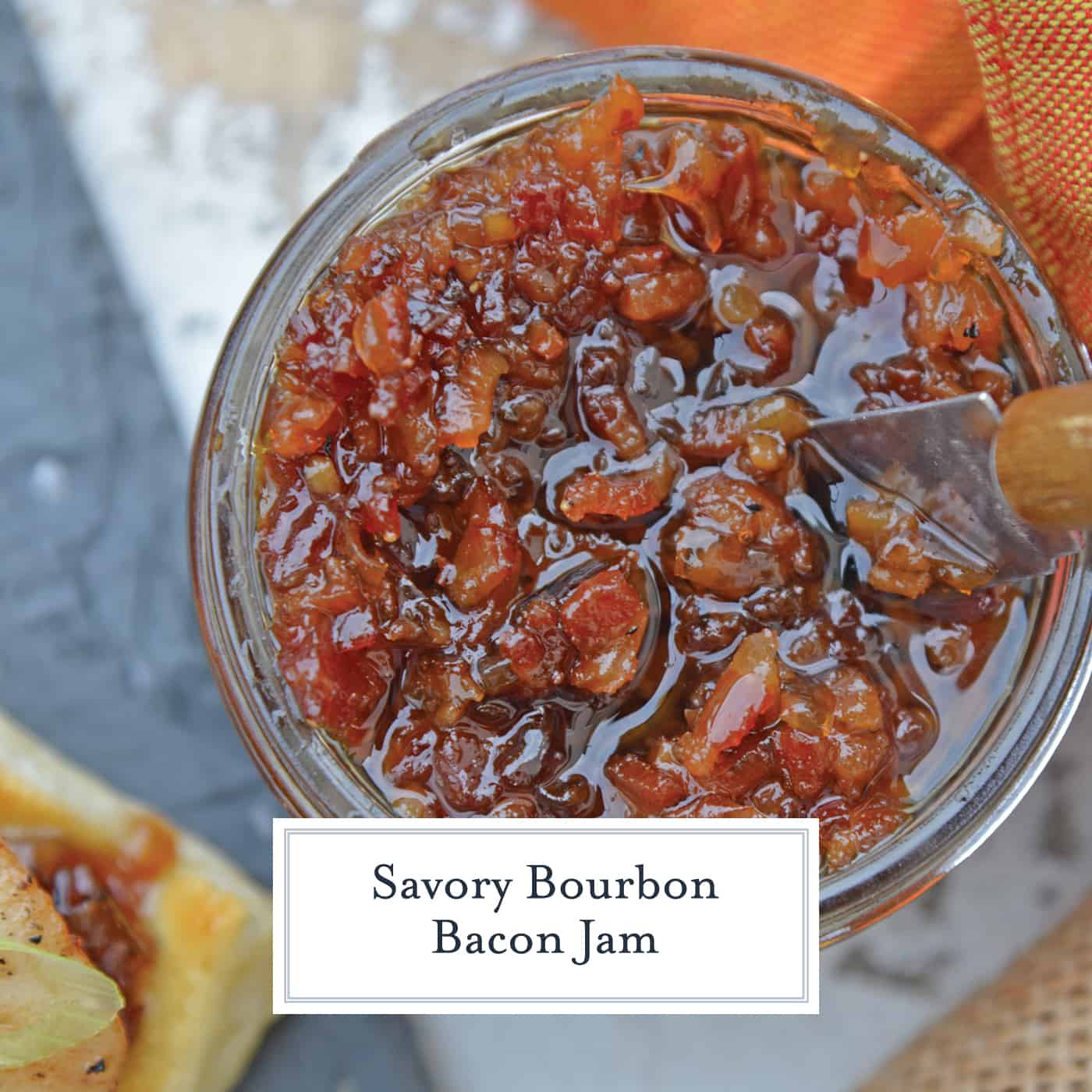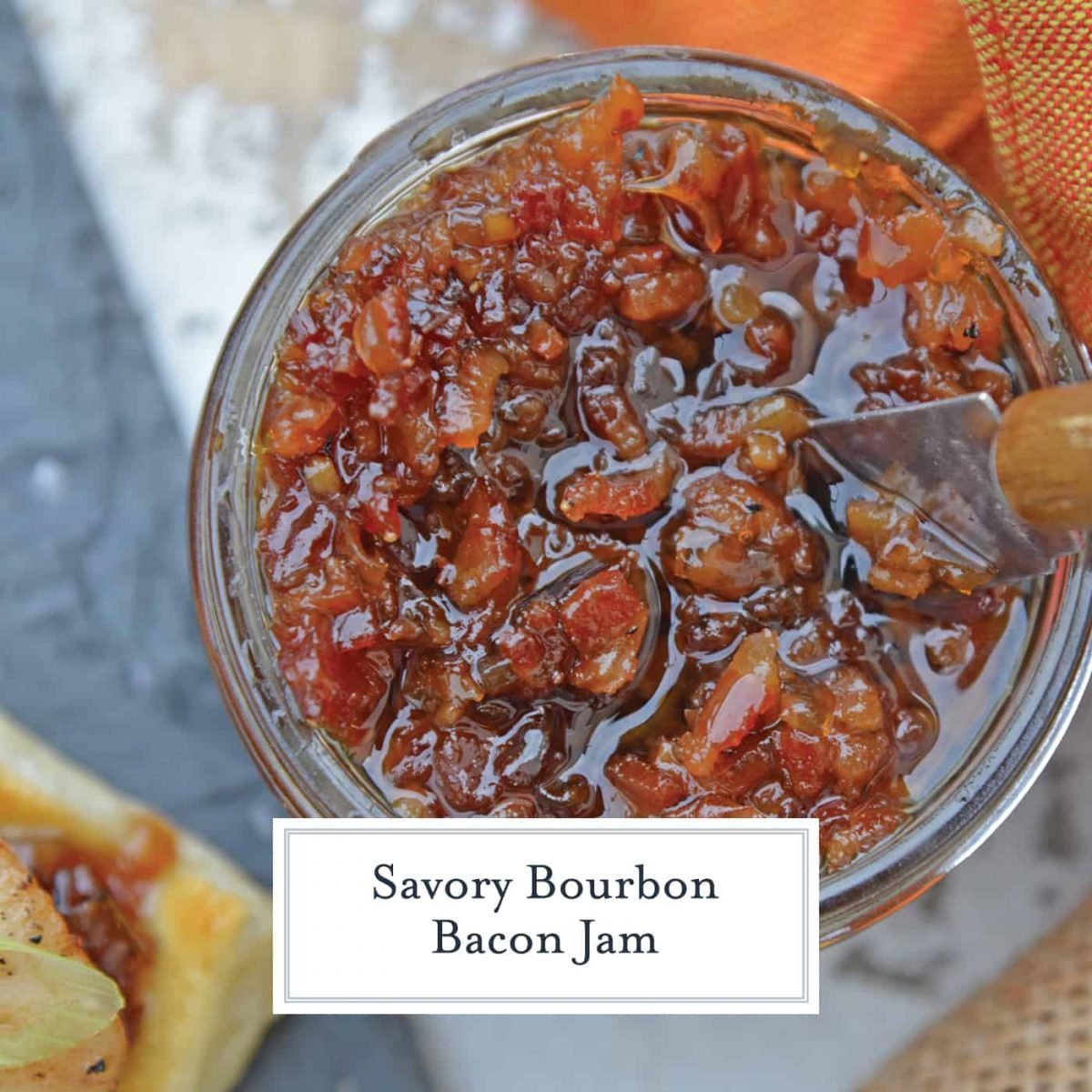 My Bourbon Bacon Jam Recipe will change the way you see jam. This jam is sweet and savory and also happens to be the most versatile condiment around.
I love jam. Jam makes everything just a little bit better. The same adage applies to bacon so why not combine the two? It might take some getting used to, but once you take that first bite, there's no going back.
Scott says: "Just made this and it's all I can do to stay out of it till tomorrow (for Christmas Eve day appetizers)."
Bourbon Bacon Jam is a jar of goodness every household should have around. Easy to cook, easy to eat, and easy to freeze for those days when a craving hits.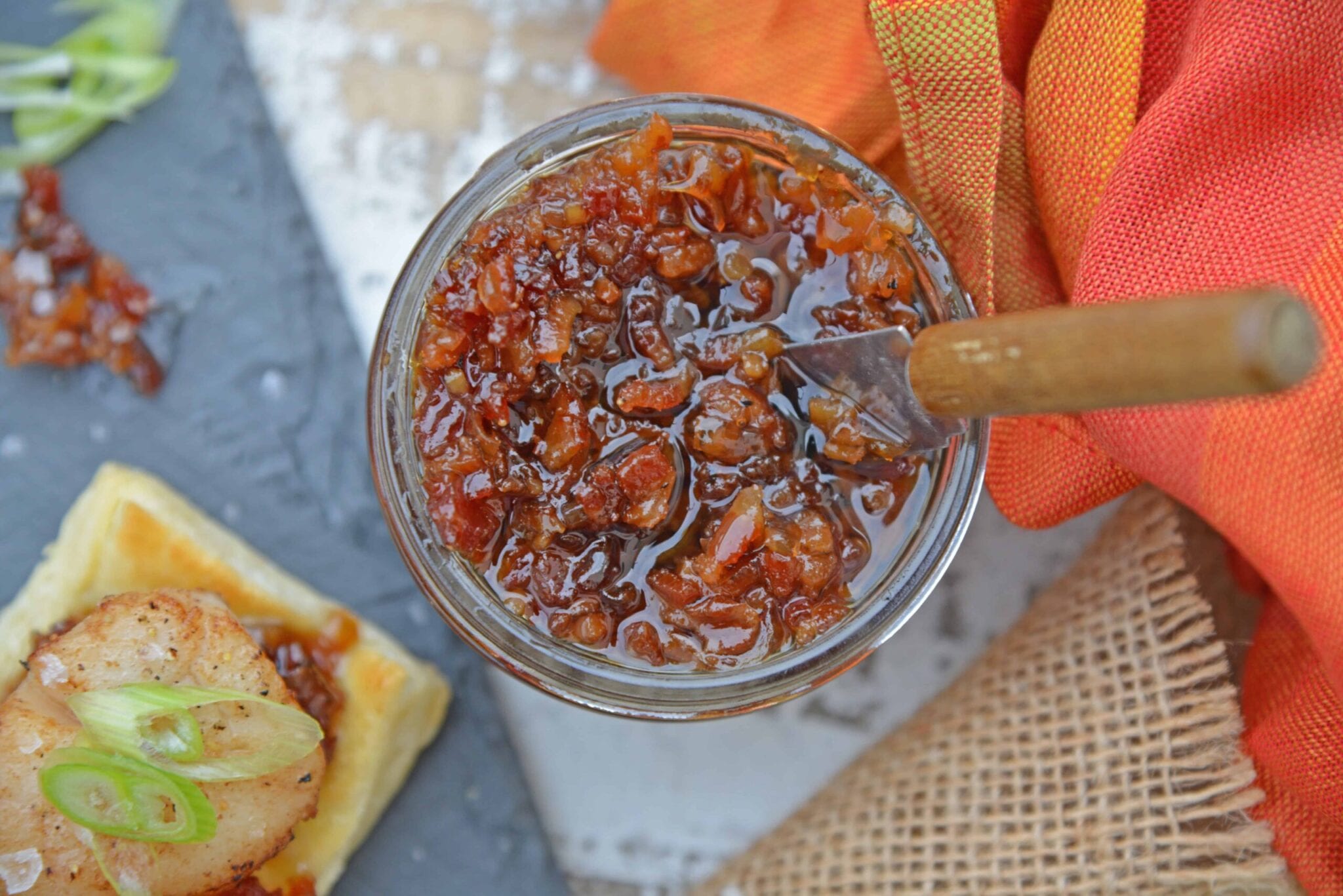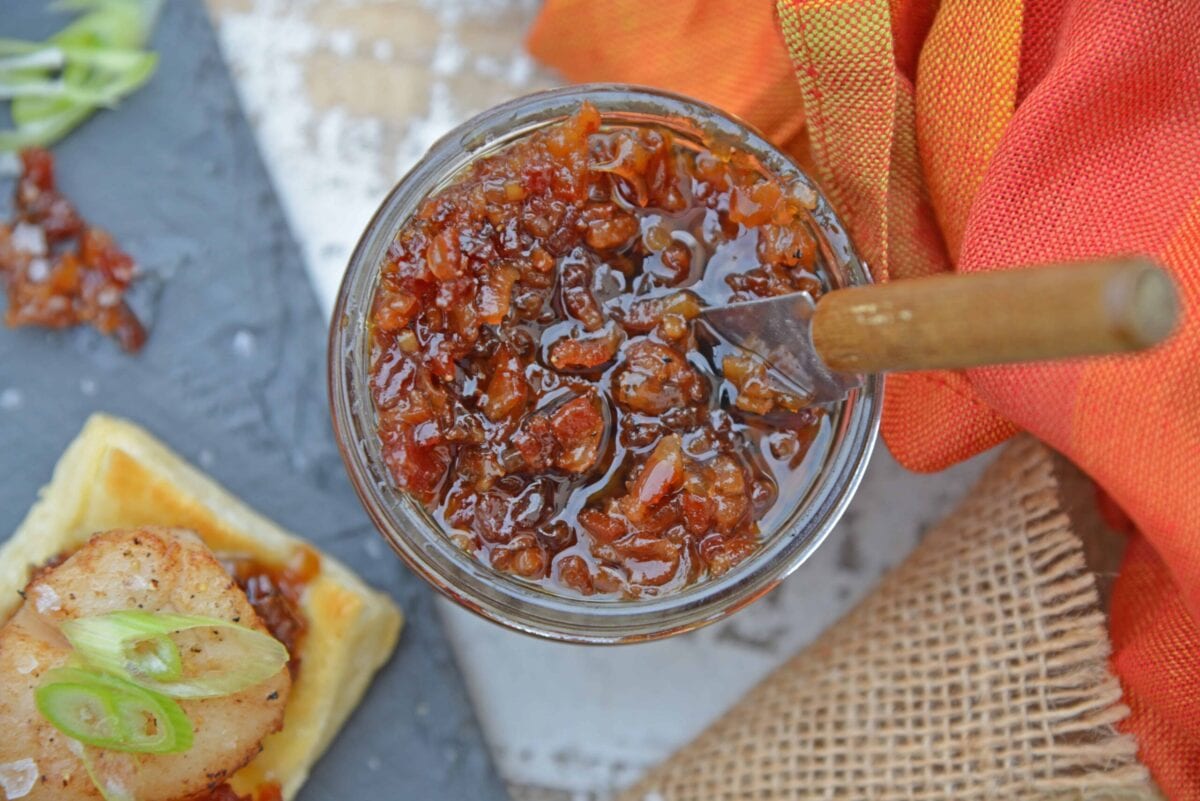 Most bacon jam recipes require you to cook on the stove top and then transfer to a slow cooker or a food processor. I think both of these create extra, unnecessary steps.
In my opinion, Bourbon Bacon Jam should be rustic. It should be packed with large pieces of bacon so you can not only see what you are eating but so you can get that fantastic bacon texture as well.
Pro Tip: Remove your bourbon bacon jam from the heat before it gets to the "perfect consistency". It will continue to thicken as it cools It is much harder to thin bacon jam than it is to thicken it!
If a recipe calls for something smoother, I may give it a little blend with an immersion blender or finely chop. In this instance, I want my Bourbon Bacon Jam to be hearty and toothsome.
Bacon Jam ingredients, or at least my recipe, includes thick cut, quality bacon, maple syrup, bourbon (can be omitted), brown sugar and sherry vinegar.
All recipes vary just a little. The sherry vinegar is what really set this recipe apart from the others.
You can also use vanilla vinegar, champagne vinegar, apple cider vinegar, balsamic vinegar or add a pinch of cayenne pepper or crushed red pepper flakes for a sweet, spicy and savory jam!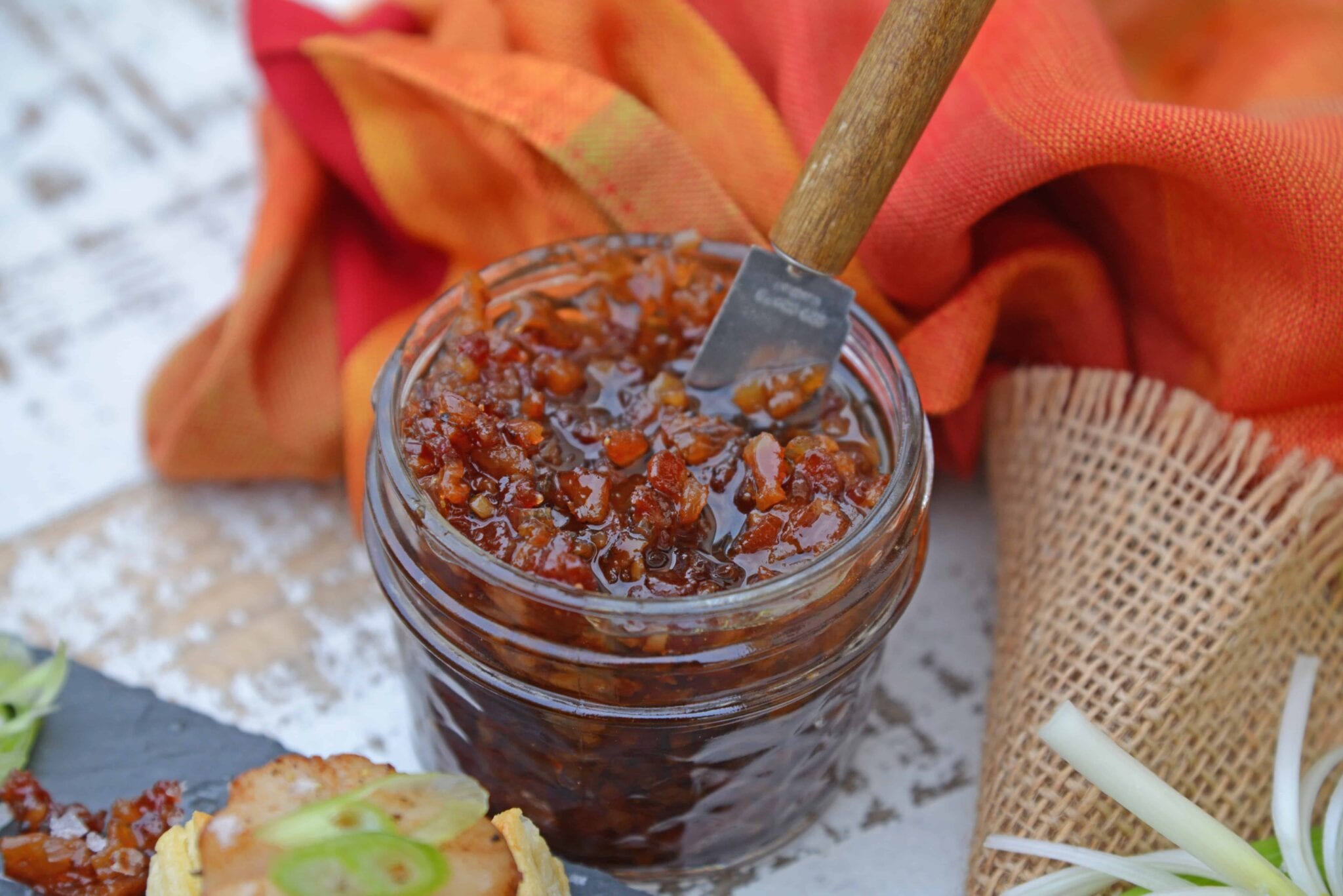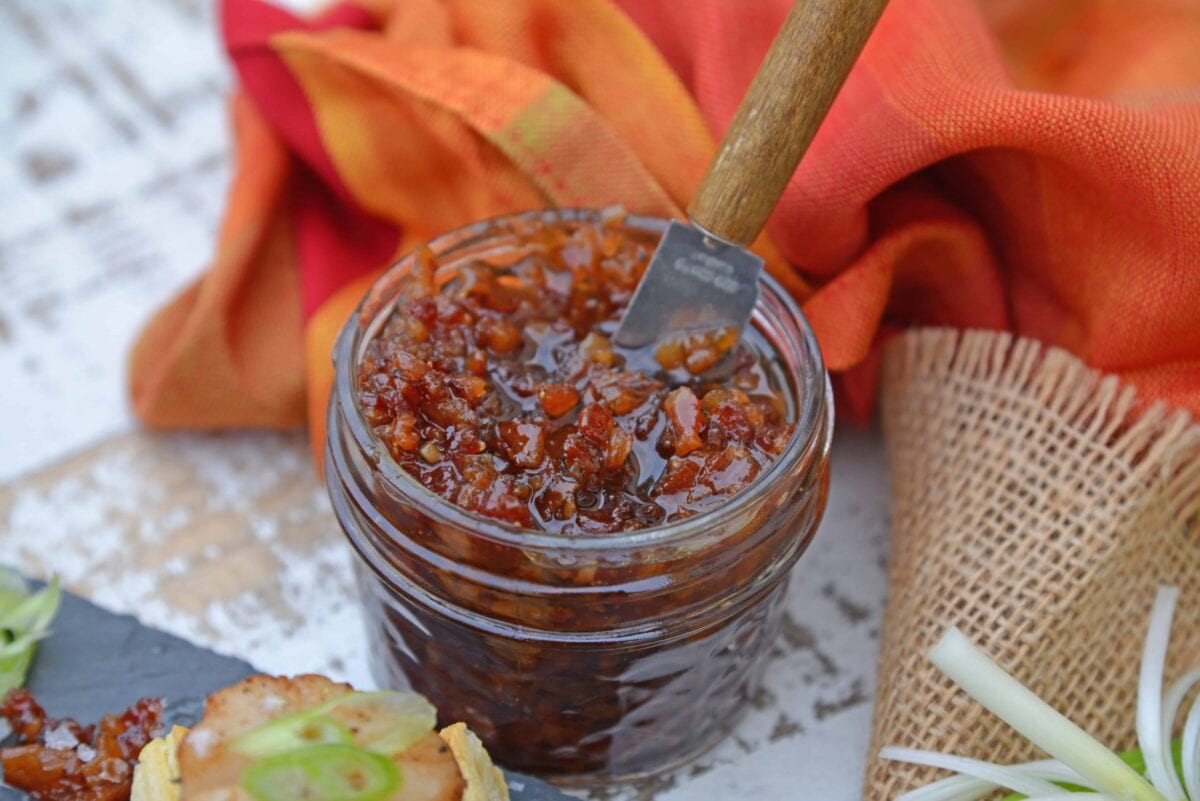 I prefer the stovetop from start to finish as well because the liquids evaporate better. This leaves you with more of a syrup consistency which is what I want in my jams.
Pro Tip: If it cooks for too long, your bacon jam will be too thick and sticky. Add more water or vinegar to thin it back out.
Great news! After making Bourbon Bacon Jam, it will last in the refrigerator for up to 4 weeks in an airtight container and also freezes well. Don't be afraid to double, triple or even quadruple this recipe to have some on hand year round.
Use Bourbon Bacon Jam on Deviled Eggs, my Bacon Jam Scallops, in sweet recipes like Chocolate Bacon Jam Cookies or slathered on a grilled cheese sandwich or mile-high burger.
You can even just top it on cream cheese and use it as a spread. Deliciousness!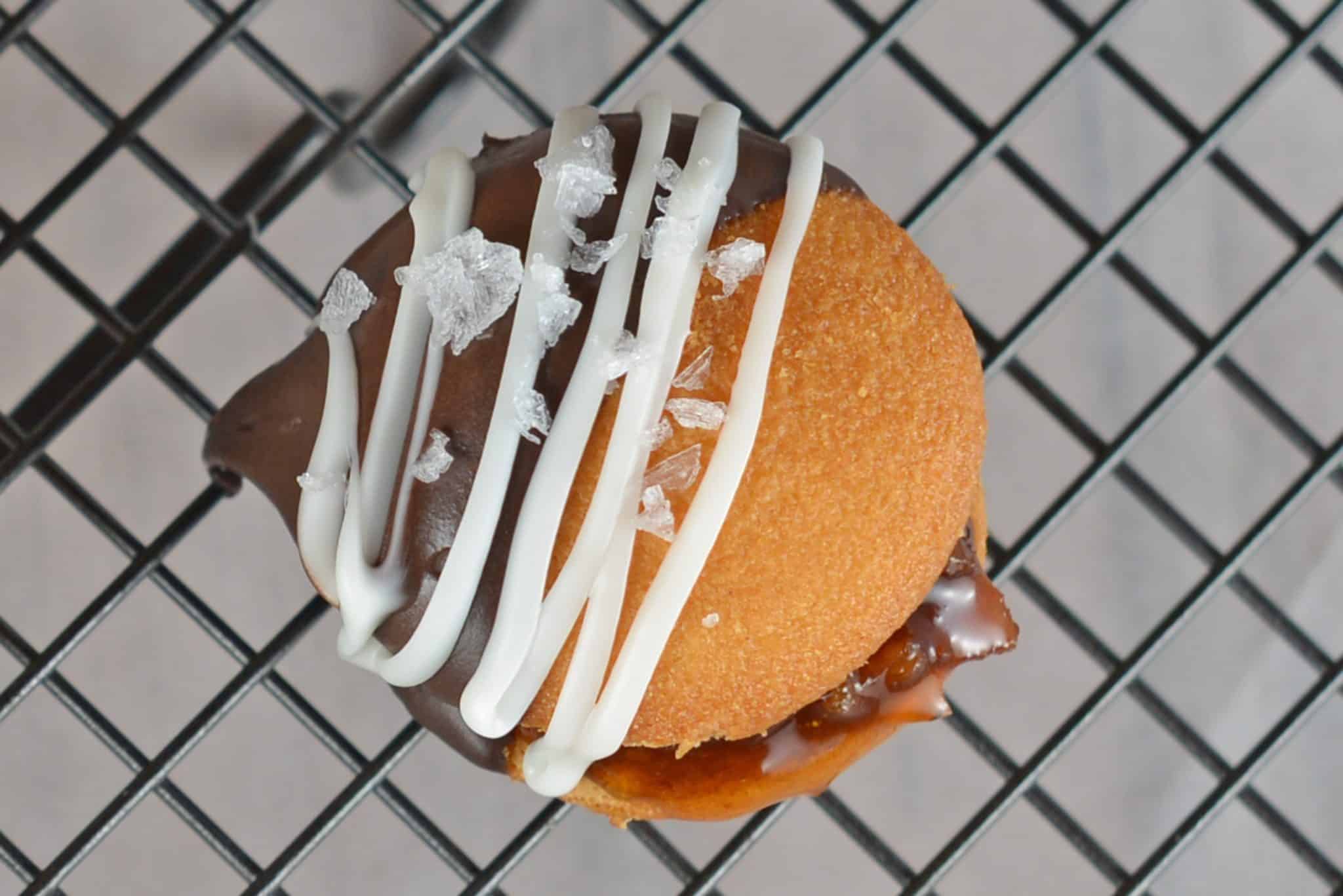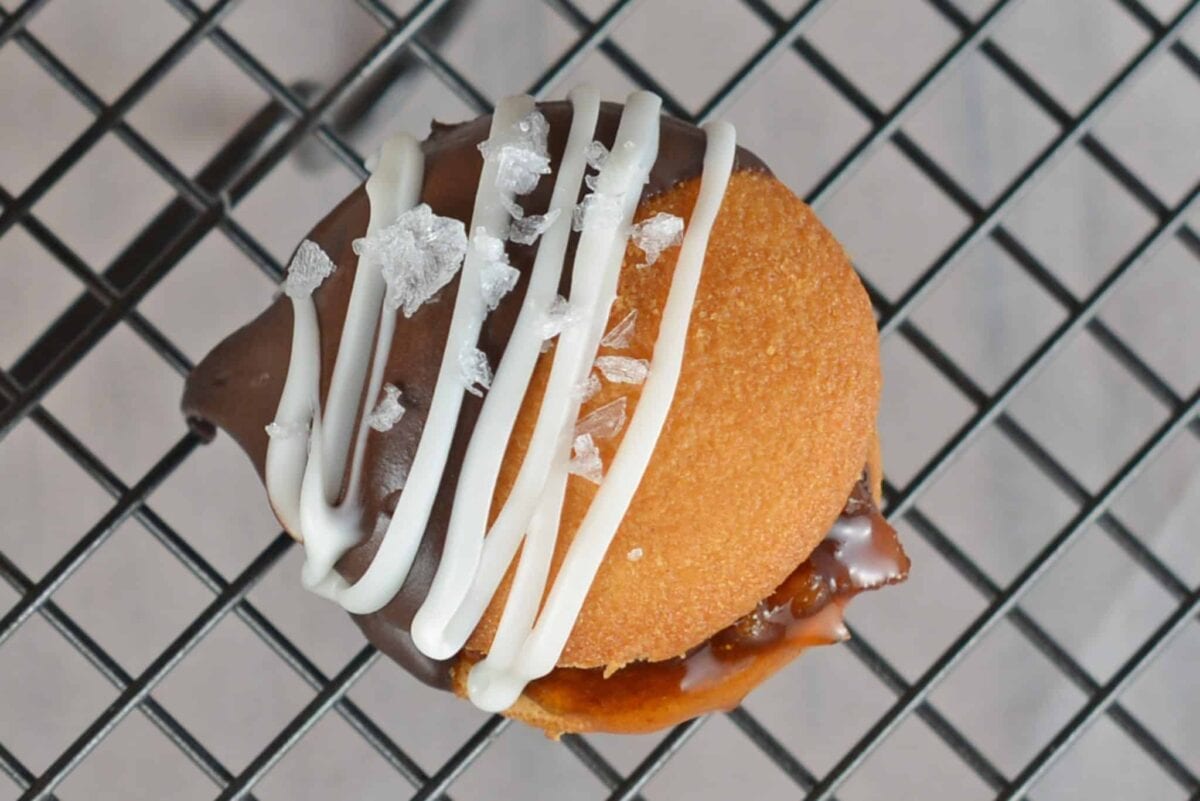 Try some of my other favorite condiment recipes: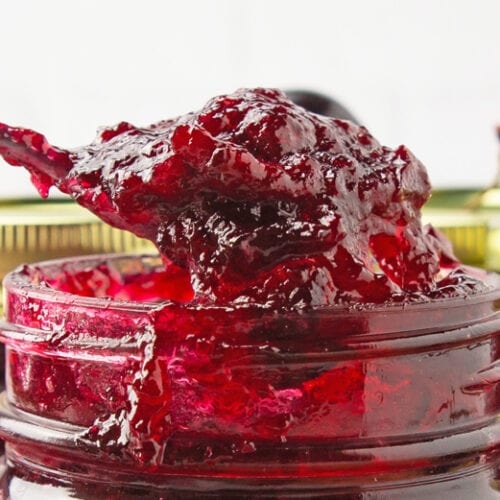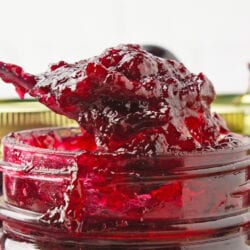 Homemade Cherry Jam
Whether you're a seasoned pro or learning how to make homemade jam, this cherry jam recipe is easy and addictive. With canning instructions included you can whip up a batch and be enjoying a vanilla infused sweet cherry jam in 45 minutes.
View this recipe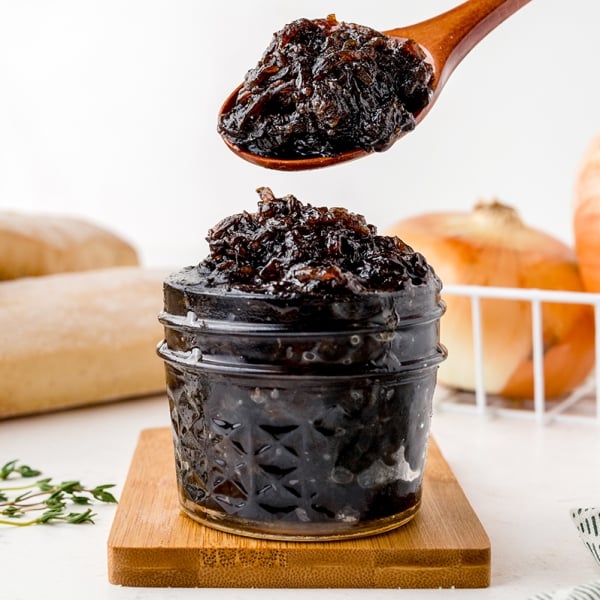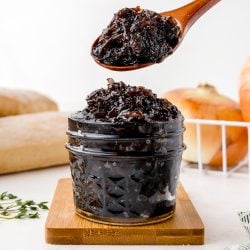 Onion Jam Recipe
This savory and sweet onion jam tastes good on everything from brie to burgers. Make a double or triple batch and deliver it as gifts, can or freeze.
View this recipe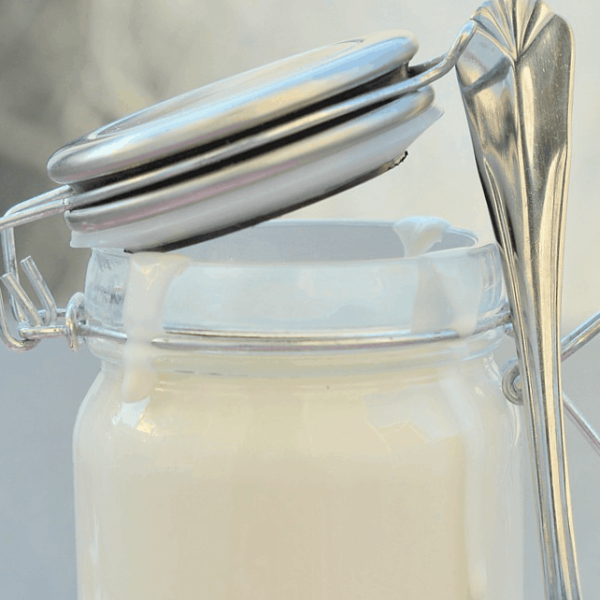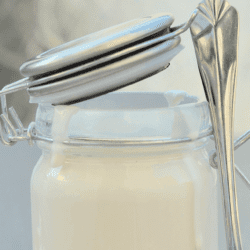 Homemade Crema Mexicana Recipe
Homemade Crema Mexicana made with just a handful of ingredients you have in your pantry. Perfect for tacos, burritos and Street Corn Salad!
View this recipe
Tools for making bacon jam:
Heavy Bottom Saucepan– You will need a heavy saucepan for this recipe. Having a heavy bottom will help to distribute the heat more evenly making sure it doesn't scorch.
It will also keep it further from the heating element to prevent burning.
Heavy Bottom Frying Pan– this will be one of your most used kitchen tools. Having something that is heavy bottom will distribute heat better and prevent burning whether you are using an electric or gas range.
Wood Spoons– Wood spoons are better for sticky homemade jams and marmalades. I buy them in bulk and just toss them when they start to get all weird.
Mini Food Processor– I use this thing daily! It is by far my most used kitchen appliance, it is small and I throw all the parts into the dishwasher, well except the base and cord, of course!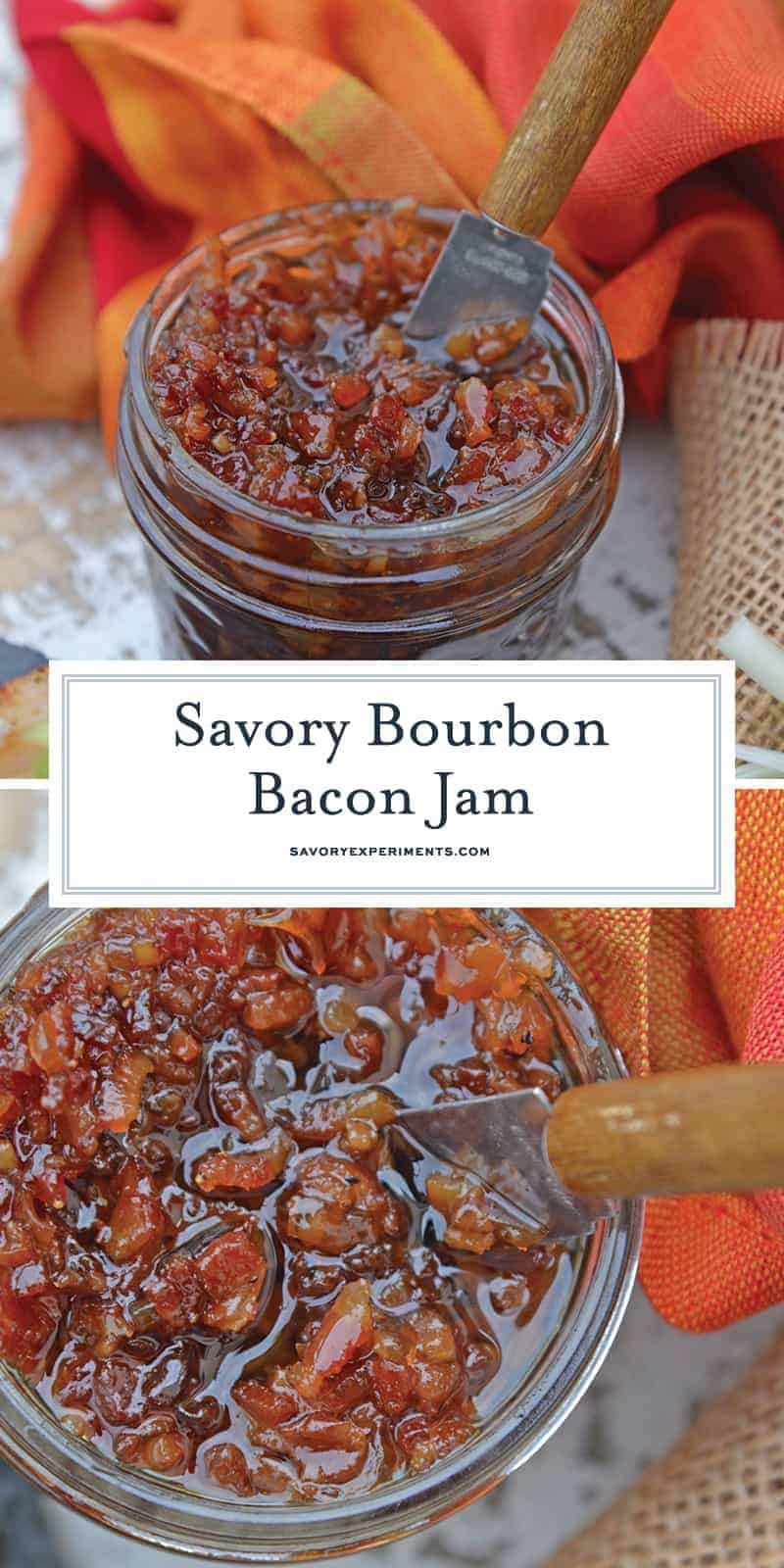 Questions you might have about how to make bacon jam:
What is bacon jam used for? Anything you can slather, can use bacon jam! Sandwiches, avocado toast, grilled cheese, sweet cookies and more!
What is the difference between a jam and marmalade? Jams are made from combining fruit and sometimes raisins, nuts, and coconut.
Marmalades are usually made of citrus fruits and contain pieces of the peel suspended transparent jelly.
Technically there is no such thing as a bacon jam or bacon marmalade, but jam seems to fit it better.
Is bacon jam keto friendly? I am not a keto expert, but I would say no. Although bacon is considered to be keto-friendly, bacon jam is made with brown sugar, which is not keto approved.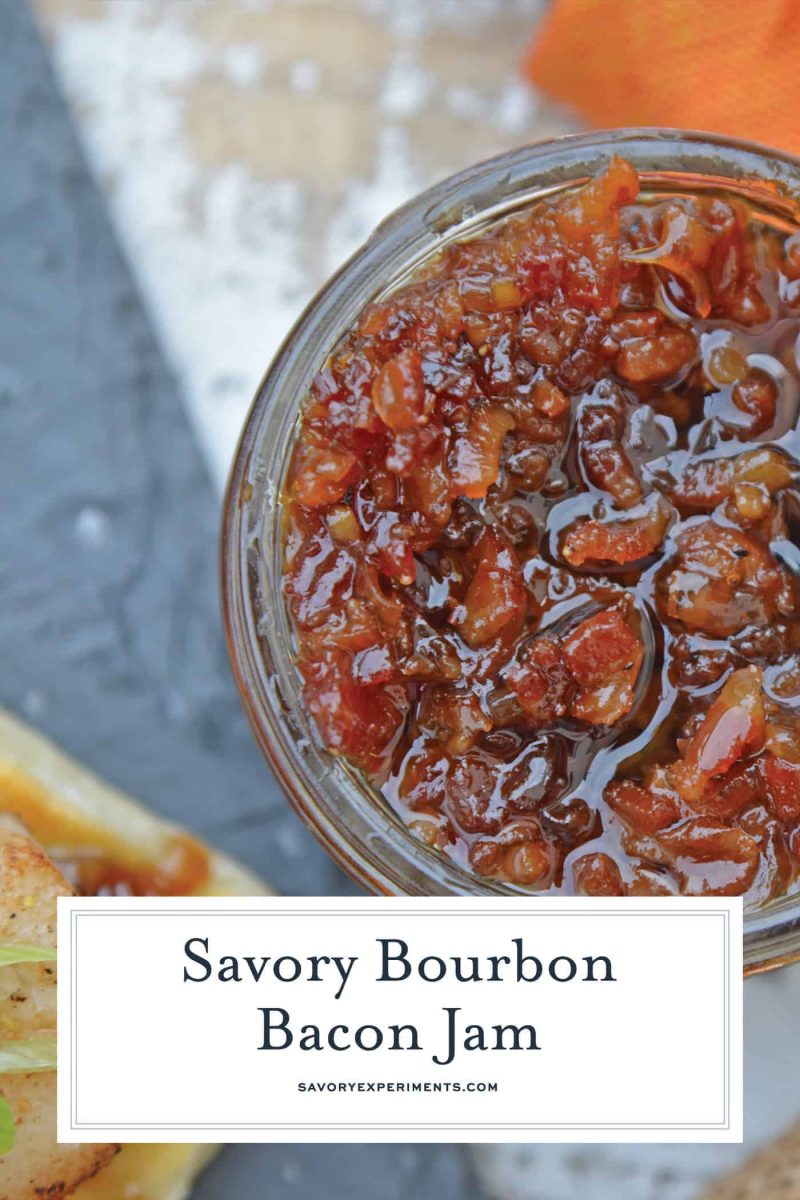 Can bacon jam be frozen? You can freeze bacon jam in an airtight container or plastic bag after removing as much air as possible. It will keep in the freezer for 3-4 months.
It will be super thick and really sticky, but if you heat it and add some sort of liquid, either water or sherry, you should be able to thin it out.
Can you jar or can bacon jam? I hear from canning experts that it is possible to can bacon jam and from others that it isn't, however I've never canned anything in my life and I don't want to give you bad advice. I would advise against it and just freeze your bacon jam.
My bacon jam is too thin, how do I thicken it? Generally speaking, just keep simmering it on low and it will thicken. It is also smart to take it off the heat before it is the right consistency.
As it cools, it will thicken even more and you run the risk of it getting too sticky.
Can I make bacon jam without bourbon? You sure can! Omit the bourbon and add the same amount of water.
Why do you put water in bacon jam? The water prevents your jam from getting too thick and sticky while it continues to reduce and build flavor. It will eventually evaporate off.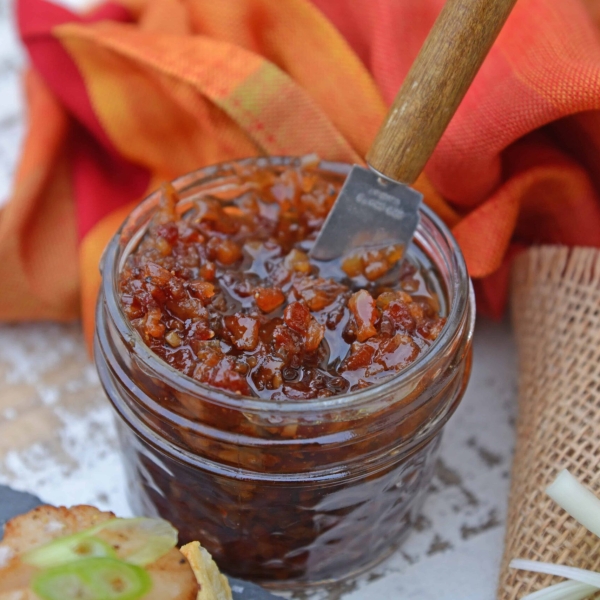 Bourbon Bacon Jam Recipe
My Bourbon Bacon Jam Recipe will change the way you see jam. This jam is sweet and savory and also happens to be the most versatile condiment around.
Instructions
In a medium skillet, cook bacon, stirring occasionally, until done and on the verge of crispy, approximately 10 minutes. Remove to a paper towel-lined plate to drain off fat, reserving about 1 tablespoon of fat in the pan. Discard the rest.

Add garlic and shallot directly to the same skillet with rendered bacon fat. Soften for approximately 4-5 minutes. Add remaining ingredients, stir well. Simmer on low heat for 10-15 minutes, stirring occasionally, ir until it starts to thicken and get a jam consistency.

Liquids should evaporate, at this time, add bacon. Stir well off heat and allow to cool slightly. This should leave you with a sticky bacon jam fit for any sandwich.

If you've tried this recipe, come back and let us know how it was!
Notes
Bacon jam can be kept in an airtight container for up to 4 weeks, however, allow to come up to room temperature or heat for a few seconds in the microwave before serving or attempting to spread.
Nutrition
Calories:
2265
kcal
,
Carbohydrates:
180
g
,
Protein:
44
g
,
Fat:
135
g
,
Saturated Fat:
45
g
,
Cholesterol:
224
mg
,
Sodium:
2364
mg
,
Potassium:
1172
mg
,
Sugar:
164
g
,
Vitamin A:
125
IU
,
Vitamin C:
3.9
mg
,
Calcium:
207
mg
,
Iron:
2.8
mg