Baked chicken recipes are probably one of the most searched recipes out there. And this Chicken Caprese recipe is sure to be one of your new favorites. Juicy and delicious, this delicious recipe comes together with just 6 ingredients.
What is Caprese?
Caprese usually refers to a combination of three ingredients:
Mozzarella or burrata cheese
Fresh Basil (sometimes pesto)
Tomato (fresh, pesto or sun dried)- I like thick slices from a beefsteak, but you can also plum or cherry tomatoes
For this recipe we are using fresh tomato slices, boneless skinless chicken breasts, slices of mozzarella and fresh basil leaves. It makes for a great weeknight dinner or even a fancy meal. My family loves it!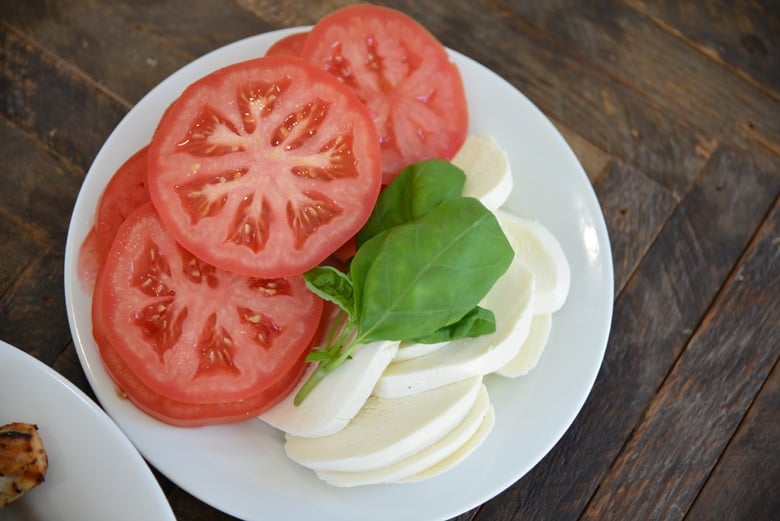 The term comes from the Italian island of Capri, where the combination originated and is still very popular. Besides this caprese chicken, some of my other favorite caprese recipes are: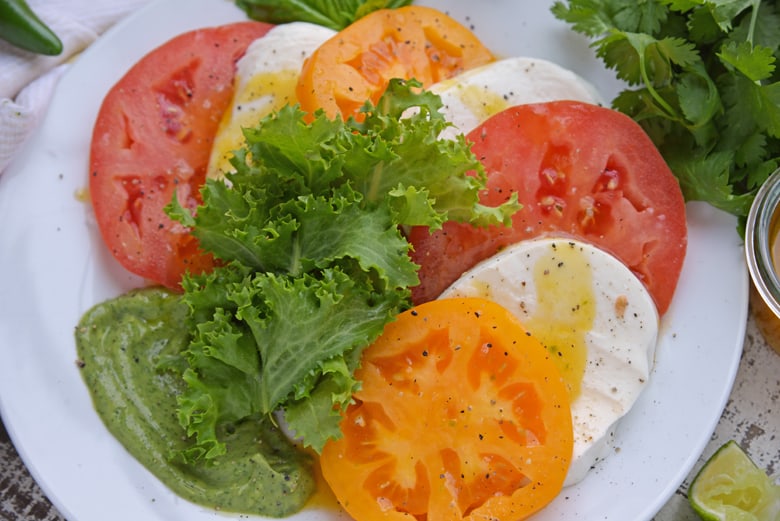 Dressings
In Italy your salad will wear nothing but a stellar olive oil, but in the states you will see all sorts of vinaigrettes and creamy toppings.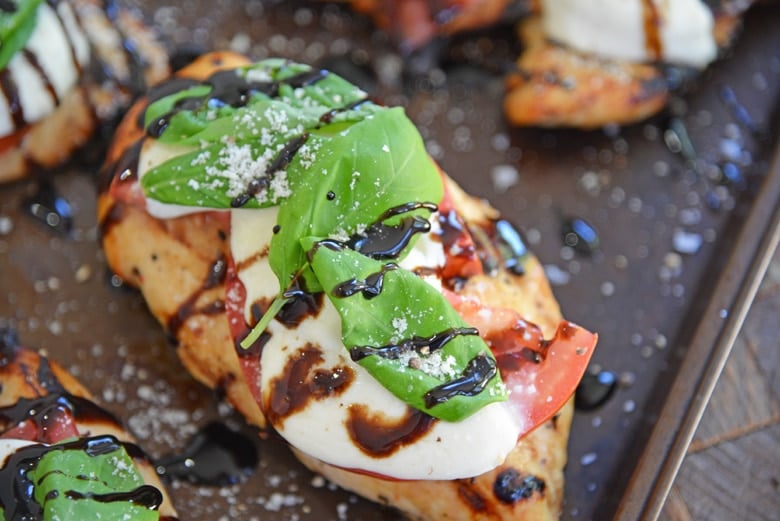 But in my humble opinion, nothing complements the flavors better than a balsamic glaze. Sweet and sticky, it doesn't overpower and is super easy to make (or buy).
How to Make Caprese Chicken
The recipe is simple. Marinate the chicken in Italian dressing and some kosher salt to help tenderize and add flavor. I like to lightly pound the chicken to break down thick fibers and give the marinade more places to hide.
Then you can grill or bake the caprese chicken, totally your choice. Grilling will give it a nice char but baking it totally acceptable as well.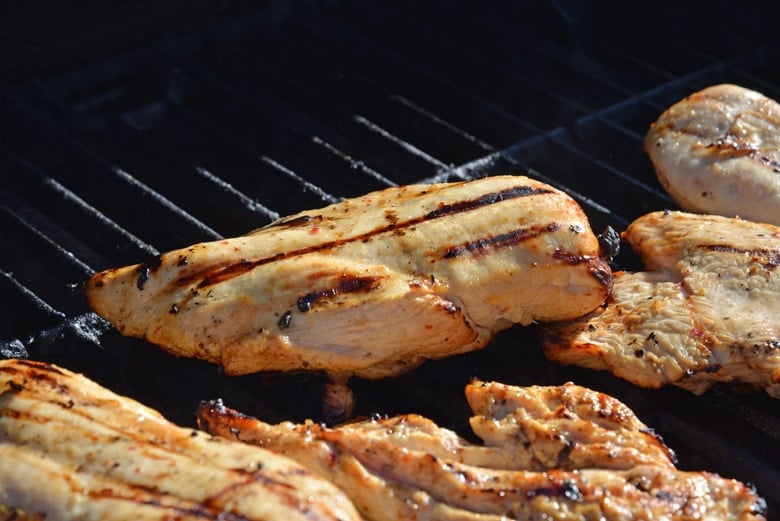 Lastly, you'll finish it off (either in the oven or on the grill). Today I did a little hybrid- my husband grilled the chicken ahead of time and I finished (and reheated) it in the oven.
Topped with fresh mozzarella cheese, thick cut beefsteak tomatoes and then topped with fresh basil leaves, balsamic reduction, you just can't beat it.
Mine is also garnishes with a small amount of finely grated Parmesan cheese, Maldon sea salt and freshly ground pepper. You can also use Italian seasoning, but I find those flavors to be a bit competing.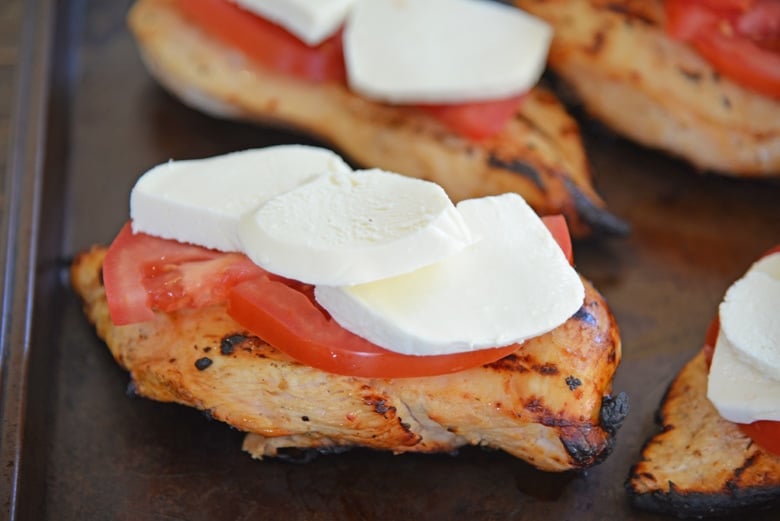 Caprese Chicken
One of the big reasons people don't tend to like chicken breasts is because they can be dry. This is due to them being overcooked and lacking fat.
I can't give them more fat, but I can help you prevent overcooking. Whole chicken breasts are unevenly shaped. One end is thick and wide while the other ends is tapered and narrow. The thickness varies greatly and therefore while the thick end needs to cook longer, the smaller ends overcooks.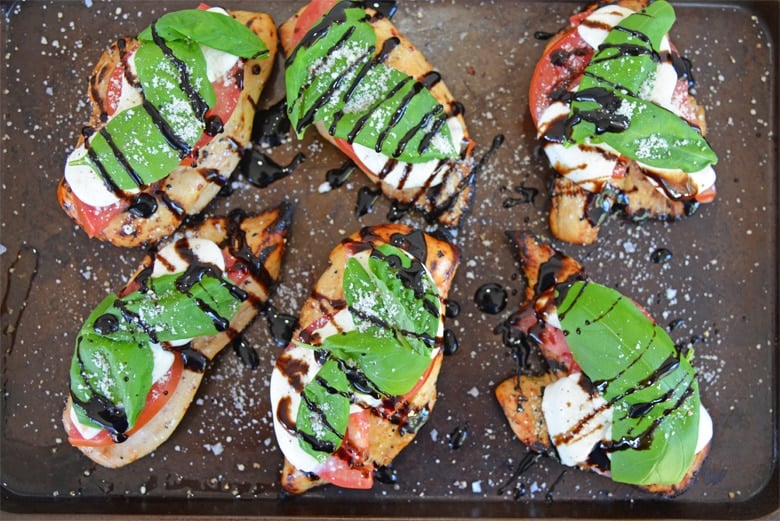 I highly suggest, even if you're not making this Caprese Chicken specifically, that you butterfly large breasts in half and (or) tenderize them with a meat mallet so the thickness is uniform and even.
Now they'll need the same amount of cook time and nothing will overcook. I also suggest removing them from the cooking element when they are 5 degrees less than the optimal temperature.
Meat temps will continue to rise while they are resting so if you take it out at 165 degrees, it will go up to 170. Most recipes will still say "165", it is up to you as the cook to know when to remove your caprese chicken.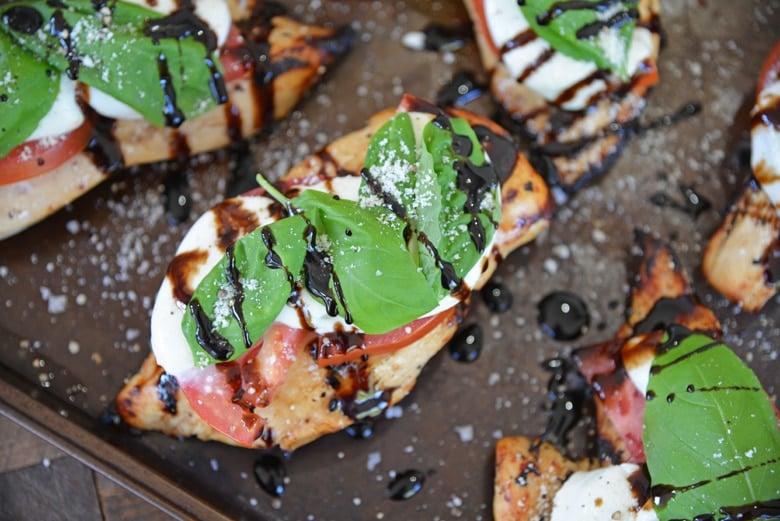 You can also use boneless thigh fillets for this recipe.
What to serve with Caprese Chicken
This is a fairly basic baked chicken recipe, so the side dish options are endless! If I'm having something that's cheesy like this, I generally like to serve it with something green or leafy.
You could make some steamed broccoli to go alongside it. Or even a nice leafy salad, too. I've also seen this dish served as "caprese chicken pasta," so if you're a pasta lover, consider that.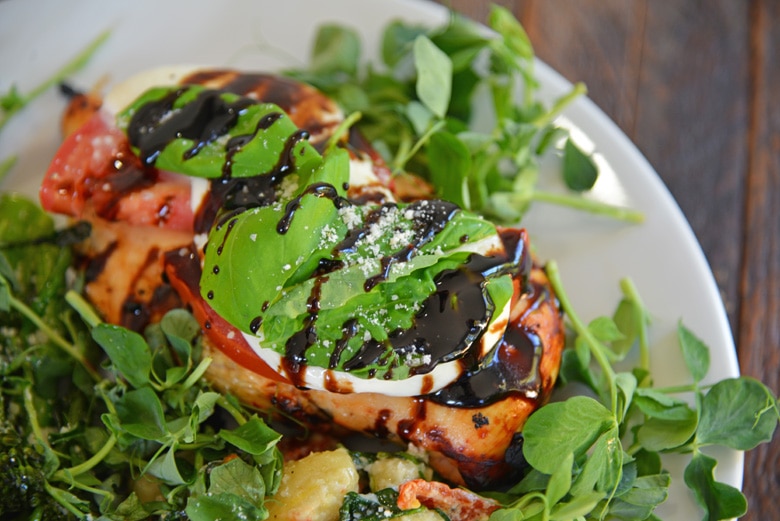 You could totally whip up a a batch of linguine, throw some pesto on it and serve it alongside your chicken. Or just plop the chicken right on top!
One thing is for sure. You can't have a meal like this without some garlic bread! Here are some of my favorites:
And if you want to take your bread a step further, try my Garlic Parmesan Olive Oil Bread Dip or Carrabba's Olive Oil Bread Dip to dip it in!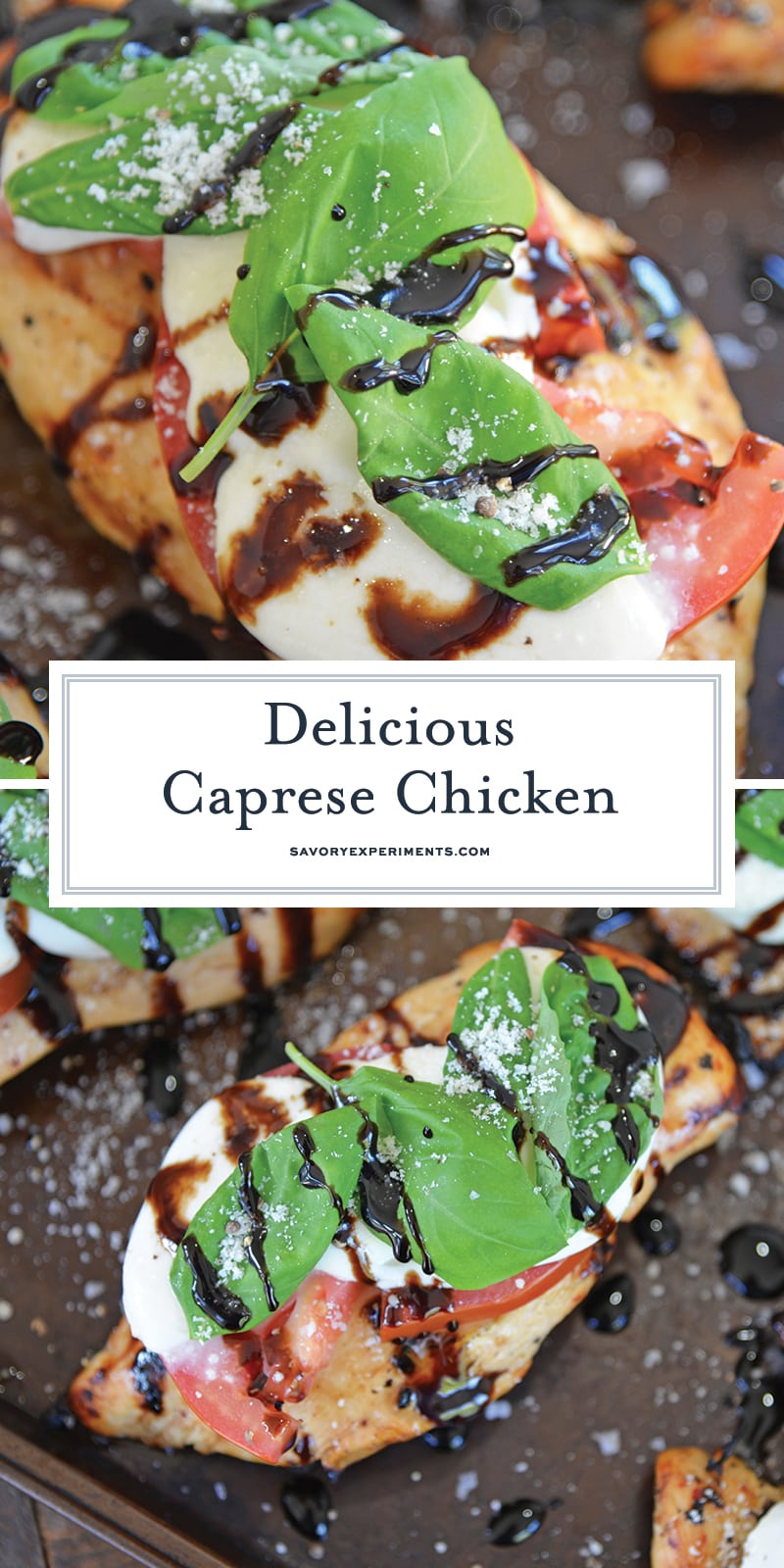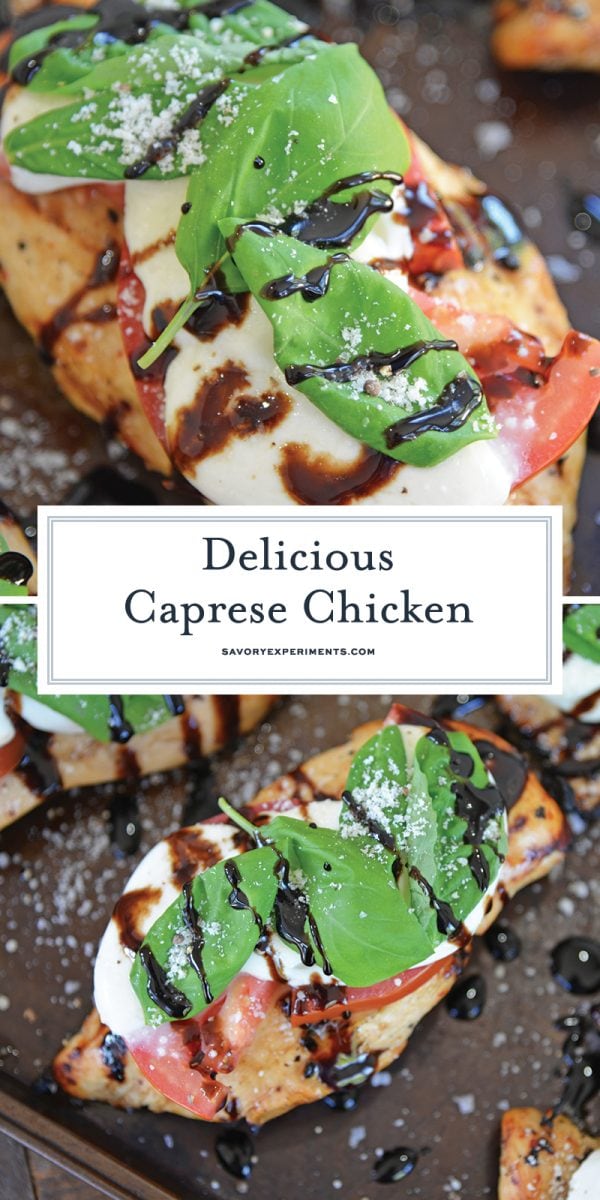 More baked chicken recipes: