Traditional Caprese has thick origins in Capri, Italy and usually consists of raw tomato, fresh basil and mozzarella cheese.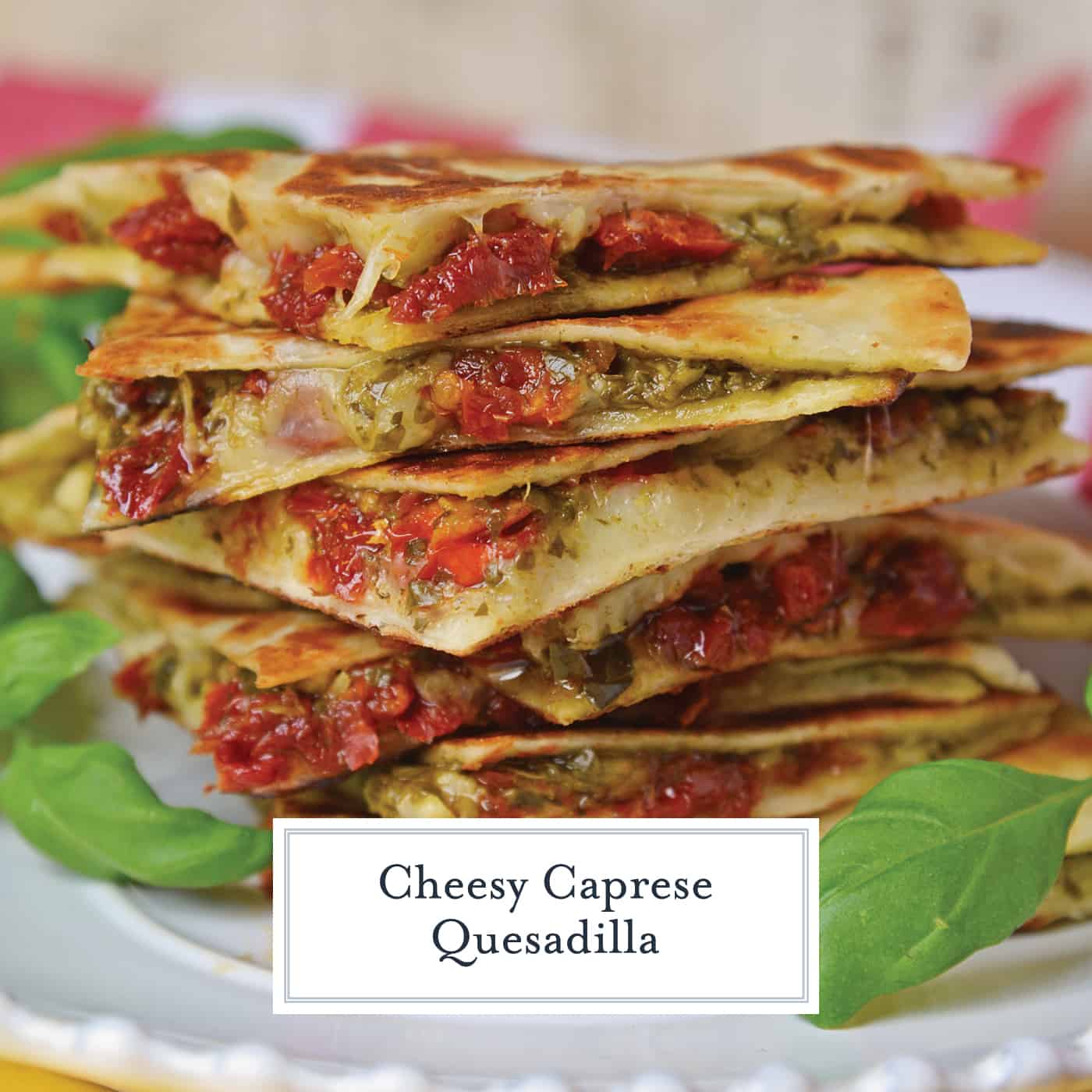 Variations of Caprese pop up all the time and still tend to use these base ingredients, but in different forms, like my Caprese Quesadillas.
Caprese Quesadillas combine homemade pesto sauce with sun dried tomatoes and gooey mozzarella cheese. Serve for lunch, dinner or even as a party appetizer!
I like to think of myself as a quesadilla consonsiour. Honestly, I've spent way too much time analyzing and thinking about what makes the perfect quesadilla, so when I assemble them at home, albeit simplistic, a lot of thought happens.
This is why I made my Caprese Quesadilla the way I did….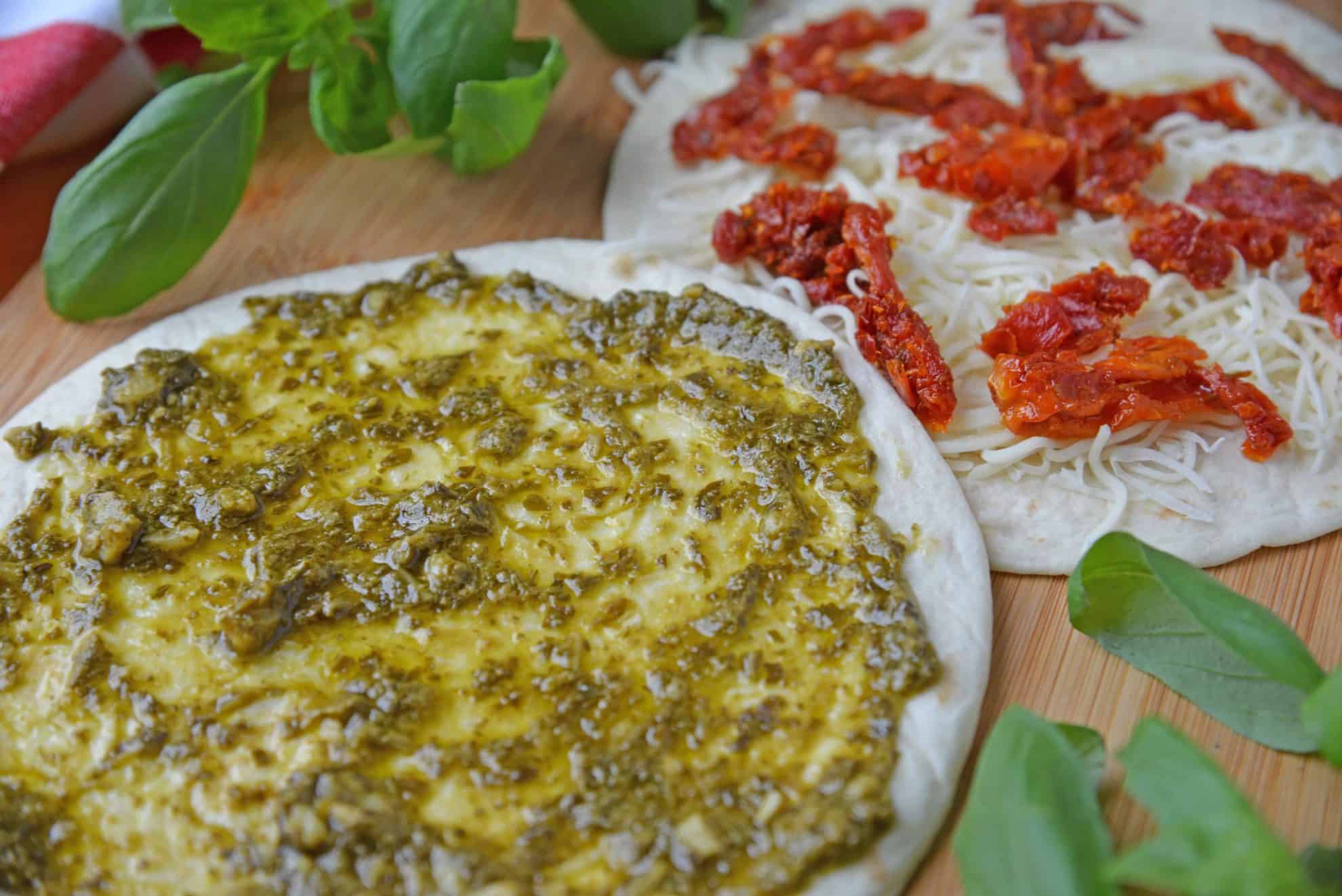 I love fresh basil, but I also really want to taste basil when I eat it. After being sandwiched between slices of tortillas and cheese, you might lose the benefits of using fresh basil leaves.
Instead, I opted to use a homemade garlicky pesto sauce packed with basil flavor, only amplified.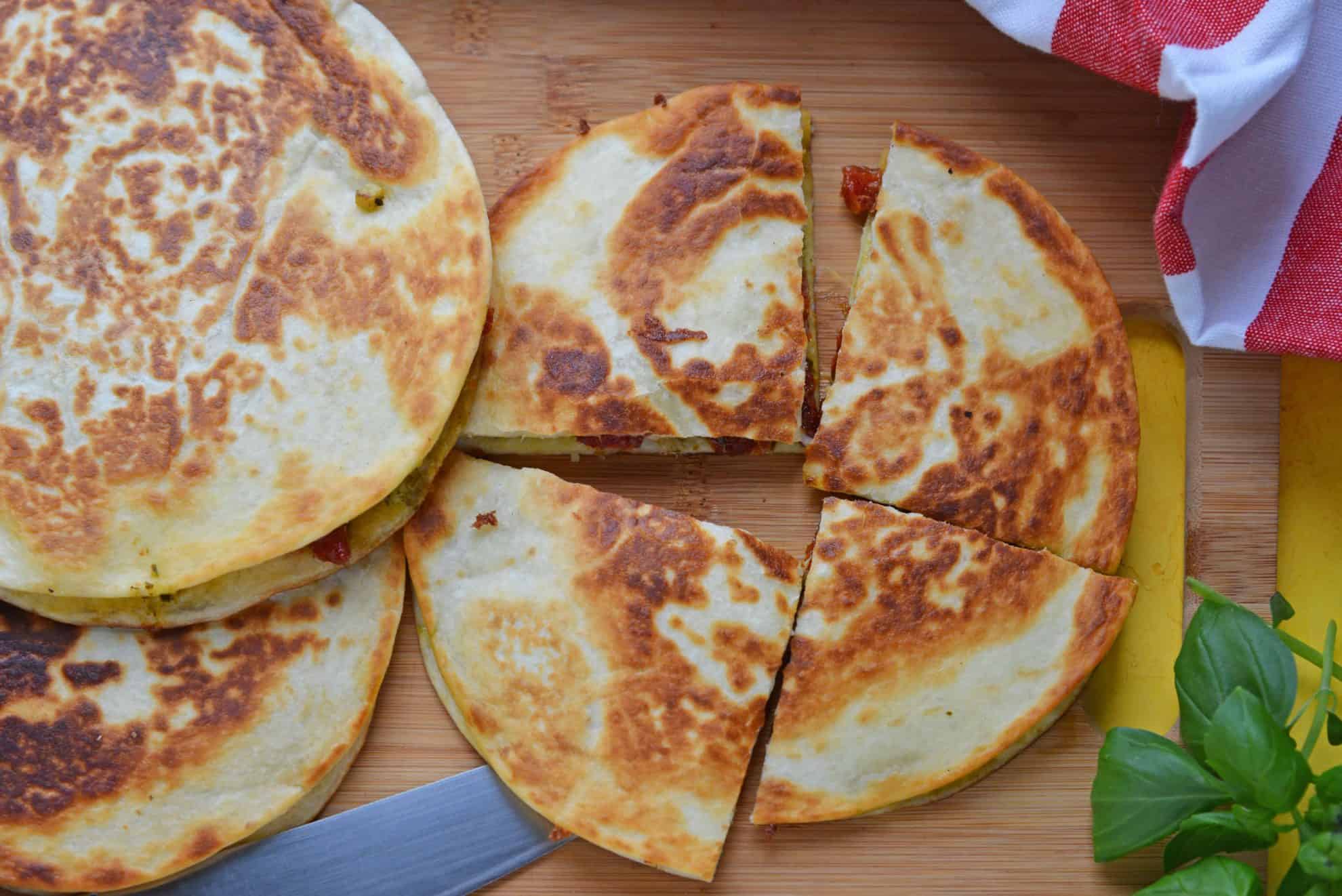 I swapped out raw tomato for sweet-tart sun dried tomatoes. They have less water, making them easier to fit into a quesadilla without excess liquid making the tortillas all yucky and mushy while offering an intense tomato flavor.
Fine shredded, part skim, low moisture mozzarella cheese is the best type of cheese for a Caprese Quesadilla. While a lovely, wet mozzarella is what you aim for on crackers or a charcuterie platter, it will create too much moisture and takes too long to melt.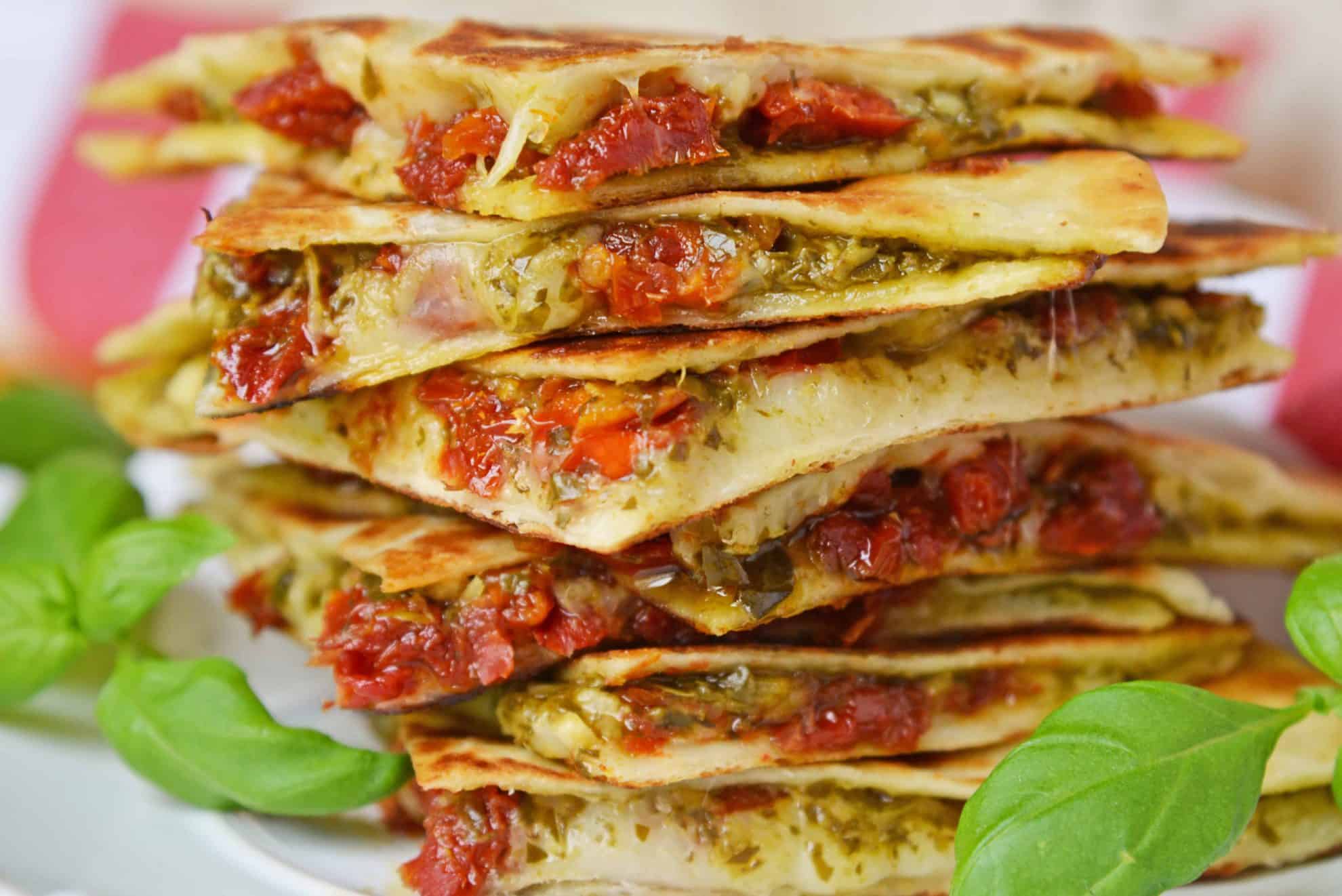 A hot skillet with a little vegetable oil is my preferred method of making a quesadilla. A nice crispy quesadilla that doesn't flop when I pick it up. Crunchy!
But if you are making a large batch, you might want to entertain baking them. The cheese will melt, but the tortillas won't get as crispy. It is just an easier and faster way to make a large quantity.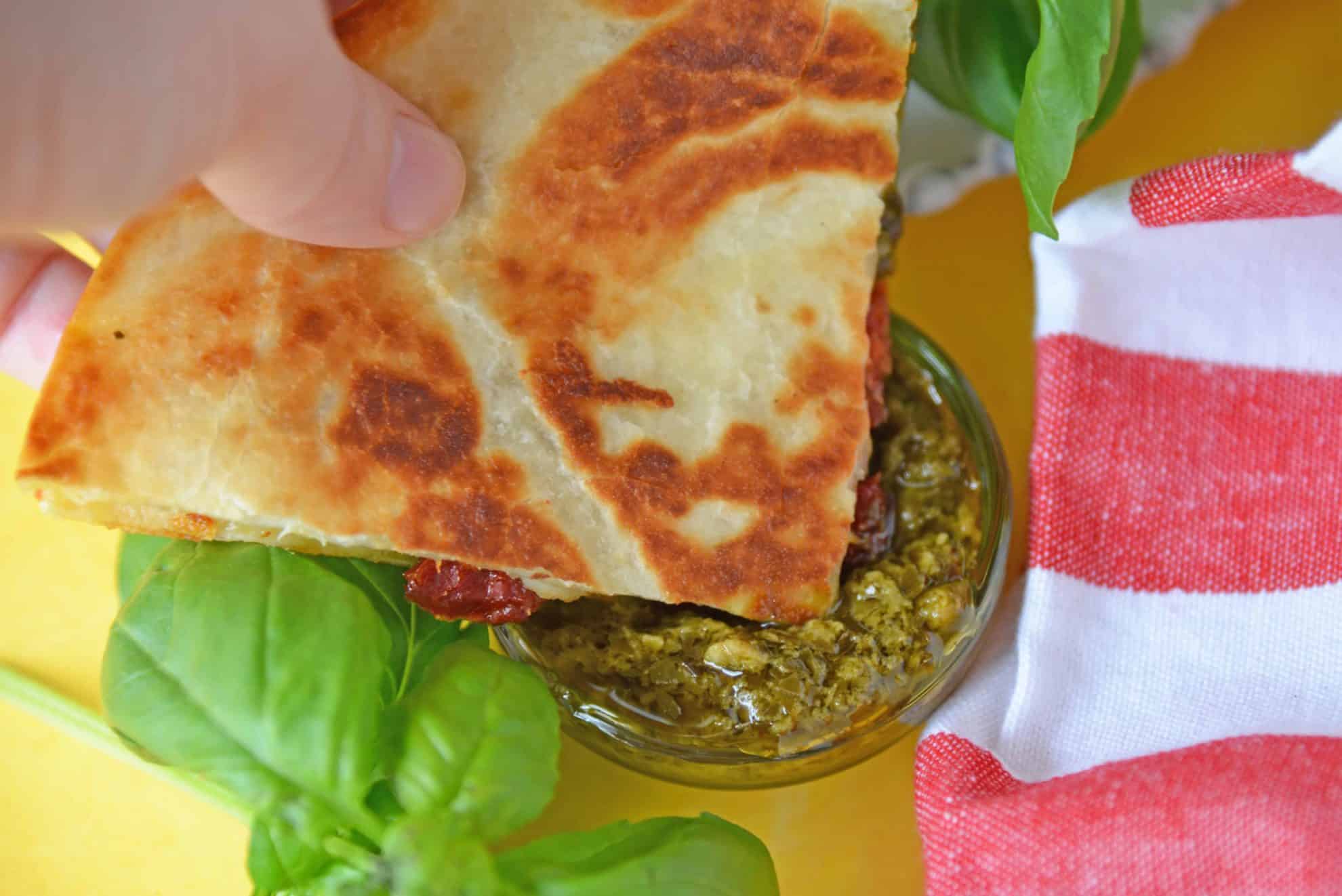 I also find using smaller tortillas are easier to handle. Large ones make a grand quesadilla, but are hard to flip and sometimes you lose some of the beloved stuffing ingredients doing so.
A small to medium tortilla is best, you might just have to make more to achieve the quantity of food you are aiming for.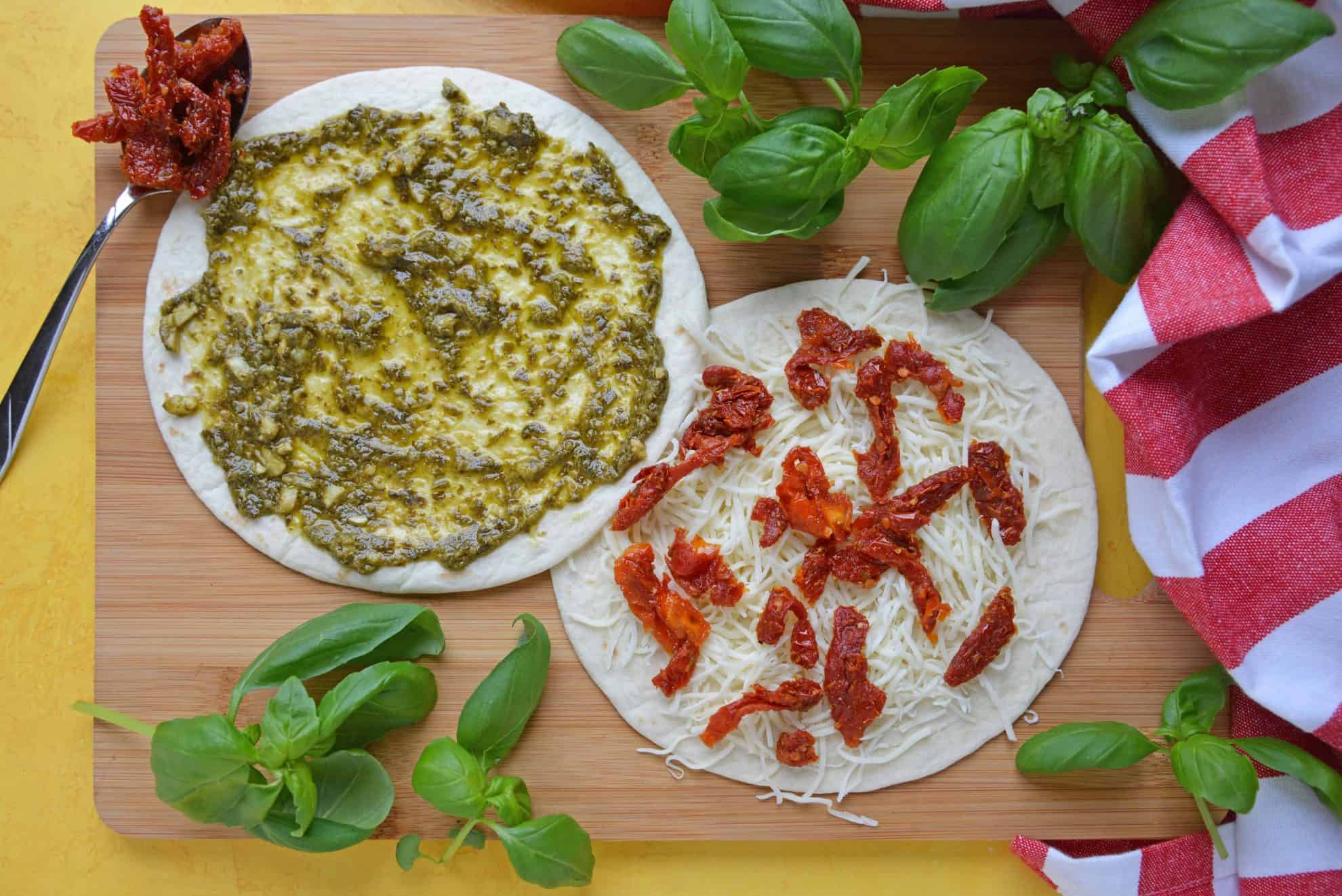 Caprese Quesadillas are a fabulous vegetarian recipe for lunch, dinner a snack or party appetizer, but you can easily add shredded chicken or chopped prosciutto or pepperoni to make them more meaty.
If you liked this recipe for cheesy quesadillas, you might also enjoy these: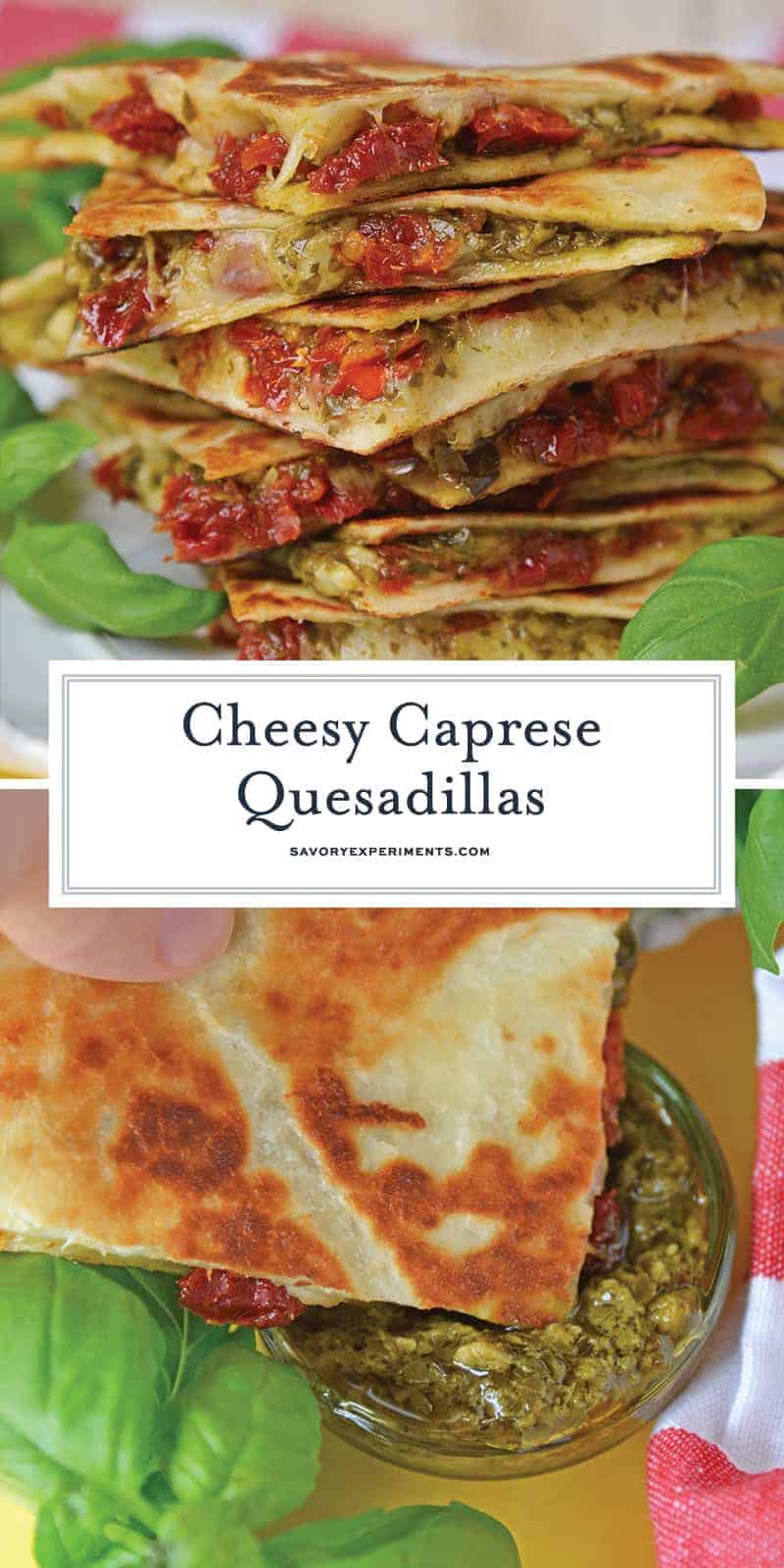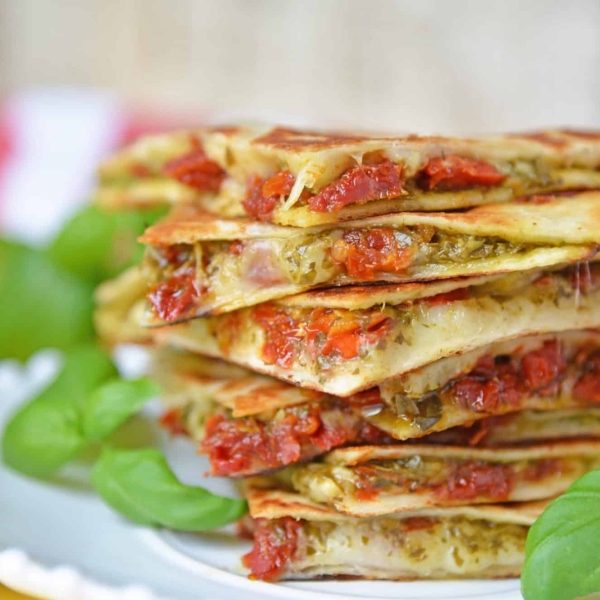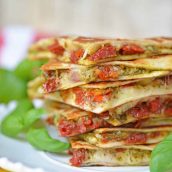 Caprese Quesadillas
Caprese Quesadillas combine homemade pesto with sun dried tomatoes and gooey mozzarella cheese. Serve for lunch, dinner or even as a party appetizer!
Instructions
Heat 1 tablespoon vegetable oil in a large skillet over medium-high heat.

Spread 1 tablespoon pesto sauce on two tortillas. On the remaining two tortillas, evenly divide cheese and sun dried tomatoes.

When oil is hot, place on cheese covered tortilla, cheese side up, in the skillet. Top with a pesto smothered tortilla.

Cook until lightly browned and cheese started to melt to hold together the two pieces, approximately 2 minutes.

Flip and allow the other side to brown, which generally takes less time, about 1 minute.

Remove to a cutting board and cut into fourths.

Add additional 1 tablespoon vegetable oil and repeat with remaining tortillas.

If you've tried this recipe, come back and let us know how it was!
Nutrition
Calories:
457
kcal
,
Carbohydrates:
35
g
,
Protein:
13
g
,
Fat:
29
g
,
Saturated Fat:
16
g
,
Cholesterol:
16
mg
,
Sodium:
748
mg
,
Potassium:
289
mg
,
Fiber:
2
g
,
Sugar:
5
g
,
Vitamin A:
515
IU
,
Vitamin C:
2
mg
,
Calcium:
300
mg
,
Iron:
2.4
mg