Easy to make and tossed in a creamy mascarpone sauce, this Spinach Pan Fried Gnocchi recipe will be your new favorite dinner recipe!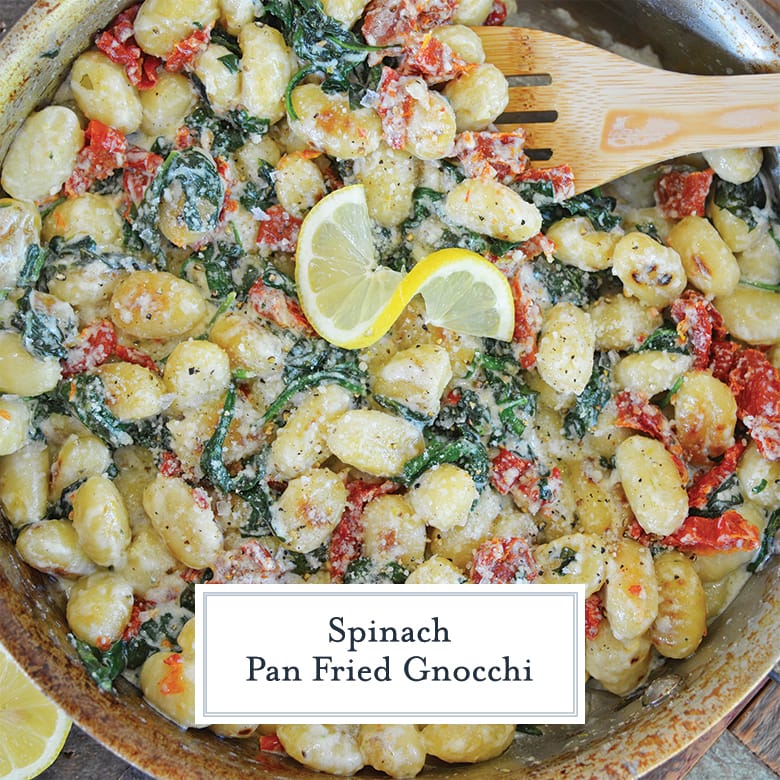 Gnocchi Recipes
The other day I realized that I have no gnocchi recipes on the site. Like zero. Which is odd because it is one of my favorite types of pasta.
I tried a recipe similar to this recently where the gnocchi was pan fried and I am not sure I'll cook it any other way moving forward. There is literally no reason whatsoever to boil gnocchi. Seriously.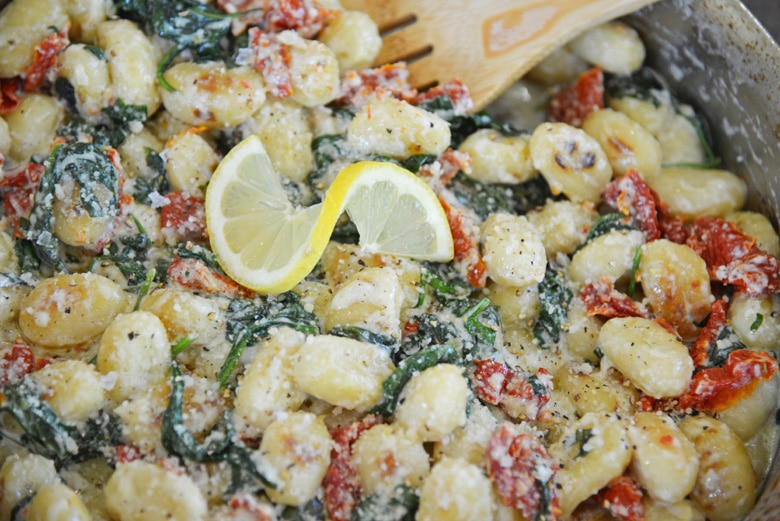 This recipe creates a gentle crust on the outside with a chewy middle. Tossed is mascarpone, lemon and parmesan cheese, it also boosts fresh spinach and sundried tomatoes. Best part? It all comes together in less than 15 minutes from prep to plate.
Pan Fried Gnocchi Pasta
Gnocchi is considered to be a pasta, but due to its bundle-like shape, some folks don't realize that and put it in a category all its own. Pronounced ˈnäkē, it is probably one of the most mispronounced foods out there only compared to Worcestershire sauce.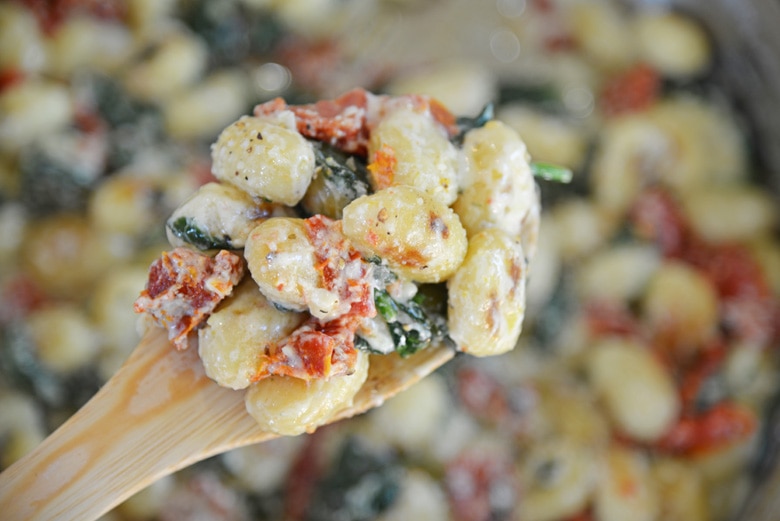 In reality, gnocchi is a dumpling made from flour and historically, potatoes, which is why the most common form is potato gnocchi. You might also find them made with ricotta cheese, cauliflower, squash, sweet potatoes and even pumpkin.
Making homemade gnocchi is pretty easy, but also time consuming to roll out all of those little dumplings by hand, so I typically get store bought. I like the air locked packages in the pasta aisle.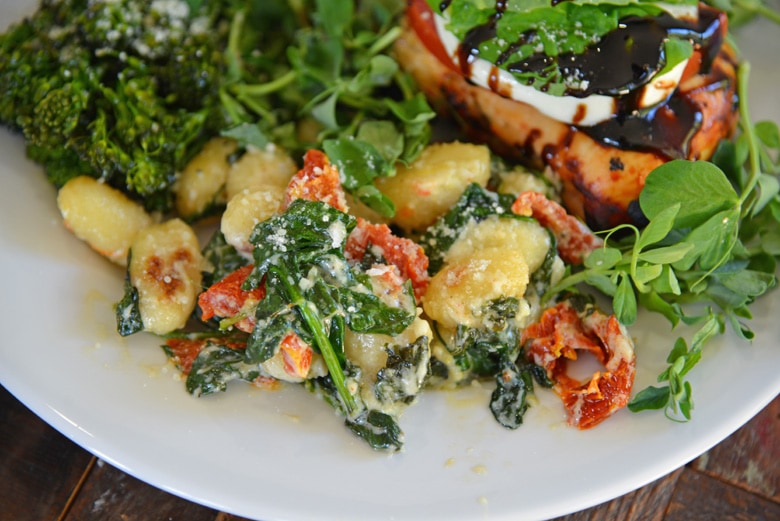 They are shelf stable and still soft and fresh, not dried. Fresh gnocchi are also a good option, but can cost a lot more and if your family eats as much as mine, you'll need 2-3 packages to feed them all.
How to Cook Gnocchi
One of the biggest issues with gnocchi is cooking it. Because it is a pasta, most folks want to boil it and that is perfectly acceptable.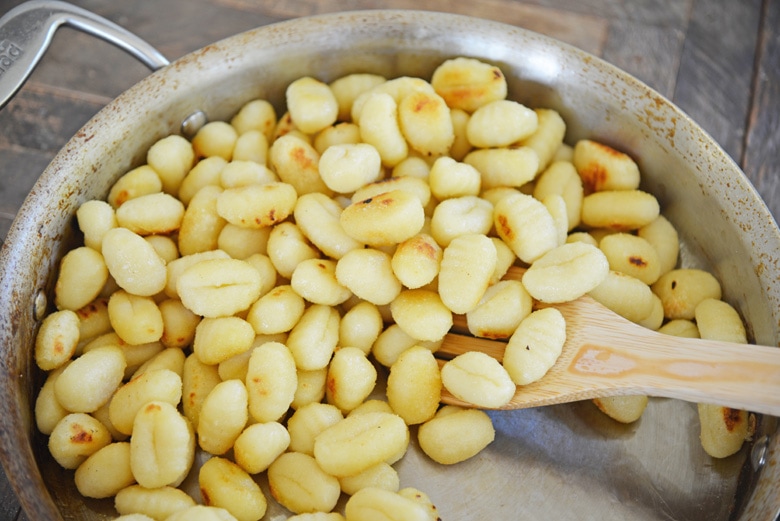 However, it only needs a quick dunk in hot water (if fresh). Any longer and those pillowy little nuggets turn into a soggy mess. You can also bake it, like gnocchi sorrentina, or pan fry, like this recipe.
Pan frying gnocchi might be the only way I prepare them from now on. It is quick and relatively foolproof. They get a little crust on the outside while the interior is chewy and toothy.
Just toss it in sauce and spinach and you are good to go.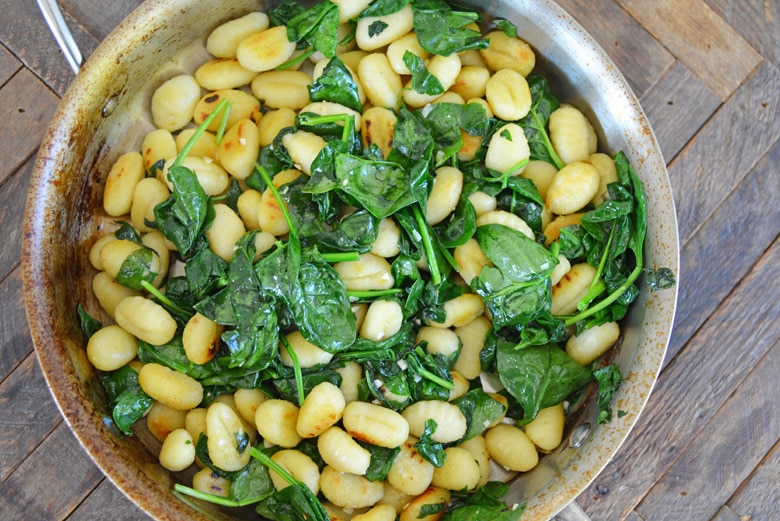 Gnocchi Sauce
Pan fried gnocchi can be served with many different sauces, although the most popular are marinara, bolognese and pesto. Even though the pasta is fairly heavy, it does complement other heavy sauces. I've even seen it made with carbonara, but knowing how carbonara is made, this doesn't seem quite right.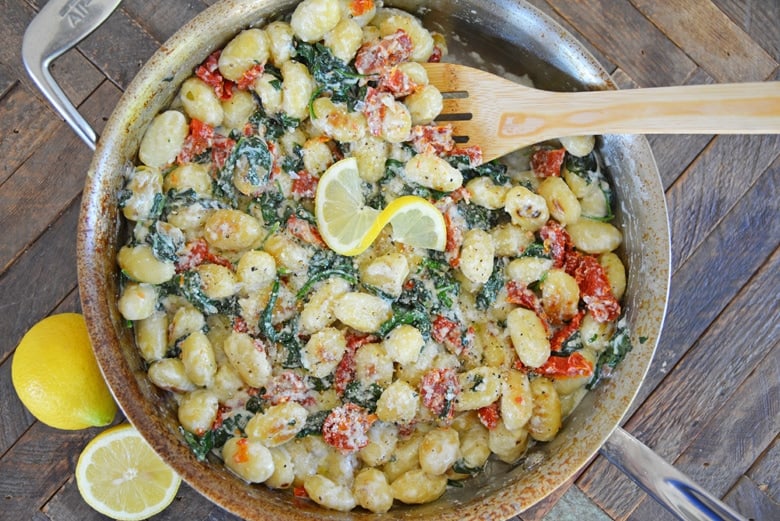 For this recipe, we just use mascarpone whisked with water and lemon to create a simple cheese sauce. Top with parmesan cheese and you've got dinner.
I like this pan fried gnocchi with just spinach and sundried tomatoes, but you can top it off with cooked shrimp, grilled chicken or even seared scallops.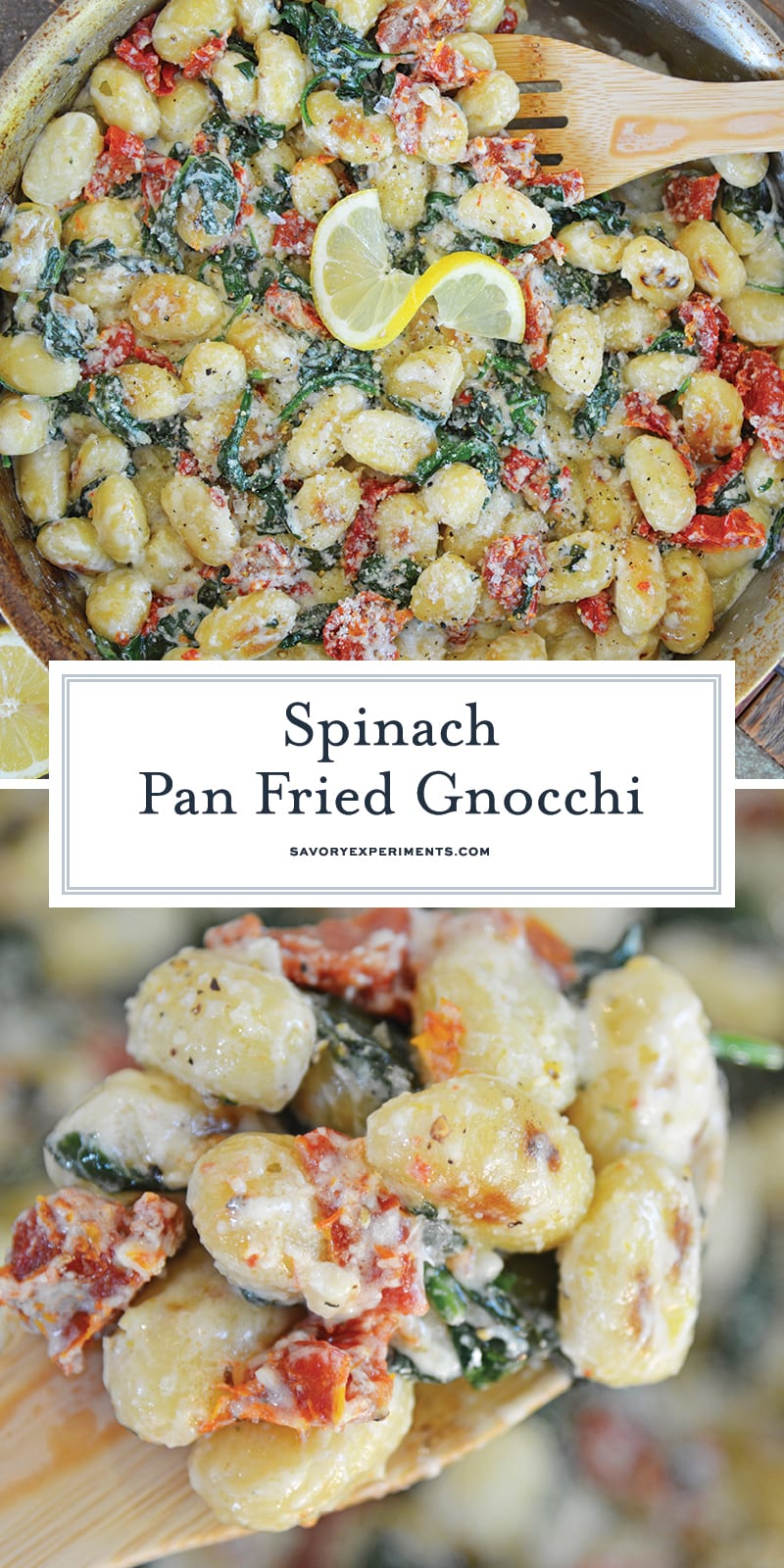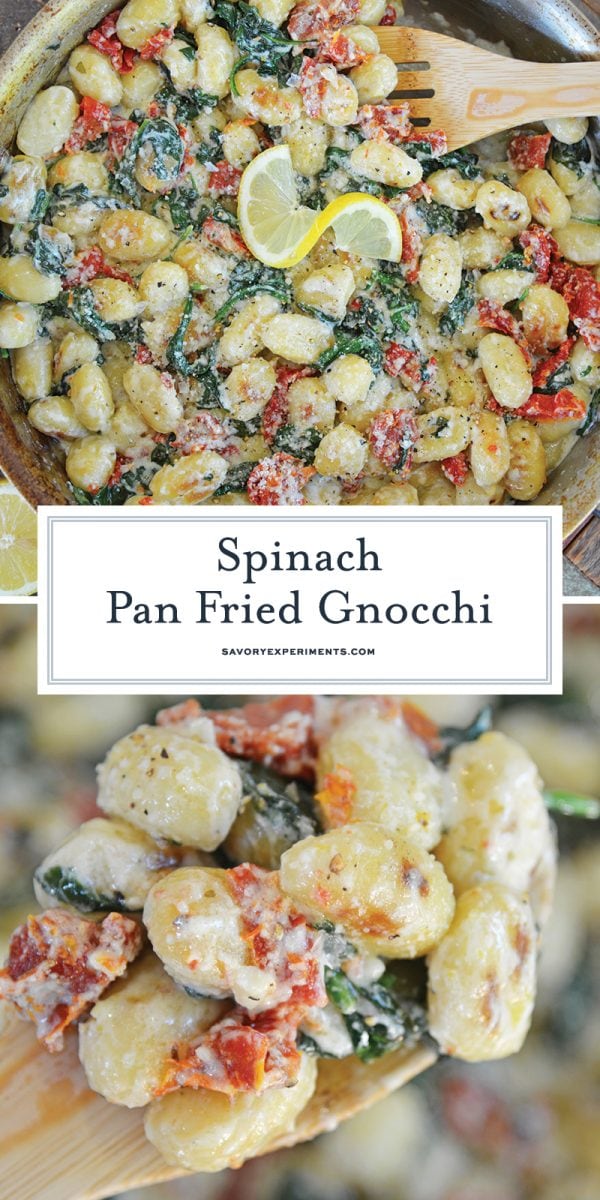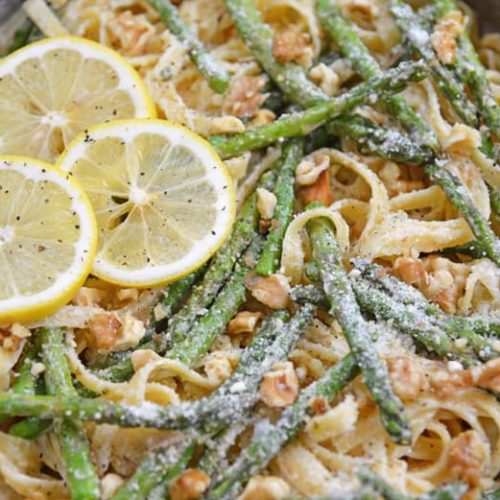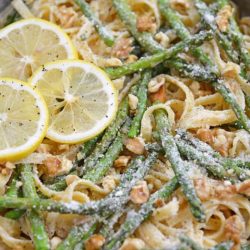 Creamy Lemon Pasta
Creamy Lemon Pasta is an easy 20-minute dish using lemon, asparagus and one secret ingredient to give the cream sauce pizzazz.
View this recipe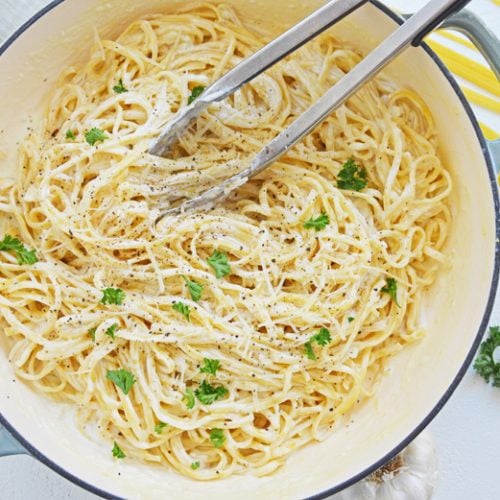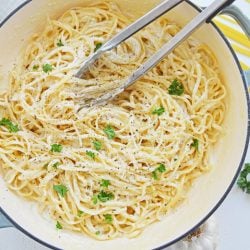 Parmesan Garlic Linguine
Creamy, cheesy & delicious, this EASY Parmesan Garlic Linguine pasta recipe is perfect for a quick weeknight dinner! With simple ingredients!
View this recipe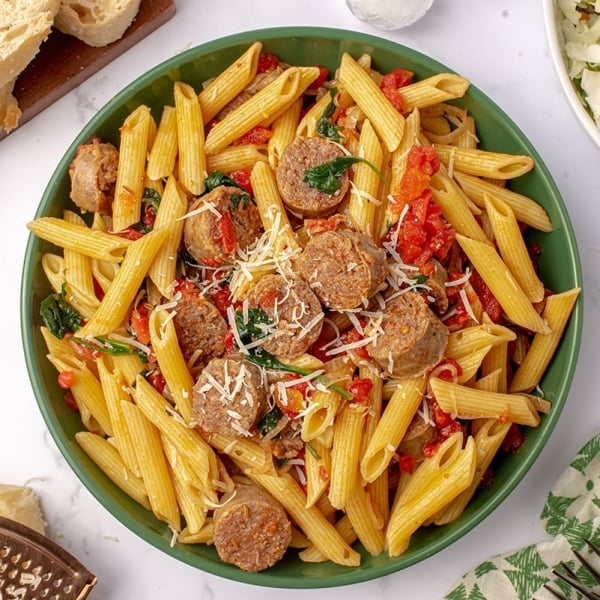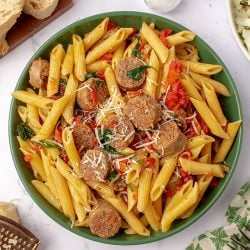 Spinach Sausage Pasta
Spinach Sausage Pasta is an easy pasta recipe packed with spinach, fennel seeds, sausage, garlic and onion.
View this recipe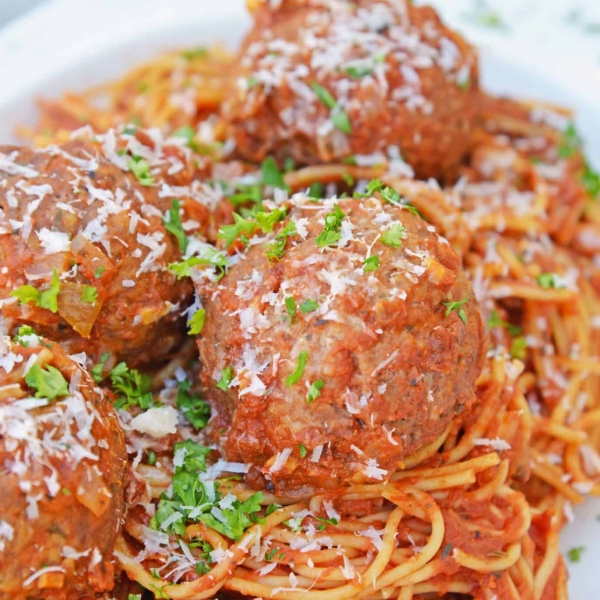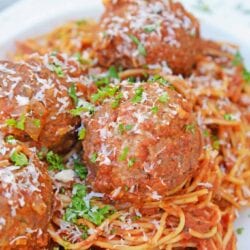 Instant Pot Spaghetti and Meatballs
Instant Pot Spaghetti and Meatballs is perfect for nights when you need dinner fast. You won't need to know how to make spaghetti and meatballs any other way!
View this recipe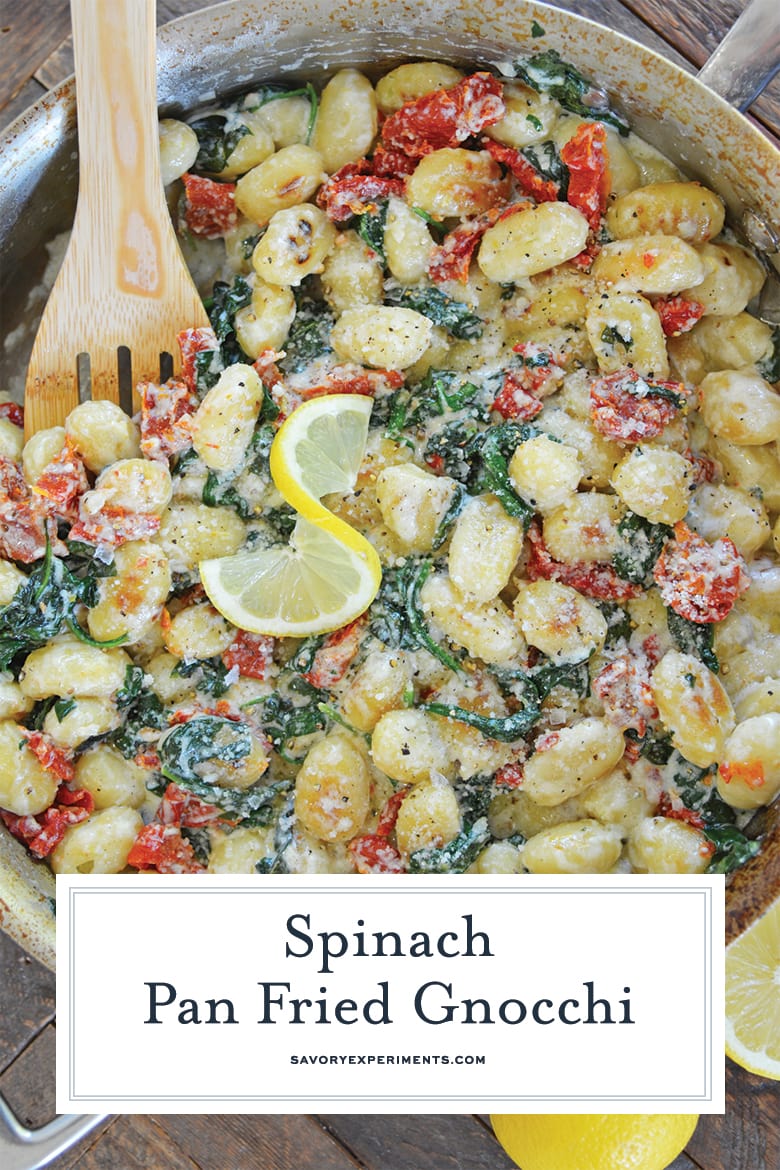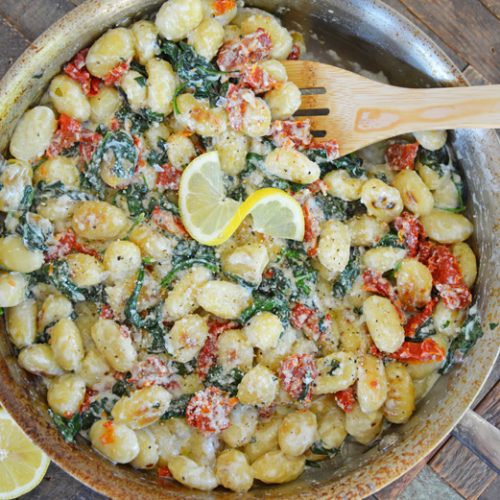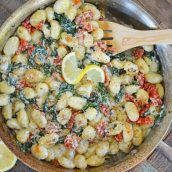 Spinach Pan Fried Gnocchi
Easy to make and tossed in a creamy mascarpone sauce, this Spinach Pan Fried Gnocchi recipe will be your new favorite dinner recipe!
Instructions
In a large skillet, heat olive oil over medium high heat.

In a small bowl, whisk mascarpone with zest from one lemon and fresh lemon juice from one lemon, 1/2 cup water, Kosher salt and freshly ground pepper. Set aside.

When gnocchi is mostly lightly browned, add 1/2 fresh spinach. Use tongs to toss with gnocchi until it fully wilts. Add remaining spinach until wilted, then garlic, cooking 1 minute longer. Reduce heat to low.

Toss gnocchi and spinach with mascarpone sauce until smooth and creamy.

Add drained and blotted sundried tomatoes and top with Parmesan cheese.

Serve immediately and make sure to come back to let us know how it was in the comments or ratings!
Notes
*I like to use oil packed sun dried tomatoes because they stay the most tender. You can use them out of a pouch too to skip this step. Make sure you drain them well and then blot with a paper towel so there is isn't excess oil.
Nutrition
Calories:
567
kcal
,
Carbohydrates:
75
g
,
Protein:
16
g
,
Fat:
25
g
,
Saturated Fat:
13
g
,
Cholesterol:
41
mg
,
Sodium:
1068
mg
,
Potassium:
1452
mg
,
Fiber:
9
g
,
Sugar:
15
g
,
Vitamin A:
3107
IU
,
Vitamin C:
31
mg
,
Calcium:
202
mg
,
Iron:
9
mg