This post is sponsored by NatureSweet™, but the content and opinions expressed here are my own.
Hot Caprese Dip is an excellent option to traditional caprese salad. All you need are a handful of ingredients including delicious NatureSweet™ tomatoes.

Hot Caprese Dip is a party appetizer favorite using mozzarella, pesto and sweet tomatoes. An easy appetizer your guests will love!
Caprese Salad is one of my favorite flavor combinations. Sweet, luscious tomatoes, fresh mozzarella and basil that hits your nose before it touches your mouth. It is my go-to salad at restaurants.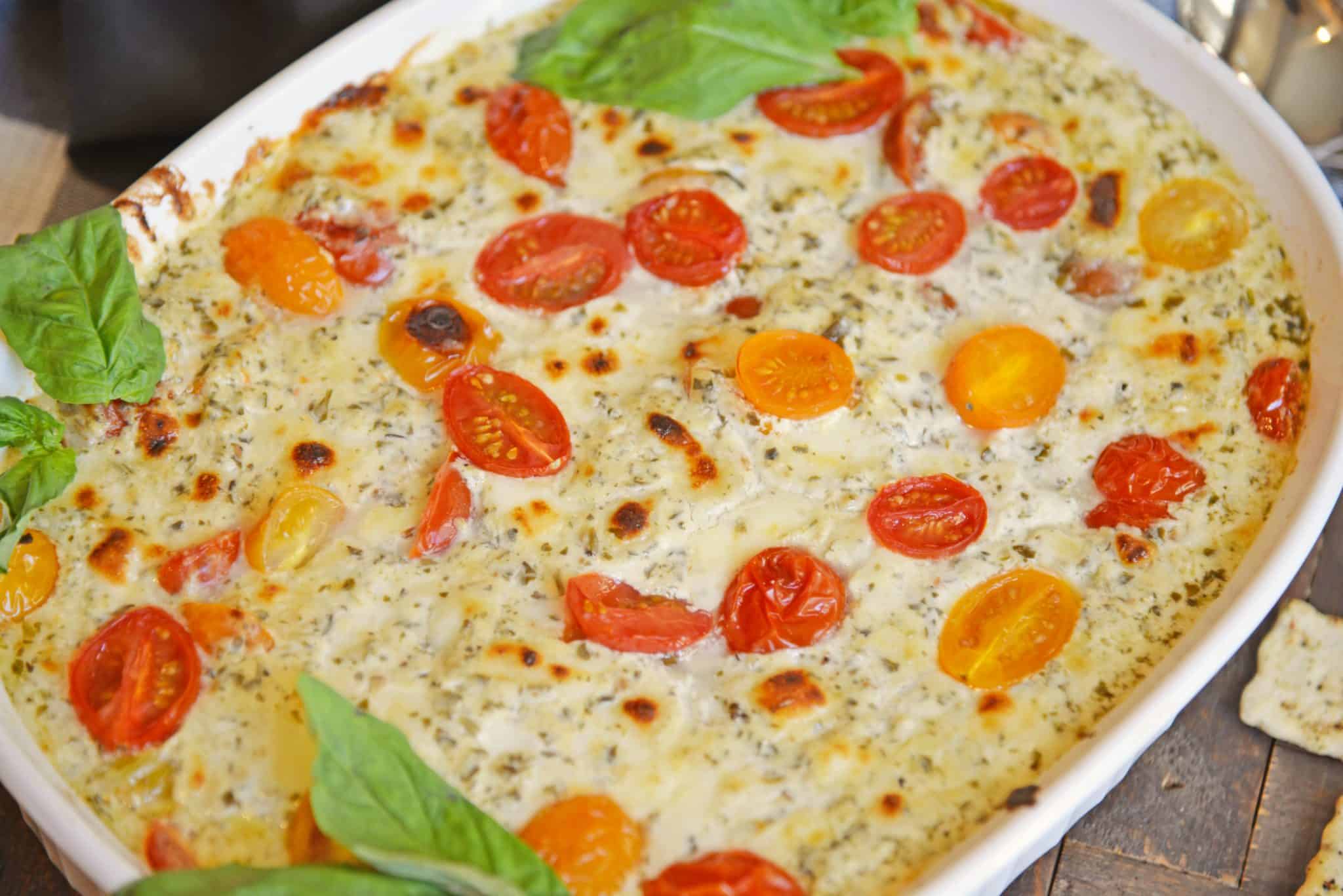 It is no wonder I've since created bite-sized Caprese salad and a Caprese burger and now… Hot Caprese Dip. Using the same key elements with the star of the show, NatureSweet™ tomatoes!
Chances are you've seen NatureSweet™ tomatoes in the store already; check out this familiar packaging. But what you may not know is that these little balls of deliciousness are "tomatoes raised right."
Starting from the seed and raised in sustainable greenhouses, resulting in consistently sweet and juicy tomatoes perfect for snacking, salads, chutney and jam and of course, a Hot Caprese Dip.
Most Hot Caprese Dips take the main ingredients and just heat them, resulting in a queso fundido style dip. While I love thick and stringy cheese, it needs to be eaten nearly immediately before it takes on a funky texture.
I wanted to create a dip that would be perfect for entertaining and stay delicious for hours.
The trick was to add monterey jack and sour cream. Instead of basil, I used pesto, allowing your guests to get a taste of garlic and basil in every bite. I used the NatureSweet™ Constellation™ pack, which combines all of the award-winning, flavorful tomatoes.
When heated, they release moisture that aids in making a dippable cheese sauce.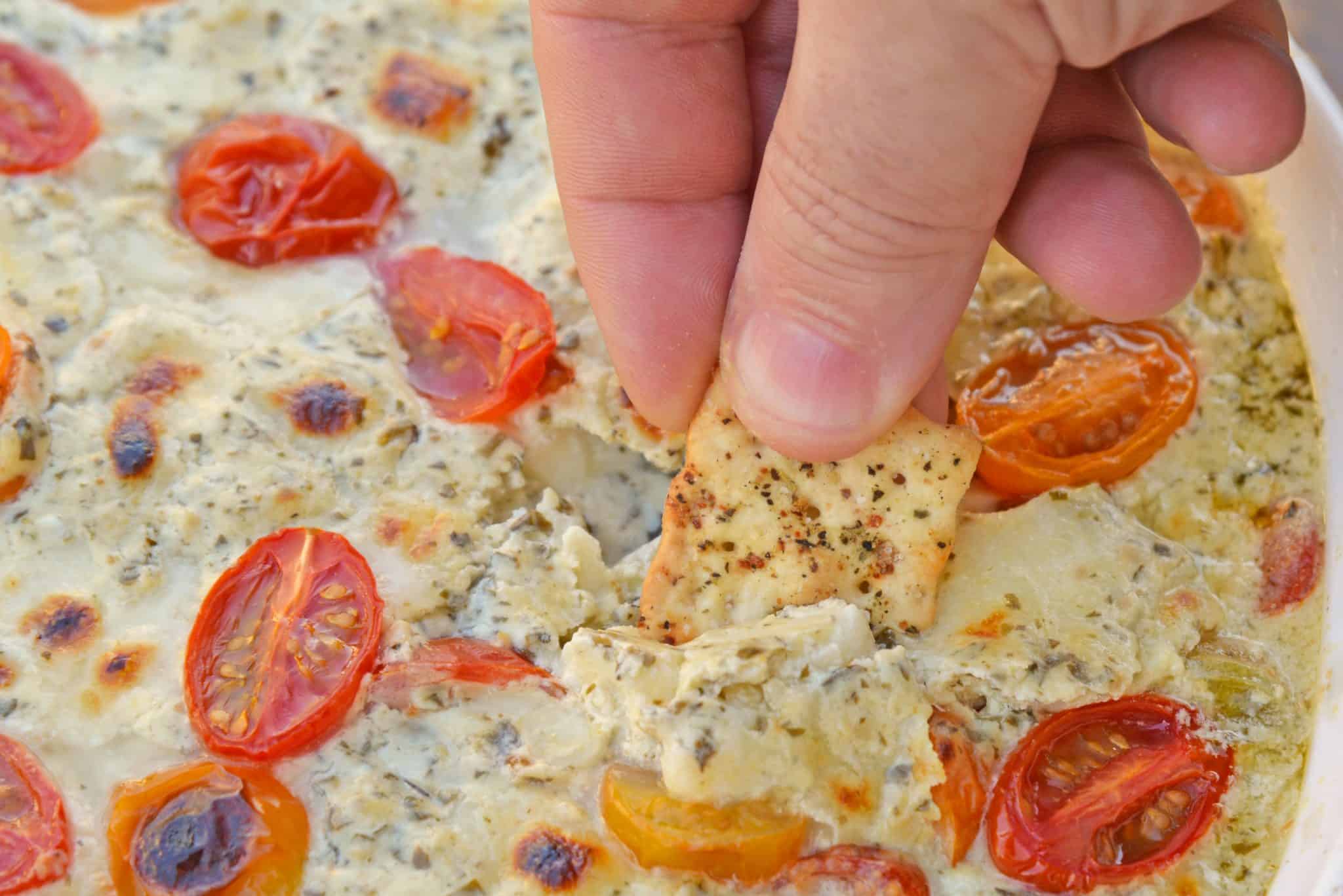 Hot Caprese Dip can be assemble in advance and heated the day of your party. Since I made a triple batch for a party of only 8 people, I had some leftovers, which I served over pasta the next day for a delicious meal.
Tools for making Hot Caprese Dip:
Wood cutting board – wood won't dull your knives like plastic and if treated properly, has natural antimicrobial properties.
Good knife – Global is my favorite! They are worth the price, I promise. I am kind of obsessed with them and store them tucked away so no one else can use them. Including hubby. Hands off my good stuff!
Casserole Dish
– another kitchen essential! Here is a fabulous variety pack so you always have the right size!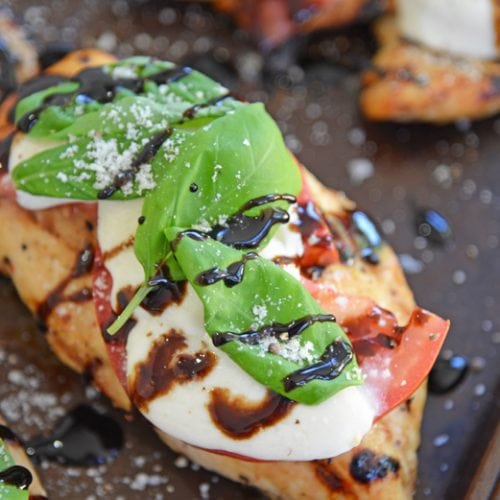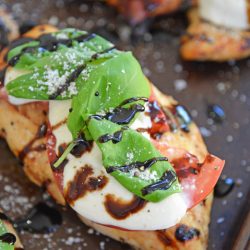 Chicken Caprese Recipe
This Caprese Chicken is sure to be one of your favorite grilled or baked chicken recipes. Juicy & delicious, it comes together with only 6 ingredients!
See The Recipe!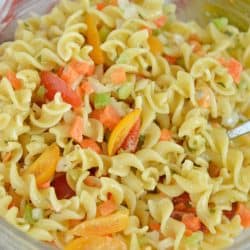 Ranch Pasta Salad
You won't go back to regular pasta salad after you've tried this delicious Ranch Pasta Salad recipe! It's easy to make with simple ingredients!
See The Recipe!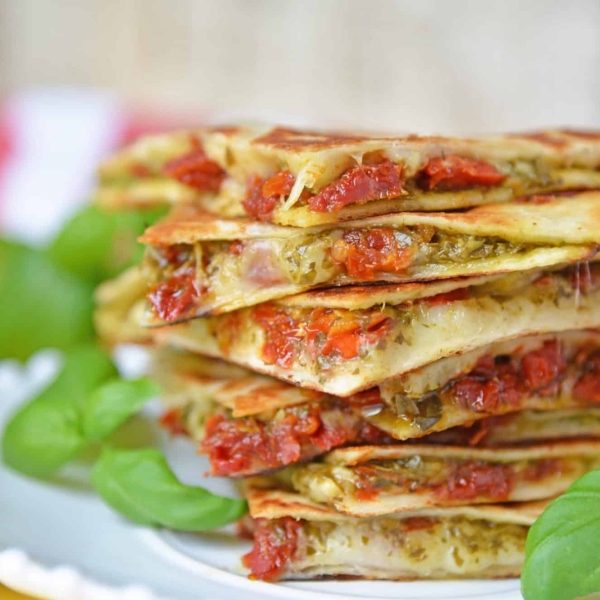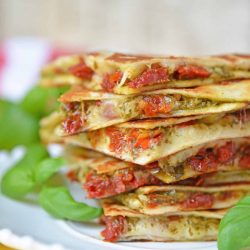 Caprese Quesadillas
Caprese Quesadillas combine homemade pesto with sun dried tomatoes and gooey mozzarella cheese. Serve for lunch, dinner or even as a party appetizer!
See The Recipe!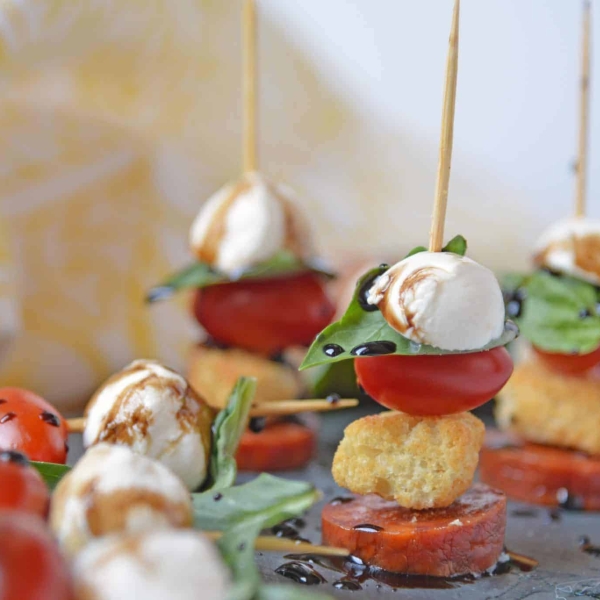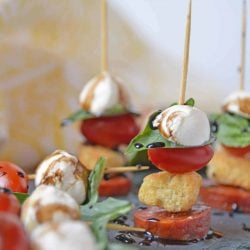 Caprese Skewer Recipe
Caprese Skewers are the perfect party appetizer made with fresh mozzarella, basil, tomatoes, garlicky croutons, and zesty pepperoni, all drizzled with a tangy balsamic reduction sauce!
See The Recipe!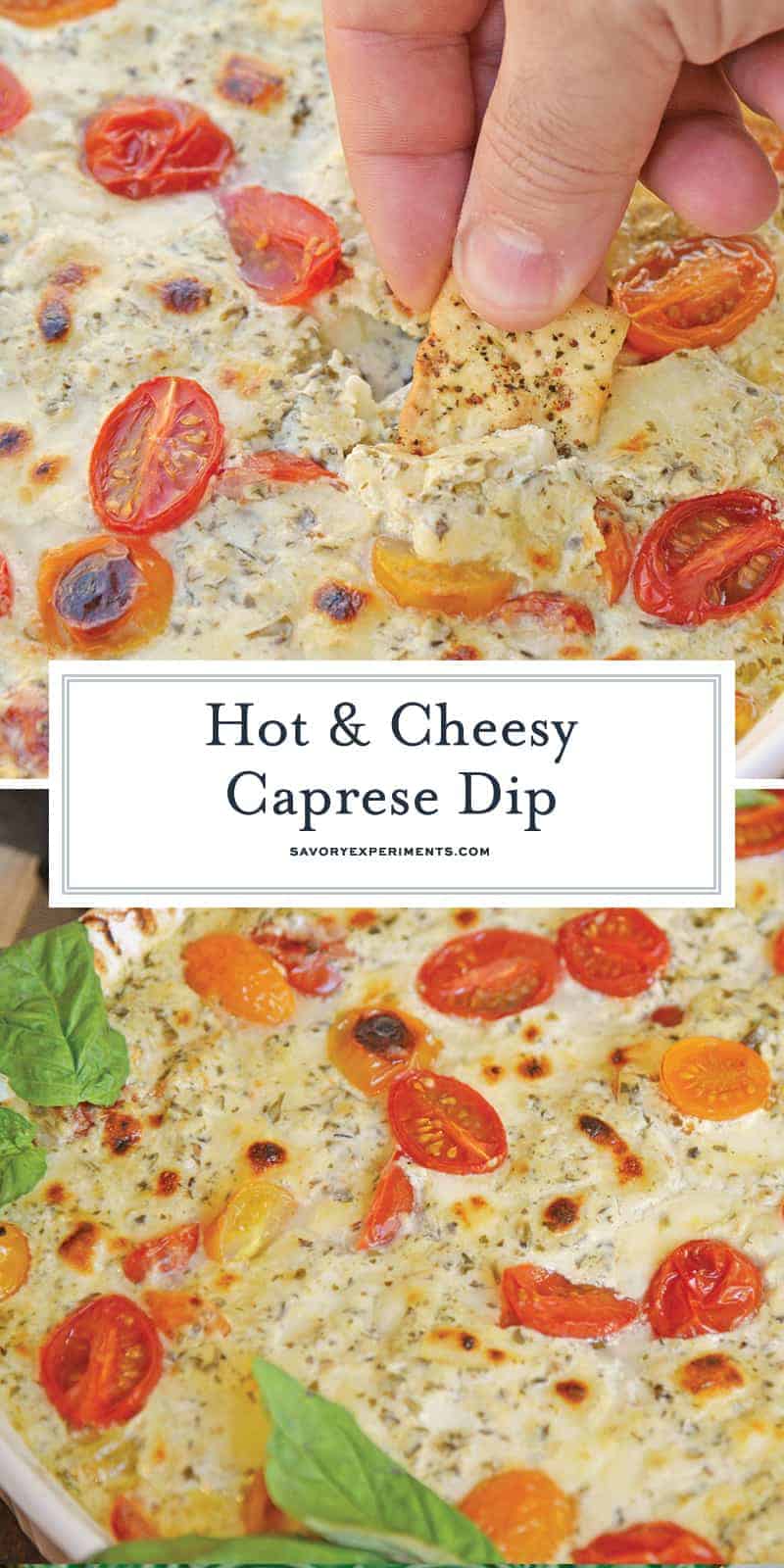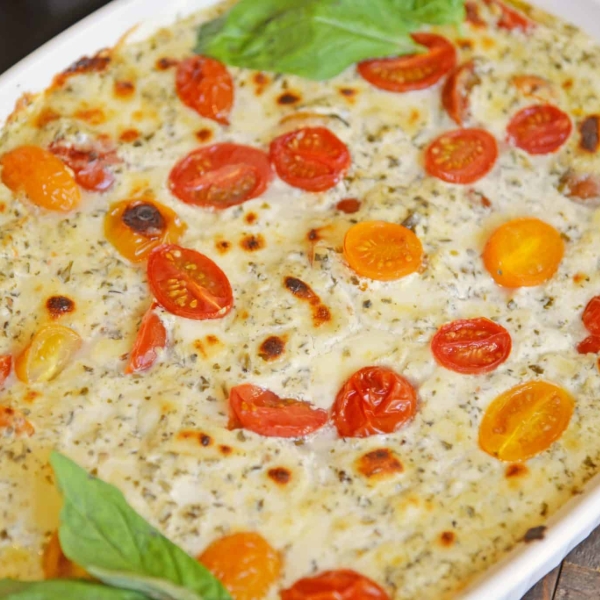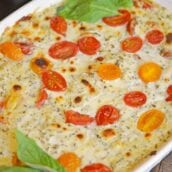 Hot Caprese Dip
Hot Caprese Dip is a party appetizer favorite using mozzarella, pesto and sweet tomatoes. An easy appetizer your guests will love!
Instructions
Preheat oven to 350 degrees.

In a medium mixing bowl, combine shredded mozzarella cheese, shredded monterey jack cheese, sour cream, pesto sauce, fine sea salt, white pepper and 1 cup halved tomatoes.

Coat a 1.5 quart casserole dish with cooking spray. Transfer dip to casserole dish.

Top dip with remaining 1/2 cup tomatoes.

Bake for 25 minutes, or until warm and bubbly.

Remove and stir well to combine. There will be liquid on the top, this will mix with the cheese to form a thicker cheese dip. Allow to rest for 10 minutes before serving.

Serve with crackers or crostini.

If you've tried this recipe, come back and let us know how it was!
Nutrition
Calories:
144
kcal
,
Carbohydrates:
1
g
,
Protein:
7
g
,
Fat:
12
g
,
Saturated Fat:
6
g
,
Cholesterol:
33
mg
,
Sodium:
396
mg
,
Potassium:
93
mg
,
Sugar:
1
g
,
Vitamin A:
530
IU
,
Vitamin C:
2.7
mg
,
Calcium:
203
mg
,
Iron:
0.3
mg