I am sure you know that a bit of mayonnaise makes everything better. It's no secret. And that rings true with mayonnaise chicken recipes.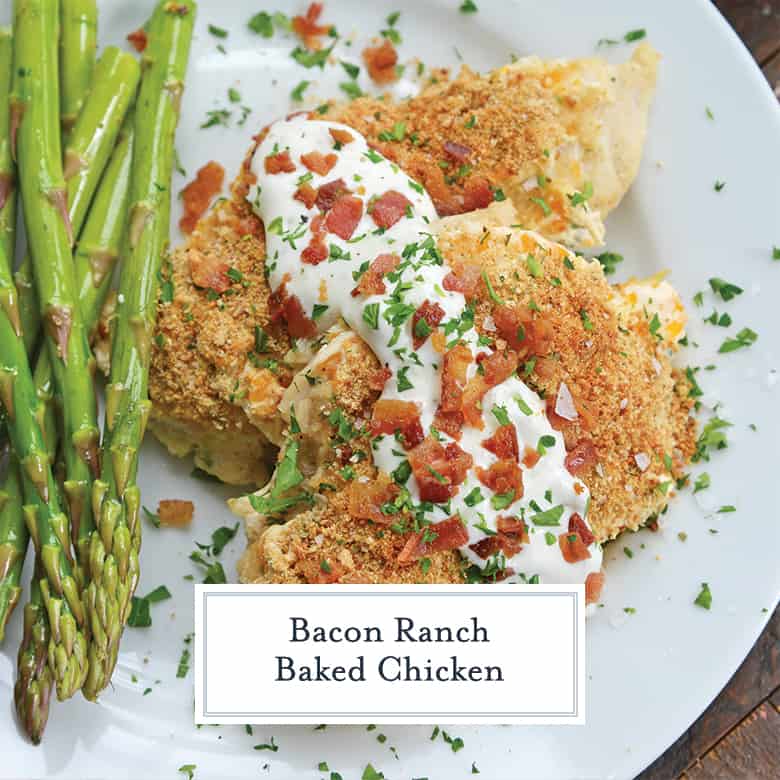 Think of my Bacon Ranch Baked Chicken as mayo chicken with a fantastically flavorful makeover.
Bacon Ranch Chicken is an easy baked chicken recipe using a creamy mayonnaise base with bacon and ranch seasoning.
Easy weeknight meals are always in demand. We lead busy lives and also need to get food on the table. All too often, ordering out is a quick fix.
But when at all possible, a homemade meal is fantastic. What's even more fantastic is when they can be made in a jiffy.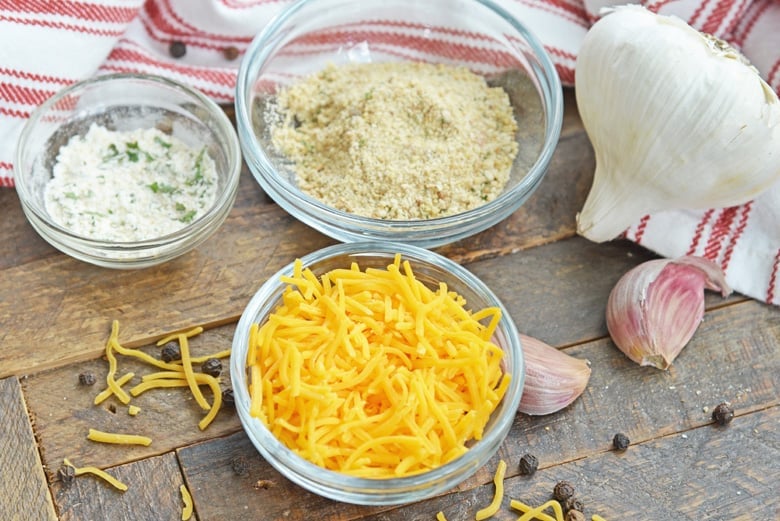 Bacon Ranch Chicken will quickly be your new favorite. It came like a lightbulb after making my Garlic Parmesan Chicken recipe.
With less than 10 ingredients, many of which you probably already have sitting in your pantry and your fridge, you'll be eating it at least once a week!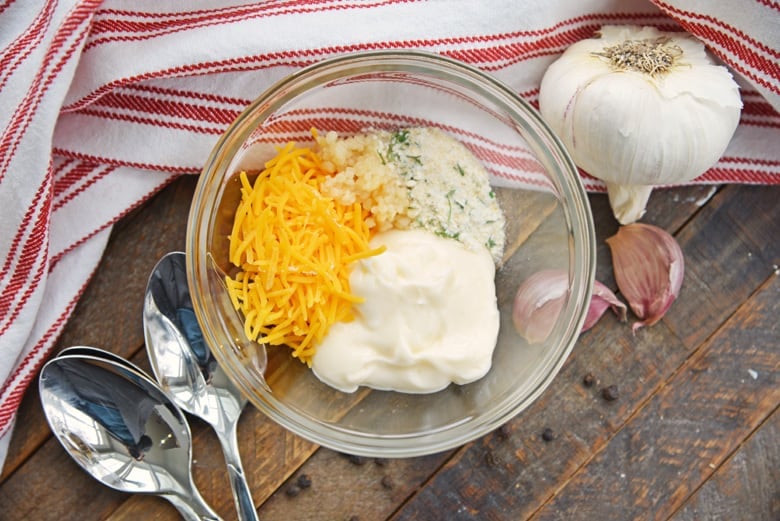 Mayonnaise chicken has been a family meal staple since the 1950's. For those of you that are uninitiated, coating chicken in mayo and then baking it gives you a nice flavorful bite every time. Some just call is Hellman's chicken.
Made from eggs and oil, mayonnaise is basically creamy moisture. Seal your chicken breast or chicken thighs in moisture and bake and you get amazingly tender meat without any extra steps like brining or basting.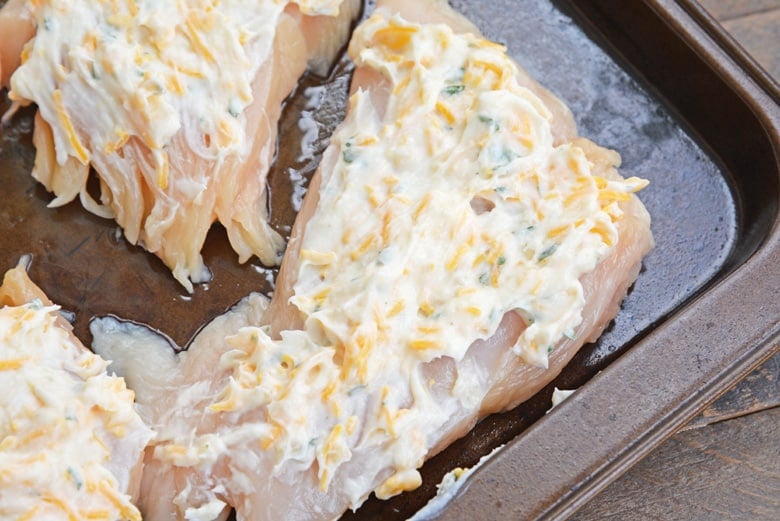 Not only does it give you that juicy bite, but it gives the chicken flavor. Best of all, you can add things to the mayonnaise to give it even more flavor.
The texture of the mayo means it will grab onto other ingredients that may have slid right off the chicken without it.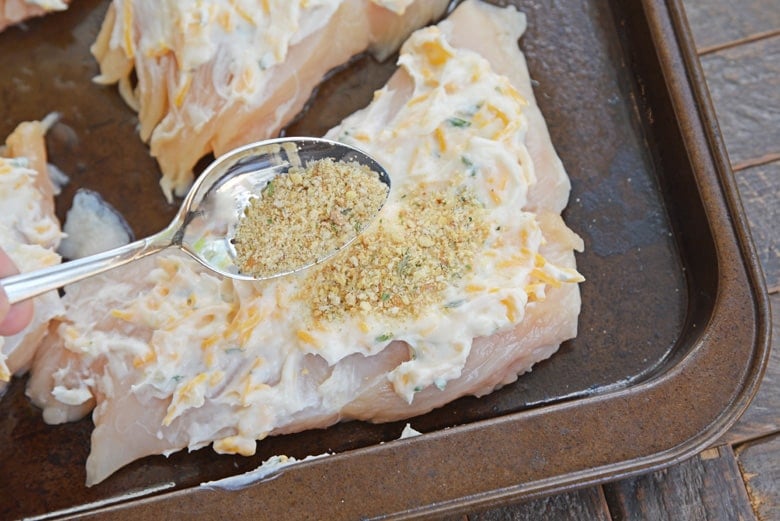 This recipe takes all those elements and rearranges them into a completely different dish that's perfectly at home at the dinner table.
I love a good chicken club sandwich and for me that means cheddar, bacon, and ranch dressing. That flavor combination is winning almost like spaghetti and meatballs or peanut butter and jelly.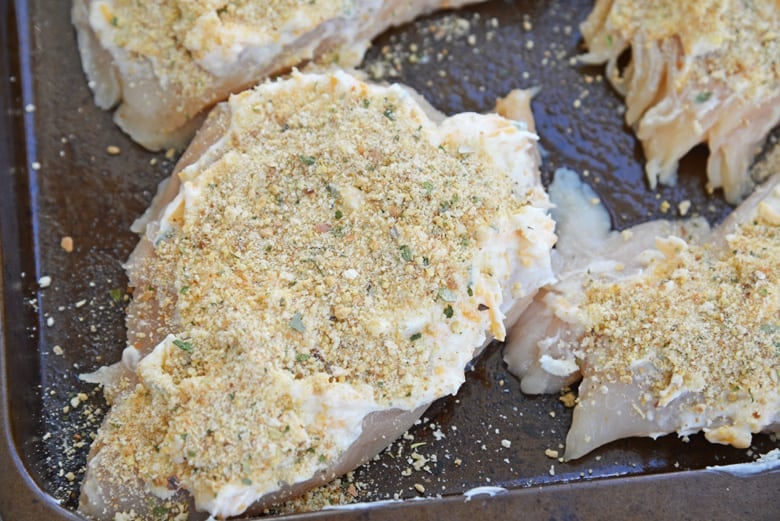 While ranch dressing is delicious (and my husband does ask for a side of it with this dish,) I like to use it's powdered form. It flavors the mayo in a very simple way. So if you really like those flavors, top your cooked chicken with a dollop of ranch dressing.
You can use whatever bacon you like or whatever is in the fridge. Smoked bacon will give it a smoky edge while maple bacon will give it a sweetness that works beautifully with everything else.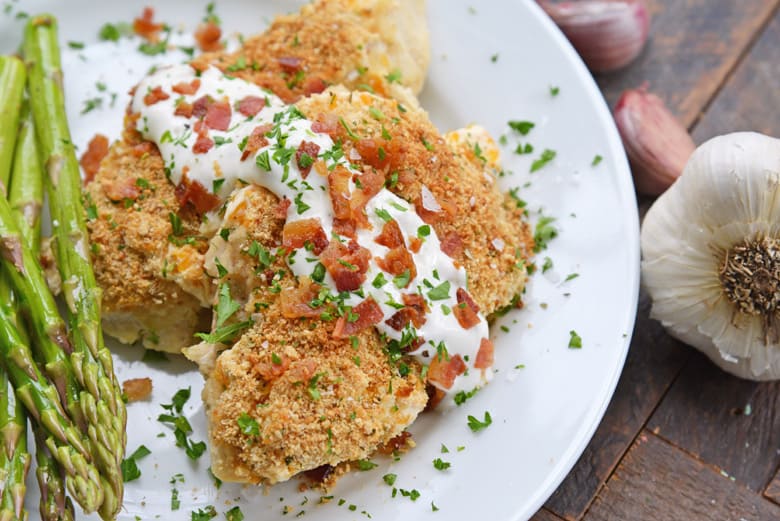 You can take it one step further and add MORE cheese on top of the chicken after baking for ultra cheesy goodness. You can even slice it and put it on a bed of greens.
If you want to go crazy, tuck it in between two sides of a roll to recreate the sandwich it was modeled after. There are no rules!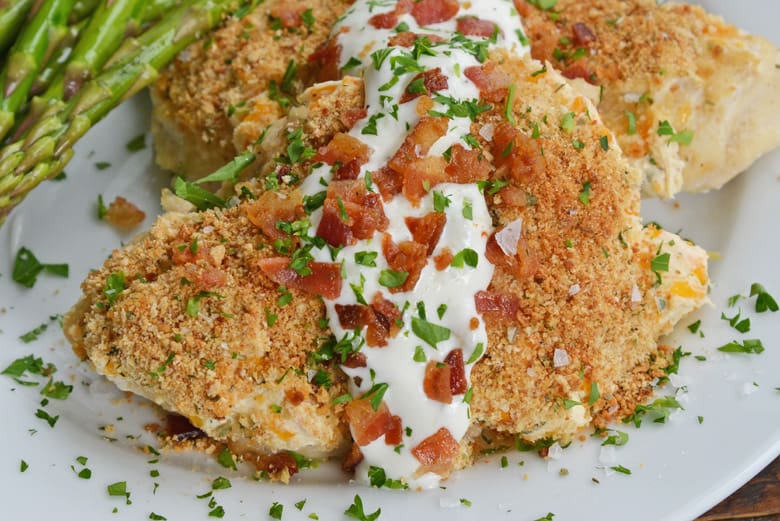 If all of that is too, much a side of simply steamed vegetables and you have dinner all set. A tasty meal your whole family will enjoy in just 30 minutes.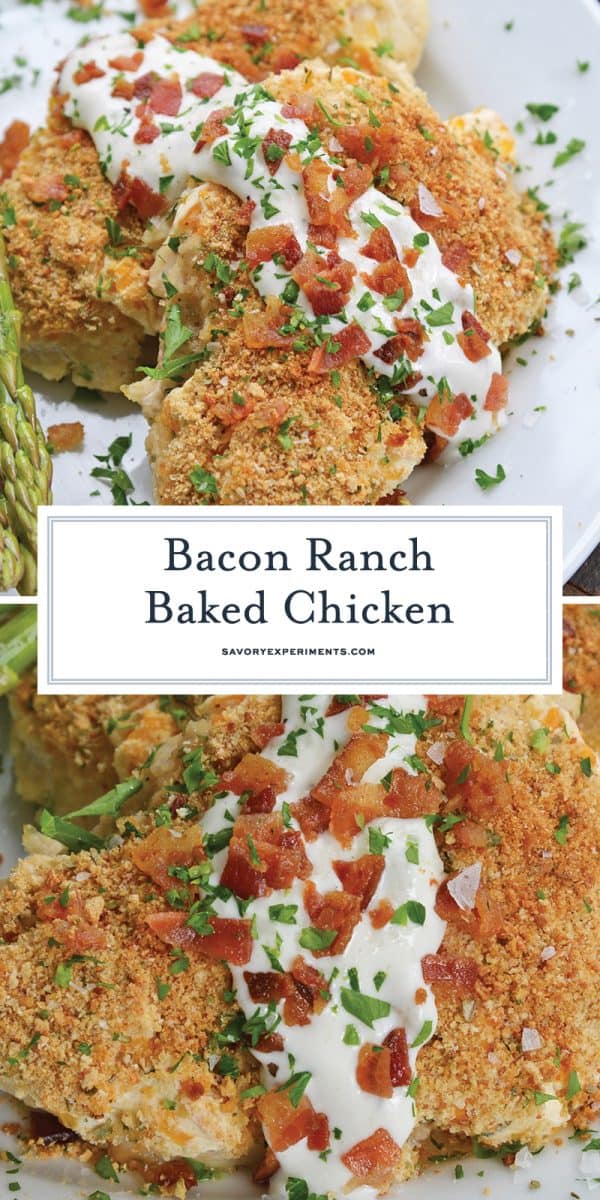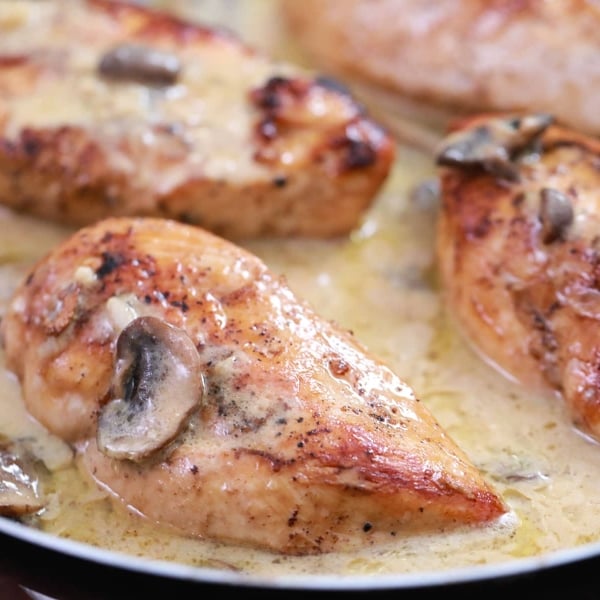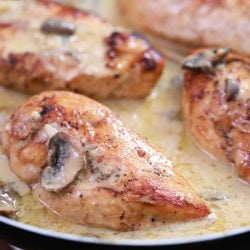 Chicken Marsala Recipe
This Chicken Marsala recipe is made in 1 pan in less than 30 minutes! Whip up this EASY dish with a rich creamy mushroom sauce on top of juicy chicken.
See The Recipe!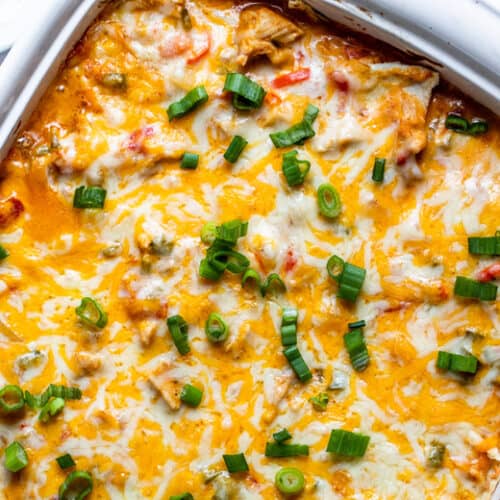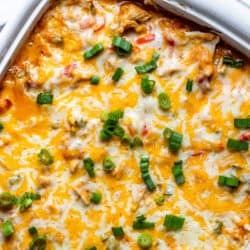 Easy King Ranch Recipe
This King Ranch Chicken Casserole is packed with incredible Tex-Mex flavors and of course loads of cheesy goodness. This simple recipe is perfect for a family dinner and can be made ahead of time.
See The Recipe!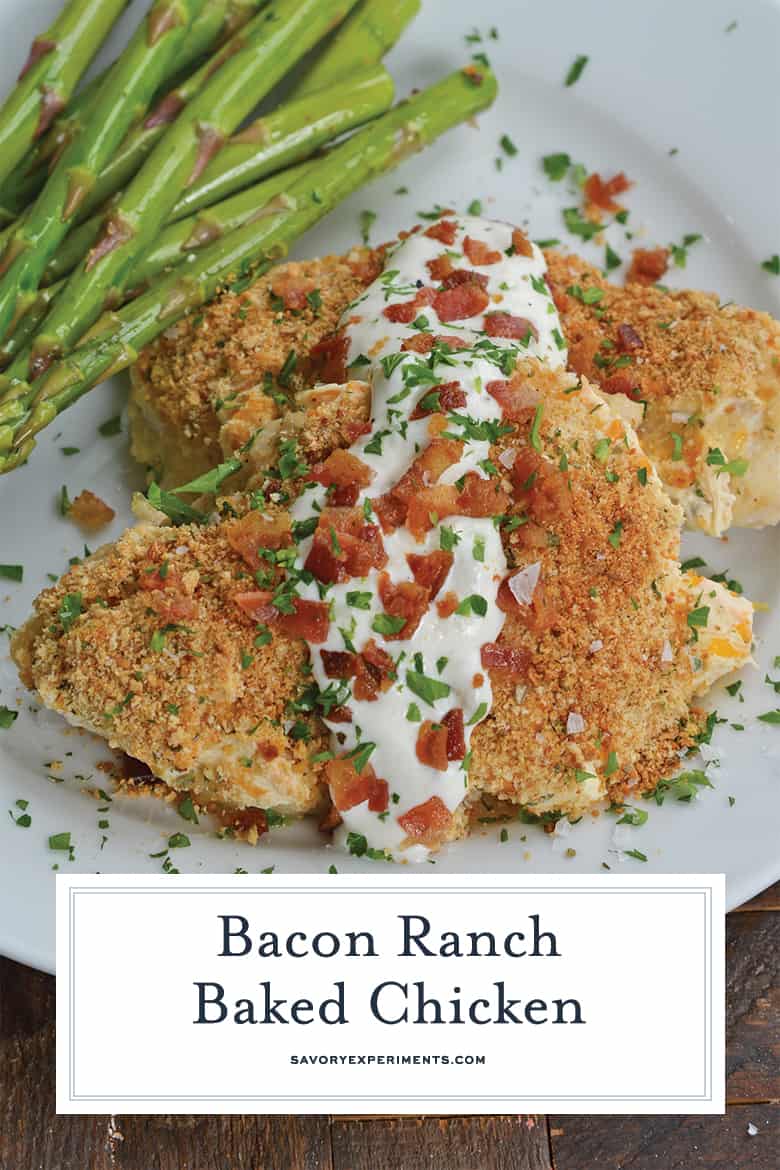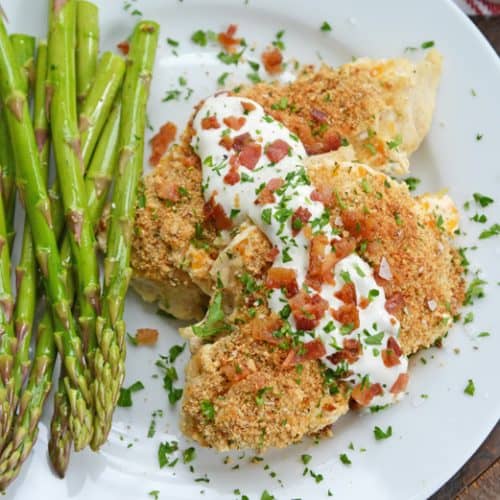 Bacon Ranch Baked Chicken
Bacon Ranch Chicken is an easy baked chicken recipe using a creamy mayonnaise base with bacon and ranch seasoning.
Instructions
Preheat oven to 400 degrees.

In a small bowl combine mayonnaise, garlic, dry Ranch seasoning and cheddar cheese.

Lay each breast on a cutting board, cover with plastic wrap and tenderize until ½ inch thick. Repeat with each breast. Transfer to a baking dish lightly coated with cooking spray.

Season each chicken breast with fine sea salt and freshly ground pepper. Divide mayonnaise mixture evenly on each chicken breast, spreading out to the edges.

Bake for 15 minutes, remove from oven and top each breast with bread crumbs, pressing down lightly to "catch". The size of your chicken breasts will determine the amount of bread crumbs you use.

Return to oven and bake for additional 15 minutes or until chicken is thoroughly cooked. Cooking time might even be less depending on the size of your chicken breasts.

Remove, top with bacon and serve.

If you've tried this recipe, come back through and let us know how you liked it!
Nutrition
Calories:
451
kcal
,
Carbohydrates:
8
g
,
Protein:
30
g
,
Fat:
31
g
,
Saturated Fat:
7
g
,
Cholesterol:
105
mg
,
Sodium:
1116
mg
,
Potassium:
477
mg
,
Vitamin A:
195
IU
,
Vitamin C:
1.8
mg
,
Calcium:
119
mg
,
Iron:
0.9
mg