Harissa Chicken Kabobs are my new go-to chicken on the grill recipe. The spice level can be easily adjusted depending on how much harissa sauce you add and Greek yogurt does an excellent job of tenderizing the chicken, resulting in the juiciest chicken on the grill you've ever had.

Harissa Chicken Kabobs use the spiciness of harissa paste and the coolness of Greek yogurt to make tender chicken on the grill.
While you can use the same marinade for chicken thighs, drums or whole breasts, I like to cut mine into cubes and put them on skewers. It dramatically reduces the cooking time which also prevents grilled chicken from drying out, one of the biggest issues with any grilled chicken recipe.
The longer you can marinate your Harissa Chicken Kabobs, the better. I would say 4 hours is the minimum, although I like to do mine overnight or even longer.
I reserve a little bit of the harissa marinade for basting during the grilling process, but marianting really gets those chicken chunks full of flavor.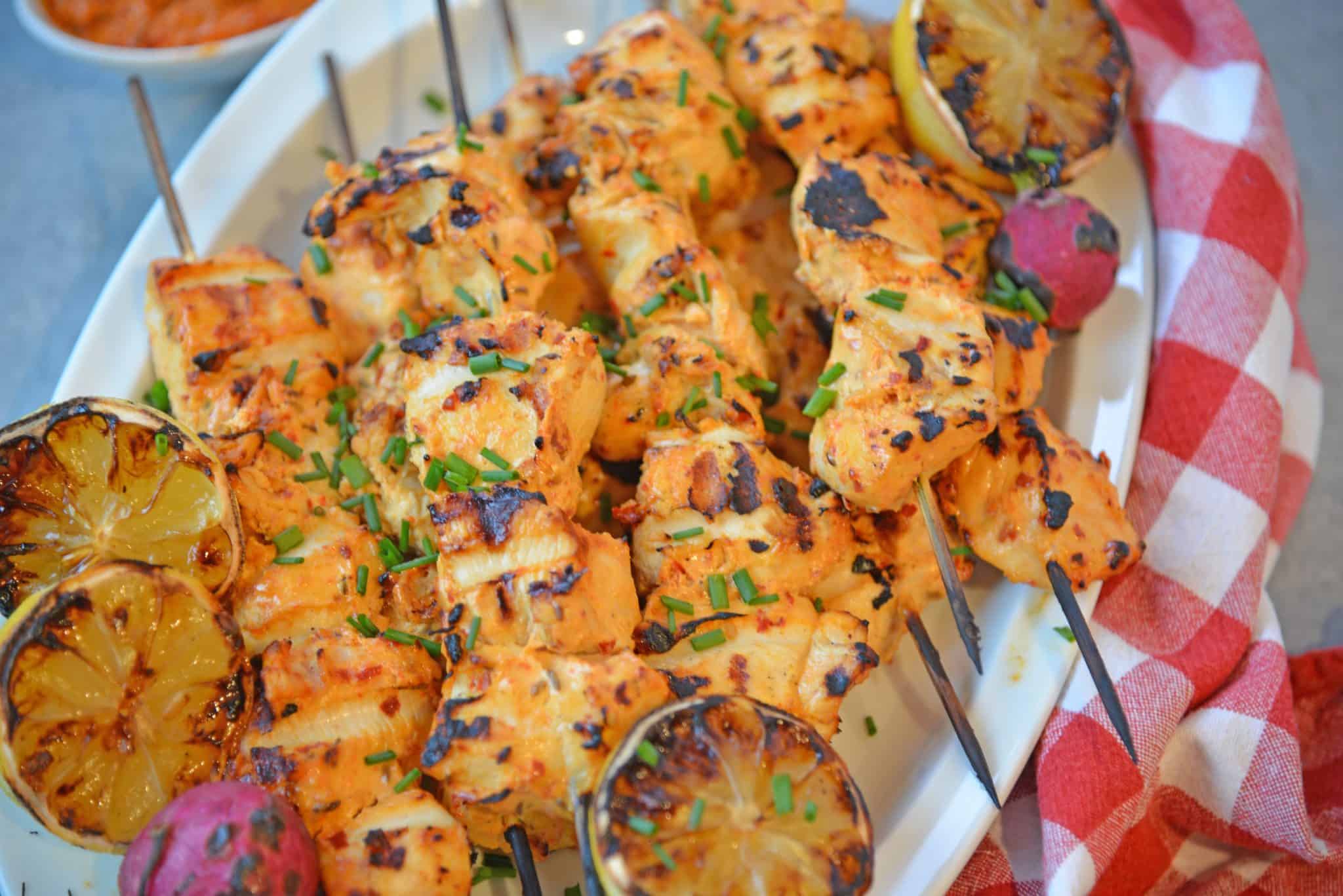 The next question is what is harissa? For those of you who haven't heard of it before, harissa is a spicy sauce or paste hailing from the Middle East. According to Wikipedia….
PRO TIP: Grill lemon halves along with your chicken kabobs. The acidity of hot lemon juice pairs nicely with the spicy flavors, but it also garnished your serving platter!
Harissa is a Tunisian hot chili pepper paste, the main ingredients of which are roasted red peppers, Baklouti pepper, serrano peppers, and other hot chili peppers, spices and herbs such as garlic paste, coriander seed, saffron, rose, or caraway, as well as some vegetable or olive oil to carry the oil-soluble flavors.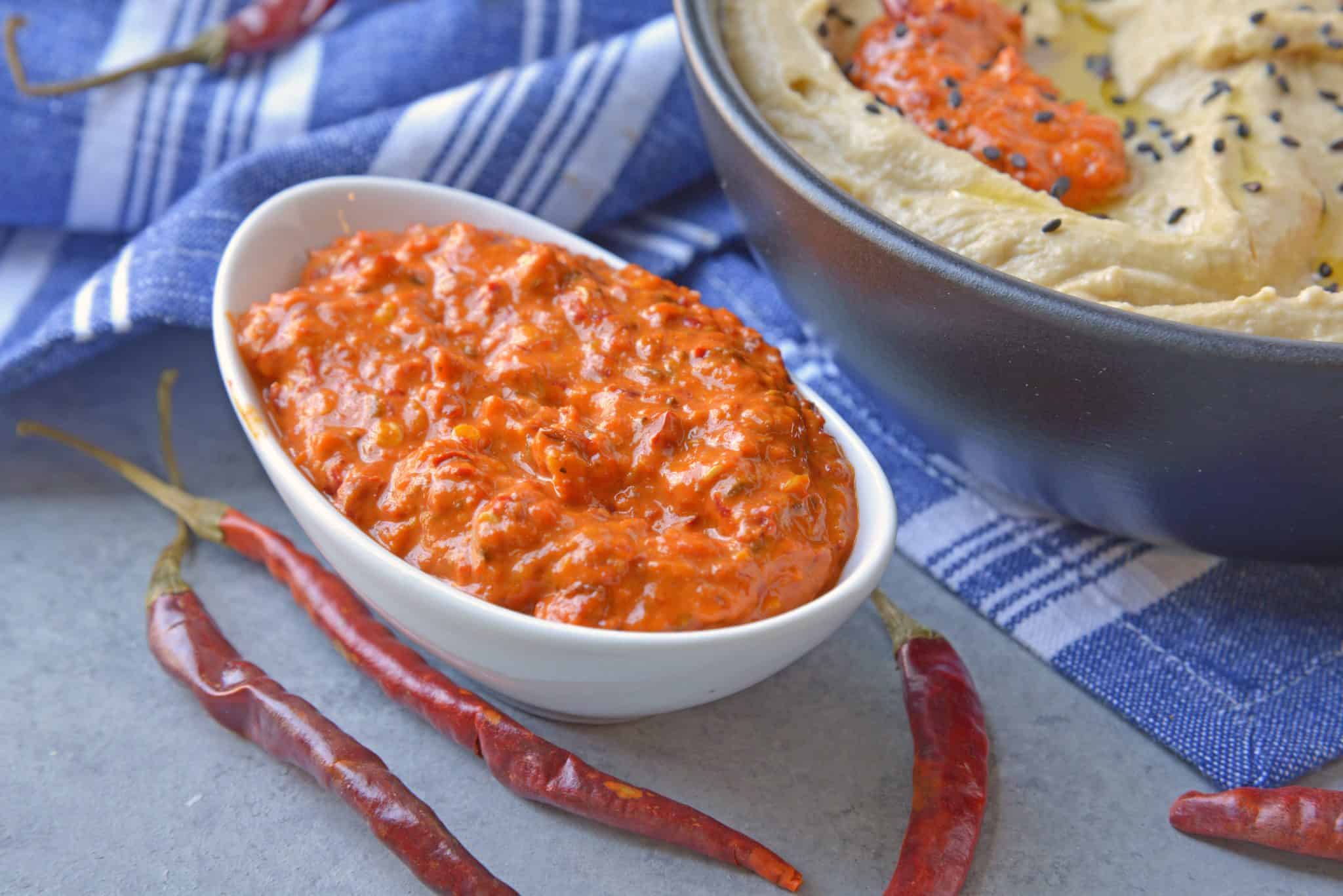 Historically harissa hailed from the Middle East and was made with Maghrebi hot chili peppers. Since these chiles aren't available worldwide, but the condiment was so tasty, other cultures started making their own adaptations of harissa sauce using different local peppers.
PRO TIP: Marinate your meats and vegetables in a bowl and then thread onto skewers. This way the marinade evely covers all of the ingredients.
The original harissa recipe uses roasted red peppers, garlic, serrano peppers, coriander, caraway seed and olive oil for preservation. Some even added rose petals. Fancy!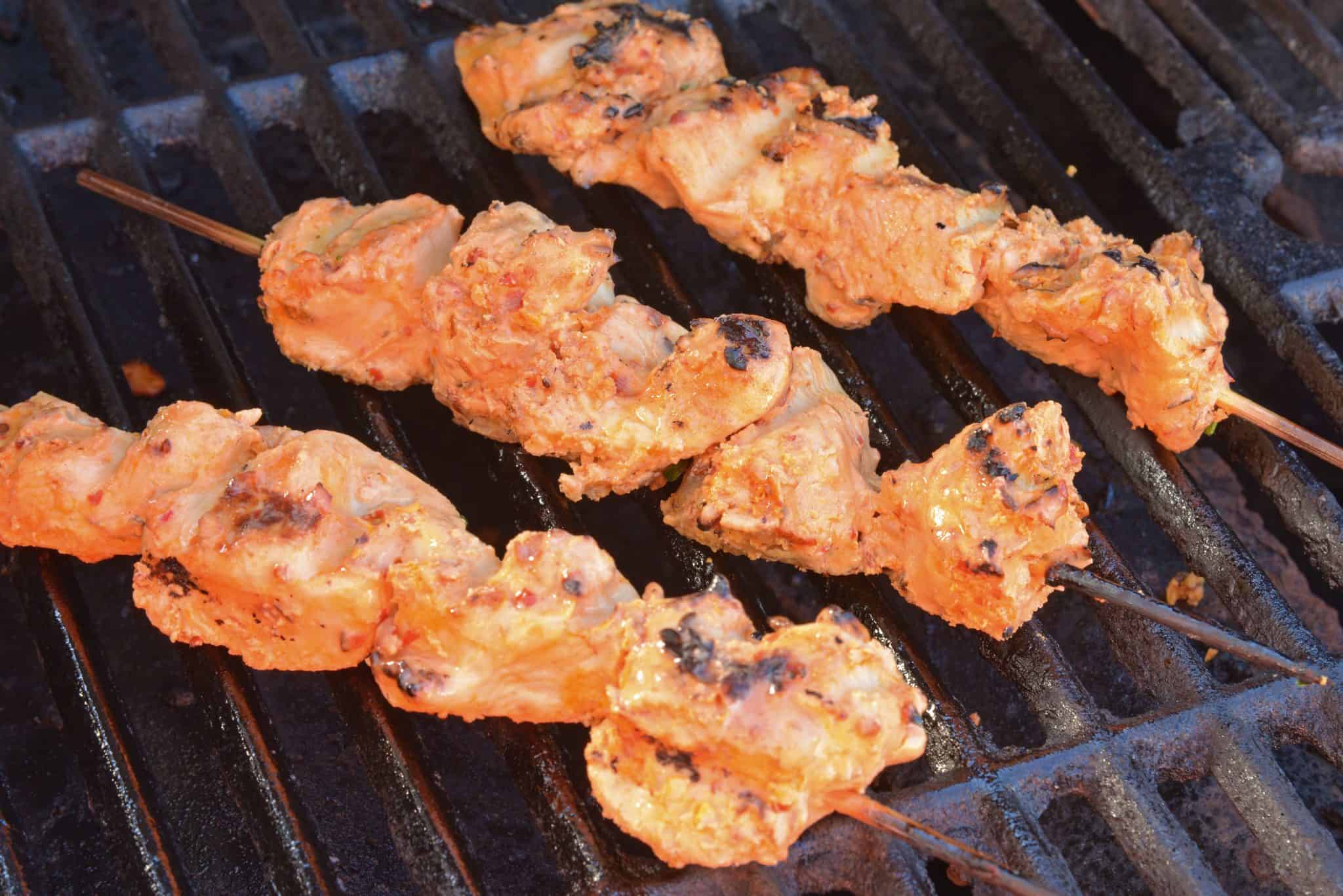 The choice is yours. Making harissa is actually very simple and requires only a fews ingredients. Since the traditionally used chile peppers aren't available here, I pick up a pack of dehydrated New Mexican chiles from the International aisle at the grocery store.
Here are a few tips for making Kabobs:
ONE. If you are using wooden skewers
, make sure to soak them for a good long time before threading them. This prevents fires, thus making this recipe for harissa chicken kabobs Smokey Bear approved.
TWO. Sometimes chicken tends to spin around on the skewer, you can prevent this by using the double skewer method, using two skewers to anchor your food or using metal skewers
with a swirl pattern or that are flat that prevents this from happening.
The only drawback here is if you are making kabobs for a lot of people, you'll be spending a pretty penny and may never use them again.
THREE. If you don't want to mesh around with skewers at all, just get a grill basket
. These things are fabulous!
Here are a couple of other favorite skewer recipes!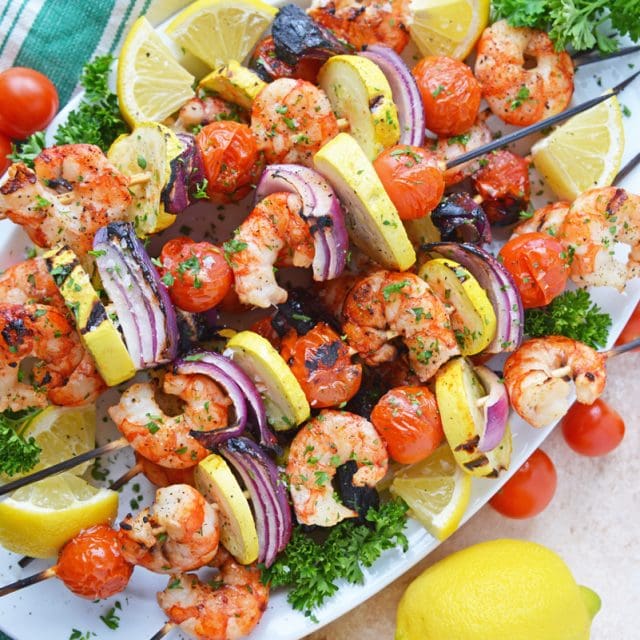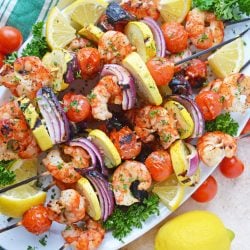 Garlic Shrimp Kabobs
Looking for the perfect summer BBQ Recipe? Garlic Shrimp Kabobs with white cooking wine, garlic and fresh veggies are the perfect choice!
View this recipe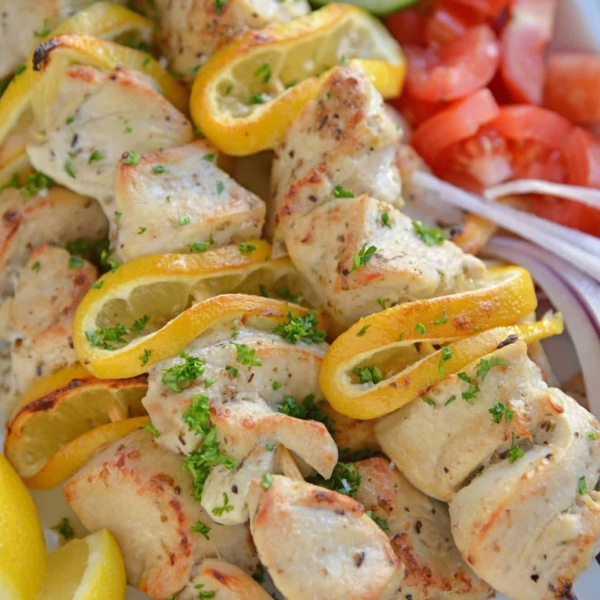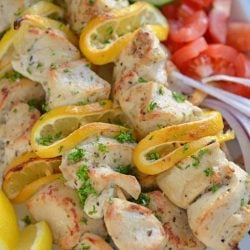 Greek Chicken Kabobs
Full of fresh lemon flavor, these Greek Chicken Kabobs are perfect for summer grilling! You only need a handful of ingredients to make this greek yogurt chicken!
View this recipe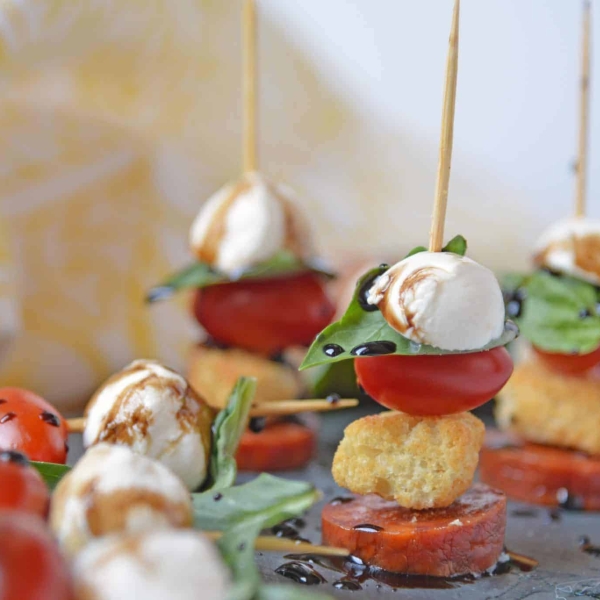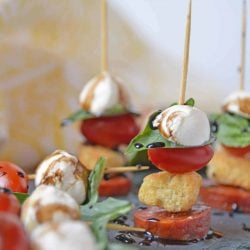 Caprese Skewer Recipe
Caprese Skewers are the perfect party appetizer made with fresh mozzarella, basil, tomatoes, garlicky croutons, and zesty pepperoni, all drizzled with a tangy balsamic reduction sauce!
View this recipe
Questions you might have about how to make middle eastern chicken kabobs:
Can I add vegetables? Sure! You can totally add vegetables to these chicken kabobs. Here are the best vegetables for kabobs:
Corn cob pieces
Zucchini Slices
Bell Pepper
Onion
Cherry tomatoes
Whole button mushrooms
Lemon wedges
Can I use this harissa marinade on other meats, seafood or fish? Certainly! Use it on beef or pork, even slather it on salmon or other fish. You can marinate shrimp, scallops or even serve it onto of grilled or steamed mussels or oysters. Harissa is commonly made into harissa beans or harissa potatoes as well.
What is the difference between harissa sauce and harissa paste? There really isn't much of a different, only the name.
Can harissa chicken be frozen? Yes, you can freeze raw chicken in the marinade as long as it isn't being frozen for the second time. You can also freeze cooked chicken. If packaged properly, it will stay good for up to 4 months.
Can I substitute another hot sauce or Sriracha for harissa? All these chile based hot sauces are so similar. If you find you like one more than another, simply use the one you like!
What are harissa spices? Like so many recipe, the exact spice blend varies from restaurant to restaurant and family to family. The basics are chile peppers, garlic and olive oil. The other most common harissa ingredients include: cumin, coriander, caraway and mint.
What type of olive oil do you use? Good Extra Virgin Olive Oil will taste like, well, olives, while a poorly made one will taste like vegetable oil. Gross. While people tend to favor Italian and Greek olive oils, I prefer to buy mine domestically.
There are some great ones out there from all over the world, but the reporting of ingredients isn't always the same and you could find that your super expensive olive oil was actually cut with vegetable oil.
How long is harissa chicken good for? You can keep it in an airtight container in the refrigerator for about 5 days.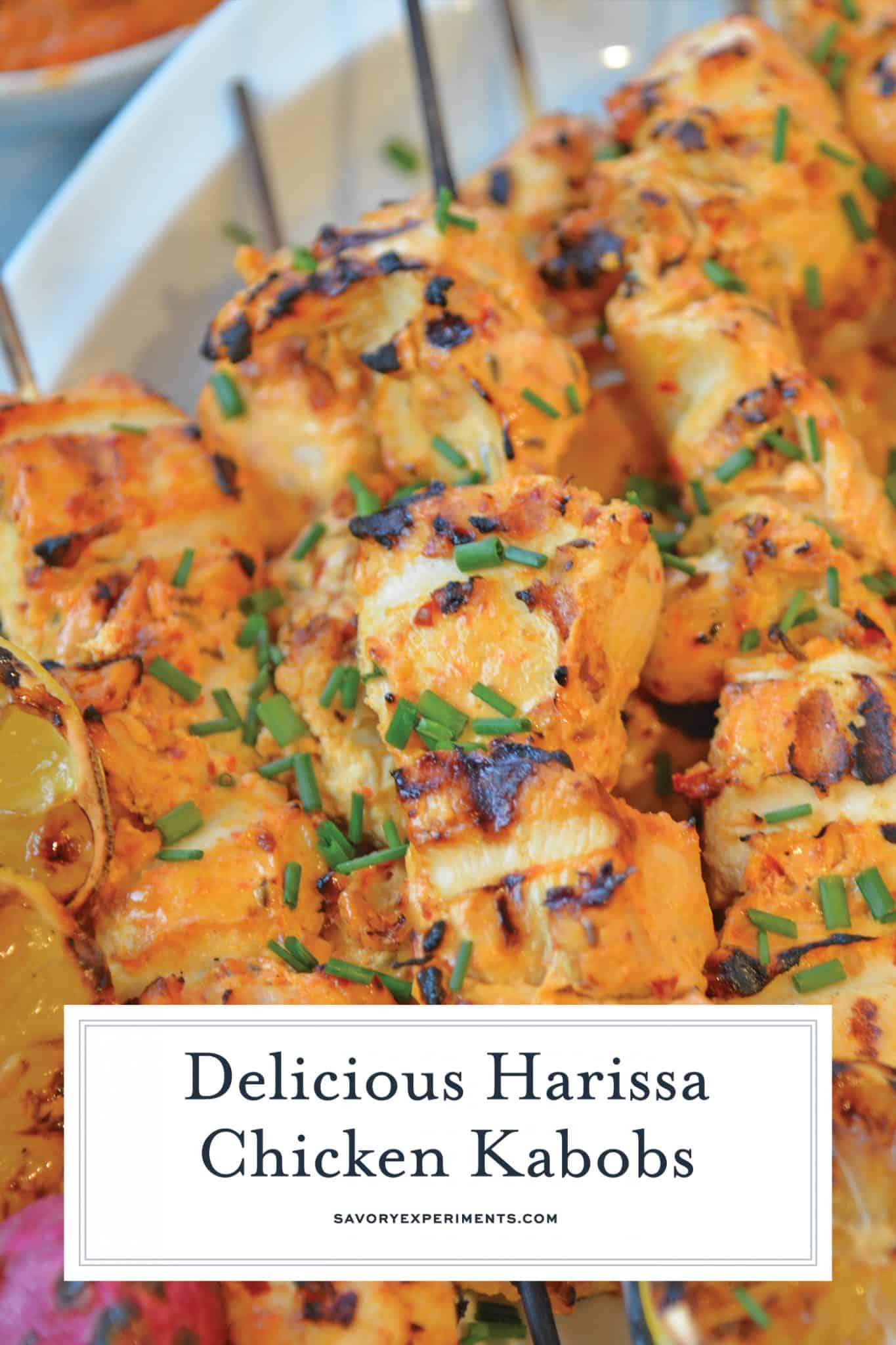 Harissa Chicken Kabobs use the spiciness of harissa paste and the coolness of Greek yogurt to make tender chicken on the grill Click to Tweet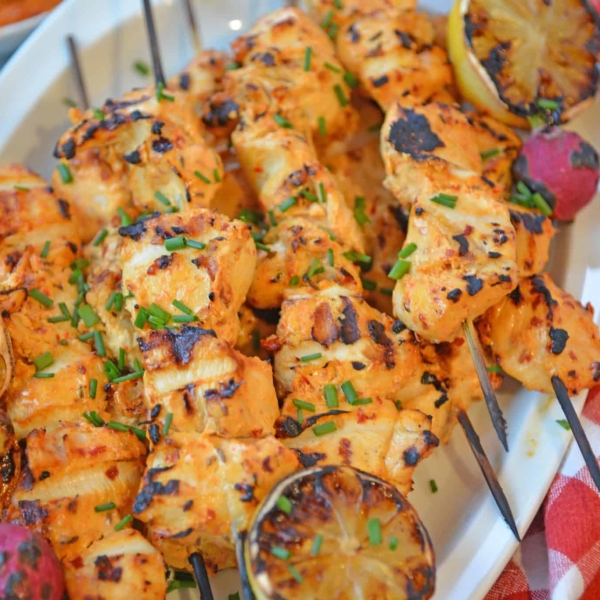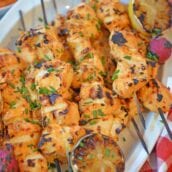 Harissa Chicken Kabob Recipe
Harissa Chicken Kabobs use the spiciness of harissa paste and the coolness of Greek yogurt to make tender chicken on the grill.
Instructions
Place all ingredients into an airtight plastic bag, massage mixture into chicken and marinate over night.

Soak 10-15 wooden kabobs in water for at least 30 minutes. Thread chicken onto kabobs, leaving s small space between each chunk to ensure the chicken cooks evenly.

Heat grill to medium-high heat. Cook kabobs on grill for 15 minutes, turning occasionally until chicken is done and juices run clear.

Remove, serve and enjoy your Harissa Chicken Kabobs!
Nutrition
Calories:
390
kcal
,
Carbohydrates:
17
g
,
Protein:
59
g
,
Fat:
6
g
,
Saturated Fat:
1
g
,
Cholesterol:
149
mg
,
Sodium:
1211
mg
,
Potassium:
1241
mg
,
Fiber:
4
g
,
Sugar:
10
g
,
Vitamin A:
530
IU
,
Vitamin C:
18
mg
,
Calcium:
135
mg
,
Iron:
1.5
mg