Ooey gooey melty cheese on garlic bread?! There are few things better than Homemade Garlic Bread!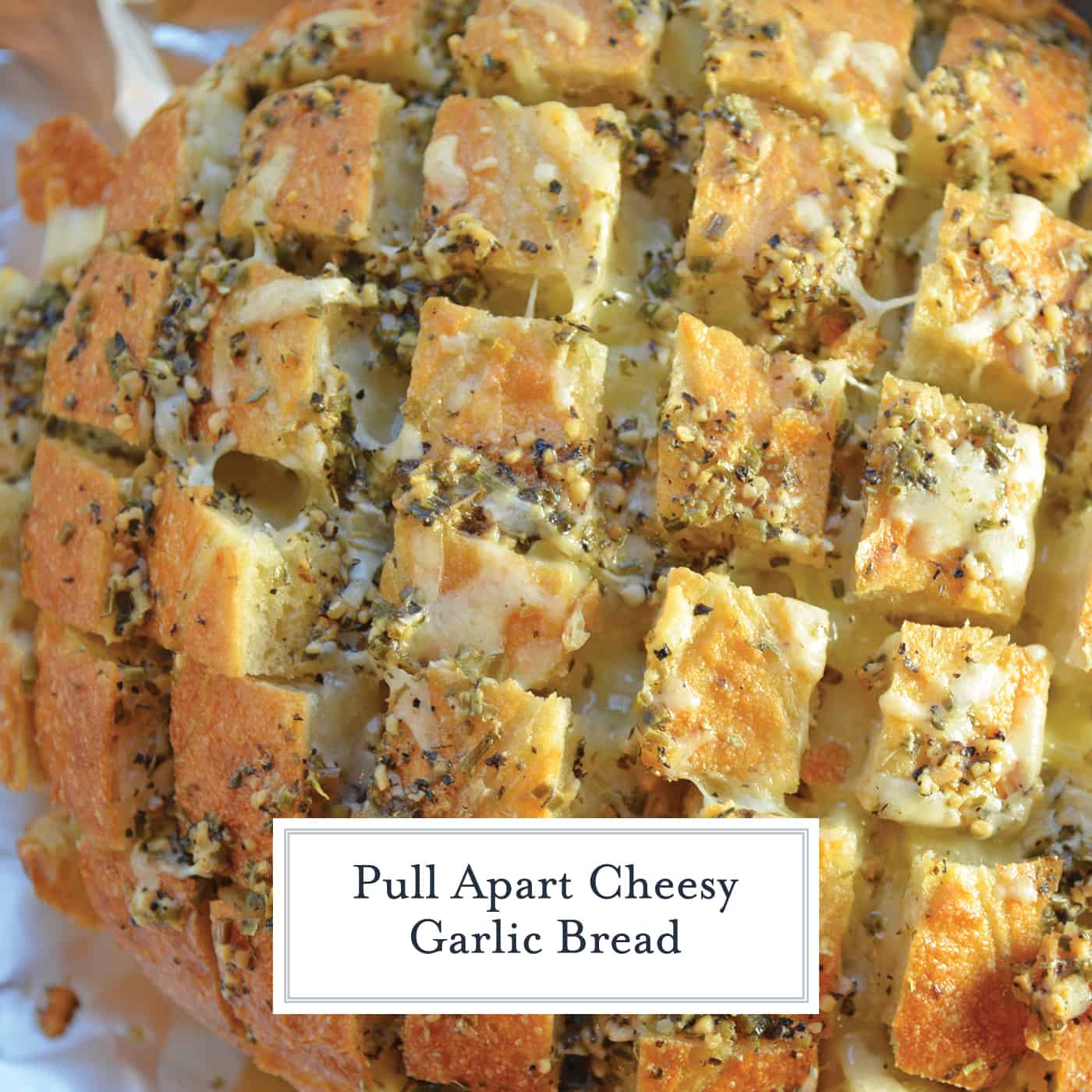 Pull Apart Cheesy Garlic Bread is a garlic bread recipe taken to new heights with cheese. It will be your new favorite go-to side.
I'm not going to waste any more time… ladies and gentleman, this week's Throwback Thursday is PULL APART CHEESY GARLIC BREAD!.
Some call this type of bread "crack bread" due to the addictive nature of it, but also the cut sides that creates space for a garlic butter mixture and of course CHEESE!
Cheese and bread go hand in hand. Garlic and bread go hand in hand. It only makes sense to put them together for garlic cheese bread.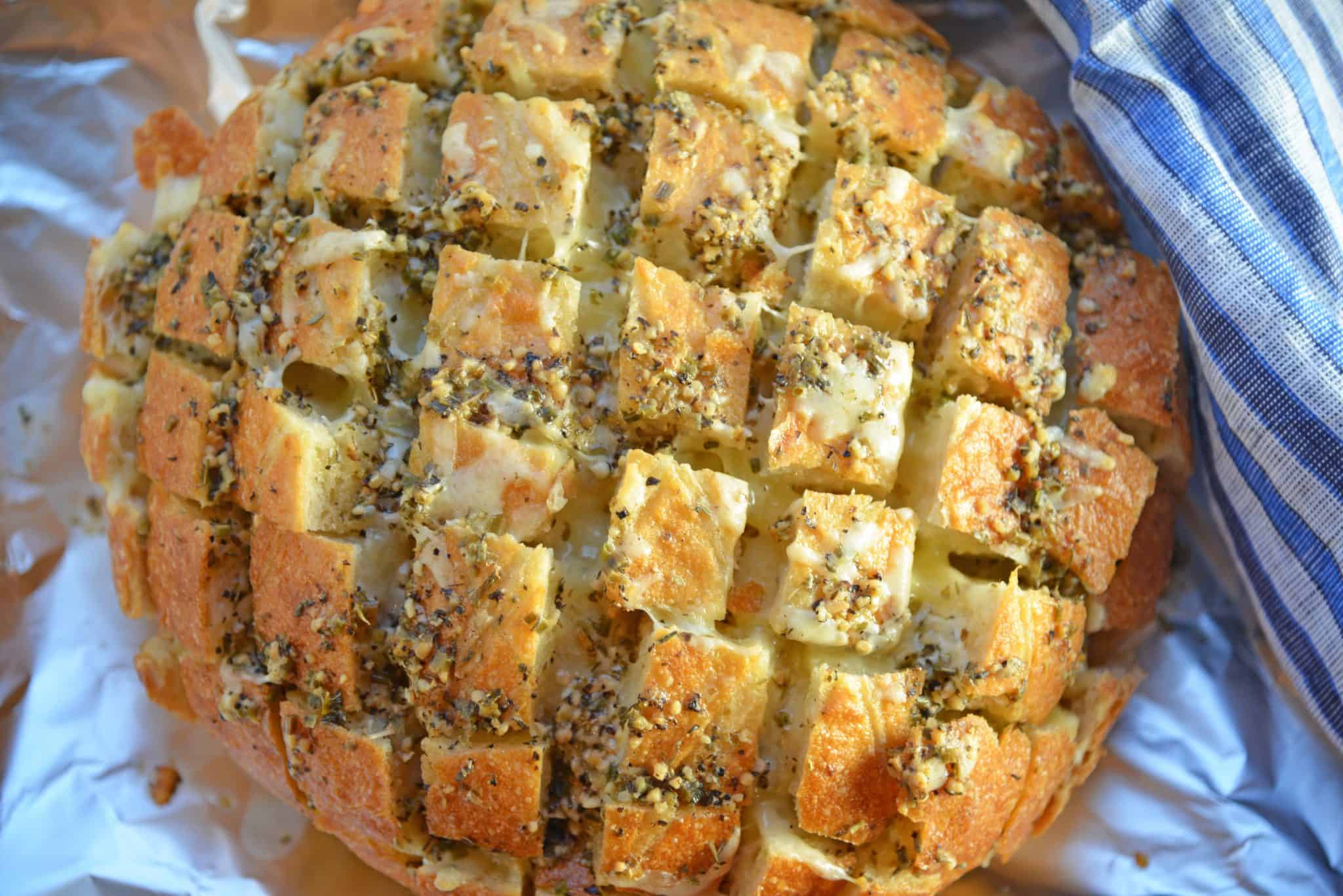 The ingredients you can stuff into a loaf of bread are endless, but for me, cheese and garlic are where it's at. And if we are being honest, I could eat a single loaf in a single sitting.
There are a few key things that make a good pull apart bread so be sure to pay attention.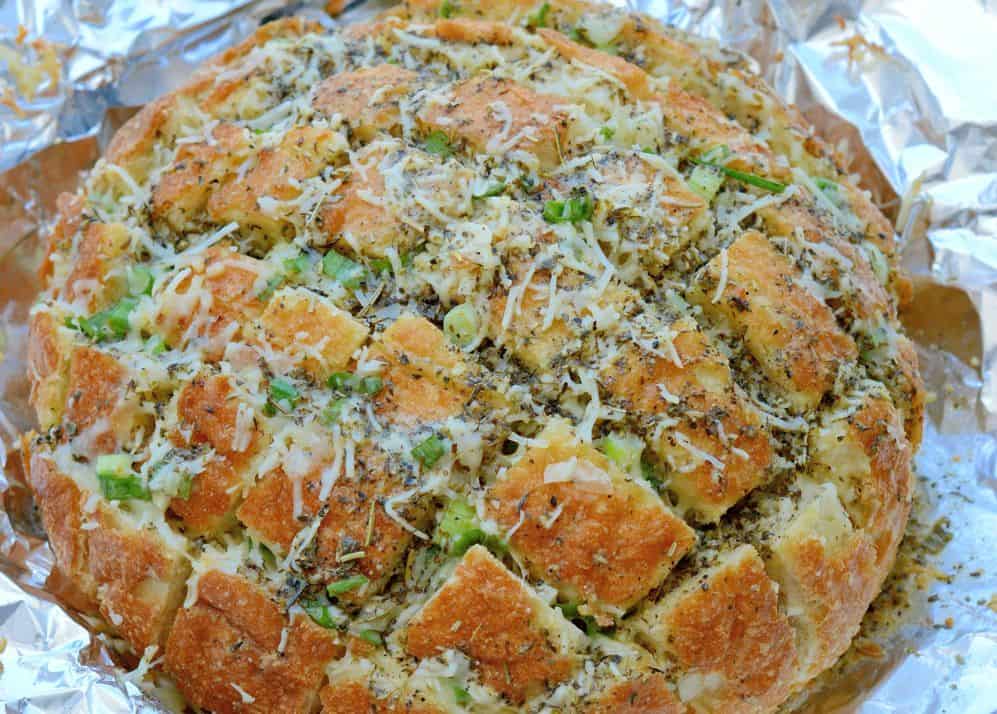 You need a good thick loaf of bread that is sturdy enough to hold onto all those fillings and not get soggy or fall apart.
PRO TIP: Use fresh garlic versus bottled minced garlic, for the most intense flavor.
Make your cuts far enough into the loaf of bread so you can get your cheese blend into the nooks and crannies but no so far that you have pieces of bread falling away.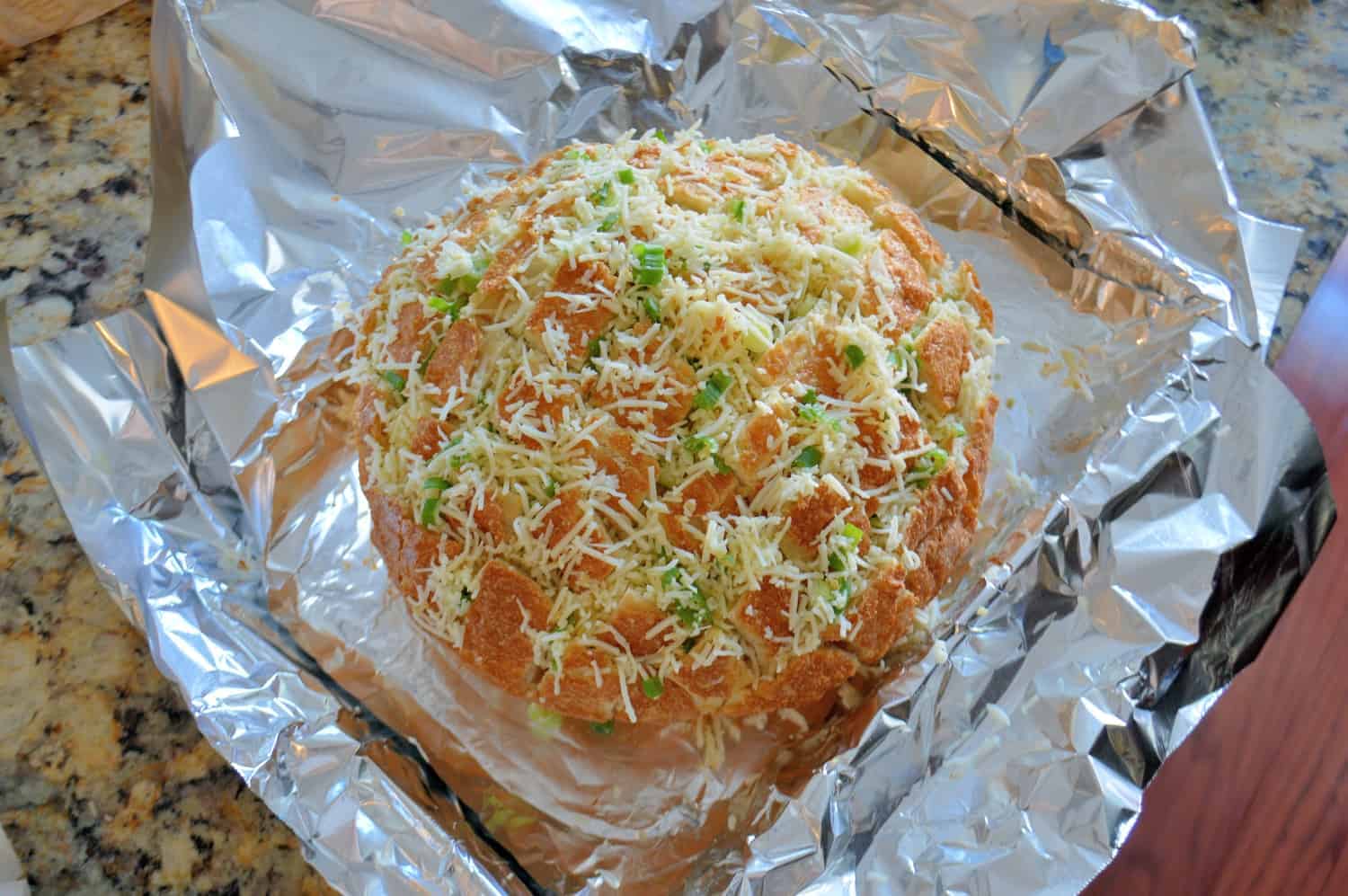 I tend to buy bread from the store which makes this recipe super easy to prepare, but you can also make your own bread for this recipe if you choose.
The best part is you too can play around with ingredients. Feel free to add or subtract whatever you think would go well with this Pull Apart Cheesy Garlic Bread recipe.
I like to serve it alongside pasta, a salad, soups or stews, or as a starter.
Tools for baking Cheesy Garlic Bread:
Rimmed Baking Sheet – Really, every kitchen should have one, but they are especially handy for items like this that are prone to rolling off the edges when being flung in and out of the oven.
Wood cutting board – wood won't dull your knives like plastic and if treated properly, has natural antimicrobial properties.
Good knife – Global is my favorite! They are worth the price, I promise. I am kind of obsessed with them and store them tucked away so no one else can use them. Including hubby. Hands off my good stuff!
No Yeast Potato Bread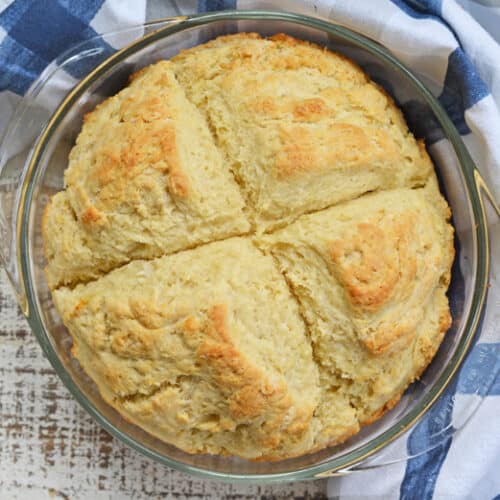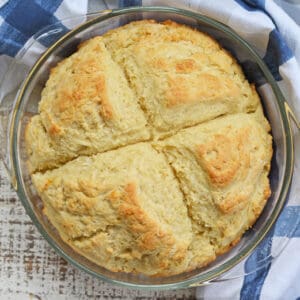 Thick and chewy No Yeast Potato Bread is an easy and quick homemade bread recipe perfect for deli sandwiches and more!
No Yeast 2-Ingredient Bread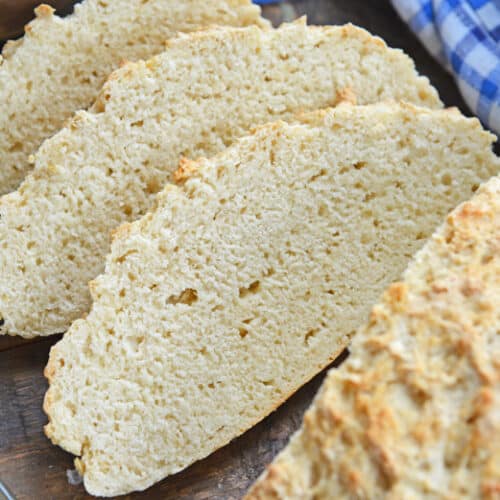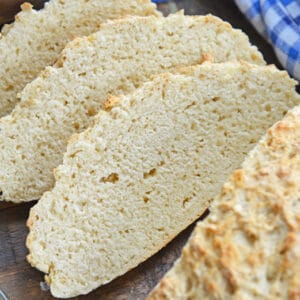 This 2-Ingredient No Rise No Yeast Bread is perfect for those days when you need a loaf and can't get to the store. Just a few ingredients and 40 minutes to delicious homemade bread!
Olive Cheese Bread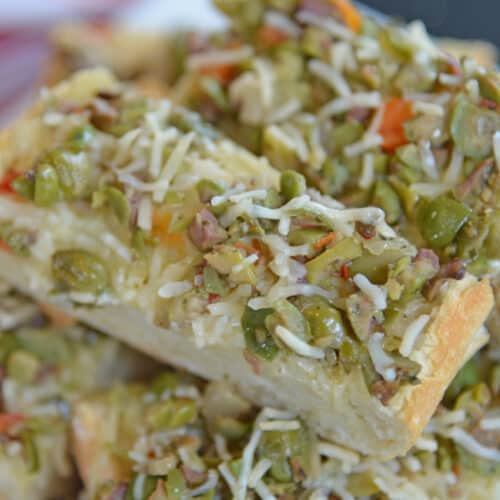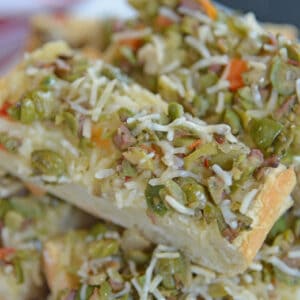 Don't have time to make homemade olive bread? Check out my hack for making this easy Olive Cheese Bread recipe. It takes no more than 15 minutes from start to finish!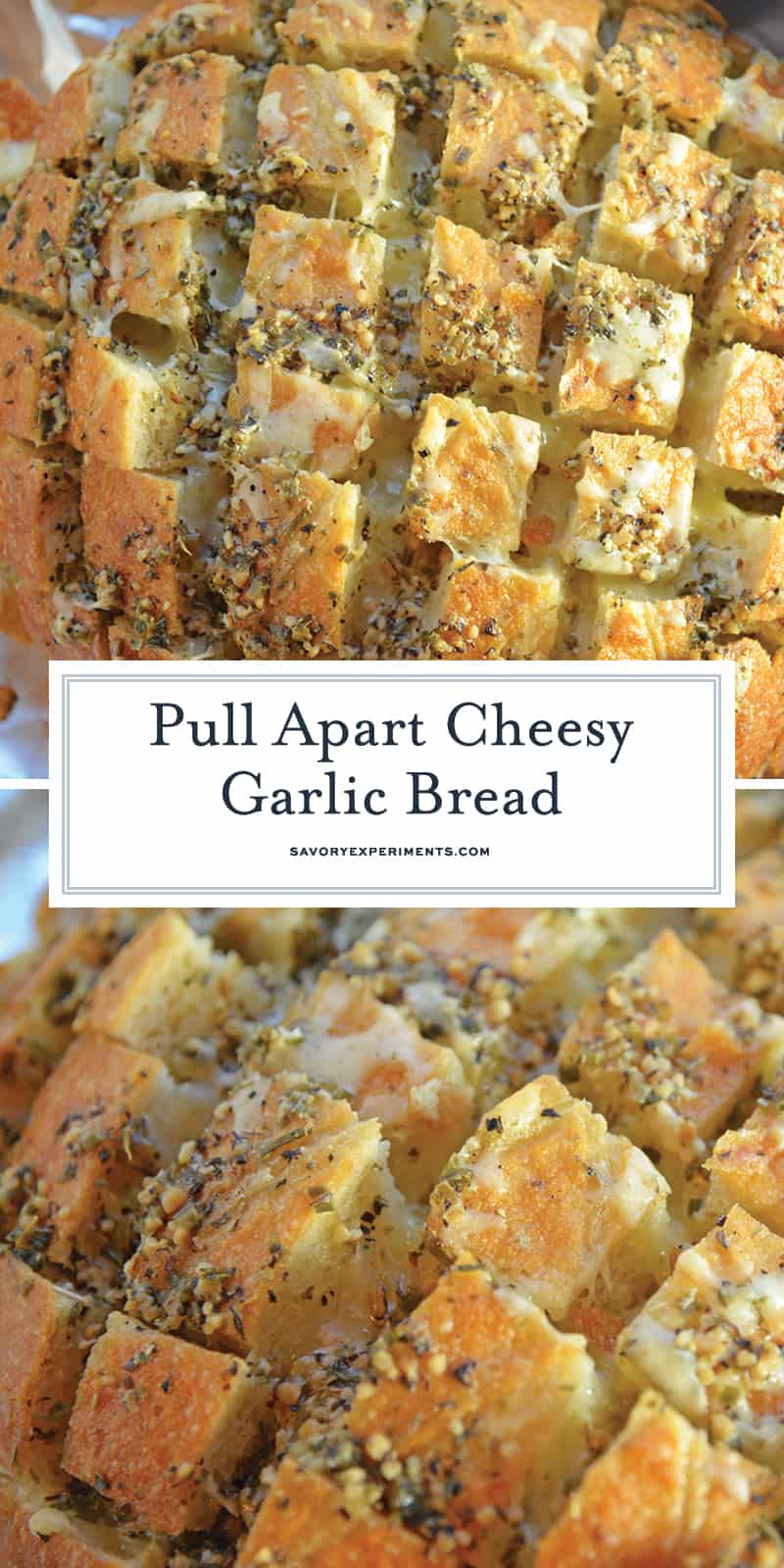 Questions you might have about how to make Garlic Bread:
Can I make garlic bread in advance? I would suggest making the topping ahead of time, but waiting until you are ready to eat before actually cooking it. Fresh garlic bread is so much better.
Can I freeze garlic bread? You sure can! Haven't you seen frozen garlic bread in the freezer section of the store? Freeze it with the topping on it and before you make it.

Check out my tips and tricks for freezing food HERE!
What is the best bread for garlic bread? This is purely a matter of preference. Some would insist that Italian bread be used, but really do what you want!
Sometimes I use French bread, other times sourdough and other times a specialty, gourmet bread if the bakery has it. Don't limit yourself and get creative! Sometimes I even use leftover bread like Italian sub rolls, hamburger buns or brioche.
You use round bread, can I use a bread loaf? Of course you can! This cheesy garlic bread topping can be used on any type of bread. See my answers above about the best bread for garlic bread.
Can I use garlic powder instead of fresh garlic? You can you'll still have a solid cheese garlic bread recipe, but it won't be the best. You really need to use fresh garlic to achieve that top notch flavor.
Is garlic bread Italian? You'd be hard pressed to find American garlic bread in Italy, at least I didn't see any. Instead, really good, delicious, freshly baked bread is served with nearly all meals.
What is the best way to reheat garlic bread? As with most bread, the best way to reheat it is in the oven on a low setting or with a quick broil (watch is closely!)
Bread reheated in the microwave gets gummy and chewy fast.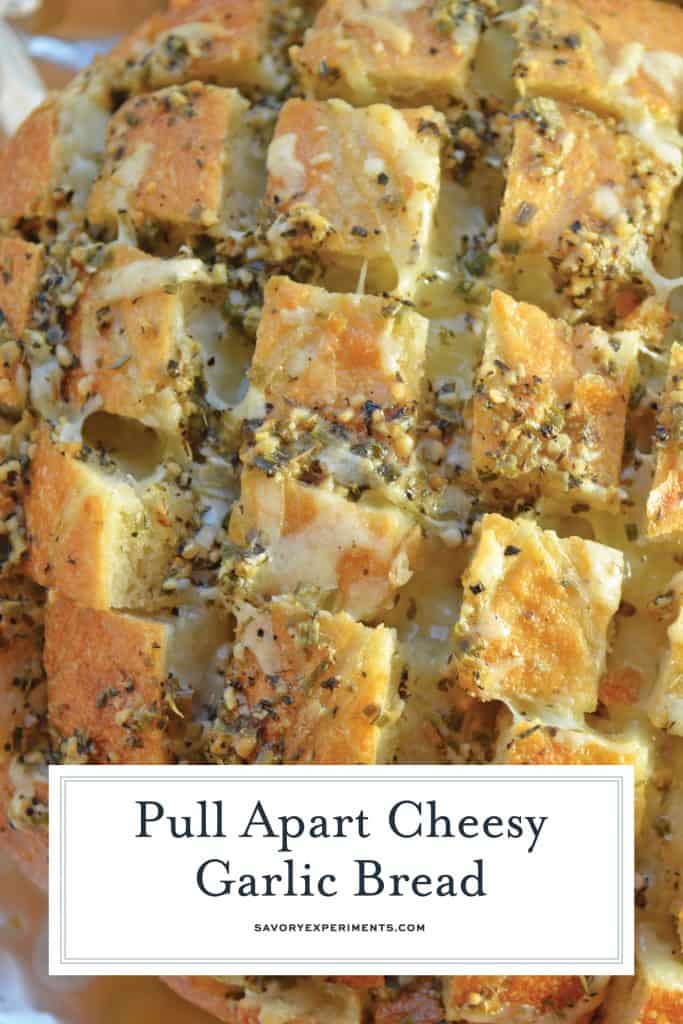 CONNECT WITH SAVORY EXPERIMENTS!

Be sure to follow me on social media, so you never miss a post!

Facebook | Twitter | Youtube
Pinterest | Instagram
Get our FREE 8 Day E-Course on How to Be a Better Home Cook. Sign up HERE!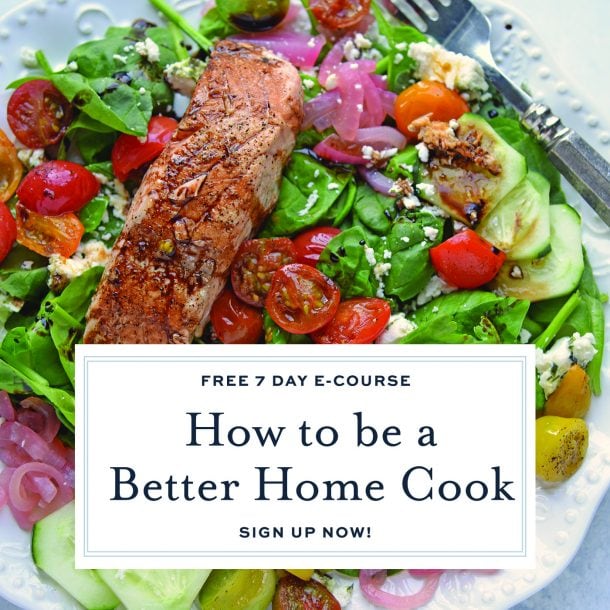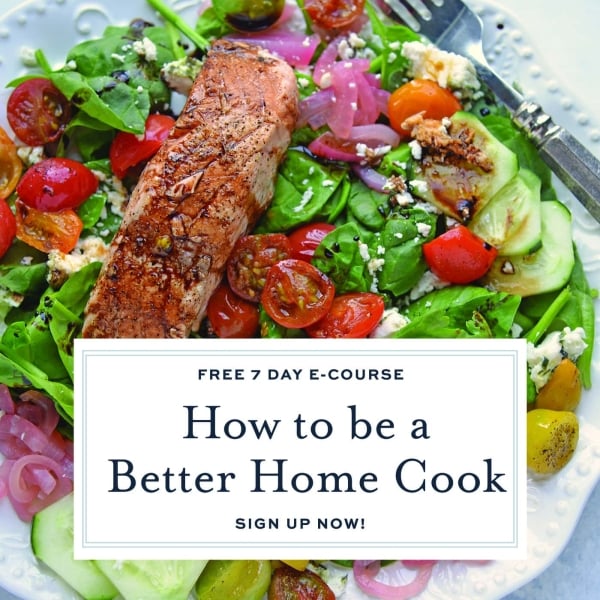 Pull Apart Cheesy Garlic Bread
Pull Apart Cheesy Garlic Bread will be your new favorite go-to side! How can anyone resist cheesy goodness?
Instructions
Preheat your oven to 350 degrees.

Score the bread loaf crosswise and lengthwise into 1 inch squares, cutting almost through to the bottom, but leaving it intact. The goal is to spread apart the bread pieces to "bloom", but be able to pass it around and gently pull a piece off.

In a small bowl, combine cheeses and garlic, mix. Stuff cheese blend evenly into all of the slits, nooks and crannies. After stuffing all of the cheese it should be coming out the top- keep stuffing!

In another small bowl combine melted butter and remaining ingredients, whisk together. Spoon or pour mixture evenly over stuffed cheese slits.

Wrap entire bread loaf in heavy duty aluminum foil and place in the oven for 15 minutes. Remove loaf and open the top of the aluminum foil to expose the top of the bread. Bake for an additional 5-10 minutes or until cheese is melted and tops are nicely brown and crisp.

Remove from oven, allow to cool for several minutes before serving, you don't want your diners to burn their fingertips trying to get at this delicious bread! No serving utensils required. Enjoy your Pull Apart Cheesy Garlic Bread!

If you've tried this recipe, come back and let us know how it was!
Nutrition
Calories:
187
kcal
|
Carbohydrates:
1
g
|
Protein:
6
g
|
Fat:
17
g
|
Saturated Fat:
11
g
|
Cholesterol:
47
mg
|
Sodium:
582
mg
|
Potassium:
28
mg
|
Vitamin A:
520
IU
|
Vitamin C:
0.3
mg
|
Calcium:
193
mg
|
Iron:
0.4
mg