I never turn down a burger. Never. Even bad ones really aren't that bad.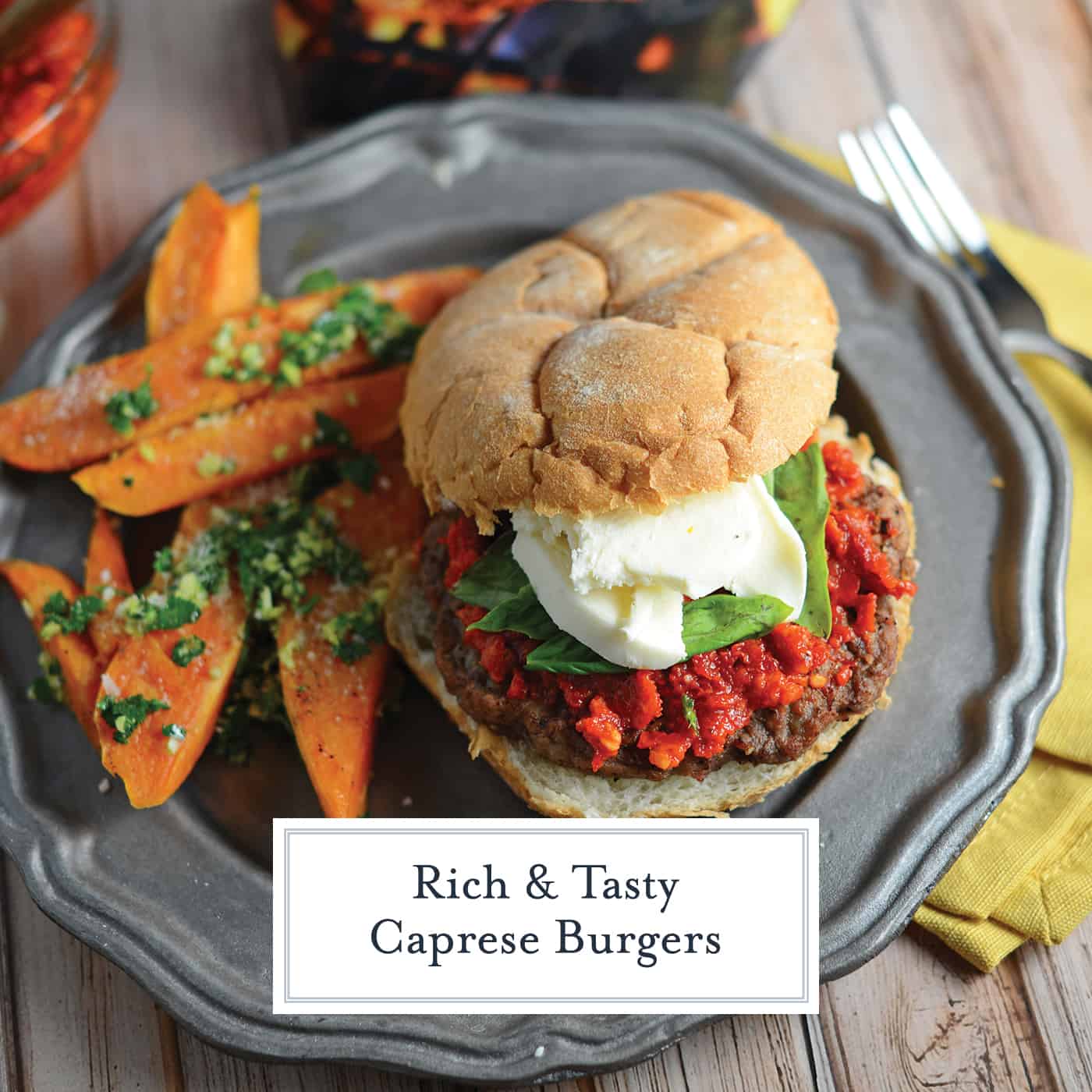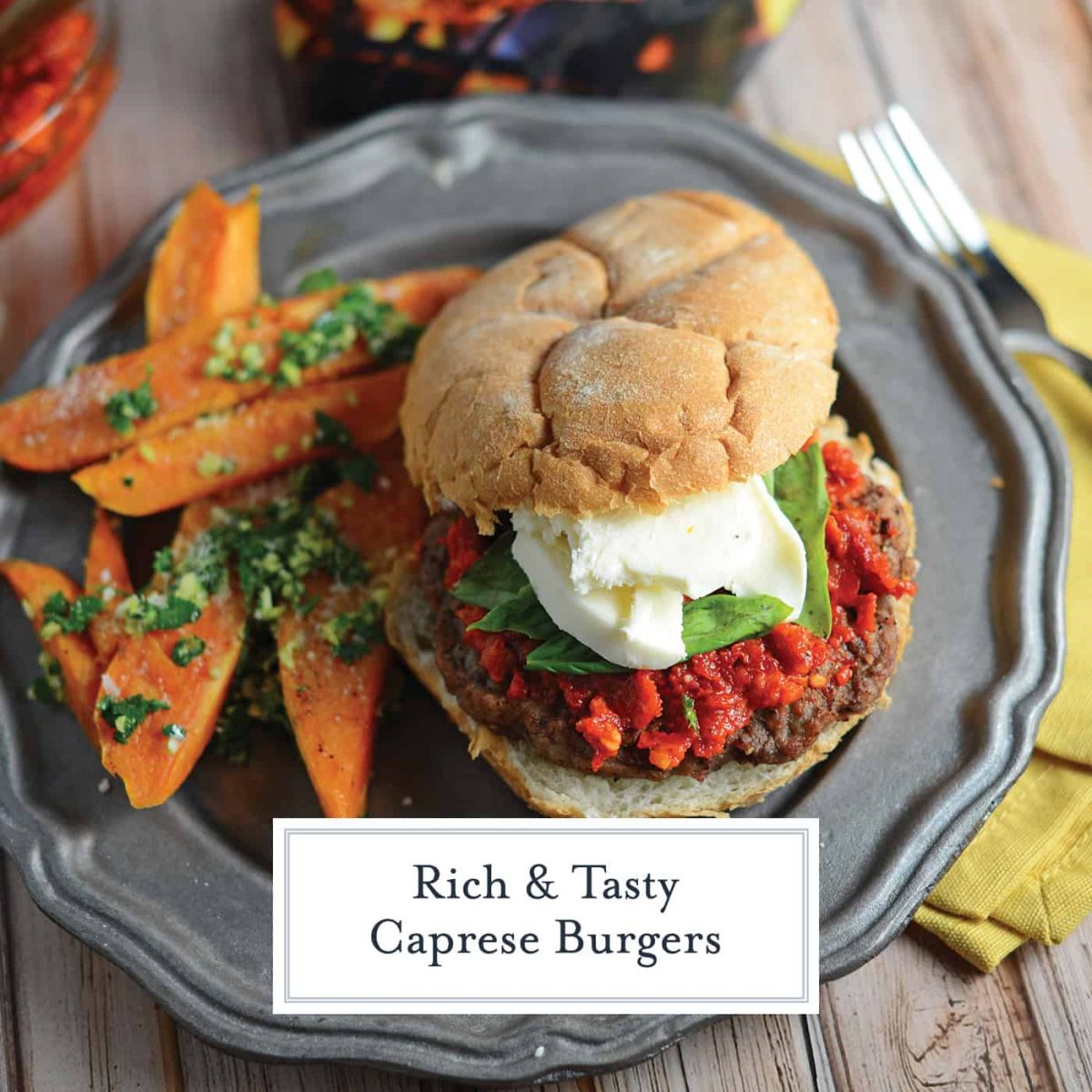 Caprese Burgers are smothered with a red pesto, fresh mozzarella and basil all on a flame-grilled burger. The best gourmet burger out there!
And a good one… well a good one you will dream about for days, maybe even weeks. Some will argue that a good burger doesn't need to be dressed.
I argue that while it doesn't need to be, why not? I mean I don't need to accent my lovely outfit with jewelry, but I do! My Caprese Burger is a go-to in my house.
What makes a gourmet burger recipe? I guess that depends on your interpretation. Mine is just not the typical burger with lettuce, tomato and mayo.
Caprese burgers are simple, yet sophisticated and easy to prepare. So easy, you can set these items out on the fixing tray at any BBQ and elevate the occasion from casual to "fancy burger time".
PRO TIP: Don't overwork your ground beef mixture, it makes the meat tough. Form the mixture like you would meatballs, with a light toss.
During the summer months, I lose the bun and go for a fork and knife. The tomato portion of the "caprese" is actually a blend of sun dried tomatoes and roasted red pepper, with fresh basil and mozzarella cheese.
PRO TIP: TO keep fragile burgers from falling apart on the grill. Give them a quick 30-40 freeze chill or freeze before cooking.
For an added kick, drizzle with a balsamic reduction, a few slices of red or caramelized onion or even add garlic to the sun dried tomato pesto. You can even just use a few dashes of balsamic vinegar if you don't feel like making the reduction.
A drizzle of olive oil can also make it more authentic. Be sure to use a good olive oil if you do this.
A Good Extra Virgin Olive Oil will taste like, well, olives, while a poorly made one will taste like vegetable oil. Gross. While people tend to favor Italian and Greek olive oils, I prefer to buy mine domestically.

They are some great ones out there from all over the world, but the reporting of ingredients isn't always the same and you could find that your super expensive olive oil was actually cut with vegetable oil.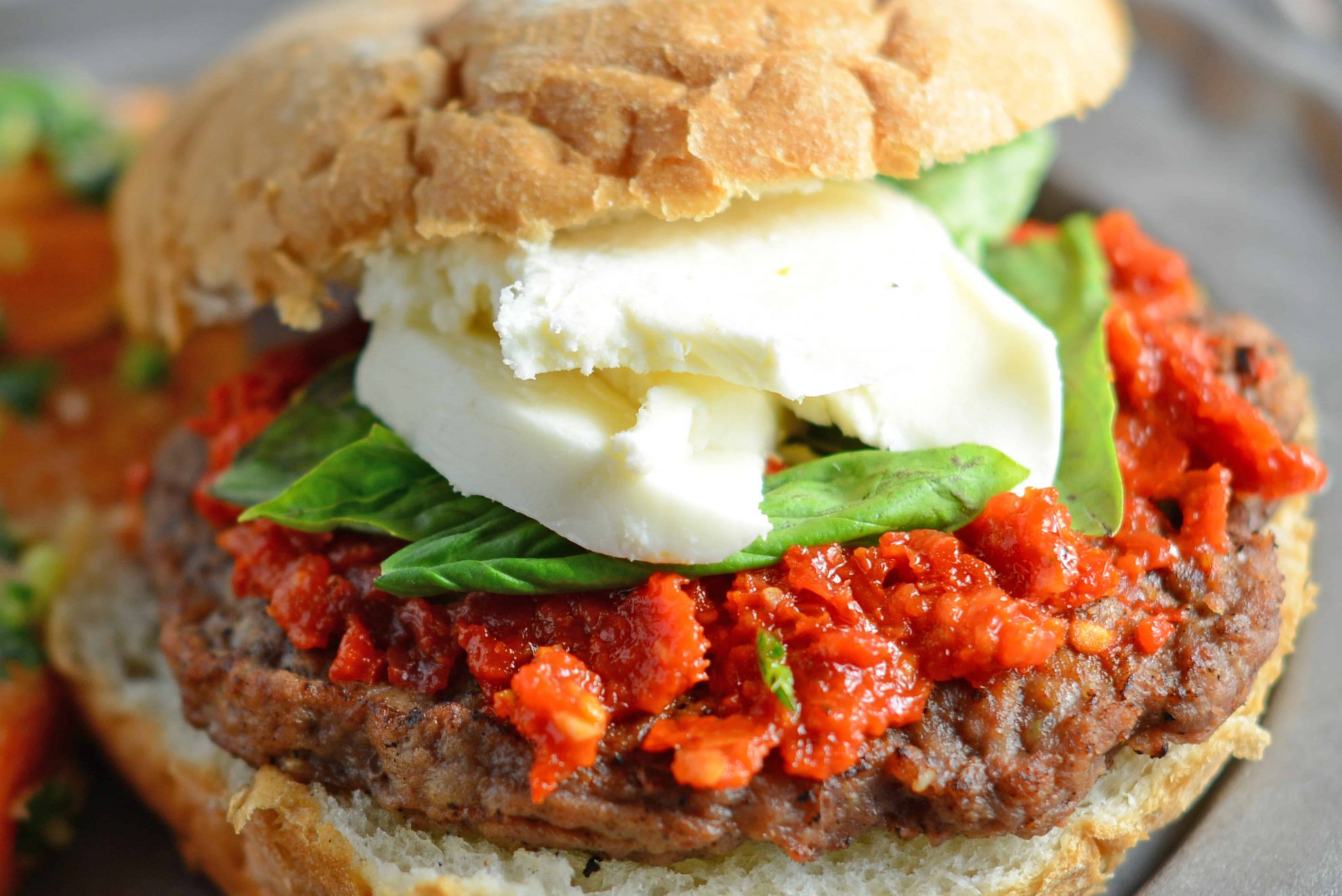 Before you get started, making sure you have read my Tips for Better Burgers!
Looking for some sides for your burgers? Check these out:
If you liked this gourmet hamburger recipe, check these out!
Tools for making Caprese Burgers:
Burger Press– This will prevent you from overworking the hamburger mixture and potentially making your burgers tough. Plus, you'll get uniformly beautiful shape!
This one gives you the option of stuffing your burger as well. Make a Caprese Mozzarella Burger… with the mozzarella inside!
Mini Food Processor– I use this thing daily! It is by far my most used kitchen appliance, it is small and I throw all the parts into the dishwasher, well except the base and cord, of course! This makes the sun dried tomato pesto a cinch.
If you don't have a food processor, you can use the same ingredients finely chopped up and mix them together or even add them in strips. You can also use fresh tomato slices in lieu of the sun dried tomato pesto.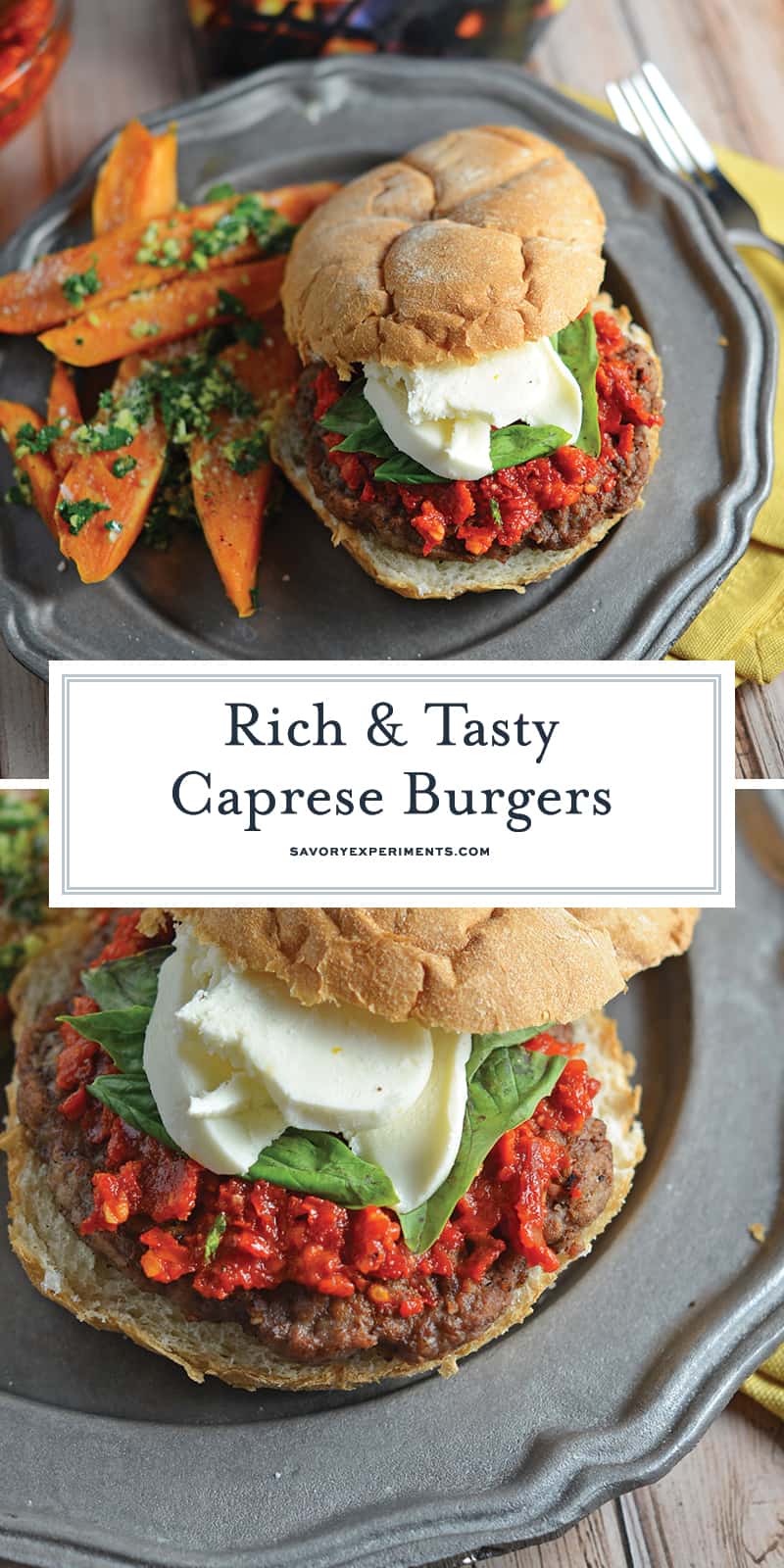 Questions you might have about how to make Caprese Burgers:
What does caprese mean? Caprese is a simply combo of tomato, basil and mozzarella cheese that comes from the Italian island of Capri. You typically see it in a caprese salad. Check out our adventures on the island and learn even more about caprese!
Are caprese burgers gluten free? The ingredients I used (sans the burger bun) are gluten free, but make sure to check our individual ingredients to make sure.
Are caprese burgers healthy? I hate the word healthy, it has so many meanings these days. Scroll on down to the nutritional information and check it out to make the determination for yourself!
Can I freeze caprese burgers? You can freeze raw beef patties or cooked beef patties for an easy and quick meal. However, the fresh ingredients like sun dried tomatoes, basil and cheese, is best fresh.
Can I make these ahead of time? You can grill the burger patties in advance and then heat them up on the grill before serving. I advise putting on the fresh ingredients right before serving, however you can easily prepare them all and have them in the fridge ready to go for that moment.
Do I have to grill my caprese burgers? You can cook the beef however you'd prefer. In a skillet or even bake it. I just like the smoky taste of a burger on the grill, thus, I make hubby grill year-round! LOL.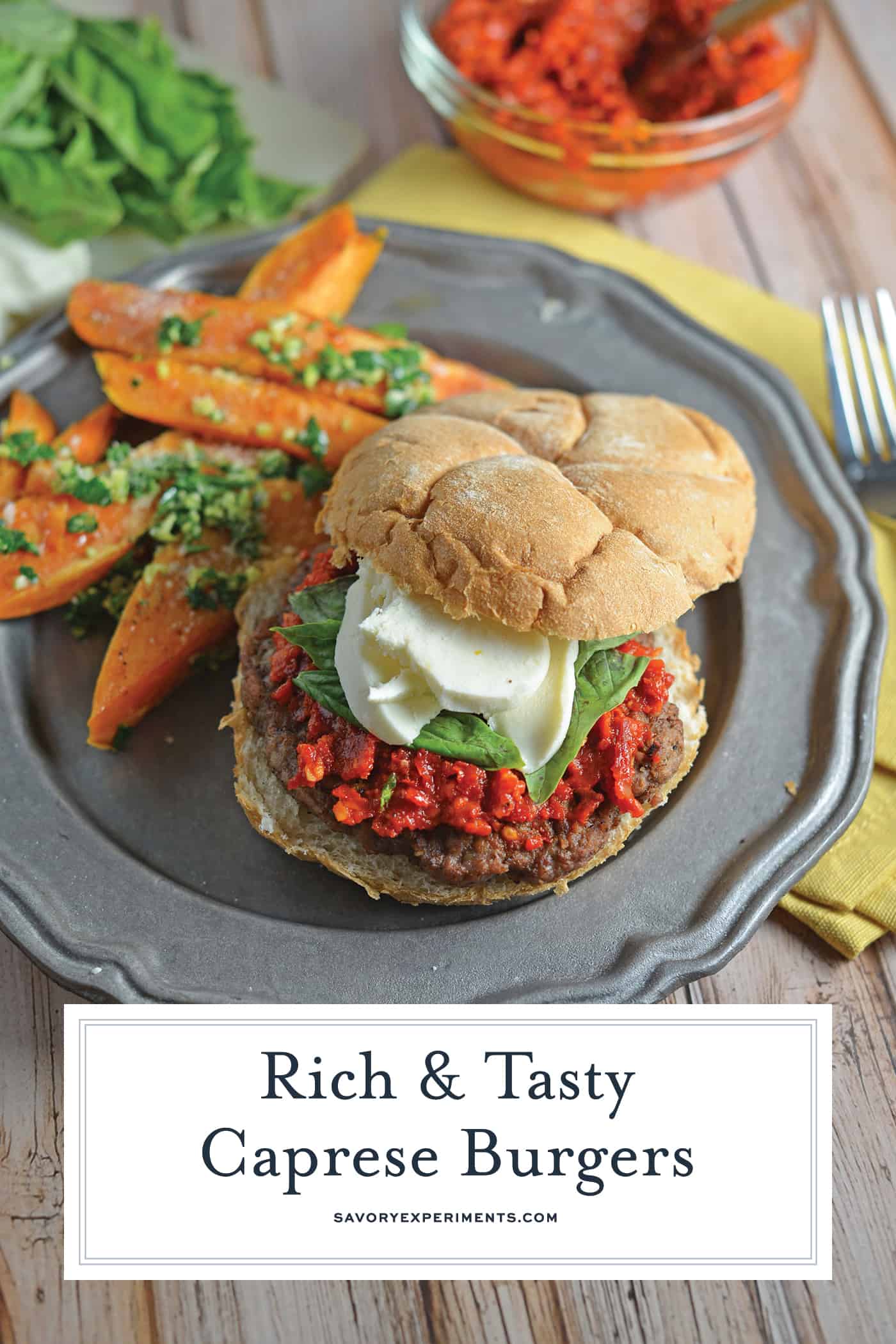 Caprese Burgers are smothered with a red pesto, fresh mozzarella and basil all on a flame-grilled burger. The best gourmet burger out there!
CONNECT WITH SAVORY EXPERIMENTS!

Be sure to follow me on social media, so you never miss a post!

Facebook | Twitter | Youtube
Pinterest | Instagram

Get our FREE 8 Day E-Course on How to Be a Better Home Cook. Sign up HERE!