A lot of people have been asking me what I like to use my black truffle butter on. One of my favorite ways to use truffle butter is on this delicious homemade garlic bread!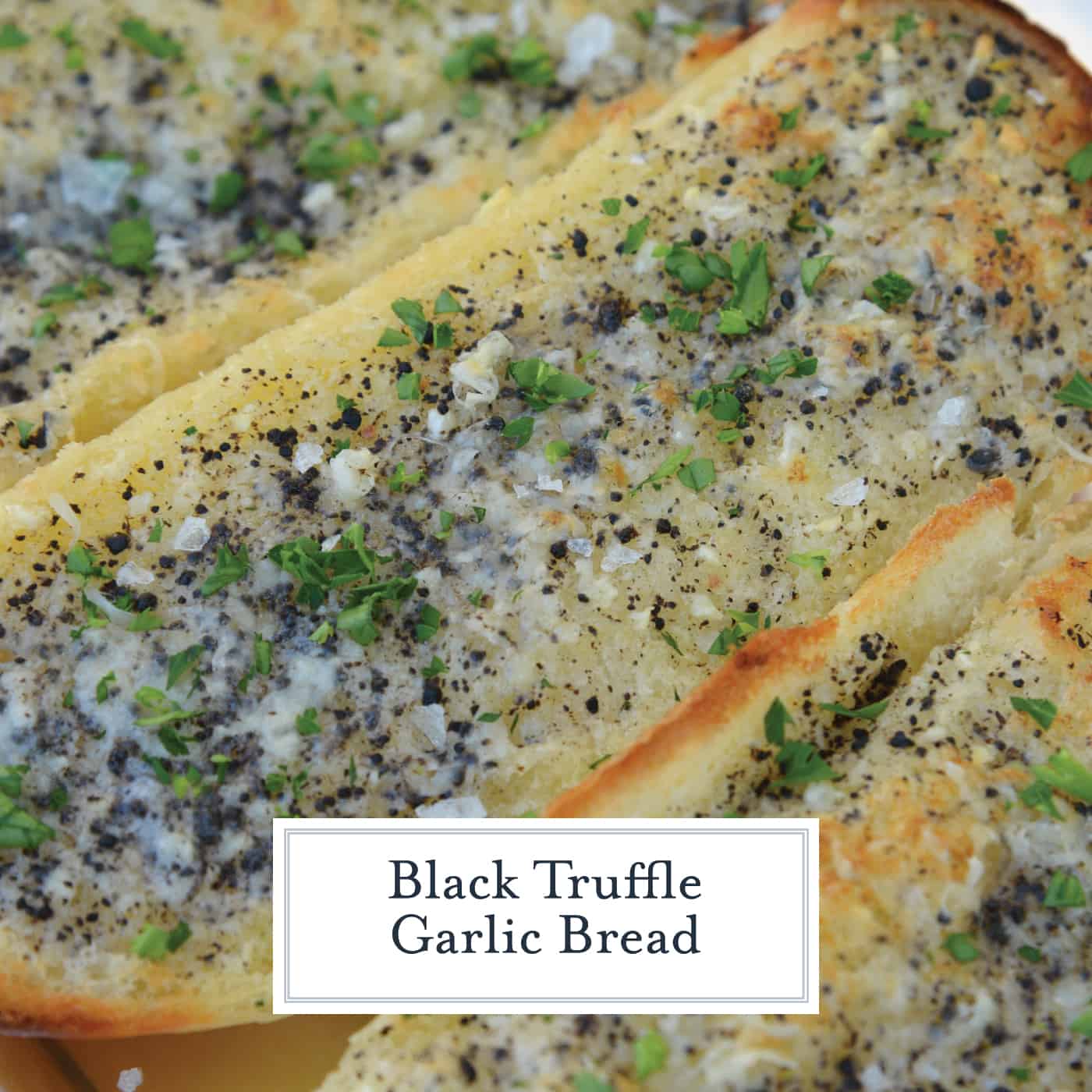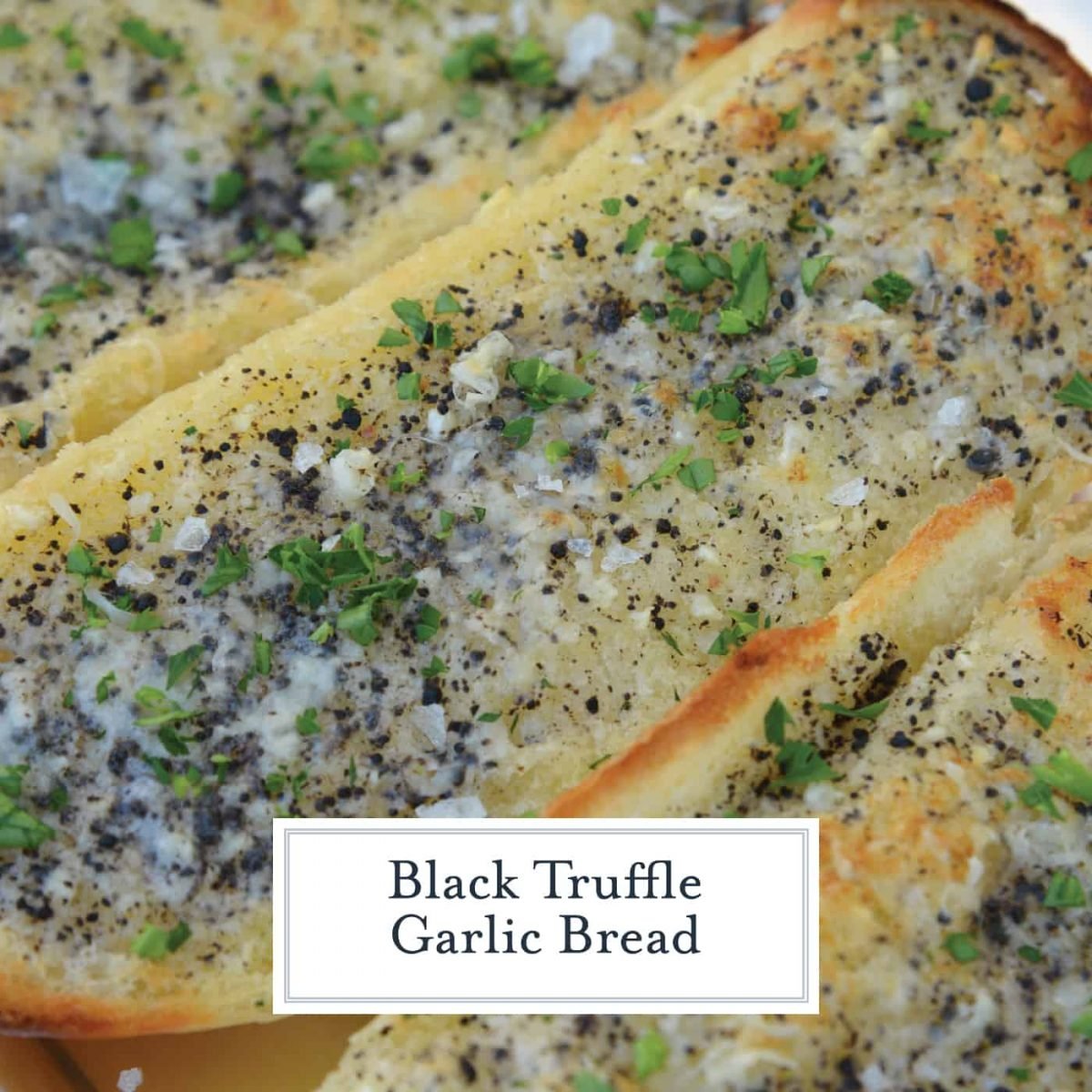 This Truffle Butter Garlic Bread is unlike any garlic bread recipe you've ever made before. Made with truffle butter and Parmesan on a French roll, this will become your go-to homemade garlic bread!
Black truffles have become a bit of a "thing" in our home. After a family vacation to Italy where my 7-month-old daughter discovered a love of everything containing black truffles, it was all out the window.
Of course, she can't like normal kid food. She has a foodie for a mom, after all. It was bound to happen!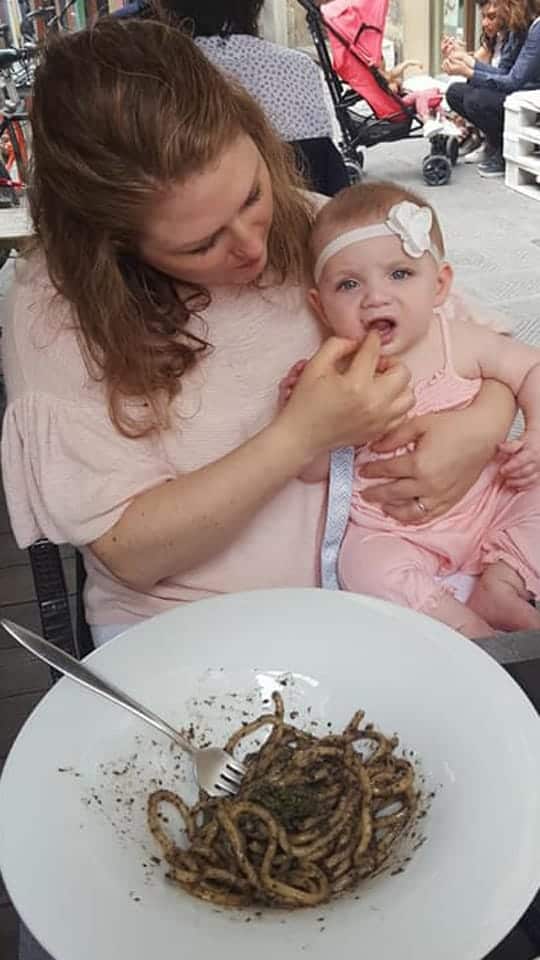 As a result, I came home and started making all things truffle. Most recently, it was my homemade truffle butter and I found myself putting it on everything. Now, there's rarely a day that passes without me adding it to something.
And that is when genius struck. Why wouldn't I add it to garlic bread? And let me tell you, my favorite recipe so far is this Black Truffle Garlic Bread.
I promise you've never made homemade garlic bread like this before! It is SO delicious and now my absolute favorite garlic bread recipe.
This garlic cheese bread is so easy to make….and it doesn't even require chopping up any fresh garlic.
This recipe uses just homemade truffle butter, parmesan cheese, and a French roll, with parsley and salt for garnish. In fact, this is probably the only time you'll learn how to make garlic bread without any garlic.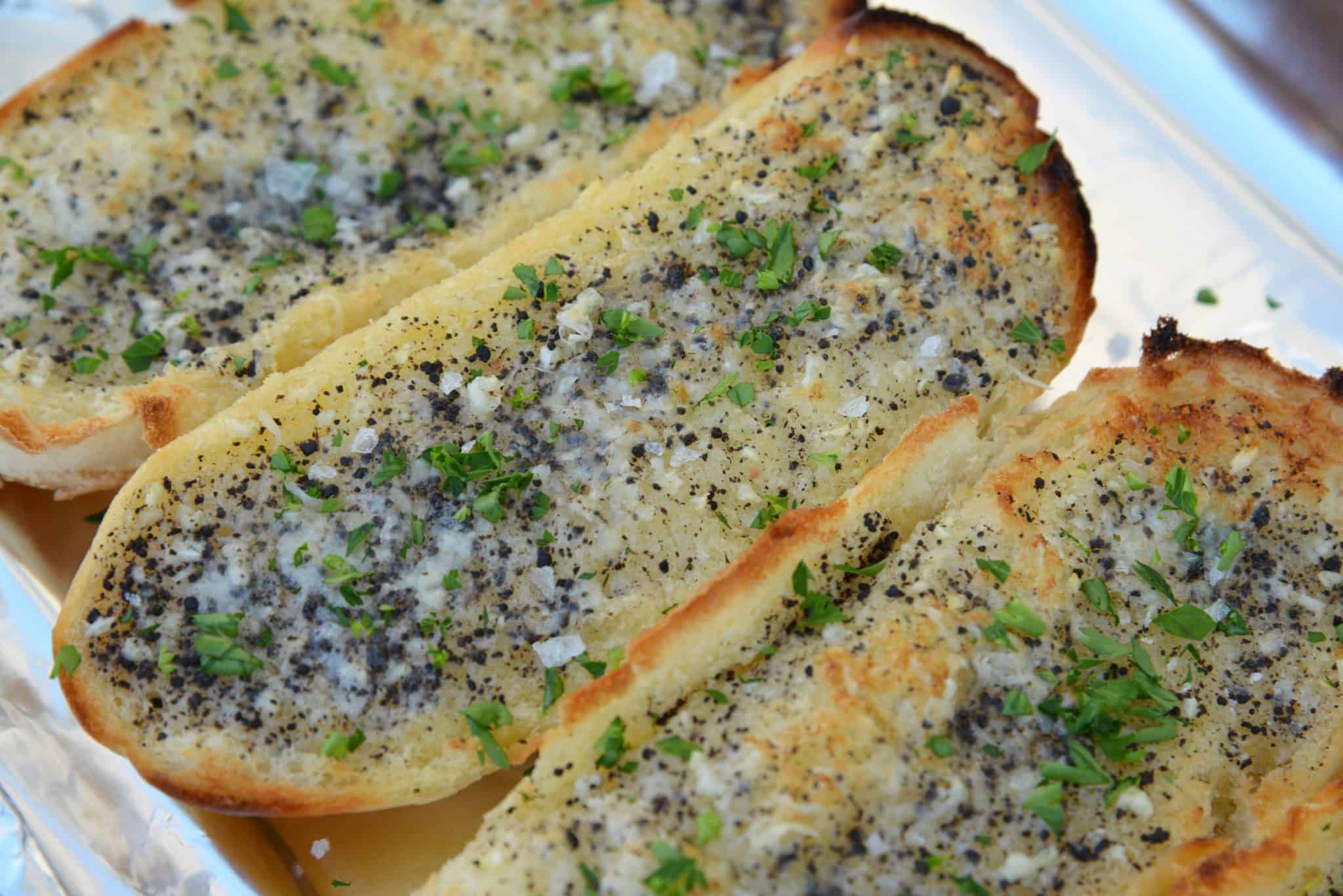 Since we're using real truffle butter in this, I think it's important to use freshly grated parmesan instead of the jar that looks more round than it does grated. I am always up for a shortcut, but it really does make a difference in flavor and quality in this instance.
So, how do you make homemade garlic bread without garlic? If you haven't guessed already, the secret is substituting black truffles for garlic. Black truffles have a unique flavor, one that can be described as "earthy" but also very reminiscent of garlic, which is what makes it the perfect substitute in this garlic bread recipe.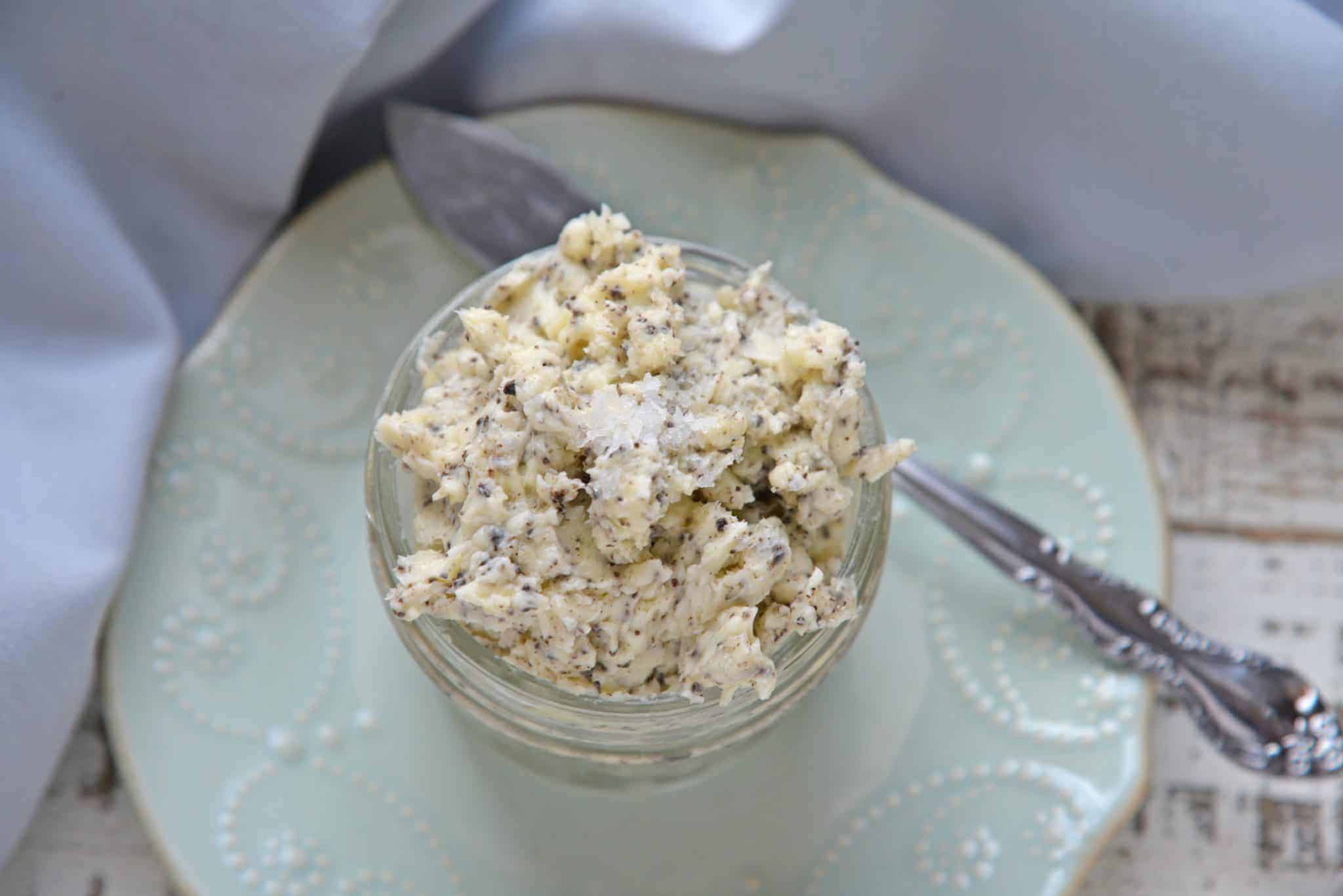 I'm a big fan of garlic but this black truffle homemade garlic bread surpassed even my expectations. I wanted to eat the entire roll myself!
With the unique truffle flavor, you could serve this garlic cheese bread alone as an appetizer or serve it with spaghetti or lasagna or even salad. I like to really savor the truffle butter flavor when I eat this, instead of just using it to mop up all the sauce on the plate.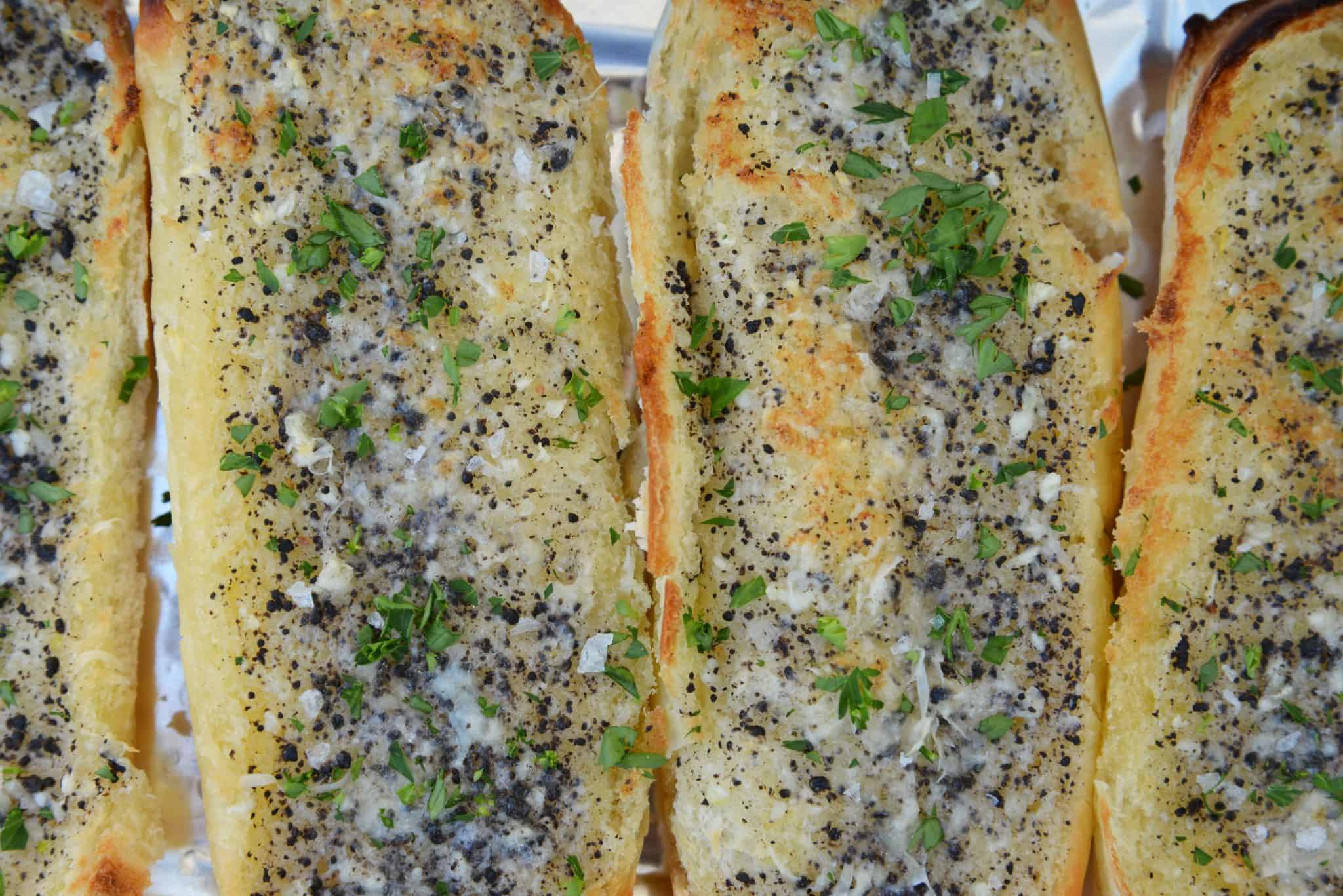 Whether you keep it all to yourself or impress dinner guests with your own homemade Truffle Butter Garlic Bread, this is one garlic cheese bread recipe you definitely want to try!
Since you like this Truffle Butter Garlic Bread, you may like these other easy black truffle recipes: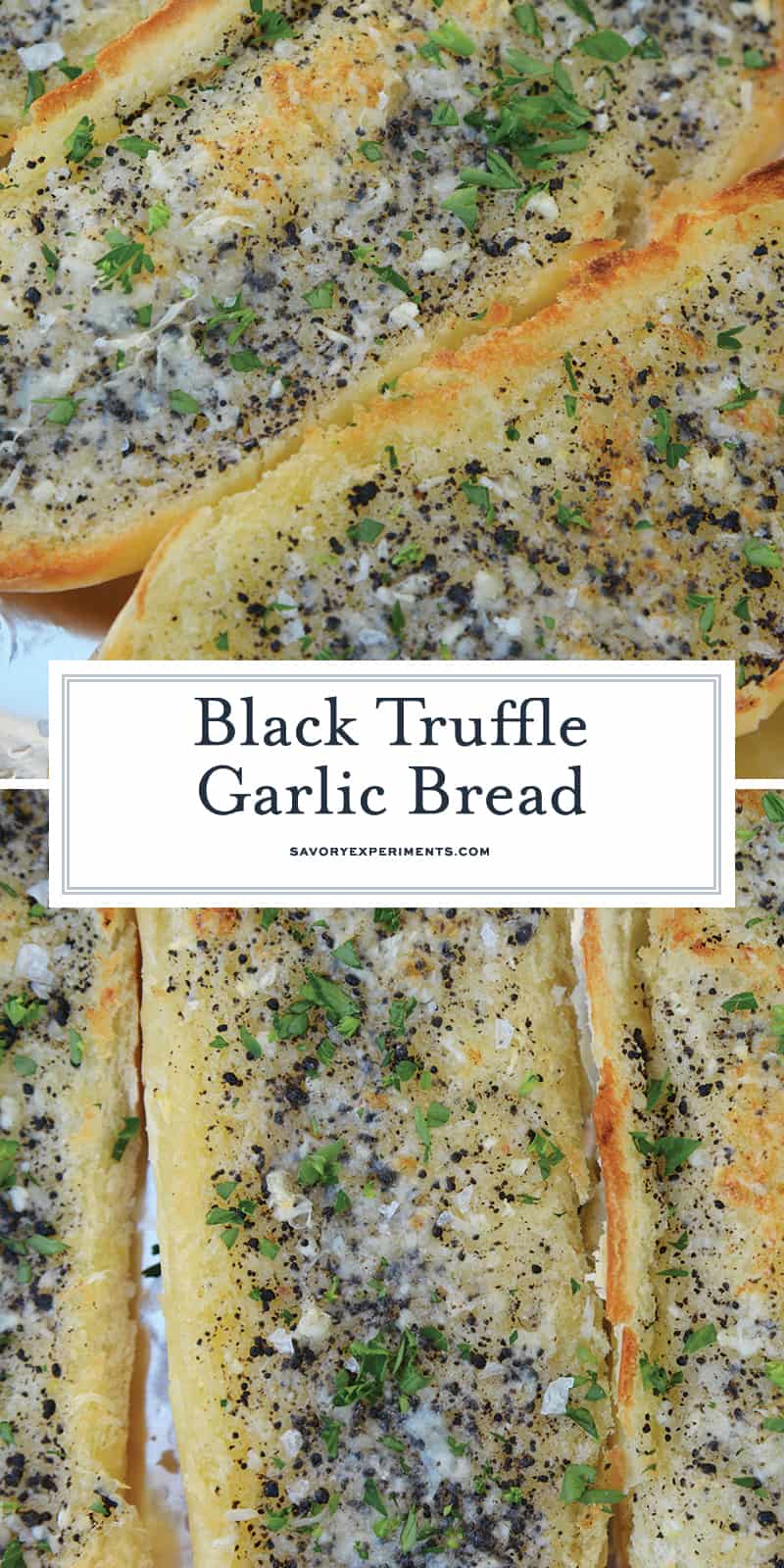 ---
---
Black Truffle Garlic Bread
This Truffle Butter Garlic Bread is unlike any homemade garlic bread you've tasted. So delicious and made with just 3 ingredients!
Instructions
Preheat broiler.

Evenly divide truffle butter between 6 pieces of bread.

Top with freshly grated Parmesan cheese.

Place under the broiler until edges start to brown and crisp.

Remove and finish with Maldon sea salt and parsley. Serve.

If you've made this recipe, make sure to come back and give it a rating!
Nutrition
Calories:
240
kcal
|
Carbohydrates:
24
g
|
Protein:
5
g
|
Fat:
13
g
|
Saturated Fat:
7
g
|
Cholesterol:
31
mg
|
Sodium:
359
mg
|
Sugar:
3
g
|
Vitamin A:
370
IU
|
Calcium:
38
mg
|
Iron:
8
mg