As an Italian-American, tomato-based sauces are among my absolute favorite. So it should come as no surprise that I crave a good Creole Chicken with a zesty tomato based sauce.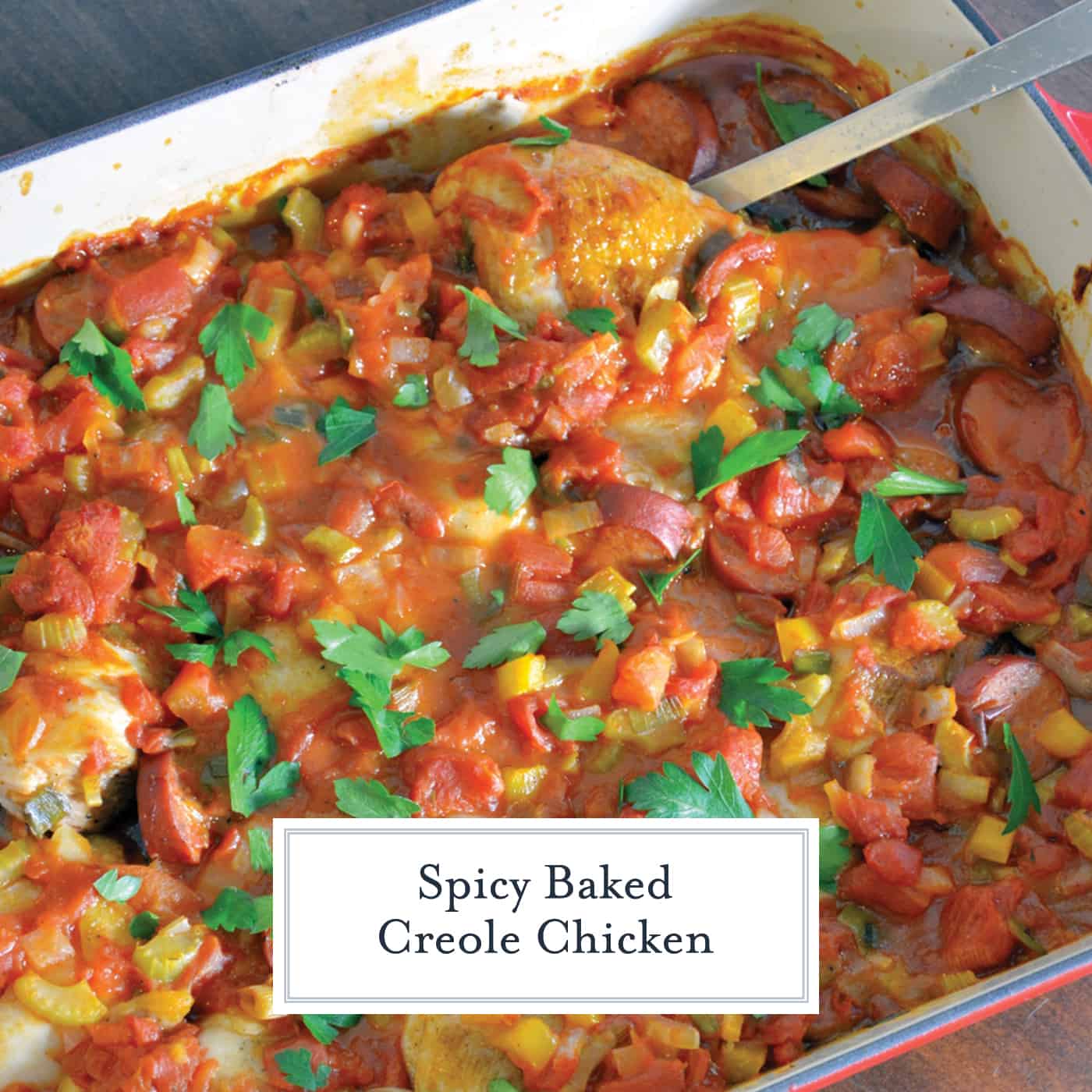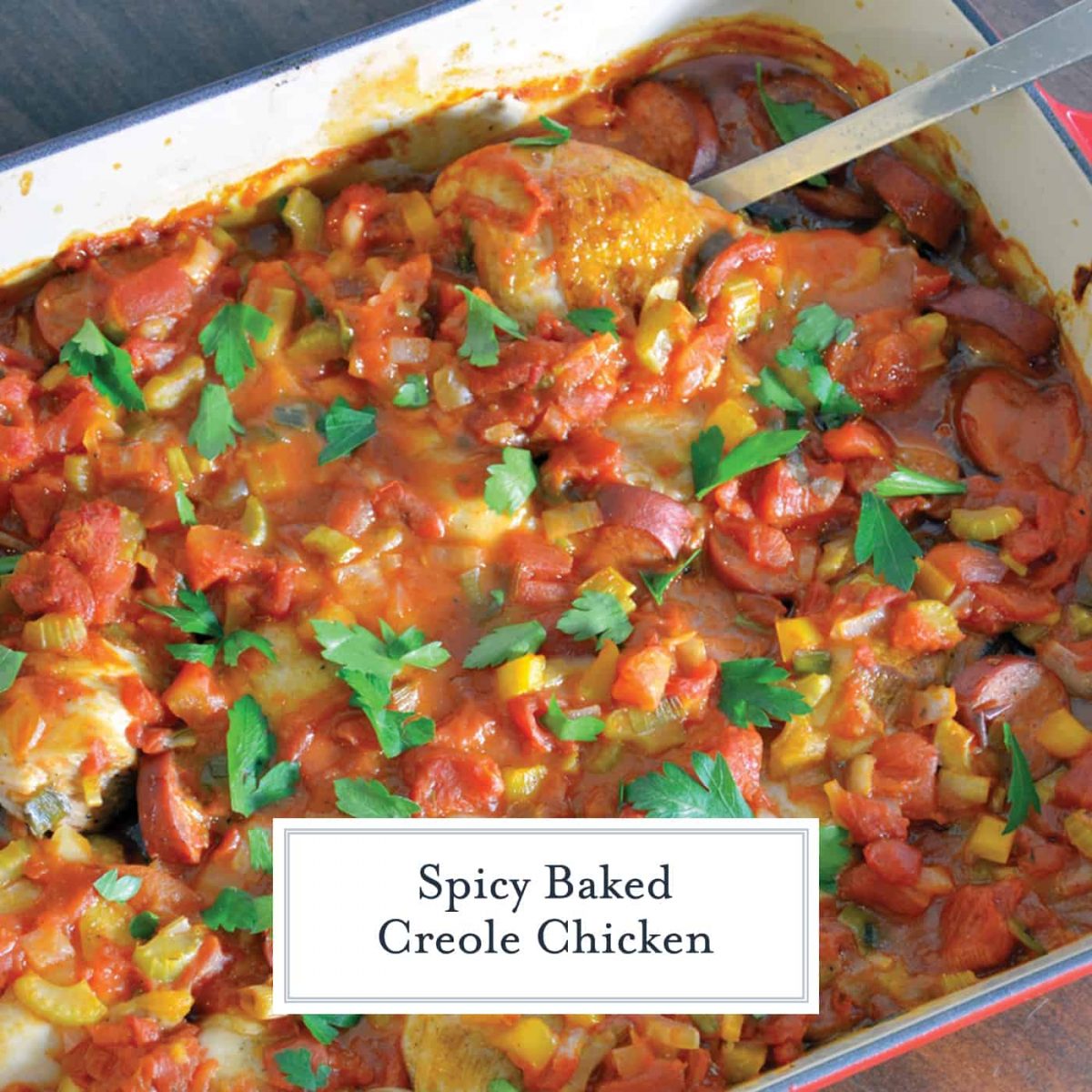 Creole Chicken is a baked chicken recipe featuring a spicy tomato-based sauce with vegetables and seasonings. It's amazing served over rice.
Two years ago, a friend and I took a master sauce class and although the tomato-based Creole sauce was mentioned, we didn't get a chance to prepare it that day in the kitchen.
She and I regularly get together to mess around in the kitchen. We would always be trying out new dishes and one day we were chatting about our class and the subject of that sauce came up. We decided that was exactly what we needed to make that day.
We also did a little bit of research. Creole cuisine originated in New Orleans, Louisiana. Another interesting tidbit, Creole and Cajun are two very different cuisines and the names are not to be used interchangeably.
Creole cuisine is what folks were eating in New Orleans proper and Cajun cuisine was established later when the Cajun folks settled in the country.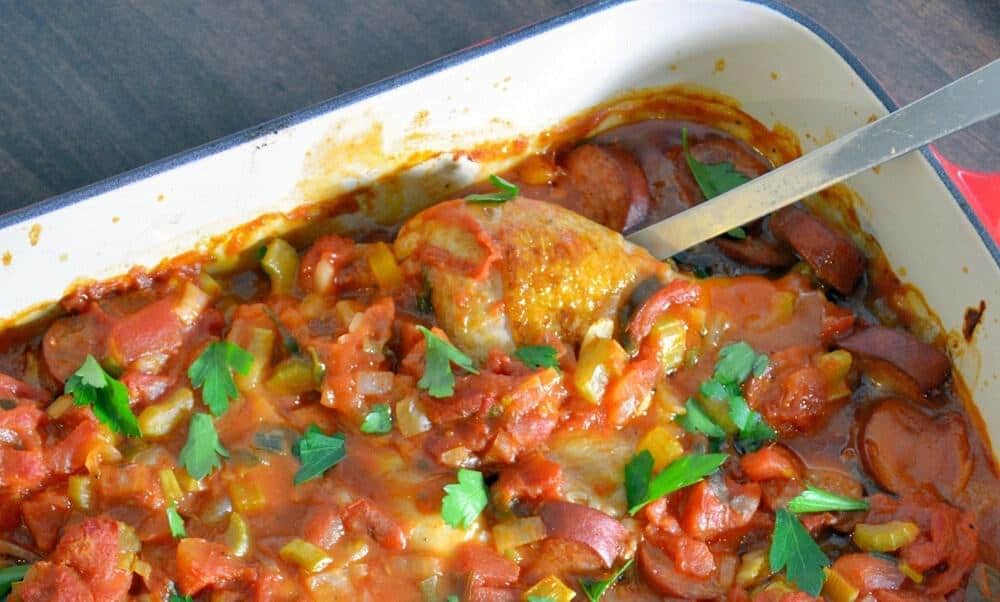 And the number of cultures that got thrown into a melting pot together to create it is astounding. It is an amalgamation of French, Spanish, African, German, Native American, and Portuguese just to name a few. It is known for its use of ingredients like paprika, red pepper, garlic, and onion.
Using the recipe given to us by the instructor as an outline, we stamped out a new recipe that included our spin on things.
Our taste buds were craving andouille sausage but the chicken variety so we added that in. We also added more veggies to beef it up a bit.
For your purposes, you can use any cut of chicken you like. We used drumsticks that day but chicken thighs or even chicken breasts would be a great substitute. If you aren't feeling the andouille made with chicken try it with the classic andouille.
Creole sauce is super simple and requires more prep than actual cook time. Full of fresh vegetables and delicious spices. It is a great choice to serve for dinner and great to freeze and reheat later.
Double or triple the just the spices together and keep handy in a jar or a shaker in the pantry with your other seasonings for a quick hit of creole seasoning on everything from eggs in the morning or your grilled chicken at night.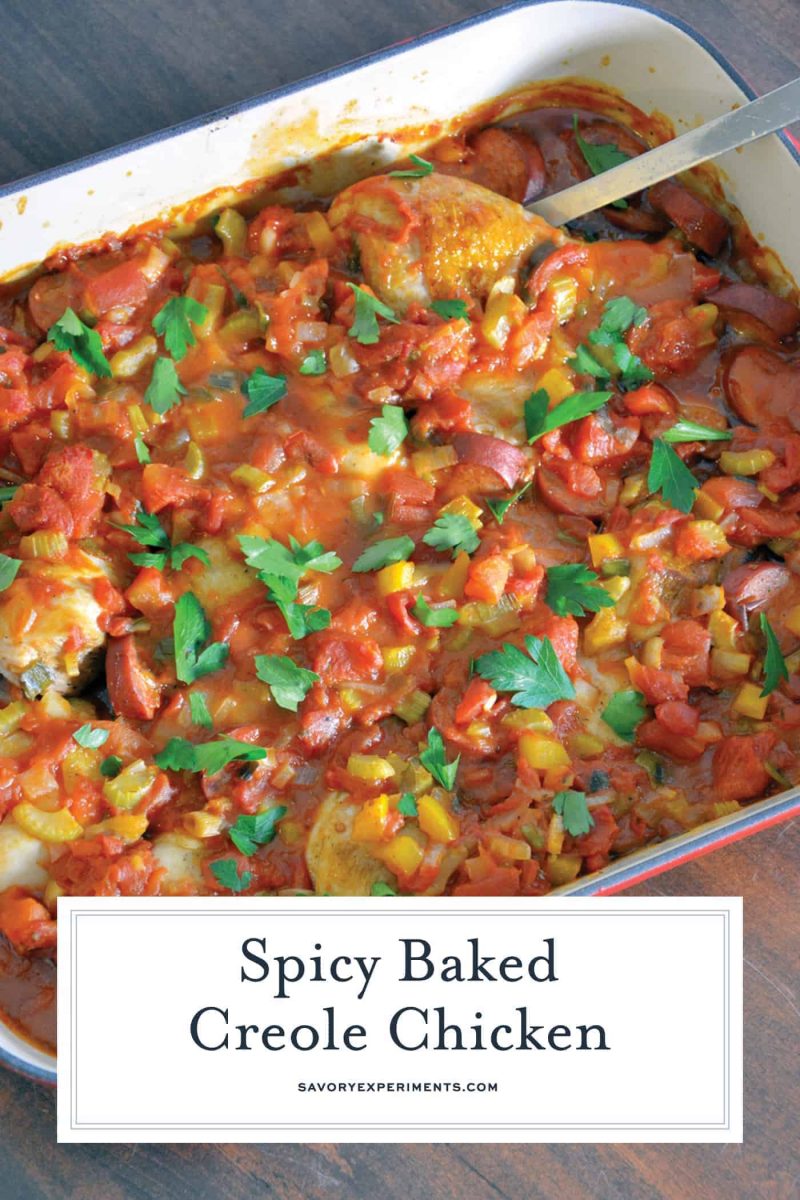 Serve over some rice. My choice here would be a nice long-grain, white rice to soak up the flavor of the sauce.
It is a delicious meal with a little bit of heat to spice up the dinner table. I am sure it will become part of the regular rotation in no time.
If you like this baked chicken recipe, you might like these as well!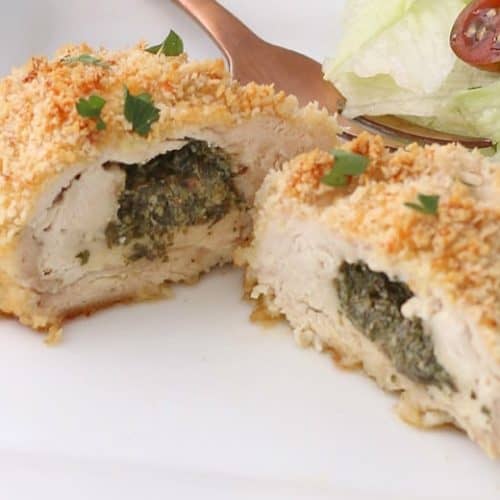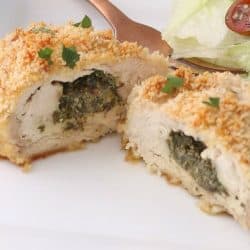 Easy Chicken Kiev
Thin chicken breasts stuffed with compound butter and covered in a light Panko breading, this Chicken Kiev is an easy dinner the whole family will enjoy!
See The Recipe!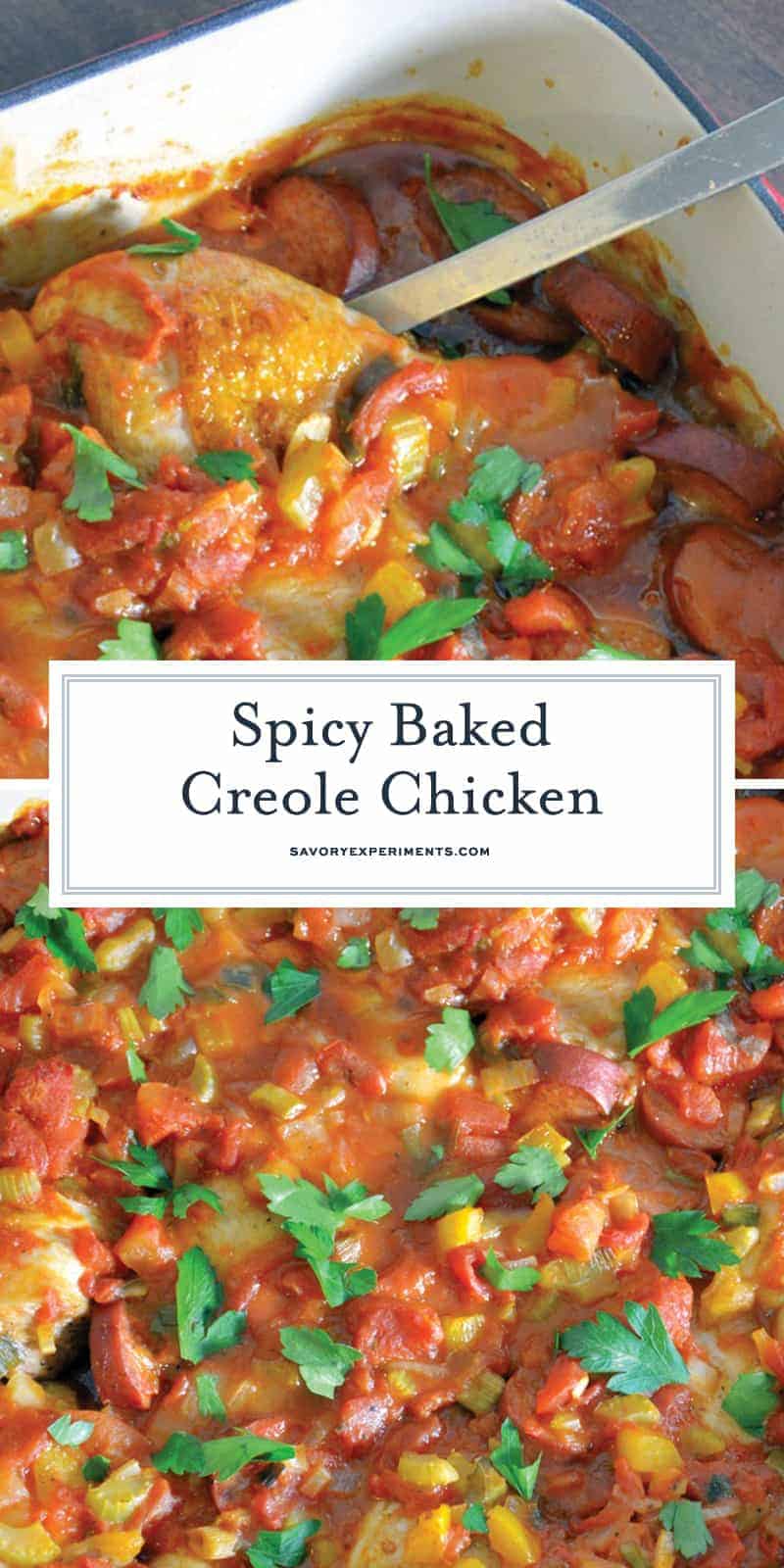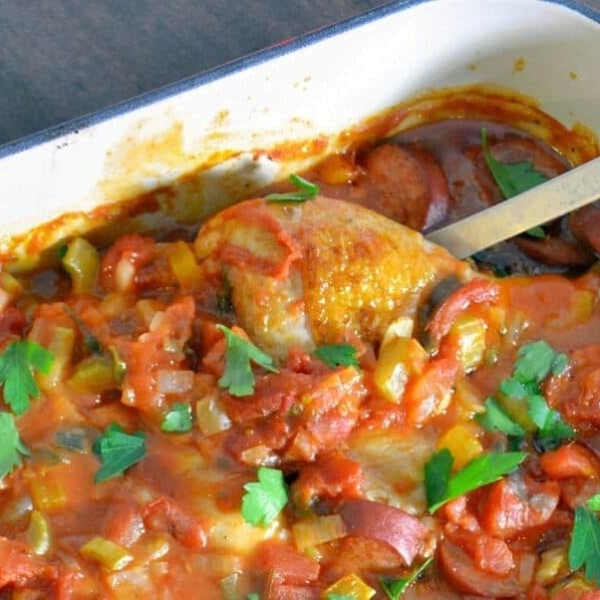 Baked Creole Chicken Recipe
Creole Chicken is a baked chicken recipe using a spicy tomato-based sauce with vegetables and spices. Serve over rice.
Instructions
In a large sauce pan or Dutch oven, heat vegetable oil. Add yellow onion, bell pepper and scallions. Saute until soft, approximately 5 minutes. Add canned tomatoes through marjoram. Stir and cook down for 20 minutes.

Meanwhile, preheat oven to 350 degrees. Pat drumsticks with a paper towel and then season with fine sea salt and pepper. In a large skillet, brown chicken in 4 batches, rotating drumsticks as you go. Each batch should take about 5 minutes.

Transfer chicken to 9×13 or larger roasting pan. Add andouille sausage discs. Cover with Creole vegetable sauce.

Bake for 30 minutes. Remove and make sure chicken internal temperature has reached 165 and juices run clear. Spoon over cooked rice and enjoy your Creole Chicken!

If you've tried this recipe, come back and let us know how it was!
Nutrition
Calories:
690
kcal
,
Carbohydrates:
55
g
,
Protein:
44
g
,
Fat:
31
g
,
Saturated Fat:
10
g
,
Cholesterol:
192
mg
,
Sodium:
1478
mg
,
Potassium:
958
mg
,
Fiber:
3
g
,
Sugar:
5
g
,
Vitamin A:
1610
IU
,
Vitamin C:
45
mg
,
Calcium:
98
mg
,
Iron:
4
mg