Chicken Kiev is the perfect family dinner. Seasoned butter is stuffed into chicken breasts that have a mouthwatering breaded coating. Flavor inside and out!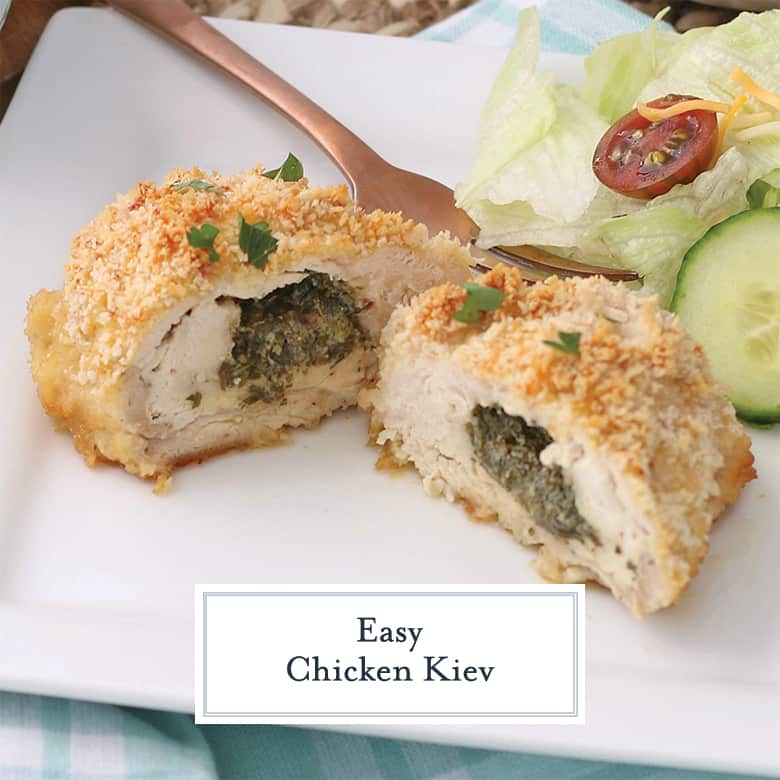 Thin chicken breasts stuffed with compound butter and covered in a light Panko breading, this Chicken Kiev is an easy dinner the whole family will enjoy!
Chicken Kiev Recipe
Chicken Kiev was something I had as a child and I feel like it's still a relative recipe today. It's budget-friendly and simple, but oh-so-delicious!
The actual recipe may sound intimidating, but it's actually quite simple as long you don't skip one step. Freezing the butter.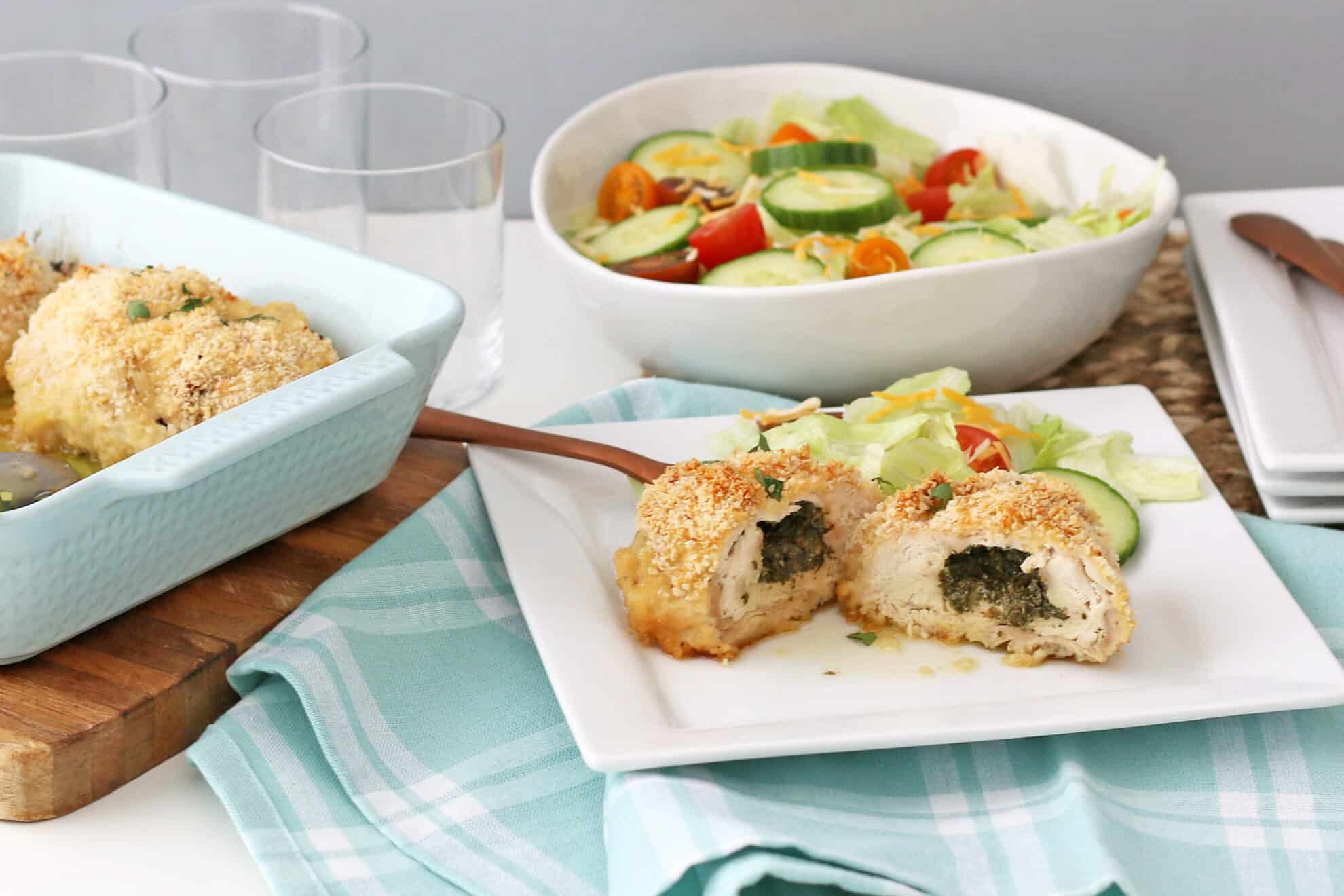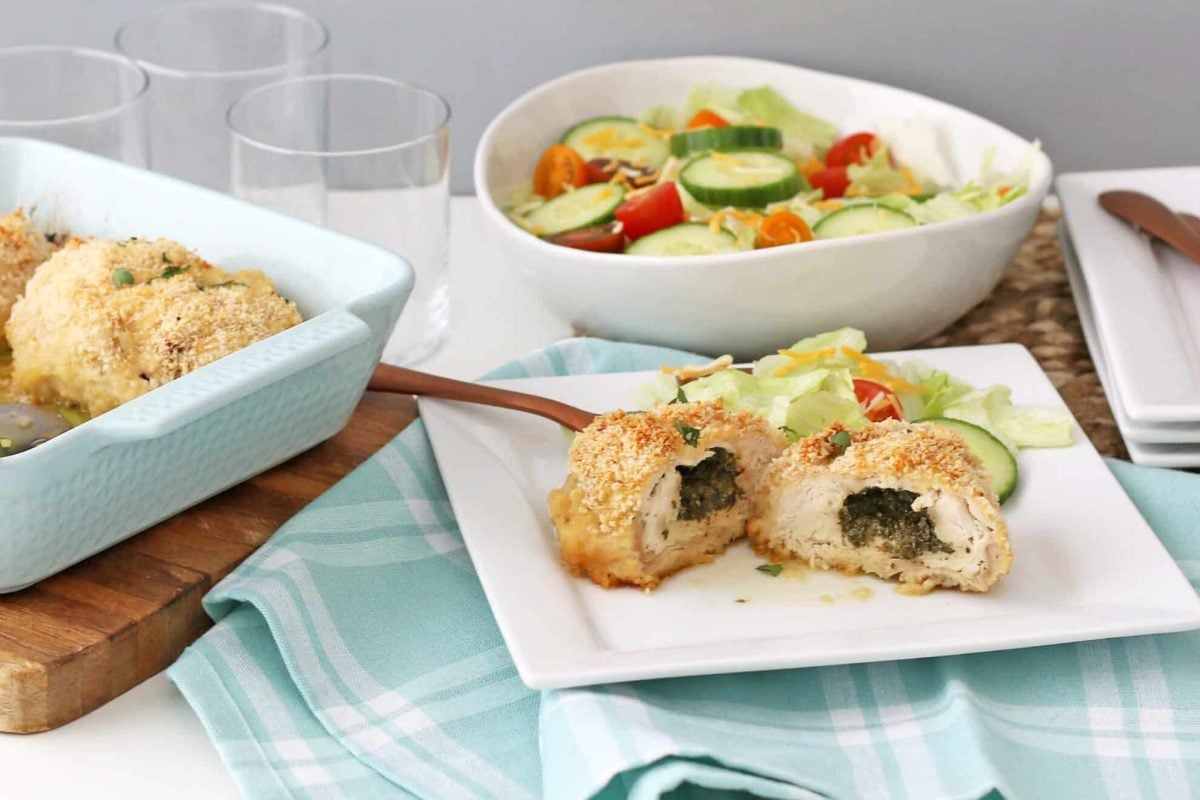 Chicken Kiev has a sordid past. Some claim it was invented in the early 1800s in Russian and others in the Ukraine in the early 1900s with the name "Kiev" coming from the capitol.
Hot butter bubbling out of crispy, crunchy chicken was considered to be the perfect comfort food for life in the freezing cold. It is usually paired with rice or straw potatoes to soak up the extra butter. Steamed vegetables are also a great choice.
PRO TIP: Straw potatoes are thin cut french fries, sometimes known as shoestring fries.
It has only been heavily marketed in the US since the mid 1950s.
It is all about the butter…
Why? Because it is delicious! Who wouldn't want chicken stuffed with delicious butter?
With that in mind, this dish includes rolled chicken, which has herb-infused butter on the inside. On the outside, it's breaded with a panko coating and then baked to perfection.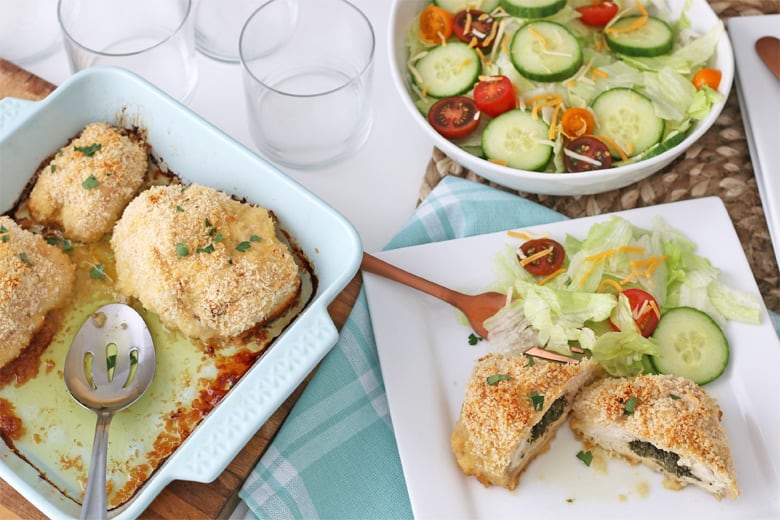 You know how I feel about butter, so there is no doubt that I LOVE a piece of meat stuffed it! This is a basic kiev recipe, but there are actually a lot of herbs you can use in this butter.
Herbs
Some of my favorites are basil and oregano. However, you can also use parsley, scallions, or even thyme. Now let's get started on learning how to make Chicken Kiev.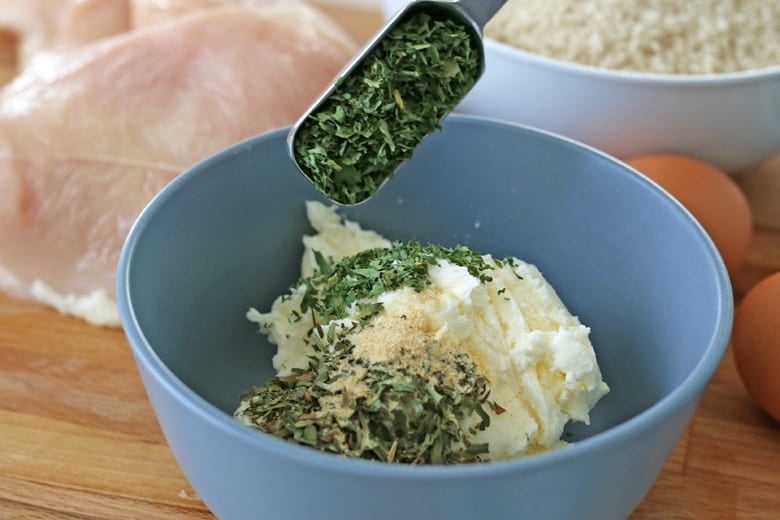 Because Chicken Kiev isn't a recipe that everyone knows how to make, it's important that you take note of some tips to help you bake this dish. The ingredients aren't hard, but the execution can sometimes be tricky. You don't want your precious butter escaping!
PRO TIP: You can use fresh flat leaf parsley, just swap out 1 tablespoon of fresh parsley for every 1 teaspoon of dried. This works in nearly every recipe!
How to Make Chicken Kiev
To start, mix together softened butter, dried parsley, tarragon and garlic powder.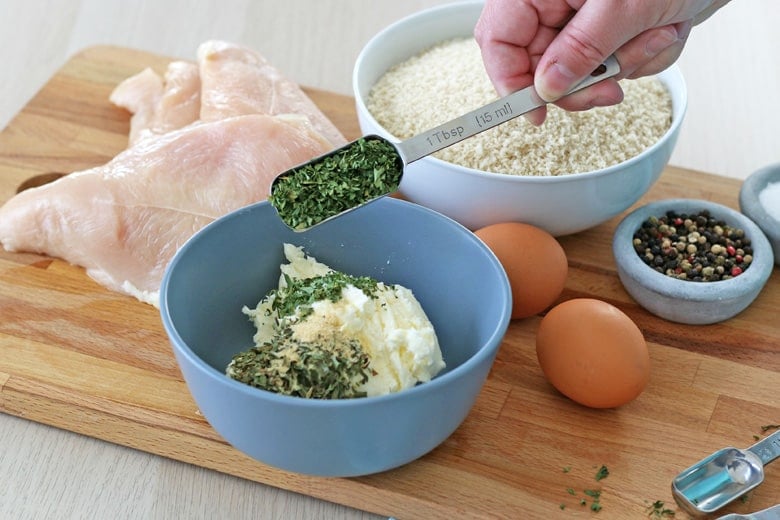 Then transfer the herb garlic butter mixture onto a piece of plastic wrap or parchment paper, roll it into a log, then secure it tightly with cooking twine or rubber bands.
Place the butter in the freezer for at least 30 minutes, or until solid.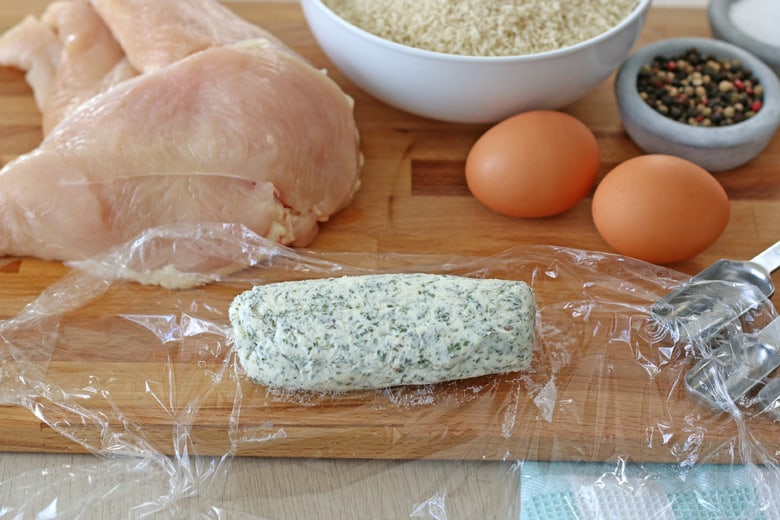 You need thin chicken breasts for this Chicken Kiev because this is going to help you roll the chicken as easily as possible and bake evenly.
Place one chicken breast between two pieces of plastic wrap, and pound the chicken flat to about ¼ inch thick.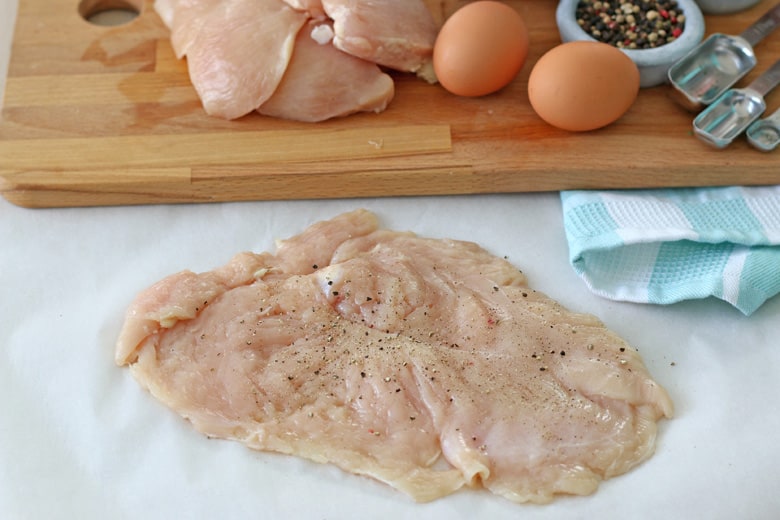 Then season the chicken with salt and pepper and repeat with the other breasts. Once the butter is solid, cut the mixture into four equal pieces. Then take a piece of chicken and put it on a new piece of plastic wrap.
Add one piece of frozen butter to the center of each chicken breast, fold in ends and roll into log, be sure to completely enclose butter mixture rolling very tightly. You will repeat that step for all of your chicken breasts.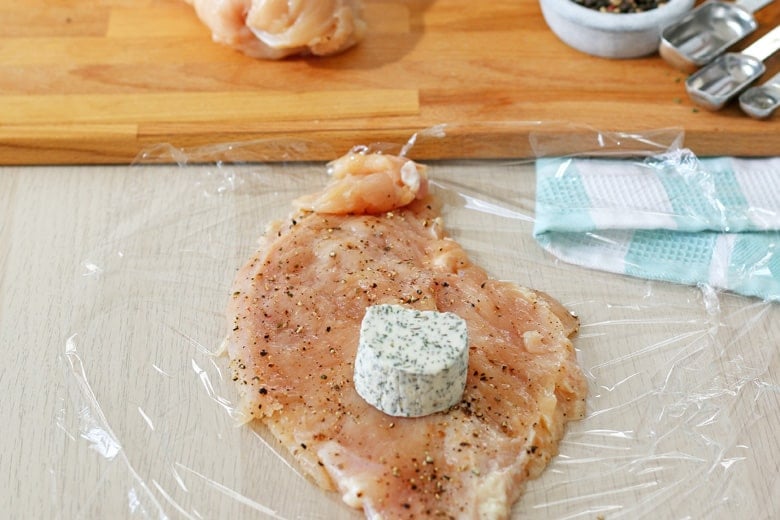 Place the herbed butter inside the thinly sliced chicken and roll, TIGHT. I use plastic wrap to help me get the tightest squeeze possible, but you can do without it, if you'd like.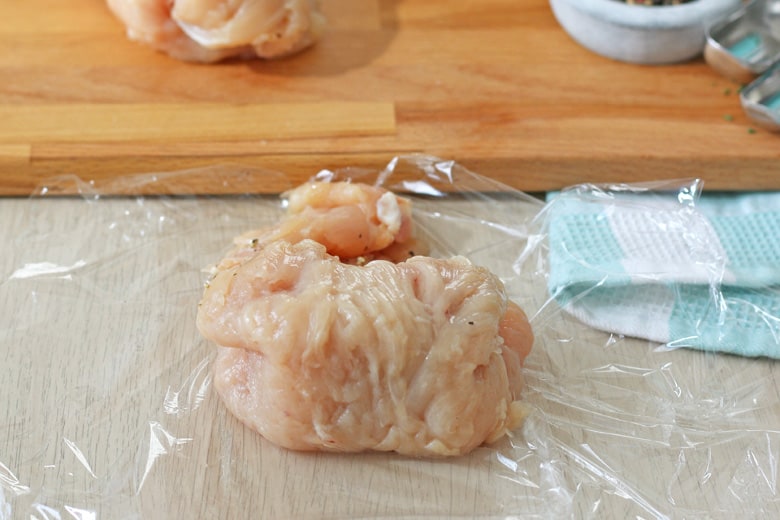 Toothpicks are also handy to help them stay. You will eventually move onto dipping the rolled chicken into bread crumbs and then into the baking dish and they can assist with not losing shape after removing the plastic wrap.
PRO TIP: Historically, regular bread crumbs were used, but I like to use larger, crunchy Panko. You can still use regular if you wish.
Preheat the oven and coat a baking dish with cooking spray. While the oven is preheating, you will set up your breading station.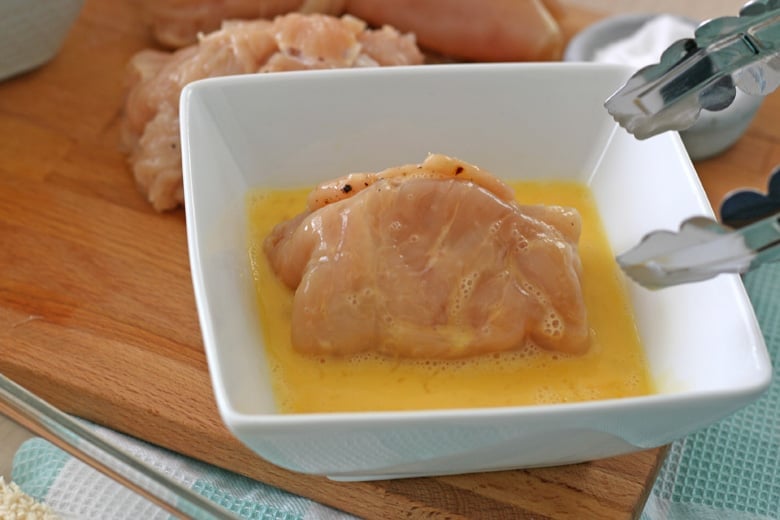 Crunchy Breading
Start by adding the eggs and water to a bowl. Whisk the two together to combine. Then add the Panko bread crumbs to separate large shallow bowl or pie plate.
Next, dip each chicken breast into the egg mixture. then immediately into bread crumbs. Place the chicken, seam side down, into the prepared baking dish.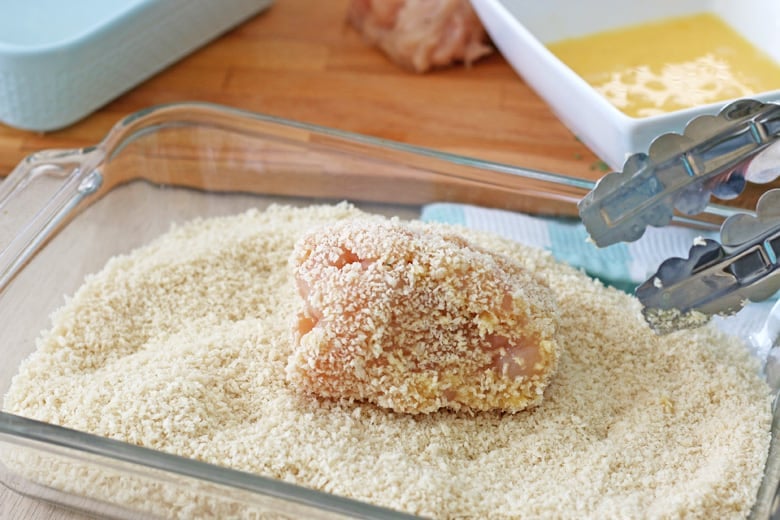 Bake the chicken uncovered for about 30-35 minutes or until the chicken reaches an internal temperature of 165 degrees and is a nice golden brown color.
And there you have it! This may seem like many steps, but they are all very easy and the end result is totally worth it.
Variations
While this is the classic way to make chicken kiev, some folks have made it even easier by just making classic chicken cutlets and a separate melted herb butter and drizzling it over the top. Almost like a deconstructed kiev.
I prefer the traditional.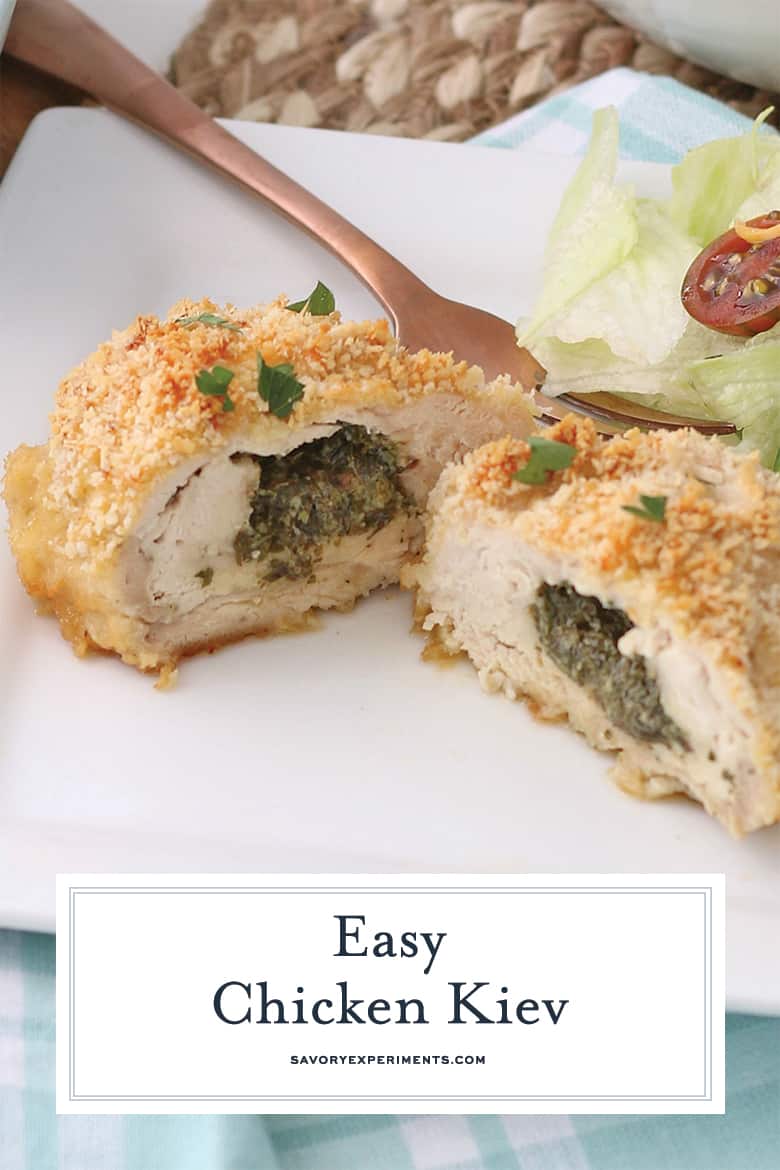 You might also like these other easy chicken dinner recipes:
Questions you might have about how to make chicken kiev:
What Side Dishes to Serve with Chicken Kiev? It is a very verstile dish with not super robust flavoring, so really anything goes. Here are a couple of my favorites: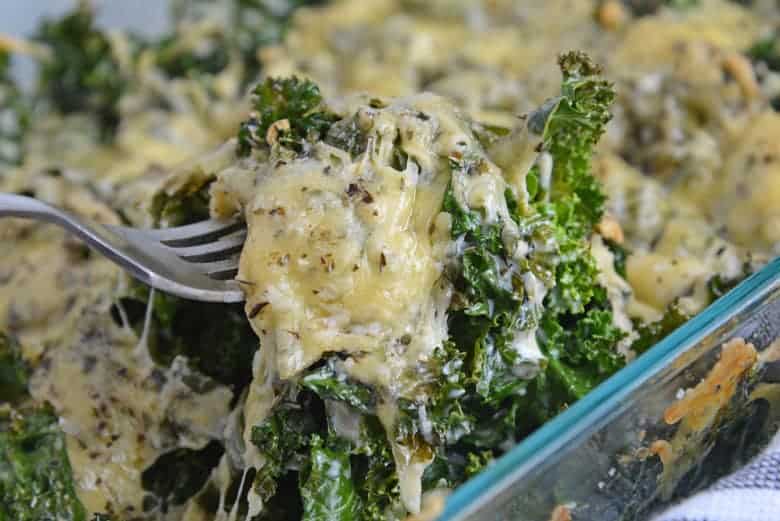 What is Chicken Kiev Stuffed With? As mentioned before, Chicken Kiev is stuffed with herb-infused butter. That is it. Just butter.
How do I store chicken kiev leftovers? After you are done eating this dish, make sure you store it in an airtight container in the fridge for 3-5 days. If you want, you can even freeze it to have for later.
When I cook this kiev, I make a double batch and freeze some for later. However, you might have a little less butter on second reheating. Slippery stuff gets away easy!
How do I reheat chicken kiev? While the microwave is perfectly fine, the oven is best. Try to use some sort of dish with edges. Undoubtedly, you will lose some precious better and if it at least pools in your dish, you can still scoop it up with your chicken.
Does chicken kiev have a sauce? Nope- the butter on the inside is all you will need for flavor and juiciness. Some folks like a spritz of fresh lemon juice, but otherwise, you are good to go!
Can I fry chicken kiev? You sure can! In fact, it is commonly fried to get the utmost crispy exterior. Heat oil olive (high smoke point) in a large skillet over medium-high heat and cook on both sides until a light golden brown.
Can I make chicken kiev in the AirFryer? I am sure you can, but I don't own an AirFryer so I can't give you accurate instructions. If someone does do it, come back and let us know how it went!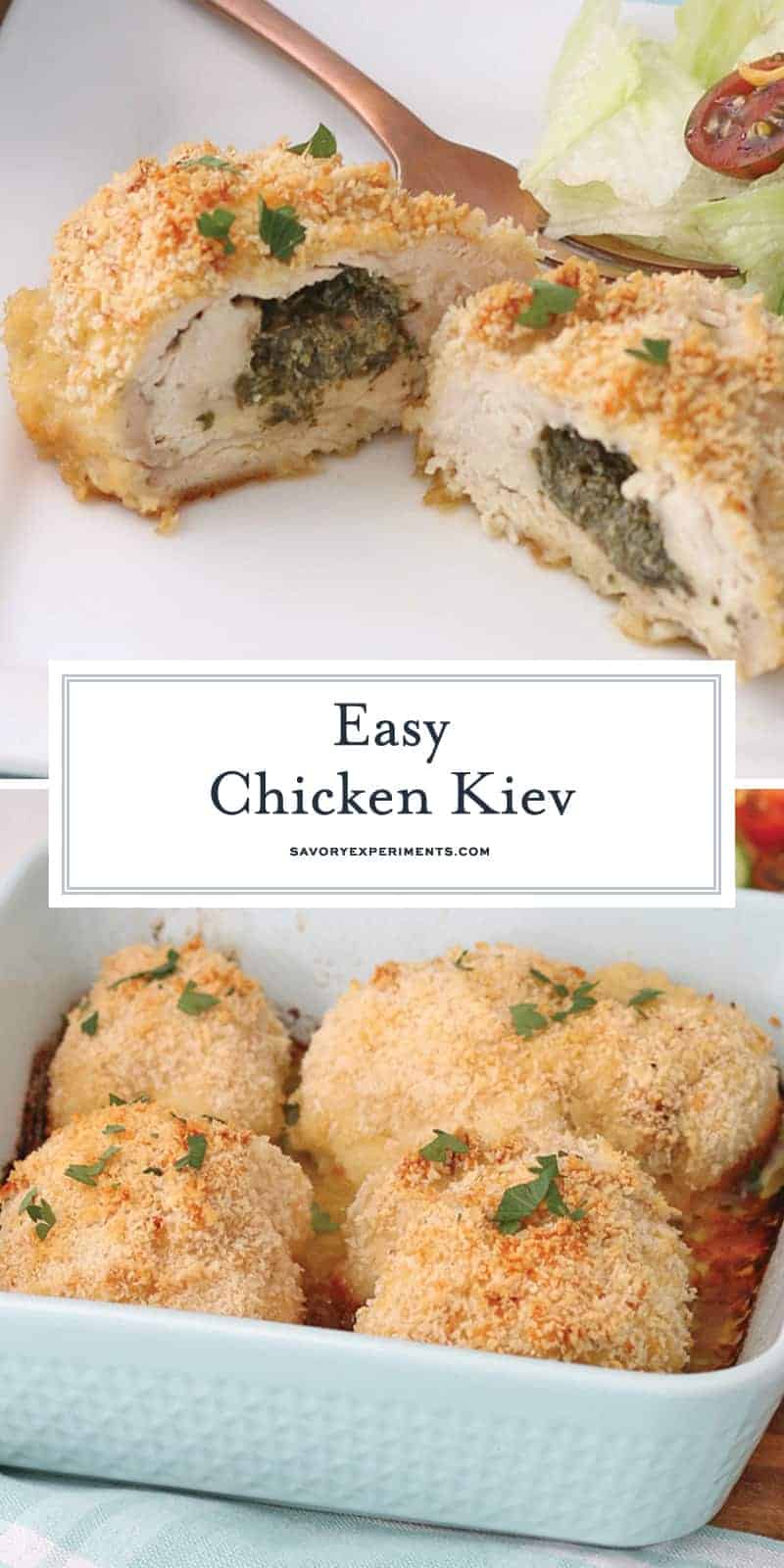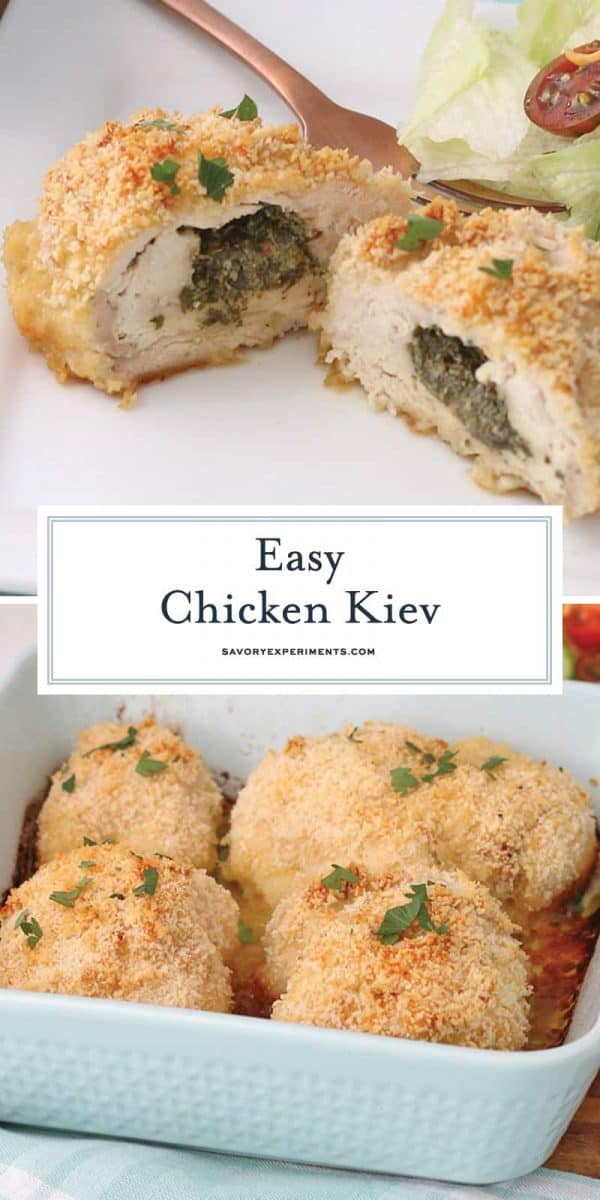 Tools for making Chicken Kiev:
Wood cutting board – wood won't dull your knives like plastic and if treated properly, has natural antimicrobial properties.
Good knife – Global is my favorite! They are worth the price, I promise. I am kind of obsessed with them and store them tucked away so no one else can use them. Including hubby. Hands off my good stuff!
Square Glass Baking Dish– I prefer glass to metal any day of the week. It looks nicer longer and usually comes with a lid.
Meat Mallet– Sometimes you'll be lucky enough to find already thin chicken at the store, but if not, don't be scared of pounding our your own. Chances are you'll start to tenderize a lot of meat once you see the benefits!
CONNECT WITH SAVORY EXPERIMENTS!

Be sure to follow me on social media, so you never miss a post!

Facebook | Twitter | Youtube
Pinterest | Instagram

Get our FREE 8 Day E-Course on How to Be a Better Home Cook. Sign up HERE!