Pesto brings that perfect amount of extra flavor a recipe needs. A delicious blend of basil, parsley, olive oil, pine nuts, parmesan cheese, and garlic. You can practically use this recipe for basil pesto on everything and it only takes 5 minutes to make.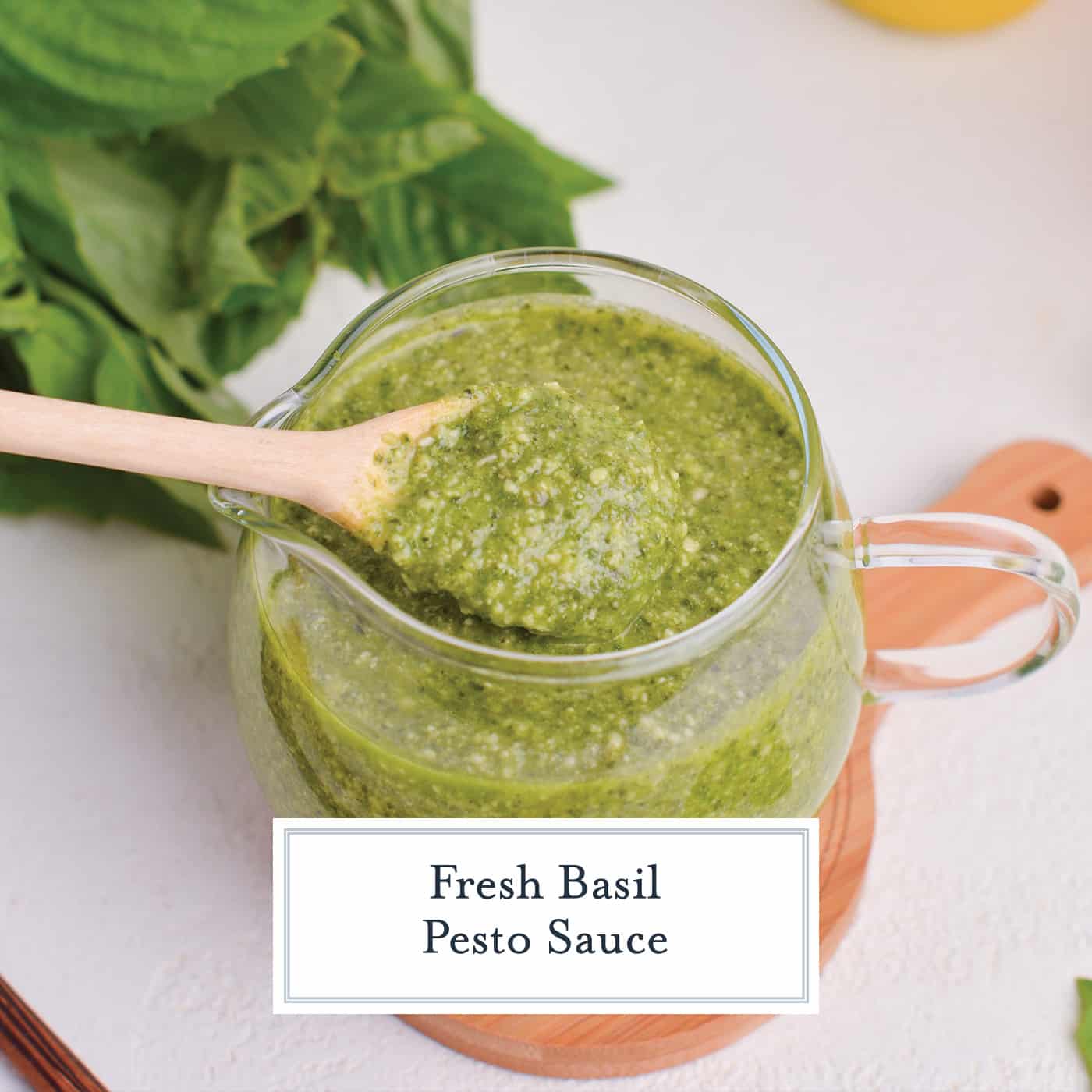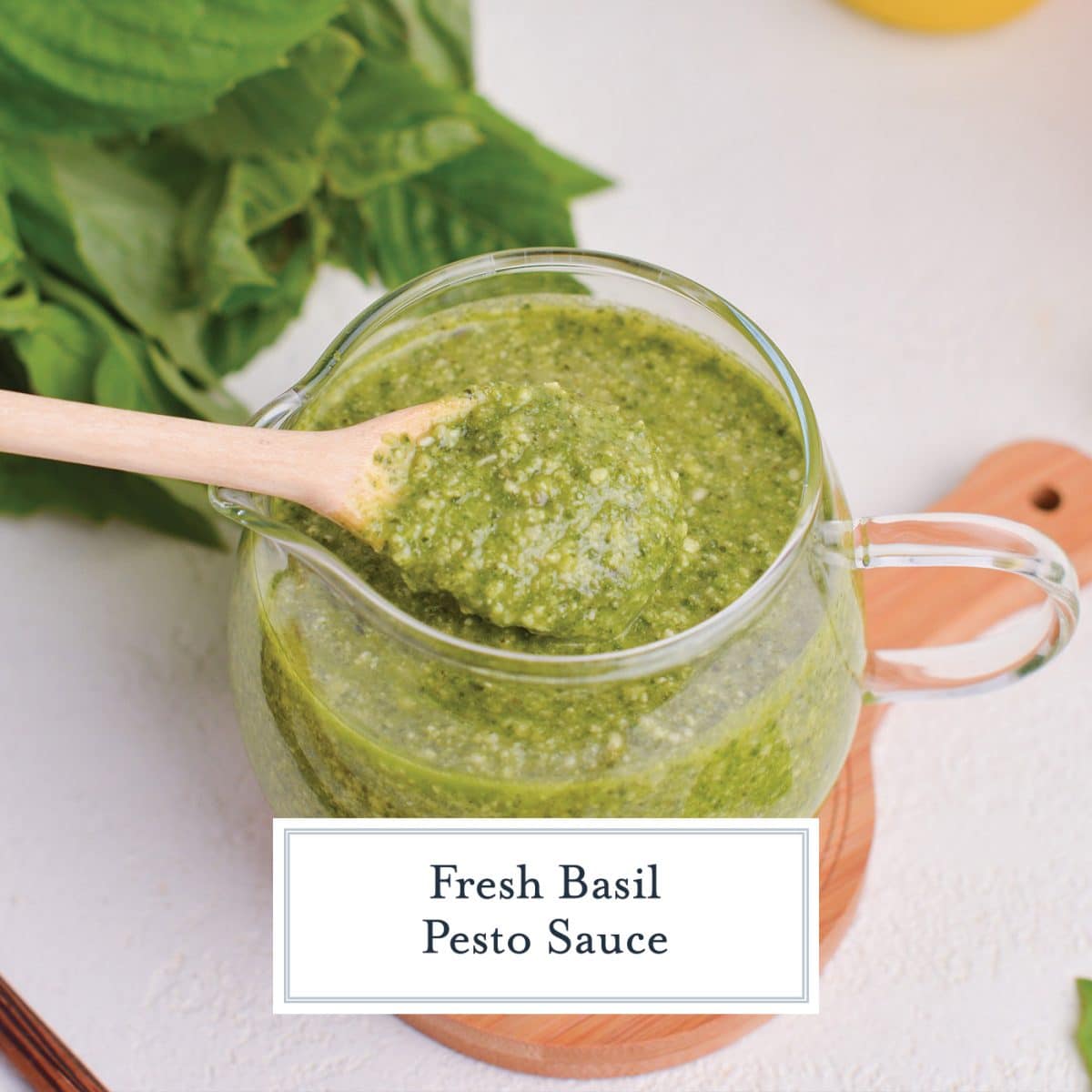 A classic Pesto Sauce is one of the most versatile condiments out there. Made with a core of basil, garlic, olive oil, pine nuts and cheese, there are a great many variations.
Our family has some Italian heritage, so pasta is often on the dinner menu. We all love a good marinara or garlicky alfredo sauce but I adore the simplicity and brightness of this basil-based sauce. Plus, it has cheese.
What is Basil Pesto Sauce?
Basil pesto combines just a few simple ingredients to make a quick, easy sauce. While the sweet basil with its fresh flavor is the key ingredient, salty cheese and crunchy pine nuts impart their own flavor and texture. Flat parsley helps to round it all out with its mild flavor. The final product is a beautiful bright green sauce.
The best part about pesto is that it's such an incredibly versatile sauce. It makes a great pasta sauce, of course, going with long to short shapes, and it's even great for stuffed pastas like ravioli.
It's also a great addition to meats and vegetables and you can even add it to butter or other sauces.
I also love that it's so easy to make. Just grab your ingredients, toss them in the food processor and — voilá — you have your sauce. It comes together in mere minutes.
If this is your first time making your own pesto, you're in for a treat. Next time you think about buying a jar, turn to this recipe instead.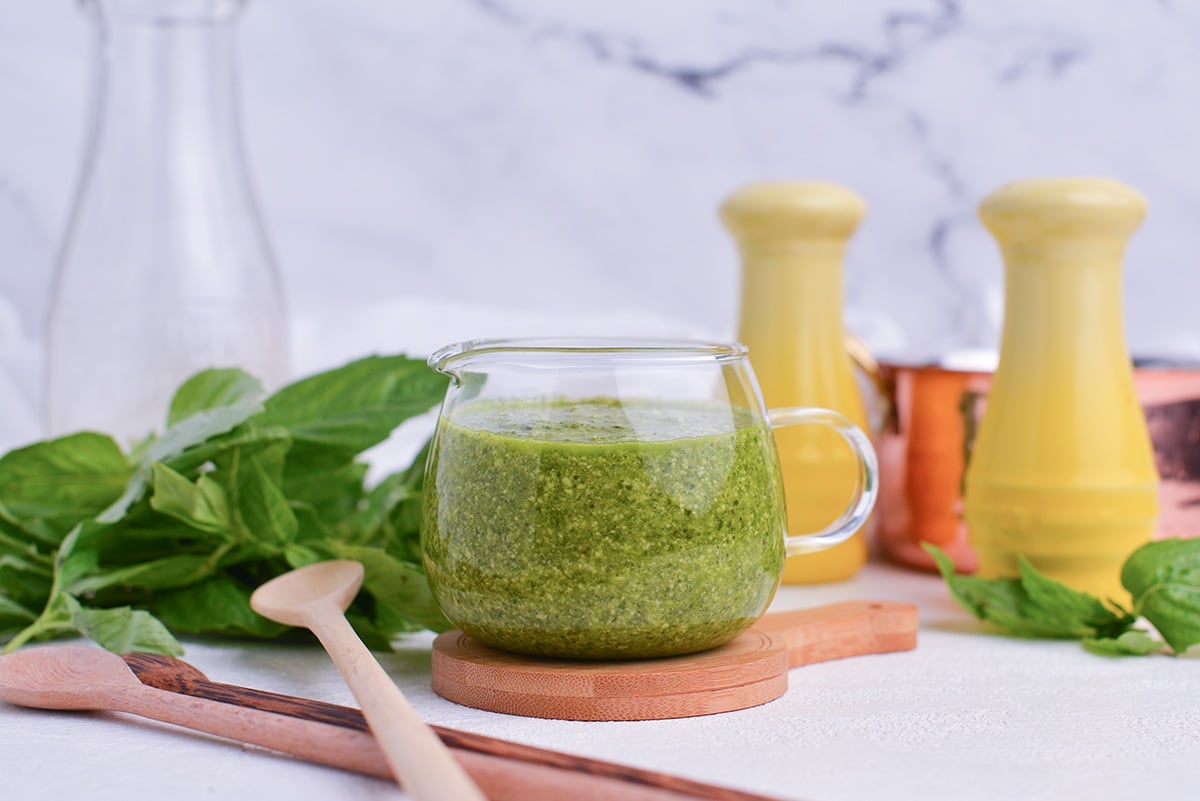 Ingredients
Pine nuts– Pine nuts add just the right amount of texture and flavor to pesto. If you want even more nutty flavor, you can toast them before adding them to the recipe.
Parmesan Reggiano cheese– Make sure to grate this cheese so that it's fine enough to mix well and combine thoroughly with the rest of the ingredients. It's best to grate it yourself for the freshest flavor.
Fresh garlic cloves– What Italian food is complete without the addition of garlic? You can add more or less to taste.
Fresh basil leaves– Make sure to pack these tightly when measuring. This ingredient is the star of the show, after all, so you want to make sure to have plenty of it.
Flat parsley– Flat parsley brings a brightness to this recipe. It's also far more flavorful than the curly-leafed variety.
Extra-virgin olive oil– Don't skimp on this ingredient. With so few ingredients, pesto relies on all of them being high quality to get the best end results.
Fine sea salt and pepper– Use these to round out the flavor of the other ingredients.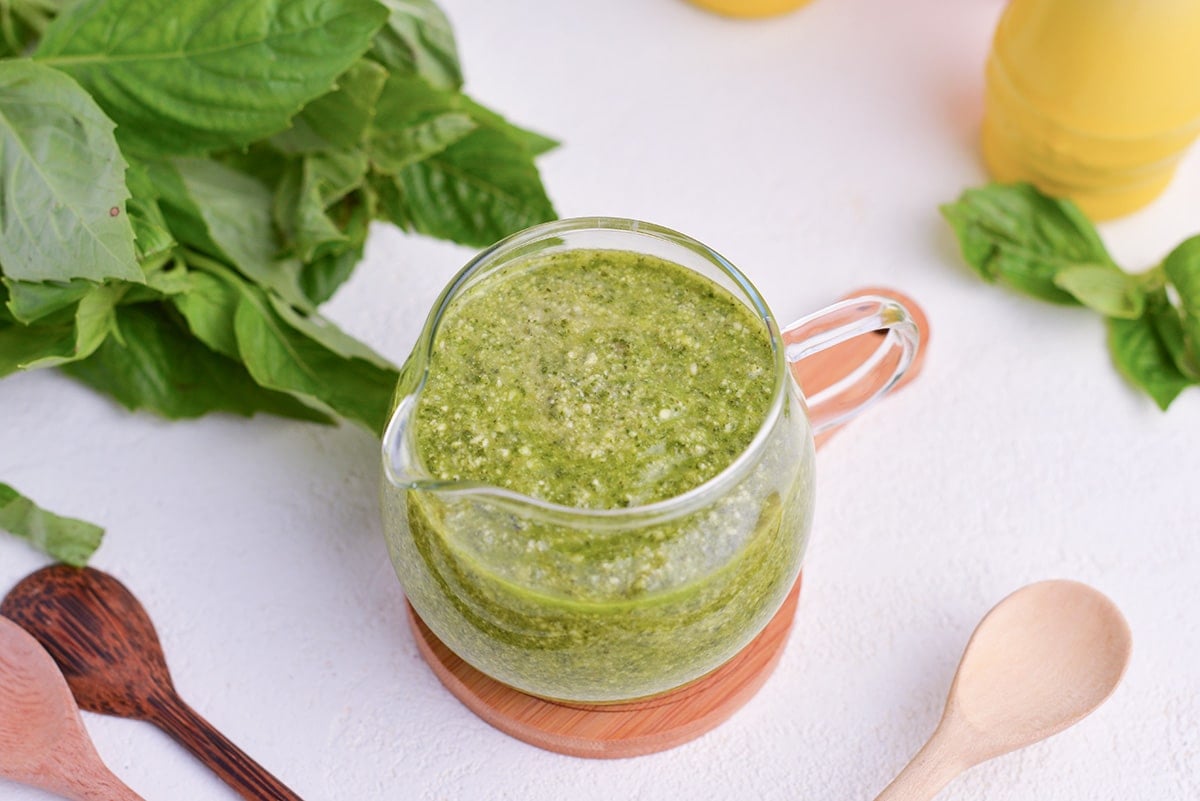 How to Use Basil Pesto
Toss with your favorite pasta, especially varieties like cavatappi, fettuccine, and capellini
Make pesto chicken by saucing it after you take it off the grill or out of the oven
Dip veggies it it or use it as a salad dressing
Spread it on your favorite bread (focaccia and ciabatta are great choices as well as garlic bread)
Mix with butter to make a colorful compound butter
Dip french fries, mozzarella sticks, or baked zucchini sticks
Elevate your vegetables by brushing them with pesto before roasting
Kick up an alfredo sauce by adding a dollop or two
Mix with your ricotta when making stuffed shells, manicotti, or lasagna
Drizzle over a caprese salad
Add bright color and flavor by making a pesto pizza
Mix it with sour cream or Greek yogurt for a fun dip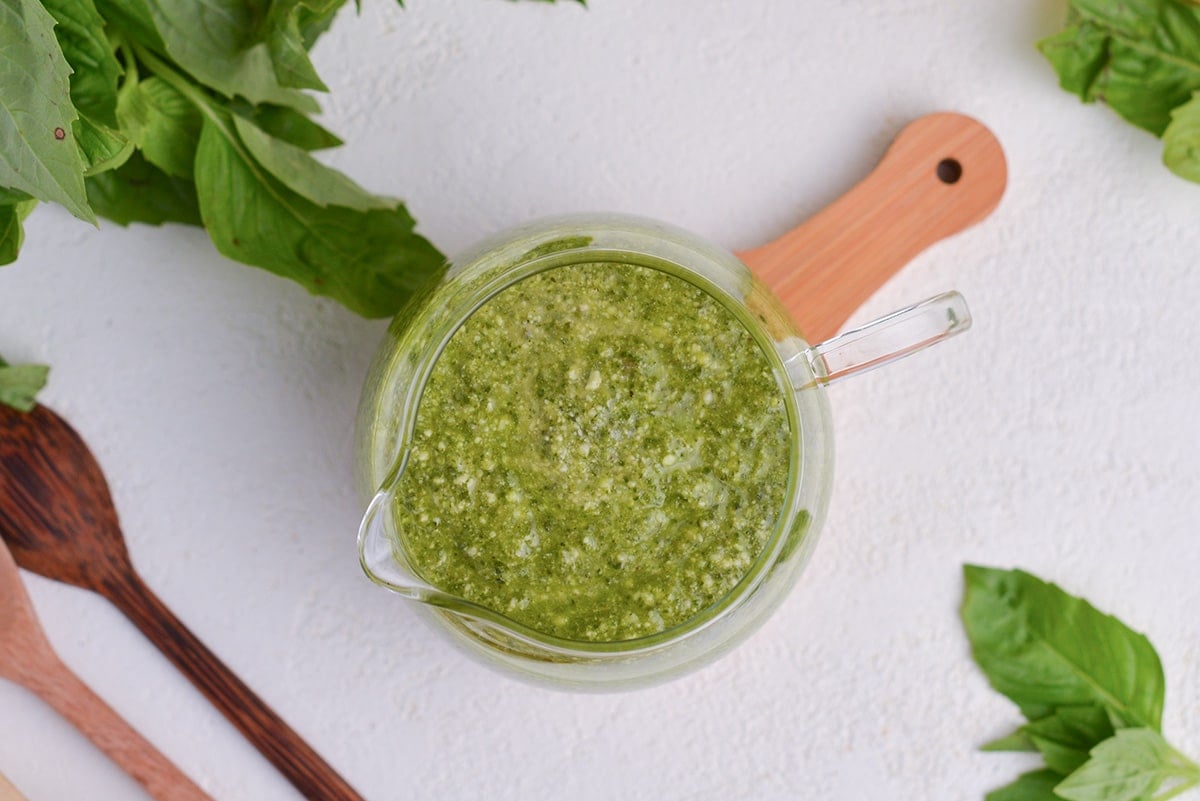 Variations
Sunflower seeds– If you're allergic to pine nuts or you just don't have any on hand, sunflower seeds are a solid swap.
Greens– For a milder pesto flavor, add baby spinach or increase the amount of fresh parsley.
Roast the garlic– Instead of just mincing it, try roasting the garlic with olive oil for a whole new flavor.
Cheese– You can substitute another hard cheese for the parmesan cheese. Some great options are asiago, grana padano, and pecorino romano.
Nutritional yeast– You can substitute nutritional yeast for the cheese if you are vegan or following a dairy-free diet.
Lemon juice- Adding citrus to this sauce is a great way to brighten it even more.
Red pepper– If you want to add a little heat, toss in some crushed red pepper flakes.
Ditch the basil– Swap out the basil for sun dried tomatoes, garlic scapes or scallions
Storage
Store any leftover basil pesto sauce in an airtight container in the refrigerator for up to one week or in a freezer bag or container in the freezer for three months.
Alternatively, spoon the mixture into an ice cube tray to make pesto cubes. Store in the freezer so that you have it ready in small portions whenever you need to use it.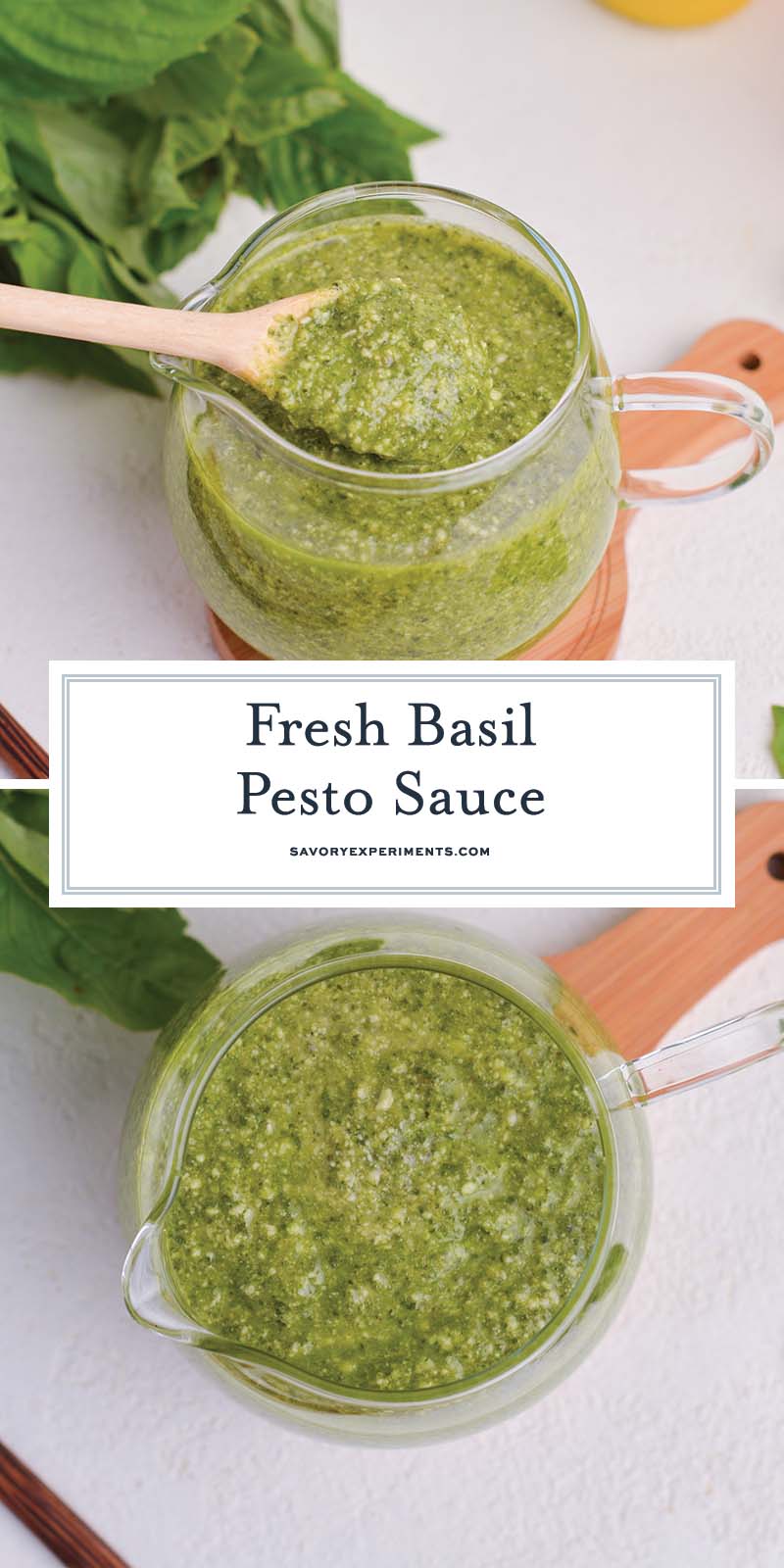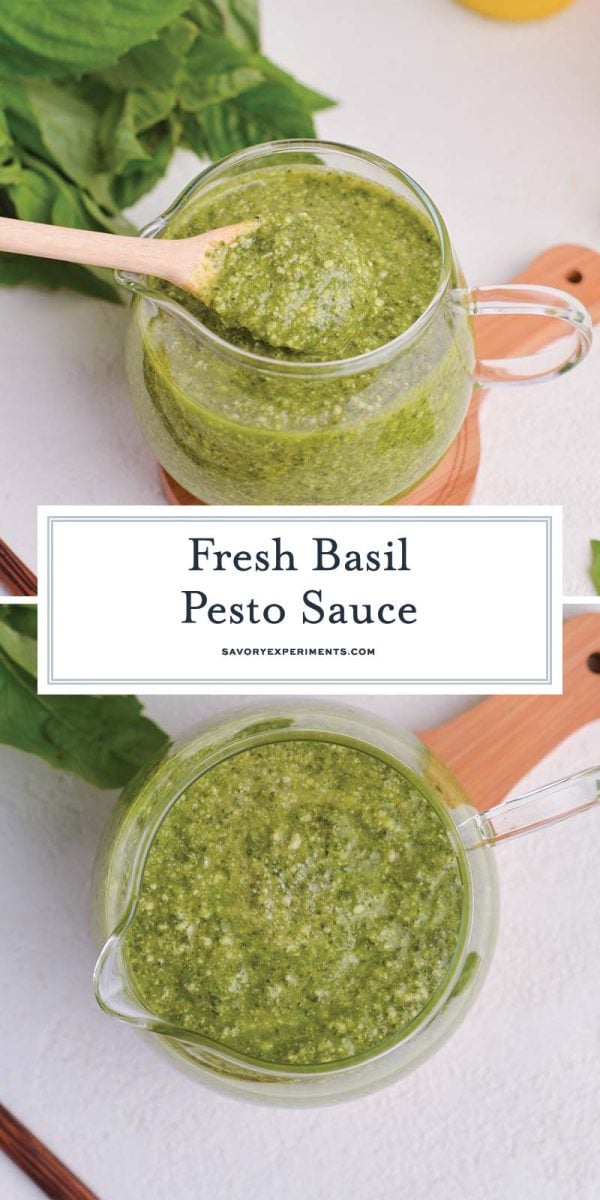 How to Use Pesto Sauce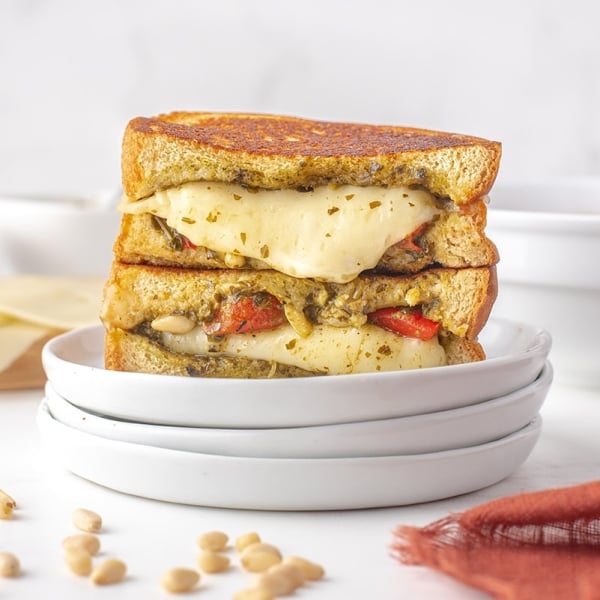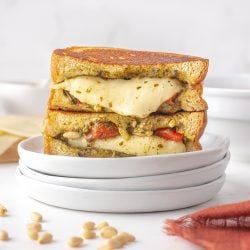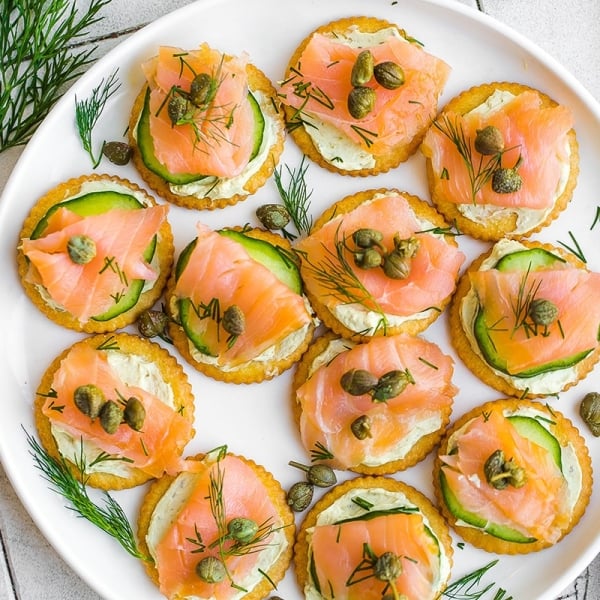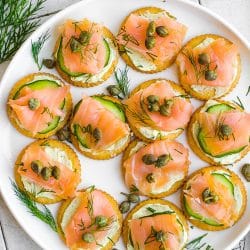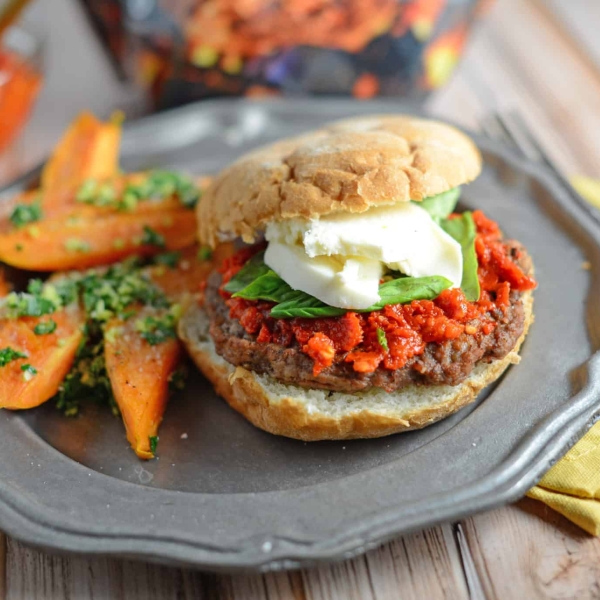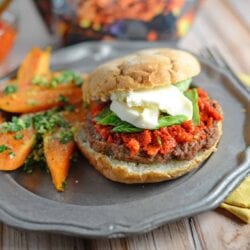 Caprese Burgers
Caprese Burgers are smothered with a red pesto, fresh mozzarella and basil all on a flame-grilled burger. The best gourmet burger out there!
See The Recipe!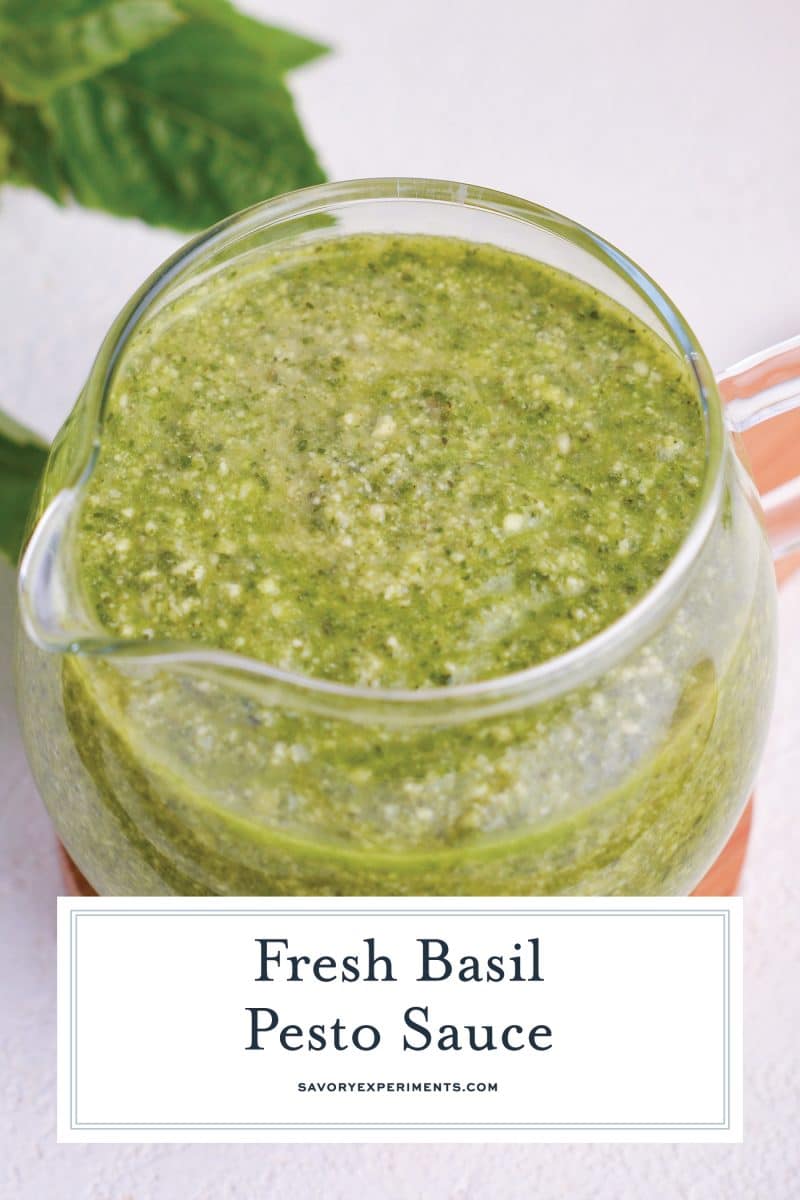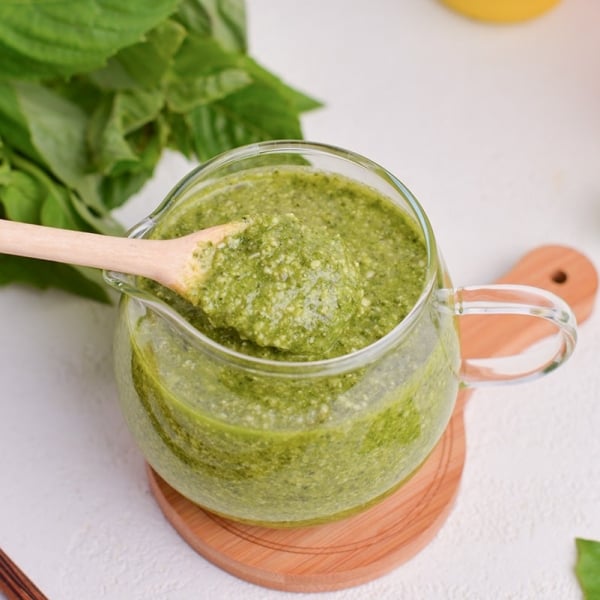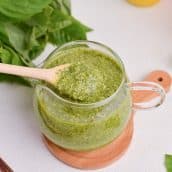 Basil Pesto Recipe
Pesto Sauce made with pine nuts, fresh basil and parsley is perfect as a pasta sauce, marinade, sandwich spread or even dipping sauce. Pesto Sauce also freezes well and can be canned.
Instructions
Place the pine nuts in a large food processor. Pulse until a paste forms.

Add the parmesan reggiano cheese, garlic, basil, parsley, olive oil, fine salt and pepper. Pulse until a grainy pesto is formed.

Toss with pasta, make pesto bread, use a marinade for chicken or fish, or use as a salad dressing. This can be refrigerated for up to a week.

If you've tried this recipe, come back and let us know how it was in the comments or star ratings!
Nutrition
Calories:
172
kcal
,
Carbohydrates:
2
g
,
Protein:
3
g
,
Fat:
17
g
,
Saturated Fat:
2
g
,
Cholesterol:
2
mg
,
Sodium:
63
mg
,
Potassium:
118
mg
,
Vitamin A:
980
IU
,
Vitamin C:
8.1
mg
,
Calcium:
76
mg
,
Iron:
1.2
mg