This video was filmed as part of a Facebook LIVE segment along with how to make Carbonara. Visit us on Facebook for the whole segment.
Cooking scallops at home is not nearly as challenging as you may think.
In fact, searing scallops is one of the easiest things you can make and it also perfect for dinner parties and entertaining because it takes a fraction of the time to cook as other types of food.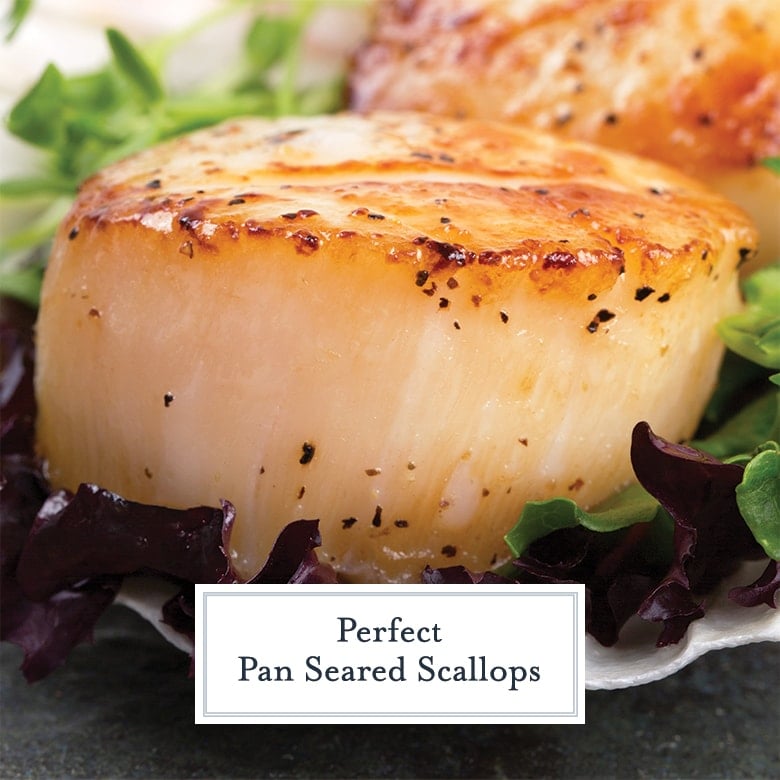 Let's start with the reason why people don't make scallops at home. I am sure a few of these will sound familiar.
They shrivel up and aren't as large as the ones at the restaurant.
Mine are tough.
They stick to the pan.
They just don't taste good!
All of these are common cooking mistakes come down to a few simple techniques that will have you searing scallops like a pro in no time at all.
Scallops
What are scallops? The short answer is that they are bivalve mollusks that live in shells in saltwater. They have a delicate taste and texture- almost velvety- and cook up sweet and tender. Scallops are considered to be a high-end luxury food and can be quite pricey.
A few facts and trivia items for you:
They don't burrow or dig like clams and mussels, so their shells are lightweight and thin so they can swim better.
There are more than 400 species found around the world. The Atlantic Sea Scallop is the most popular in the states with the majority coming from Massachusetts and New Jersey.
They have eyes on their shells, but they can only detect light and movement.
The bay scallop is the official shell of New York. Yep, some states have official shells, who knew?
Each ring on their shell represents a year of growth (like trees!), although a ring might also record a stressful incident in their life.
In early Christian times, the shell was often incorporated into baptismal fonts as a symbol of rebirth. While you rarely see scallops in their shell, their shells are the most iconic of all sea shells.
Wet vs. Dry Packed
The first thing you want to do is buy the right scallops. By now you are asking "aren't they all the same?" The answer is no.
There are wet scallops and dry scallops. Wet-packed are drowned in salty water, presumably to help them remain juicy. Simple osmosis plumps up the scallops making them appear larger, but also muting their flavor.
When you cook a wet-packed scallop there will be a lot of residual moisture (which interferes with the perfect sear) and they will shrink considerably. You'll see this water start to pool in the pan. You've now also paid for all of that water exuding.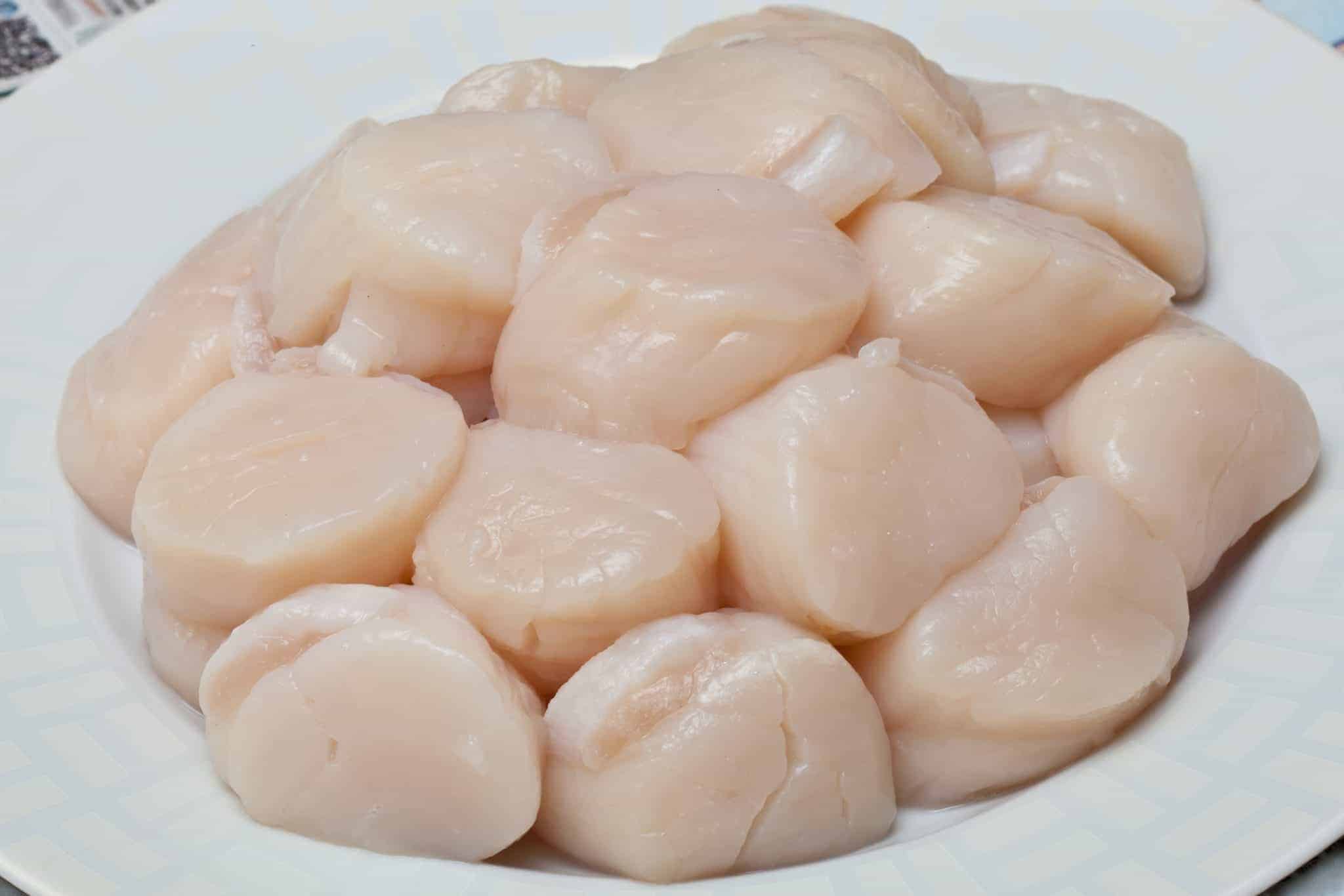 Dry packed scallops are not packed in water, only pressed up against themselves. Therefore they have minimal shrinkage while cooking and don't emit excess moisture. They will also have better flavor.
How to do you know if yours are wet packed or dry packed? Ask! If the person running the seafood counter doesn't know, then presume they are wet-packed. In fact, the majority are.
People who do sell dry-packed know that they have the good stuff and will be proud to promote it. I've also had good luck with frozen scallops being dry, too much water would just be a gross scallop ice cube.
Preperation
Preparation really depends on the recipe. The best ways to cook scallops are quick using high heat.
Pan seared
Grilled
Broiled
And in some instances, baked
Regardless of the cooking technique, you'll want to rinse them in cold water, remove the small muscle on the side and then pat dry with a paper towel.
If you have time, leaving them uncovered in the refrigerator for a few hours. Season with salt and pepper.
How To Remove the Muscle
Some scallops will still have a side muscle and some might have lost it already. Check them all and just gently tear it off with your fingers and discard it. It looks like an arced segment and pretty easily noticeable.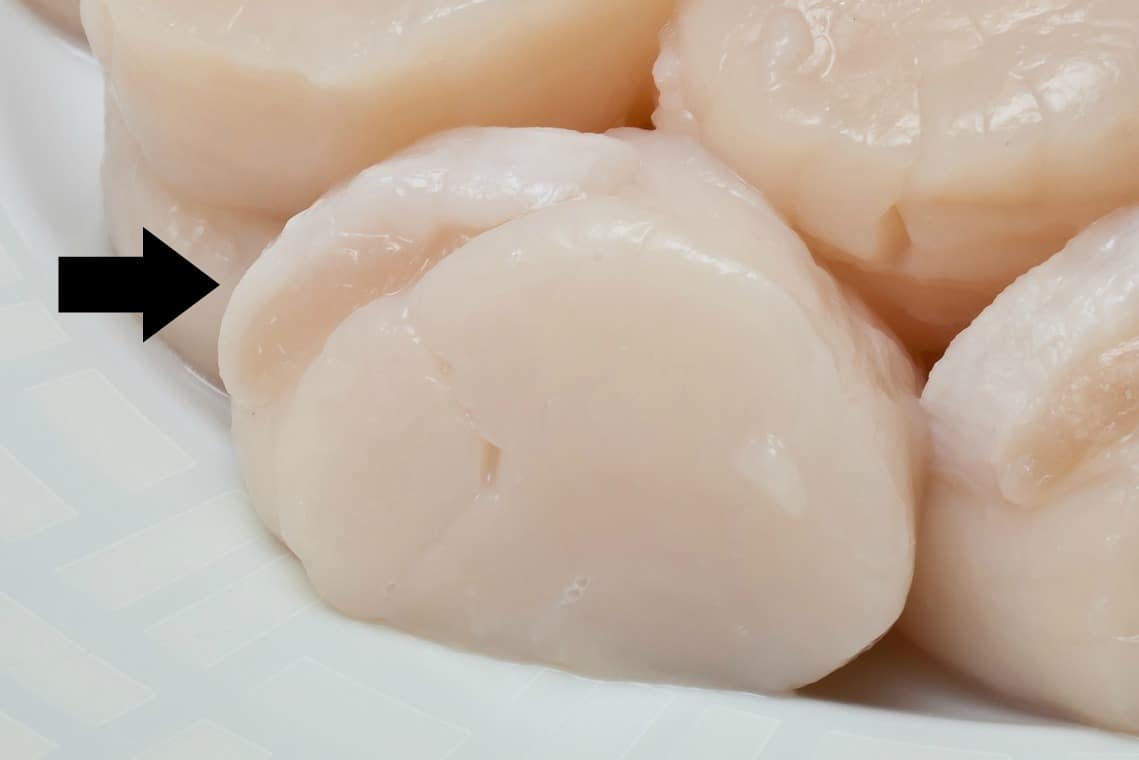 Now onto the best scallop recipe…
How to Sear Scallops
I will go out on a limb and say that the best way to cook scallops is to pan sear. This quick heat is just enough to give a nice crust to the outside and warm the inside.
The biggest thing you need to make any seared scallops recipe is that you need a ridiculously hot, hot, HOT pan. Like "set the fire alarms off", to the point of smoking pan.
For me, that pan is a nicely seasoned cast iron skillet, but others might choose a stainless steel skillet.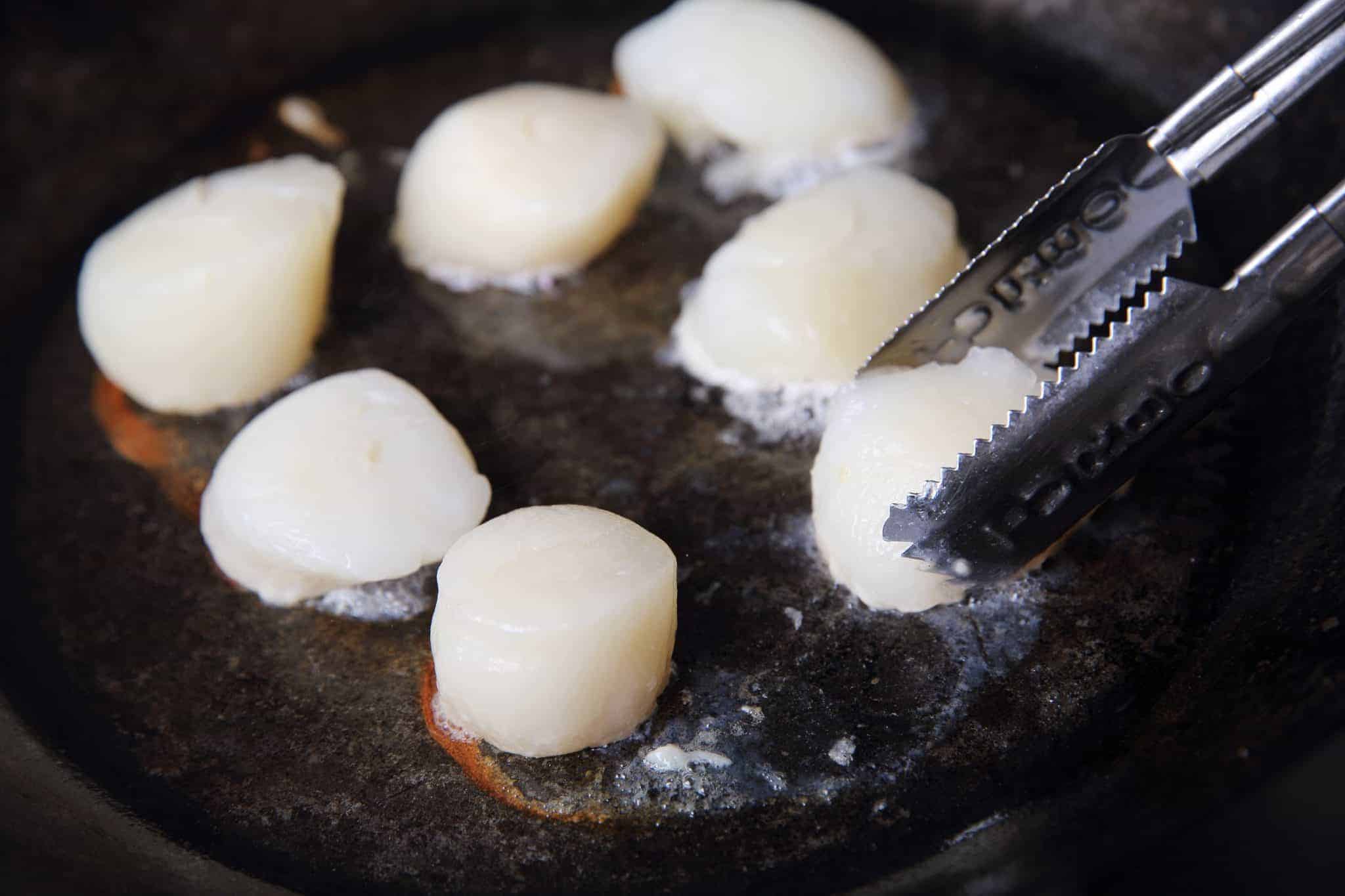 If using a stainless steel pan you'll need just enough canola oil (higher smoke point) to coat the bottom of the pan to prevent sticking and then wait for it to start smoking. Cast iron does not require this.
DO NOT USE BUTTER. Butter has a low smoke point, so it burns at high temperatures.
How Long to Cook Scallops
At the moment your pan starts to smoke, add your scallops.
Make sure your pan is large enough that they aren't crowded or touching. They need space to allow them to cook evenly and let the heat circulate around them. You can work in batches, if you needed. Keep the cooked scallops warm in the oven while you finish.
There still might be some liquid coming off of them even if you purchased dry packed. Don't panic. This is normal and if your pan is hot enough it will evaporate.
After you set them down, DO NOT TOUCH. You must wait 1 1/2 to 2 minutes for that yummy, nutty crust to form.
Just take a quick peek to the underbelly to check, then proceed on flipping. You'll be tempted to overcook them, but you must trust your gut here.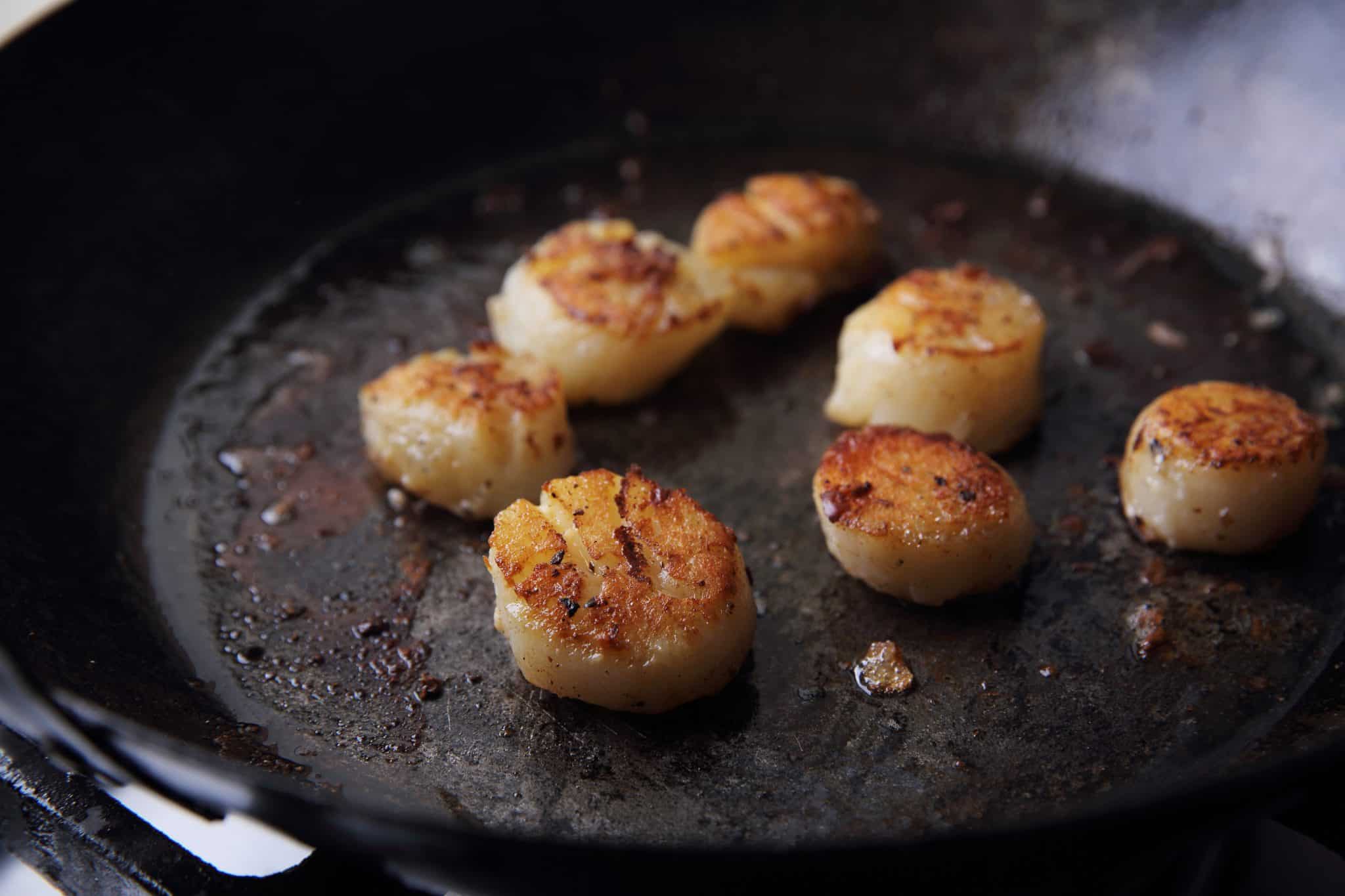 Repeat on the opposite side until golden brown.
Overcooking
Overcooking scallops seems to be the biggest mistake when cooking at home. Keep in mind that the size will vary and therefore the cooking time will also vary. Looking for that nice crust will be the best indicator.
Even large scallops don't take more than 2 minutes each side as long as you have heated your skillet over high heat. Of course, smaller will take 45 seconds to only 1 minute.
And for goodness sake, remember some people at them raw. The centers should be translucent, sweet and tender, not tough and rubbery.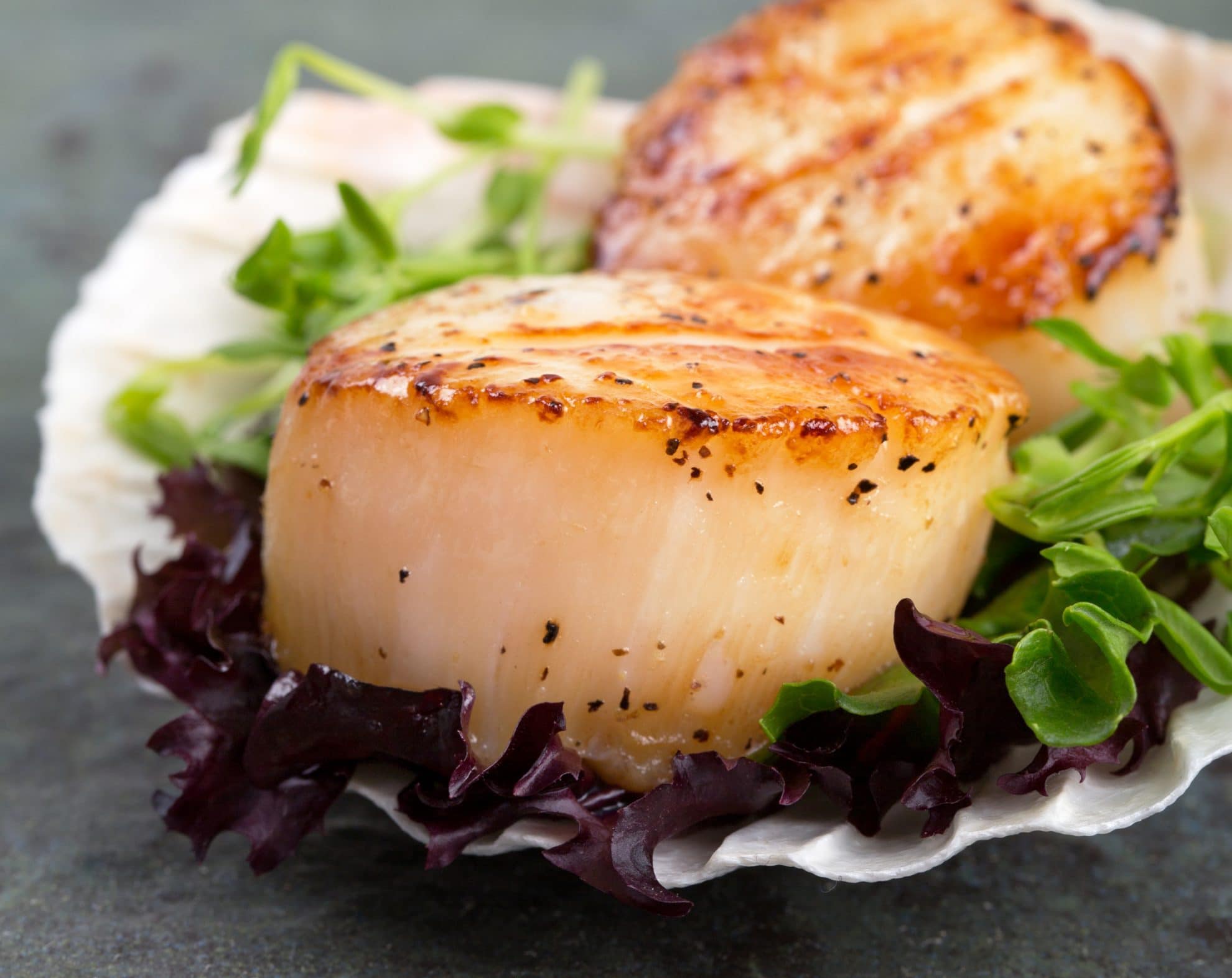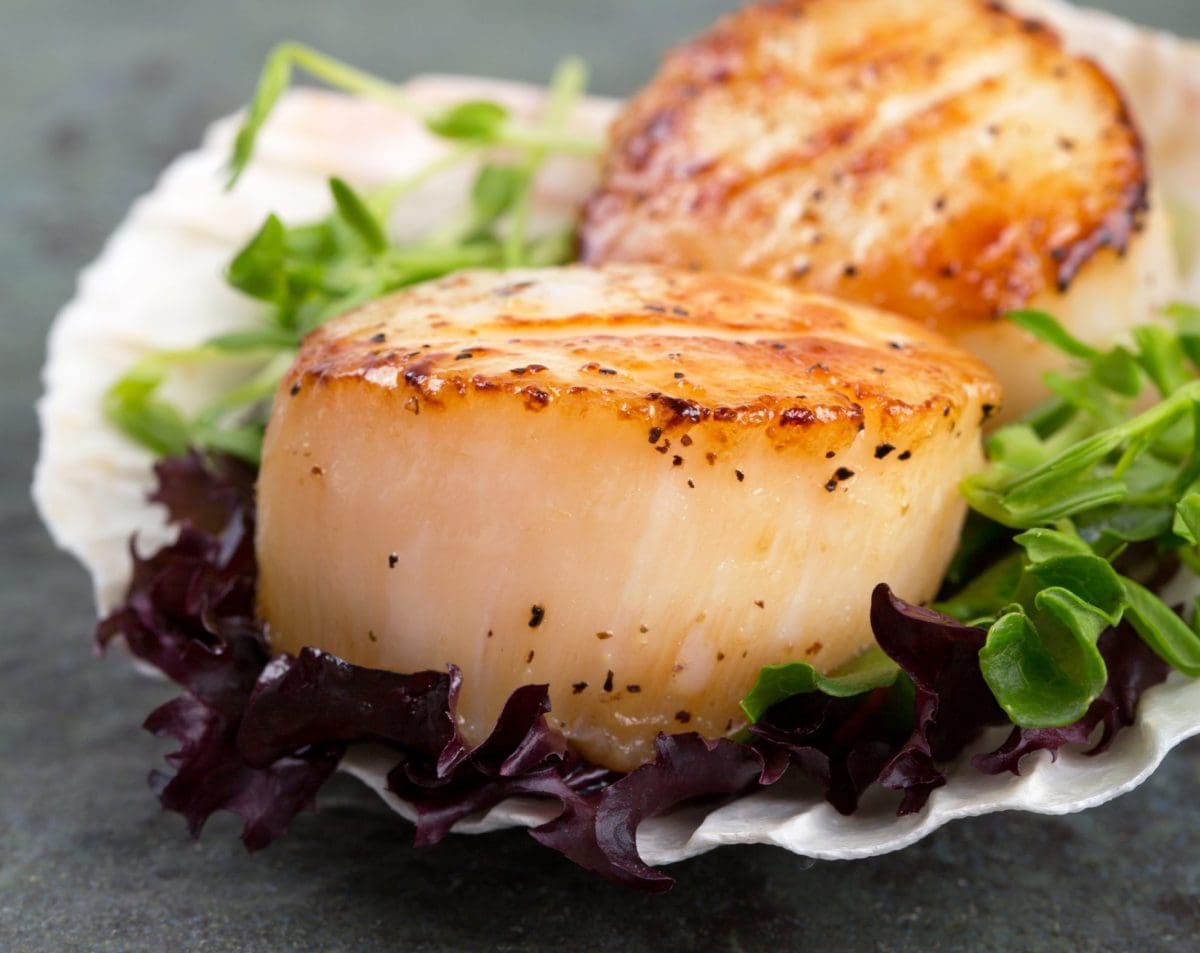 Pan seared scallop method:
Buy dry-packed scallops
Dry them further by blotting, salt or refrigeration
Remove small muscle on the side.
Sear them in a smoking hot pan.
Do not overcook your scallops.
Allow a nice crust to form before flipping.
Do not overcrowd the pan.
Serve hot.
Of course, like many kitchen skills, practice makes perfect. So find some good scallops and practice, practice, practice!
Serving
Baste with BBQ sauce, top with a balsamic glaze or even add bacon jam. Yum yum sauce (like for hibachi) is another fan favorite. Serve alongside a pan fried steak or even Maryland Crab Cakes. They are also excellent on my squid ink pasta for by themselves for a quick dinner recipe.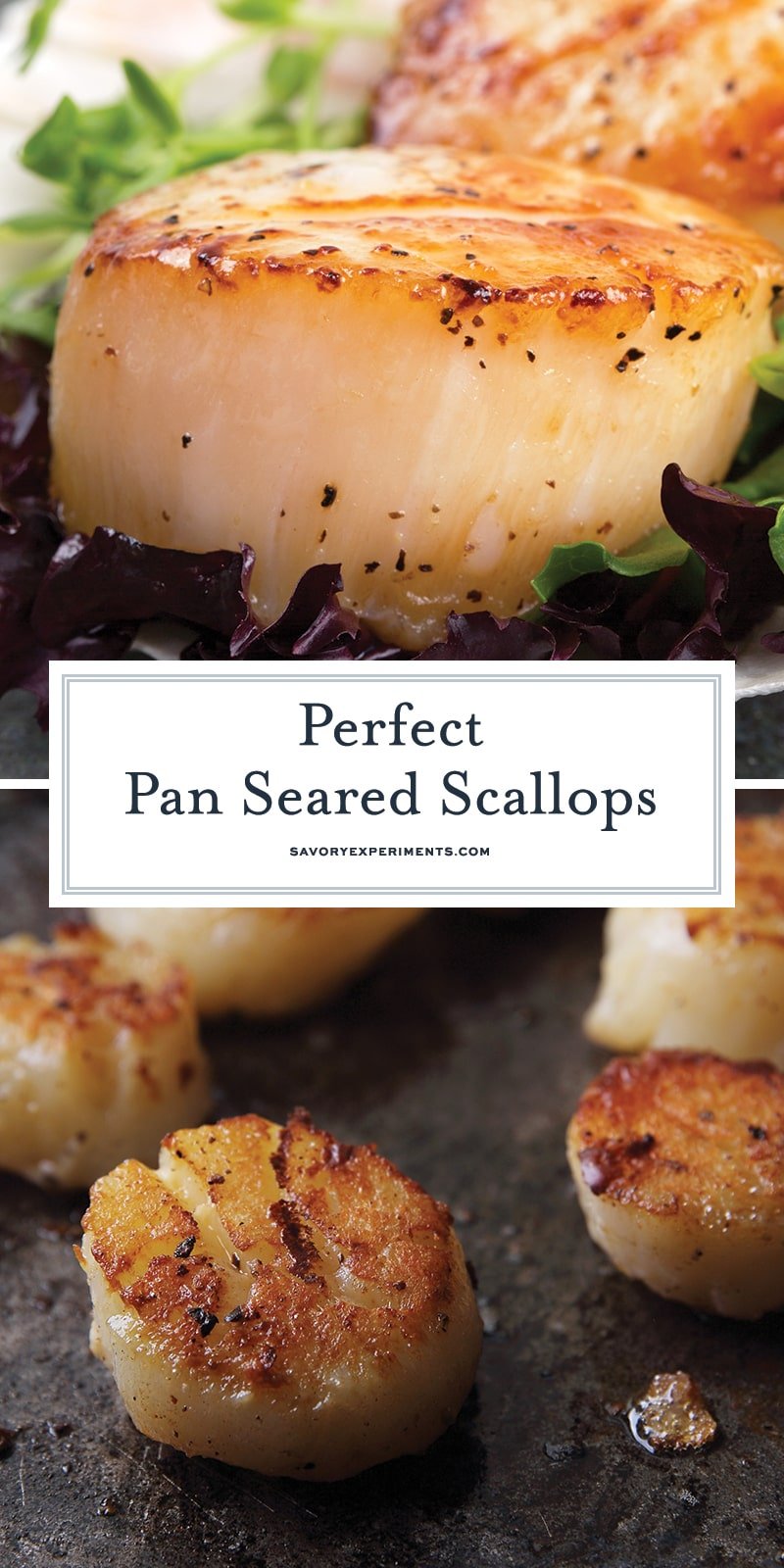 Tools:
Cast Iron Skillet– Yes they are heavy, yes they take a little extra TLC. Are using cast iron pans worth it? YES!!!
Just buy one and you'll thank me later! I have both pre-seasoned and unseasoned. I like them both for different reasons. You can easily season it yourself and then carefully wash to prevent taking off the seasoning.
Tongs– If you don't have some, you need some!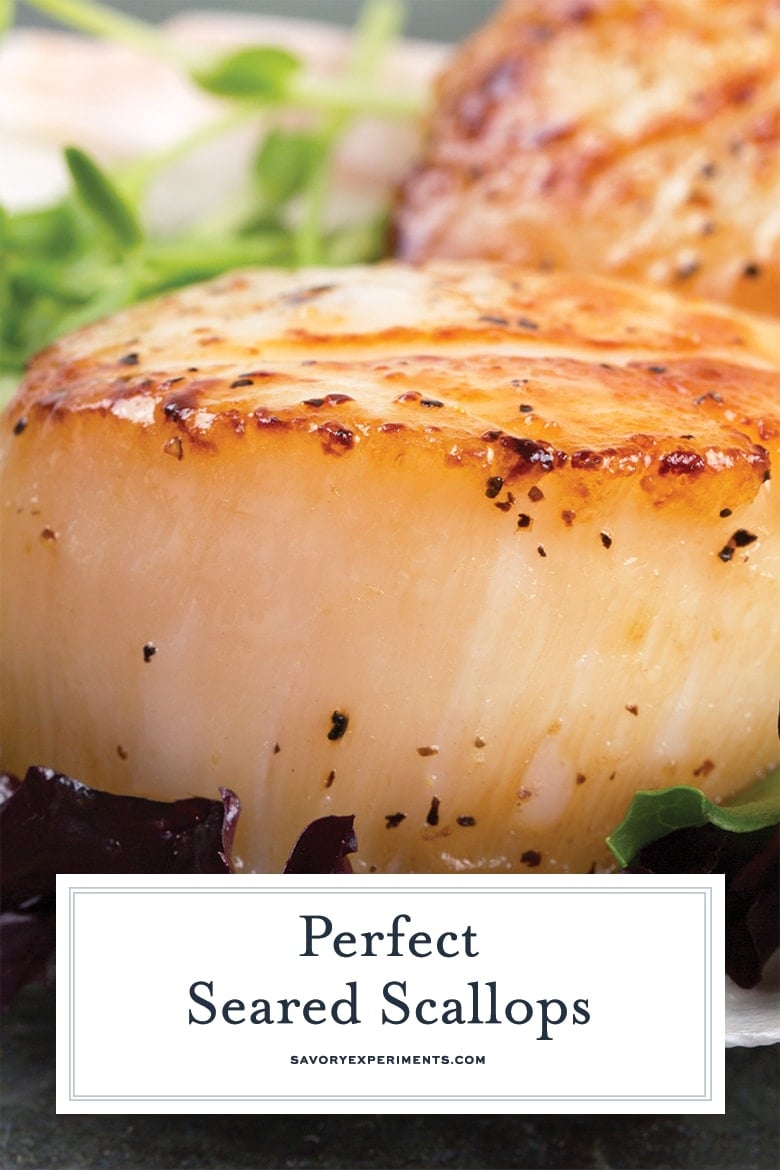 More scallop recipes: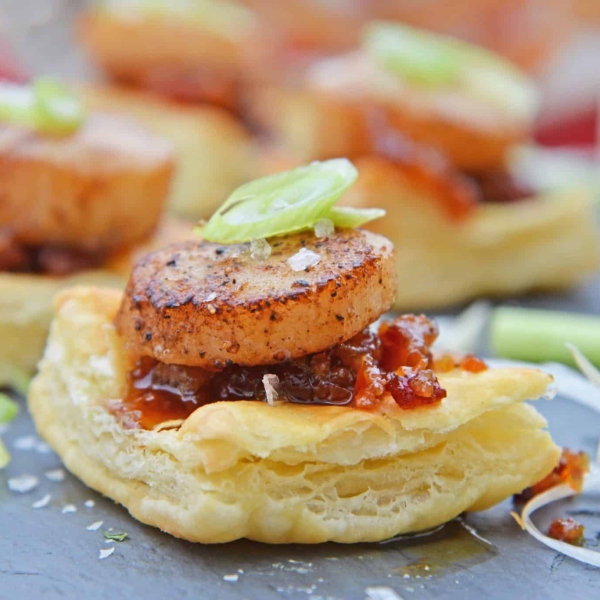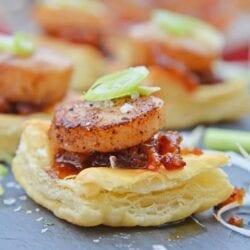 Bacon Jam Scallops
Bacon Jam Scallops are a play on classic bacon wrapped scallops, only using sweet and salty bacon jam with scallions and flaky puff pastry!
See The Recipe!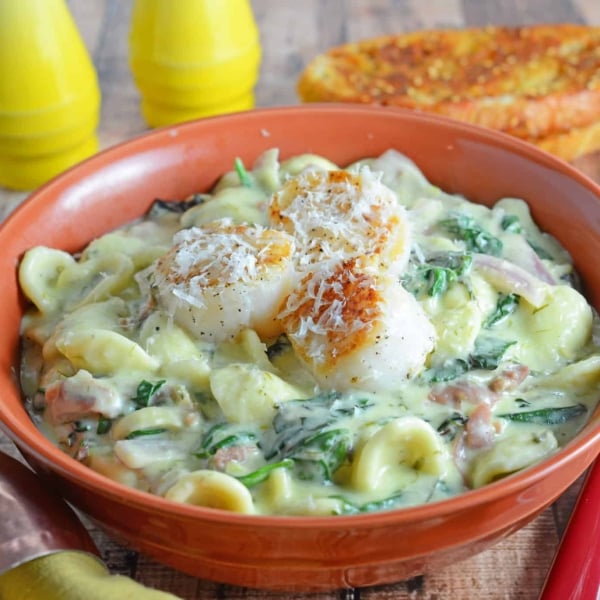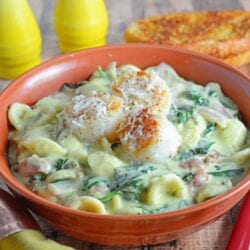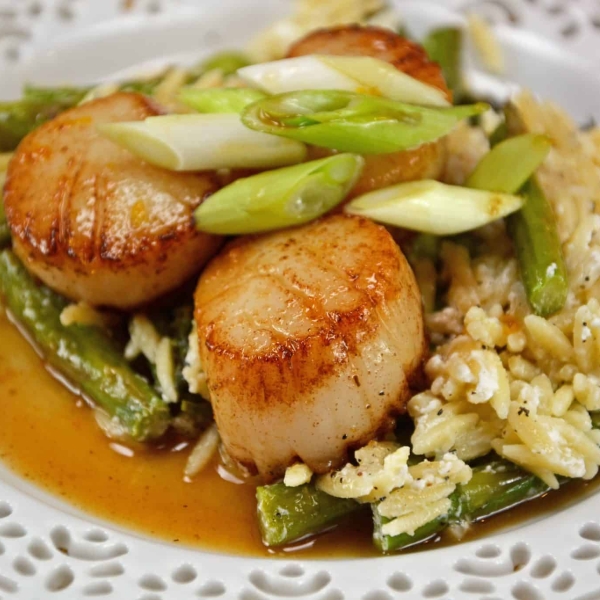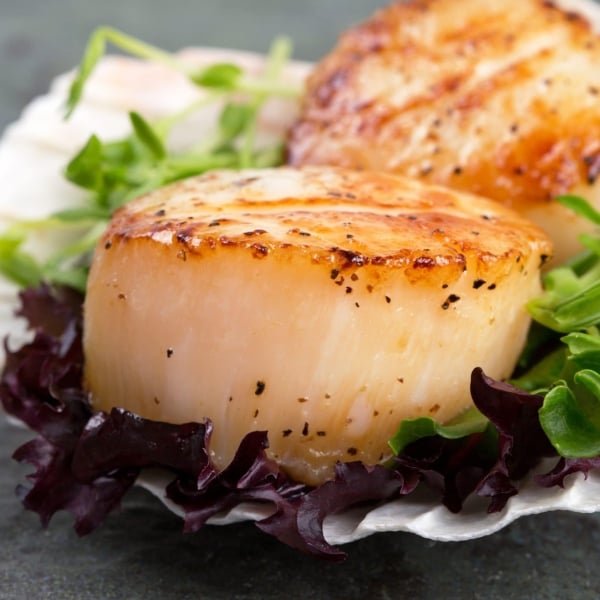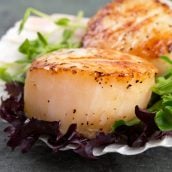 How to Sear Scallops
Pan Seared Scallops at home are easy to make. Learn how to prevent your scallops from sticking and get restaurant quality crust every time!
Ingredients
Instructions
Use a large cast iron pan over high heat. If using a stainless steel pan add just enough canola oil to coat the bottom, but not to pool.

Season scallops with coarse salt and freshly ground pepper.

Make sure your pan is large enough that they aren't crowded or touching. They need space to allow them to cook evenly and let the heat circulate around them.

After you set them down, DO NOT TOUCH. You must wait 1 1/2 to 2 minutes for that yummy, nutty crust to form. Just take a quick peek to the underbelly to check, then proceed on flipping. You'll be tempted to overcook them, but you must trust your gut here.

Remove and serve immediately. If you need to keep them warm to plate the rest of the meal, remove the pan from heat and allow to sit in the hot pan for no longer than 4-5 minutes before serving.

If you've tried this recipe, come back and let us know how it was in the comments or ratings.
Nutrition
Calories:
78
kcal
,
Carbohydrates:
3
g
,
Protein:
13
g
,
Cholesterol:
27
mg
,
Sodium:
444
mg
,
Potassium:
232
mg
,
Calcium:
7
mg
,
Iron:
0.4
mg