If you're here, then you obviously love desserts as much as I do, specifically, Cannoli Dip. It's creamy, delicious and super easy to make!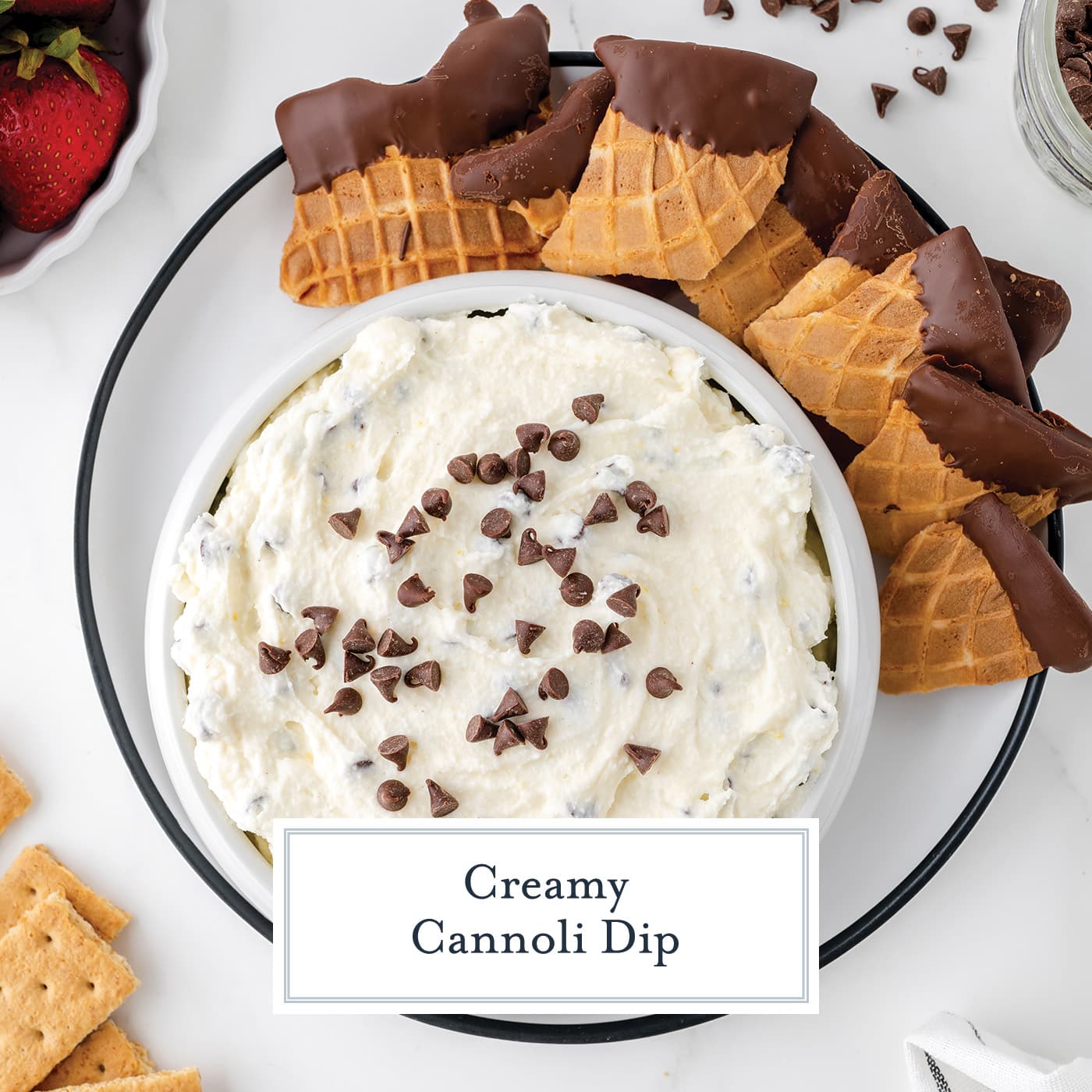 Cannoli Dip Recipe
Cannoli cream, cannoli dip, cannoli chips and dip, cannoli filling, whatever you want to call it—this is the best and easiest recipe to make it at home.
It's pure deliciousness. Mascarpone and ricotta cheese come together with just a few ingredients from the pantry to make this velvety sweet dip.
I love a good cannoli, but let's all be honest, if the filling sits too long it sogs up the shell. And then you get all the flavors, but the texture is all off.
And it doesn't stop at just chips. You can offer a variety of things to dip like graham crackers, cookies or strawberries. It is WAY easier than rolling and frying cannoli shells, trust me on this one.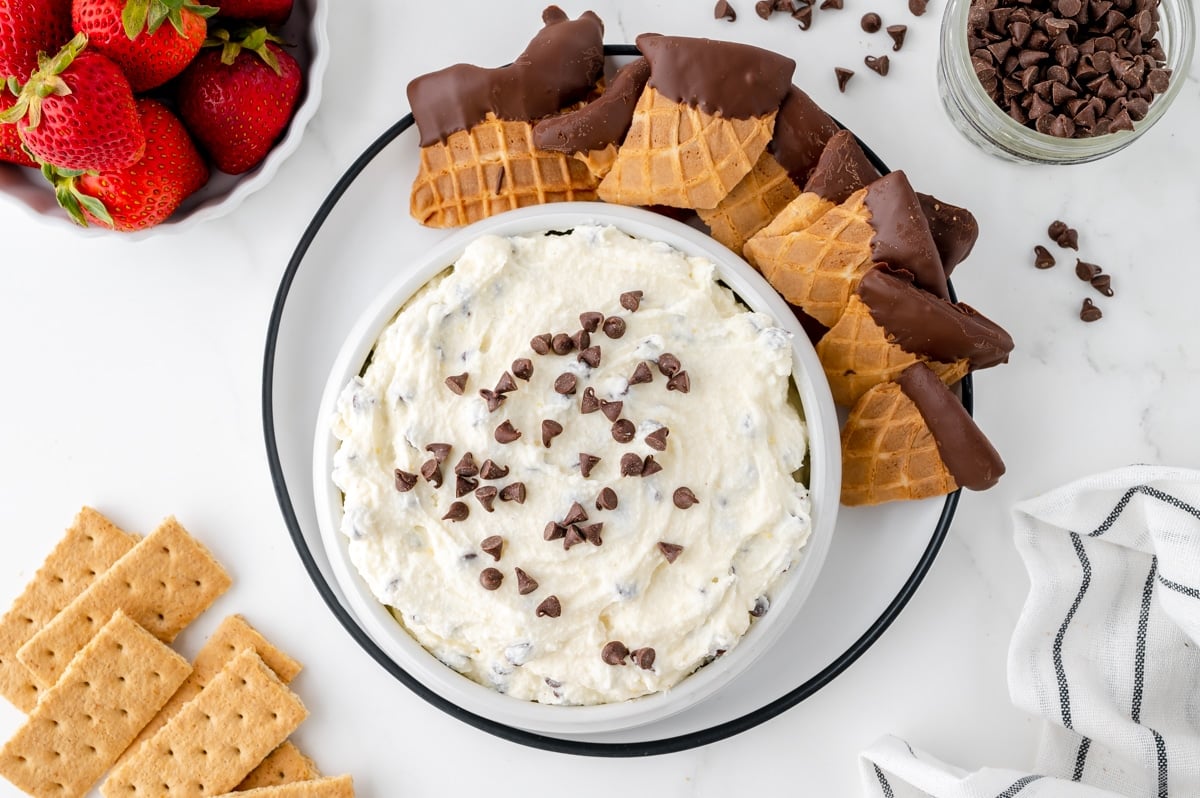 Why You'll Love This Cannoli Dip
An easy dip with a creamy texture and miniature chocolate chips mixed in- what's not to love!
Classic cannoli in dip form – If you're a fan of cannoli's, this no bake dessert dip is essentially a deconstructed cannoli. So much quicker to make and perfect for taking along to parties.
Simple ingredients – This is the perfect dessert to make in a pinch because you probably already have most of the ingredients already on hand.
No bake – I don't know about you, but no bake recipes are a life saver for me in summer. No turning on the oven and heating my house up!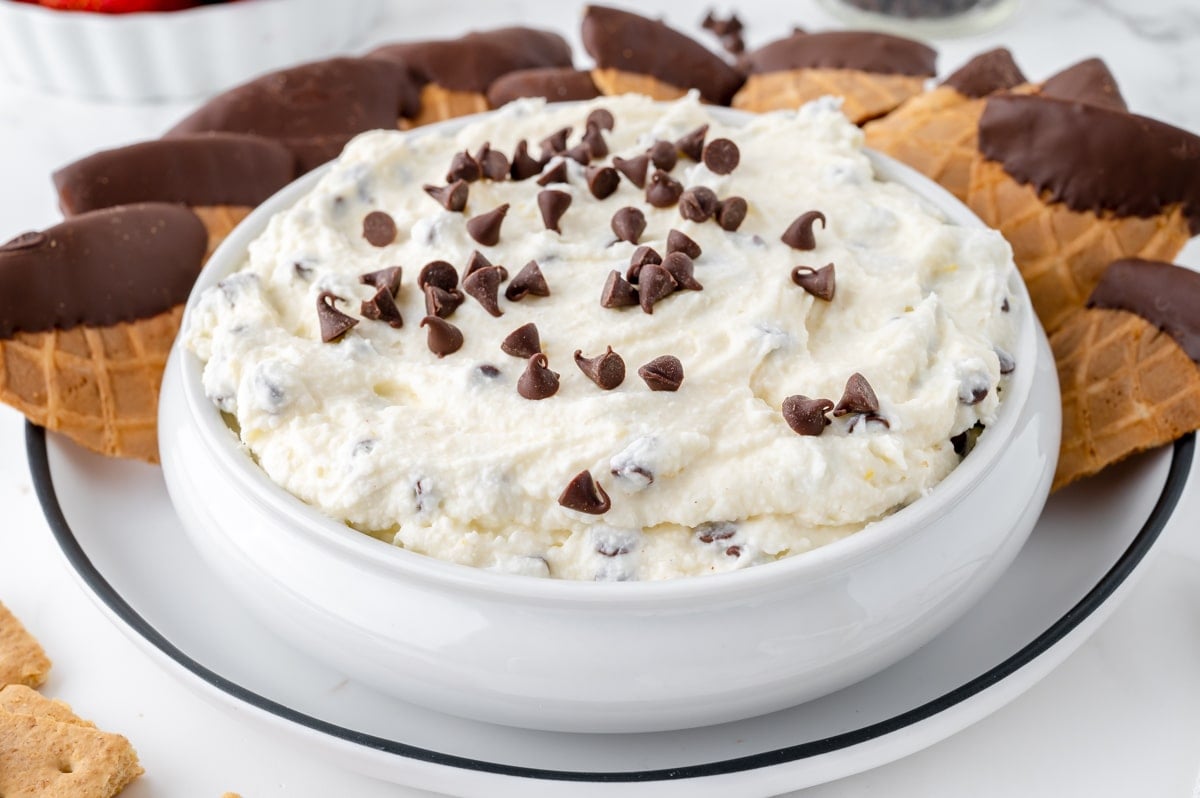 Ingredients
It doesn't take much to whip up this creamy filling! You probably even have most of this handful of ingredients on hand. The only things I had to pick up from the local grocery store were ricotta and mascarpone.
Ricotta cheese– Whole milk ricotta cheese will yield the best and richest flavor. Different brands have different amounts of water, if your seems particularly watery, consider draining it first or at least tipping off the excess liquid from the top.
Mascarpone cheese- Mascarpone cheese is a creamy, soft Italian cheese that is often used in desserts like Tiramisu and cannoli filling. If you can't find it, grab cream cheese. Full fat cream cheese will be the most similar.
Powdered sugar – Also known as confectioners sugar, this is what sweetens up the dip. The fine sugar granules make it smooth instead of gritty, which would happen with granulated sugar.
Chocolate chips– Cannoli ends are often dipped in chocolate chips or crushed pistachios, so we've blend them right on in- the chips at least- feel free to also add nuts.
Vanilla extract – Vanilla is perfect for flavoring nearly any dessert, but you can also use almond, butter or rum for a twist.
Cinnamon – Freshly ground from a stick gives the most flavor and is traditional, but feel free to omit.
Orange zest – Also traditional, but can be omitted too. Lemon zest is also commonly used.
Broken waffle cones– Dipped in chocolate or simply plain, waffle cones are the most similar to cannoli shells. Some stores will sell empty cannoli shells, which can also be used.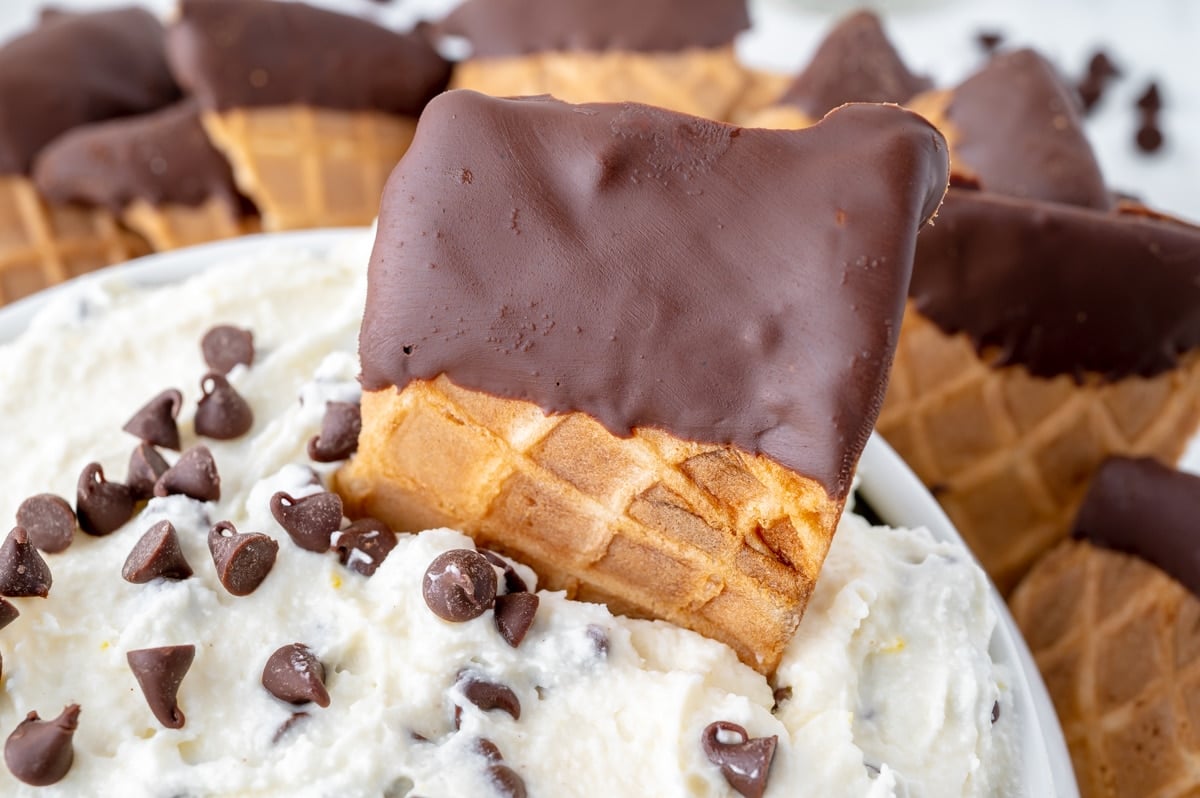 How To Make Cannoli Dip
Cannolis seem like such a fancy Italian dessert, don't they? They're one of my favorites! (I love them so much I even turned them into a breakfast recipe with Cannoli Pancakes and Cannoli Cupcakes).
But you don't need to go out to a restaurant to enjoy their deliciousness.
Drain ricotta. If your ricotta is very wet, like there is a puddle on top, drain your ricotta cheese. It needs some moisture, but too much will lead to a runny dip.
Beat ingredients. Beat the mascarpone first until smooth, then add ricotta, vanilla extract, cinnamon, and orange peel using a stand mixer until fully combined and fluffy. About two minutes. I highly recommend using a stand mixer or an electric mixer.
Add powdered sugar and chocolate chips. Slowly mix in the powdered sugar until fully combined and fold in the chocolate chips with a spatula.
So simple, it comes together in just one step! The next step is optional. I think this Cannoli Dip is EXTRA delicious with chocolate covered waffle cone pieces.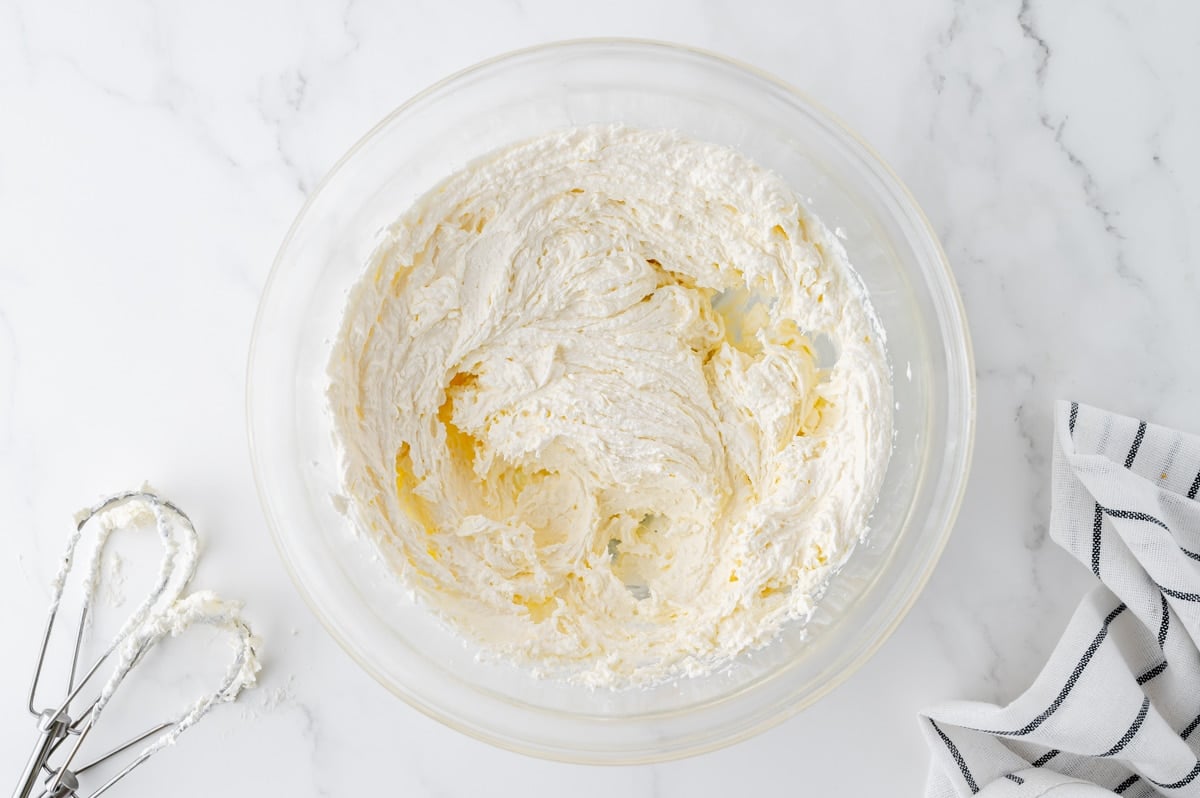 Chocolate Dipped Waffle Cones
To make the chocolate covered waffle cone chips, break the chocolate bar into pieces and place it in a microwave-safe bowl.
Microwave it for 1 minute, checking it after 30 seconds to stir. Dip the cones in the chocolate and place them on parchment paper to dry. I like to place the cones in the freezer to dry, it only takes a few minutes.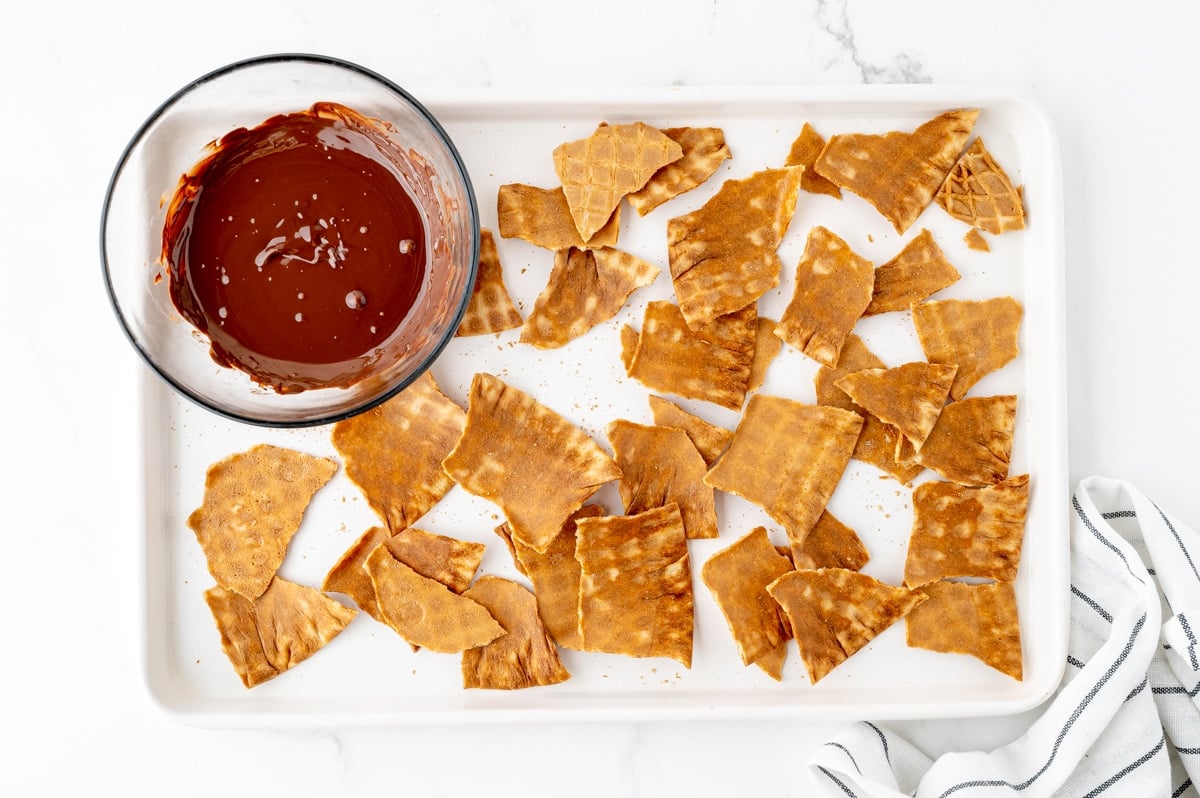 Variations
There are plenty of ways that you can make the best cannoli dip recipe your own.
Flavor – Feel free to play around with different flavors. Try adding some fresh lemon zest, a little orange zest or even a little bit of an extract like almond extract or run extract to change the flavor up slightly.
Thicken it up – For a thicker dip, make sure you drain the excess liquid from the ricotta really well. Drain it in a fine mesh sieve lined with cheesecloth or coffee filter in the refrigerator, uncovered overnight. In the morning, wring it in the cheesecloth to push any more moisture out.
Swap the Chips- Instead of chocolate chips, use peanut butter chips, toffee pieces, butterscotch chips or even mini M&Ms or other crushed candy.
Go nuts! Add pistachios like traditional cannolis or add other chopped nuts like walnuts or pecans. Toasting any nut will heighten its natural flavors.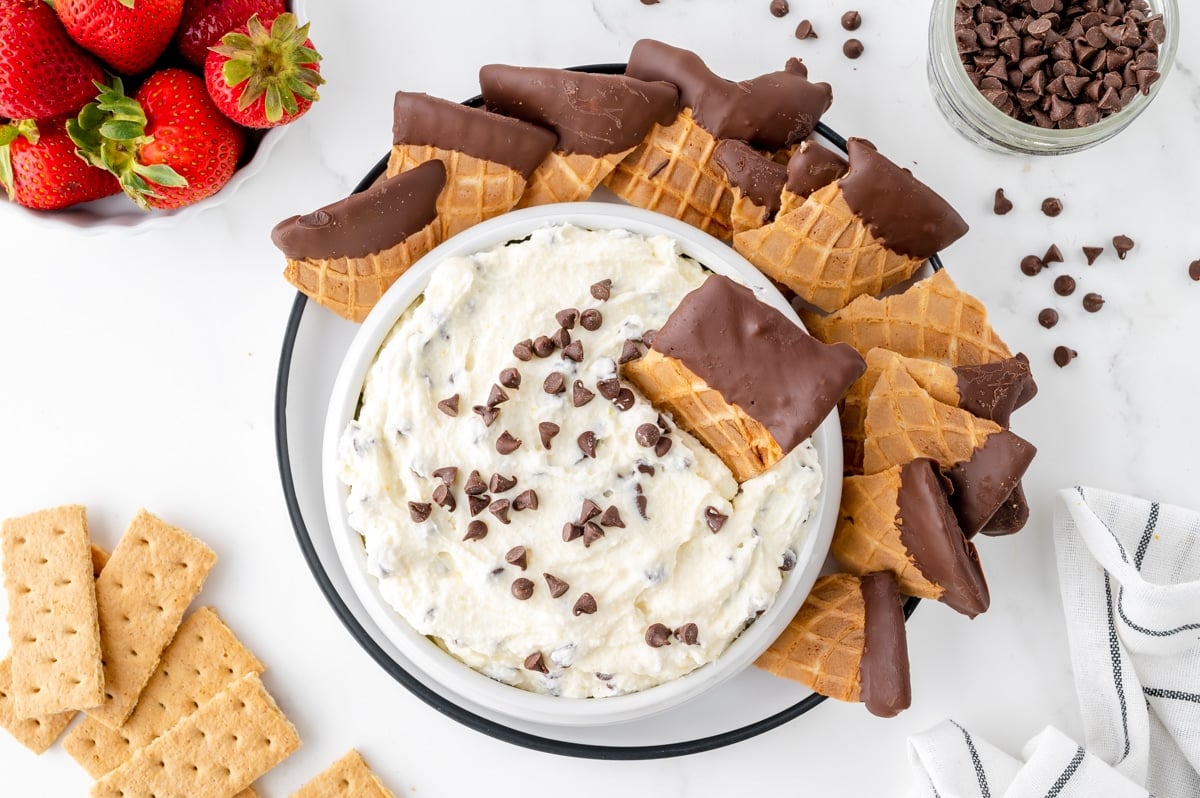 What to Dip in Cannoli Dip
If you don't want to use waffle cones, there are plenty of other dipper options!
Cannoli shells (traditional and crunchy)
Fresh strawberries
Biscotti cookies
Graham crackers
Pretzel sticks
Vanilla wafers
Sugar cone pieces
Sliced bananas
Apple slices
Pizzelle cookies
Ladyfingers
Shortbread cookies
Chocolate-covered pretzels
Oreos
Storage and Freezing
Storage: You can store any leftovers of this delicious dip in an airtight container in the refrigerator. Store separately from the waffle cone pieces (and at room temperature) so they don't get soggy. Dip should keep for up to 4 days. Give it a good stir before serving again.
Leftovers are also great for blending into ice cream or serving on top of a slice of pound cake or chocolate cake.
Freezing: I do not recommend freezing this dip. When it thaws, the cheeses will separate and it will no longer be the creamy dip that you love.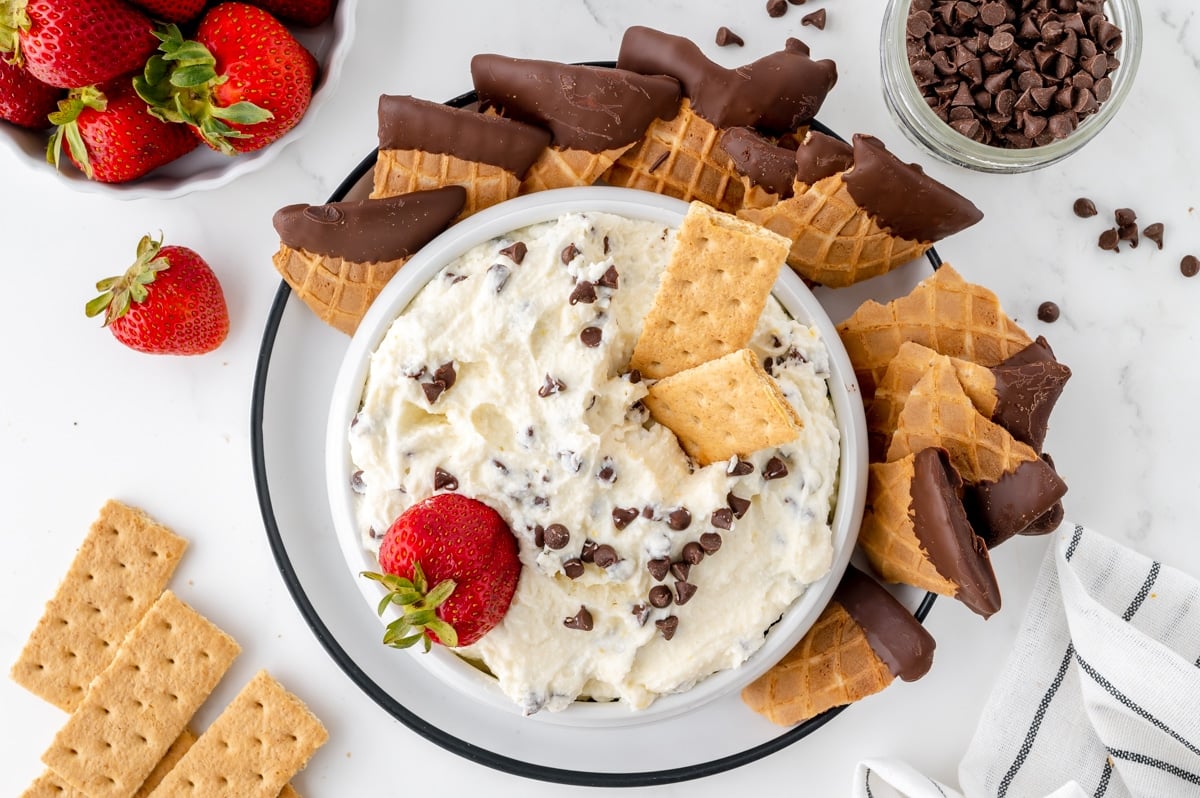 Frequently Asked Questions
What can I use in place of mascarpone?
If you can't find mascarpone cheese, you can use cream cheese instead. The dip won't taste like cream cheese, so don't worry about that! DO use full fat though- it tastes richer, just like mascarpone. Lower fat cream cheeses aren't as thick and full.
Why is my cannoli dip runny?
If your dip is runny, taste it, if it tastes good I would refrigerate it for an hour and still serve it. If you want to perfect the texture of the dip, make sure you are buying FULL FAT ricotta cheese. Do not buy the fat free or skim milk ricotta.

Make sure you are straining your ricotta cheese. This step is a major culprit in making sure your cannoli dip isn't runny. TRUST ME.
What is the difference between cannoli dip and cannoli filling?
Cannoli dip is just cannoli filling in a bowl. It's a fun way to turn a classic dessert into a shareable party dessert. You can even purchase mini cannoli shells to serve with the dip and have everyone fill their own!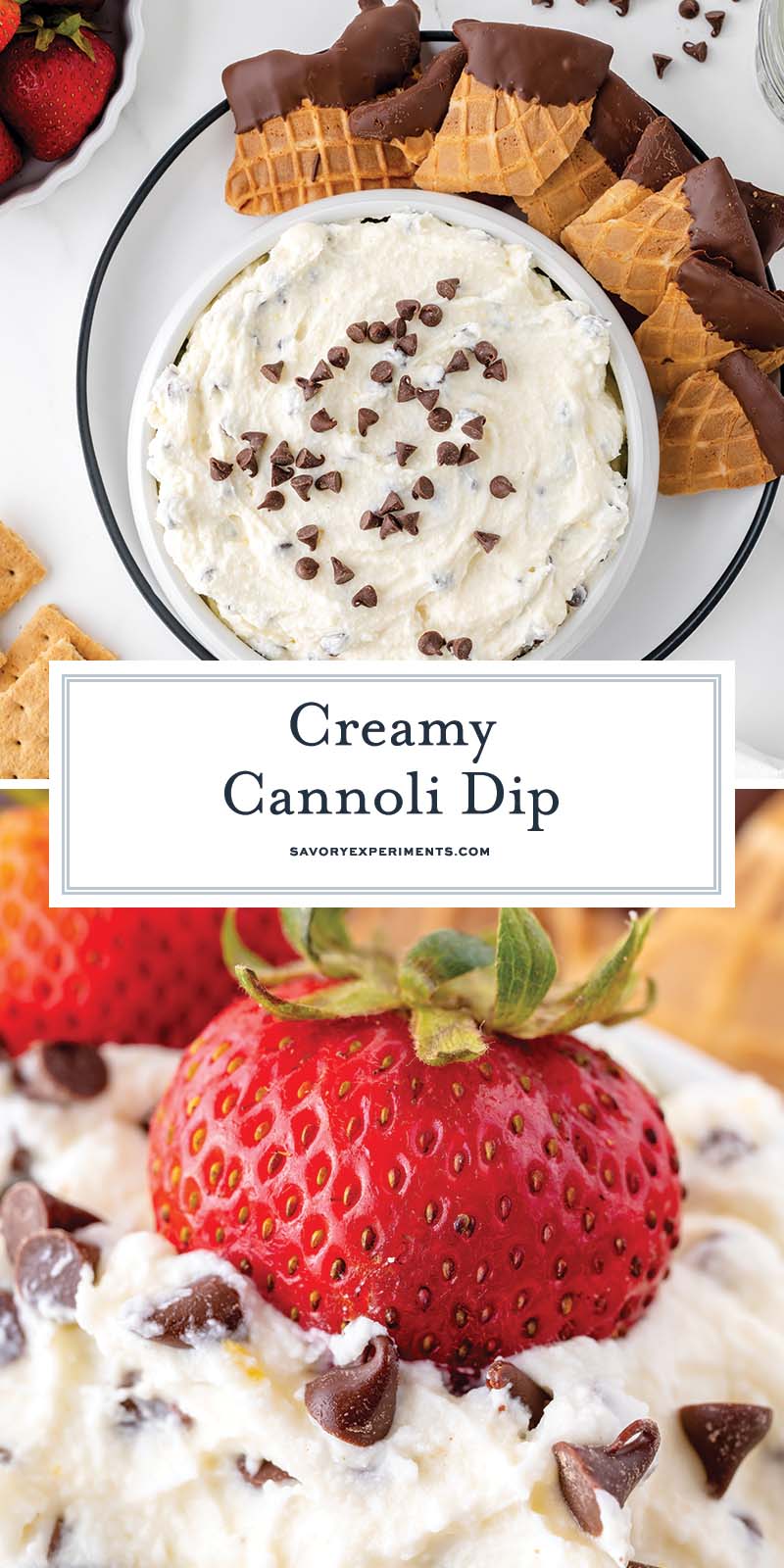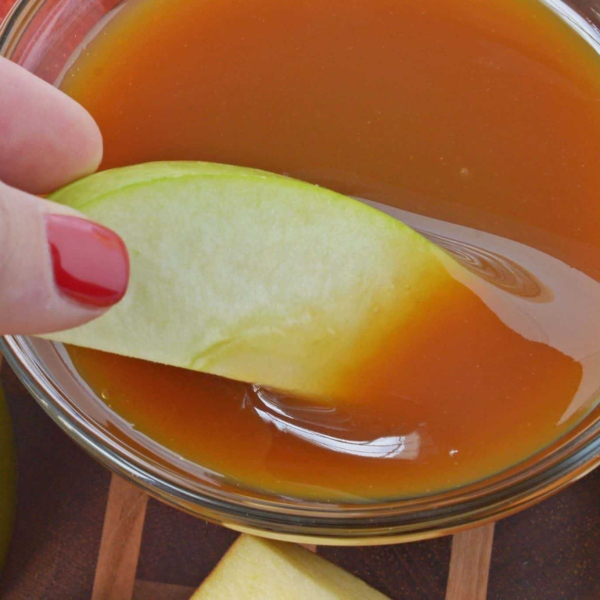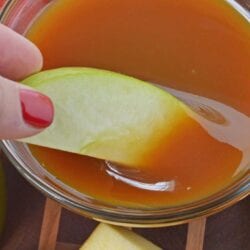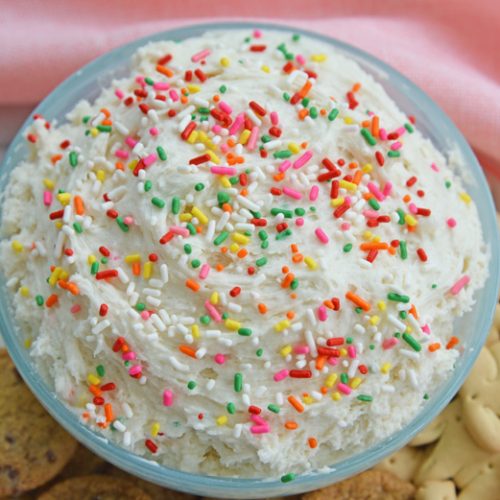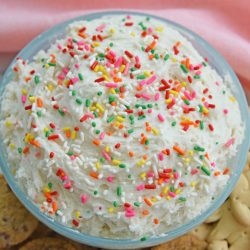 Funfetti Cake Batter Dip
Sometimes called a dunkaroo dip, this Funfetti Cake Batter Dip recipe only needs 3 ingredients for the party perfect dessert dip! So EASY to make! #funfetticakebatterdip #cakebatterdip #dunkaroodip www.savoryexperiments.com
See The Recipe!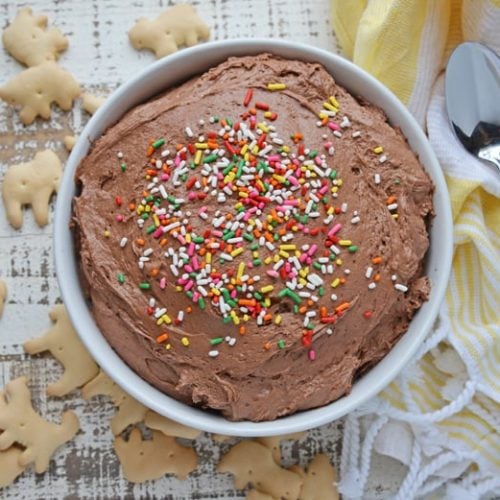 Chocolate Dunkaroo Dip
Do you remember Dunkaroo dip? This easy, homemade Chocolate Dunkaroo Dip only uses 3 ingredients and it's just as tasty as what you remember from childhood!
See The Recipe!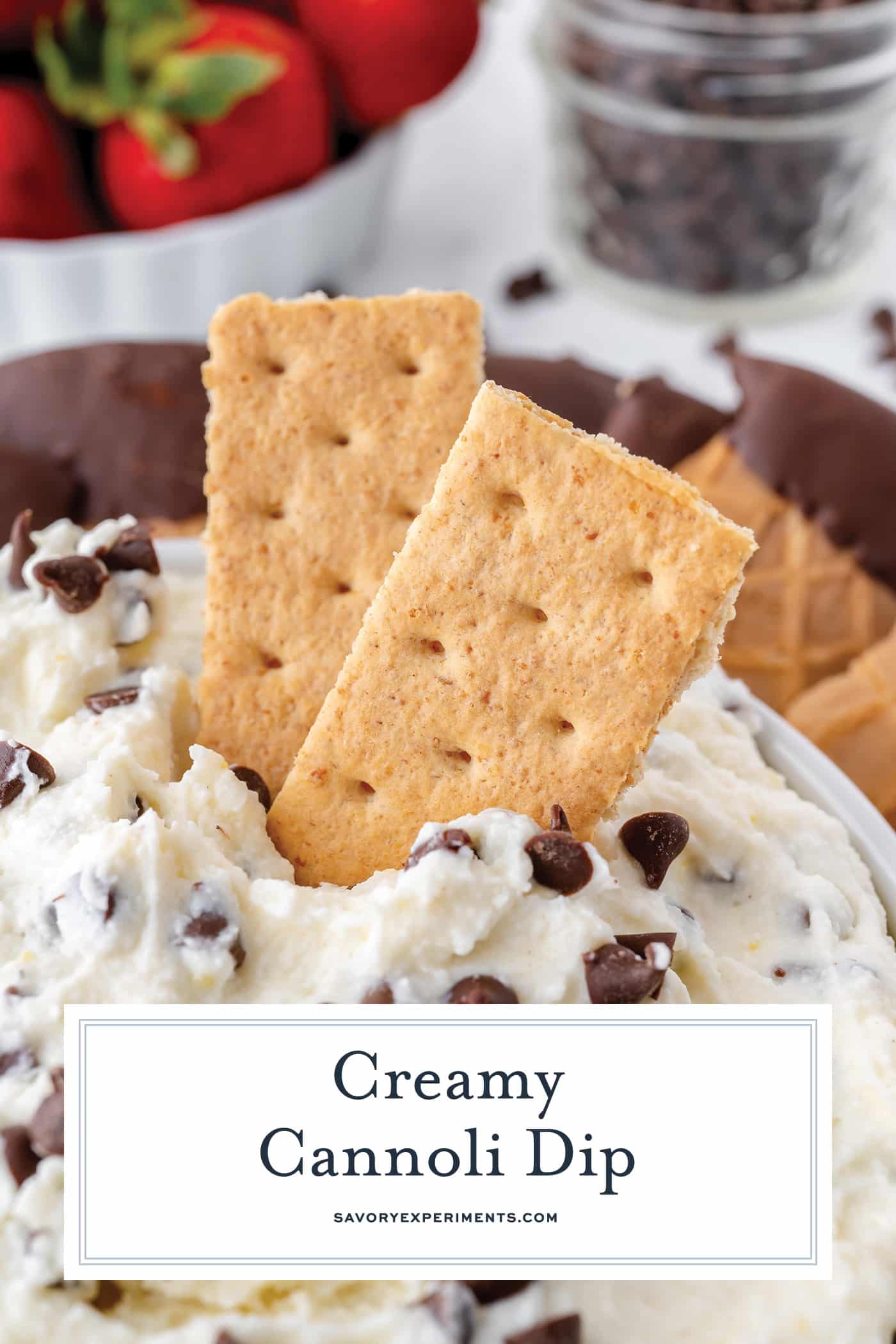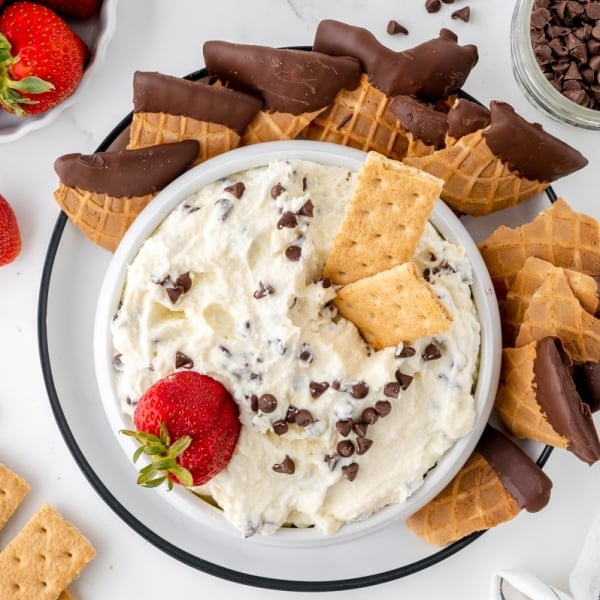 Easy Cannoli Dip
An easy Cannoli Diprecipe that you can make at home! Whip up your favorite Italian dessert rightright out of your kitchen.
Ingredients
Chocolate Dipped Waffle Cones
8

waffle cones

, broken into large chip-like pieces

1

semi-sweet chocolate bar
Instructions
Cannoli Dip
Using an electric hand mixer and a large bowl or a stand mixer fitted with the paddle attachment, beat the mascarpone cheese for 2-3 minutes until smooth, then add the ricotta and cream for another 2 minutes.

Add the vanilla, cinnamon and orange zest, combining again. Lastly, add the powdered sugar, starting at a low speed, until combined. Do not over mix.

Fold in the mini chocolate chips by hand. Cover and chill for 1-2 hours before serving.
Chocolate Covered Waffle Cones
Break the chocolate bar into pieces and place it in a microwave-safe bowl. Microwave it for 1 minute, checking it after 30 seconds to stir. Dip the cones in the chocolate and place them on parchment paper to dry.
Serving
Garnish the dip with more chocolate chips and serve with dippers including the waffle cones, fresh strawberries, pretzels or other desired cookies.

If you've tried this recipe, come back and let us know how it was in the comments or star ratings.
Notes
*To achieve a thick cannoli dip, make sure you drain the ricotta really well. Drain it in a fine mesh sieve lined with cheesecloth in the refrigerator, uncovered overnight. In the morning, wring it in the cheesecloth to push any more moisture out. Roll the dry ricotta on a few paper towels.
Nutrition
Calories:
305
kcal
,
Carbohydrates:
23
g
,
Protein:
7
g
,
Fat:
21
g
,
Saturated Fat:
13
g
,
Cholesterol:
43
mg
,
Sodium:
70
mg
,
Potassium:
100
mg
,
Fiber:
1
g
,
Sugar:
14
g
,
Vitamin A:
523
IU
,
Calcium:
109
mg
,
Iron:
1
mg