Craving something comforting and savory but still easy to make? You'll love this Chicken Stuffed Shells recipe!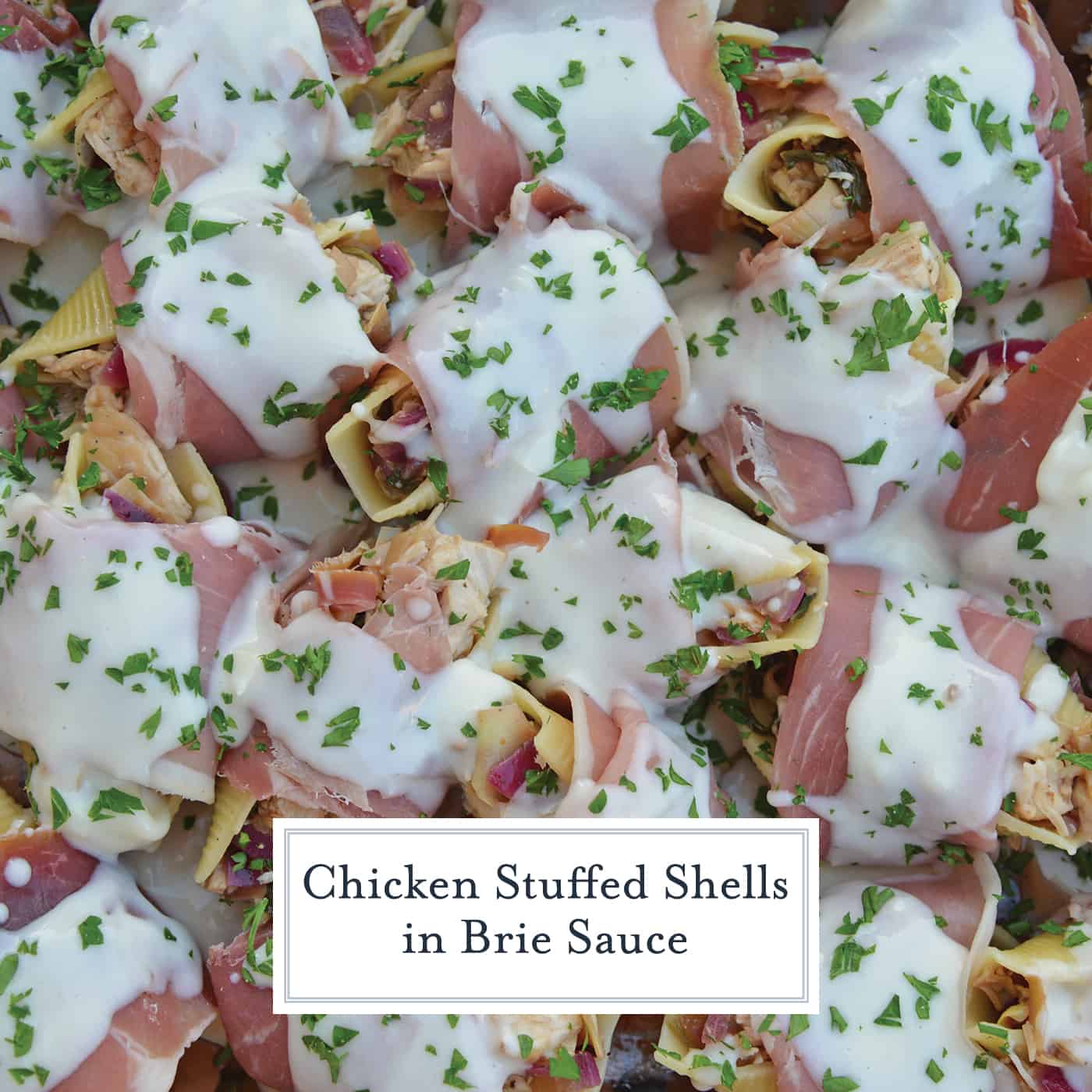 These Chicken Stuffed Shells are unlike any other stuffed shells recipe you've made. Wrapped in prosciutto and topped with a creamy brie sauce, these stuffed pasta shells will impress your dinner guests any night of the week!
Chicken stuffed shells is a recipe inspired by the winning recipe of a San Giorgio cooking competition I had the pleasure of judging.
Instead of boring, traditional stuffed pasta shells with ricotta, ground beef and tomato sauce, she used tender diced chicken, artichokes and spinach smothered in a silky brie sauce.
Balsamic vinegar adds a bit of acidity for bite and prosciutto, a savory aspect. Finish it off with a rich and decadent creamy brie sauce. It reminded me of my ever-so-popular Seafood Stuffed Shells that everyone goes ga-ga over, so I knew I had to make my own version.
My version of how to make stuffed shells is slightly different than the winning chicken stuffed shells recipe but I like to think mine is just as likely to win over the crowd.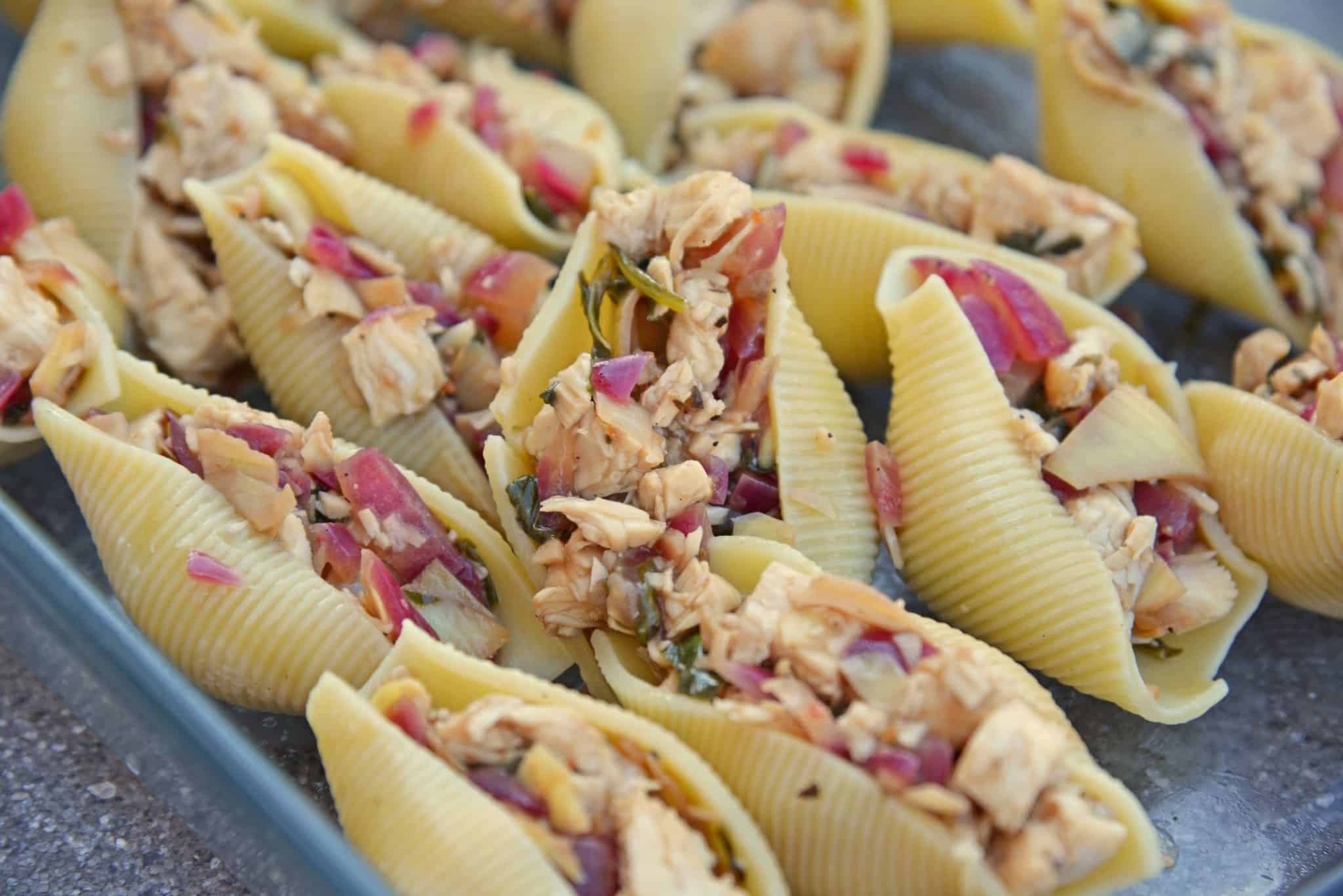 I added prosciutto as a way to balance the rich brie sauce and more flavor to the stuffed pasta shells. Chicken can be kinda bland, ya know? Plus, I just really love adding prosciutto to my recipes. I mean, it is bacon and bacon makes everything better.
My favorite part of these chicken stuffed shells is the brie sauce. What is brie? Considered the "Queen of Cheeses", brie is a soft cow's-milk cheese, that melts easily and has a rich, buttery flavor.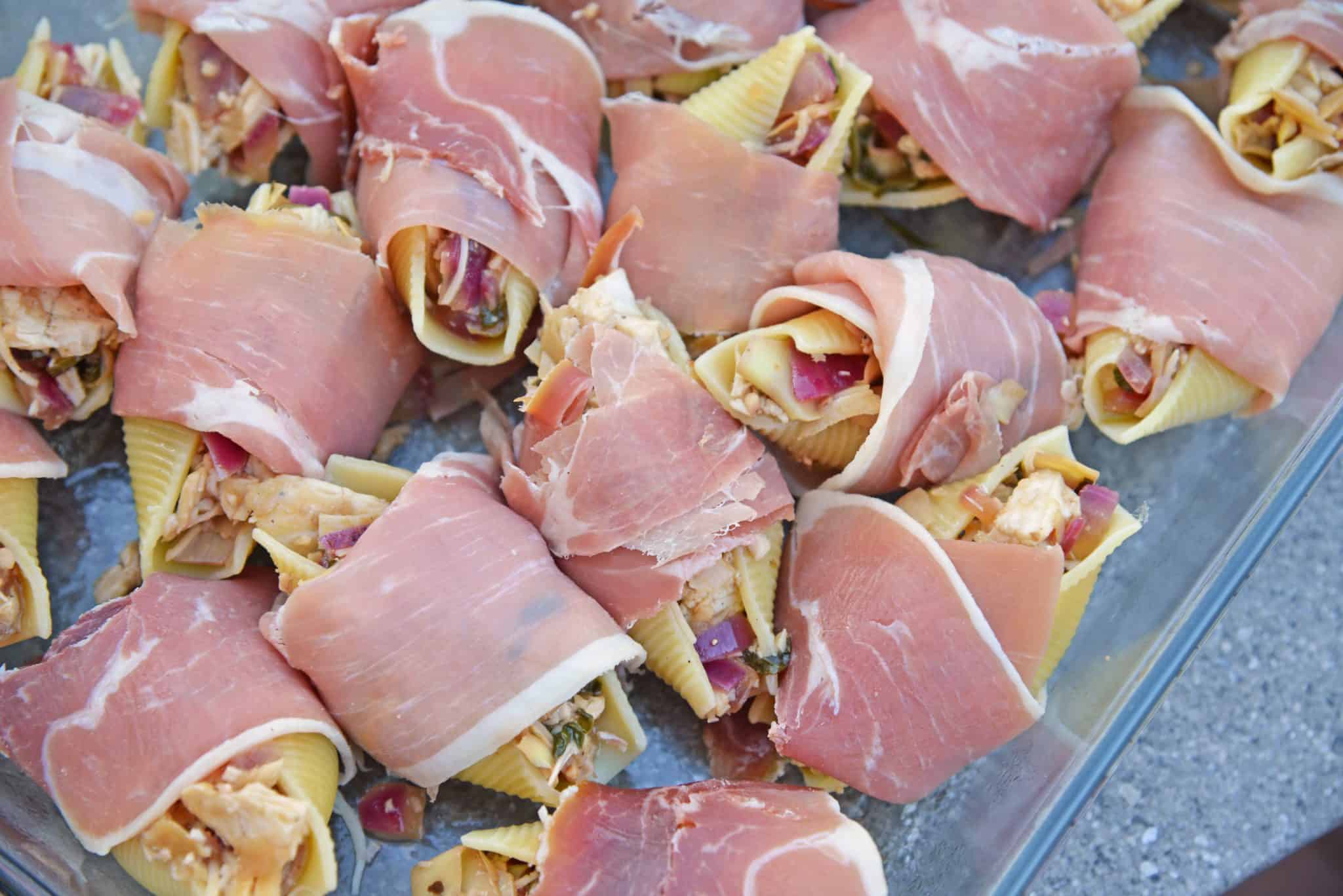 You've probably had it on a cheese platter or even in a delicious turkey and cheese sandwich before. Since it melts so easily, it's an ideal cheese for making a delicious white sauce to pair with these and other stuffed pasta shells.
Honestly, I'm not sure why it isn't used more frequently.
For this stuffed shells recipe, the brie sauce complements prosciutto for a decadent and savory flavor. There is a reason this recipe won awards – my mouth is watering just thinking about it!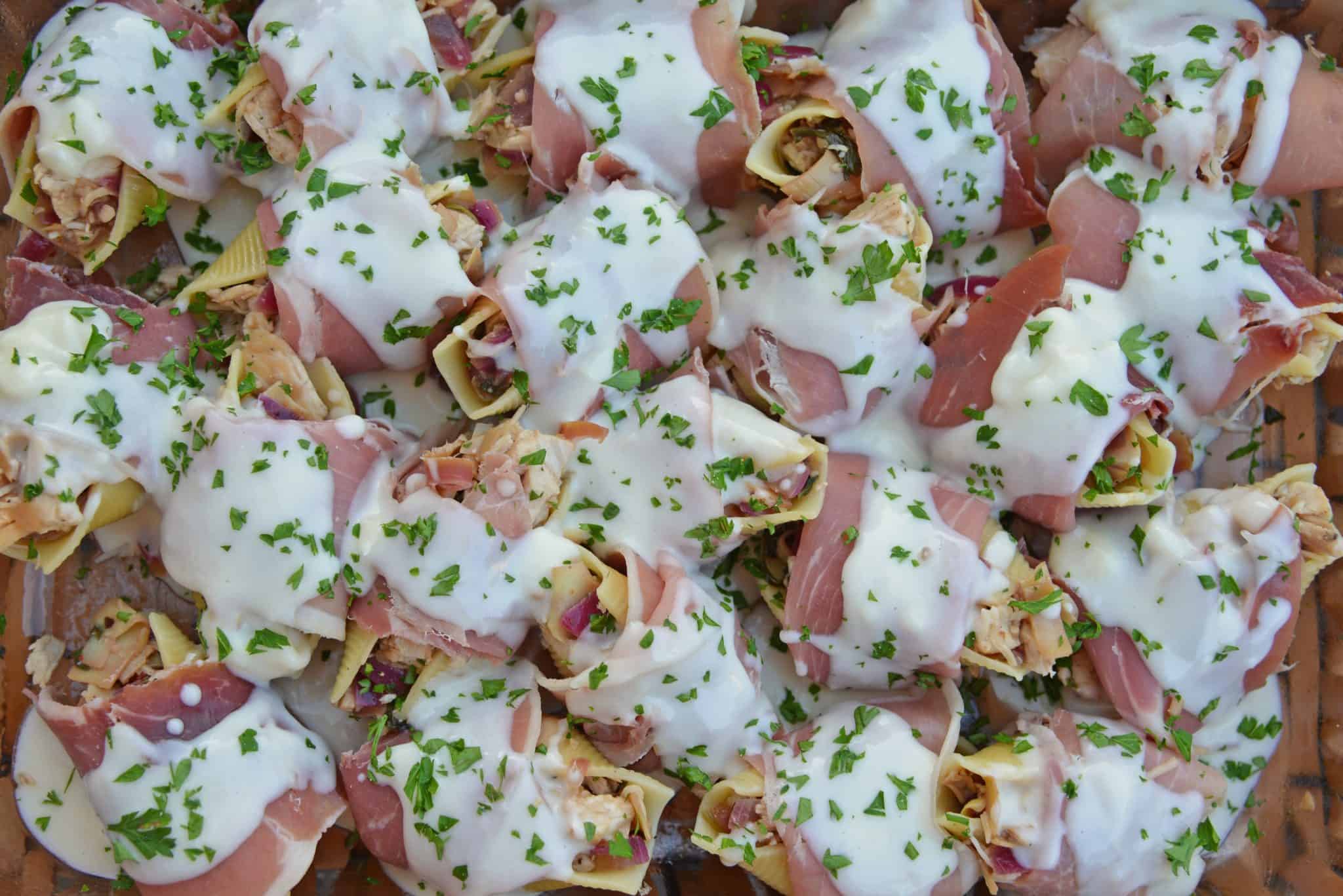 Even though it's so good that you'll want to shovel it all into your mouth, it's a recipe where I recommend savoring each bite. And then racing everyone else to the kitchen for a second serving.
As an award-winning recipe, this is definitely something to serve your dinner guests. It's guaranteed to impress them and it won't have you spending all day and night in the kitchen. Chicken Stuffed Shells can also be frozen.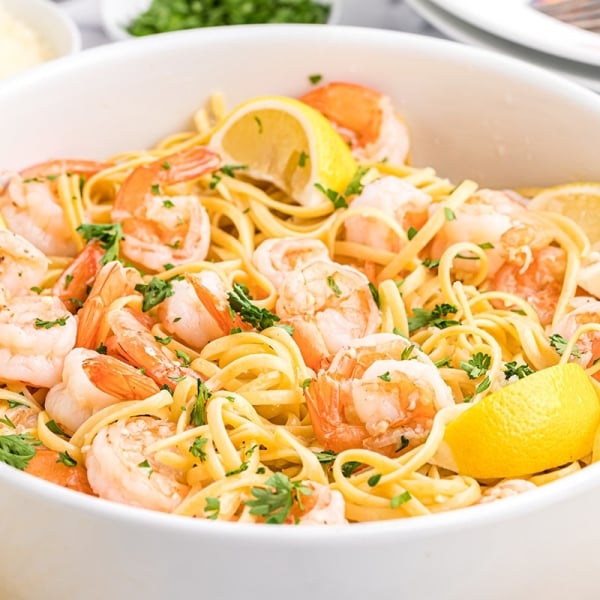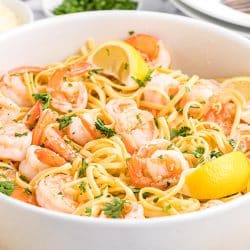 Shrimp Scampi
Shrimp Scampi is a traditional Italian dish made with a garlic butter sauce and shrimp with al dente pasta and fresh lemon juice.
See The Recipe!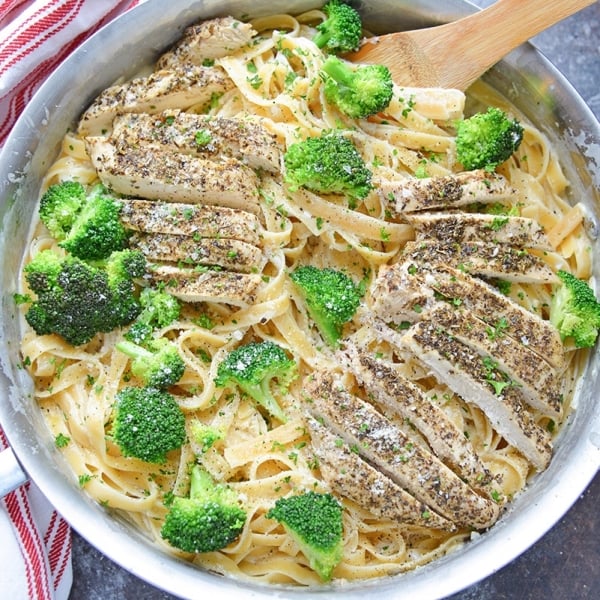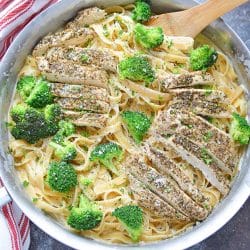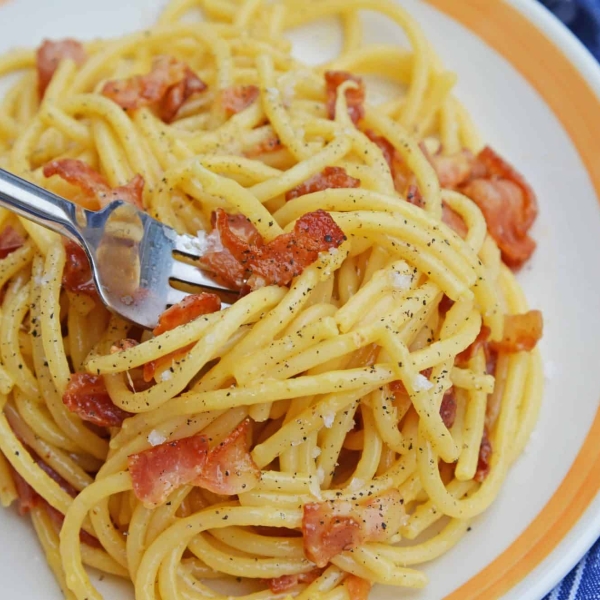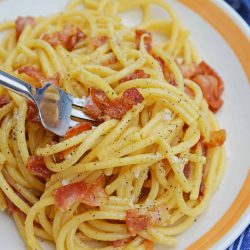 Authentic Carbonara
Authentic Carbonara is an easy Italian pasta recipe using eggs, cheese and bacon. This is an easy carbonara recipe that any home cook can feel confident in making!
See The Recipe!
Tools for making Chicken Stuffed Shells:
Wood cutting board – wood won't dull your knives like plastic and if treated properly, has natural antimicrobial properties.
Good knife – Global is my favorite! They are worth the price, I promise. I am kind of obsessed with them and store them tucked away so no one else can use them. Including hubby. Hands off my good stuff!
Whisks– I buy whisks in multiple sizes. You never know which one you will need.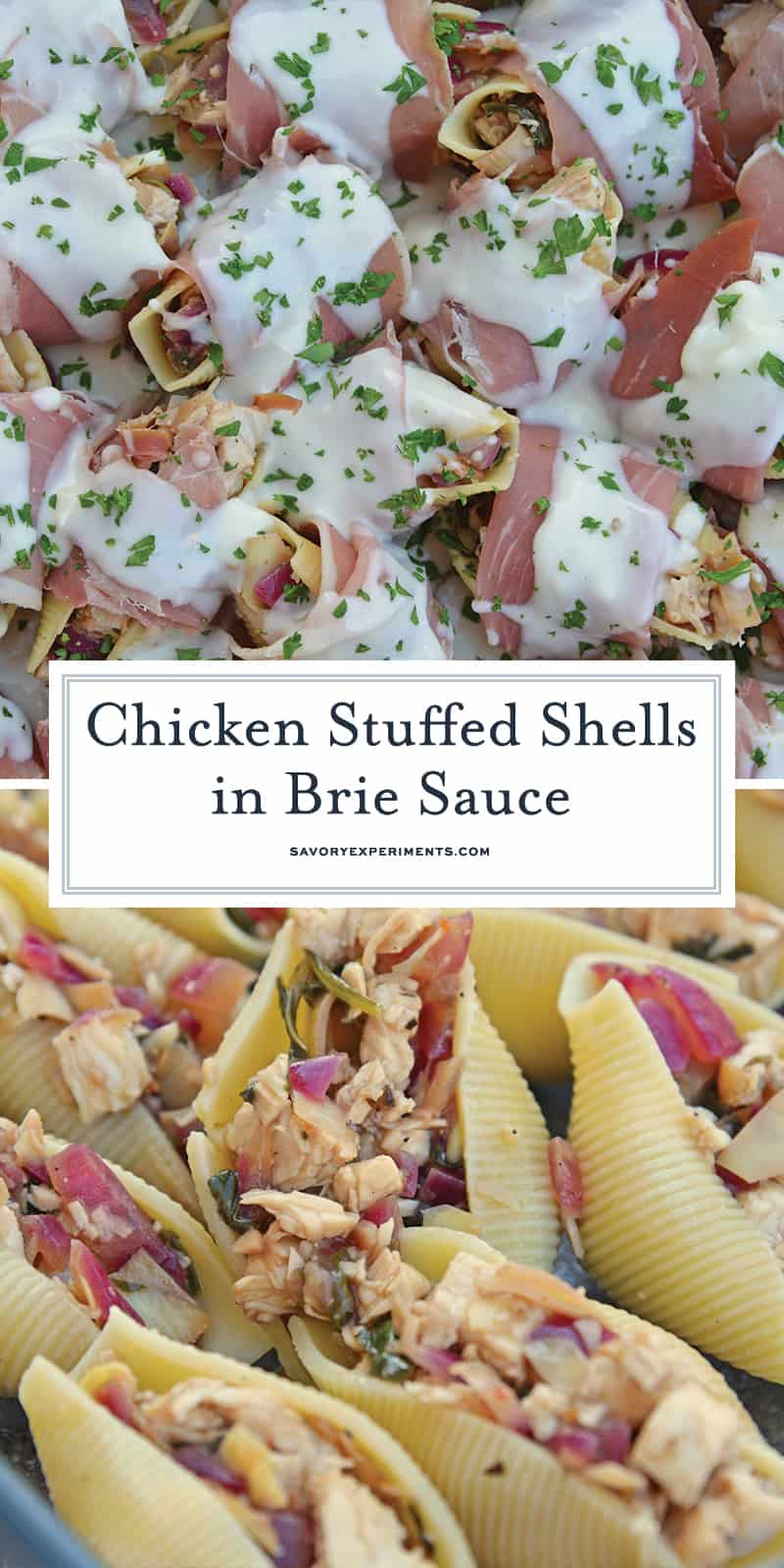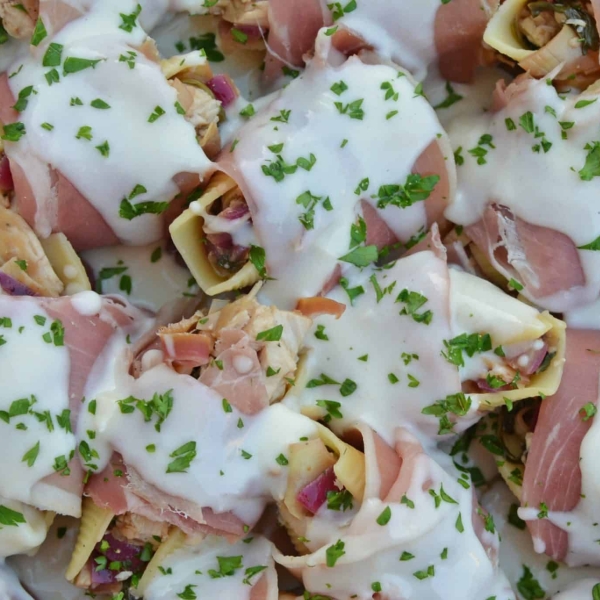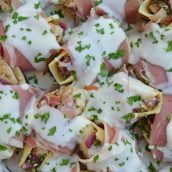 Chicken Stuffed Shells with Creamy Brie Sauce
Prosciutto Wrapped Chicken Stuffed Shells and Creamy Brie Sauce is a rich and savory easy dinner you'll want to make again and again!
Instructions
Preheat oven to 350 degrees.

In a medium mixing bowl, combine shredded chicken, spinach, red onion, artichokes, balsamic vinegar and fine sea salt. Toss to combine.

Stuff mixture into al dente cooked pasta shells, placing snuggly into a baking dish.

Cut 10 pieces of prosciutto into half lengthwise. Wrap each shell in a piece of prosciutto. Set aside.

In a heavy bottom saucepan, add flour and butter, whisking over medium-low heat until a blond roux has formed.

Add brie, whisking well until smooth.

Pour brie sauce over chicken stuffed shells.

Bake, uncovered, for 15-20 minutes or until shells are fully heated.

Remove and top with minced parsley and Parmesan cheese.

If you've tried this recipe, please come back and let us know how you liked it!
Nutrition
Calories:
285
kcal
,
Carbohydrates:
21
g
,
Protein:
9
g
,
Fat:
17
g
,
Saturated Fat:
7
g
,
Cholesterol:
43
mg
,
Sodium:
586
mg
,
Potassium:
167
mg
,
Fiber:
1
g
,
Sugar:
2
g
,
Vitamin A:
1035
IU
,
Vitamin C:
8.5
mg
,
Calcium:
42
mg
,
Iron:
1
mg