Tiramisu dessert has become a favorite in Italy and the states. There will be no question why after you've had it. Just slightly sweet with a hint of espresso, this fluffy dessert never disappoints.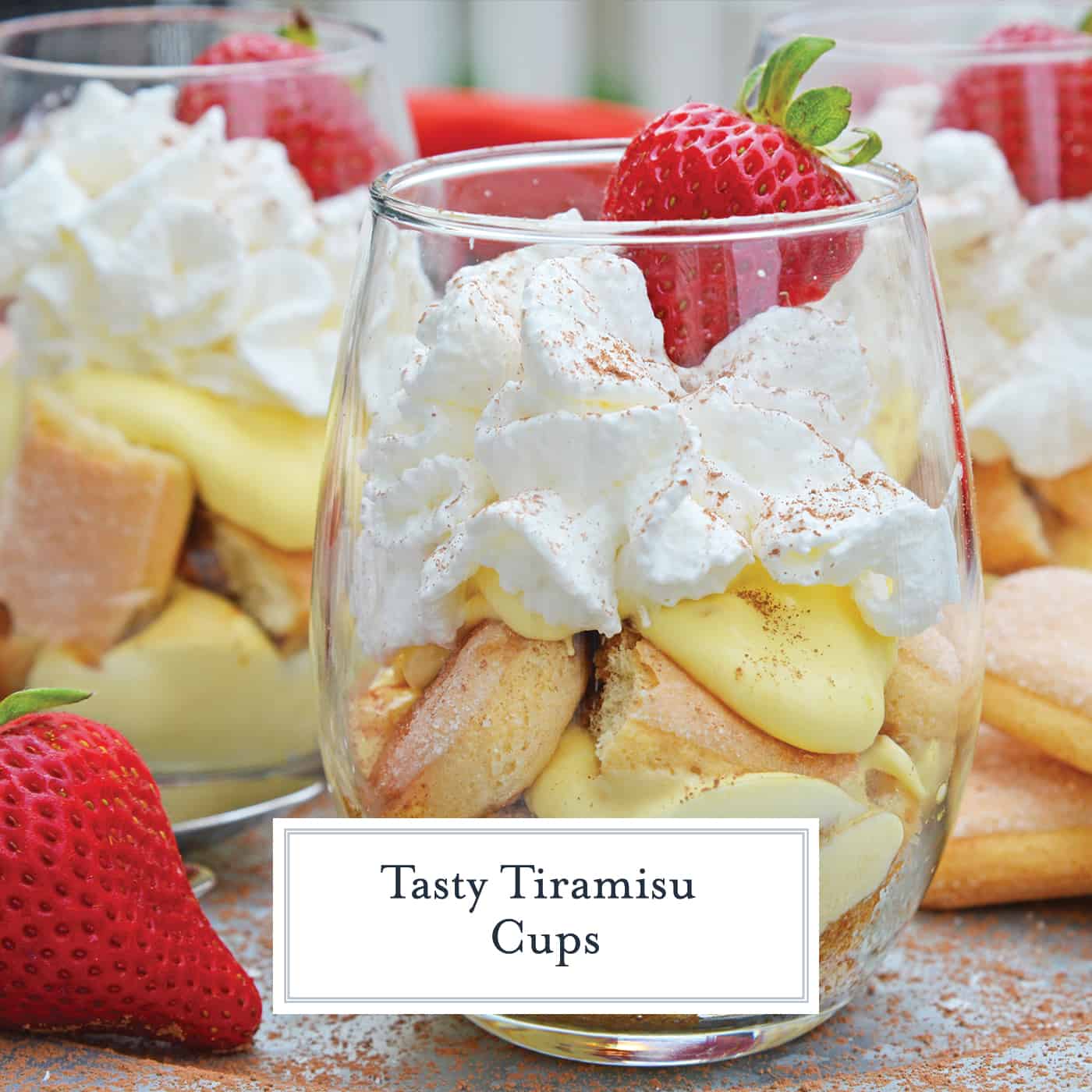 This classic dessert, just like Italian Fried Dough, will take you right to Italy.
What is tiramisu?
Tiramisu is a coffee flavored Italian dessert, usually in a cake form but it has been adapted into many different variations like my individual tiramisu cups.
The traditional tiramisu ingredients are egg yolks, sugar, mascarpone cheese, vanilla, hot water, instant espresso, lady finger cookies, whipped cream, cocoa powder and dark rum or coffee flavored liquor.
If you've never had mascarpone, it is like an Italian cream cheese. Soft, white and mild, when paired with a little sugar, it goes from savory to sweet easily.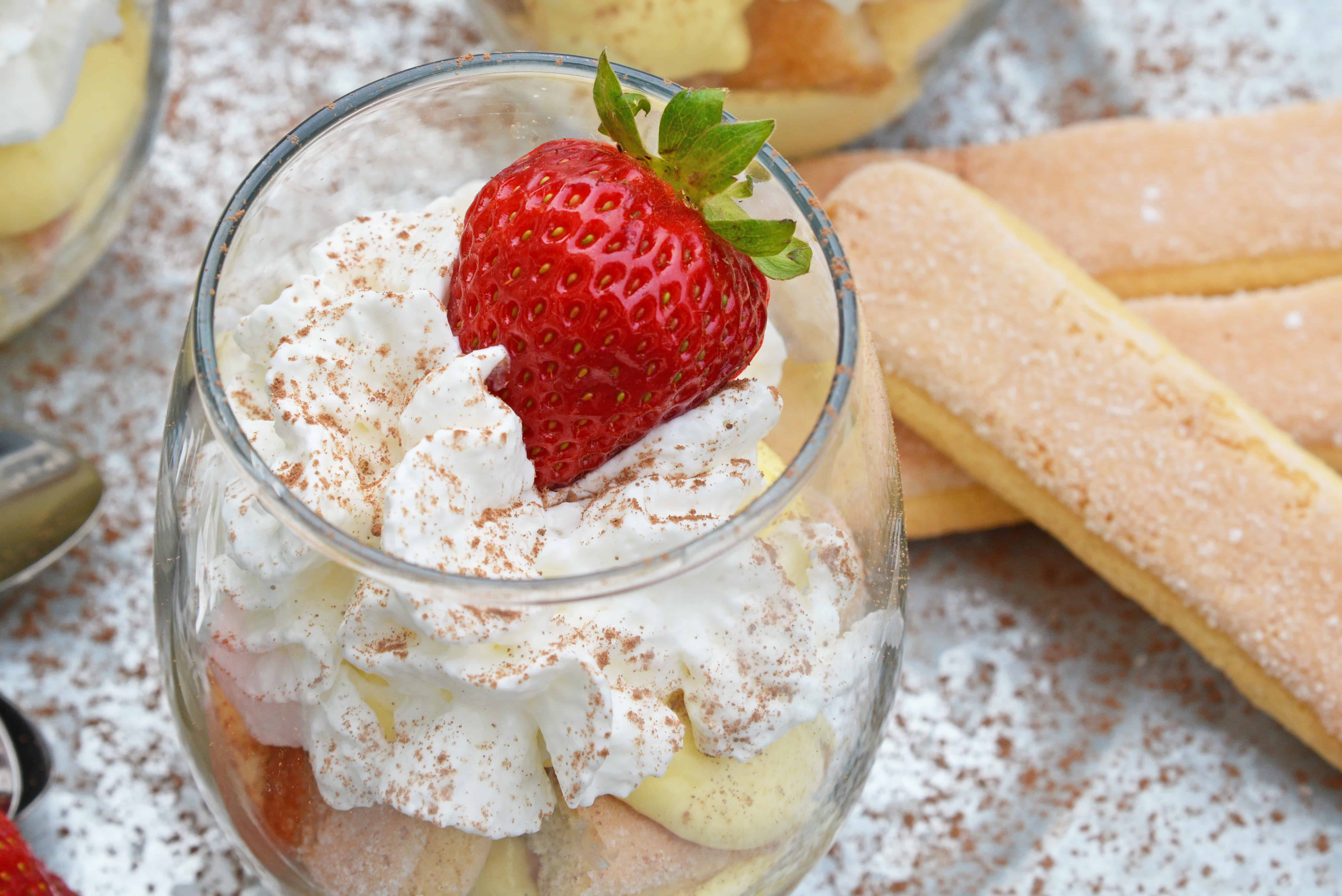 The origins of tiramisu are a mystery and thus, the real preparation is also unknown. Even in Italy, you'll find the creamy filling made differently and base ingredients a controversy.
Some make it with a pudding style base, others more like a zabaglione and some with whipping cream and mascarpone. The one thing that remains the same are the dipped lady fingers.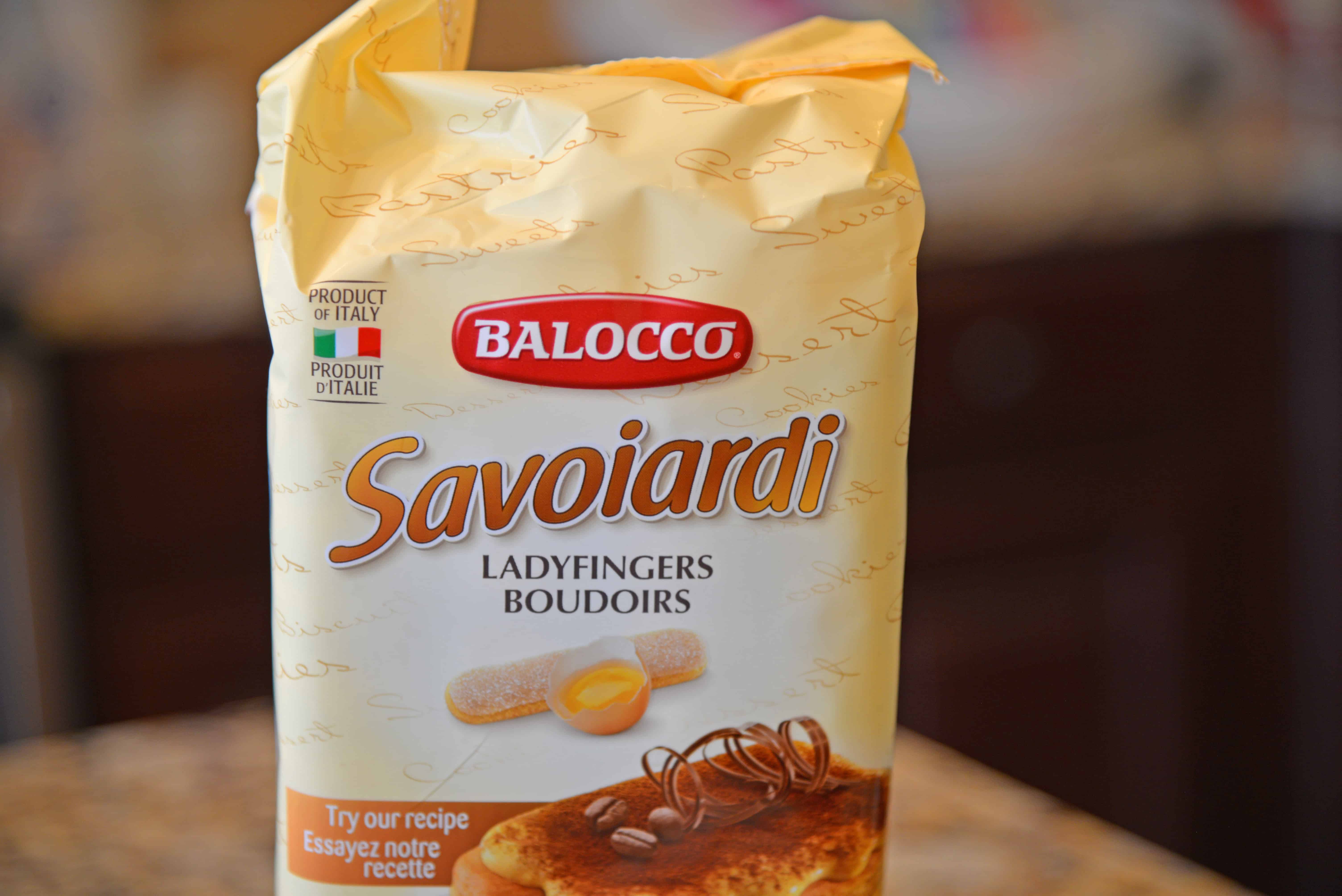 Lady fingers are a light, almost stale tasting cookie. Nicknamed lady fingers due to their fragile texture and shape, one must be careful when preparing tiramisu to not disintegrate the cookies during the infamous dip in an espresso bath.
You might see it prepared as a cake, also as a tiramisu trifle and sometime like this, tiramisu in a cup. Individual cups like this are just perfect dinner party desserts.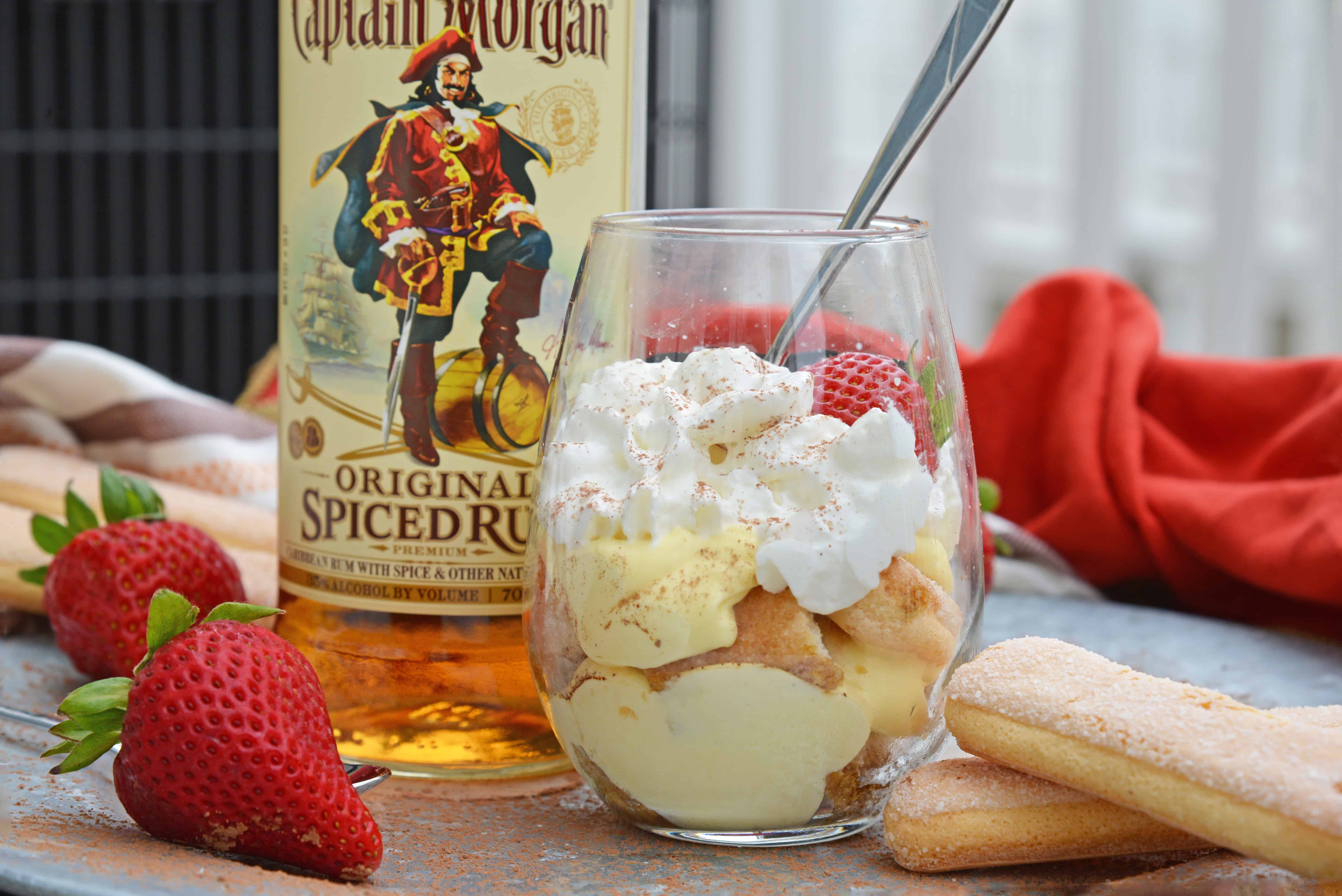 And never do it injustice by referring to it as coffee. Oh, no. Italians don't drink coffee the way Americans do. A cafe (coffee) is always an espresso.
If you desire coffee the American way, you must tell them you want a Cafe Americano and even then, they might not have a way to prepare it or a cup to put it in.
Did you also know that espresso is rate regulated in parts of Italy? Only costing one euro, it is almost always cheaper to drink espresso than water. And sometimes the wine is even cheaper than water!
No wonder Italians are so happy-go-lucky, they are highly caffeinated and spike with wine all the time!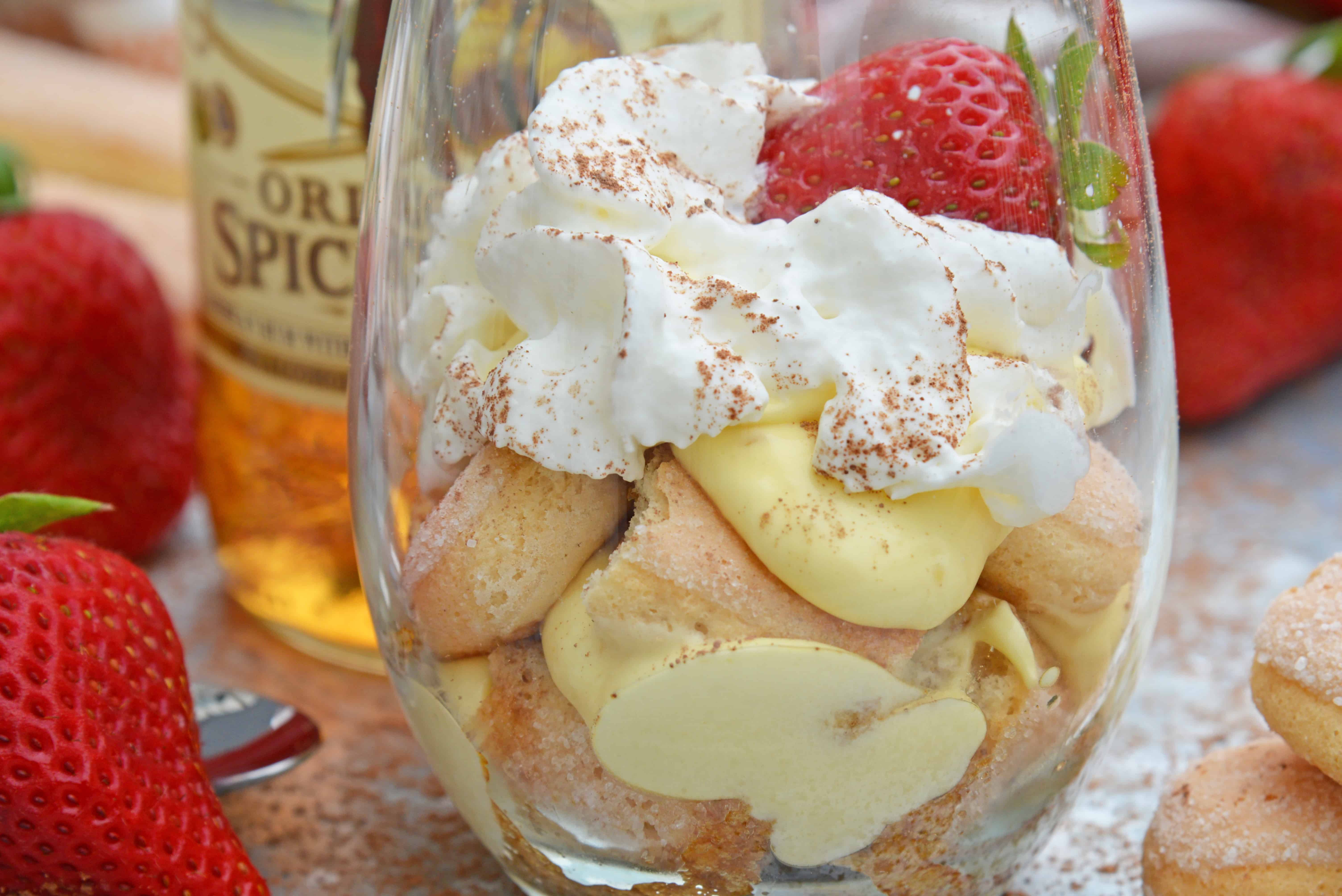 A month or so ago I did a flash giveaway and entry was telling me your favorite dessert. I was astonished that SO many people just love tiramisu! Being Italian, of course I enjoy the dessert as well, but I had no clue there were so many among me.
I think many folks will also be interested to find out that their favorite dessert has raw eggs! Raw eggs can be used safely, please read my notes below.
Here is my fast and easy version of the classic Italian dessert. I use instant espresso instead of brewing fresh. Ladyfingers can be hard to come by these days, so I use Stella D'oro Margherite cookies if I can't find actual lady fingers.
I like to serve my tiramisu with fresh fruit, primarily berries. Strawberries, raspberries and blackberries pair best.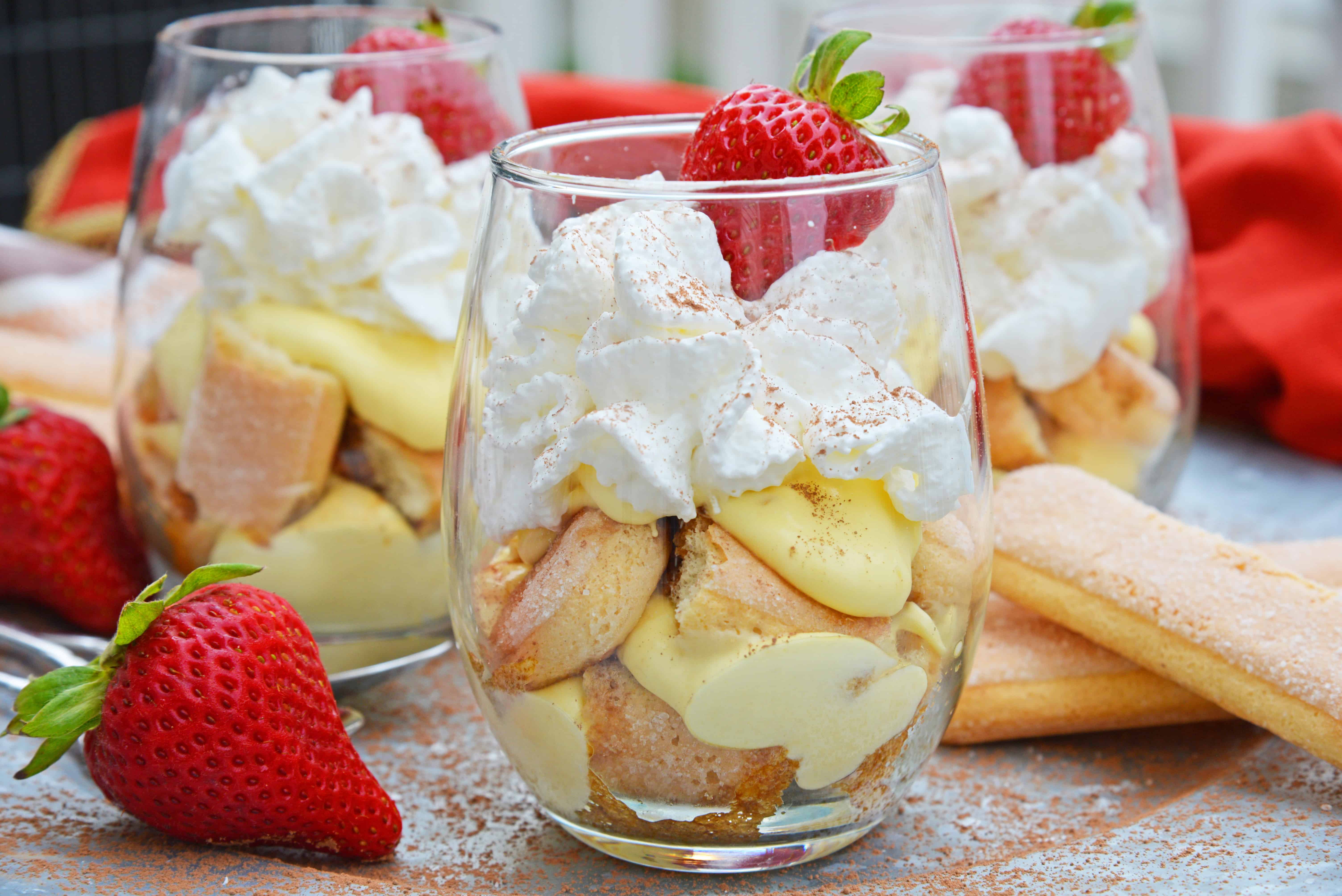 Tools for making Individual Tiramisu Cups:
Stemless Wine Glasses
– they are convenient for people like me who have the tendency to spill my wine, but also perfect for individual dessert cups.
Stand Mixer– I lived for a long time without one. My life was changed when I finally bit the bullet and bought one. Just do it and thank yourself later.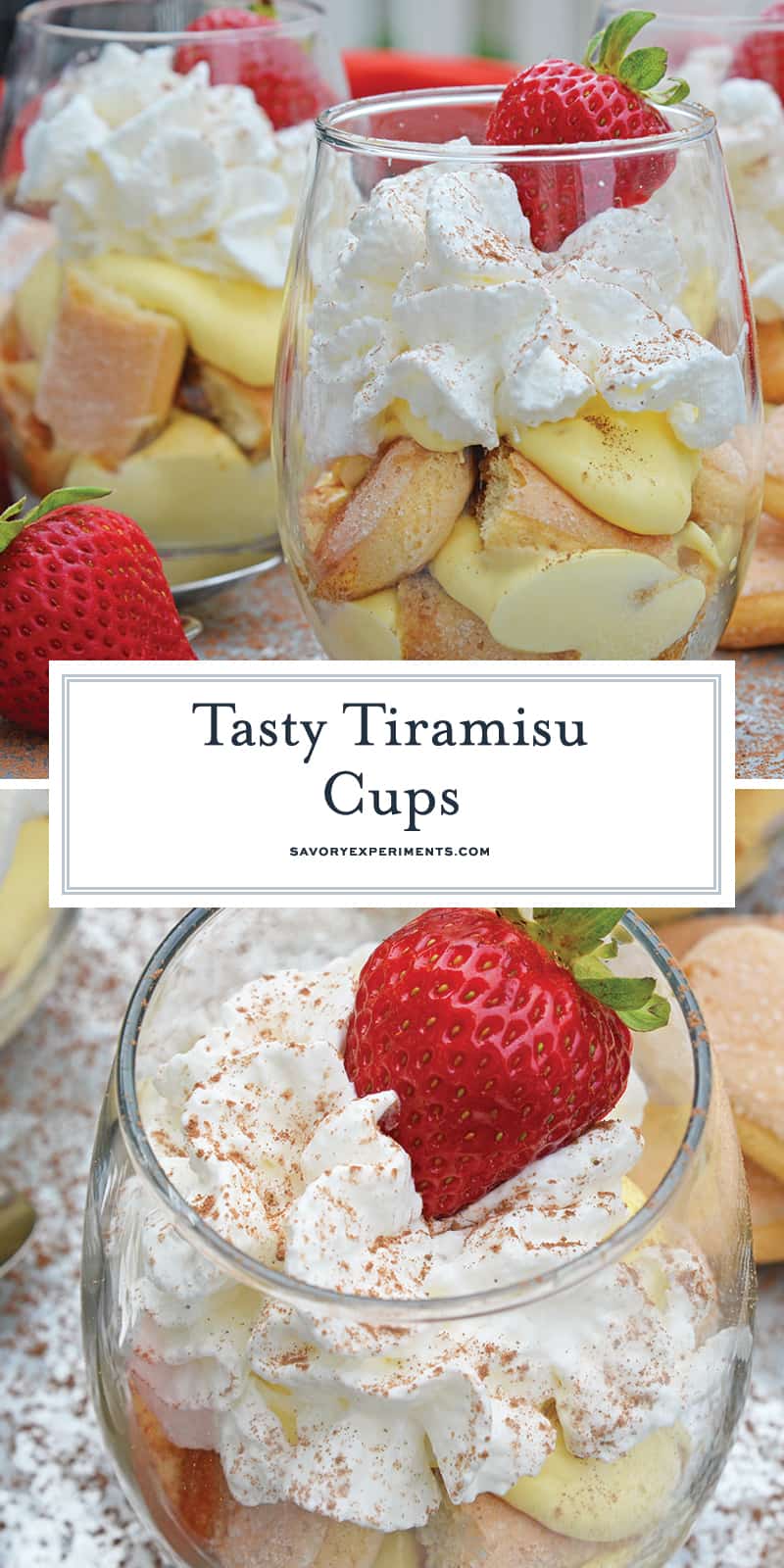 Commonly asked questions about how to make tiramisu cups:
Is tiramisu made with raw eggs and won't raw eggs make me sick? Yes and no. I'm very careful to use fresh, cold pasteurized eggs when I make this recipe. Look for them in your egg section.
But in reality, as long as you are practicing safe food hygiene, raw eggs rarely make people sick. People around the world eat the all the time and they are in some of our favorite recipes too, like on top of beef tartare, in mayonnaise or even ice creams.
You can also use the double boiler
method. Heat water in double boiler over medium heat. In a separate bowl whisk together sugar, egg yolks and vanilla. Continuously whisk the mixture while in the double boiler for 3-4 minutes.
Add mascarpone, continuing to whisk. You have to whisk fast to make sure the egg doesn't set. Scarmaled aren't good in this Italian dessert. LOL.
If you don't want to mess with raw eggs and making your own custard, feel free to use an instant vanilla pudding.
What can I substitute for mascarpone cheese? If you can't find mascarpone or it is super expensive, substitute a reduced fat cream cheese instead. It is not the exact same, but it is close.
You can also try making homemade mascarpone cheese!
Can I add more alcohol to my tiramisu? If you are making tiramisu with alcohol, use either a dark rum or coffee flavored liquor. Add one tablespoon to the espresso mix and another tablespoons to the top of each cup before serving, like a floater.
Can I make tiramisu cups with alcohol? You surely can, simply omit it from the recipe.
Can tiramisu get you drunk? The alcohol in my tiramisu isn't cooked, so yes, you can get a little buzz. DO NOT SERVE TO CHILDREN UNLESS PREPARED WITHOUT ALCOHOL.