Are you a Cannoli fan?? Then you are going to fall in love with this Cannoli Cupcake Recipe! They put a fun twist on the classic Italian dessert and are easy to customize with fun toppings without all the work of making and frying a cannoli shell.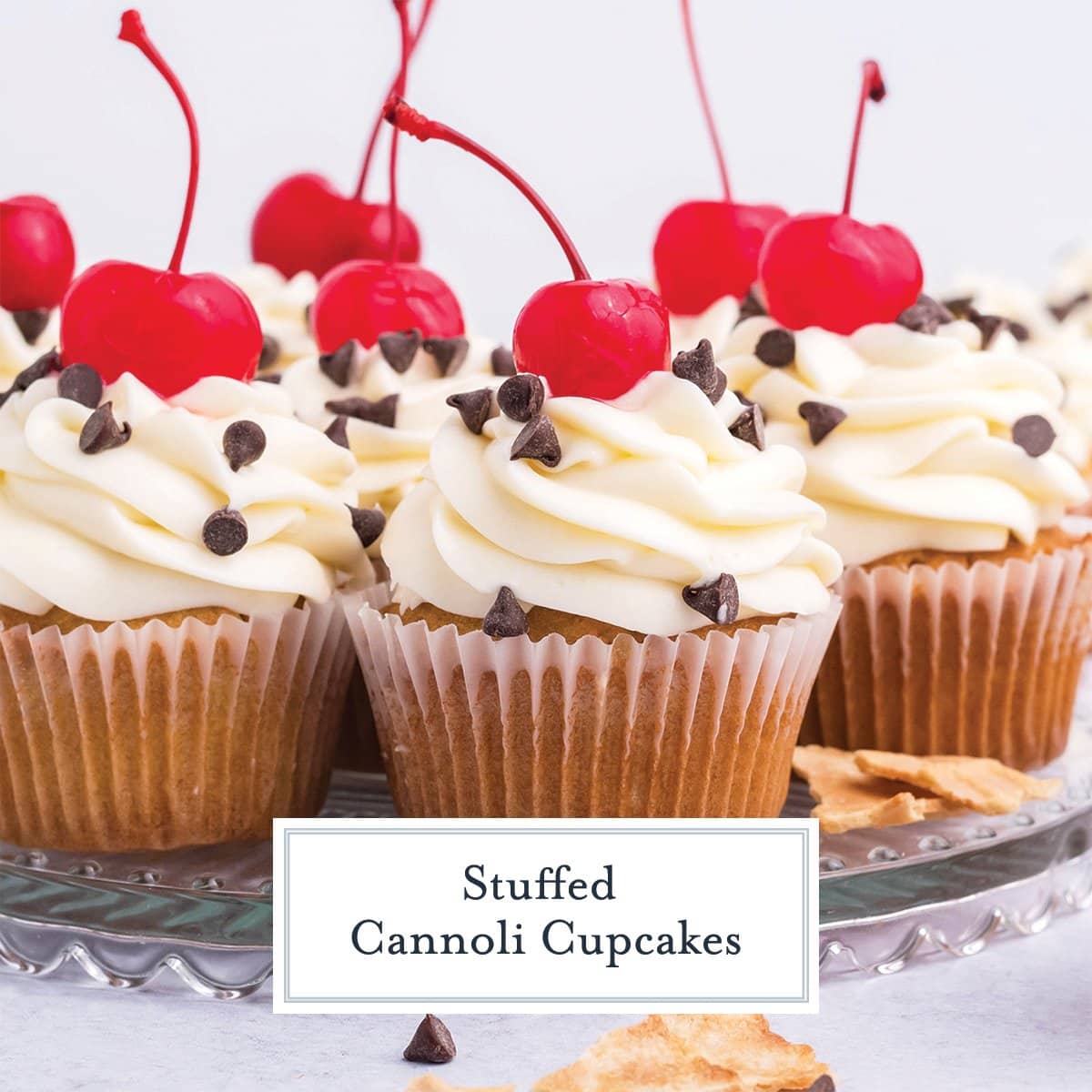 These cupcakes are not only spiked with cinnamon in the batter, but then stuffed with creamy ricotta filling and topped with decadent and rich cream cheese frosting. Literally, put a cherry on top (with chocolate chips) and you have yourself a true masterpiece.
Just like a trip to Italy, you'll want to pick up tiramisu and fried dough.
What is a Cannoli?
A cannoli is an Italian pastry consisting of tube-shaped shells, like an ice cream cone, filled with a creamy filling containing ricotta. Making shells from scratch is laborious and involves special forms.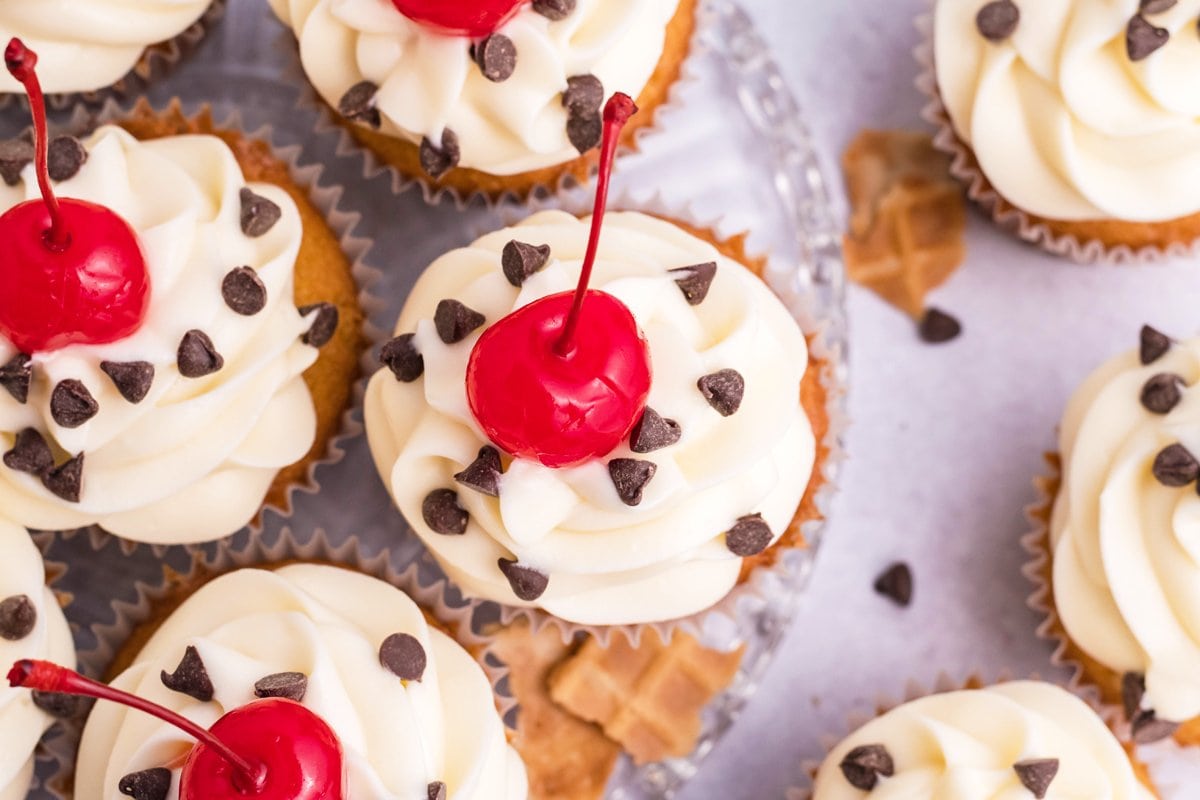 But the flavors and crunchy, creamy aspects are craveable, so people started creating alternatives like cannoli cake, cannoli pancakes and cannoli dip.
FUN FACT: "Cannoli" is plural! When referring to a single pastry, Italians say "cannolo" which means "little tube". In the states most people, even in the Italian-American community still says "cannolis".
Although the age-old original dessert does not include mascarpone cheese, over time people have started adding mascarpone to the filling as a sweet addition and also a way to even of the ricotta, which can be a pain to make smooth if not fully drained.
Mascarpone is basically the Italian version of American cream cheese, but a bit richer and creamier as it is made from whole cream. It makes a fabulous addition to the cannoli filling.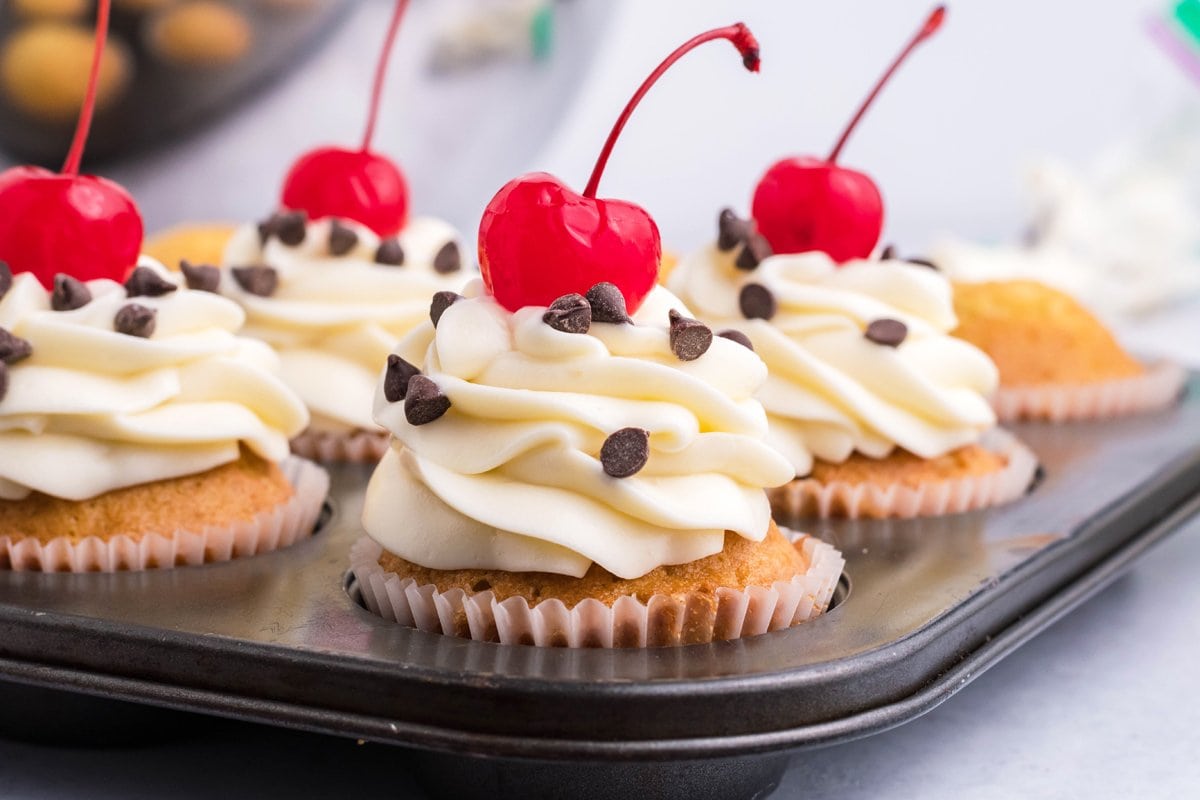 And of course, no dessert is complete without chocolate chips. The traditional cannoli have a wide range of toppings from sliced almonds, sprinkles and crushed candy, but chocolate chips are probably the most popular.
Ingredients
While these Cannoli Cupcakes are super simple to make, they do require a couple special ingredients that you may not be used to seeing in a dessert recipe.
Ricotta Cheese– You may have seen it in savory recipes such as lasagna, dips and even fritters, but ricotta is also used in sweet recipes like cheesecake and cannoli filling. You can find ricotta cheese in your local grocery store near the sour cream.
Mascarpone Cheese– This one was a little difficult for me to find the first time I ever used the ingredient in one of my recipes. You can usually find the mascarpone in the specialty cheese section of your grocery store.
Cream Cheese– Yep, these cupcakes sure have a lot of cheese! LOL. Not a unique ingredient, but also not one you usually have stocked in the fridge. At least I don't.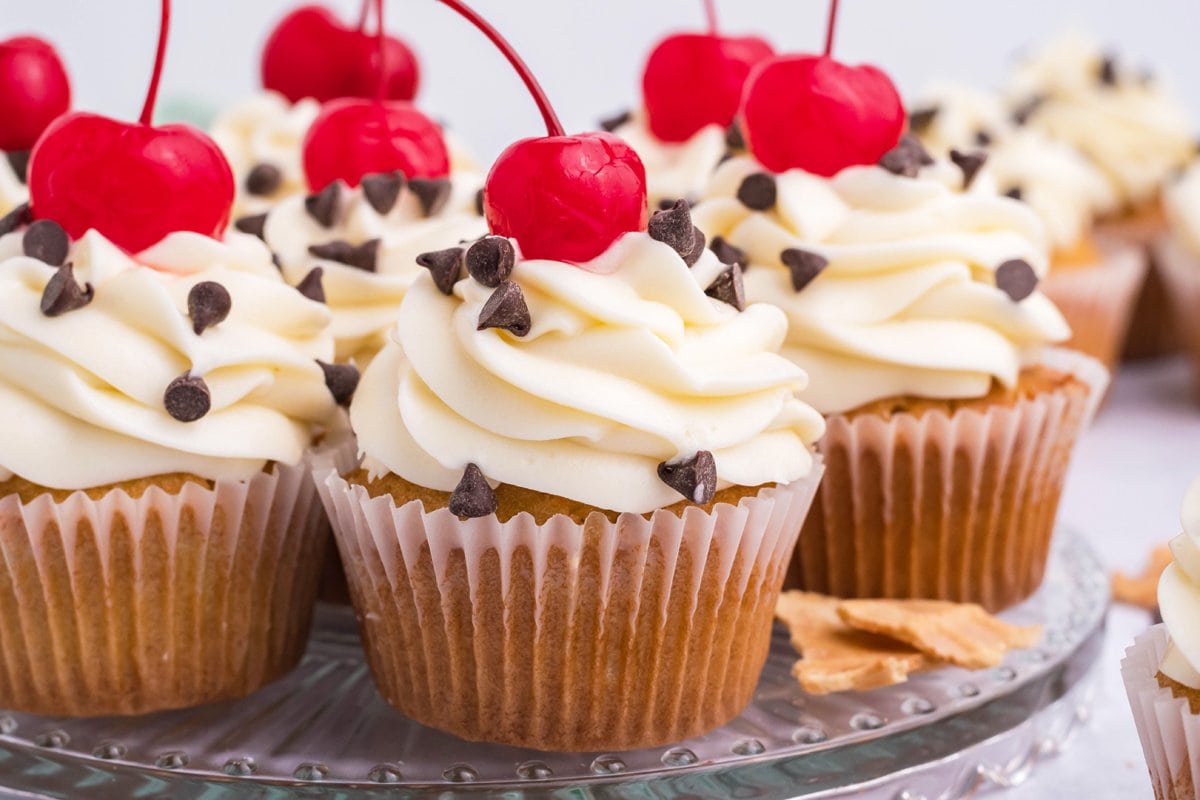 From here, the baking ingredients are fairly standard.
Dry Ingredients: flour, baking powder, baking soda, cinnamon (another traditional cannoli flavor), fine sea salt, granulated sugar, powdered sugar
Wet Ingredients: Vegetable oil, eggs, buttermilk, vanilla extract, unsalted butter (if using salted butter, omit additional salt), some people add a few grates of orange zest too
Toppings: Mini chocolate chips and maraschino cherries, but you can leave these off or use just sprinkles or chocolate curl shavings.
Cannoli Filling
I started this recipe with the filling because after mixing all the ingredients together the ricotta and mascarpone tend to get a bit runny, and it does require some refrigeration time before using.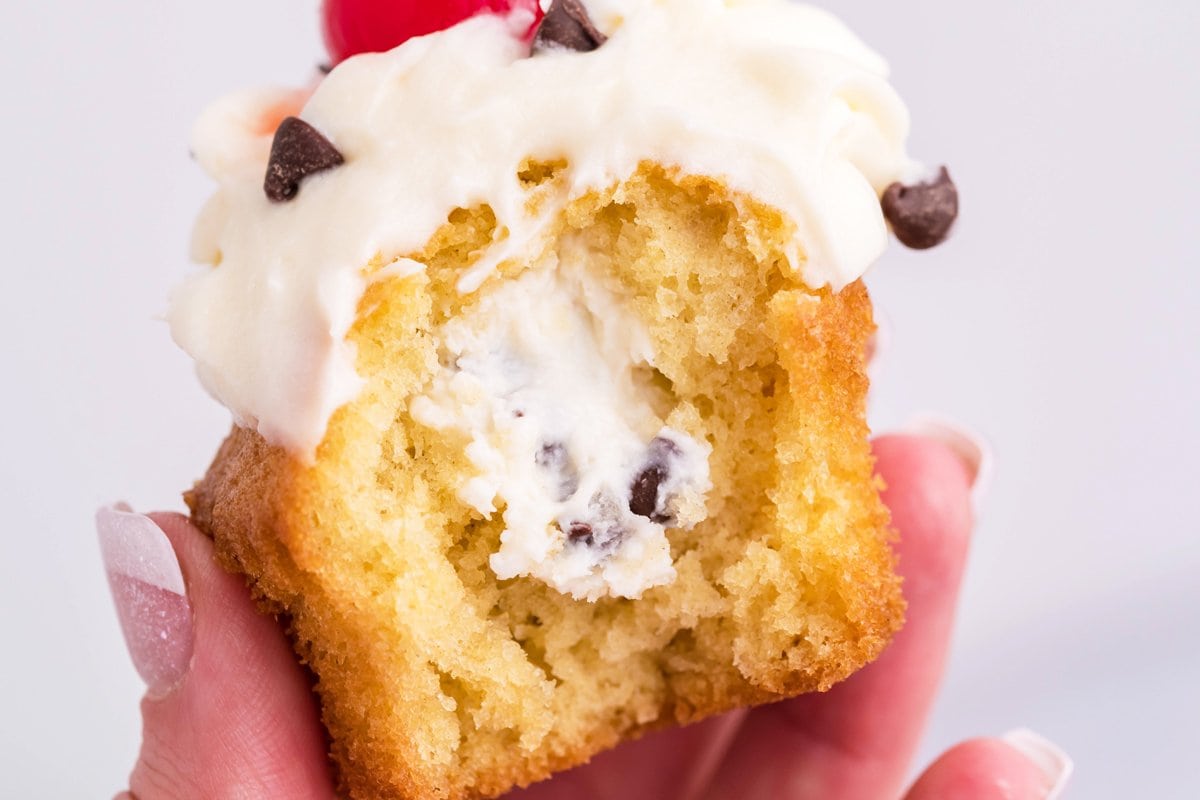 Be sure to make the filling before you start with the cupcakes and frosting so it has time to chill in the fridge.
To make the filling is very simple, but it has one step you cannot skip- drain the ricotta! Place it in a colander or fine mesh sieve lined with cheesecloth and let it sit for several hours. You might be surprised to see how much liquid drips off even though it comes out of the tub as one large mass.
Mix the ricotta, mascarpone, powdered sugar, and vanilla in a medium mixing bowl. Be sure to mix as LITTLE as possible while still making sure all the ingredients are combined. It will continue to get runny if you mix too long.
Add in the chocolate chips last and mix those until they are well distributed through the batter. Chill until ready to use.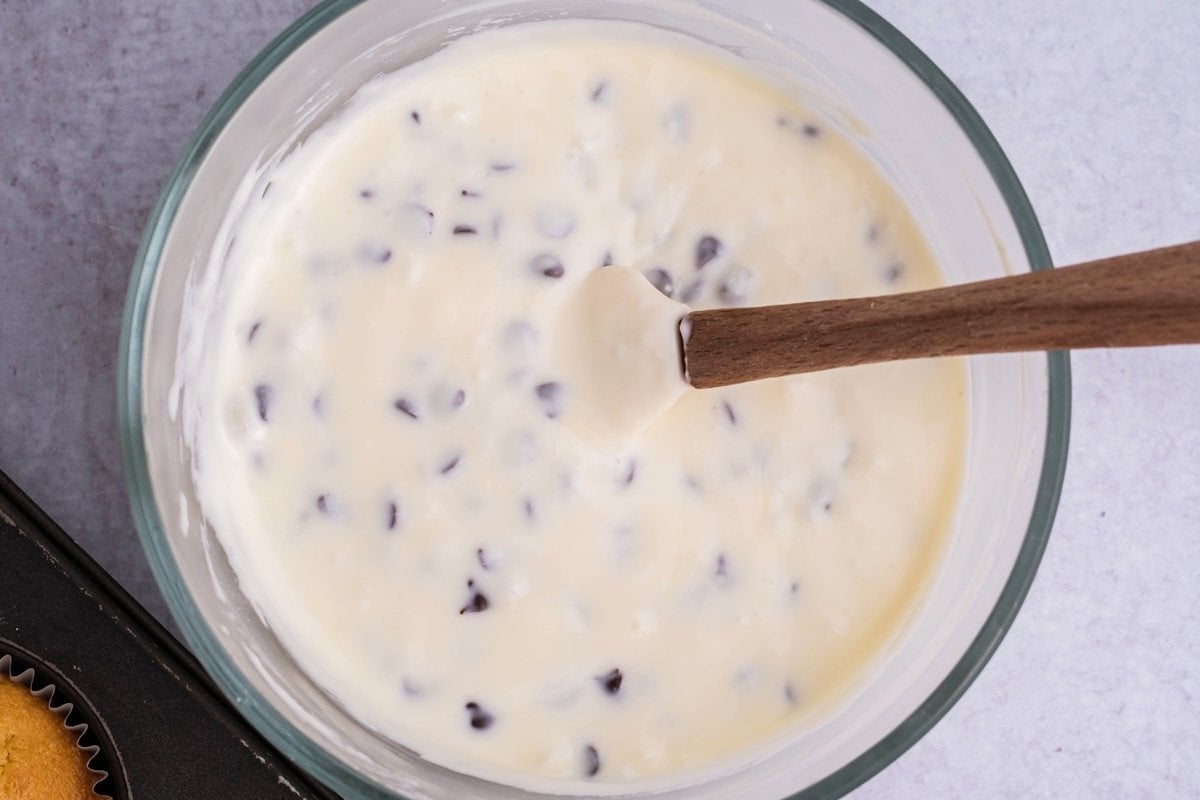 Tips:
Drain ricotta cheese well to avoid a grainy texture and needing to over add powdered sugar to get the right texture.
Plan for refrigeration time for the mixture to thicken.
Cannoli Cupcake Sponge
I decided to go with a simple vanilla cupcake with just a TOUCH of cinnamon to add a little something extra and I love the way they turned out. You can also add a few grates of nutmeg to amplify traditional Italian flavors and add lovely aroma.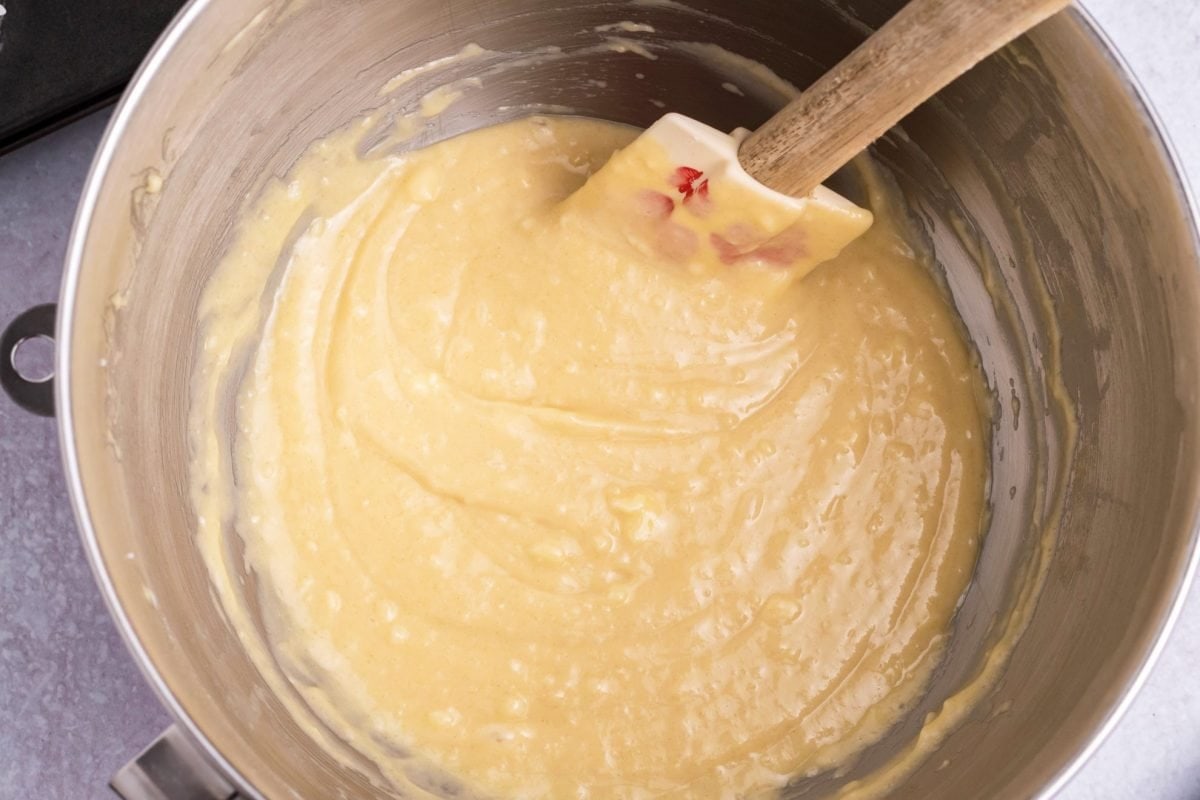 While I did use a scratch recipe, you can use a boxed cake mix as well, just add the cinnamon directly to the cake batter.
Sift together flour with leaveners, salt and cinnamon.
Cream together butter and sugar until light and fluffy. People tend to under blend this bit- mix well for 2-3 minutes.
Add other wet ingredients until combined.
Add flour mixture until just combined.
Transfer to a cupcake tin and bake until golden brown and tops spring back lightly to the touch.
Tips:
Do not overmix the cupcake batter. Overmixing will result in a dense cupcake.
Make sure the butter is at room temperature before starting.
Measure correctly! Use a liquid measuring cup for wet ingredients and dry measuring cup for dry. When measuring your flour, use a spoon to scoop the flour into the measuring cup and level with a butter knife.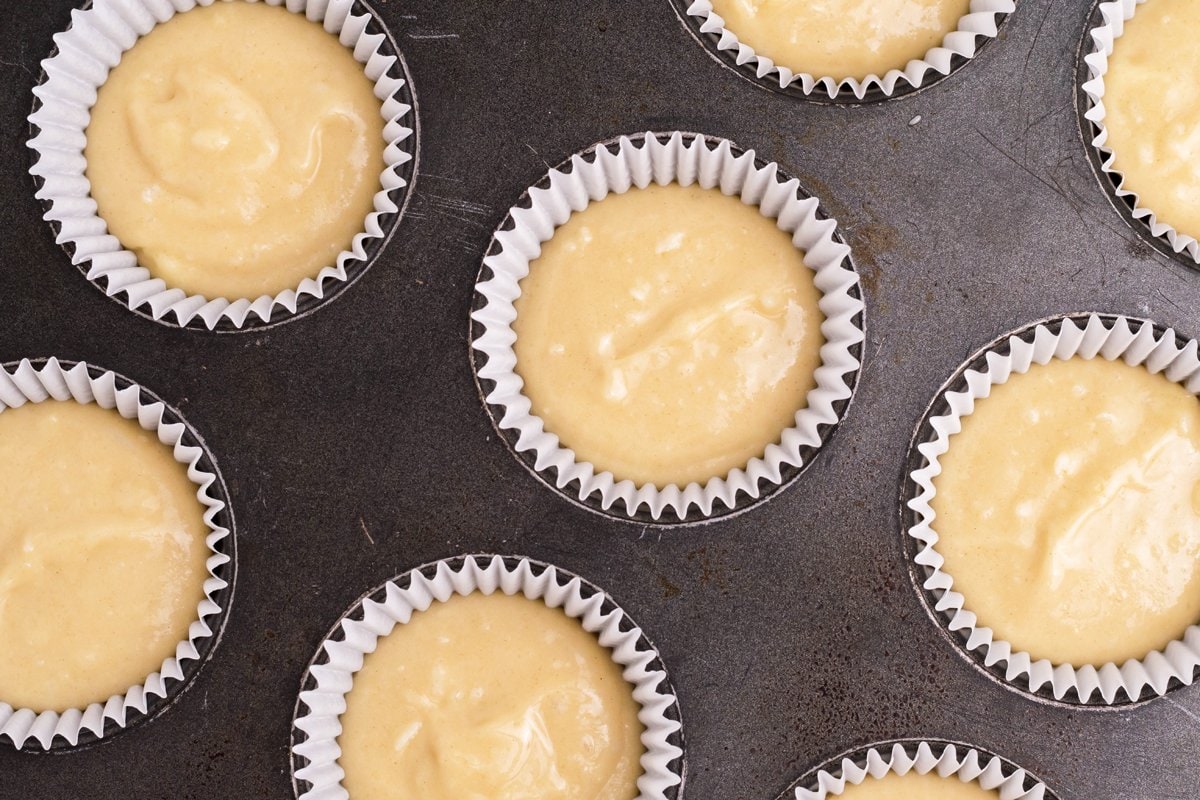 Cream Cheese Frosting
If you want to substitute the cream cheese frosting for store bought, you can, however I HIGHLY recommend making the homemade frosting. It is so much better than store bought frosting.
I have a love-hate relationship with cream cheese frosting. I try my best to use as little sugar as possible in my frosting recipes. However, with cream cheese frosting you must use quite a bit of sugar to create a stable frosting that you can pipe, and it hold form.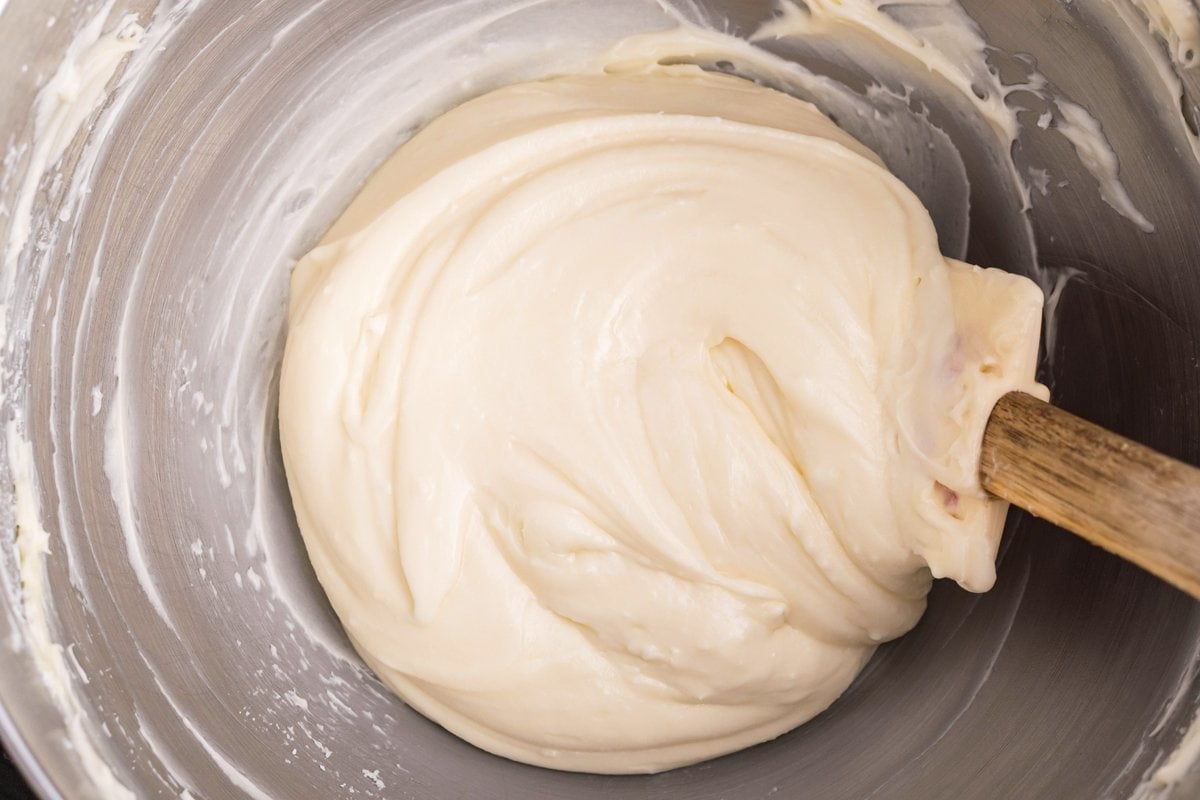 With that being said, this cream cheese frosting is the BOMB, and pairs so perfectly with these cannoli cupcakes! I can eat this stuff with a spoon. (and so can my children…)
Beat cream cheese and butter together until fully combined.
Add sugar and wet ingredients, blend until smooth.
Tips:
Make sure that your cream cheese and butter is at room temperature.
Cream the cream cheese and butter together for a good 3-4 minutes before adding any other ingredients.
Cool completely before frosting goes on the top of the cupcake.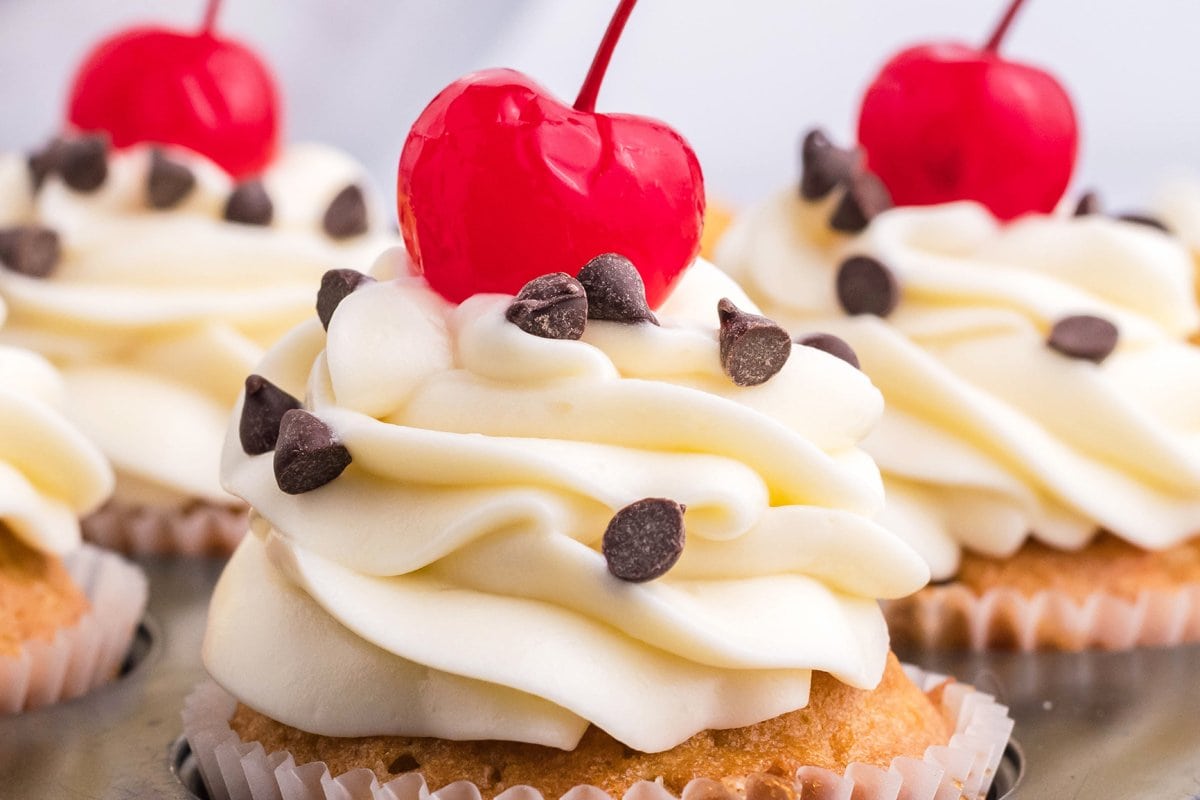 How to Stuff a Cupcake
Stuffing a cupcake means that you need to remove a little hole in the center and then replace the top, however you'll need to cut it down slightly to make it all fit again.
You can buy a fancy little cupcake corer tool, use a strawberry huller, a piping tip or just a regular paring knife to cut around and pop it out. Fill the hole, trim the replacement piece and then top again.
After you top it with frosting and toppings, no one will see the seams.

Storage & Freezing
Cannoli cupcakes should be stored chilled since the filling and the icing is heavy on cheese. Allow the cupcakes to sit at room temperature for 15 minutes before enjoying.
Store in the fridge for up to 5 days, probably longer, but the cold air will start to dry out the sponge of the cake. Make sure to cover with plastic wrap or aluminum foil to slow down the process. With that said, I've never seen these last longer than 1 day.
The sponge of the cupcakes can be frozen and filled and frosted at a later date, but the ricotta filling and cream cheese frosting loses its structural integrity when frozen. It will thaw slimy and loose.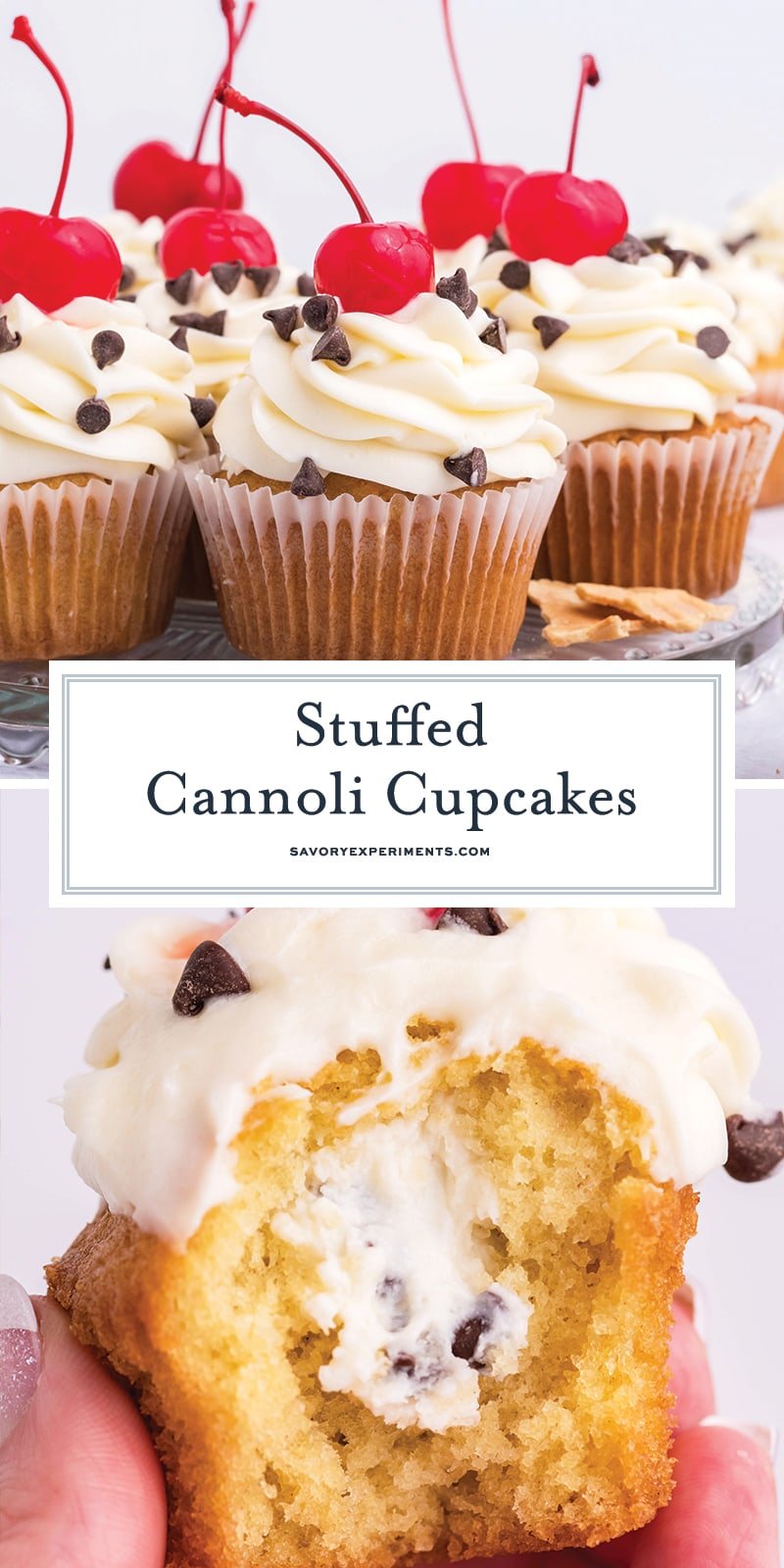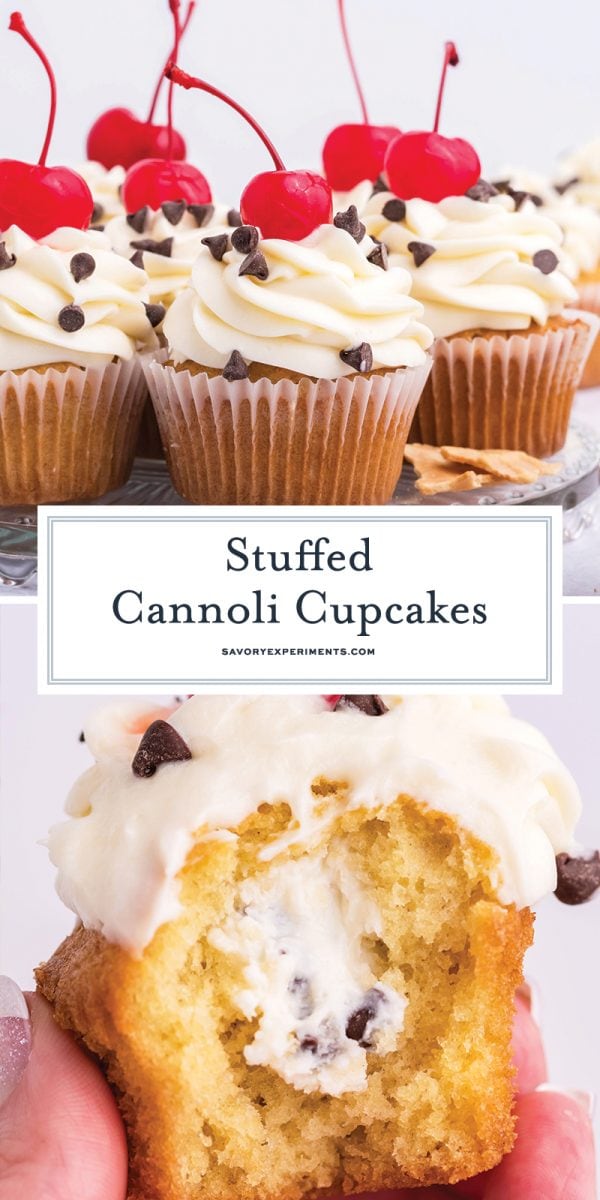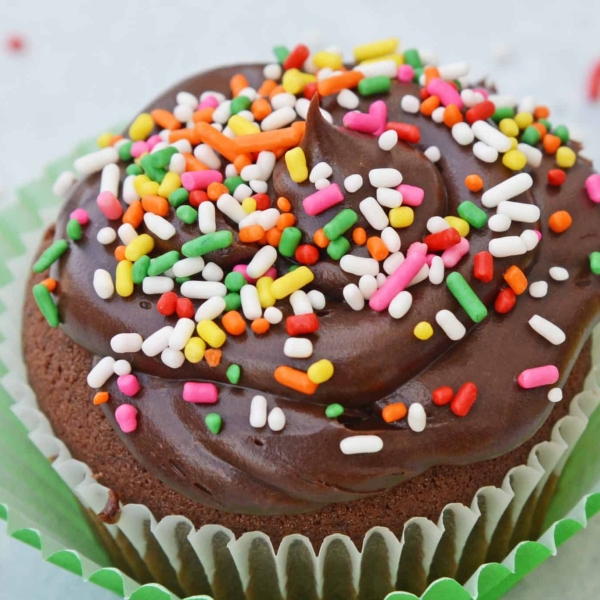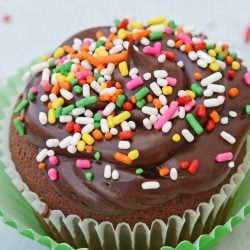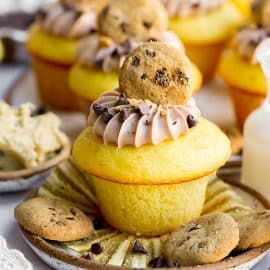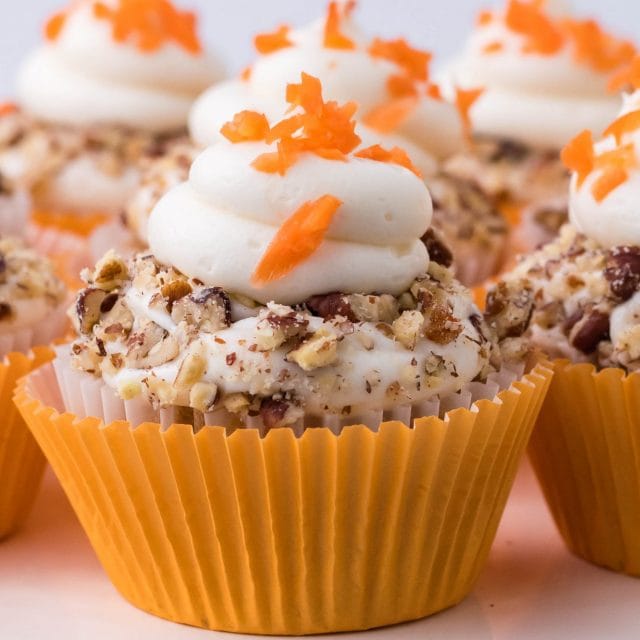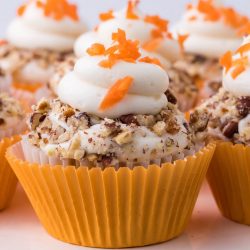 Carrot Cake Cupcakes
Carrot Cake Cupcakes are moist, flavorful and packed with freshly grated carrot and spices. With a cream cheese frosting, they are the BEST!
See The Recipe!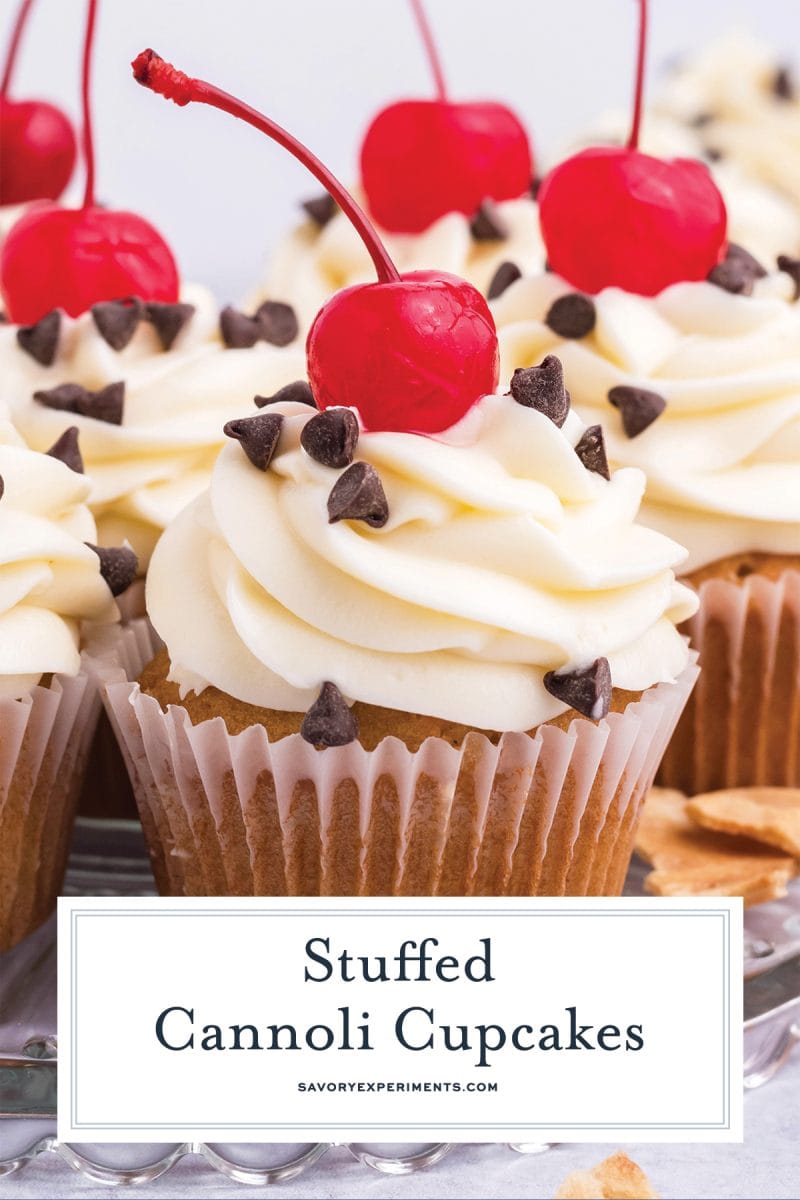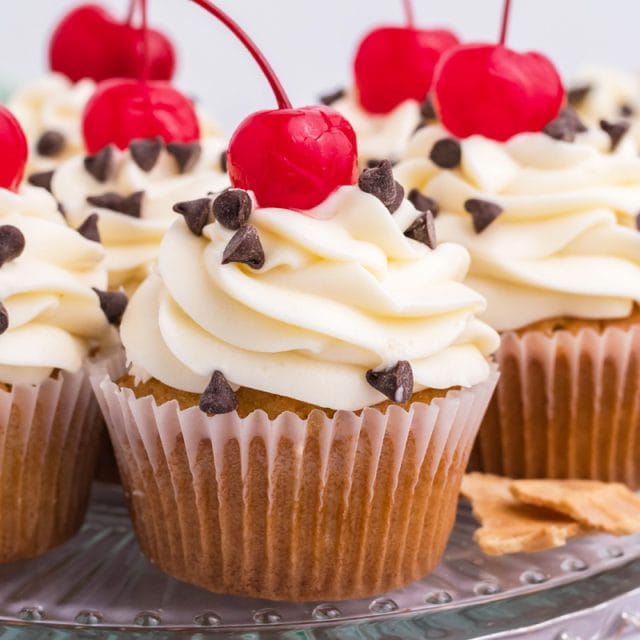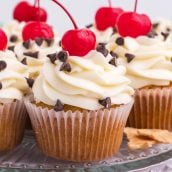 Stuffed Cannoli Cupcakes
These EASY Cannoli Cupcakes are stuffed with classic cannoli filling, topped with cream cheese frosting and topped with cherries & chips.
Ingredients
Instructions
Notes
*If using salted butter, omit additional salt.
*Use a vanilla box cake mix, add cinnamon to dry mixture and prepare according to package instructions.
Nutrition
Calories:
526
kcal
,
Carbohydrates:
69
g
,
Protein:
5
g
,
Fat:
26
g
,
Saturated Fat:
17
g
,
Trans Fat:
1
g
,
Cholesterol:
80
mg
,
Sodium:
158
mg
,
Potassium:
81
mg
,
Fiber:
1
g
,
Sugar:
58
g
,
Vitamin A:
732
IU
,
Vitamin C:
1
mg
,
Calcium:
74
mg
,
Iron:
1
mg