Is anyone else on a mission to make veggies at meals interesting? I have my usual rotation, but am always on the lookout to try something new. Crispy Parmesan Artichoke Hearts check all of my boxes: short ingredient list, short prep and cooking time and of course, wonderfully delicious to eat.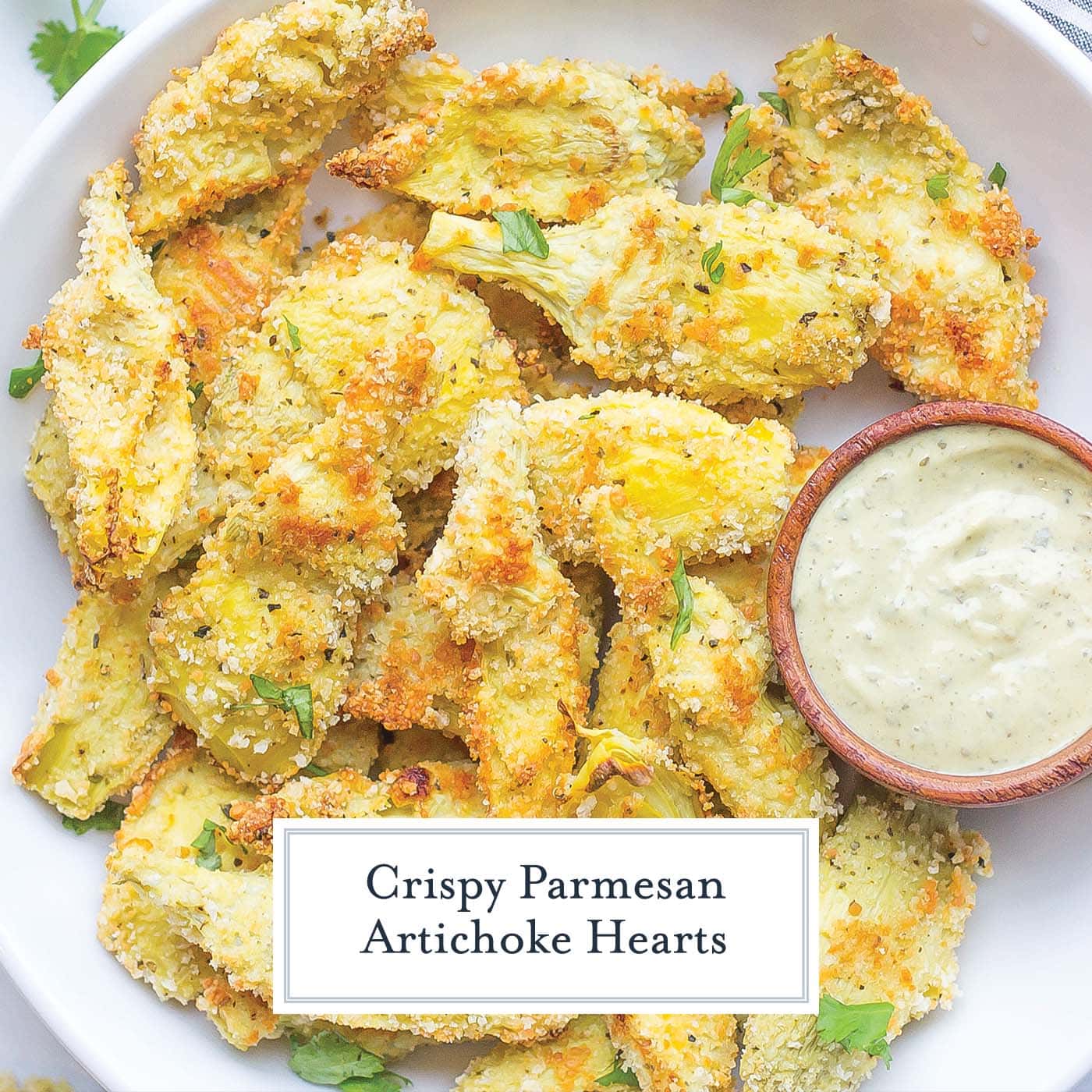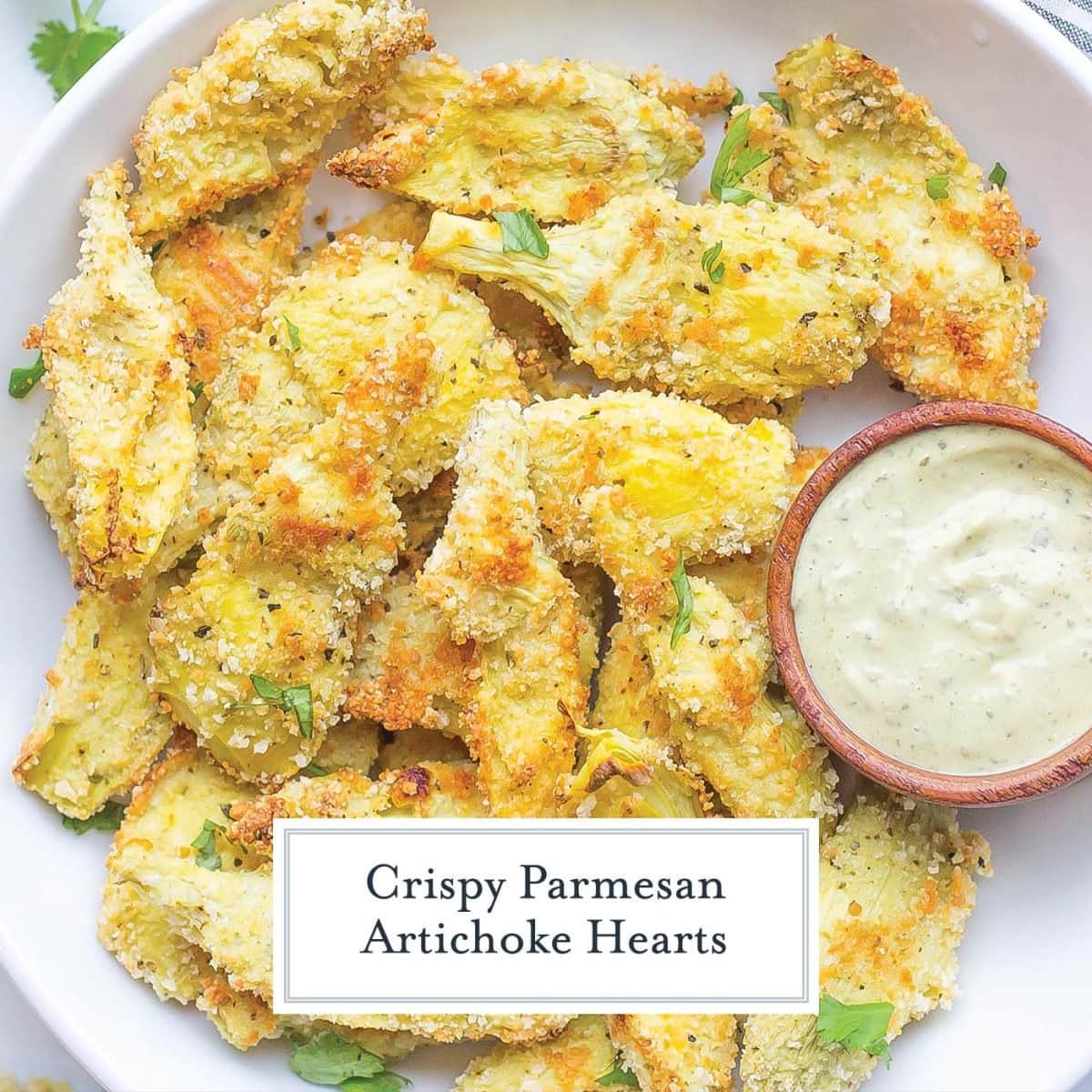 I confess to not eating artichoke hearts until I was an adult. The actual artichoke plant, which is a thistle, is a pain to prepare and something that should only be eaten whole among close friends. More on that below… but canned artichoke hearts are another story.
They are meaty little morsels with interesting texture and slightly briny flavor. When breaded with nutty parmesan cheese and coarse panko, they come alive. Add a zingy dipping sauce to the mix and you've got yourself a winning appetizer, side or even salad topper.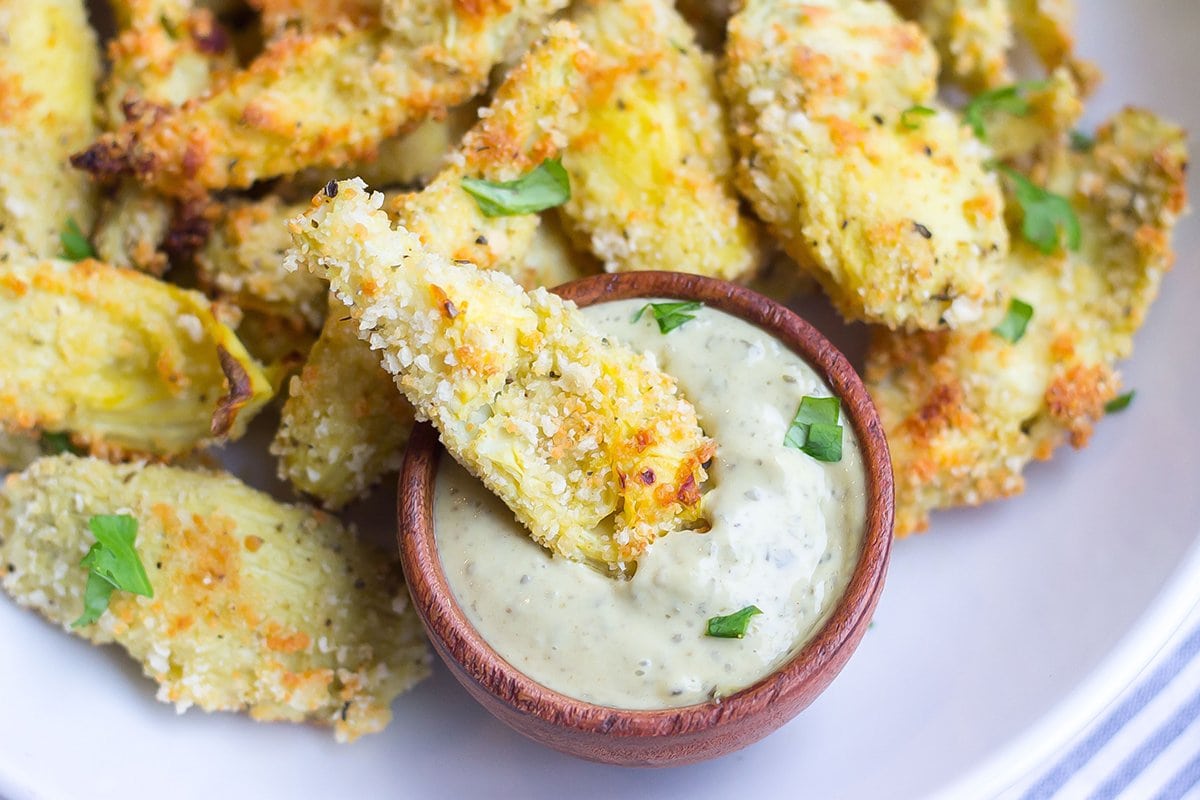 What is an Artichoke?
The artichoke is generally classified as a thistle and is a is a flower bud that is part of a prickly plant in the sunflower family. It is consumed before the bloom matures which is why the leaves are firm and the flesh that can be consumed surrounds a bone-like structure inside.
In fact, the way to eat them is to run your teeth over the leaf, scraping off the edible part. Not a food that you want to eat with strangers, if you know what I mean.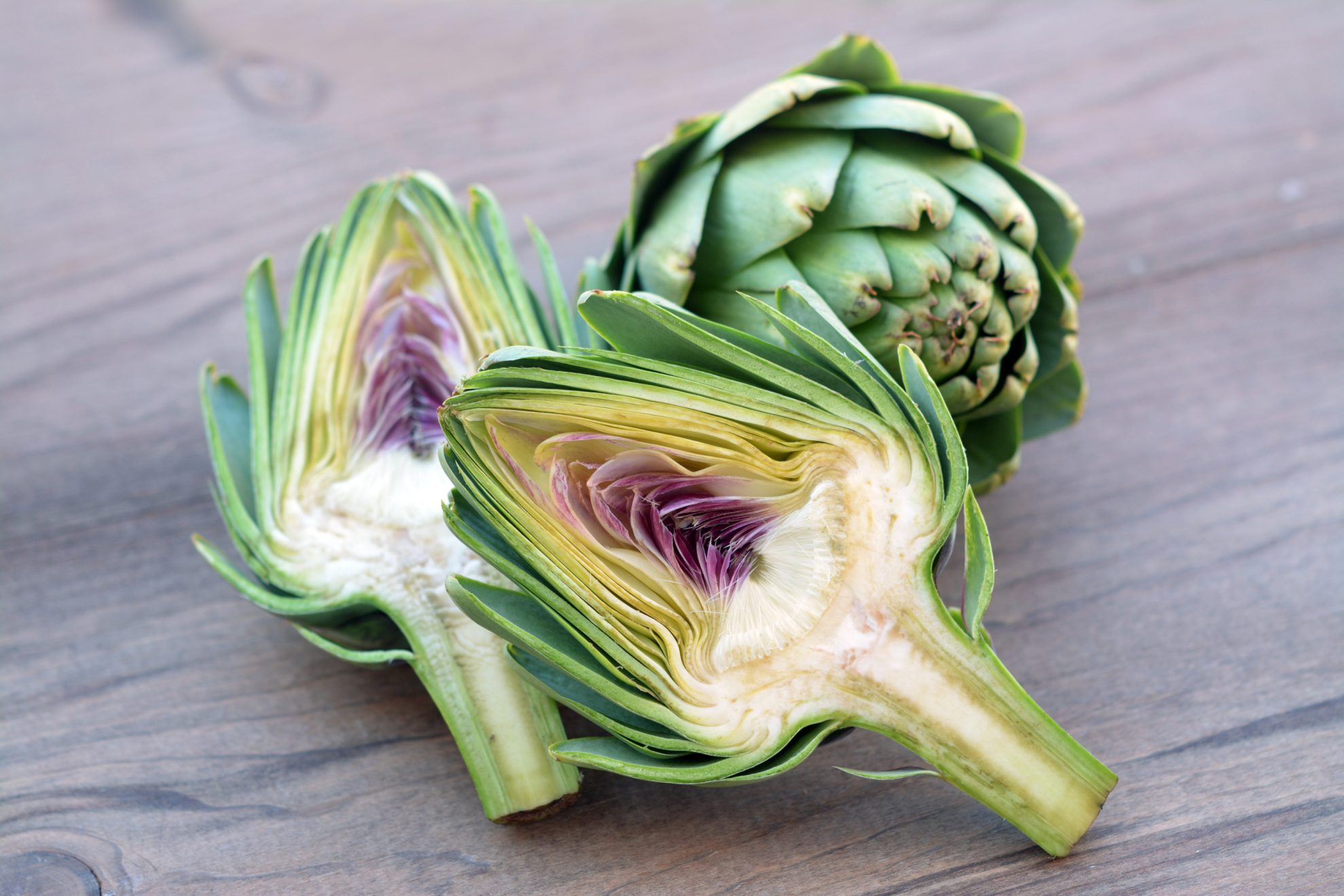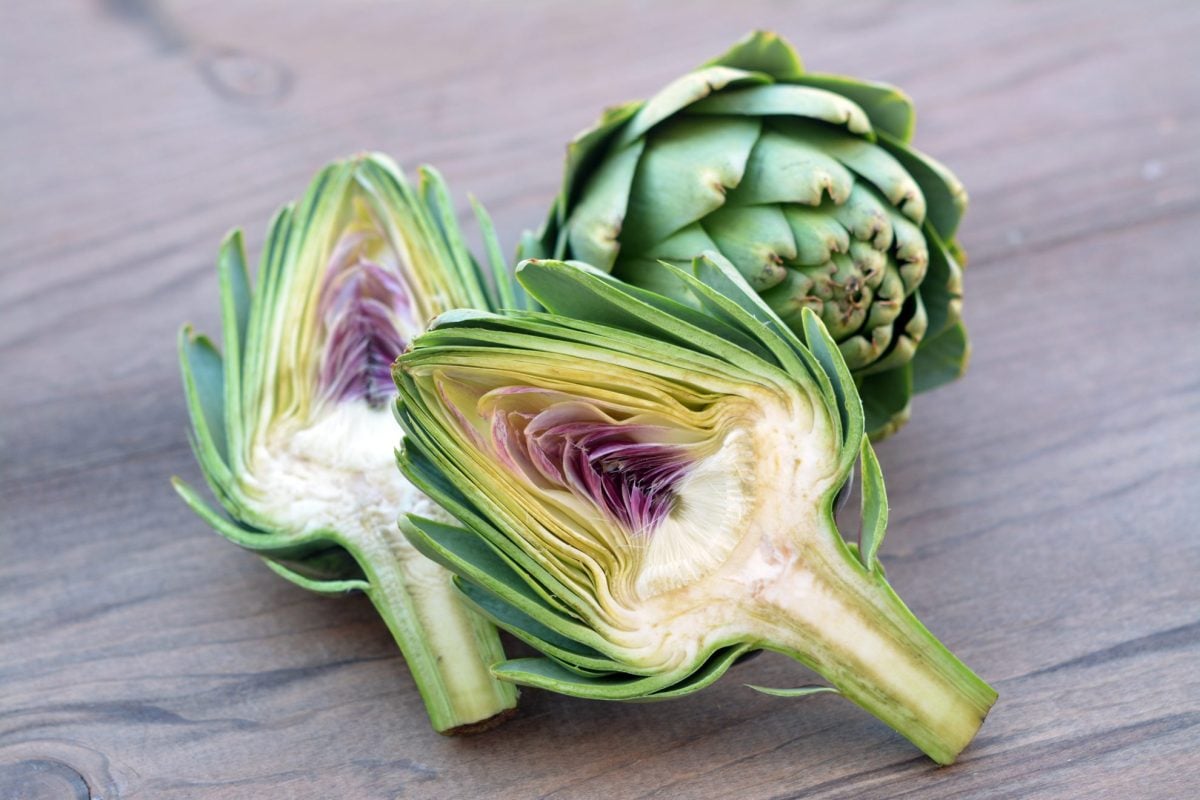 But the artichoke hearts, the very center after all of the leaves have been removed, is tender and squeaky when cooked. The whole vegetable and the canned hearts are so different in presentation that many don't even realize the two are one in the same.
Fresh artichoke season is short and the process to extract the hearts is so laborious, that I choose to use canned or marinated artichoke hearts when I desire them. After soaking in their vessels, they require a little more TLC, but are a meaty treat.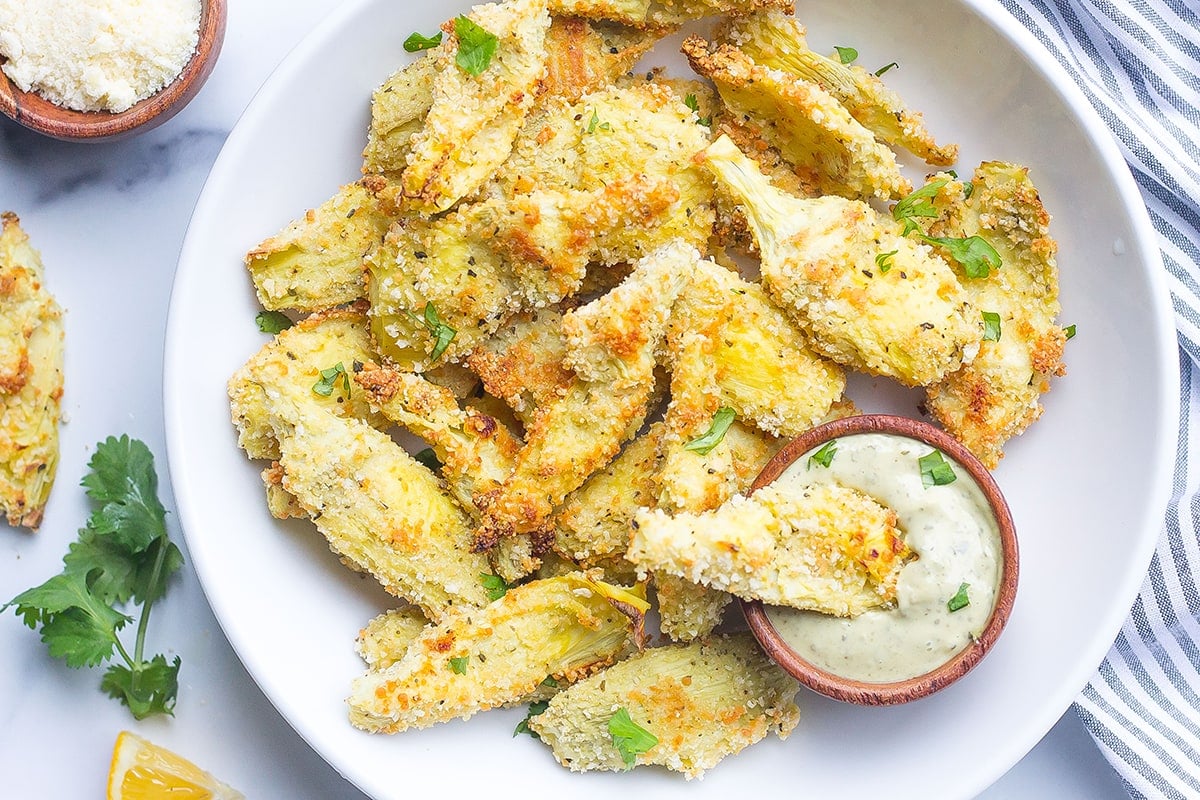 Ingredients
A true recipe of kitchen staples, at least in my home, these come together in a snap and can be served with a variety of global cuisines such as Mediterranean and American.
Quartered artichoke hearts– I prefer using the canned variety that are soaking in a brine instead of marinated, which can be infused with flavor but also more well oiled. If you do use marinated, drain well and pay dry. The process of tossing in olive oil might even be omitted depending on how lubricated they are.
Olive oil– Or any other neutral oil. While the cooking temperature is slightly above the smoke point, they won't be in long enough to burn,
Eggs- Used to help your crunchies cling to the artichokes. Opt for just egg whites if you prefer.
Garlic powder– for elevated flavors without having to peel and mince fresh garlic. Also consider using onion powder or a blend of both.
Parmesan cheese– Make sure this is freshly shredded from the block, or at the very least freshly shredded at the cheese counter and not shaker cheese. Shaker cheese will not give you the same nutty flavor, nor the same texture.
Panko Breadcrumbs– Panko is considered to be a Japanese style breadcrumb, but is made from the same type of bread as fine or Italian style, just a coarser crumb that sometimes resembles a piece of puffed rice.
Italian Seasoning- made of dried parsley, marjoram, basil, oregano and rosemary, make sure your blend is within 1 year old otherwise the flavors can be a little muted.
Fine sea salt- Yes, we generally use a coarse salt, but we needed something finer that would distribute evenly through the breadcrumb blend.
Black pepper- Freshly ground always has more flavor, try for a medium grind.
Herb lemon aioli sauce – Gotta love a dipping sauce! Garlic and herb lemon are fabulous. If you want something spicy or smoky, those are great options too. As are bottled salad dressings like ranch or blue cheese.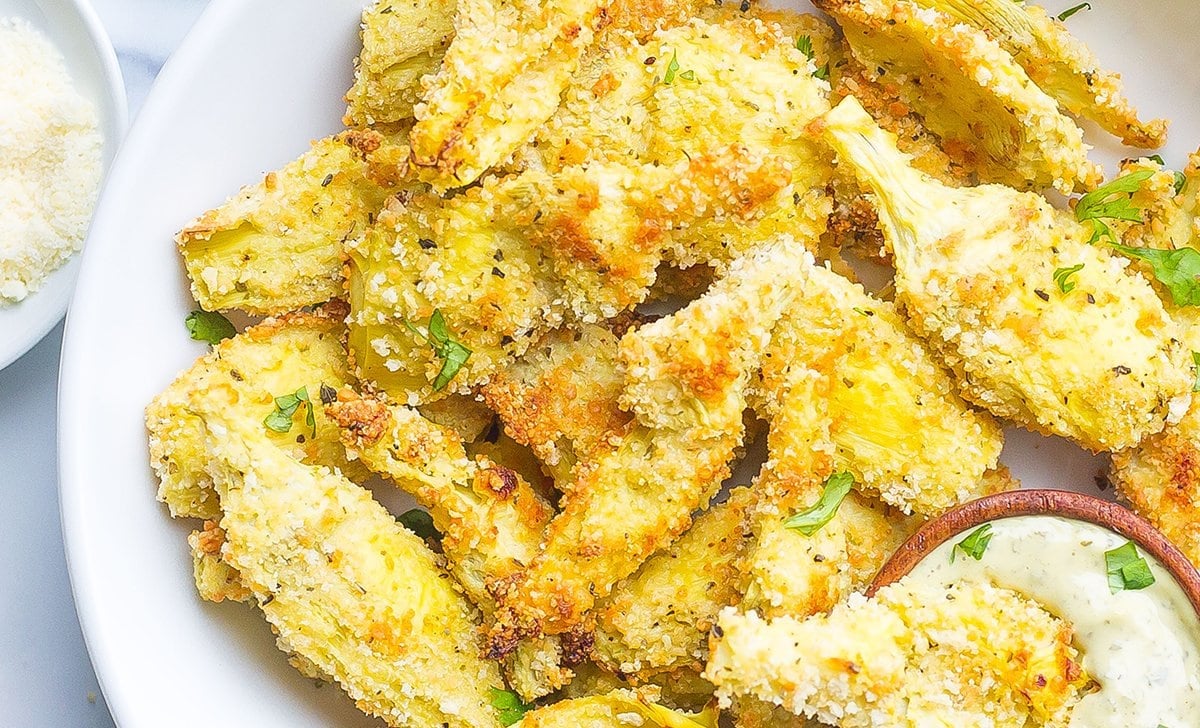 How to Make
The trick to getting these crunch is low moisture and high heat with just enough "glue" to hold it all together.
Preheat the oven and line a rimmed baking sheet with parchment paper to prevent sticking. Cooking spray also works but introduces more moisture, so use sparingly.
Start by draining the artichokes very well and then patting dry with paper towels. They have a lot of layers, nooks and crannies, so there are many places for the dreaded enemy to hide. Sometimes I even set them upside down on a paper towel lined plate to drain.
Place the artichoke hearts in a bowl and coat with the olive oil evenly.
In a different bowl, toss together the garlic powder, parmesan cheese, panko, Italian seasoning, salt and pepper.
Shake off any excess oil and then dip each artichoke in the egg mixture and then in the cheese mixture.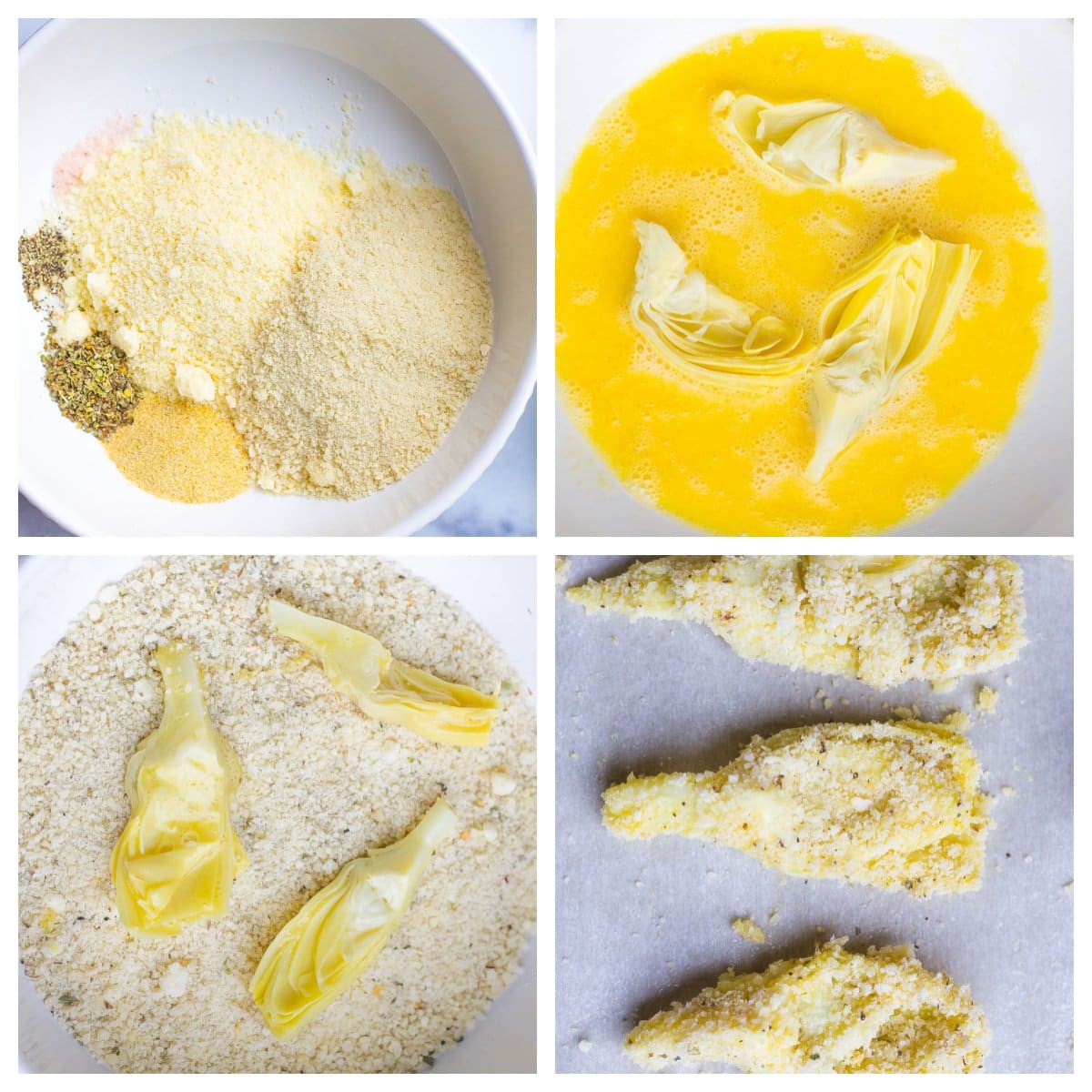 Place on the prepared baking sheet, leaving ample room between each. Placing them too close together will make steam and prevent crisping. Flip halfway to get even browning.
Remove, serve hot and with your favorite dipping sauce.
Air Fryer Artichoke Hearts
Crispy artichoke hearts can also be made in the air fryer, but depending on your fryer, you'll likely be able to do much smaller batches.
Preheat the air fryer to 300°F and coat with cooking spray. Cook for 8-10 minutes, this will depend largely on your Air Fryer. Flip halfway through cooking.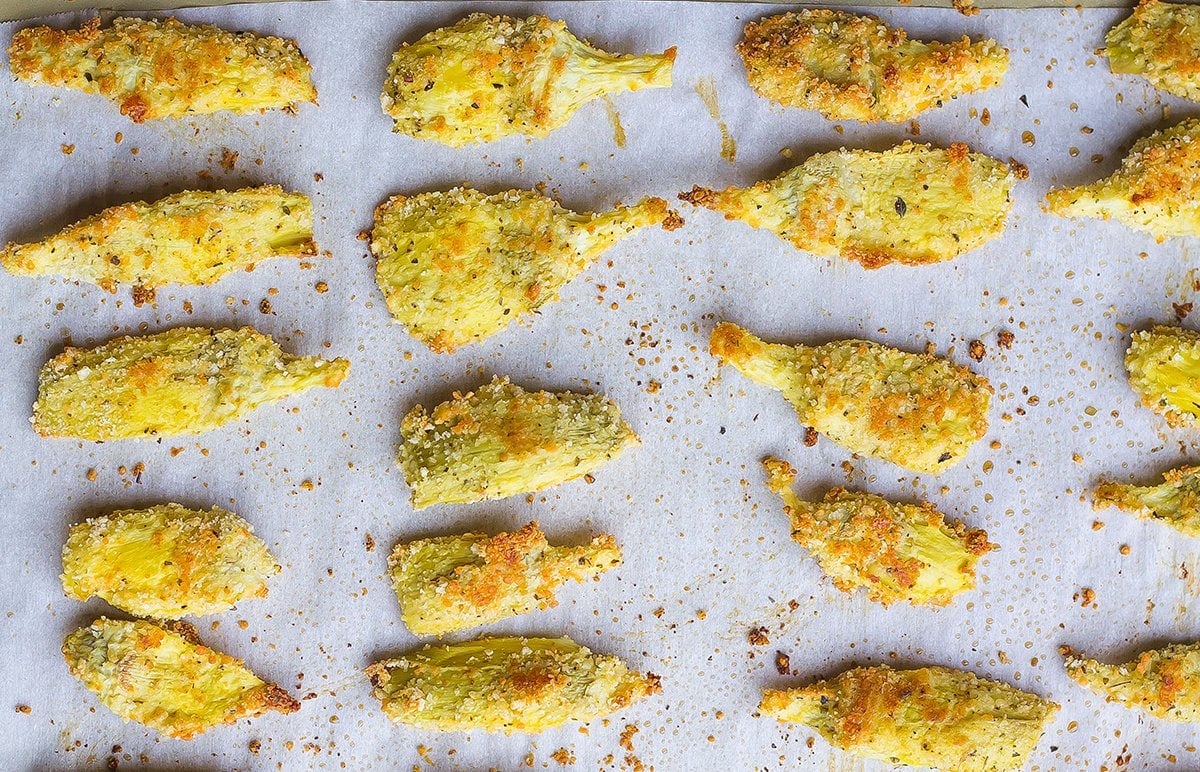 Storage & Reheating
If there are any leftovers, store in an airtight container for up to 5 days. Reheat in an air fryer or oven for best results. In a pinch, you can also use a hot skillet.
For an Air Fryer, heat to 300°F and heat for 2 minutes, flipping in the middle.
For all intents and purposes, these artichoke hearts should be freezer friendly at the point of dipping in the egg batter and then baked from frozen, but I have not personally tried this.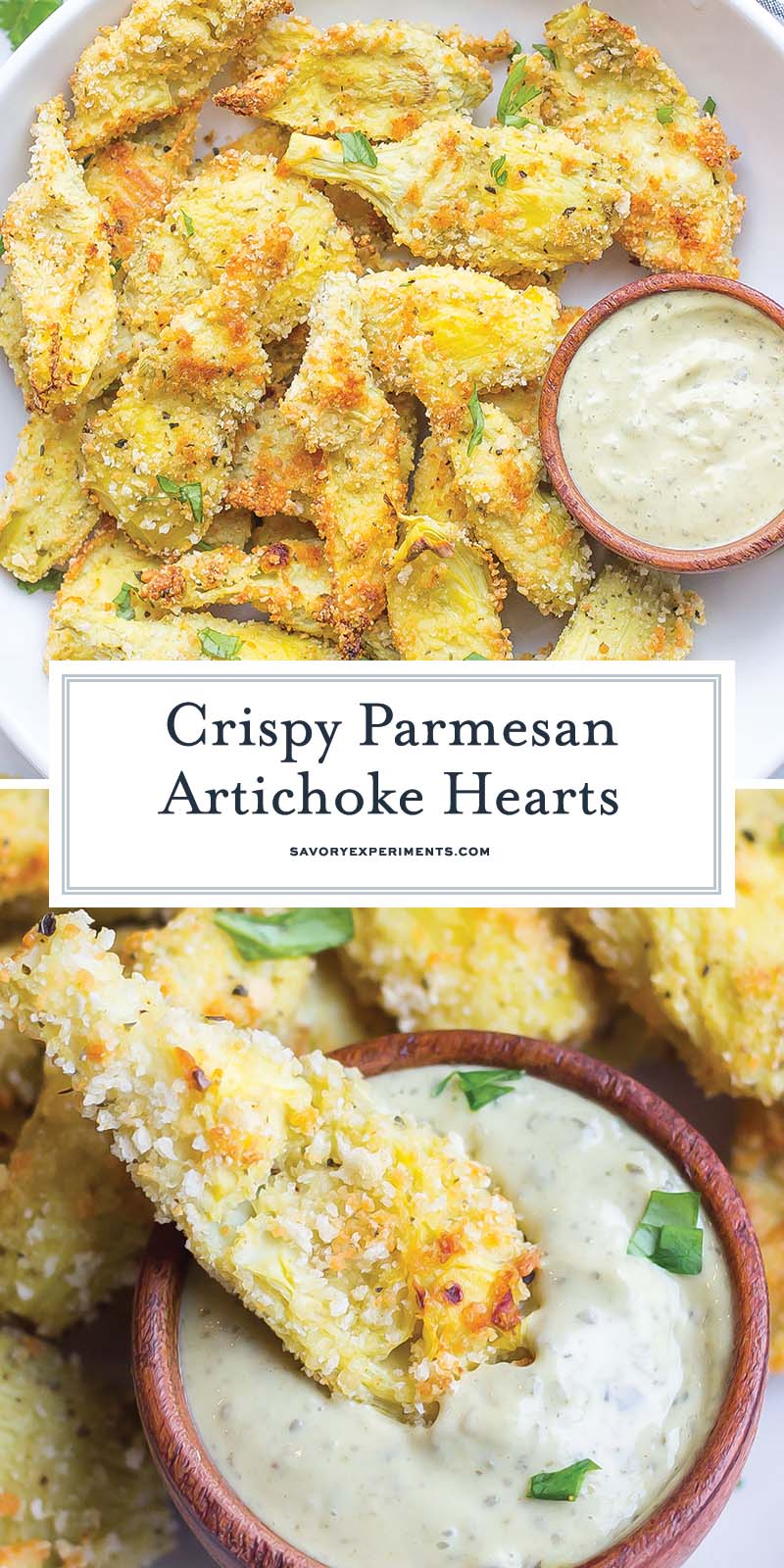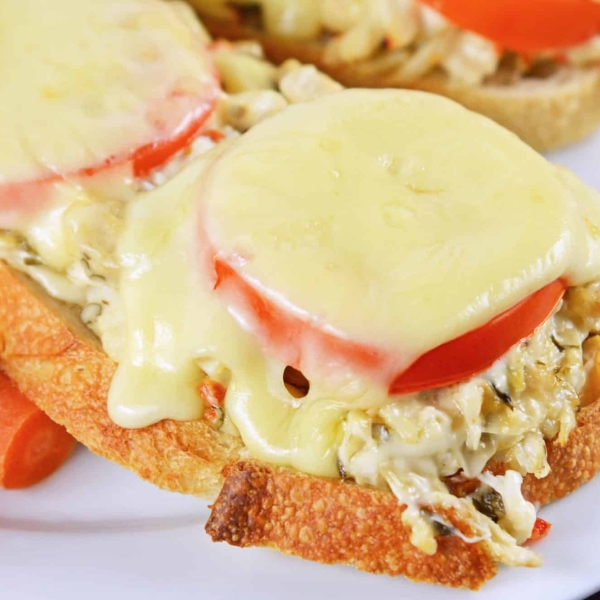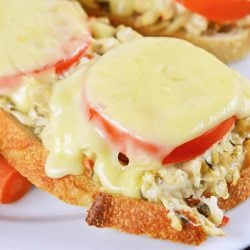 Crab Melt
This Crab Melt will become your favorite open faced sandwich recipe! Deliciously cheesy and easy to make!
See The Recipe!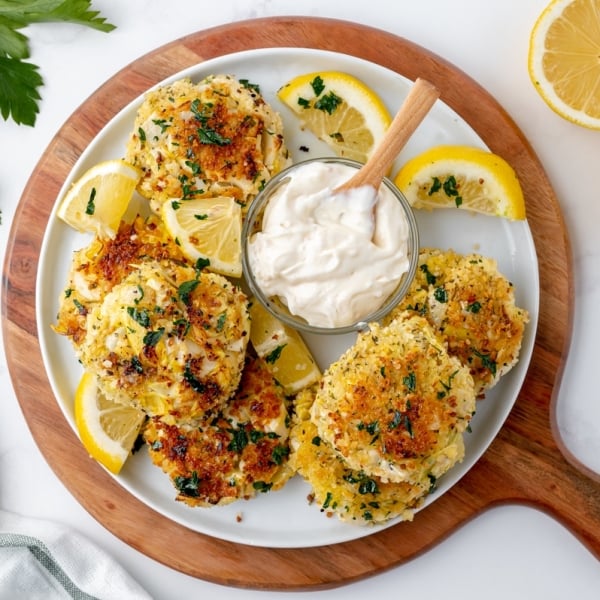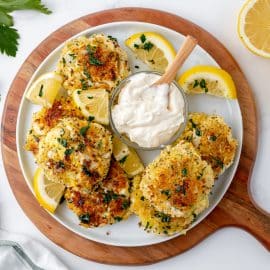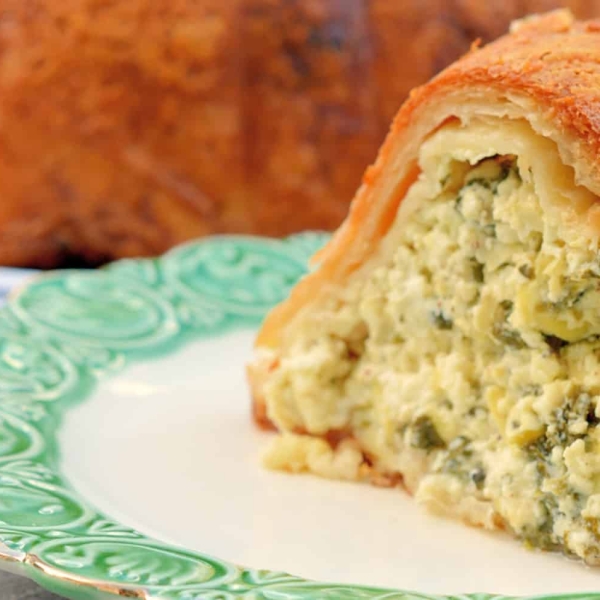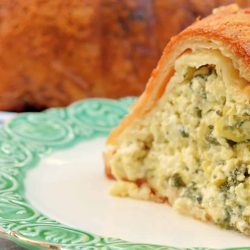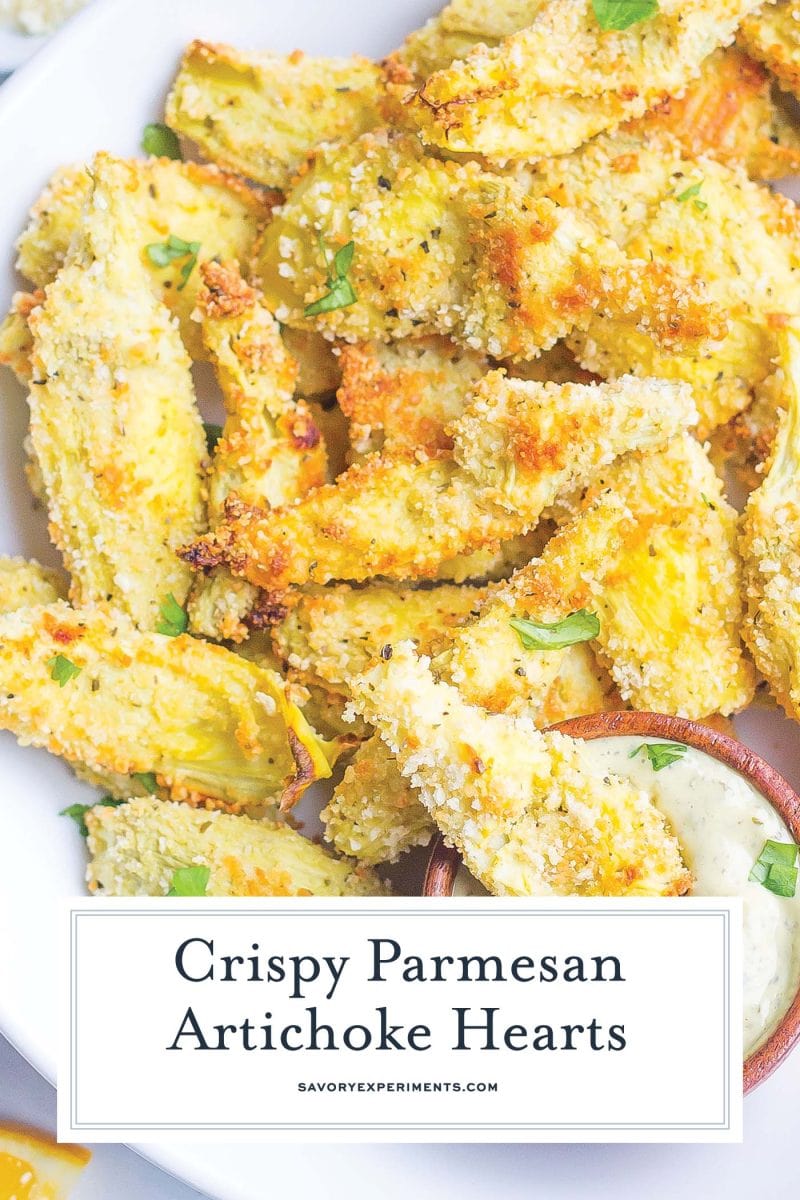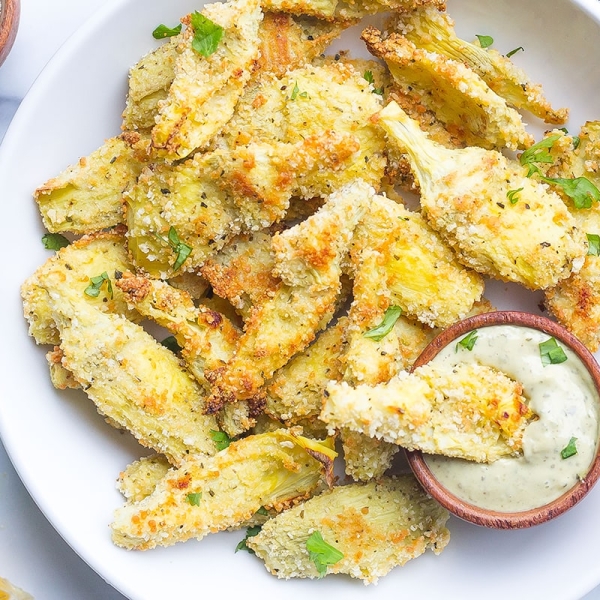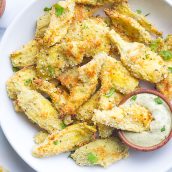 Crispy Parmesan Artichoke Hearts
Crunchy and crispy, these parmesan artichoke hearts are great as an appetizer, salad topper or side dish.
Instructions
Preheat oven to 425°F and line a rimmed baking sheet with parchment paper or coat lightly with cooking spray.

Place the artichoke hearts in a bowl and coat with the olive oil.

In a medium bowl, mix together the garlic powder, parmesan cheese, panko, Italian seasoning, salt and pepper.

Dip each artichoke in the egg mixture, then in the cheese mixture.

Place on baking sheet and bake for 20 minutes, flipping halfway.

Serve hot with aioli dipping sauce.

If you've tried this recipe, come back and let us know how it was in the comments or ratings.
Nutrition
Calories:
142
kcal
,
Carbohydrates:
9
g
,
Protein:
7
g
,
Fat:
8
g
,
Saturated Fat:
3
g
,
Polyunsaturated Fat:
1
g
,
Monounsaturated Fat:
4
g
,
Trans Fat:
1
g
,
Cholesterol:
88
mg
,
Sodium:
714
mg
,
Potassium:
65
mg
,
Fiber:
2
g
,
Sugar:
1
g
,
Vitamin A:
193
IU
,
Vitamin C:
1
mg
,
Calcium:
129
mg
,
Iron:
1
mg