Best Chicken Marinade Recipe
It's grilling season, and everyone loves some fresh juicy meat off the grill. Nothing is better than the taste of a piece of chicken, seafood, vegetables, or steak with a little bit of char.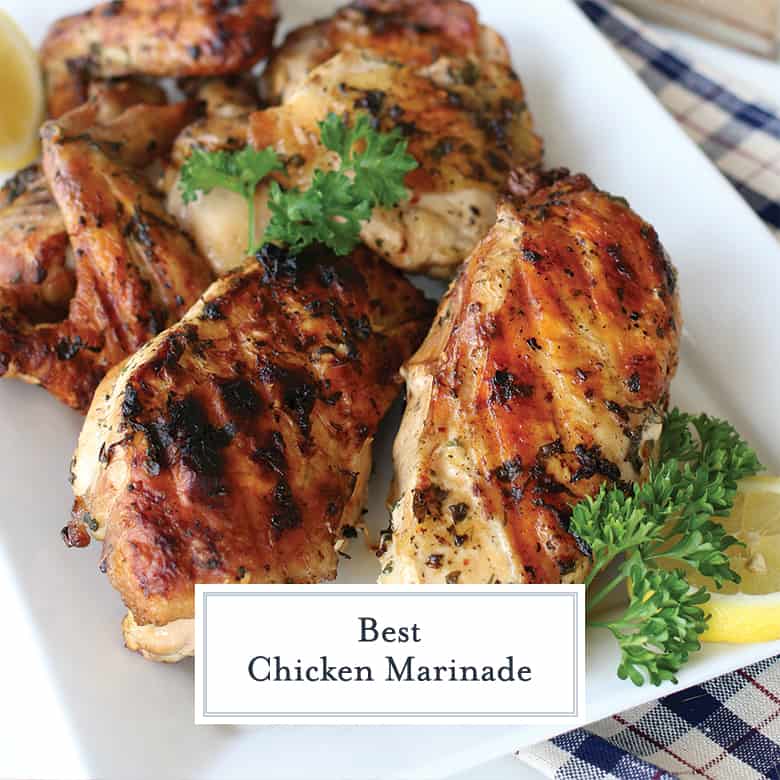 This simple marinade hands down makes the best chicken I have ever had on the grill. And versatile enough to be used on both vegetables and other meats.
But if you want your meat to be tender and juicy, and the best piece of food you have ever eaten, you are going to want to marinate your food prior to grilling it.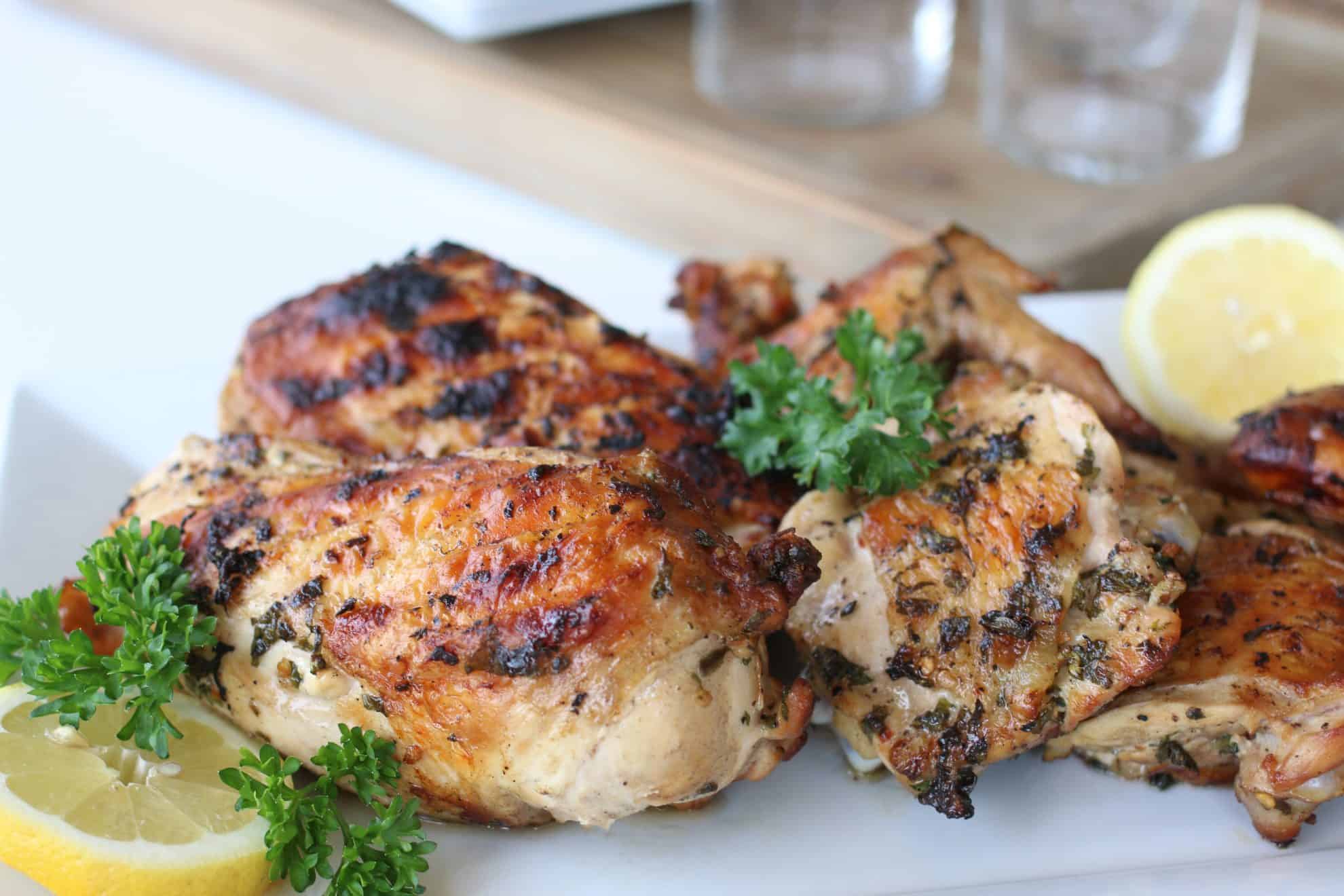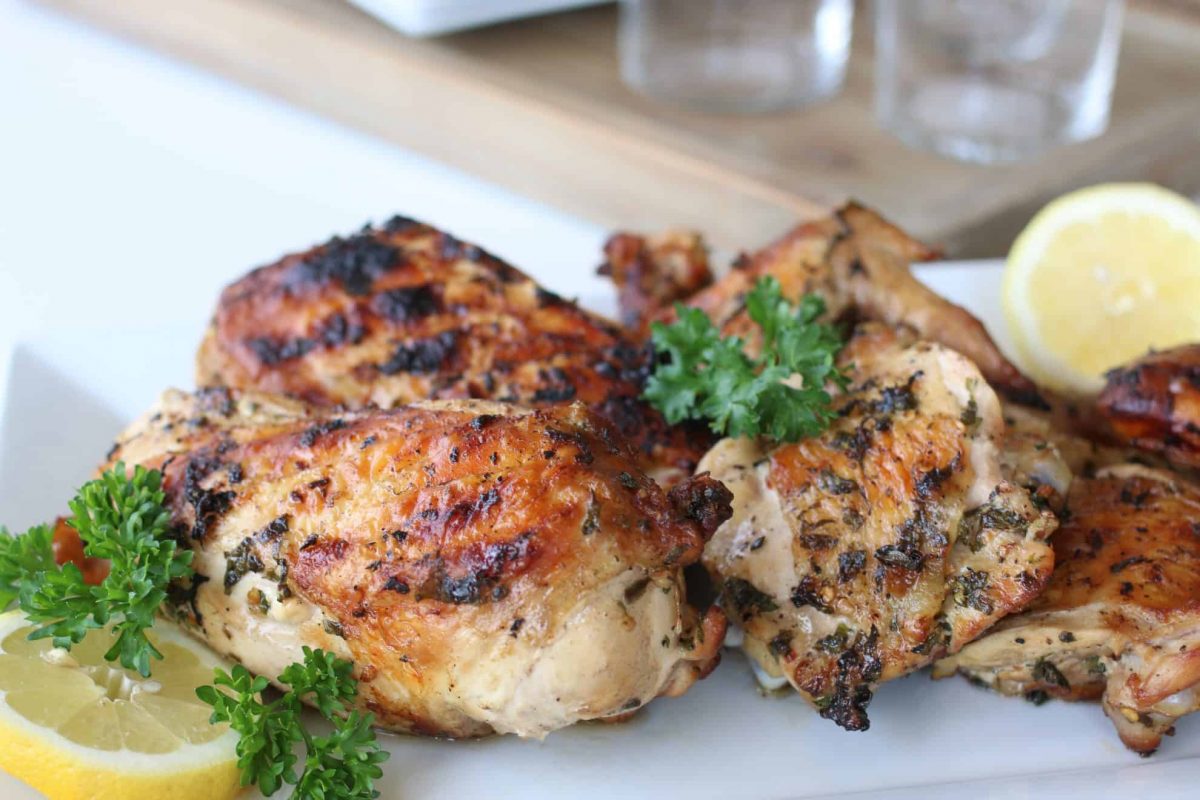 Regardless of the season, we grill a lot. Chicken is the #1 go-to item to have in the freezer and also to throw on the flames. But grilling chicken often leaves it dry and bland which is where this simple chicken marinade comes into play.
PRO TIP: Fresh herbs taste best, but you can also use dried herbs. The general substitution is 1 teaspoon for dried for 1 tablespoon fresh.
And the beauty of it, the marinade can be used on your whole meal and beyond. Vegetables, chicken, seafood and even meats.
It can be used on all of the above… even as a salad dressing! I like to grill my marinated chicken, but you can also bake or pan fry.
PRO TIP: Try to use fresh lemon juice when possible. Bottle juice is muted while fresh adds much more of a punch. If you use bottled, add a grates of lemon zest.
Fresh herbs, olive oil and citrus are the key elements and complement a whole host of flavors. So, here are some important things you need to know if you are using a marinade for chicken, seafood, meat, or vegetables.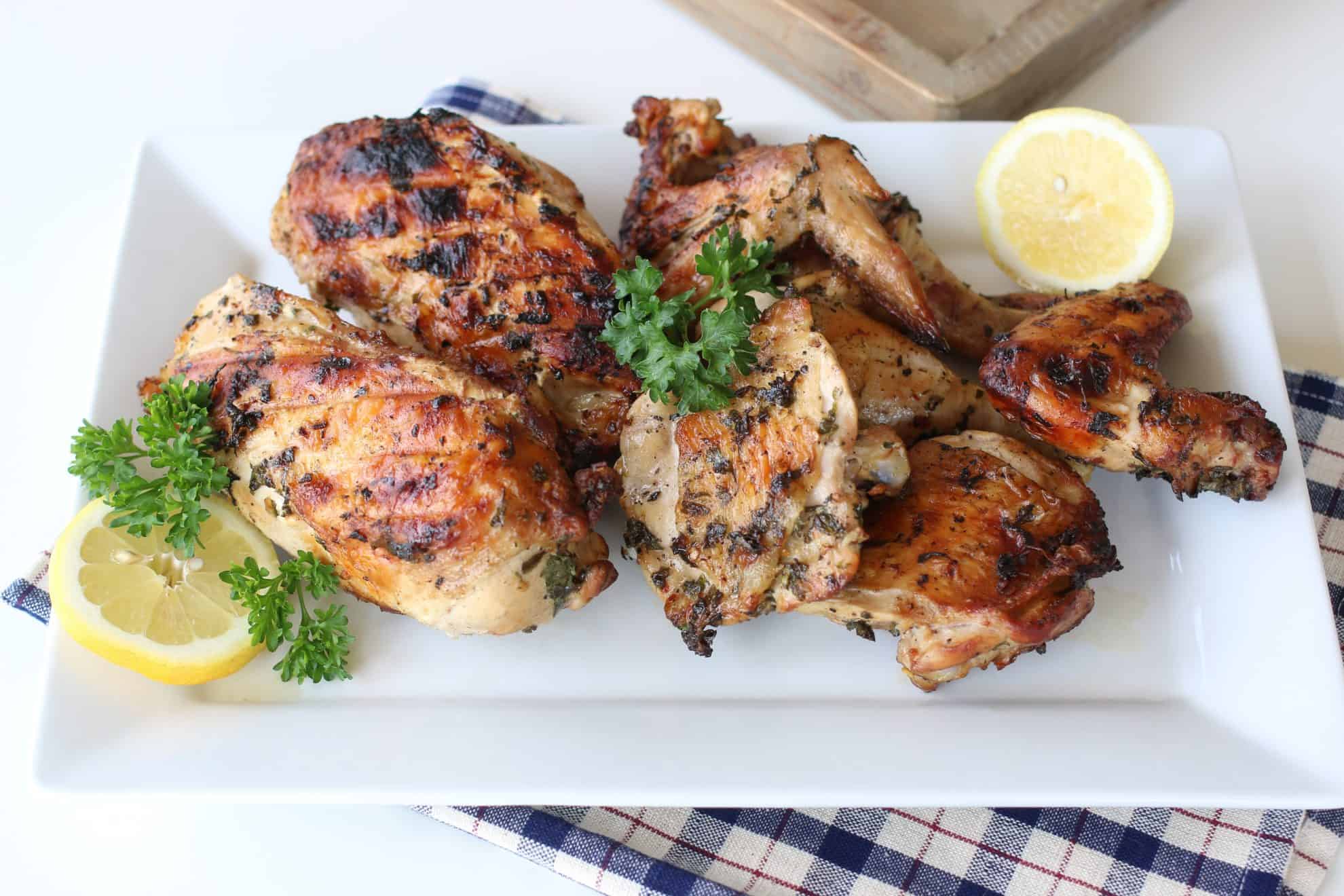 What is a Marinade?
A marinade is a liquid solution that you use to soak foods before you cook them. A marinade begins the breakdown process for cooking making the food more tender and adding flavor.
This action can be done when you use ingredients that are acidic such as vinegar, wine, fruit juice, or enzymatic components such as pineapple, papaya, ginger, or guava.
Marinades can be store bought or you can make them from scratch at home.
Why Marinade Before You Grill?
This breakdown allows the fluids and seasoning to enter the food so that it will maintain its moisture during the grilling process.
Marinades are important before grilling because grilling produces a high and intense heat that can dry the food out.
Certain meats like chicken and pork are known to dry out on the grill. However, a marinade will help maintain their moisture while infusing them with taste.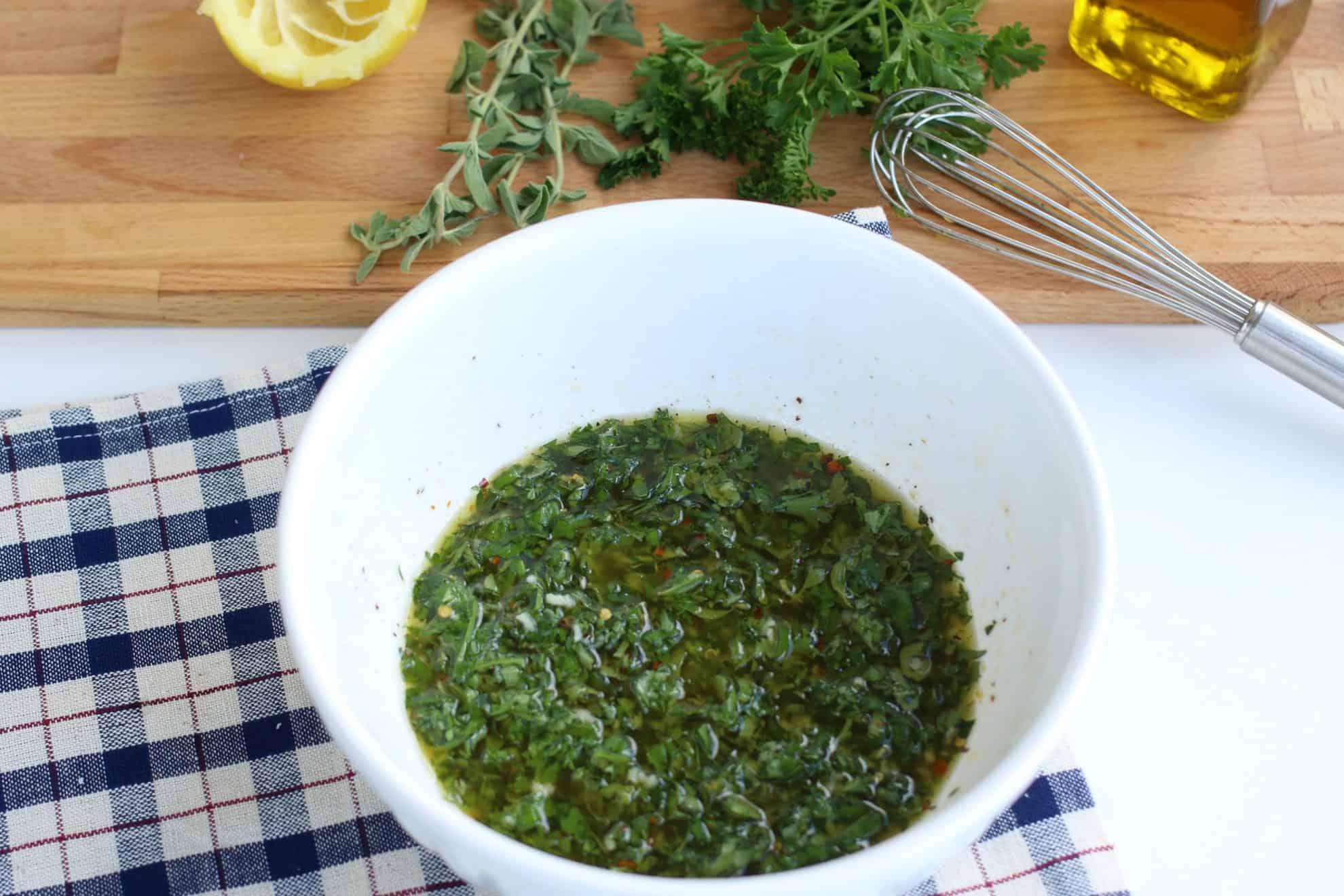 How Long Should You Marinade Your Food?
When you marinade any type of food, it is important to know how long to marinade them. If you marinate certain meats too long like chicken, fish, and seafood, you will get the opposite effect. Here is the breakdown:
Fish and Seafood:

You will want a milder marinade for a shorter time for fish and seafood. You will want to marinade them for 15-30 minutes.

Chicken

: For chicken, you can marinade it a little longer without risking it getting tough. Marinade chicken for about 2 hours.

Beef and Pork

: Beef and pork are naturally tougher meats, so you can marinade them much longer. Depending on how tender you like it, you should marinade beef and pork 1 to 12 hours.

Vegetables

: Dense vegetables should be marinated for 30-minutes to 2 hours. Softer vegetables will only need to be marinated for 30-minutes at the most.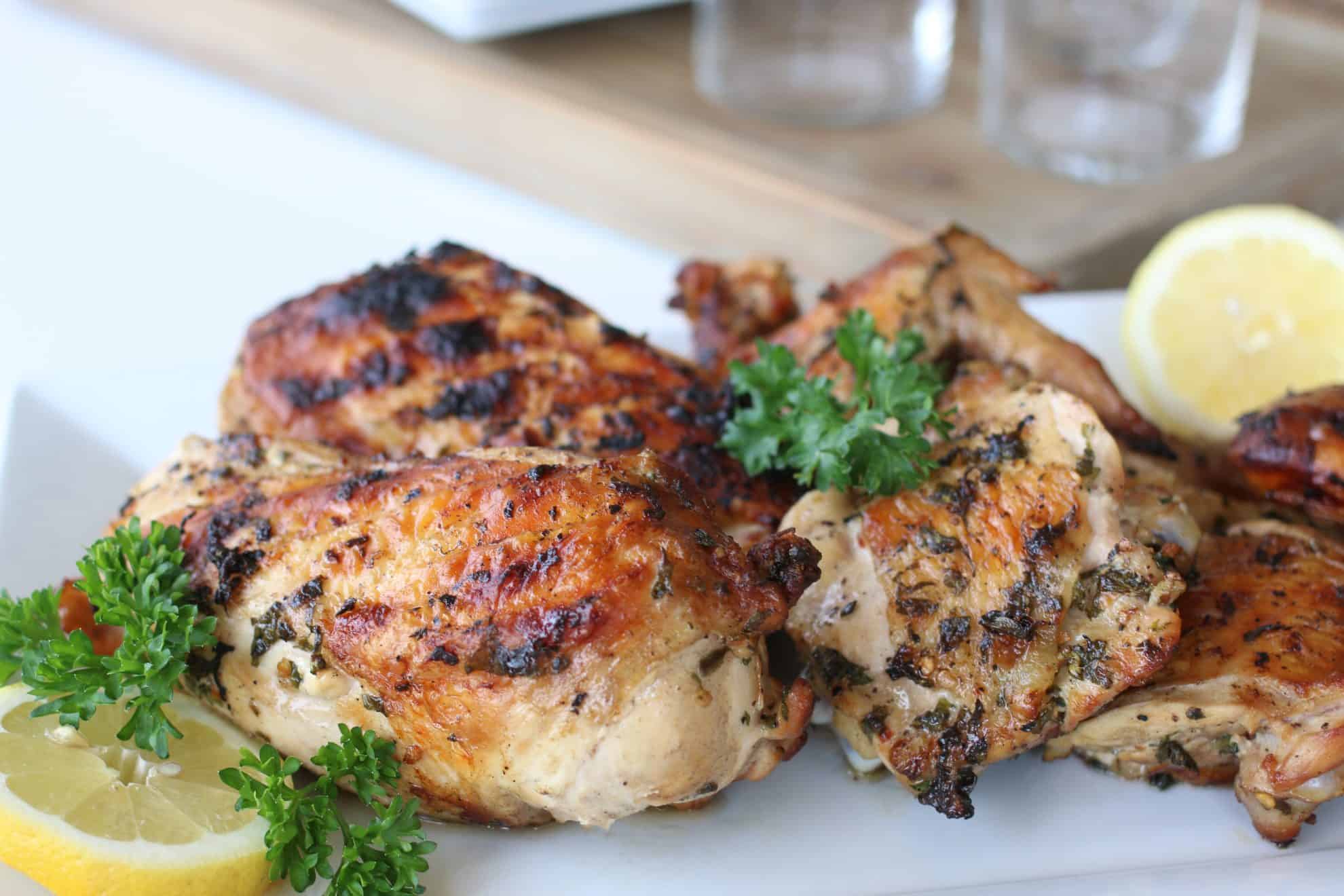 Keeping Food Safe to Eat
When marinade comes in contact with any uncooked meat such as fish, seafood, and chicken, it picks up any bacteria that may be on it.
Because bacteria grows in warmer temperatures, you should not marinate your meats at room temperature. Instead keep your marinated meat in the refrigerator until it is ready to be cooked.
Additionally, the acid from marinade can react with metal or glaze and release led or other unwanted elements into your food.
Therefore, to avoid this, you will want to avoid aluminum foil, metal bowls, and other stainless steel pans. Instead, marinade meats in glass, food-safe plastic bowls, or a ziplock bag.
PRO TIP: If you are marinating more than one protein or vegetables, do so in separate containers or bags.
Once you have finished marinating your food, you will want to discard the remaining marinade that has come into contact with the food. You also shouldn't use the marinade that has been in contact with the raw food to baste while cooking.
Step-by-Step Instructions for this Simple Chicken Marinade
Add the lemon juice, olive oil, and minced garlic into a medium bowl. You will want to put the seasonings into the bowl with the lemon juice, olive oil, and minced garlic.
Add the cut herbs to the bowl. You will want to whisk everything together until it's combined.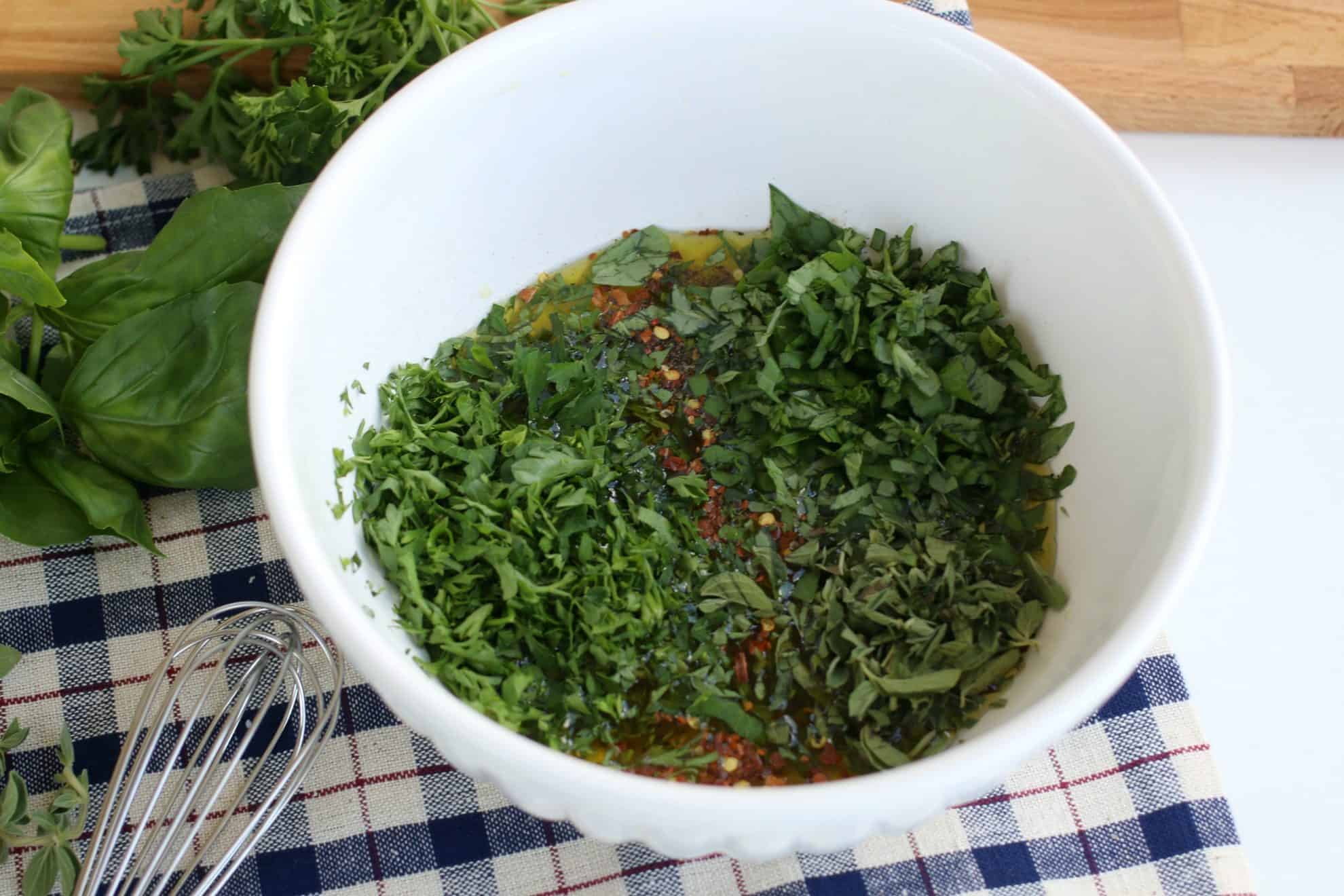 Grab a large bowl and add the chicken. The chicken should all fit inside the bowl with a little but of room on top for the marinade. Add the Simple Marinade to the chicken.
Warning, this will smell really delicious. You will want to put the marinated chicken into the fridge for at least 2-8 hours. The longer the better.
This marinade also tastes particularly good on a spatchcocked chicken, either grilled or baked.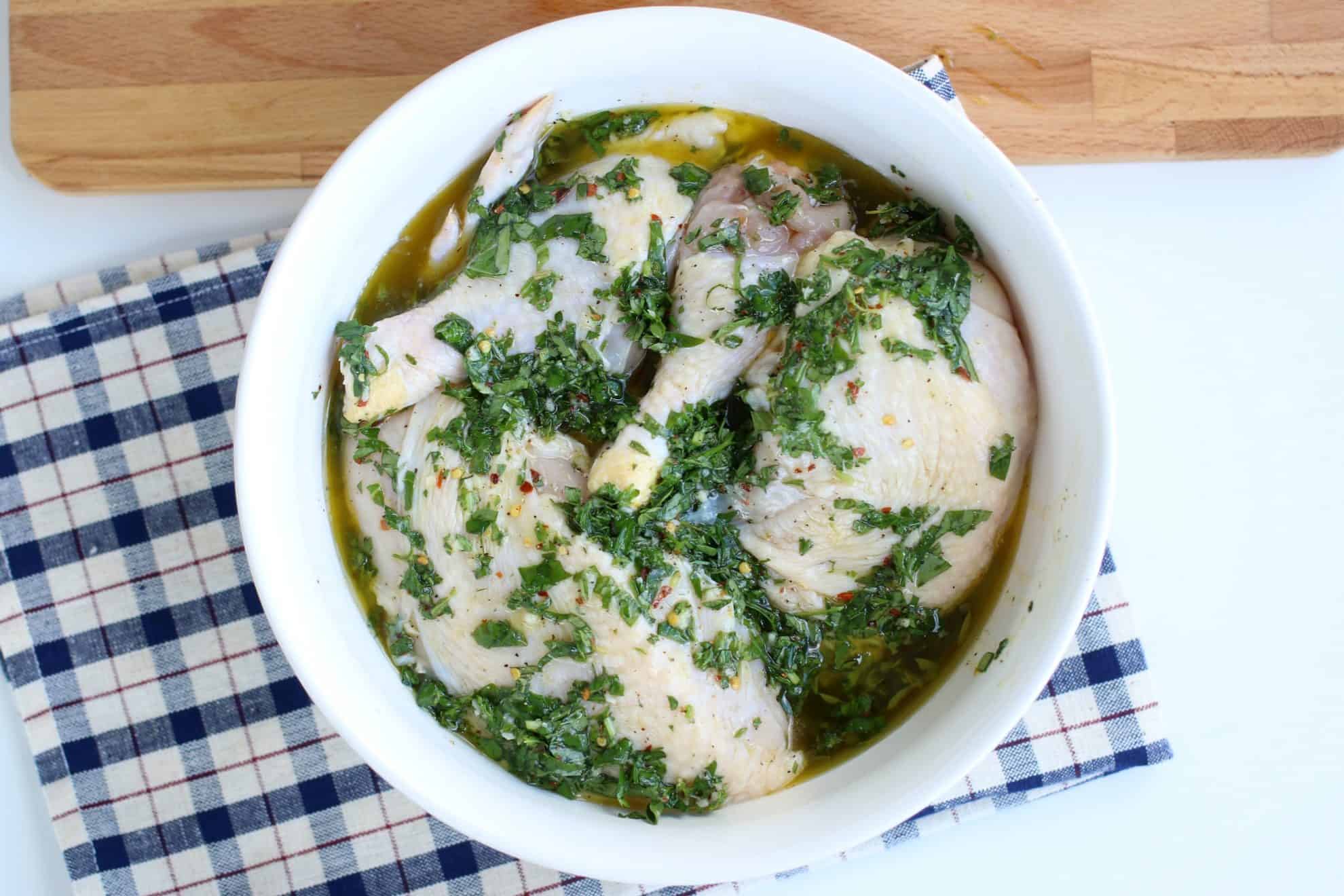 Questions you might have about how to make the best chicken marinade:
Can I freeze this chicken? This is a freezer friendly chicken recipe. Simply freeze uncooked chicken or meat with marinade in freezer bag. Thaw overnight in refrigerator, then grill or cook in skillet. Make sure to check out my tips and tricks for freezing food.
Do I have to use olive oil? Olive gets pricy, I get it. You can substitute it for vegetable or canola oil, you'll just lose a little flavor, but will still get nice, juicy chicken.
Do I have to use a whole chicken? Nope! Use whatever chicken pieces you'd like. Boneless skinless chicken breasts work, but my favorite are boneless chicken thighs.
Can I add in other flavors? Sure! This grilled chicken marinade is an excellent base for additional flavors. These are some of my favorites:
Balsamic Vinegar
Worcestershire Sauce
Soy Sauce
Brown Sugar
Honey Mustard
Dijon Mustard
What does the internal temperature of cooked chicken need to be? Whether is it grilled or baked, chicken needs to be 165 degrees. Grab a meat thermometer for the most accurate readings.
I only have 30 minutes, can I still marinate? You can, but it won't have as much flavor. If you have a shorter amount of time to mariante, try using pieces of chicken without bones and tenderizing them using a meat mallet.
This helps to speed up the process of breaking down fibers manually and gives the marinade more spaces to hide.
Is this a gluten free chicken marinade? All of the ingredients are generally gluten free, but check labels on your ingredients to make sure.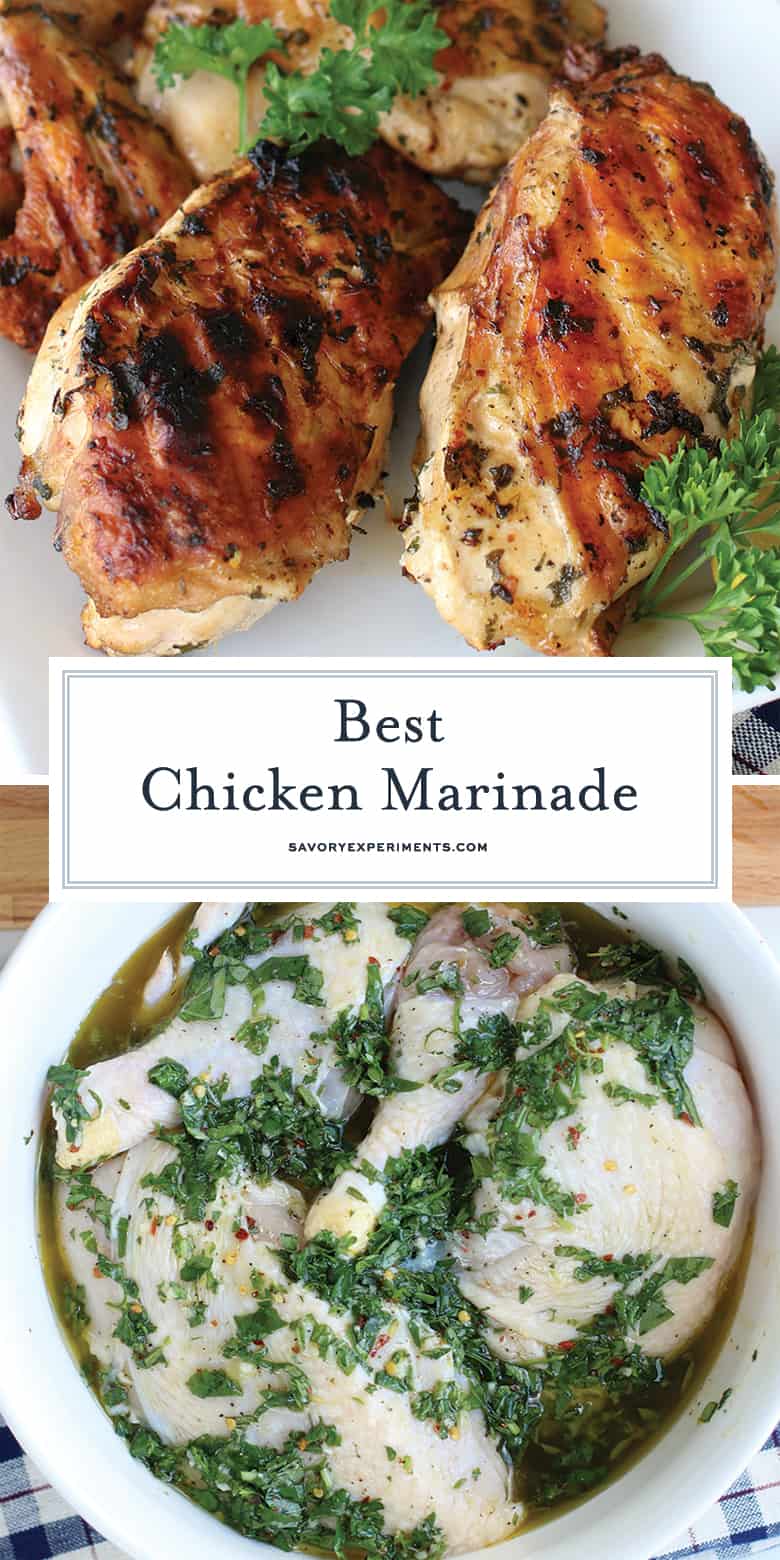 More recipes for chicken on the grill:
Grilled Citrus Chicken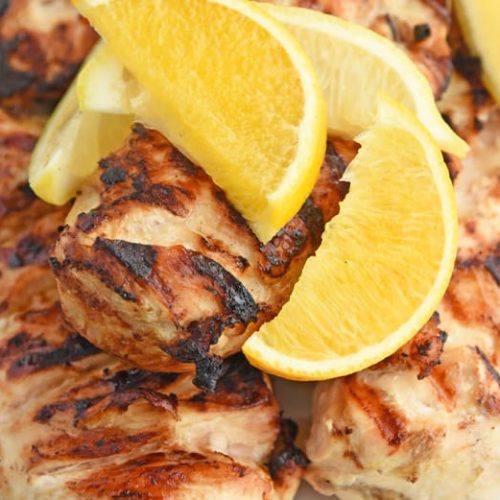 Looking for juicy chicken on the grill? Check out my Citrus Grilled Chicken recipe and tips for the best chicken on the grill!
Jalapeno Bacon Wrapped Chicken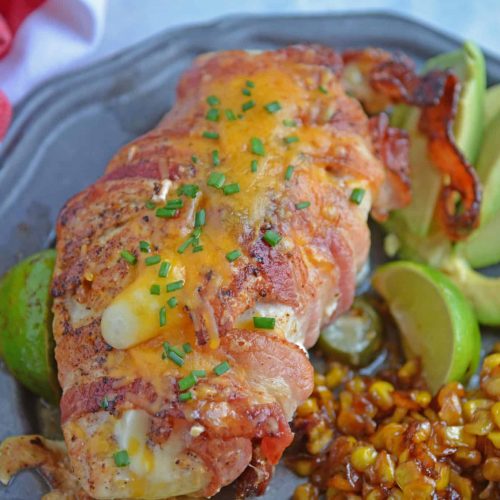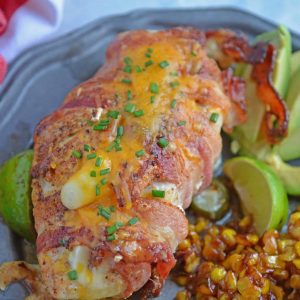 Jalapeno Bacon Wrapped Chicken is a cheese stuffed chicken breast recipe using three cheeses and fresh jalapenos. Avocado and lime cool off the hot flavors.
Ranch Grilled Chicken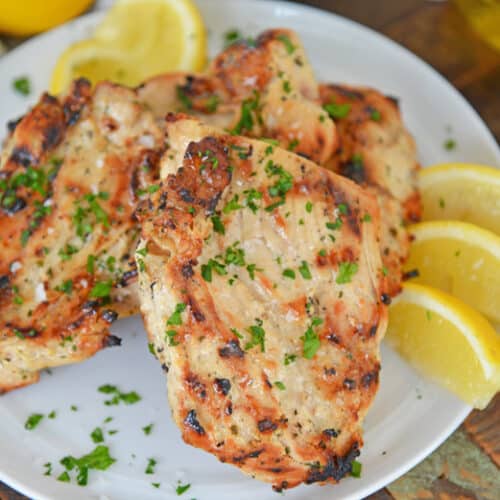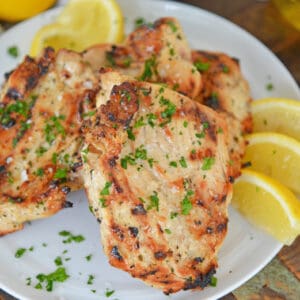 Fire up the grill and make this delicious and juicy Ranch Grilled Chicken for dinner tonight! The best part? You only need 5 ingredients!
Tools for making chicken on the grill:
Good Extra Virgin Olive Oil– A good olive oil will taste like, well, olives, while a poorly made one will taste like vegetable oil. Gross. While people tend to favor Italian and Greek olive oils, I prefer to buy mine domestically.
There are some great ones out there from all over the world, but the reporting of ingredients isn't always the same and you could find that your super expensive olive oil was actually cut with vegetable oil.
Plastic Bag Stand– If you are into meal prep, freezer meals or just marinate a lot, this little handy dandy tool is great for helping ziploc bags stand upright while you are working and avoiding spills.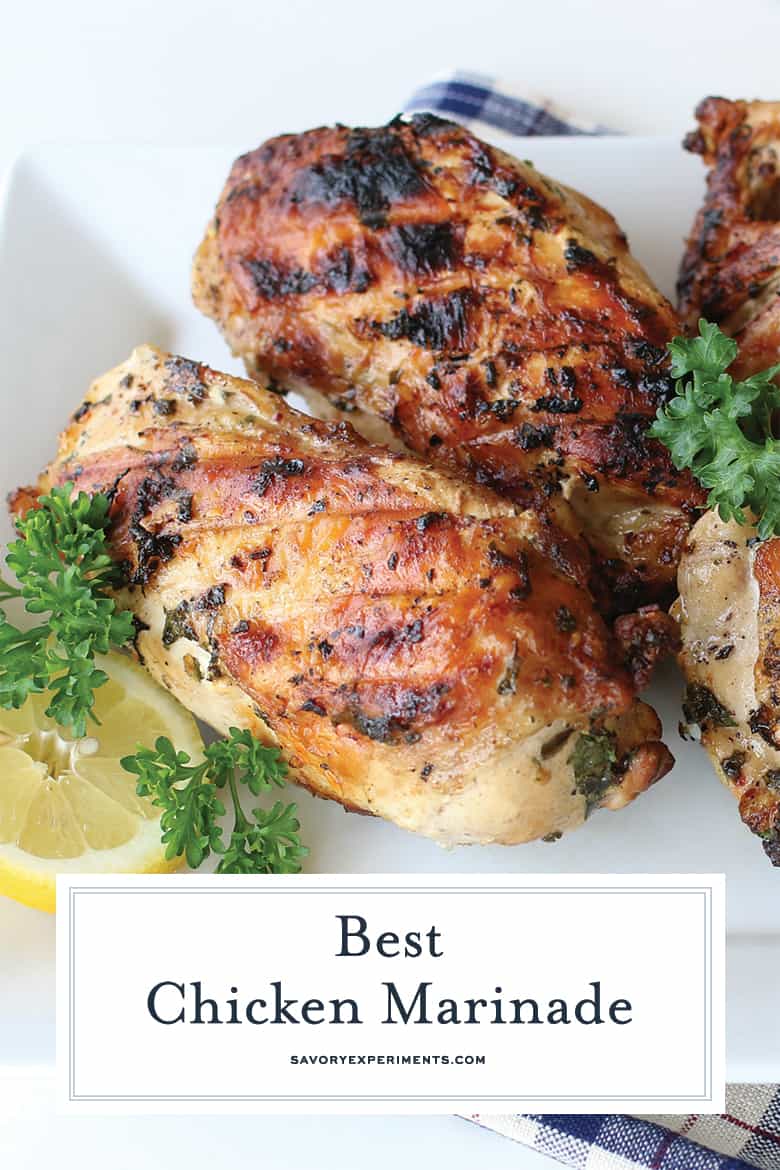 This simple marinade hands down makes the best chicken I have ever had on the grill. And versatile enough to be used on both vegetables and other meats.
CONNECT WITH SAVORY EXPERIMENTS!

Be sure to follow me on social media, so you never miss a post!

Facebook | Twitter | Youtube
Pinterest | Instagram

Get our FREE 8 Day E-Course on How to Be a Better Home Cook. Sign up HERE!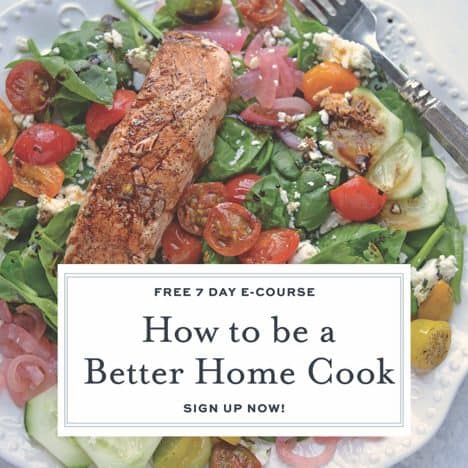 Best Chicken Marinade
This simple marinade hands down makes the best chicken I have ever had on the grill. And versatile enough to be used on both vegetables and other meats.
Instructions
Combine lemon juice, olive oil, garlic, red pepper flakes, Kosher salt, black pepper, parsley, basil and oregano in a bowl.

Mix well.

Combine with chicken in a large mixing bowl or an airtight plastic bag. Massage into chicken.

Refrigerate at least 2 hours, but up to 24 hours.

Remove chicken from marinade, discarding remaining marinade mixture.

If grilling, heat to medium-high heat.

Cook on indirect heat for 30 minutes, turning, occasionally, or until internal temperture of chicken reaches 165 degrees.

Remove and allow to rest for 5 minutes before serving.

If you've tried this recipe, come back and let us know how it was!
Notes
Freezer friendly – freeze uncooked chicken or meat with marinade in freezer bag. Thaw overnight in refrigerator, then grill or cook in skillet.
Nutrition
Calories:
545
kcal
|
Carbohydrates:
4
g
|
Protein:
36
g
|
Fat:
42
g
|
Saturated Fat:
10
g
|
Cholesterol:
143
mg
|
Sodium:
432
mg
|
Potassium:
437
mg
|
Fiber:
1
g
|
Sugar:
1
g
|
Vitamin A:
780
IU
|
Vitamin C:
14.9
mg
|
Calcium:
73
mg
|
Iron:
3
mg