Cajun Chicken Alfredo is a simple, delicious pasta recipe to make at home! Whether you're feeding kids, treating yourself to date night at home or you just want a comfort food recipe, this Cajun flavor chicken with creamy pasta sauce is easy to make and ready in less than 30 minutes.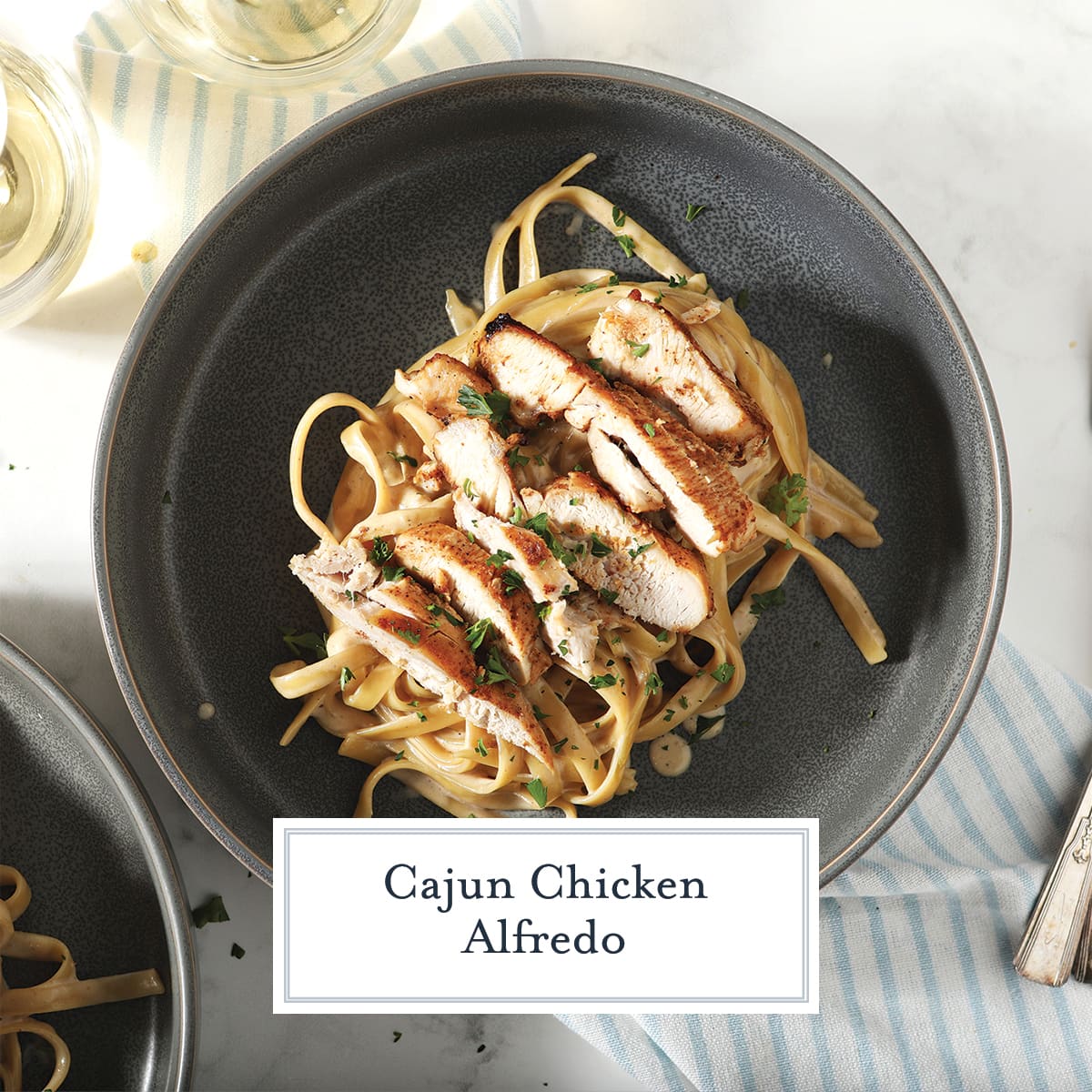 When we were consuming this pasta after I made it the first time, I turned to my husband and told him this recipe was worthy of being a last meal. While we don't make recipes like this often at home, this is a favorite pasta for us all because, well, it's really just that tasty.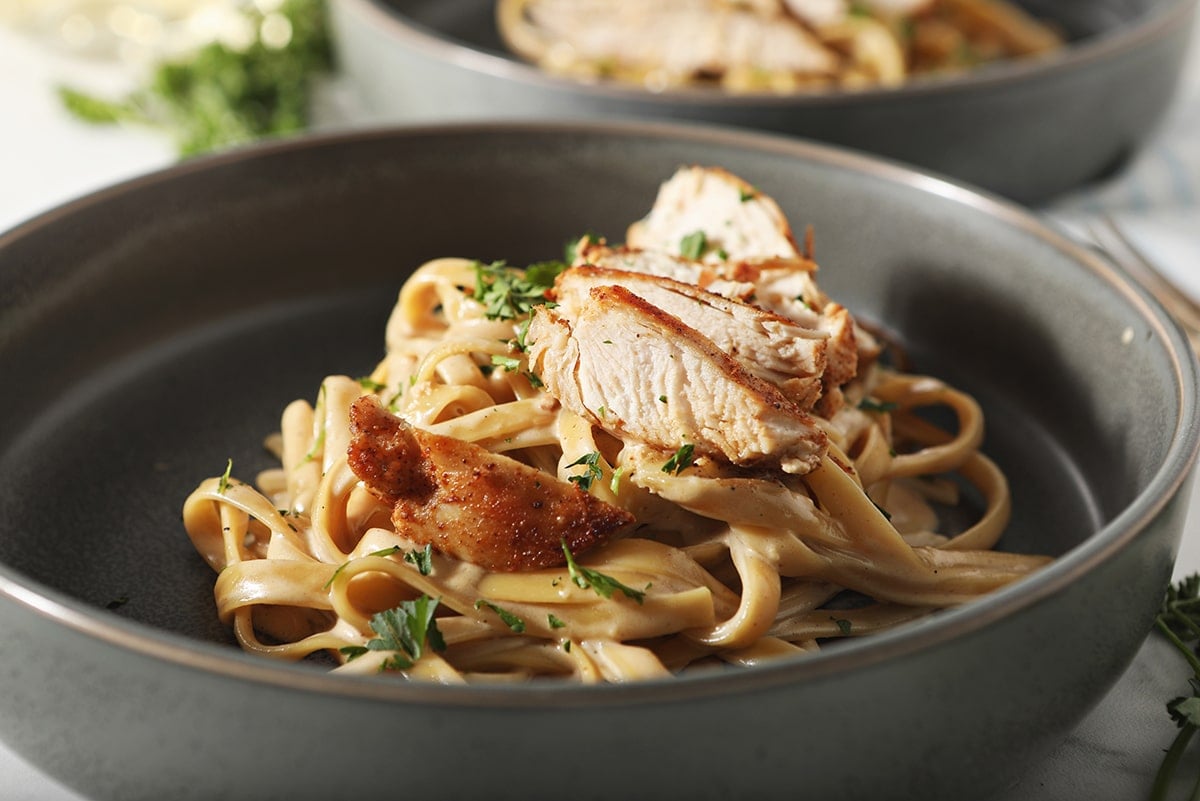 There's something incredibly comforting about a creamy pasta dish, and this Cajun Chicken Alfredo is no different. It's a definite treat, and it looks fancy, but it's actually quite simple to make at home when you have the necessary ingredients. It's also an incredibly easy dinner for any home cook to make for the whole family.
This recipe offers triple threat flavor combinations—perfectly cooked pasta, Cajun spice, juicy chicken and a decadent, creamy Cajun Alfredo sauce that's lick-the-bowl good.
Yes, this Cajun Chicken Alfredo a total treat, and yes, it should be enjoyed as such. Mmkay?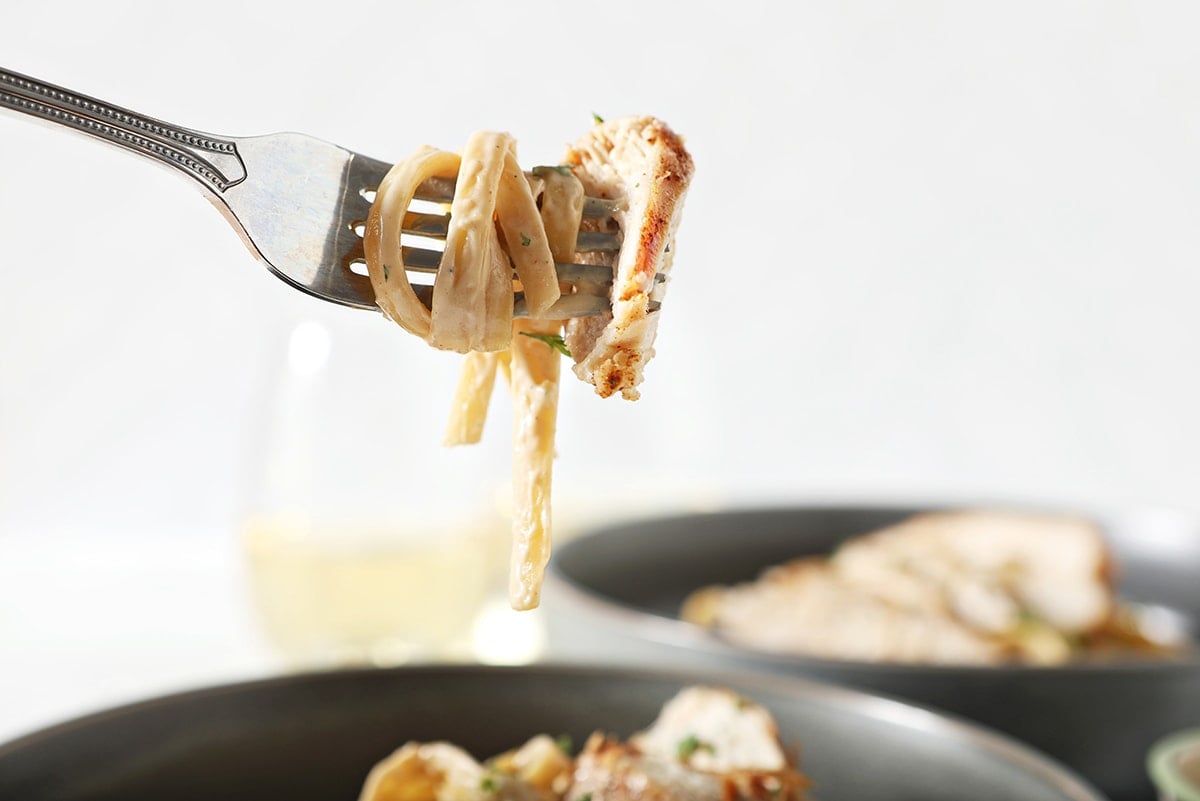 Cajun Chicken Alfredo Ingredients
This recipe calls for a LOT of dairy products, so plan on visiting your grocery for those items. However, these are all simple ingredients that should be easy to find!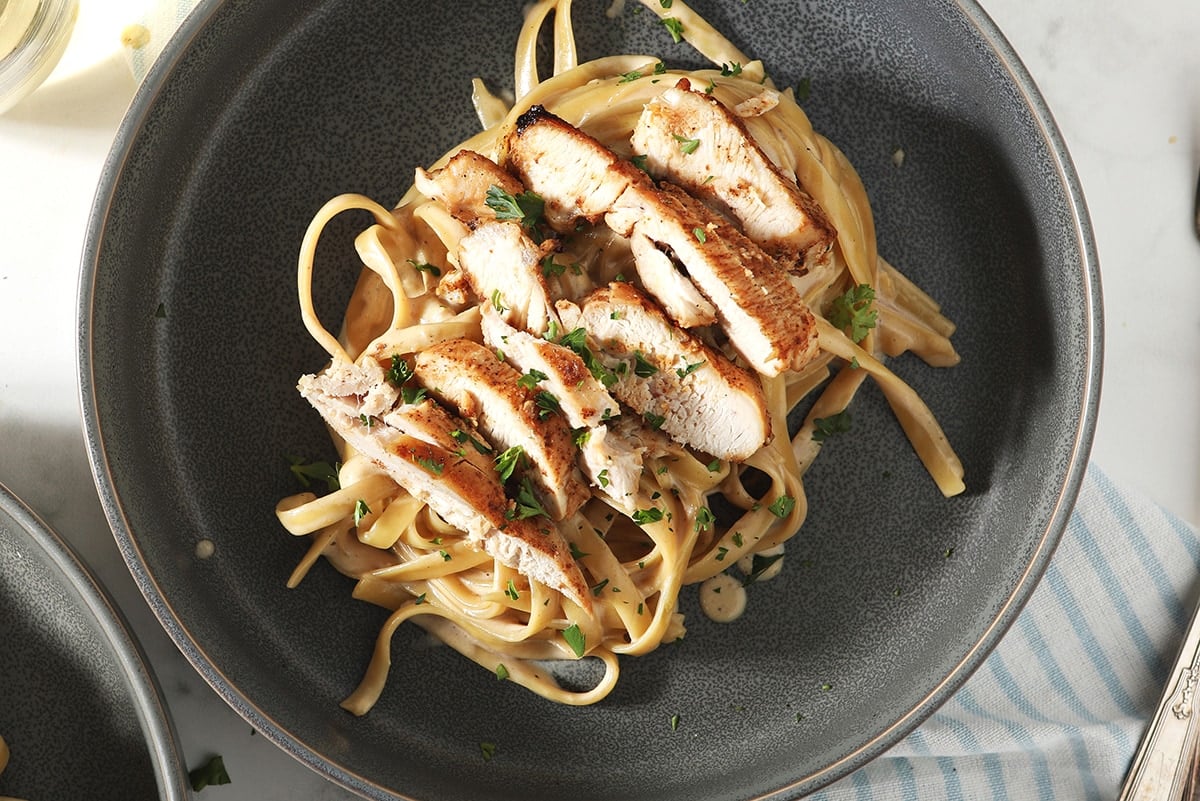 Here's what you'll need:
Fettuccine pasta—this is the classic pasta for Fettuccine Alfredo. If it's not your favorite, use another type of pasta that makes you happy. I think bow ties would be an excellent choice, especially if you're serving kids.
Chicken breasts—we purchased the boneless, skinless variety for this recipe. I also sliced them in half because they were thick. Doing this helps the chicken cook more evenly and also cook more quickly.
Cajun seasoning—this is a mixture of several different spices, and you should be able to find this in the spice aisle at your local grocery store! There are lots of brands and different levels of spice. If you want to make homemade Cajun seasoning, have at it! However, that's not a necessity for this recipe.
Salted butter—this serves as our base for the sauce, if using unsalted, add a dash of sea salt to the mix.
Fresh garlic—this aromatic adds just a bit more flavor to the cream-based sauce.
Heavy cream—also known as heavy whipping cream. It's thick, luscious and provides a TON of flavor to our dish. There is no substitute.
Whole milk—this thins out our cajun chicken alfredo sauce a bit without skimping on flavor. While you could substitute it for lower fat milk, I don't suggest that since Alfredo sauce is meant to be decadent, and this will provide the most flavor and texture.
Grated parmesan cheese—please purchase the real deal and not the shelf-stable kind. The cheese counter at our local grocery sells containers of freshly grated parmesan, and I bet yours does, too. Wink, wink.
Fresh parsley—for garnish and totally optional.
Salt and pepper—these are a maybe, if your sauce needs a little extra seasoning.
Fun fact: Cajun seasoning and Creole seasoning are basically the same thing, as is blackened seasoning. You'll see spice and herb variations from brand to brand, but they give the same flavor profile. Our favorite brand is Tony Chachere's and their salt-free Creole seasoning is what we keep in our house.
How to Make Cajun Chicken Alfredo
First and foremost, cook the pasta. Read the pasta's packaging, and cook until the pasta is cooked but still has some shape to it. (This is called al dente.) Drain it in a colander, drizzle with a little olive oil to prevent it from sticking and set it aside.
If your chicken breasts are super thick, cut them in half. This will allow them to cook faster, as well as more evenly.
Season the chicken with the Cajun seasoning on both sides. It's going to look like a lot, but trust me when I say this adds a ton of flavor!
Melt the butter in a large skillet with high sides over medium heat. Don't turn up the heat higher than this—we don't want any burned bits making our Alfredo sauce bitter.
Pro tip: Use the same skillet for the chicken and the sauce! As the chicken cooks, a layer of Cajun seasoning and chicken will stick to the bottom of the pan. As long as this doesn't burn, we want it because the garlic and the cream sauce will pull up the flavor and incorporate it into the sauce.

Sear the chicken on both sides until browned and cooked through. Use an instant read meat thermometer to take the chicken's temperature—the thickest part of the chicken should read 165°F.
Remove the chicken from the pan, and let it rest for 5-10 minutes before slicing into bite-sized pieces. This will ensure the chicken is juicy!
While the chicken rests, add the garlic and cook until fragrant.
Lower the heat to the lowest setting, and pour the cream and milk into the pan. Add in the grated parmesan cheese, and stir until smooth and creamy.
Pro tip! Don't let the cream come to a boil because it can curdle. Heat it slowly until the cajun chicken alfredo sauce thickens. You'll know it's done when it coats the back of a spoon and you can swipe your finger through it without the rest running off.
Once the sauce is done, give it a taste. If necessary, add extra salt, pepper or Cajun seasoning. You can also add in a sprinkling of cayenne pepper if you want a bit more heat with your dish..
Transfer the cooked pasta to the skillet, and toss until it's coated. This is why we're using a high-sided skillet—to ensure that there's enough space for both the pasta and sauce!
Serve the pasta topped with the sliced chicken breasts. Garnish with parsley and a sprinkling of extra Cajun seasoning, and enjoy immediately.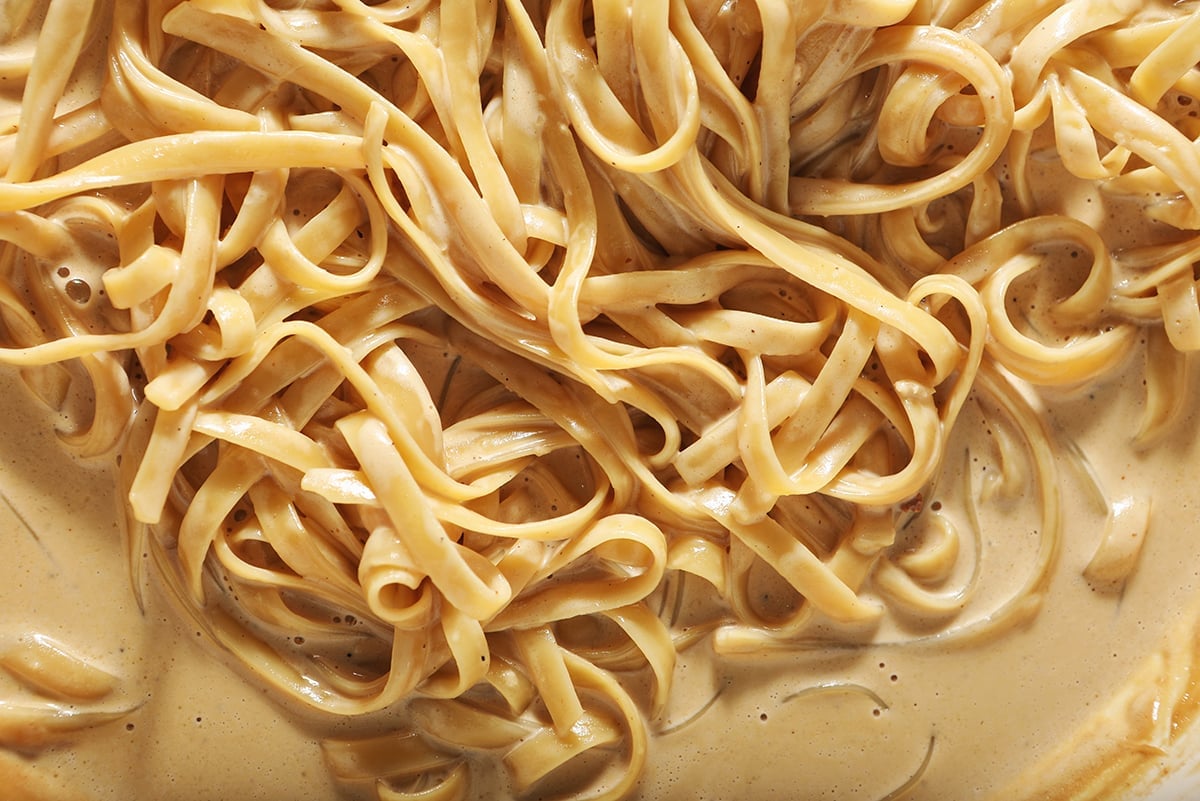 Serve with garlic bread and a side salad for a complete meal!
Storage, Make Ahead and Freezing Options
Storage: If you've got leftovers, store them in an airtight container in the fridge for 2-3 days tops. I suggest storing the chicken and the pasta separately, as they'll take different times to reheat.
To reheat the leftovers, add a drizzle of whole milk to the sauce before popping in the microwave. Heat in 30-second increments until warm again.
Freezing: I have not tried freezing this recipe, but have read mixed results about freezing cream-based sauces. I do not recommend freezing leftovers at this time.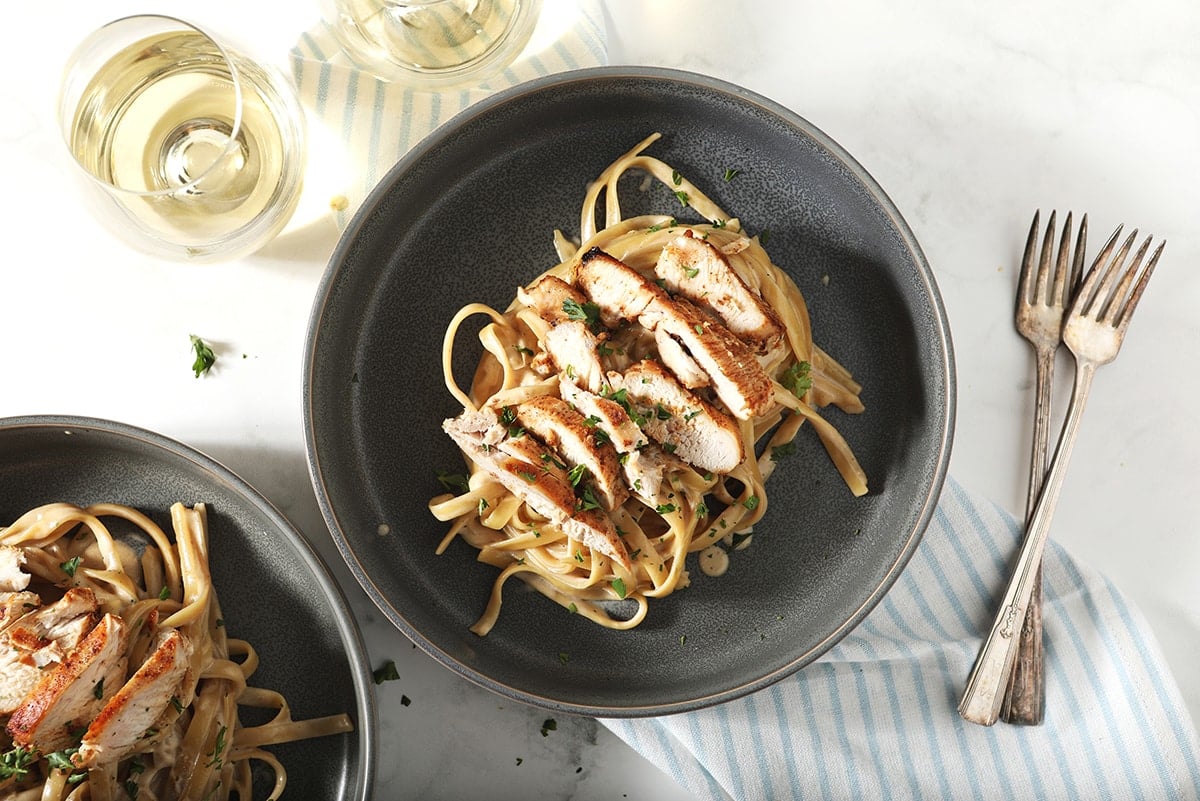 Substitutions
I don't recommend making any substitutions to this cajun chicken alfredo recipe. The ingredients that are used in this recipe were tested and confirmed to give it the best flavor. However, feel free to swap out the pasta shape or type. If you like whole wheat noodles, use those. You can also use your favorite gluten free noodles if needed.
If you want to make additions to this pasta dish, consider adding half a pound of smoked Andouille sausage and sliced red bell peppers for extra flavor and color. Slice the smoked sausage and add it at the end with the chicken. Cook the peppers in the skillet after the chicken and before the garlic, cooking until softened. Remove them before you make the sauce in the skillet and add at the end.
Also if you can't find Cajun seasoning at the store, feel free to make your own! Combine equal parts garlic powder, onion powder, black pepper, smoked paprika, kosher salt and oregano. Sprinkle in a little cayenne pepper and red pepper flakes, too.
And of course, feel free to add more protein, like Steak Alfredo or Shrimp Alfredo.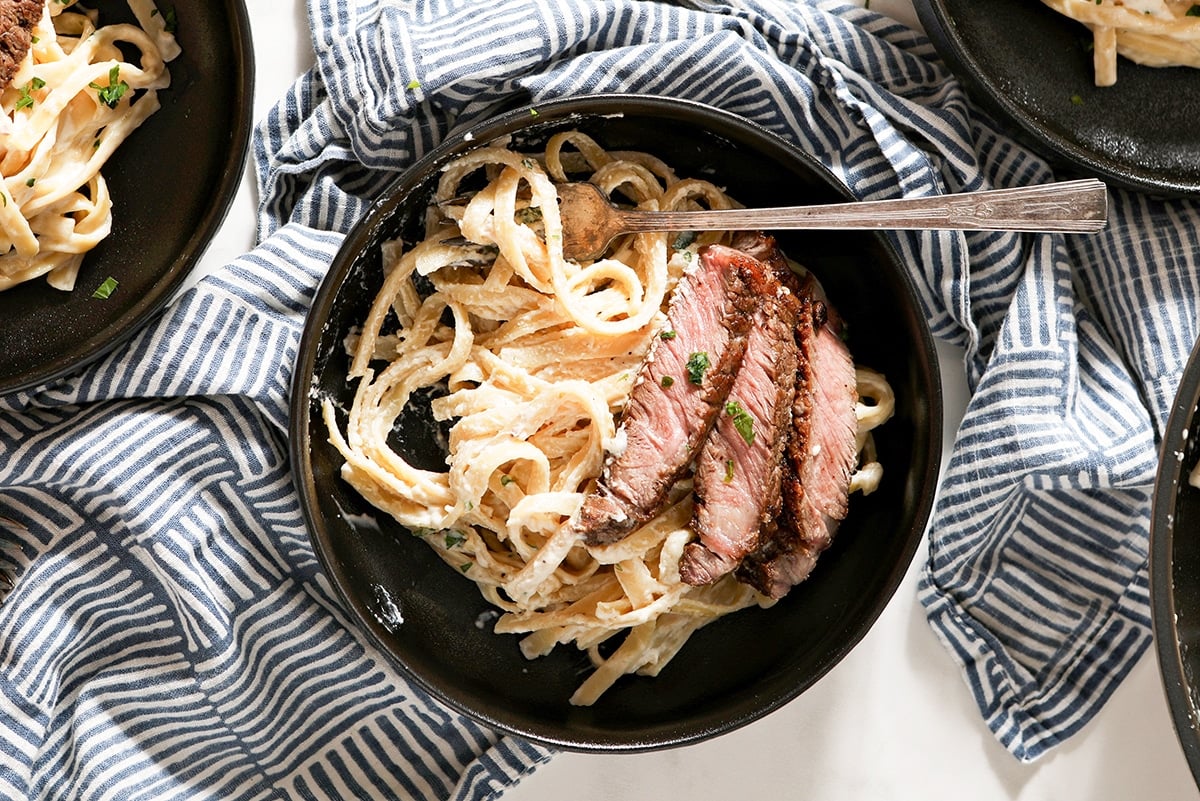 Tips and Tricks
This is not a low-fat recipe. It's not meant to be one, so please, do not make substitutes to try to make it "healthier." Alfredo sauce is meant to be decadent—so enjoy it!
Grate your own cheese or purchase the grated stuff from your grocery's cheese counter. Please don't use a shelf-stable cheese in this recipe. The real deal cheese that has to be kept refrigerated is the kind you want to purchase.
You can use Creole and Cajun seasoning in this recipe. They have the same flavor profiles. However, both can get super salty, so read the label before you purchase. Our favorite brand has a salt-free variety, and that's what we keep at our home.
Cook it faster! Chop the chicken into bite-sized pieces before seasoning and cooking. While it won't be as pretty as these images, it's still as tasty!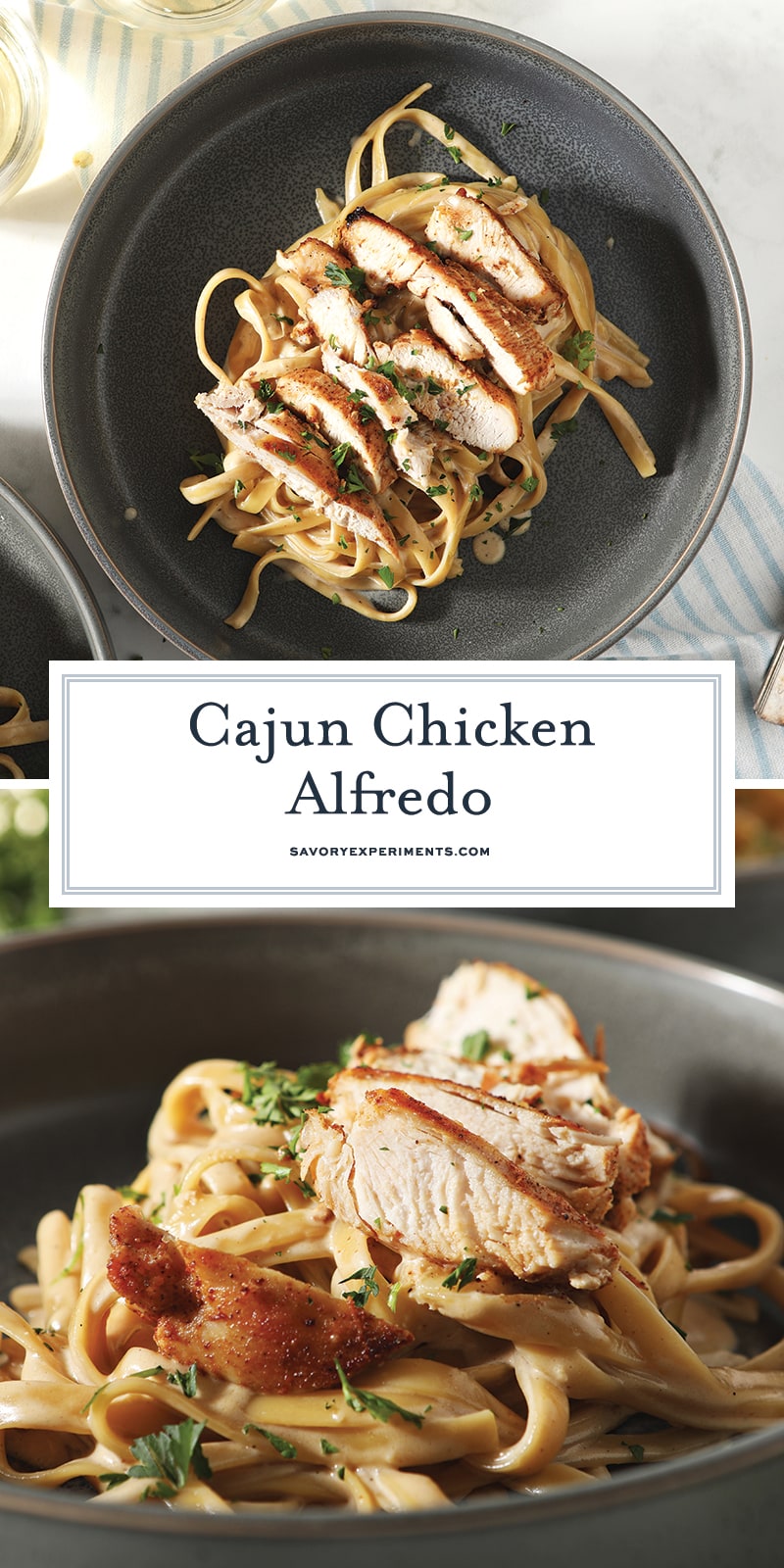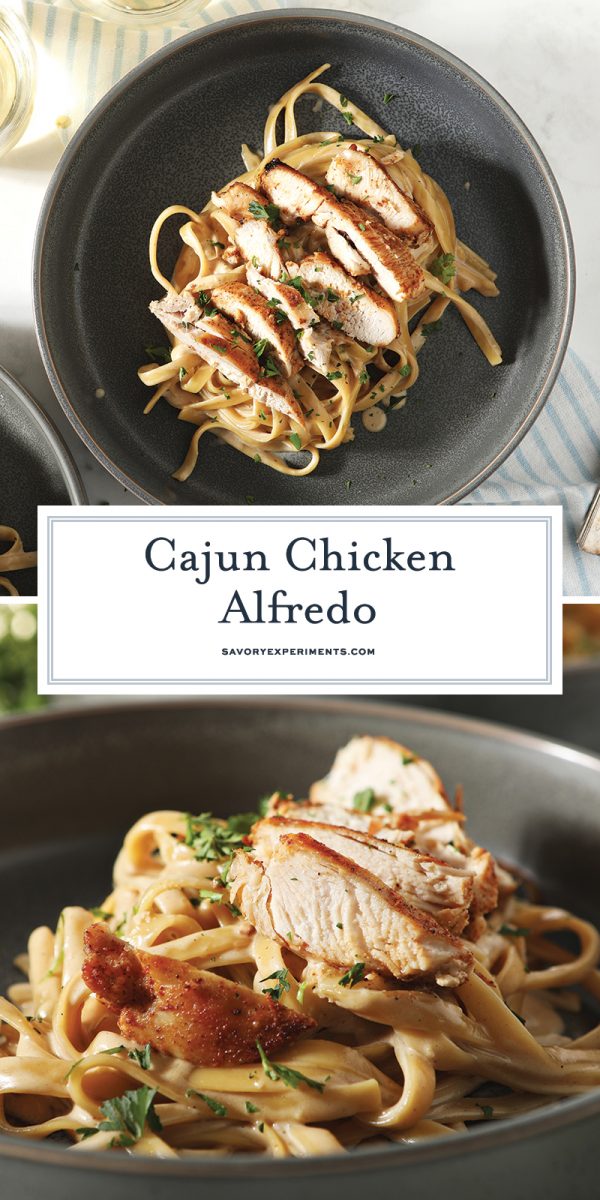 More Cajun recipes to enjoy: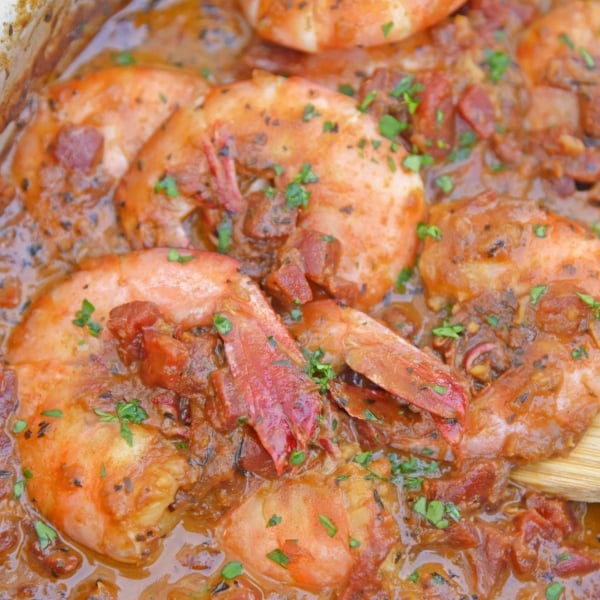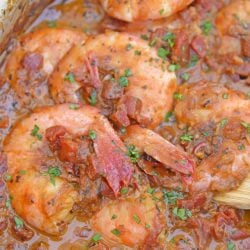 Voodoo Shrimp Creole
Voodoo Shrimp Creole is a tomato-based dish using shrimp and beer to make a sweet and spicy broth. Serve over rice or grits for a full meal.
See The Recipe!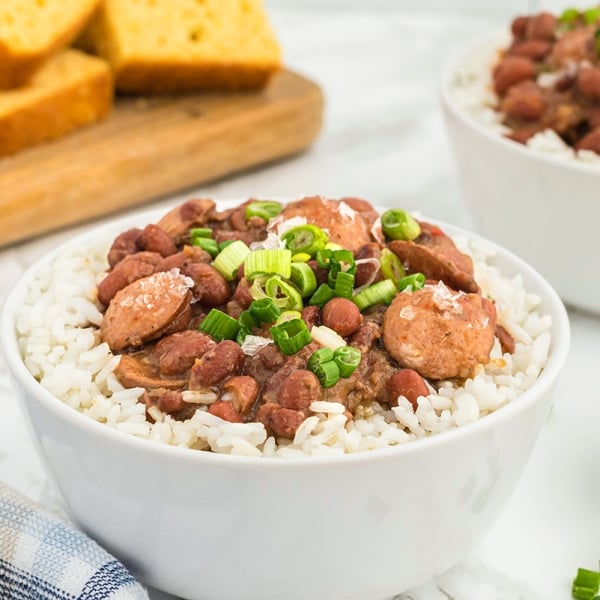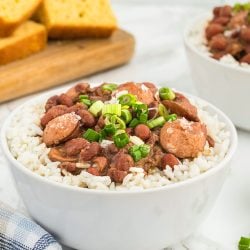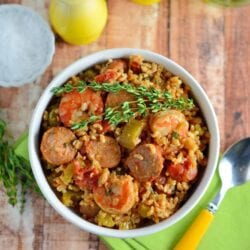 Cajun Jambalaya
This Cajun Jambalaya is a mouthwatering recipe that can be ready in less than an hour. Andouille turkey sausage and shrimp give this recipe so much flavor!
See The Recipe!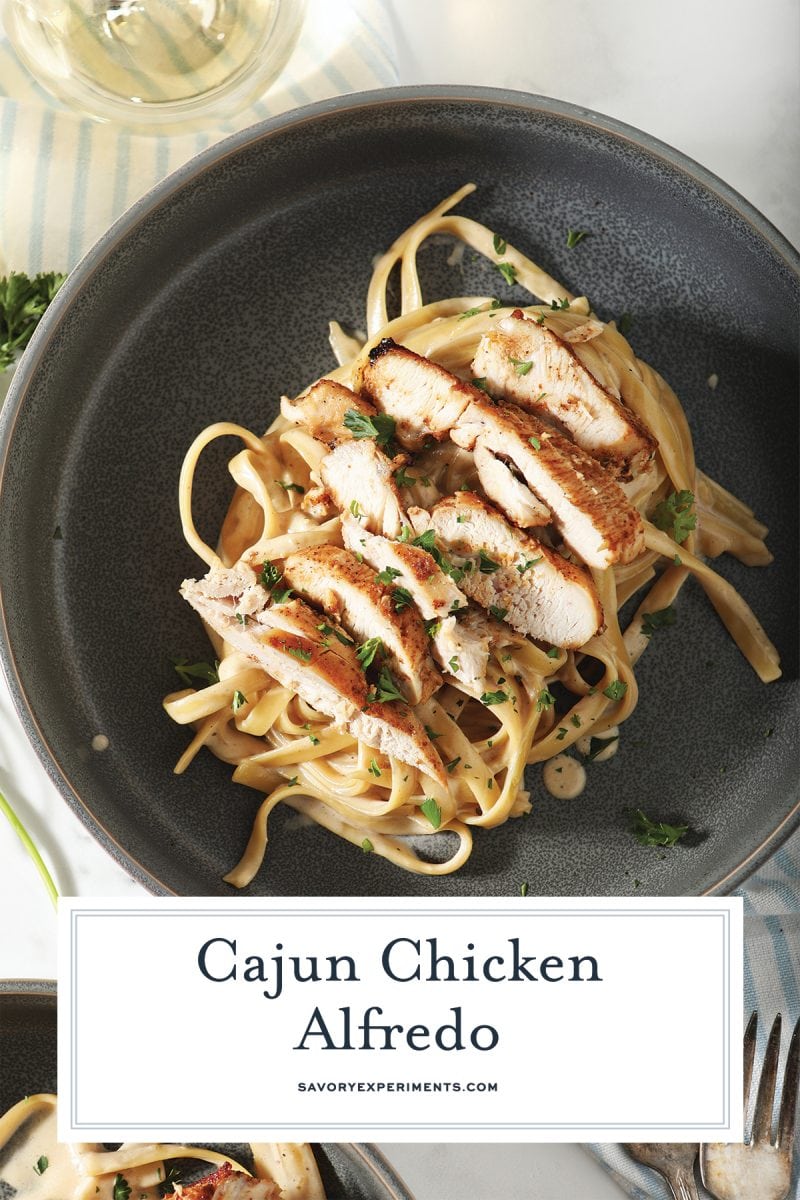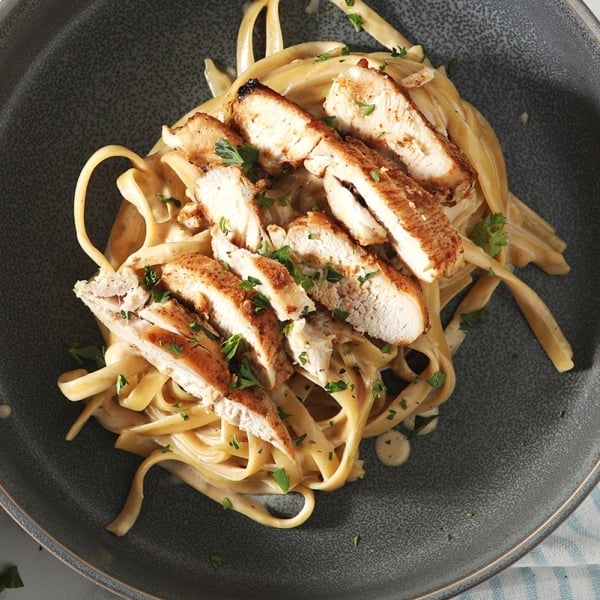 Cajun Chicken Alfredo
Ready in less than 30 minutes, this Cajun Chicken Alfredo is simple and delicious. Perfect for weeknight dinners or even date night at home!
Instructions
Cook the pasta in salted boiling water until al dente. Follow the instructions on its packaging. Drain in a colander, drizzle with a little olive oil to prevent sticking and set aside.

Slice the chicken breasts in half if very thick. Season liberally with the Cajun seasoning on both sides.

Heat the butter in a high-sided skillet over medium heat.

When the butter bubbles, add the chicken, and sear on both sides until browned and cooked through, about 5-8 minutes per side, depending on the thickness of the chicken breasts.

Remove the chicken from the skillet, and set aside. Slice into bite-sized pieces.

Add the garlic, cooking until fragrant and lightly colored, about 1-2 minutes.

Lower the heat to low, and pour in the cream and milk. Add the grated parmesan cheese, and stir until smooth and creamy, about 4-5 minutes.

Give the sauce a taste, and add extra salt and pepper, if necessary.

Add the pasta to the sauce, and toss until coated.

Serve the pasta in bowls, then top with the Cajun chicken breasts.

Garnish with parsley and more Cajun seasoning, if desired, and enjoy immediately.

If you've tried this recipe, come back and let us know how it was in the comments or ratings!
Notes
How to store: Transfer to an airtight container and store in the fridge for 2-3 days. Store the pasta and chicken separately. When reheating, prepare to add a little extra milk to the pasta sauce since it will coagulate in the fridge. Reheat in 30-second increments in the microwave. How to make your own Cajun seasoning: Combine equal parts garlic powder, onion powder, black pepper, smoked paprika, kosher salt and oregano. Sprinkle in a little cayenne pepper and red pepper flakes, too.
Nutrition
Calories:
1286
kcal
,
Carbohydrates:
91
g
,
Protein:
71
g
,
Fat:
71
g
,
Saturated Fat:
41
g
,
Polyunsaturated Fat:
5
g
,
Monounsaturated Fat:
20
g
,
Trans Fat:
1
g
,
Cholesterol:
414
mg
,
Sodium:
946
mg
,
Potassium:
1184
mg
,
Fiber:
5
g
,
Sugar:
6
g
,
Vitamin A:
3730
IU
,
Vitamin C:
4
mg
,
Calcium:
652
mg
,
Iron:
4
mg