Looking for an easy, but tasty one-pot meal for those busy weeknights? Creamy Ham and Cheese Tortellini is your answer!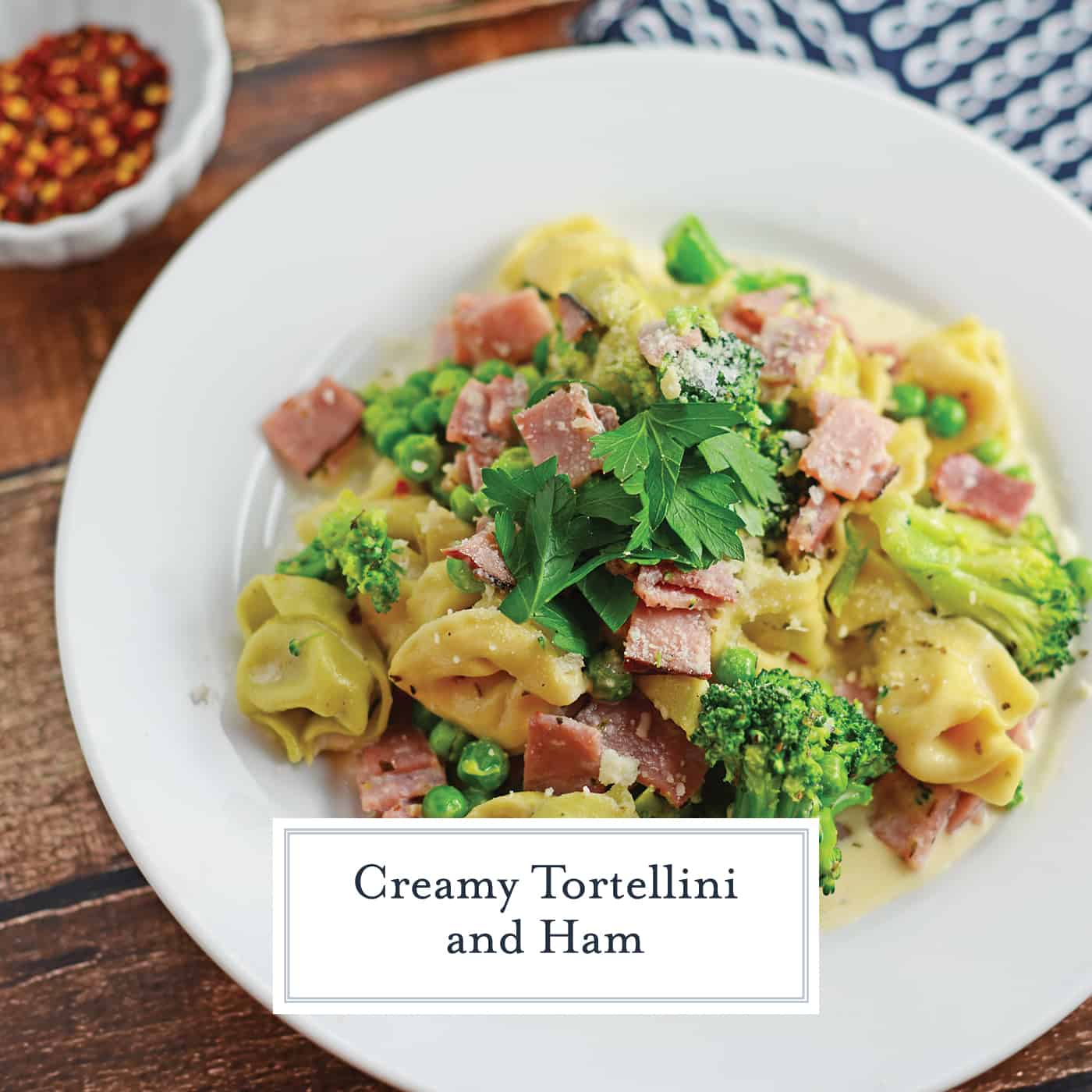 Creamy Ham and Cheese Tortellini uses an easy alfredo sauce recipe with cubed ham, peas, broccoli and seasonings to make a 20 minute one-pot meal!
This easy tortellini recipe dates back to my college days. I used to head to the store, buy 2 packets of powdered Alfredo mix, a box of cheese tortellini, frozen veggies, a block of Oscar Mayer honey ham and the no-refrigeration needed Parmesan cheese shaker.
The thought now makes me shiver.
My tastes have matured a bit, but the dish remains one of my favorites. Let's be honest, tortellini recipes will always be one of my favorites!
Nowadays I make a homemade Alfredo sauce, seeing that it takes the same amount of time to use whole ingredients as it does to whisk milk with a cheese flavored powdered.
The ham I get from the meat department, realizing that it is much cheaper to buy a hunk of meat and then freeze the rest than to buy processed deli meat.
Sometimes I use leftover ham from other various recipes like Peach and Riesling Ham. Even though the ham is seasoned, it only adds to the dish.
PRO TIP: Although this is an easy and quick dish, do freshly grate your parmesan cheese. It will have more flavor and be less dry.
I still use frozen veggies, since they are so convenient and still hold nutritional value, but I do opt for freshly grated Parmesan cheese. Creamy Tortellini and Ham comes together in just 20 minutes, making it ideal for quick weeknight meals.
I prefer fresh tortellini, but I recognize it costs a little more. You can still use the dried variety and have a quality dish. The type of tortellini is up to you.
Since I already use ham, I prefer cheese or spinach tortellini. It also makes me feel like I am sneaking in additional veggies (the spinach type). You can totally use meat tortellini, beef or pork is great!
If you want to use a beef tortellini, you can omit the ham or substitute with cooked shrimp, chicken or even turkey. The protein isn't the important part, it is the sauce and seasonings.
Other good veggies to add to this ham and cheese tortellini:
Roasted red peppers
Mushrooms
Onion
Squash
Sun dried tomatoes
Leeks
Garlic
I usually make a little extra so I have leftovers to take for lunch, but if you are feeding a crowd, this recipe is perfect! All you need is a large Dutch oven and you are ready to rock and roll!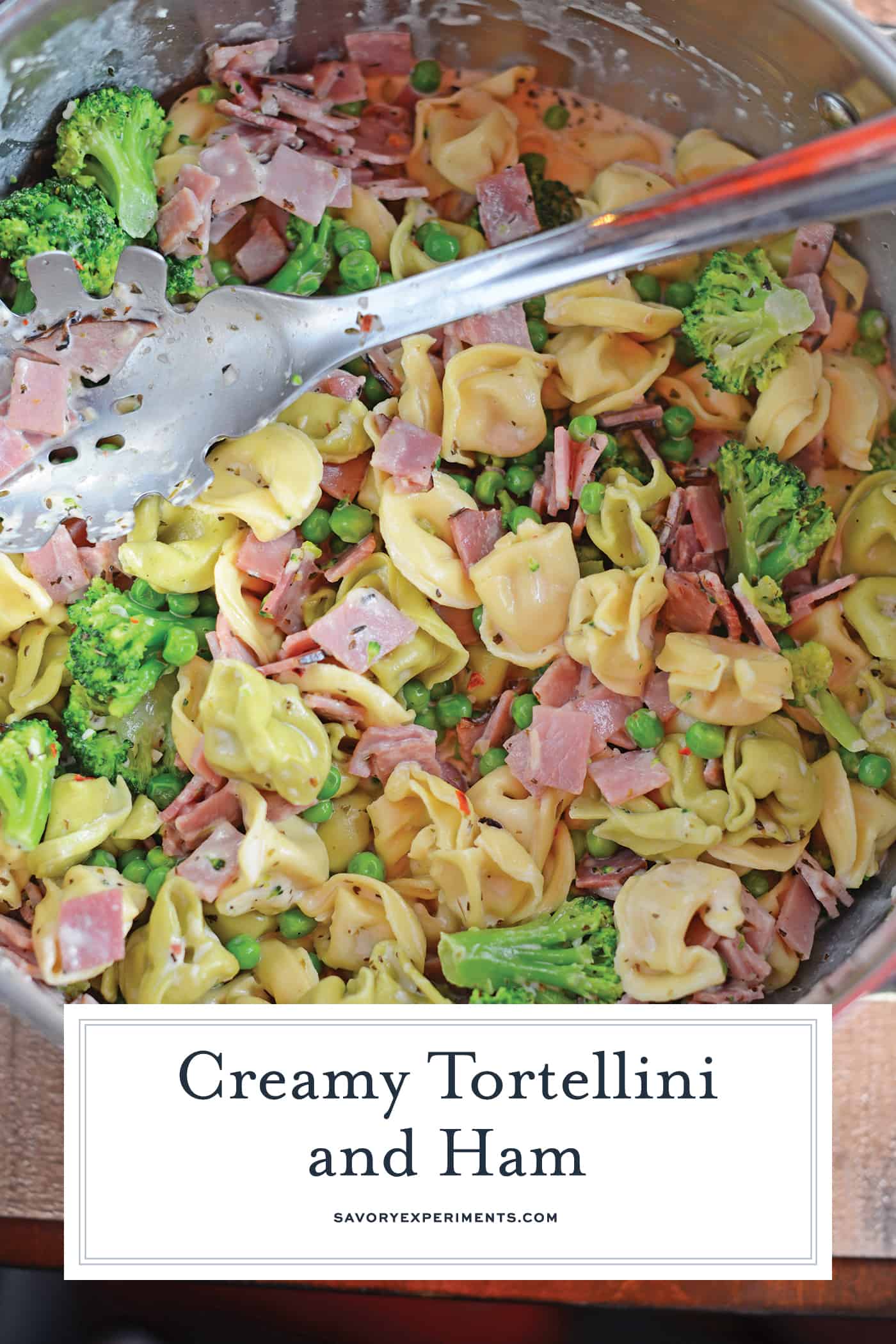 If you enjoyed this easy one pot meal, check these out!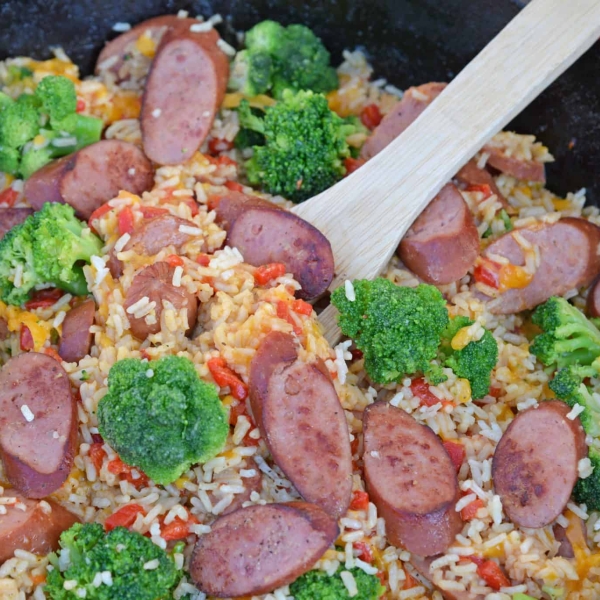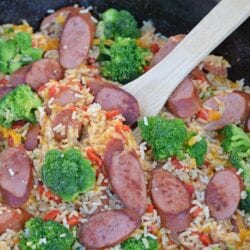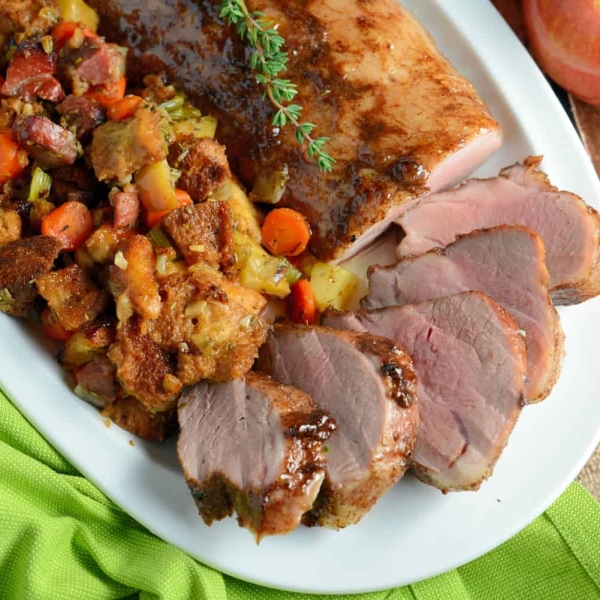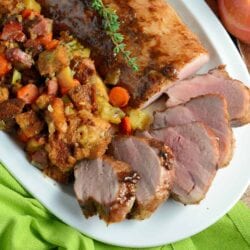 Tools for making this easy tortellini recipe:
Cheese Grater– Another item I didn't think I needed, but love. Parmesan cheese lasts longer and tastes better when freshly grated.
Dutch Oven– every kitchen should have one! They are heavy. They are expensive. They are worth it!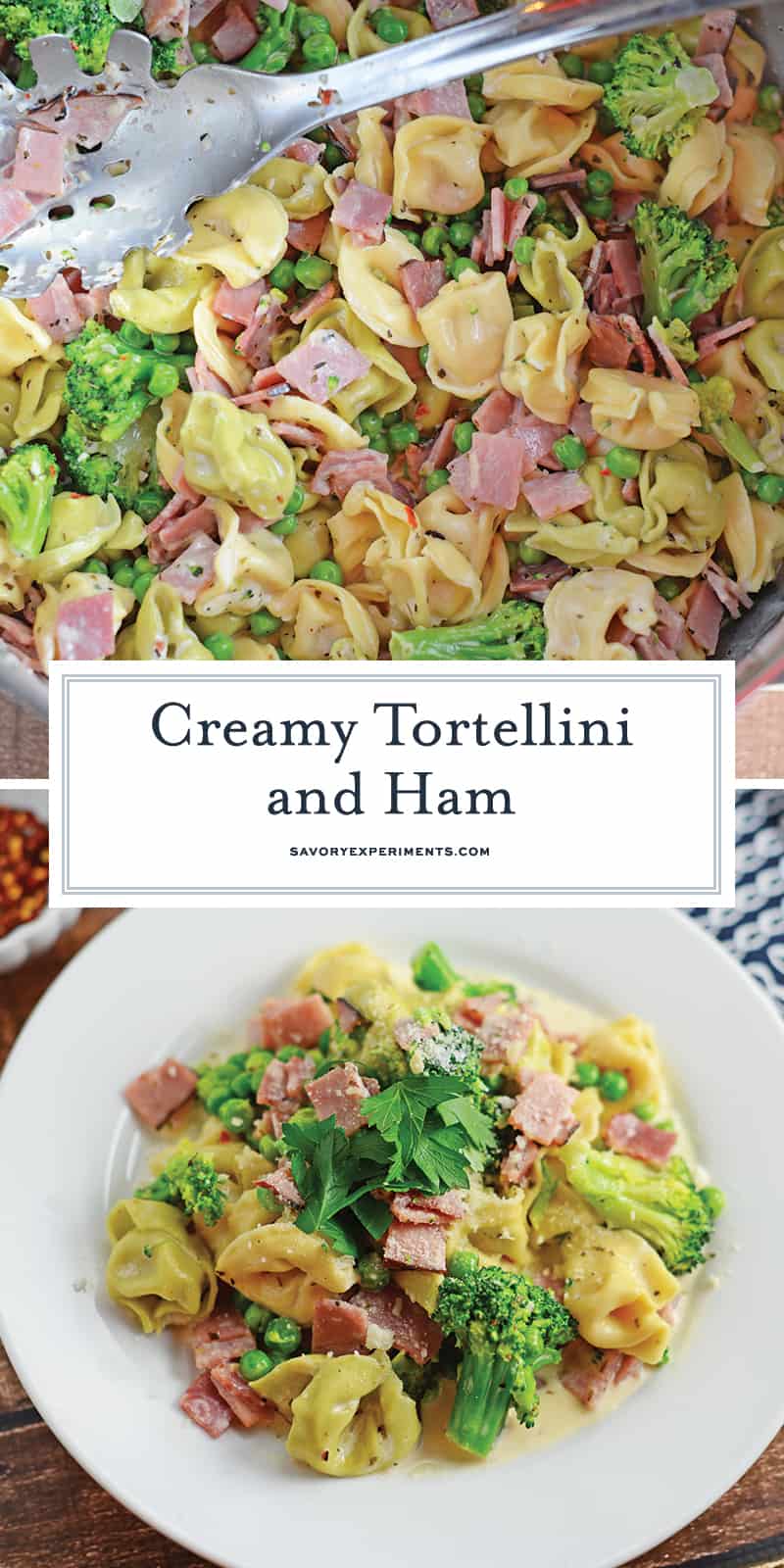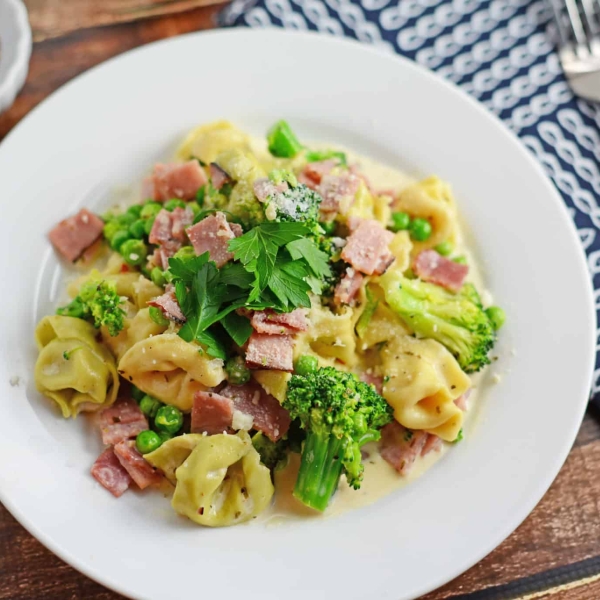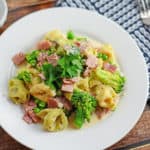 Creamy Ham and Cheese Tortellini
Creamy Ham and Cheese Tortellini uses an easy alfredo sauce recipe with cubed ham, peas, broccoli and seasonings to make a 20 minute one-pot meal!
Instructions
Boil water in a large pot or Dutch oven. Salt well (pasta water should be as salty as sea water). Cook pasta according to package directions. Drain well and set aside.

In the same pot over medium heat, melt butter and add garlic, stirring until soft.

Add cream and whisk in Parmesan cheese, fine sea salt, freshly ground black pepper and crushed red pepper. Continue simmer until mixture thickens.

Toss in frozen peas, ham and broccoli. Stir until warm, approximately 3-4 minutes.

Add tortellini, tossing to coat. This process is fast, so the pasta should still be warm.

Spoon into dishes and serve with freshly grated Parmesan cheese.

If you've tried this recipe, come back and let us know how it was!
Nutrition
Calories:
706
kcal
,
Carbohydrates:
50
g
,
Protein:
27
g
,
Fat:
44
g
,
Saturated Fat:
24
g
,
Cholesterol:
173
mg
,
Sodium:
1360
mg
,
Potassium:
234
mg
,
Fiber:
5
g
,
Sugar:
5
g
,
Vitamin A:
1785
IU
,
Vitamin C:
37.4
mg
,
Calcium:
390
mg
,
Iron:
3.3
mg