Rich and decadent, Creamy Avocado Pasta Sauce is quite possibly my favorite pasta sauce. The best part? I don't even have to feel guilty about eating it! It is healthy!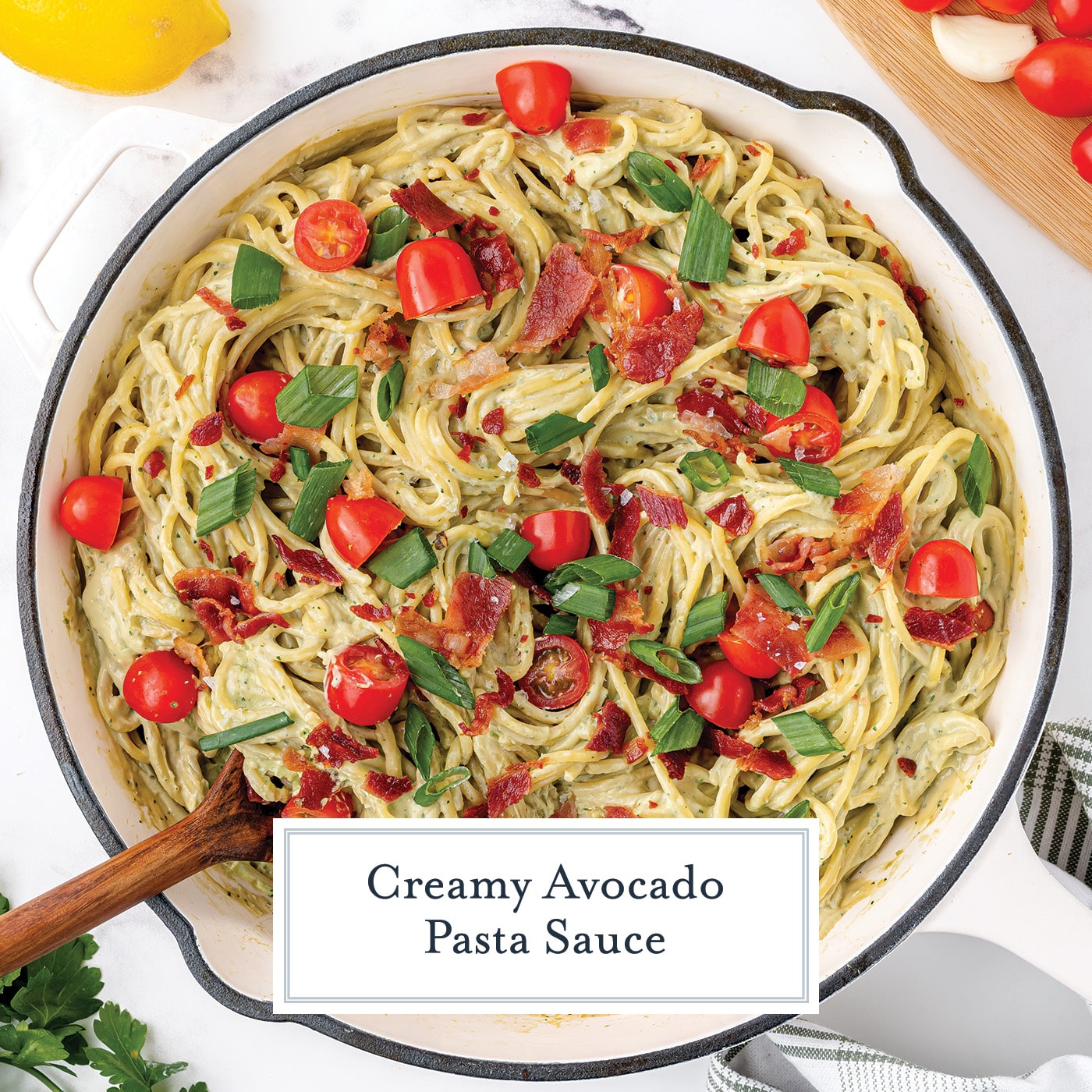 I know you don't believe me. But this avocado cream sauce is the bee's knees. Seriously. I might even enjoy it more than a traditional Alfredo and that is a bold statement.
An entire helping, including whole wheat pasta and bacon, comes in under 550 calories. That is practically unbelievable! And you are hiding some veggies from those kiddos.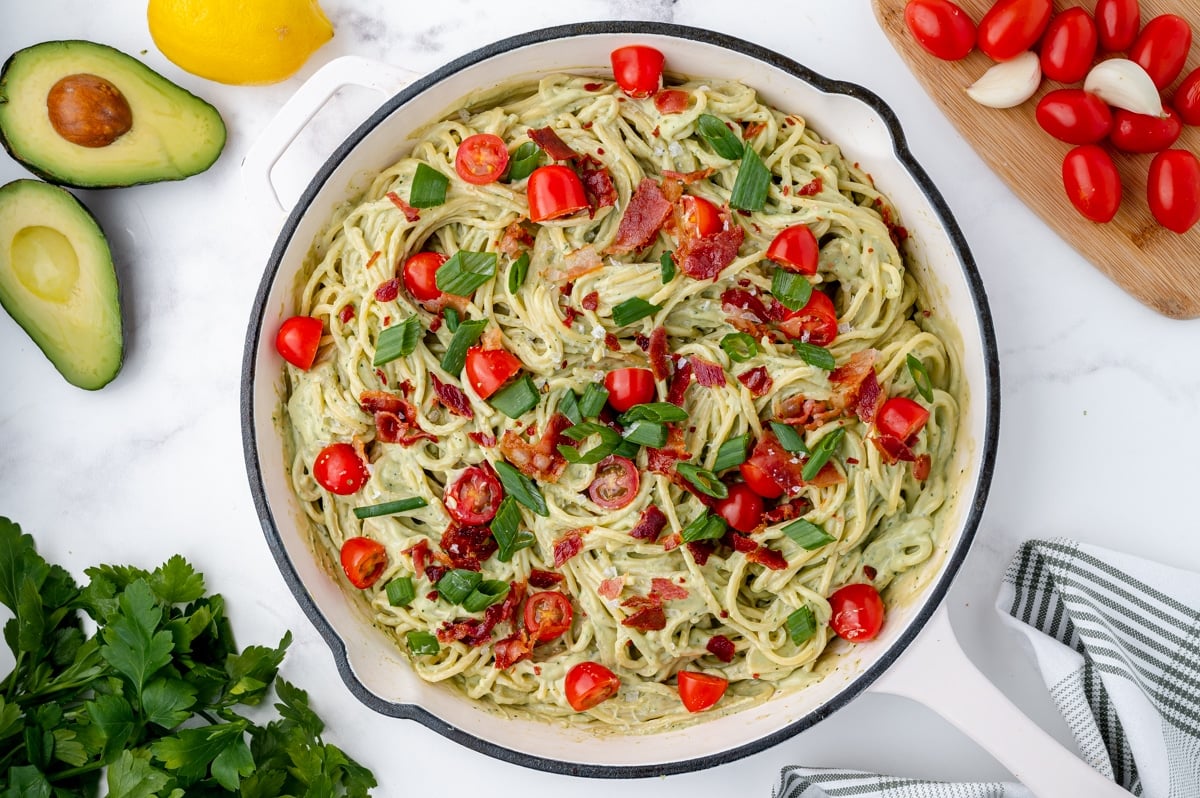 Avocado "Alfredo" Sauce
Thick Greek yogurt with creamy avocado serves as the base for garlic and lemon juice, providing the flavor and acidity we love in a nice alfredo sauce.
I add fresh cherry tomatoes and scallions for a slightly primavera feel. And then I top it with bacon, which is optional and cut the calories even more.
I use spaghetti, but feel free to use any pasta you like, even gluten-free. The sauce can even be made on its own and serve over chicken or seafood.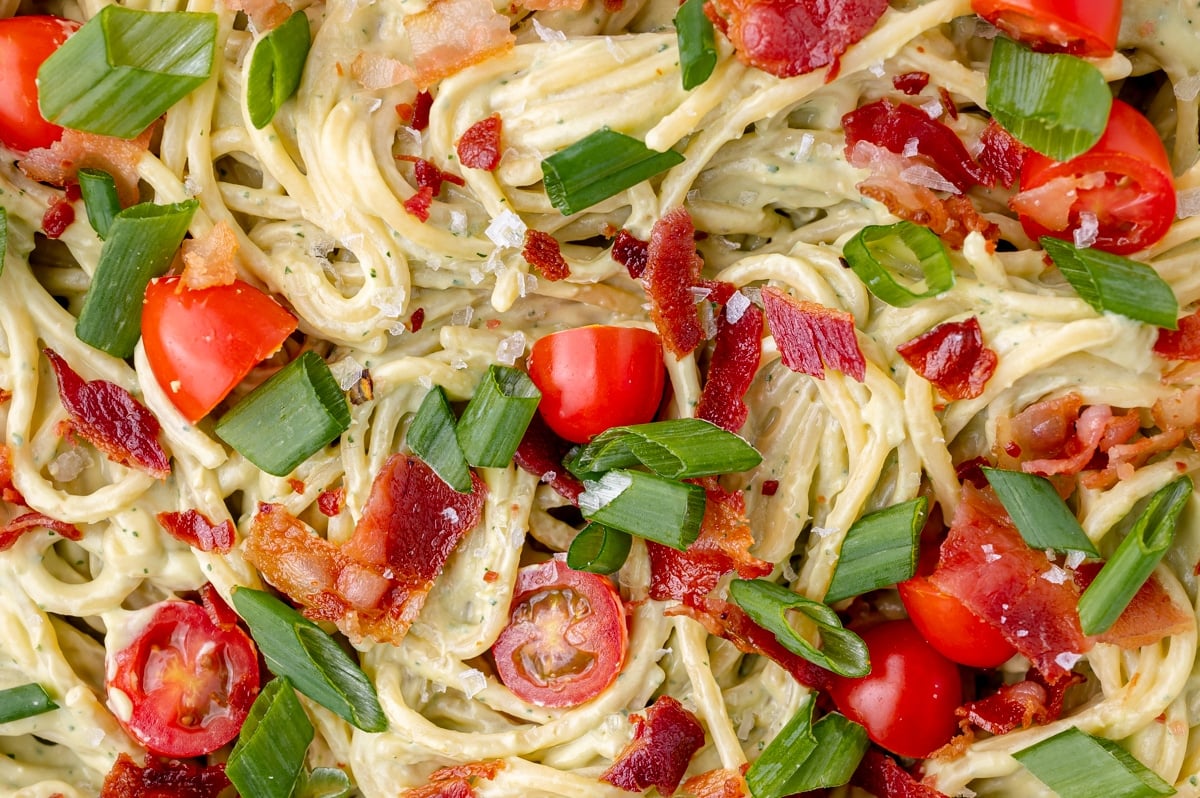 Why You'll Love This Creamy Avocado Pasta Sauce
Your favorite pasta coated in a creamy green pasta sauce and garnished with bacon and tomatoes- what's not to love!
Beautiful dish – With it's vibrant color and other colorful toppings, this dish is a total showstopper. No one would guess how quickly it came together.
Quick and easy – Arguably the best part of this pasta is that it comes together in only 15 minutes and 3 easy steps!
Healthier option – With the health benefits of avocados, this is a healthy recipe that even picky eaters will love, full of healthy ingredients.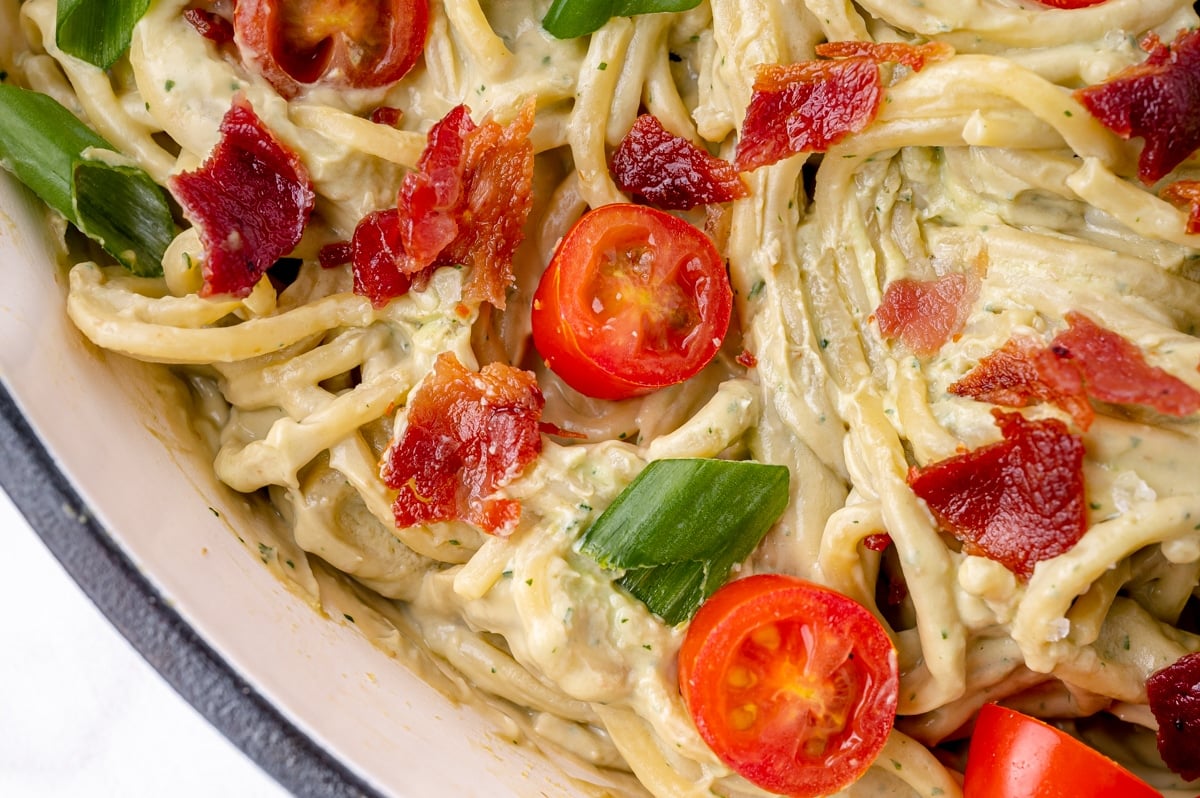 Ingredients
The simple ingredients of this creamy avocado pasta sauce recipe can easily be found at your local grocery store.
Avocados – You will want these to be pitted and sliced. It probably goes without saying, but ripe avocados are the easiest to work with. Perfectly ripe avocados are soft but firm to the touch on the outside, with no brown spots on the inside.
Plain Greek yogurt – I think this probably goes without saying too, but make sure you are using plain yogurt. Vanilla flavored yogurt will totally mess up the flavor of this creamy avocado sauce.
Coarse kosher salt – Salt helps to bring out the flavors of any pasta dish. I like to use coarse kosher salt, but all salts measure differently so be sure to keep that in mind.
Garlic cloves – As is the theme throughout this entire recipe, using fresh garlic is much preferred to the pre-minced jarred variety.
Lemon juice – Fresh lemon juice is a must here. The bottled version has a flavor that is much more muted. You can also used preserved lemons for even more fun flavors.
Fresh herbs – There really isn't a substitute for fresh ingredients in my opinion. I like to use a blend of fresh parsley leaves and fresh basil, both roughly chopped.
Extra virgin olive oil – When making this creamy pasta sauce, I like to use high quality ingredients. A good quality olive oil is one of those.
Cherry tomatoes – I love the color and flavor these tomatoes add to the dish. I slice mine in half so they are easier to eat and get onto your fork.
Scallions – These are used as more of a garnish. I like them sliced diagonally because they look more decorative that way. You can leave them out if you aren't a fan.
Bacon – You want this to be already cooked and chopped. And while the crispy bacon is optional too, it's a great option for adding a little more flavor and crunch to this creamy sauce.
Lemon wedges – I like to serve this easy weeknight dinner with some extra lemon wedges. The citrus flavor pairs so well with the avocado, and some people like a little extra.
Pasta of choice – I like my pasta to be cooked to al dente. You can use any shape you'd like to. Long strands like spaghetti work with the texture of this sauce.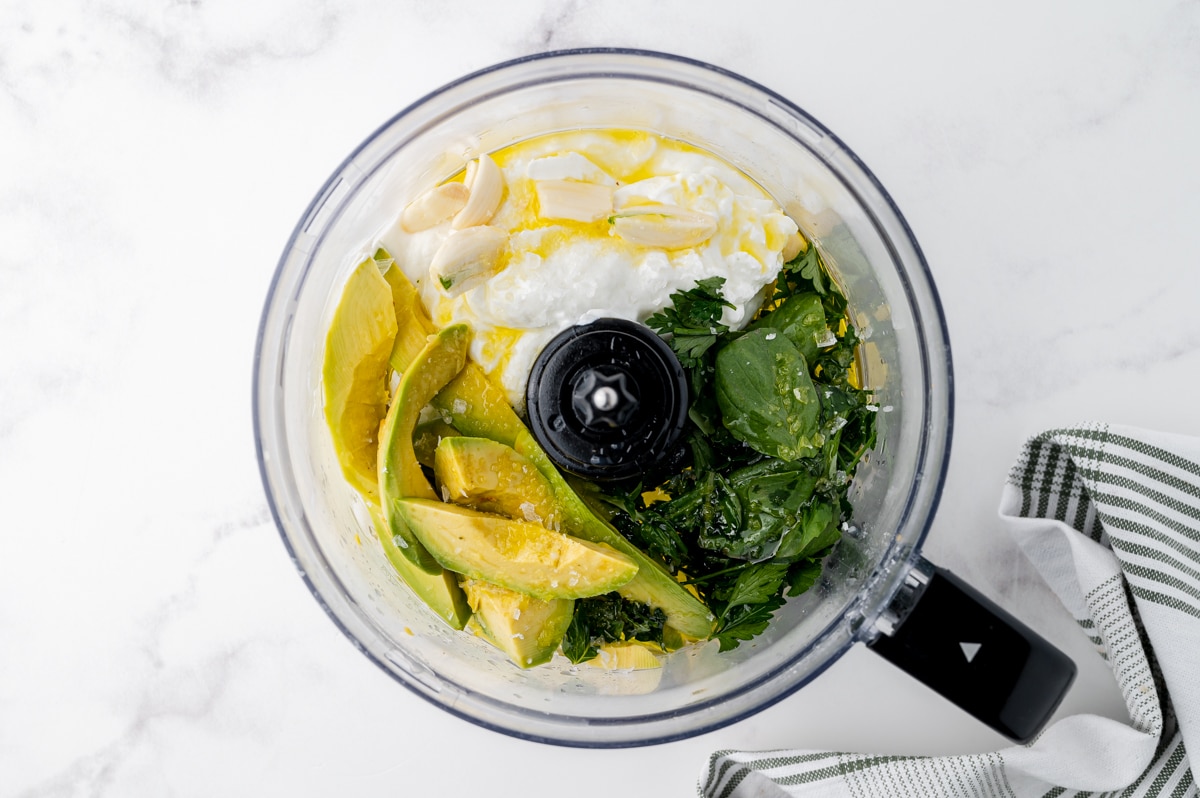 How to Make Creamy Avocado Pasta Sauce
You are going to love how quick this creamy avocado pasta recipe comes together.
Combine sauce ingredients. Combine the avocado, Greek yogurt, salt, garlic, lemon juice, parsley, basil and olive oil in a small food processor or blender. Pulse until smooth.
Toss pasta with sauce. In a large skillet, toss the hot pasta with the avocado mixture until fully coated.
Add toppings. Plate the pasta and top with fresh tomato, scallion and bacon, all optional.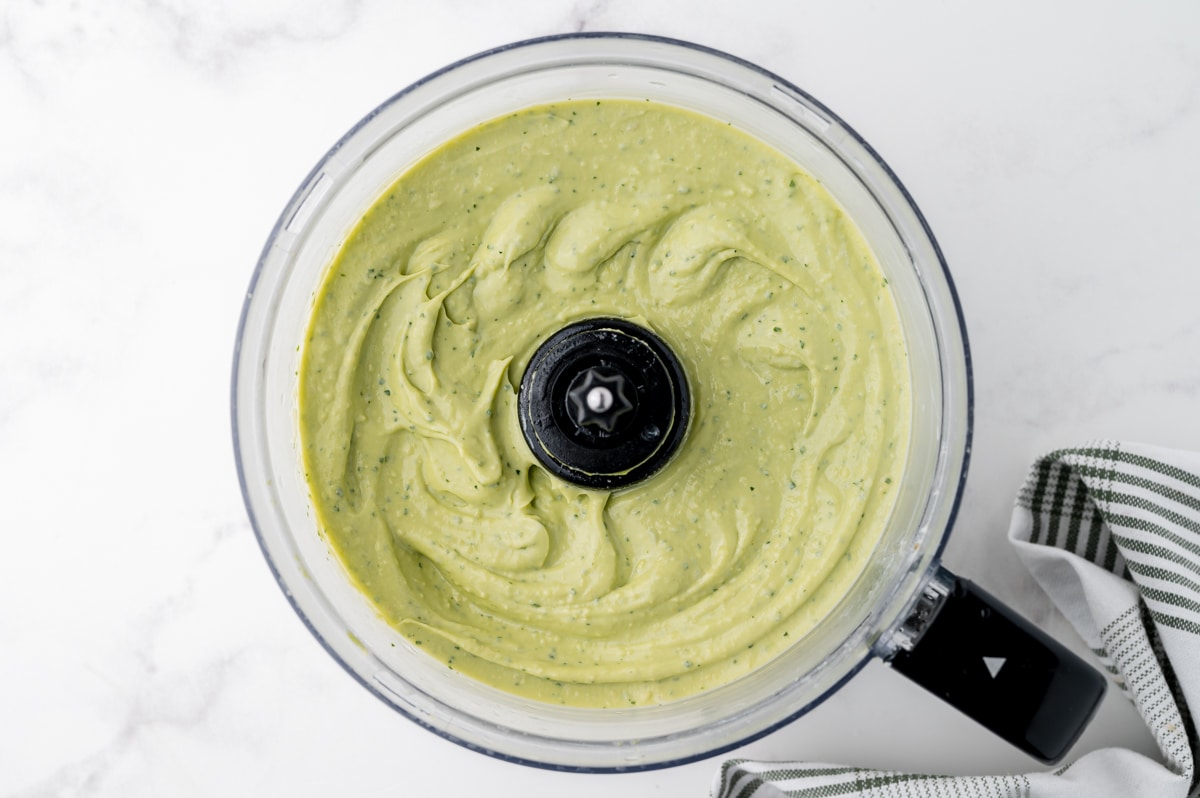 What to Serve with Creamy Avocado Pasta Sauce
As with any pasta sauce, it goes great on any shape of noodles. You can also use a veggie based pasta if you're trying to stay low carb.
I like to serve any pasta dish with a nice green side salad. In addition to a side salad, garlic bread is always the perfect complement to any pasta dish.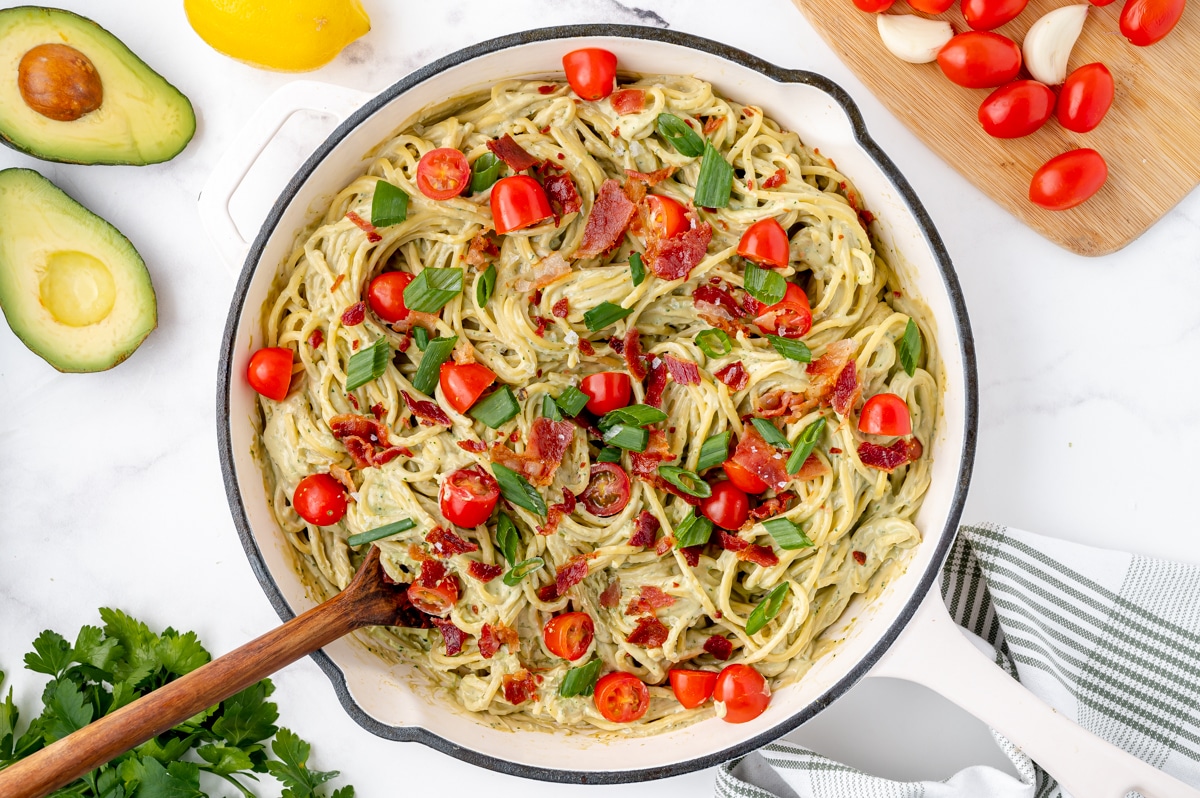 Variations
We love this easy pasta recipe exactly as written, but there are plenty of ways you can make it your own!
Toppings – Instead of chopped tomatoes and the other toppings I used, feel free to use your own. Some suggestions include: pine nuts, pumpkin seeds, sunflower seeds or garbanzo beans.
Extra veggies – If you want it to be even healthier, throw in some extra veggies. Sweet corn, leafy greens, bell peppers or baby spinach are all great options.
Pasta – If you'd like to keep it low carb, try using chickpea pasta or zucchini noodles instead.
Vegan avocado pasta – You can easily make this pasta vegan by swapping out the yogurt for almond milk or any other plant-based milk and vegan parm instead of regular. Of course, you'll have to leave out the bacon.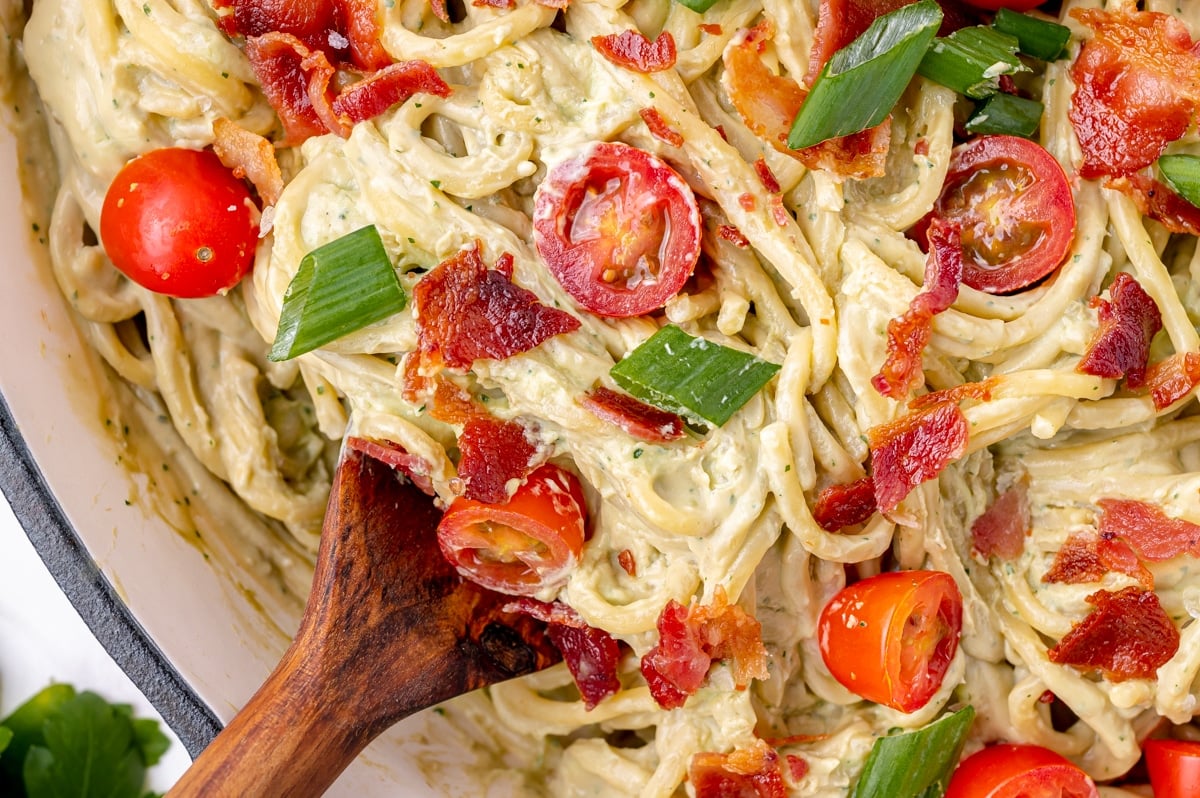 Storage and Freezing
Storage: You can store any leftovers in an airtight container in the refrigerator. They should last for up to 1-2 days.
Freezing: Freezing the sauce might change the texture a little bit. If you do freeze it, I definitely recommend freezing separately from the pasta.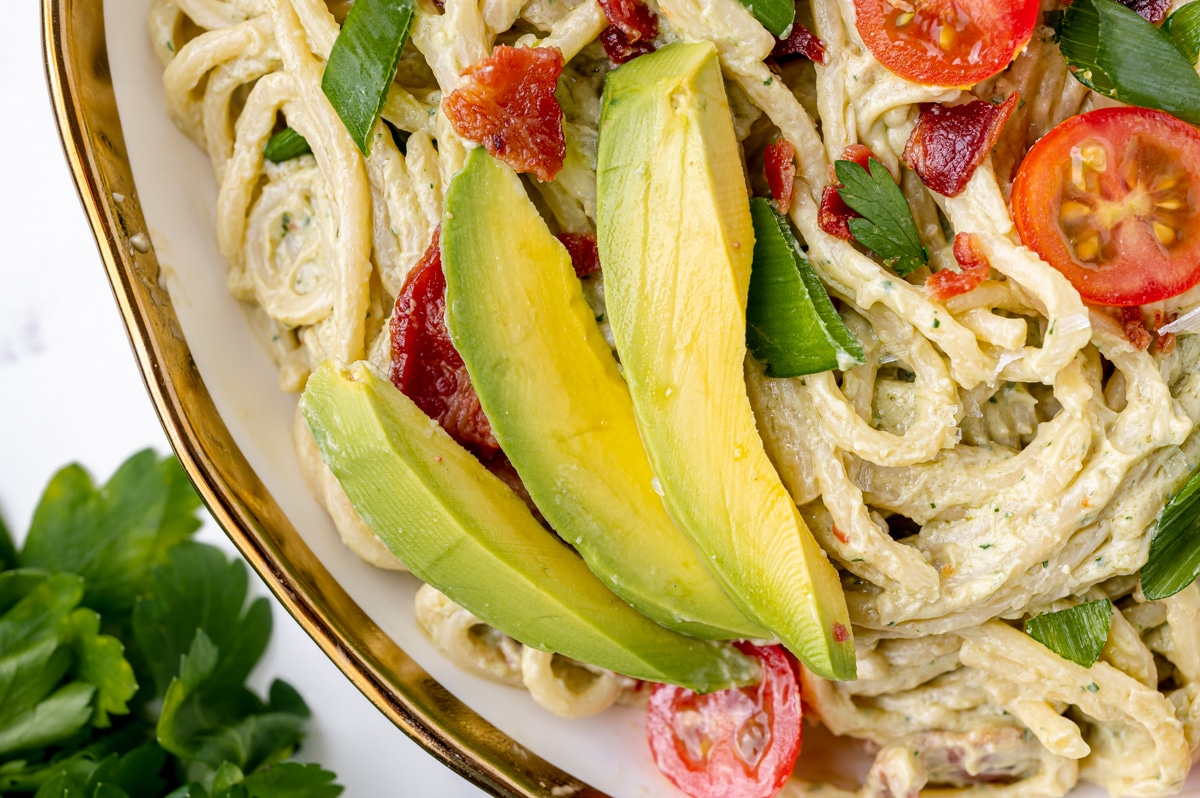 Frequently Asked Questions
What is avocado sauce made of?
Of course, easy recipe is going to differ slightly; but this specific recipe is made with avocados, lemon juice, fresh herbs, Greek yogurt and garlic.
Can you eat avocado pasta the next day?
Yes you sure can! As long as you store it in an airtight container, this pasta tastes great the next day too.
How do you reheat avocado pasta?
Keep in mind that as it oxidizes, the avocado sauce will start to brown. The lemon juice will help to slow that process down. You can reheat in the microwave or stove.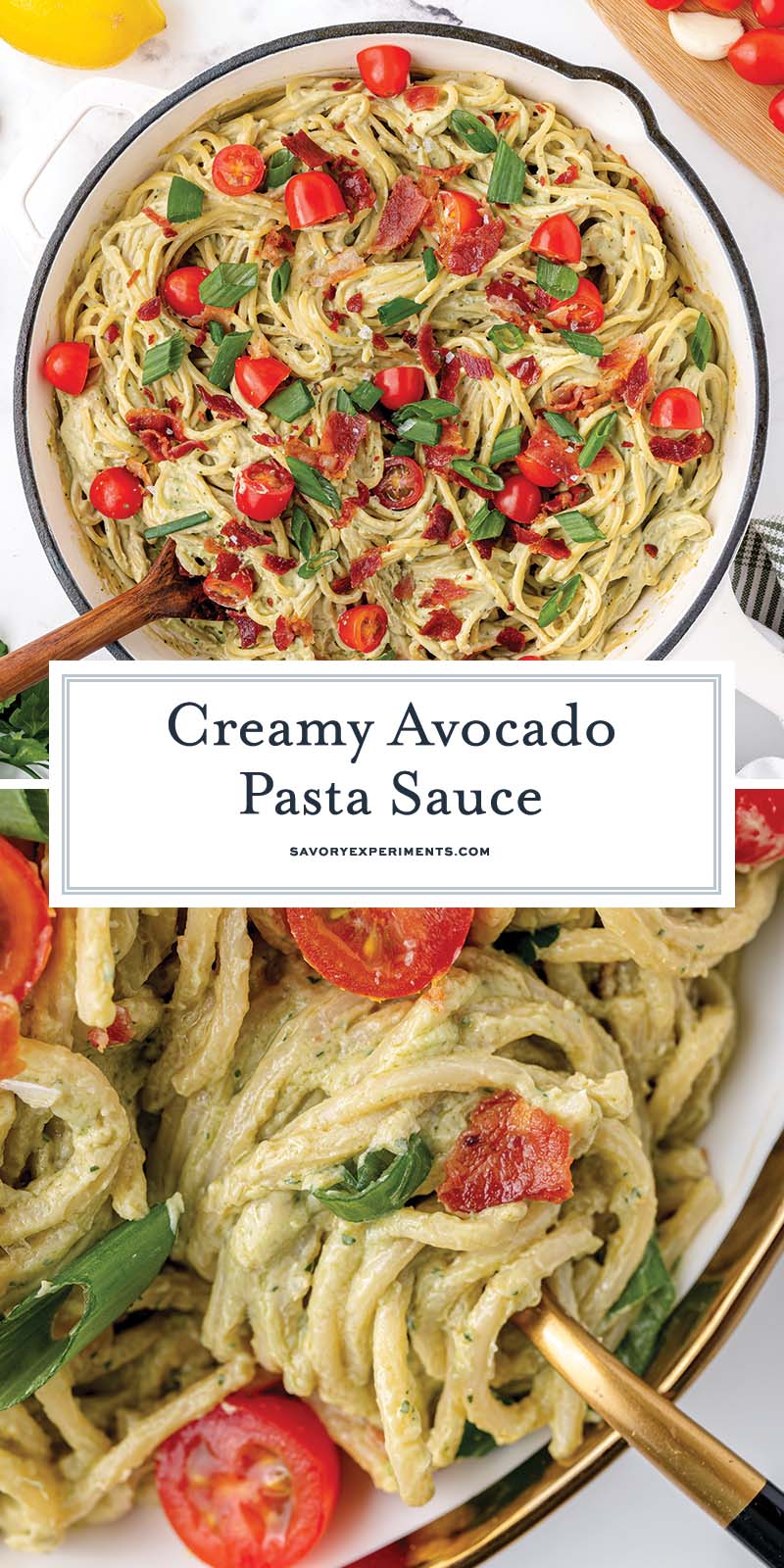 More Italian Dishes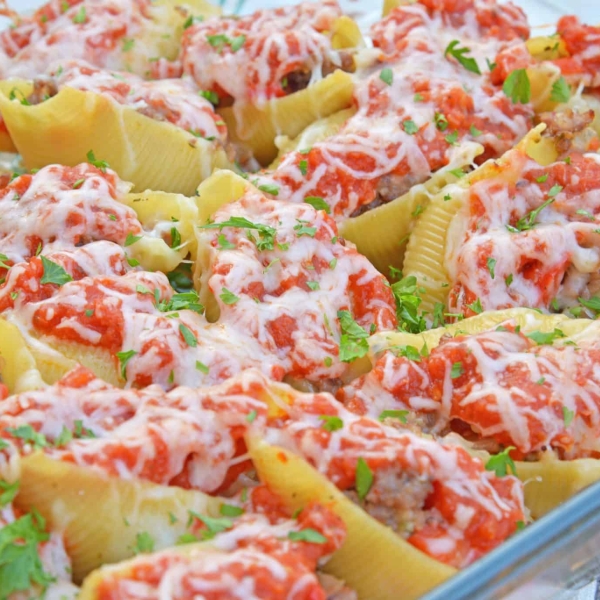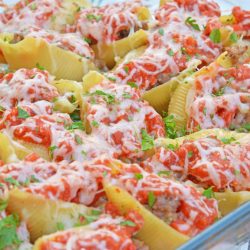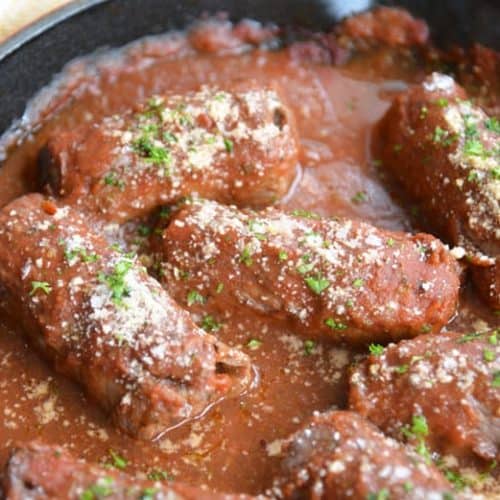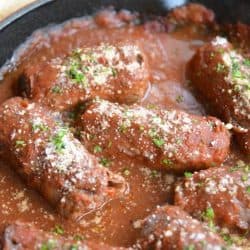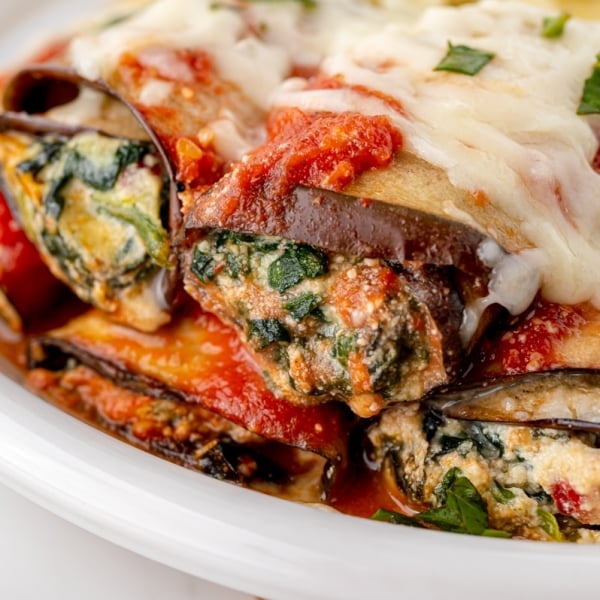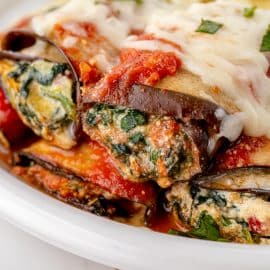 Eggplant Rollatini
If you're looking for a vegetarian meal for Meatless Monday, look no further than this Eggplant Rollatini recipe! It's EASY to make and full of flavor!
See The Recipe!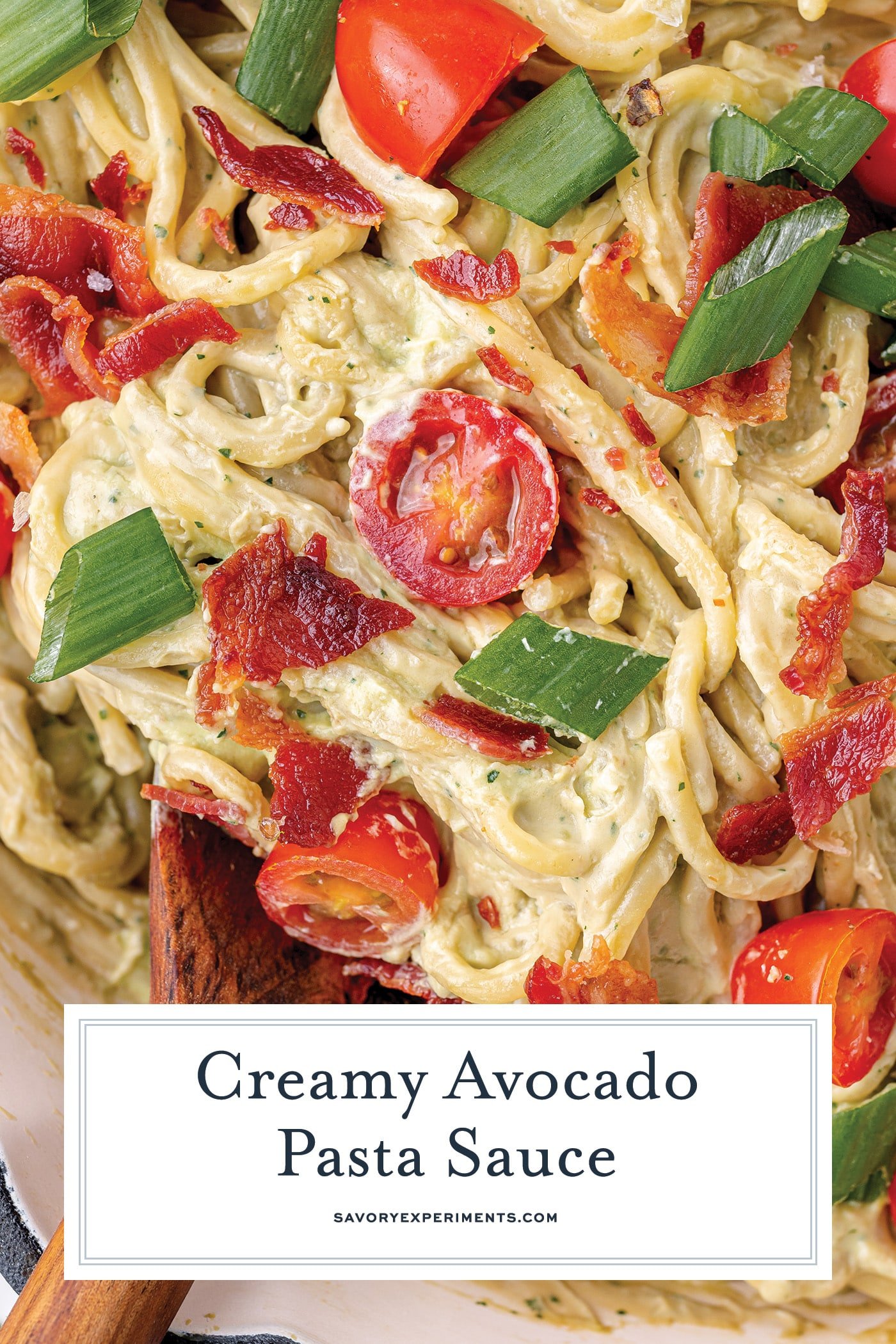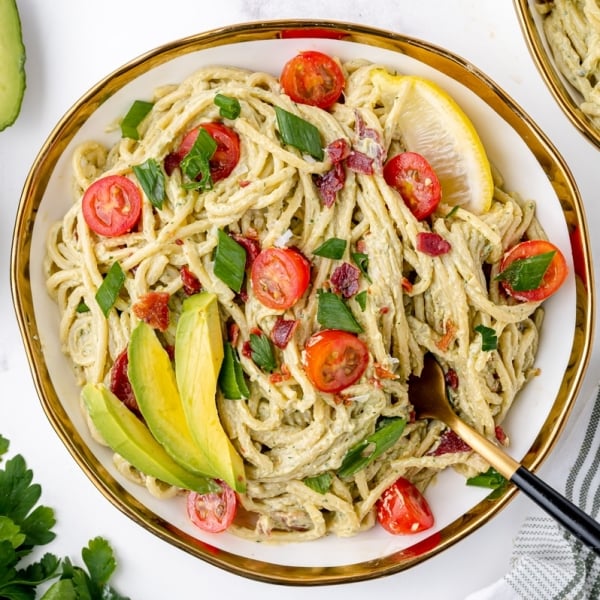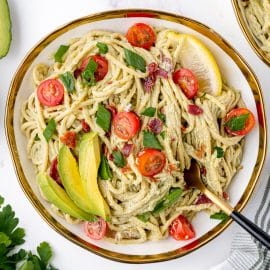 Creamy Avocado Pasta Sauce
Healthy Creamy Avocado Pasta Sauce is a great alternative to traditional Alfredo sauce. Avocados, thick Greek yogurt, lemon juice, tomatoes and scallions make this wildly popular dish a favorite. Bacon optional!
Instructions
Combine the avocado, Greek yogurt, salt, garlic, lemon juice, parsley, basil and olive oil in a small food processor or blender. Pulse until smooth.

In a large skillet, toss the hot pasta with the avocado mixture until fully coated.

Plate the pasta and top with fresh tomato, scallion and bacon, all optional.

If you've tried this recipe, come back and let us know how it was in the comments or star ratings.
Notes
Other types of pasta can be used. Bacon is optional, this dish also tastes great with chicken and shrimp. Additional toppings can include crushed red pepper and freshly grated Parmesan cheese.
Nutrition
Calories:
524
kcal
,
Carbohydrates:
69
g
,
Protein:
20
g
,
Fat:
22
g
,
Saturated Fat:
3
g
,
Cholesterol:
7
mg
,
Sodium:
382
mg
,
Potassium:
953
mg
,
Fiber:
7
g
,
Sugar:
4
g
,
Vitamin A:
805
IU
,
Vitamin C:
34.4
mg
,
Calcium:
128
mg
,
Iron:
4
mg