Focaccia bread is an amazing recipe to make! It comes out of the oven fresh and ready to be devoured! Don't be discouraged by the long inactive time, this is quite a easy and rewarding recipe to make!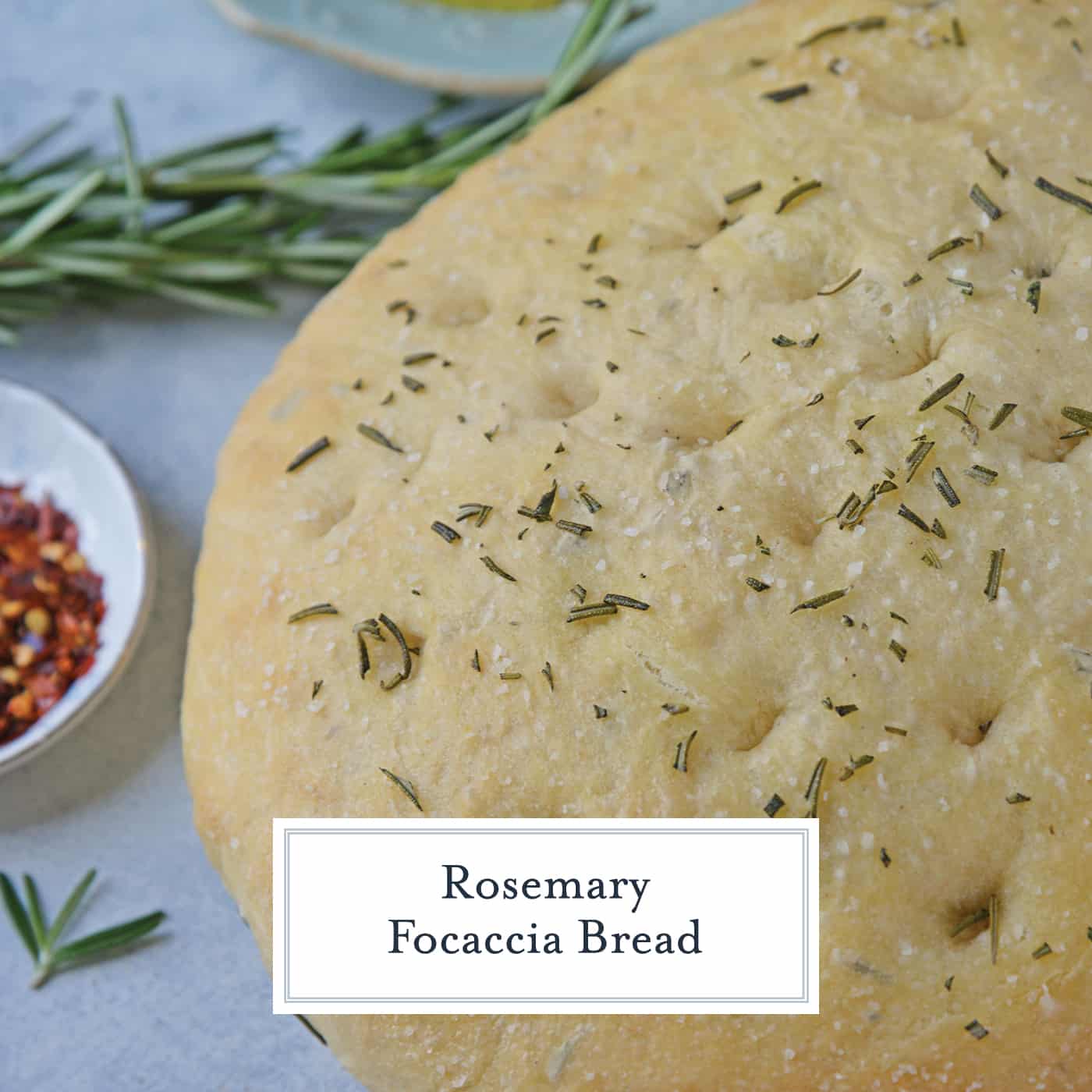 Rosemary Focaccia Bread is a recipe you can be proud of! Pair with homemade butter or olive oil bread dip for the best appetizer.
Focaccia is a food that has a long, rich history. It is unknown whether it originated with the Greeks or Romans, but it truly was the first flatbread. Made of simple ingredients to be torn by hand and dipped in salty soups and olive oil, it still holds the same purpose today.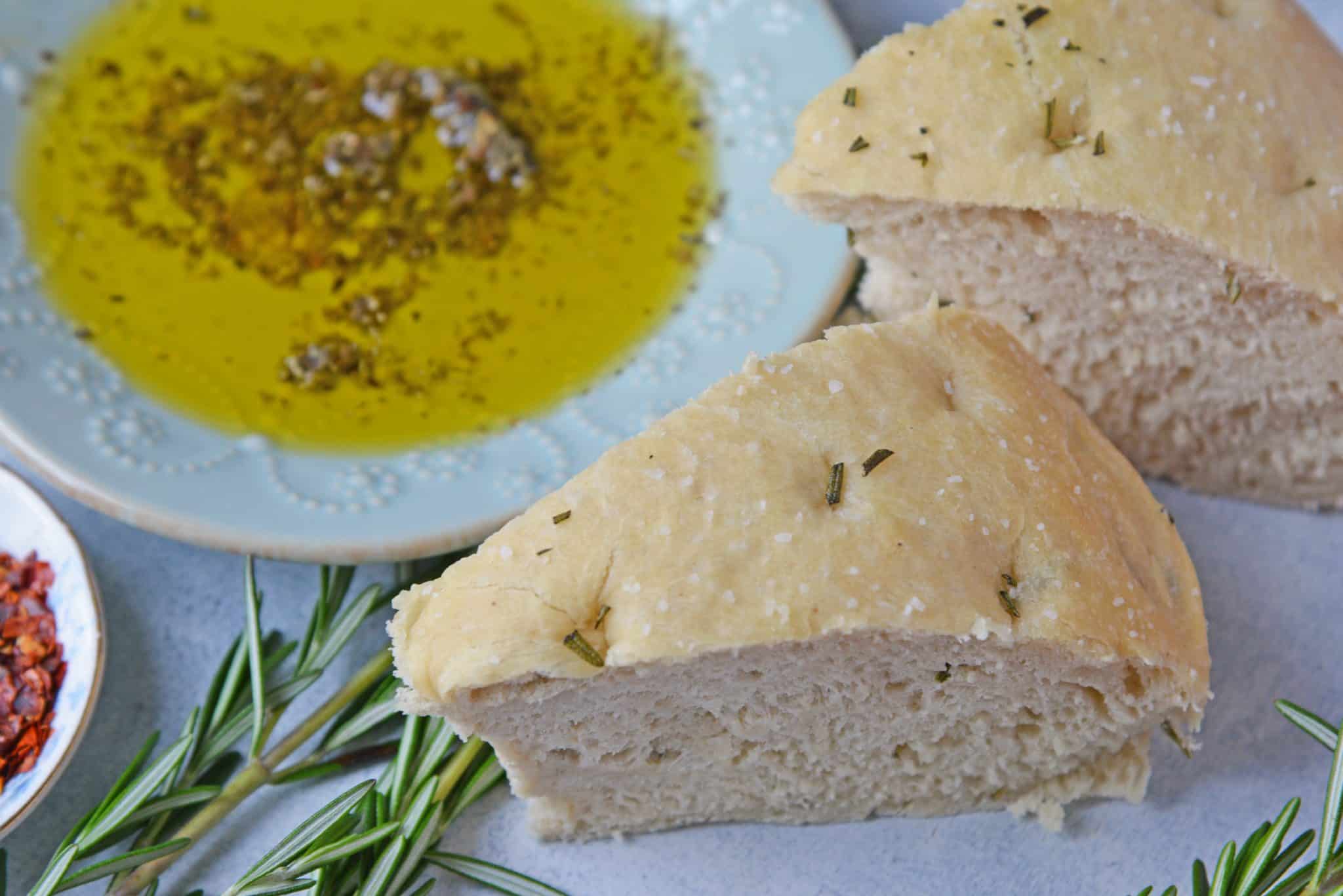 A versatile doughy, flavorful bread used for oh so many things; sandwiches, pizza dough, by itself or to mop up extra sauce. Although time consuming, this recipe is rather easy and well worth it. Most of the time is not hands on, but allowing the bread to rise.
The smell of yeast in the air will remind you why you decided to make homemade bread. It is intoxicating. I'm smiling just thinking about it.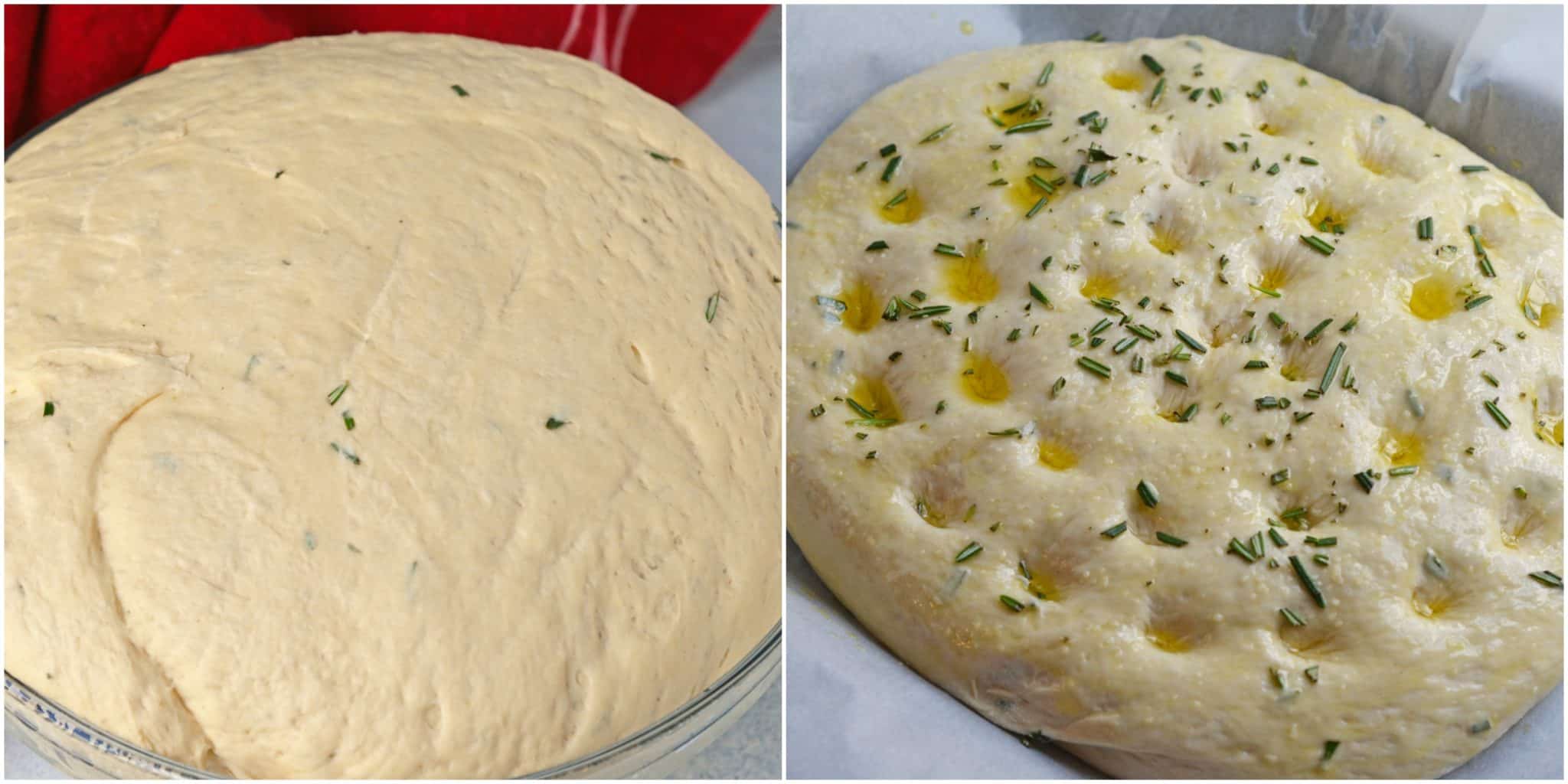 I have made this Rosemary Focaccia Bread recipe on quite a few occasions, and I really can't get enough of it. There's just something about fresh bread. Especially bread baked in my own oven.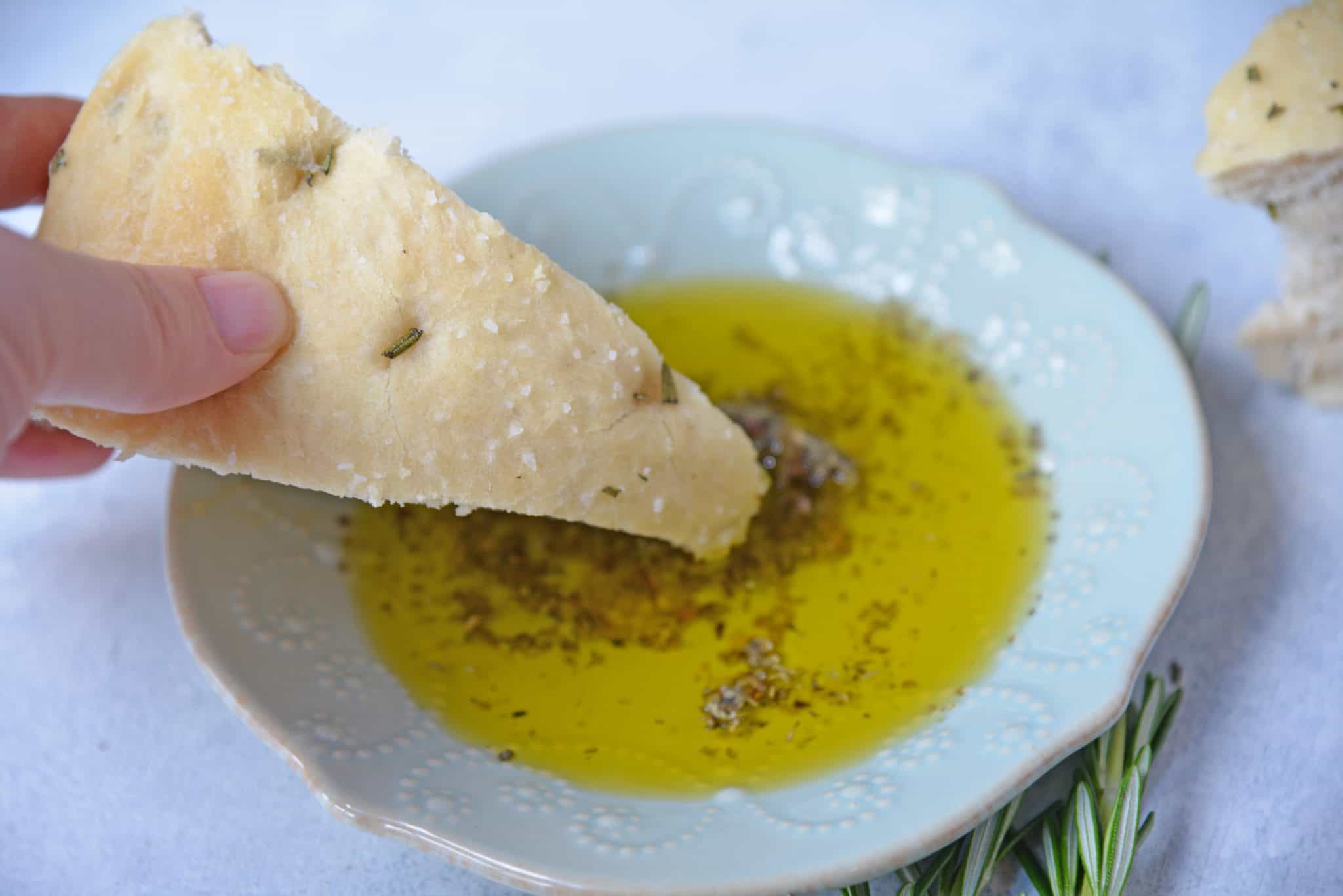 What makes this focaccia recipe even better? Being paired with my olive oil bread dip! Whether you make this for your family or friends, everyone will not be able to get enough of this.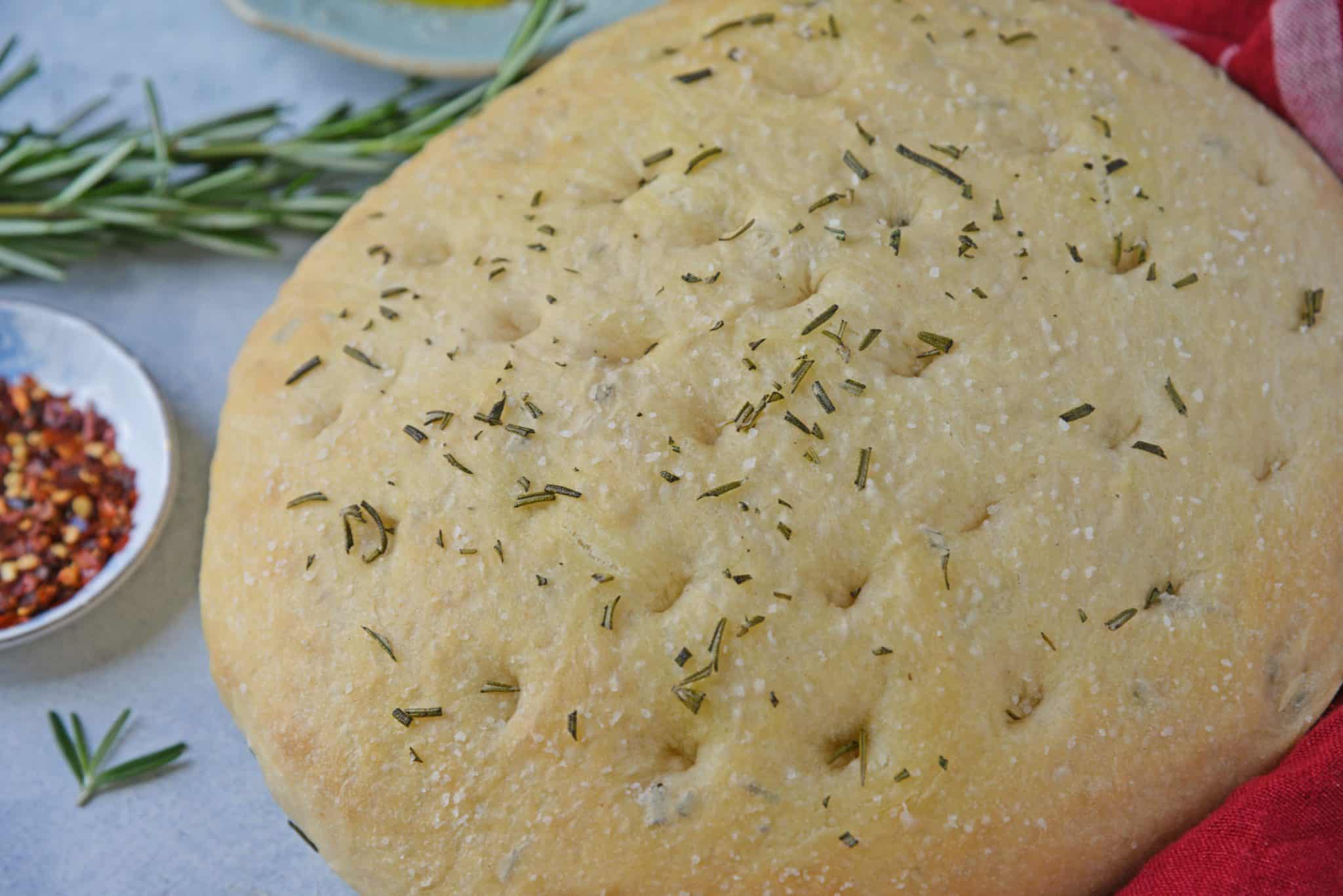 Some tips on making focaccia recipes:
During the cooking process mist water into the oven right below the rack holding the bread using a spray bottle. This creates steam, helping the bread remain moist.
Sprinkling from about 1 foot overhead will help evenly distribute.
The blend of bread and all-purpose flour gives it a unique texture.
Focaccia bread can be frozen in airtight containers for up to one month. Wrapping in freezer paper will extend this to 2 months.
You can use any toppings you like. I used rosemary and sea salt here, but one could use thyme, sea salt alone, parsley, garlic, onion or any other desired spice.
If you loved this
focaccia bread recipe, be sure to check out some of these easy bread recipes: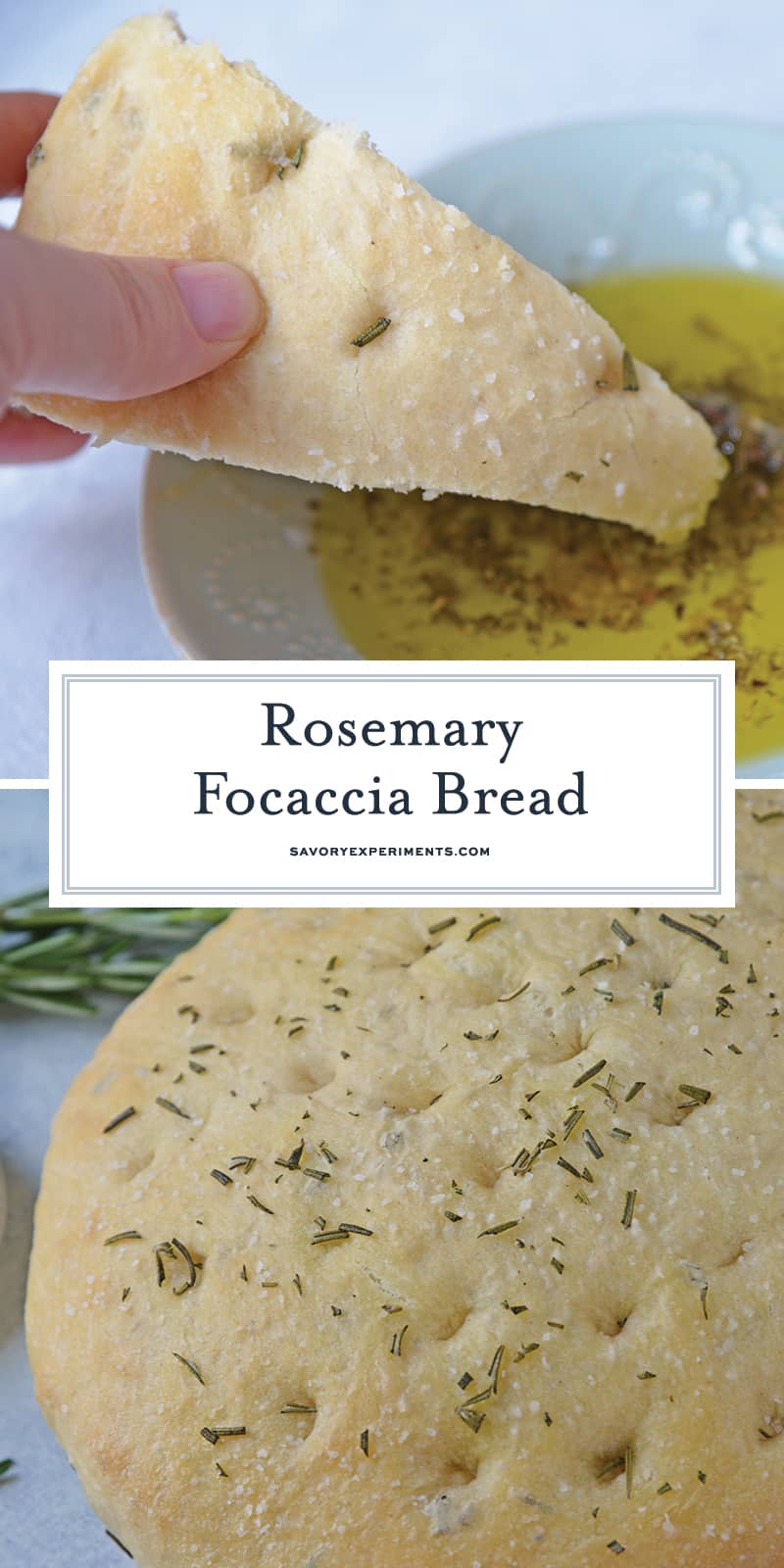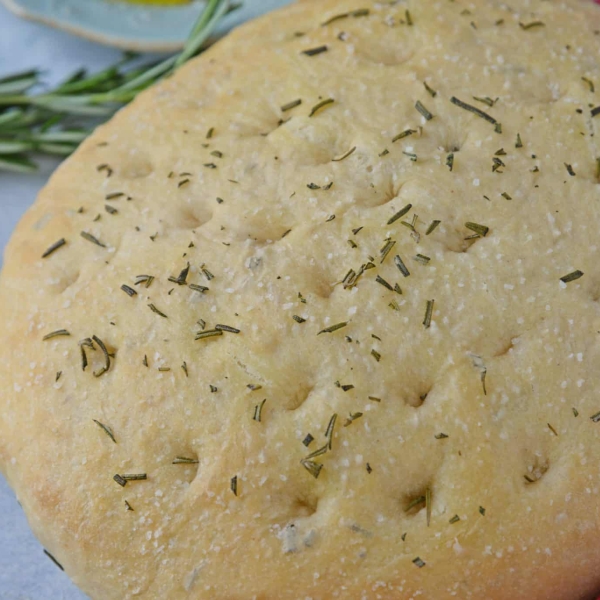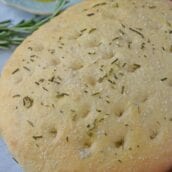 Rosemary Focaccia Bread Recipe
Rosemary Focaccia Bread is a recipe you can be proud of! Pair with homemade butter or olive oil bread dip for the best appetizer.
Instructions
Stir yeast, sugar and 1/3 cup hot water into a measuring cup or medium size bowl. This will almost quadruple in size, so make sure it has enough space. Allow to bloom for 10 minutes. Active yeast will be foamy, frothy and aromatic.

In a large bowl or the bowl of a stand mixer fitted with a whisk, combine 2 1/4 cup warm water, 2 tablespoons extra virgin olive oil and bloomed yeast. Whisk together for 1 minute.

Add 1 cup bread flour, 1 cup all-purpose flour, garlic powder, black pepper, 1 tablespoon kosher salt and 3 tablespoons freshly chopped rosemary. Whisk together.

If you are using a stand mixer, switch to the dough hook. If you are using an electric mixer continue to use until dough is too thick to mix. At this point you will need to hand knead.

Continue to add the remaining flours one cup at a time, alternating bread flour and all-purpose flour, until all is incorporated. Continue to mix with bread hook or knead for 5 minutes. If the dough is still really sticky add a sprinkle of all-purpose flour.

Pour a small amount of extra virgin olive oil in a large bowl and grease all sides. Turn dough out into oiled bowl. Turn dough over to lightly coat. Dampen a thin kitchen towel or a paper towel and cover the bowl. Set in a cool, dry place for 90 minutes.

After 90 minutes dough will have doubled in size; punch down. Re-cover and set aside for an additional 10 minutes.

Turn dough onto a lightly floured surface. Divide dough into two large pieces. Flatten dough into a disk approximately 1 to 1 1/2 inches thick. I'm not picky about my rounds having perfect edges and no folds, so I divide dough with a karate chop of my hand and then flatten with my palm.

Cover with dampened towel on the floured surface. Heat oven to 400 degrees. If you are using a ceramic pizza stone (recommended), heat in the oven as well.

Dimple the bread with your thumb or the end of a wooden spoon at 1-2 inch increments. Generously baste the top with 1 tablespoon extra virgin olive oil. Sprinkle remaining fresh rosemary and kosher onto the tops. Sprinkle with kosher salt and rosemary.

If using a pizza stone, carefully transfer rounds onto pizza stone with your hands or a bread peel. If you are using baking sheets, transfer rounds to the baking sheet.

Bake for 20 minutes. Mist bread while cooking. If at 20 minutes the bread is not lightly browned, continue to bake for another 5 minutes.

Remove from the oven and transfer to a cooling rack. Allow to cool for at least 10 minutes before eating. Bread can be stored in an airtight container for 2-3 days and can be frozen.
Nutrition
Calories:
475
kcal
,
Carbohydrates:
88
g
,
Protein:
13
g
,
Fat:
6
g
,
Sodium:
1310
mg
,
Potassium:
126
mg
,
Fiber:
3
g
,
Calcium:
18
mg
,
Iron:
3.7
mg