This Italian Chicken Panini recipe is packed full of flavor! Whether you are making yourself a snack or making them for the family, everyone is bound to love this savory chicken panini sandwich!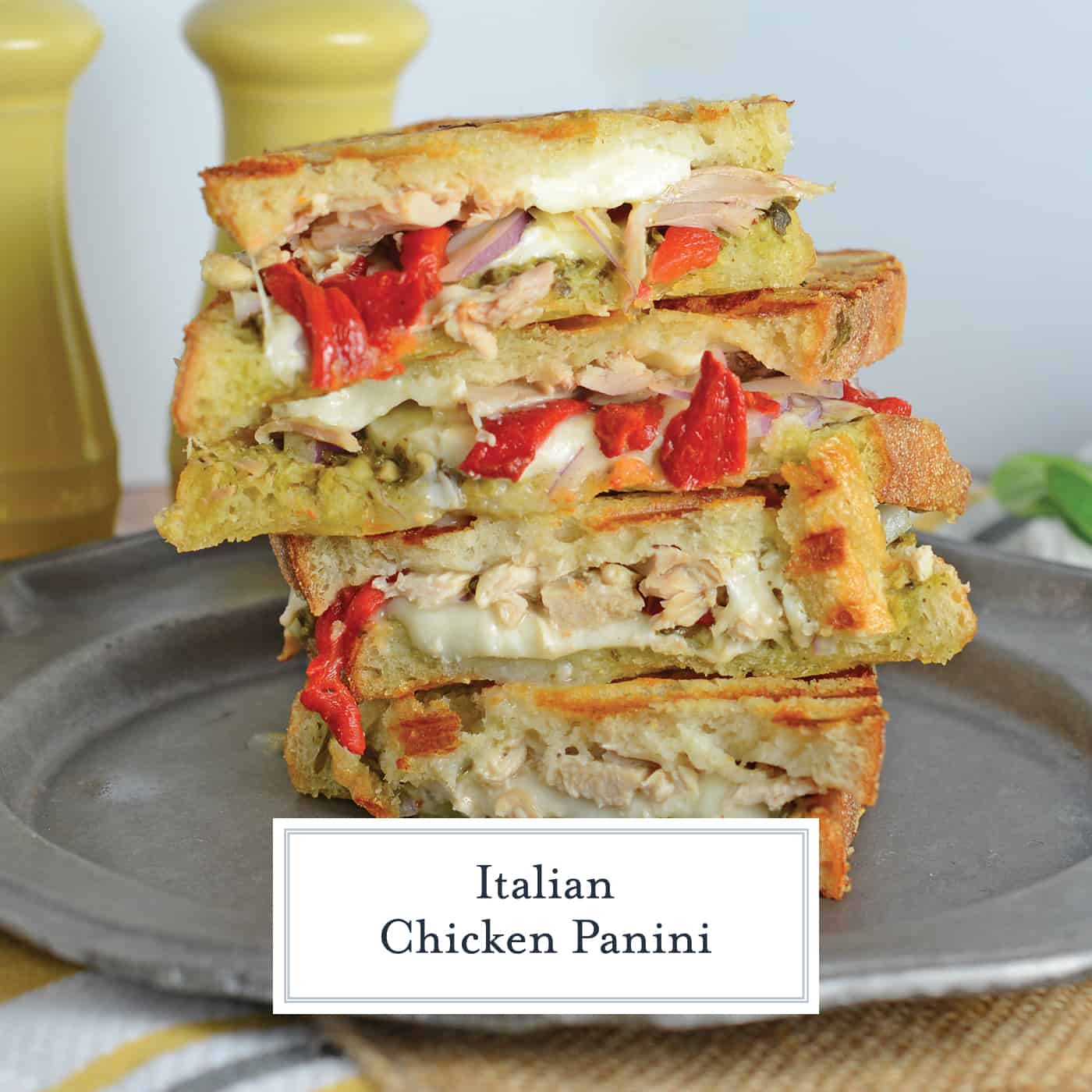 I love a good panini. Crusty bread that scrapes the roof of my mouth, gooey melted cheese and fresh vegetables. I like to make myself one on nights hubby isn't home. He isn't such a fan of "only" a sandwich as a meal.
I look at has the perfect meal: well rounded in one compact sandwich. One of my favorites is the Italian Chicken Panini. Mozzarella cheese, roasted red peppers, red onion and garlicky pesto. It is pure heaven!
Having a panini press will make this so much easier, but if you do not have a panini press you can use 2 hot skillets, one to put the sandwich in and the other to press down on the top.
Flip half way through cooking. It just won't have those pretty grooves on the bread.
Panini sandwiches are really all about flavor, when it's in the panini press all those delicious ingredients, onion, cheesy mozzarella, and pesto sauce are being fused together and taking on each others flavors.
It has everything that is needed for the perfect panini sandwich without being too much or being overwhelming.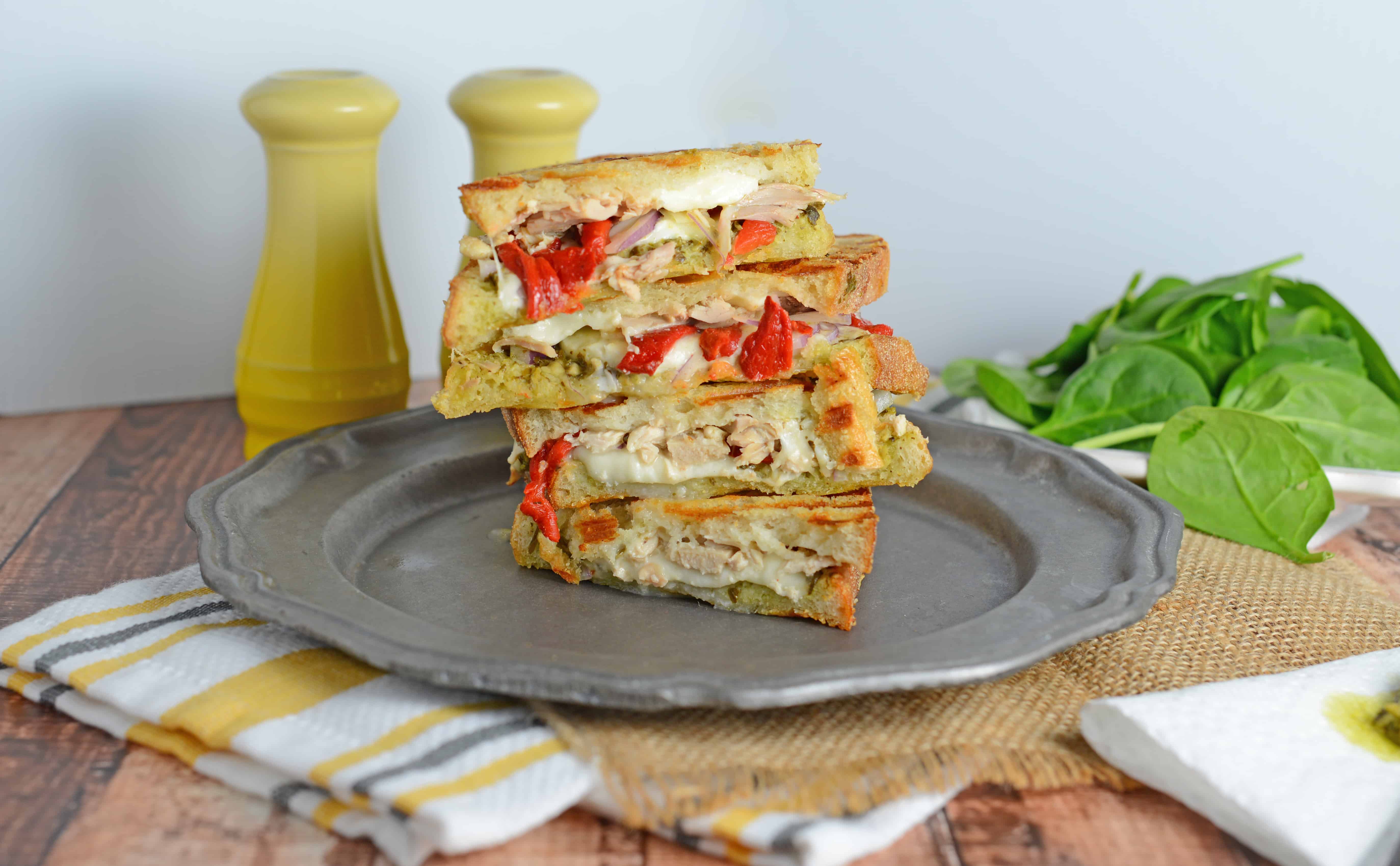 Why You'll Love This Italian Chicken Panini
Soft bread, melty cheese and an herby pesto- what's not to love!
Versatile – Don't like the toppings I used in my recipe? Mix them up and use your own combination of ingredients!
Quick and easy – These sandwiches are perfect for lunch because you can have them ready in minutes from start to finish!
Family friendly – Similar to a grilled cheese, these sandwiches are loved by both kids and adults alike.
Italian Chicken Panini Ingredients
The best part of paninis are how versatile they are. Top with whatever you'd like!
Chicken breast – This recipe is a great way to use up leftover chicken. If you don't have the time to cook up chicken, you could use a rotisserie chicken or even a pre-cooked Tyson chicken breast. You could also use chicken cutlets.
Pesto – I like using my homemade pesto recipe, but you could very easily buy a jar of it at the grocery store. Basil pesto is my favorite.
Italian bread – Make sure the bread slices are decently thick. They will be pressed, after all, so you don't want them to be completely flat after coming out of the press.
Red onion – I love the flavor that red onion adds to the sandwiches. You can use sweet onions if you'd like to though.
Roasted red peppers – Make sure these are thinly sliced and drained. If they're still wet, they might make your sandwich soggy.
Mozzarella – I prefer to use fresh slices of mozzarella rather than the pre-shredded bagged version.
How to Make Italian Chicken Panini
You will be pleasantly surprised at how easy this italian panini recipe is to make.
Spread pesto. Slather both slices of bread with pesto, lots of pesto.
Add toppings. Top with chicken, onion, red peppers, slice of cheese, then second slice of bread.
Coat grill press with cooking spray. Heat panini press and coat with cooking spray.
Press sandwiches. Place sandwiches inside until golden brown. I do one at a time since my panini maker isn't that large.
Remove and serve. When sandwich is heated though and the cheese is melted, remove and serve immediately.
How to Serve
If this mouthwatering sandwich is not enough for you, I usually like to pair mine with a green salad with my homemade creamy Italian dressing.
This usually ties it all in and now you not only have the best sandwich but also an amazing salad to compliment it!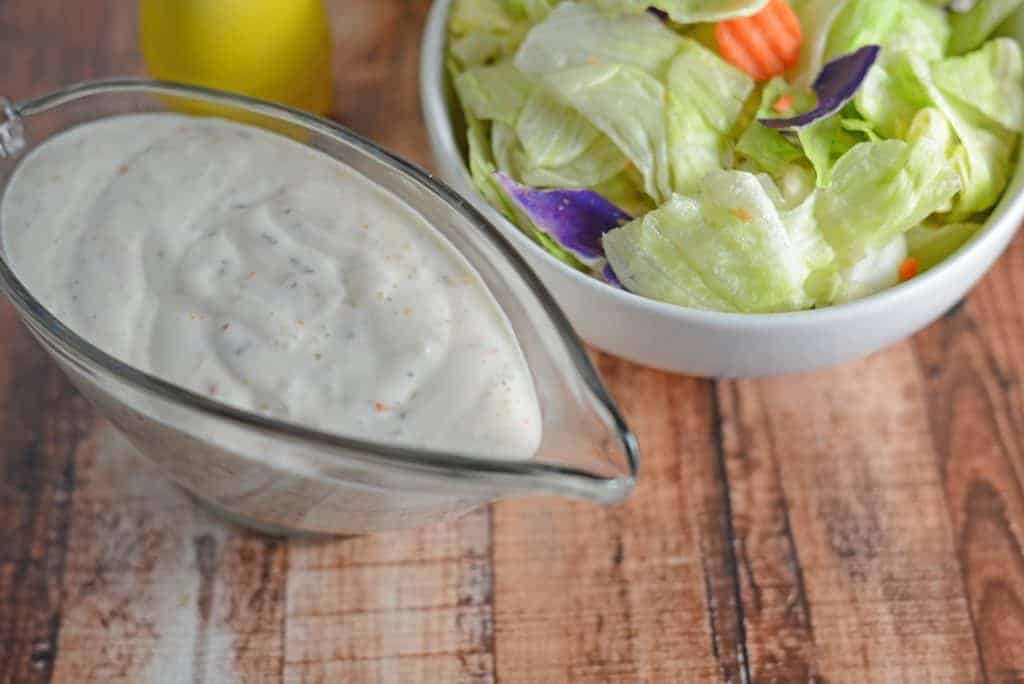 Variations
We like this Italian sandwich to be made exactly as the recipe is written, but there are plenty of ways you can make them your own.
Bread – I like to use a crusty Italian bread, but you can certainly use regular white bread, or your favorite bakery bread instead.
Spreads – If you're not a fan of pesto, you could substitute it with a tomato sauce like marinara sauce.
Cheese – Instead of using a slice of mozzarella cheese, try using provolone cheese or even a spread of creamy ricotta cheese instead.
Vegetables – Feel free to mix up the veggies as you see fit. Tomato slices, red bell peppers, banana peppers or fresh baby spinach.
Meat – Instead of using chicken strips, you could use deli meats instead. I would stick to some that have Italian flavors like genoa salami or pepperoni.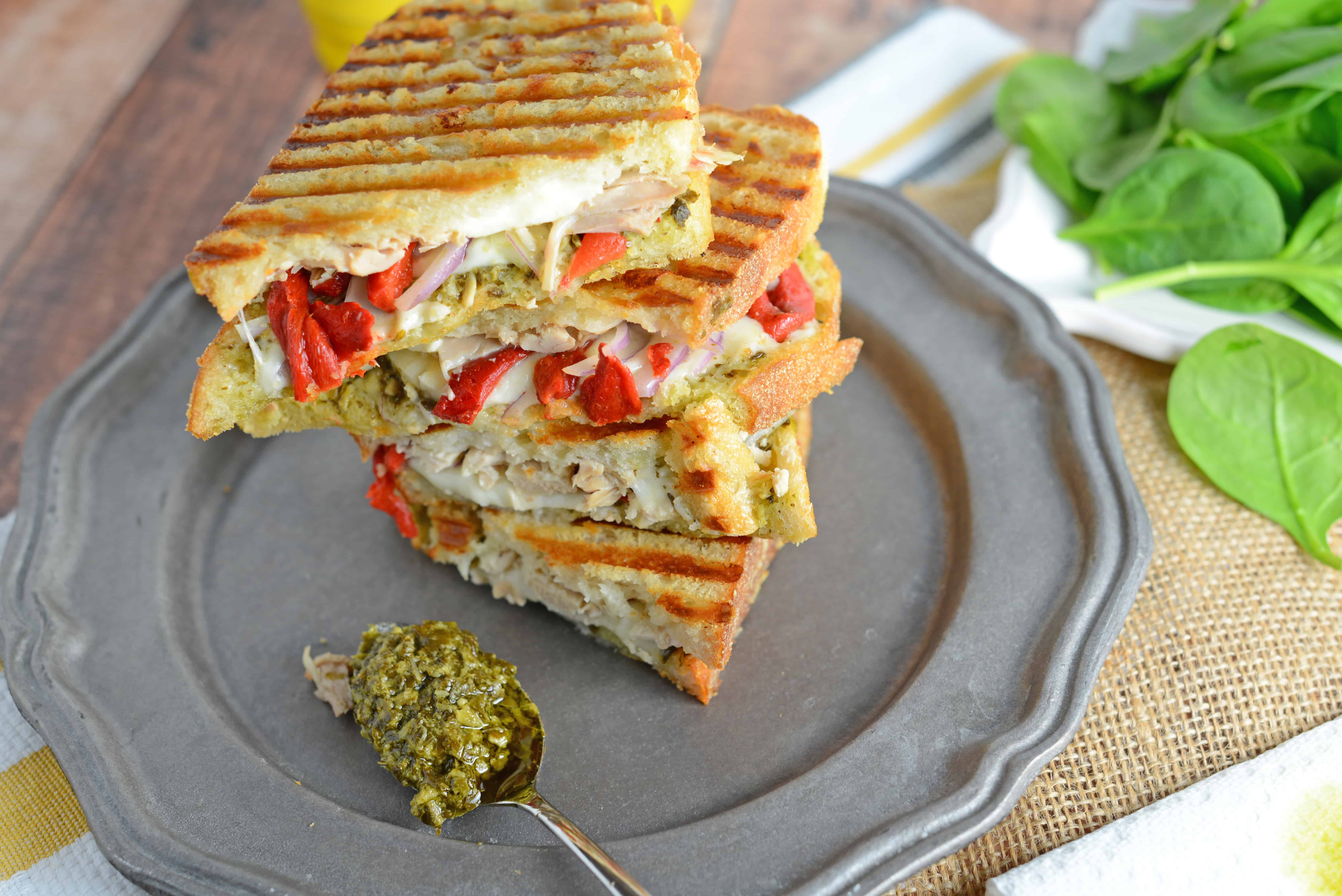 Storage and Freezing
Storage: As you can make these sandwiches one at a time, there are rarely any leftovers. If there are, you can store them in an airtight container in the fridge.
Freezing: I do not recommend freezing these chicken pesto panini sandwiches.
Frequently Asked Questions
My sandwich was a little runny, why?
Make sure you drain your roasted red peppers and also pat them dry.
Also, try to strain out some of the olive oil from your pesto. Lastly, use a low moisture mozzarella cheese.
How do I make a panini without a panini press?
Simply make it like you would a grilled sandwich. They are, in fact, basically the Italian version of a grilled cheese.
What is the best bread for a panini?
In Italy, Italian bread is used, but these are my other favorites. Make sure it is a hearty bread.
Ciabatta Bread
Focaccia Bread
Sourdough Bread
Hearty Whole Wheat Bread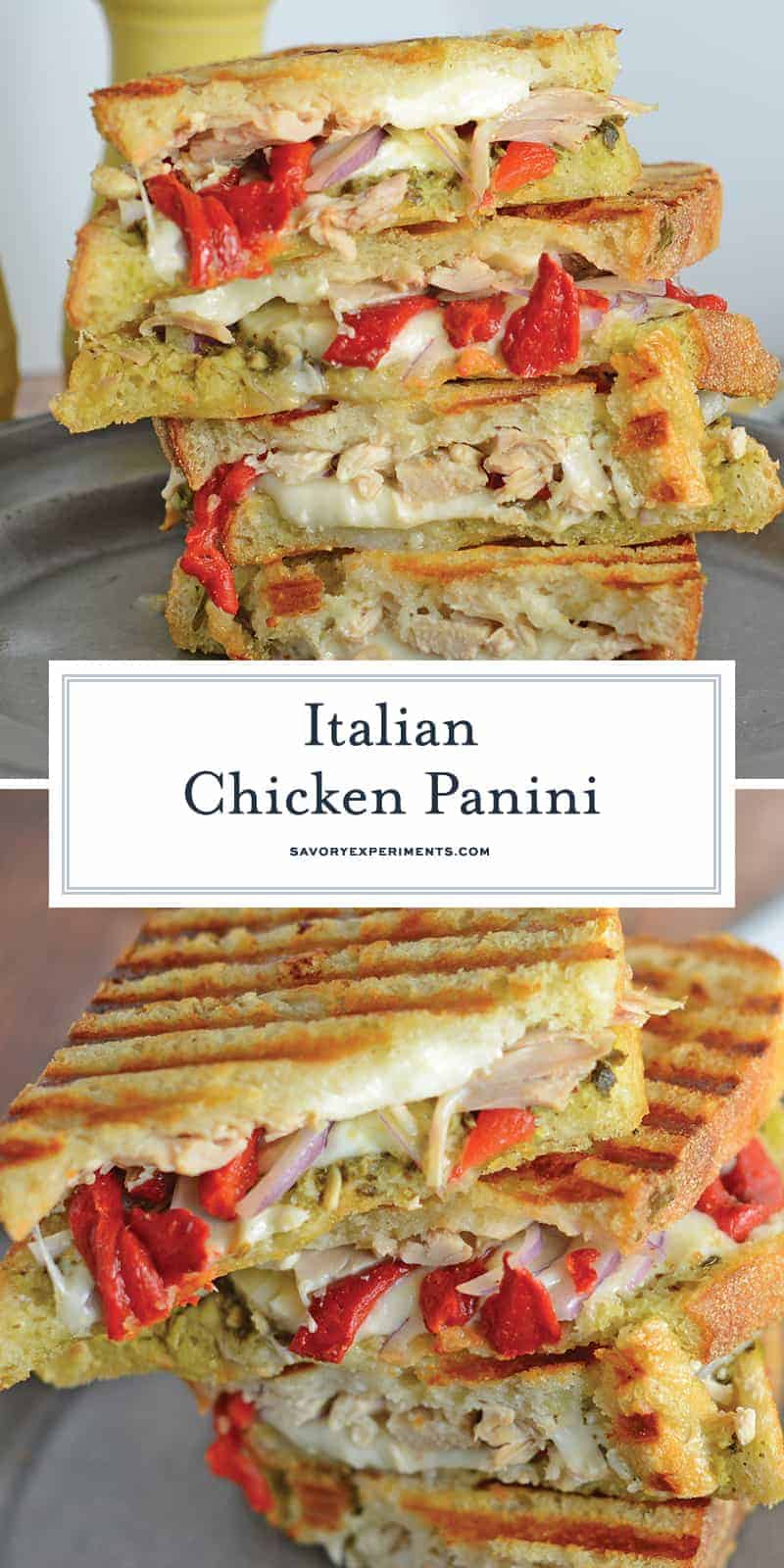 Great Sandwich Recipes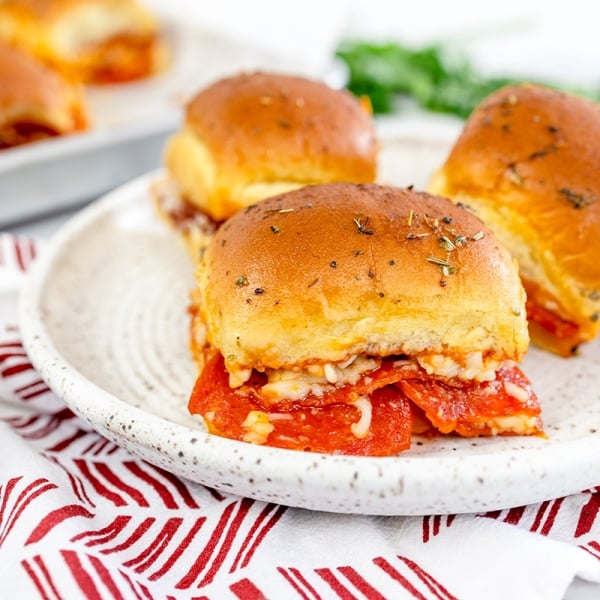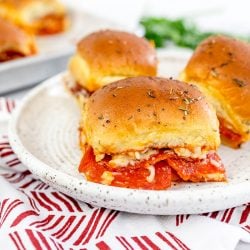 Pizza Sliders
Cheesy Pizza Sliders are easy to make with just 4 ingredients and the best for parties. Loved by kids and adults!
See The Recipe!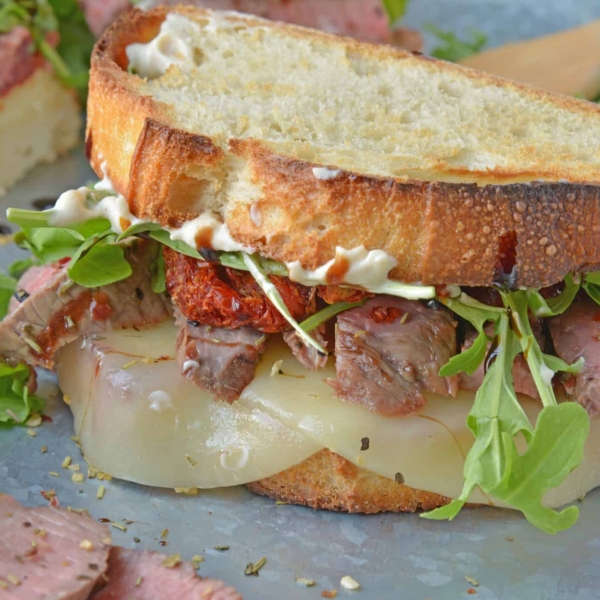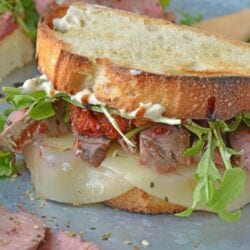 Insane Steak Sandwiches
Insane Steak Sandwiches use seasoned sirloin steak thinly sliced on toasty bread with provolone, sun dried tomato, arugula and zesty garlic aioli. The best steak sandwiches you've ever eaten!
See The Recipe!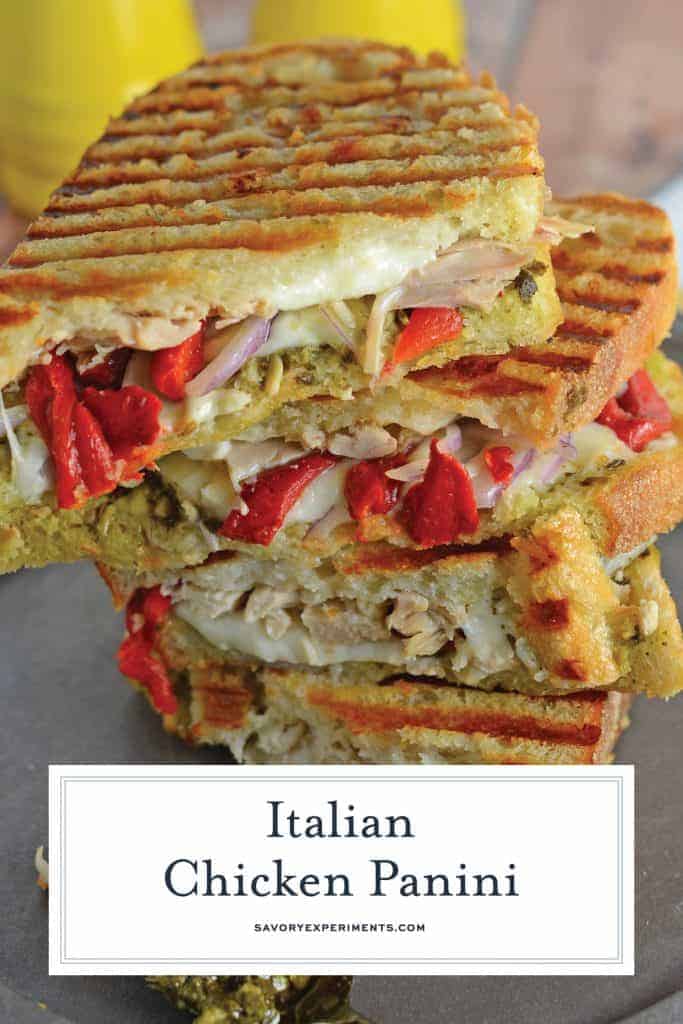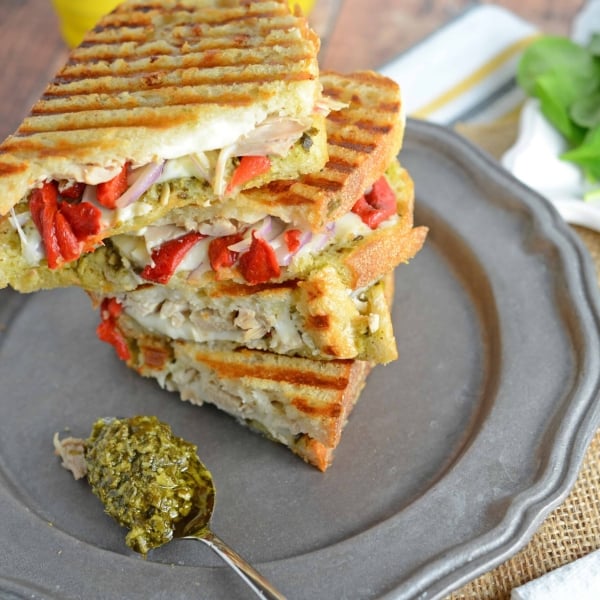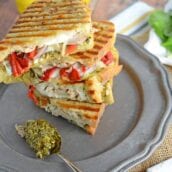 Italian Chicken Panini Recipe
Italian Chicken Panini Recipe – Crusty bread filled with gooey mozzarella cheese, roasted red pepper, shredded chicken and lots and lots of garlicky pesto.
Instructions
Slather both sides of ciabatta rolls with pesto, lots of pesto.

Top with chicken through mozzarella cheese.

Heat panini press and coat with cooking spray.

Place sandwiches inside. I do one at a time since my panini press isn't that large.

When sandwich is heated though and the cheese is melted, remove and serve immediately.

If you've tried this recipe, come back and let us know how it was!
Nutrition
Calories:
586
kcal
,
Carbohydrates:
24
g
,
Protein:
40
g
,
Fat:
35
g
,
Saturated Fat:
16
g
,
Cholesterol:
118
mg
,
Sodium:
1254
mg
,
Potassium:
599
mg
,
Fiber:
2
g
,
Sugar:
13
g
,
Vitamin A:
900
IU
,
Vitamin C:
17.7
mg
,
Calcium:
331
mg
,
Iron:
1.8
mg