When you're planning for holiday parties, the simpler the better. And this Olive Tapenade is a great no cook recipe that you can throw together last minute!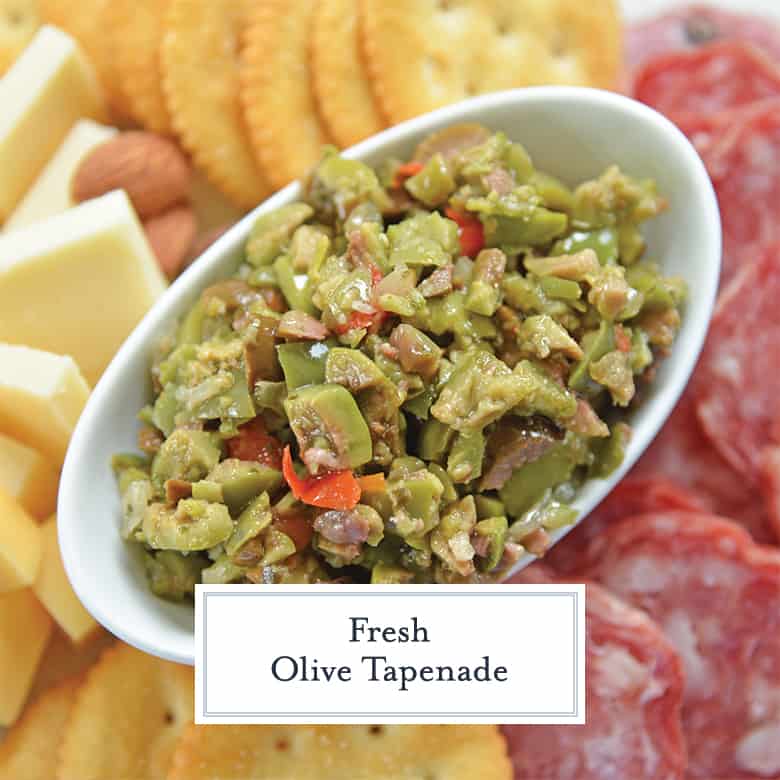 This Olive Tapenade is the perfect appetizer to serve during the holidays! It's one of the best recipes that use olives, and it's quick and easy to make!
If you've never had it, you are going to LOVE olive tapenade! Essentially it's an olive salad of source. It's so versatile and easy to make. Literally as simple as mixing the ingredients in a bowl and serving!
Olive tapenade can be used as a dip or spread on your favorite charcuterie platters and cheese boards. That makes it a great recipe to serve for parties, especially around the holidays!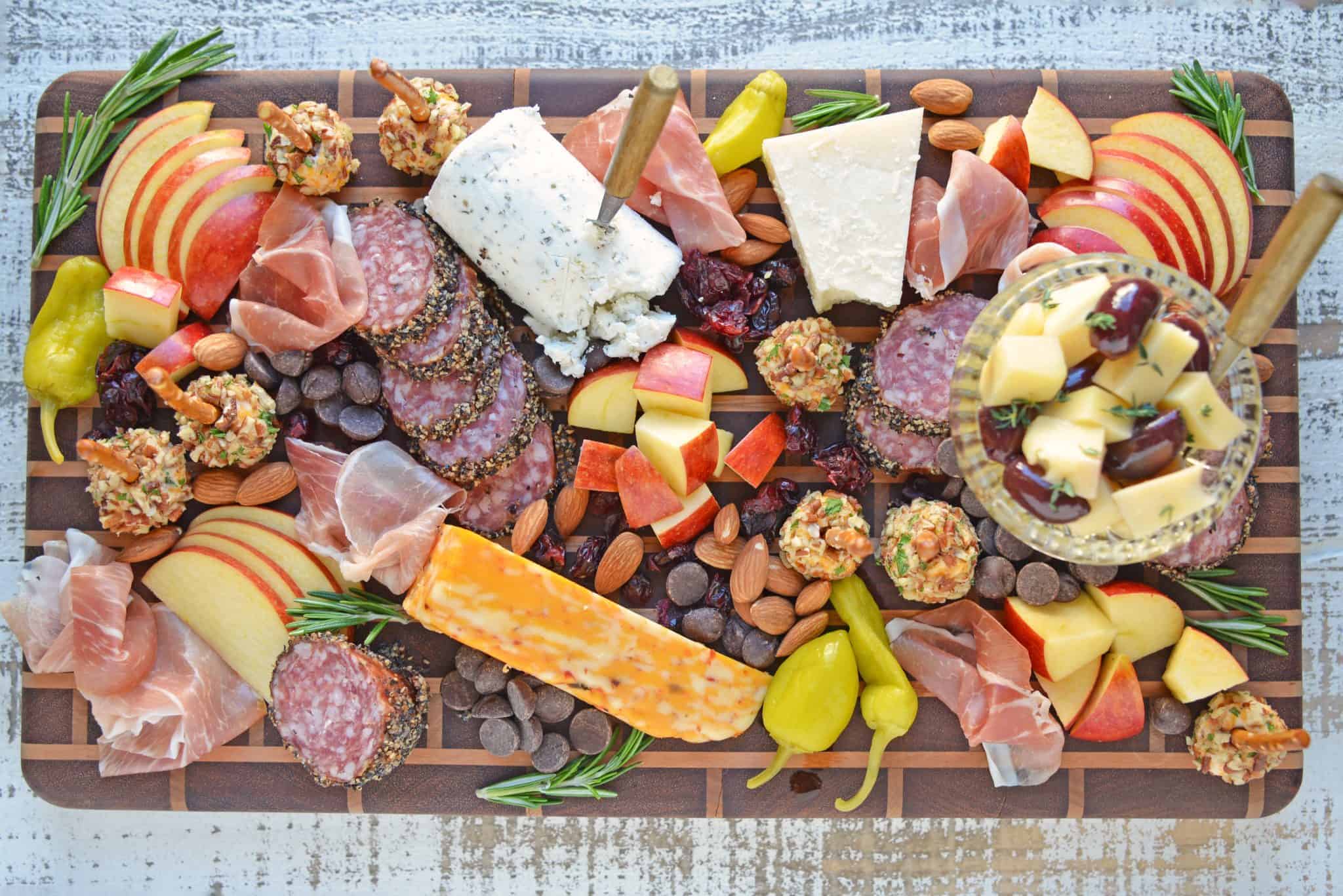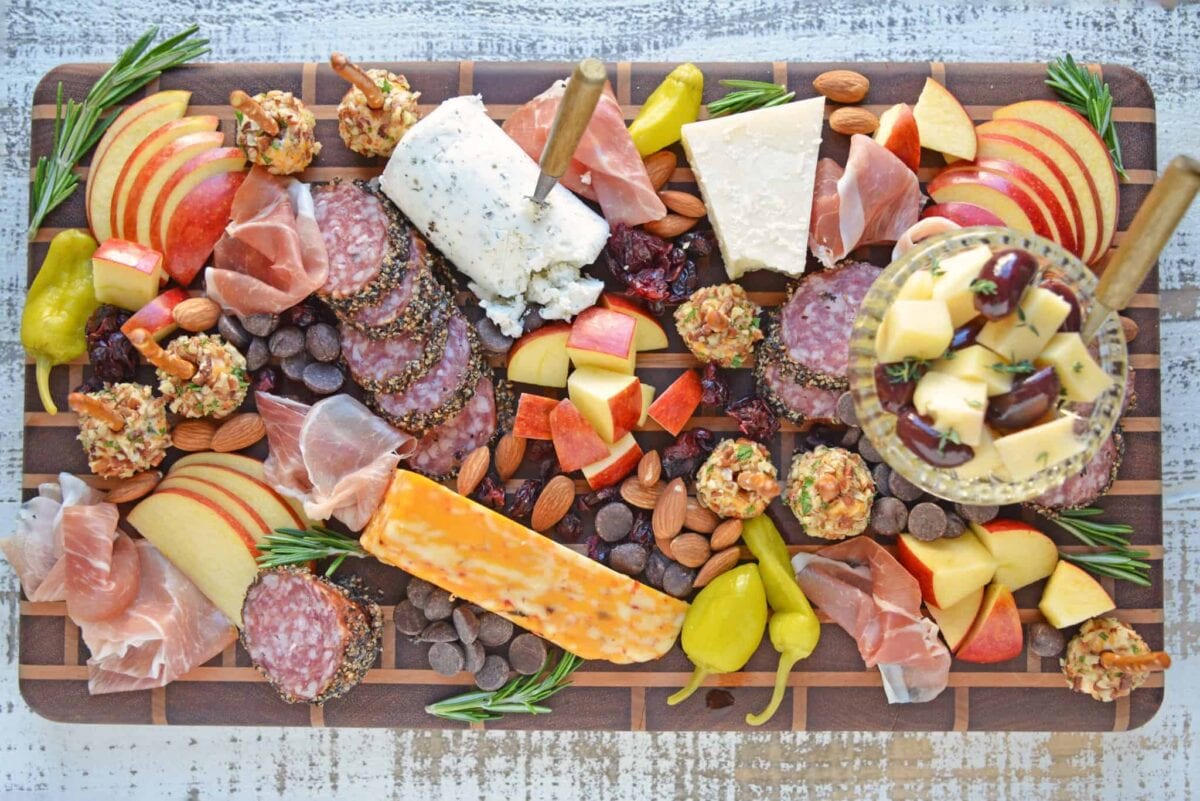 It is the ultimate holiday appetizer since it is no cook, make ahead and low carb. It's always nice to have something a little lighter when you're serving carb heavy holiday food.
Olives are "as old as time" and one of the first foods ever to be documented. They come from the Mediterranean basin and have stood the test of time.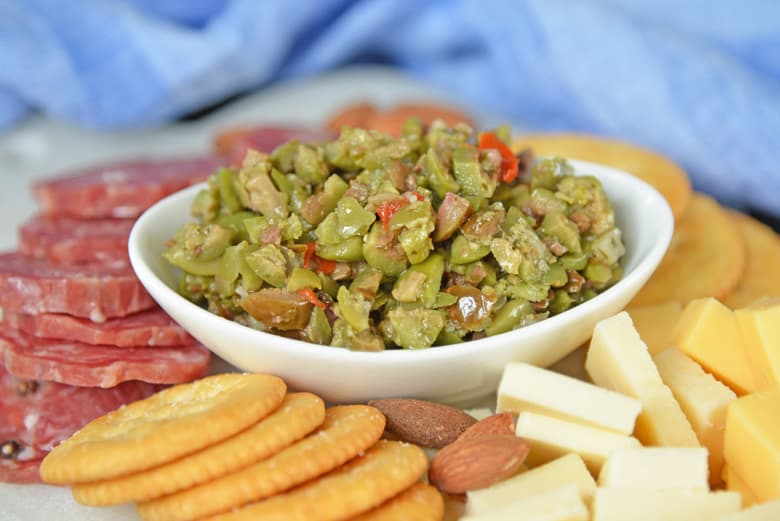 They vary greatly in size, texture and flavor, but nearly all olives have a rich flavor whether it be salty, briny, sweet or sour, and all start green and turn to an ebony black while ripening on the vine.
One thing that does stay the same is that olives are bitter and not very tasty until they are cured. There are many ways to cure olives, but typically a salt brine and then stored in oil is the most common.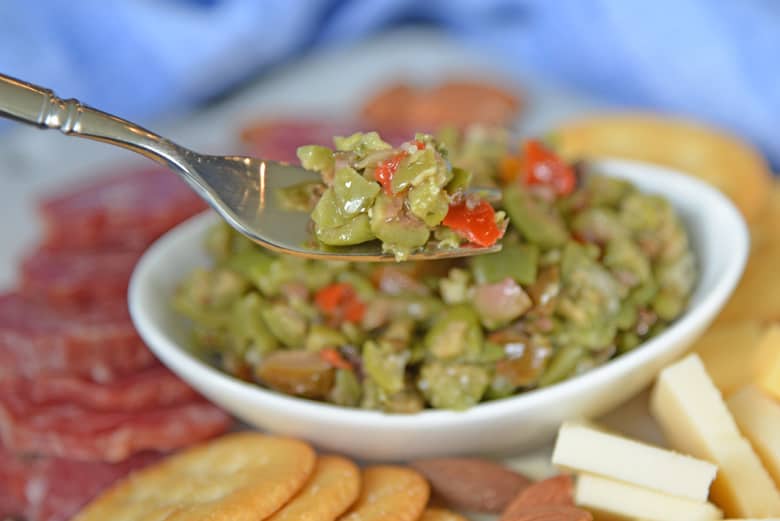 Many olives end up as olive oil instead of whole. They are actually fairly fragile and easily bruised.
There are many types of olives. I use green for this particular dish because they are somewhat mild but still a little salty.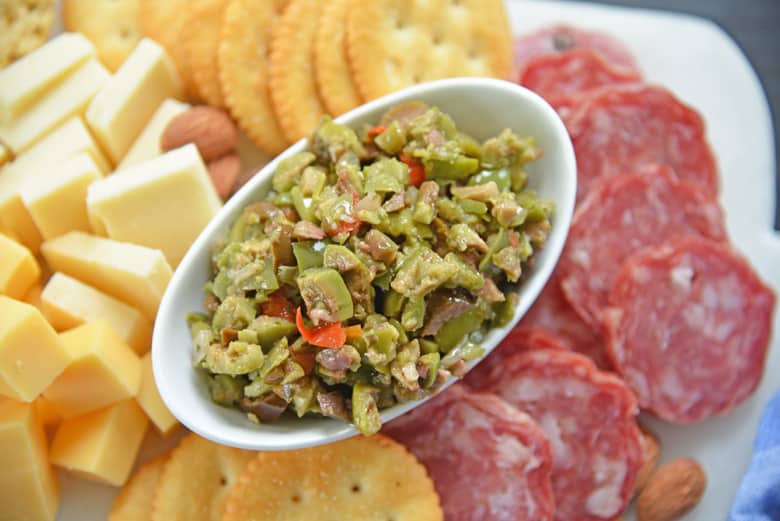 You can use whatever type of olive you prefer or even use a blend. There are hundreds of types of olives, but the most common olives are:
Nicoise- dark, purplish-black, they are a taunt olive with a slightly sour taste.
Picholine- long, thin and green, these are the olives typically seen in martinis and stuffed with soft cheese, like blue cheese.
Kalamata olives- the iconic black olive is used in a lot of Mediterranean foods, especially Greek.
Mocracan- these salt-cured olives are commonly thought to be going bad because they are wrinkly and look like deflated grapes, but alas, that is what they look like.
Cerignola- Italian olives that are green or black and are sweet in taste.
The biggest trick to making a delicious olive tapenade is to grate the complementing ingredients. People want to see giant, big pieces of olive, but not only taste the other stuff.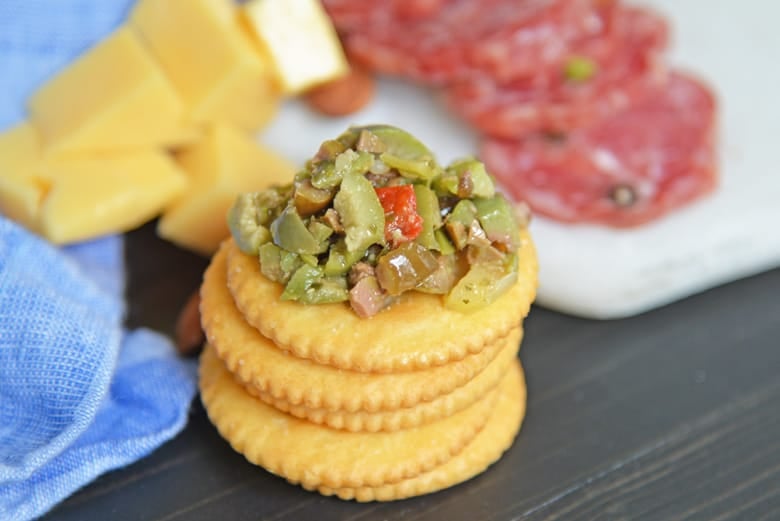 Since I am adding roasted red pepper, capers, carrots and onion, mine is considered a Sicilian olive tapenade. Roasted red pepper and rinsed capers are finely minced, but carrots and onions are grated using a box grater or microplane.
PRO TIP: You can also give the carrots and onions a quick whirl in the mini food processor for a quick fine mince.
Lastly, olive oil draws it all together. It is an olive tapenade, of course. Make sure you use a good, quality olive oil.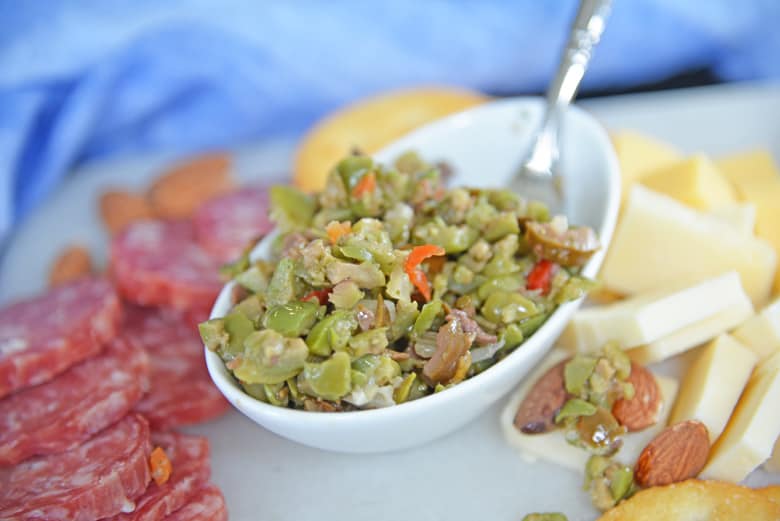 A good olive oil will taste like, well, olives, while a poorly made one will taste like vegetable oil. Gross. While people tend to favor Italian and Greek olive oils, I prefer to buy mine domestically.
There are some great ones out there from all over the world, but the reporting of ingredients isn't always the same and you could find that your super expensive olive oil was actually cut with vegetable oil.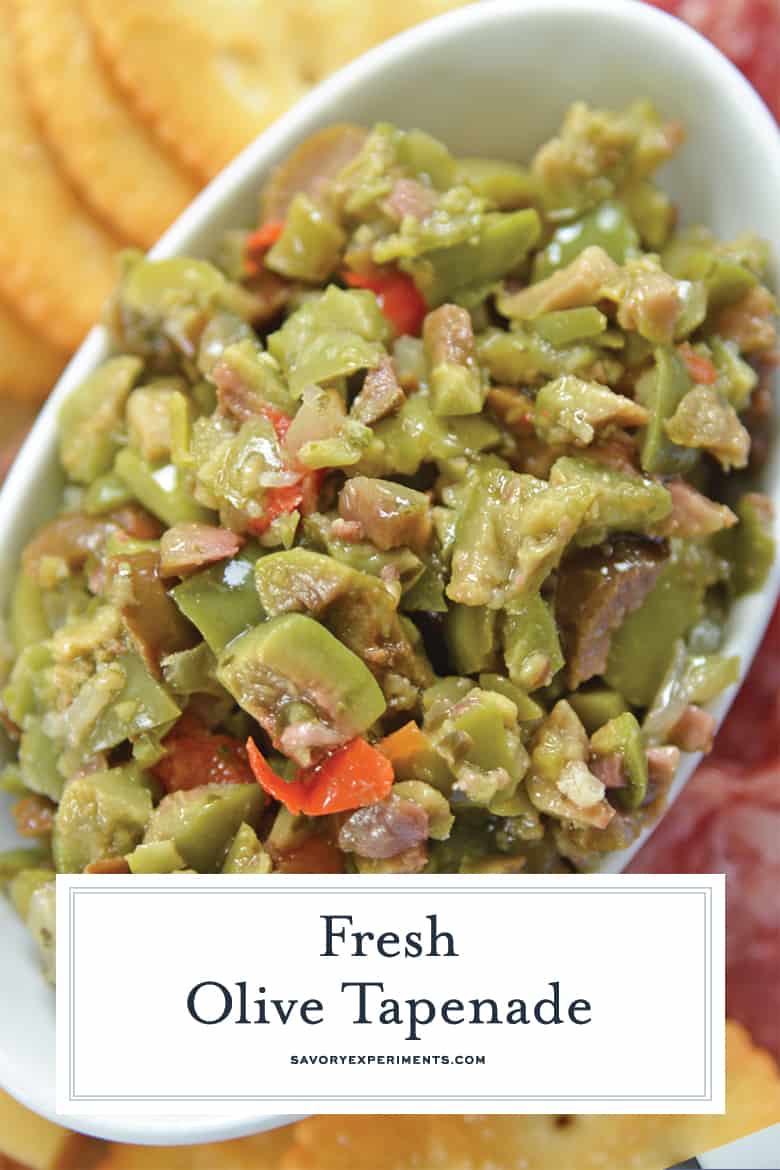 If you liked this super easy olive recipe, check out these other appetizers:
Questions you might have about how to make olive tapenade:
Can omit other ingredients I don't like? Sure! None of the complementing ingredients are going to make or break this recipe. If you particularly love one, feel free to double it!
Do I have to use green olives? I like prefer green olives for this tapenade, but you can surely use another color or flavor. You can even use a mix for more sophistication.
Can I make this ahead? Yes! Make it up to a day ahead of time, but take it out of the fridge for about an hour before serving. The olive oil will harden slightly and need to soften.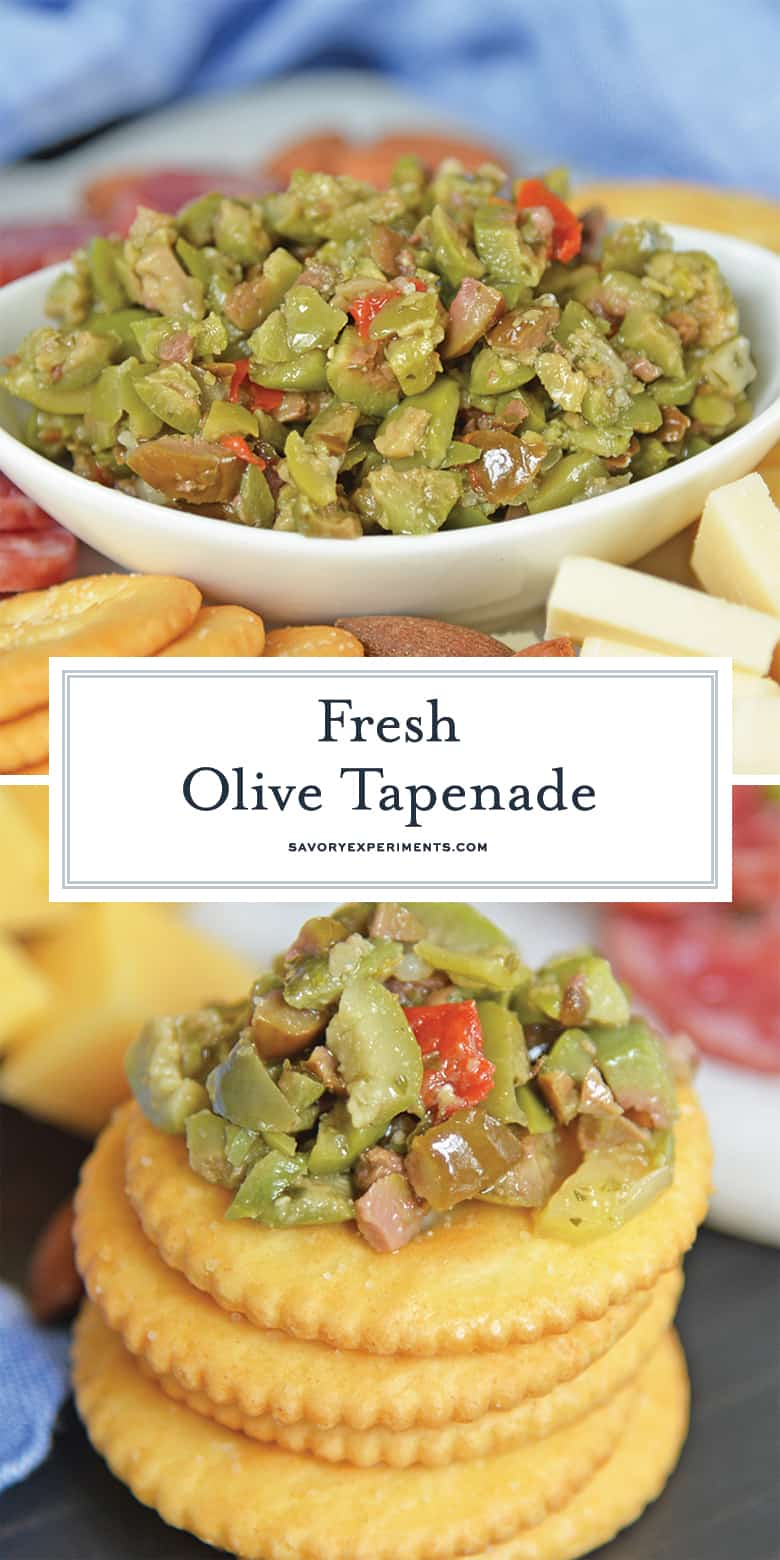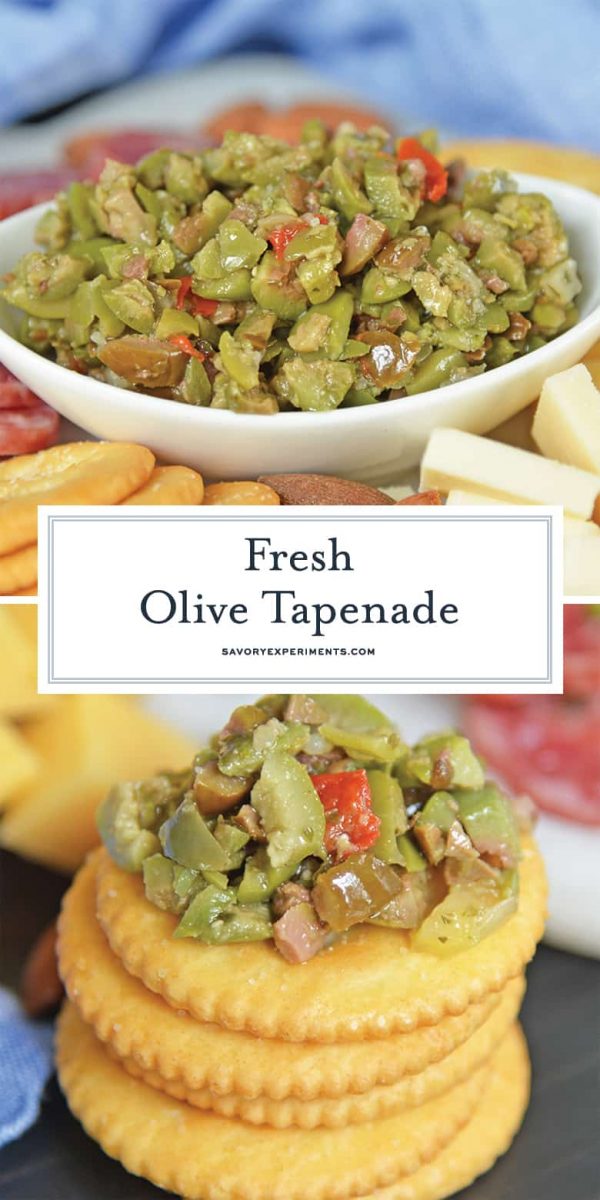 How do I store olive tapenade? In an airtight container in the refrigerator for 2-3 days.
Can I freeze olive tapenade? I don't recommend freezing this dish. There is too much water and it defrosts fairly soggy and limp.