Pasta e Fagioli is a deliciously rustic soup perfect for anytime of the year and packed with protein, fresh vegetables, tender pasta and beans making it hearty and filling. Very easy to make, freezer friendly and also family friendly.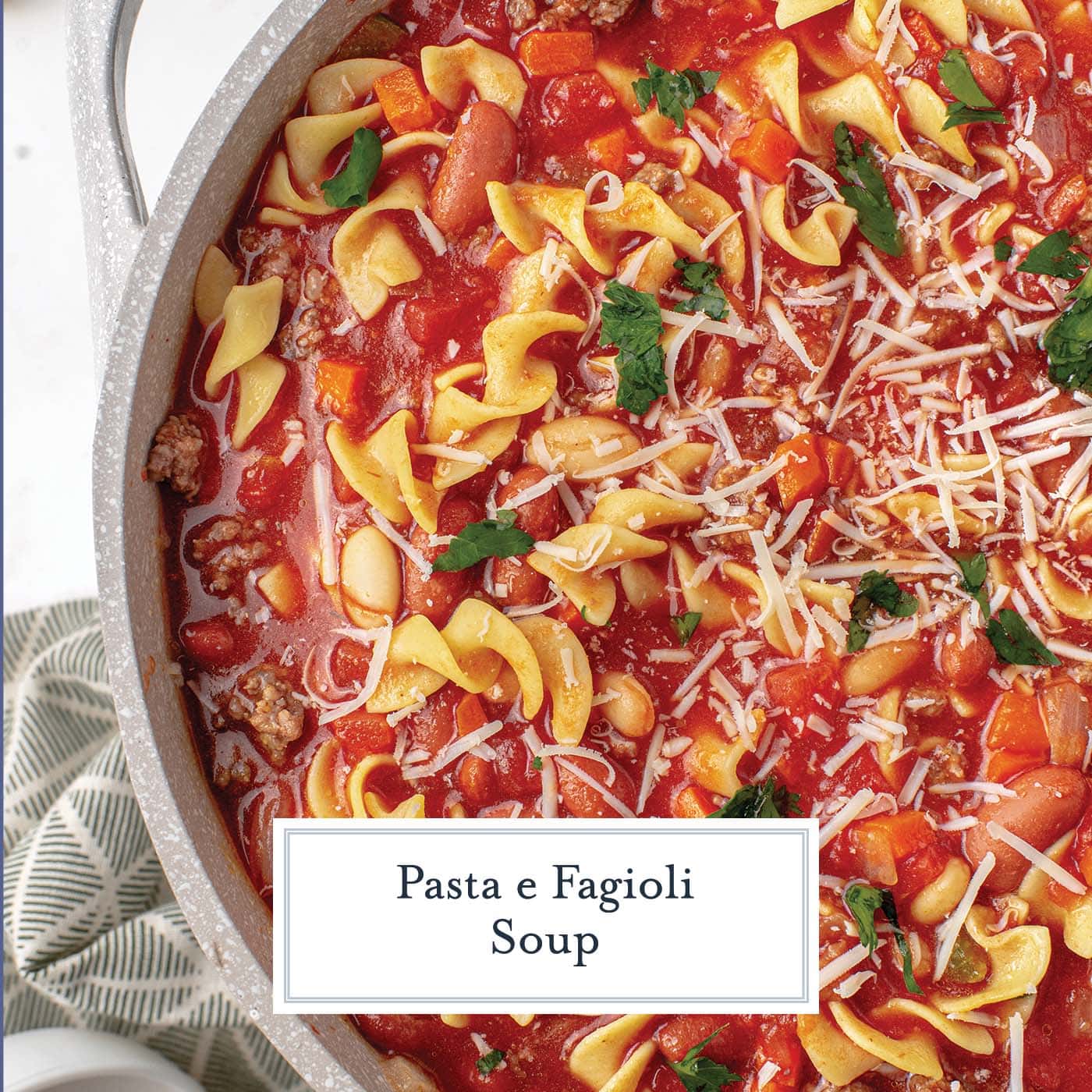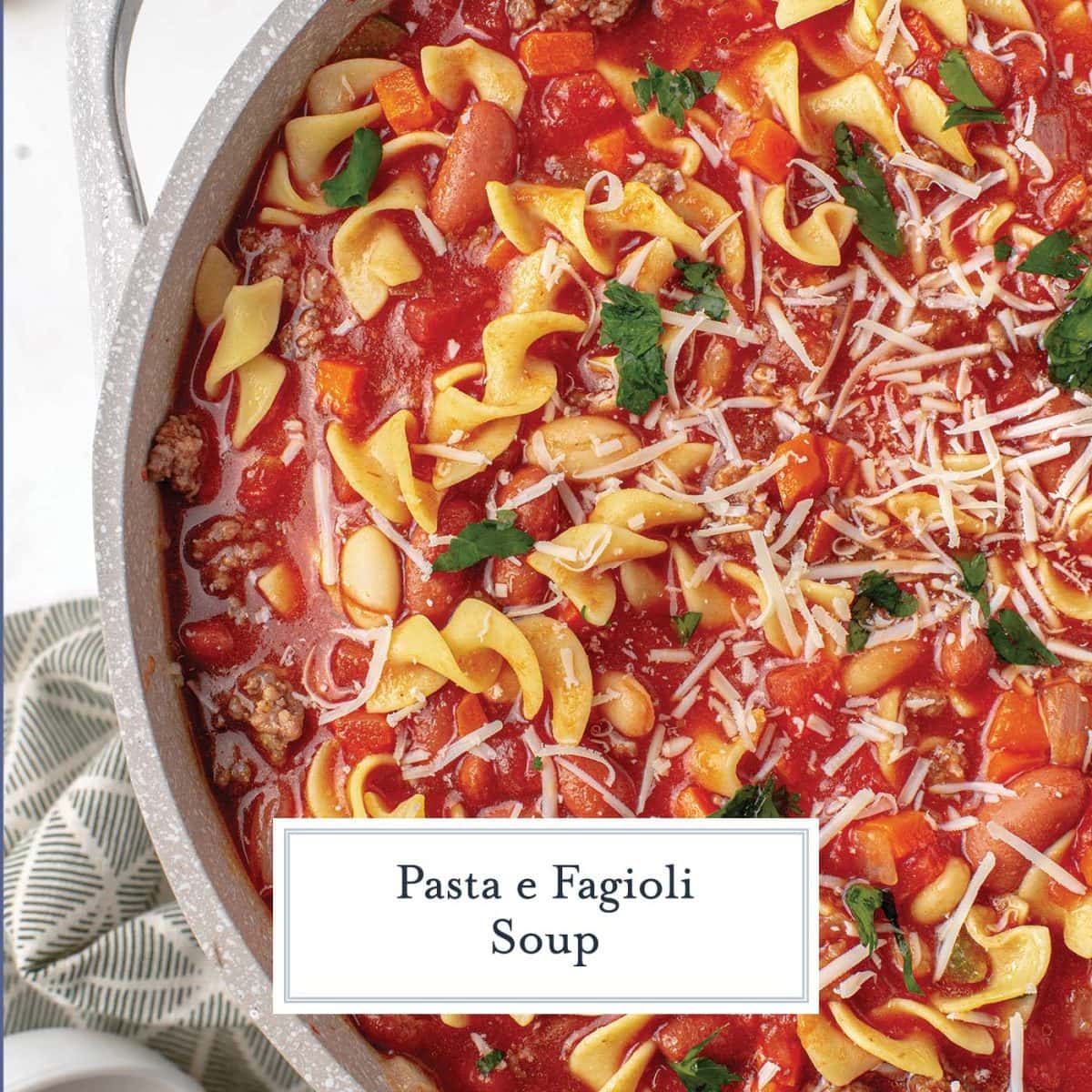 Pasta Fagioli Soup Recipe
First thing is first, what does pasta e fagioli mean? It translates in Italian to "pasta and beans". While it is a staple soup in Italy, the Olive Garden seems to have popularized it in the US.
Somewhere along the line, the "e" (translating to and) was dropped and now most people just call it pasta fagioli. Sometimes you'll hear it called pasta fazool or pasta e fasule. It was known as a peasant soup due to inexpensive ingredients. The veggies varied as a "clean out the fridge" type of recipe; the only things it requires are pasta, beans and tomatoes.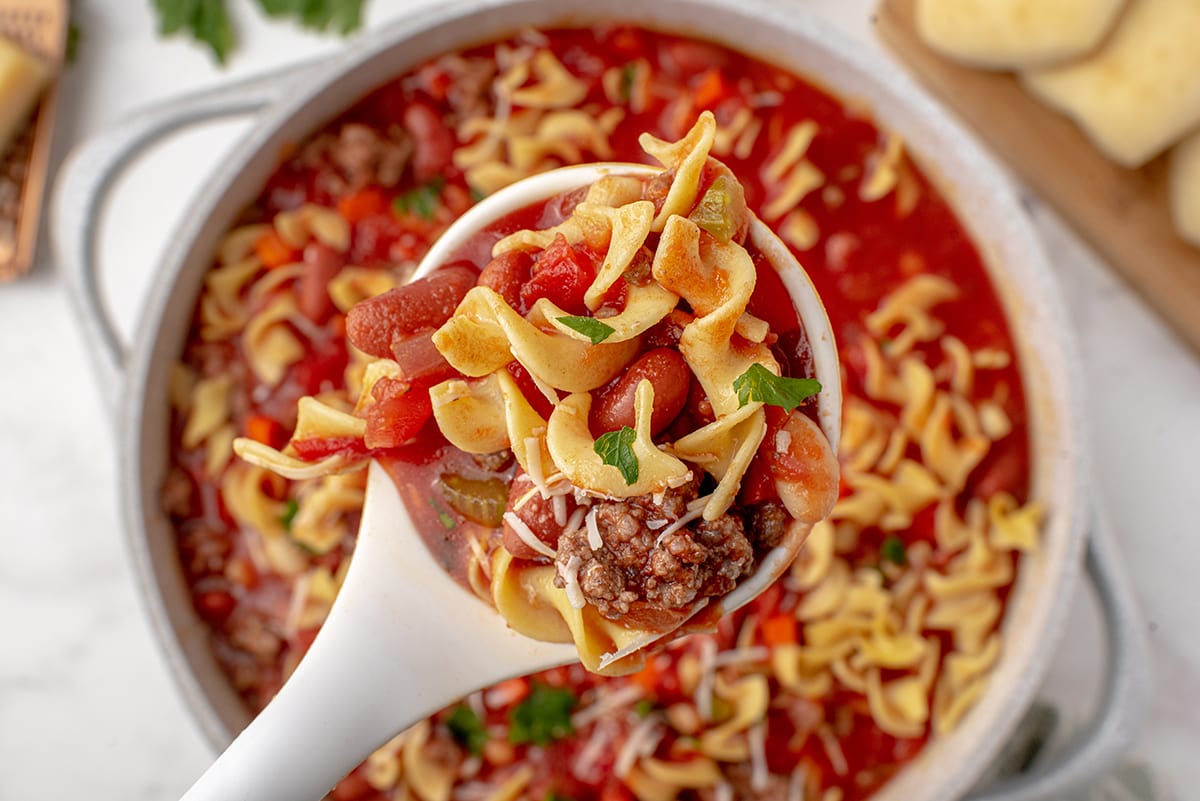 The soup itself has three main elements: pasta, protein and beans. Most have a hearty helping of vegetables as well. And the base is usually a blend of tomato and chicken broths.
Ingredients for Pasta Fagioli
It might looks long, but these ingredients are really pantry and fridge staples. Make sure you use a large pot- it makes a large batch.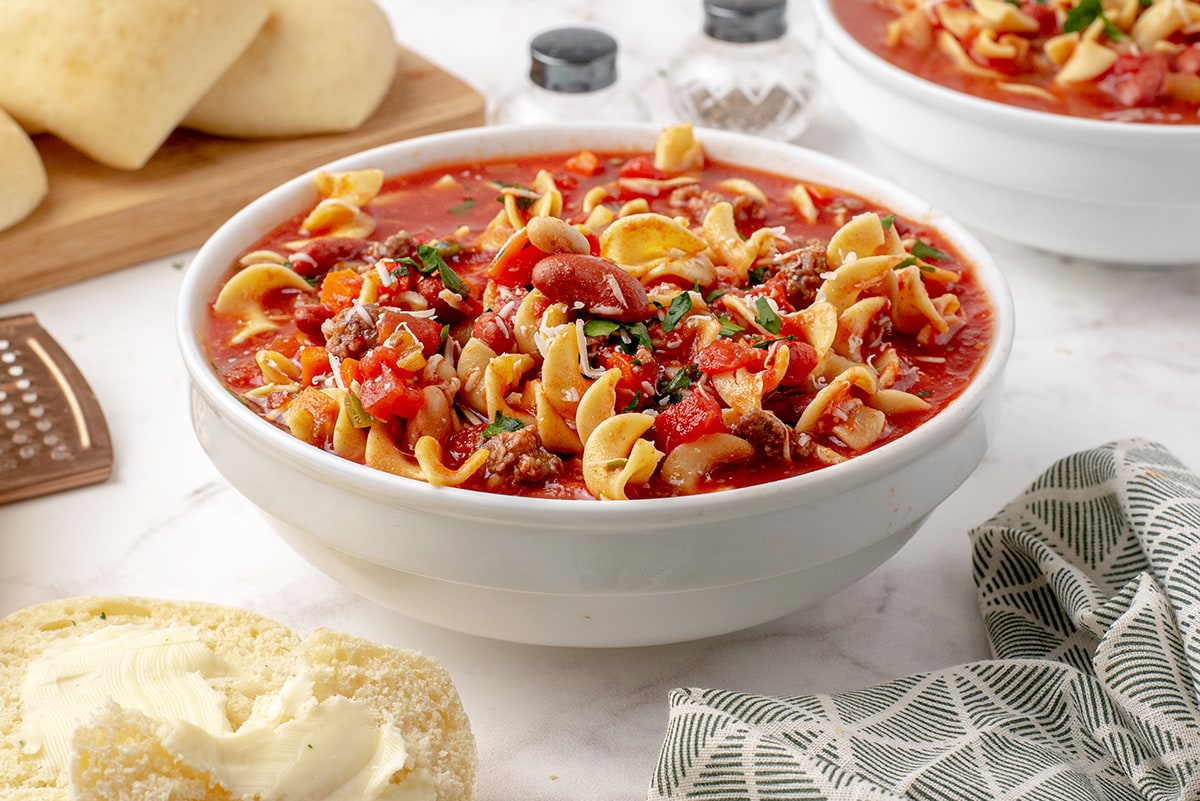 Extra-virgin olive oil or another neutral flavored oil with a higher smoke point.
Ground beef, turkey or chicken- see section on this below about browning the meat.
Veggies- White or yellow onion, carrots and celery, the holy trinity of soup and stew making.
Fresh Garlic Cloves- use fresh, not jarred minced, which is usually a little sweeter with less garlicky flavor.
Tomato sauce– just a plain one, no seasonings added. Comes in a can, not a jar.
Canned diced tomatoes– plain or seasoned with Italian seasonings like basil and garlic, will do.
Chicken broth– can be substituted with just water or vegetable broth, but chicken tends to work the best for Pasta e Fagioli.
Italian seasoning– use bottled or make your own!
Marjoram– this is optional and oregano is a good substitute if you don't have on hand. Has some citrus notes. Bay leaves are also common and can be swapped.
Light red kidney beans – or dark kidney beans.
Great Northern beans – or any type of white beans, cannellini beans are also a great pick, just make sure they are creamy beans.
Wide egg noodles – see section below on noodles.
Lemon juice– adding just 1-2 tablespoons of anything acidic right before serving brightens up soup dishes. Vinegar and citruses are the most popular, but soy sauce, Worcestershire and wine also work.
Kosher salt & ground pepper– I didn't add amounts because tastes on this in soup greatly vary. Seasoning right before serving as salt tends to get muted after simmer periods.
Parmesan cheese & Fresh Parsley– In the old country, a parmesan rind was used to flavor the broth. While you can still do this for flavor and creaminess, topping it with freshly grated cheese also does the trick.
I make this hearty soup for the whole family, so I rarely season it with red pepper flakes, but hubby loves them served on the side. If I have some on hand, I might also splash it with white wine or red wine.
Noodles
Ditalini pasta and fusilli are probably the most common shapes of pasta used, but honestly, you can use any type of pasta you want/ I like egg noodles, but tubes, small, Israeli couscous and even a longer tagliatelle will work.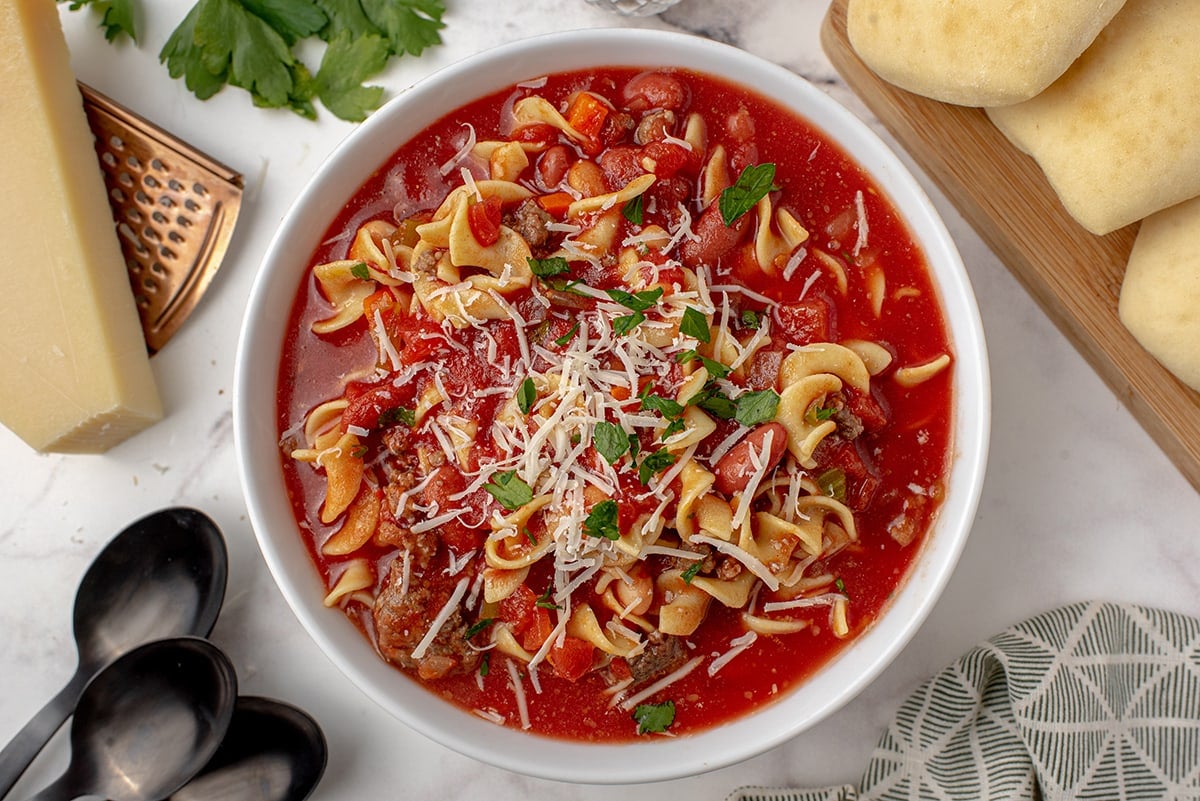 Don't add the pasta too soon, you want to add, stirring occasionally and only cook until al dente. You add whatever you like best, but see my notes on storage and freezing before plopping all your pasta in!
If you are going low carb, this soup is great without noodles too.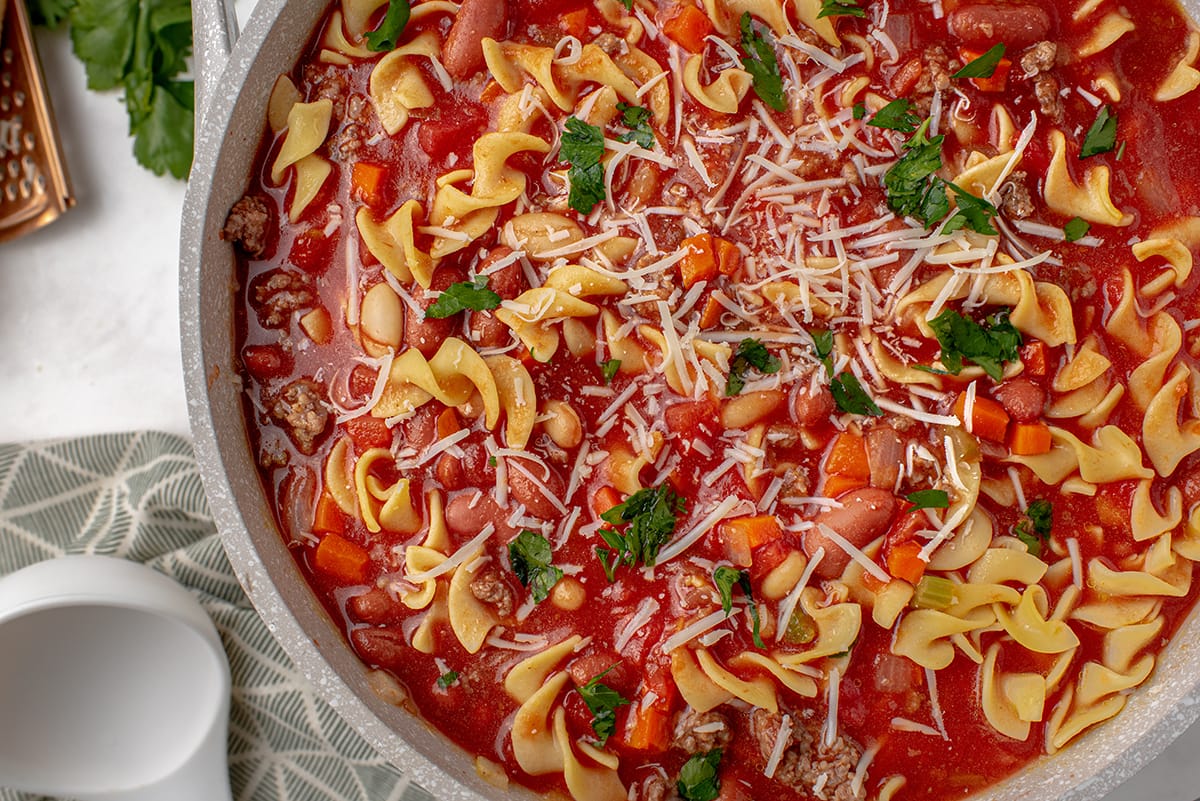 Ground Meat
Beef is the most commonly used protein for this bean soup, however chicken, pork, turkey or even veal can all be substituted. If you want to get super fancy, grab a package of "meatloaf mix" that has a blend. You can also add sliced and cooked Italian sausage.
The main factor is making sure it is lean. And even with a lean meat, you'll want to drain it after cooking to prevent having a oil slick in your soup.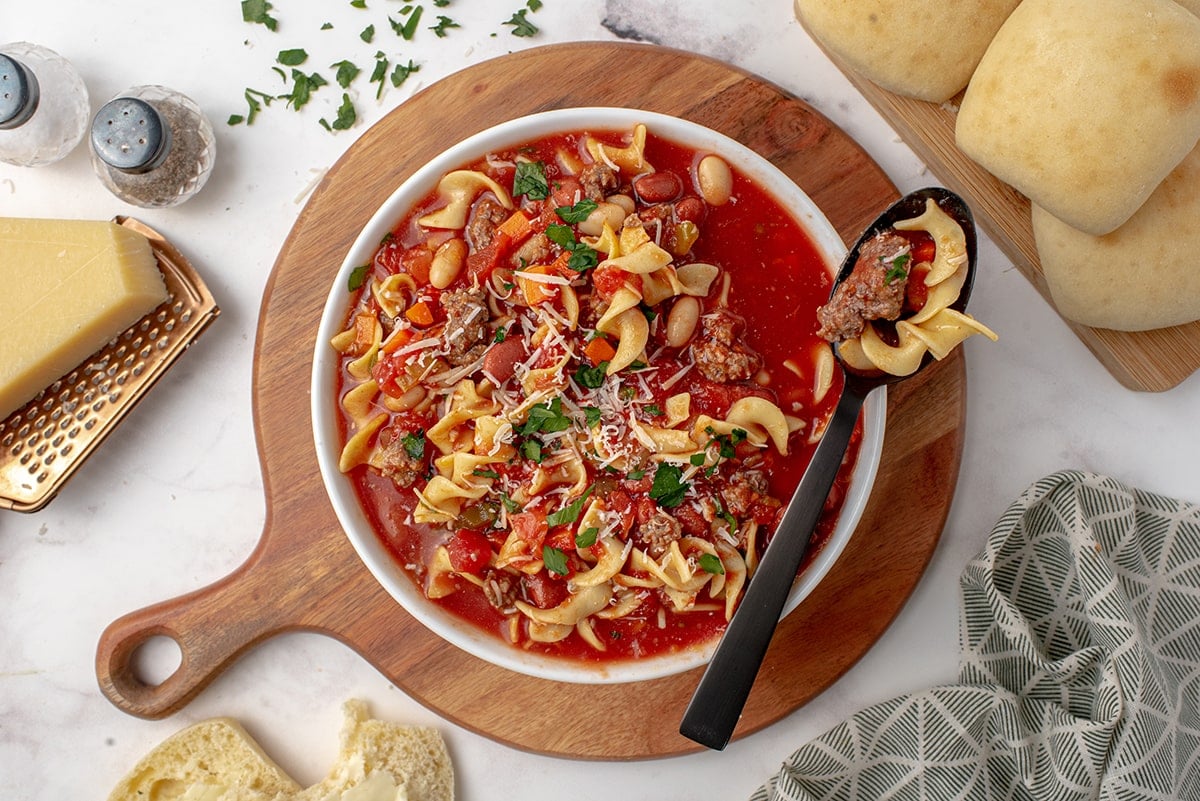 To make more flavorful pasta, give it a nice hot sear in a hot pan, not medium heat. Most people just cook ground beef instead of searing and browning, which will provide the most maximum flavor be producing the Maillard reaction. It also keeps it the juiciest and most tender.
Make it Vegetarian
Feel free to make this a vegetarian dish. It is certainly full flavors and heartiness with or without meat.
Simply leave out the ground protein and substitute vegetable stock instead of chicken broth. You'll still have a super flavorful soup.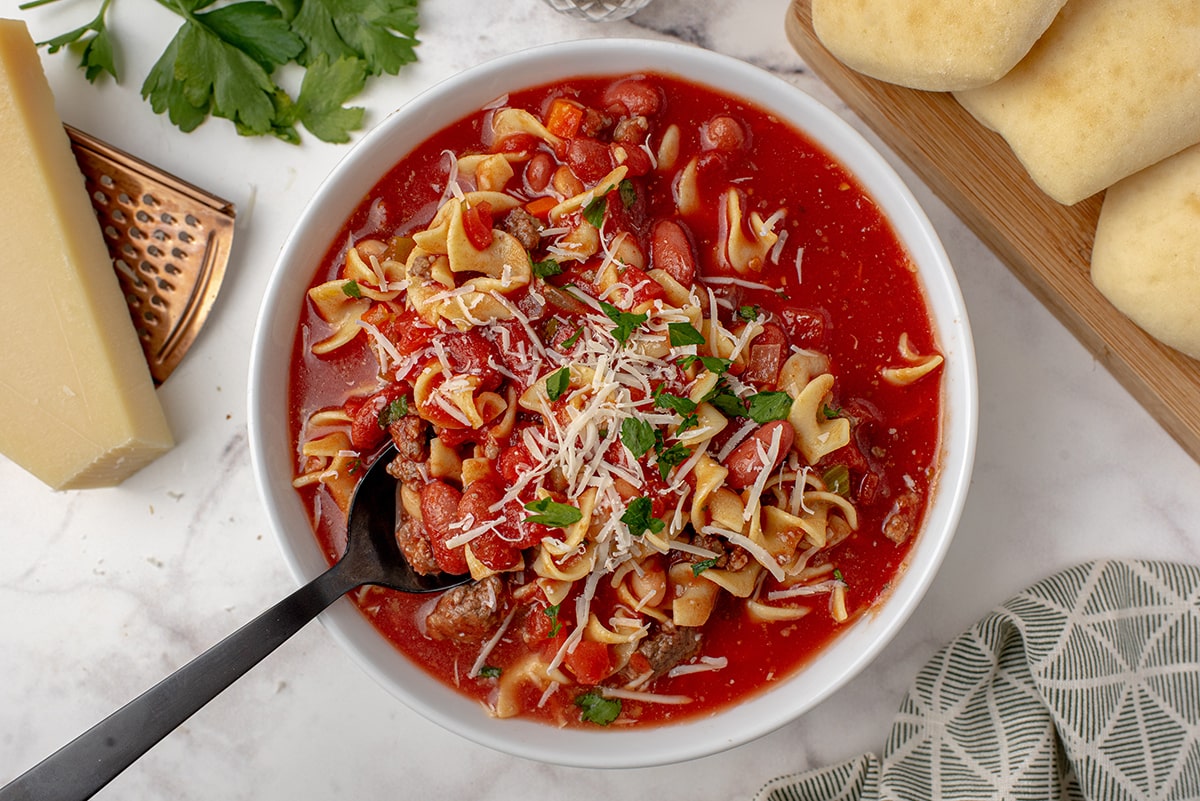 Make Ahead, Storage & Freezing
This Pasta e Fagioli soup can be made head, stored and froze for a cold day, but there is one thing you can do to make it stay as fresh and delicious as possible.
And that is to keep the cooked pasta separate until right before you are ready to serve. While some types of pasta gain flavor from sitting in soup broth, egg noodles tend to get bloated and mushy.
Freeze soup base in an airtight container and add pasta after it has been thawed. Same with leftovers, keep the pasta and soup separate, adding pasta to each bowl instead of the whole pot.
If the broth is hot enough (and it should be) it will be enough to gently warm the pasta noodles without actually having to recook them.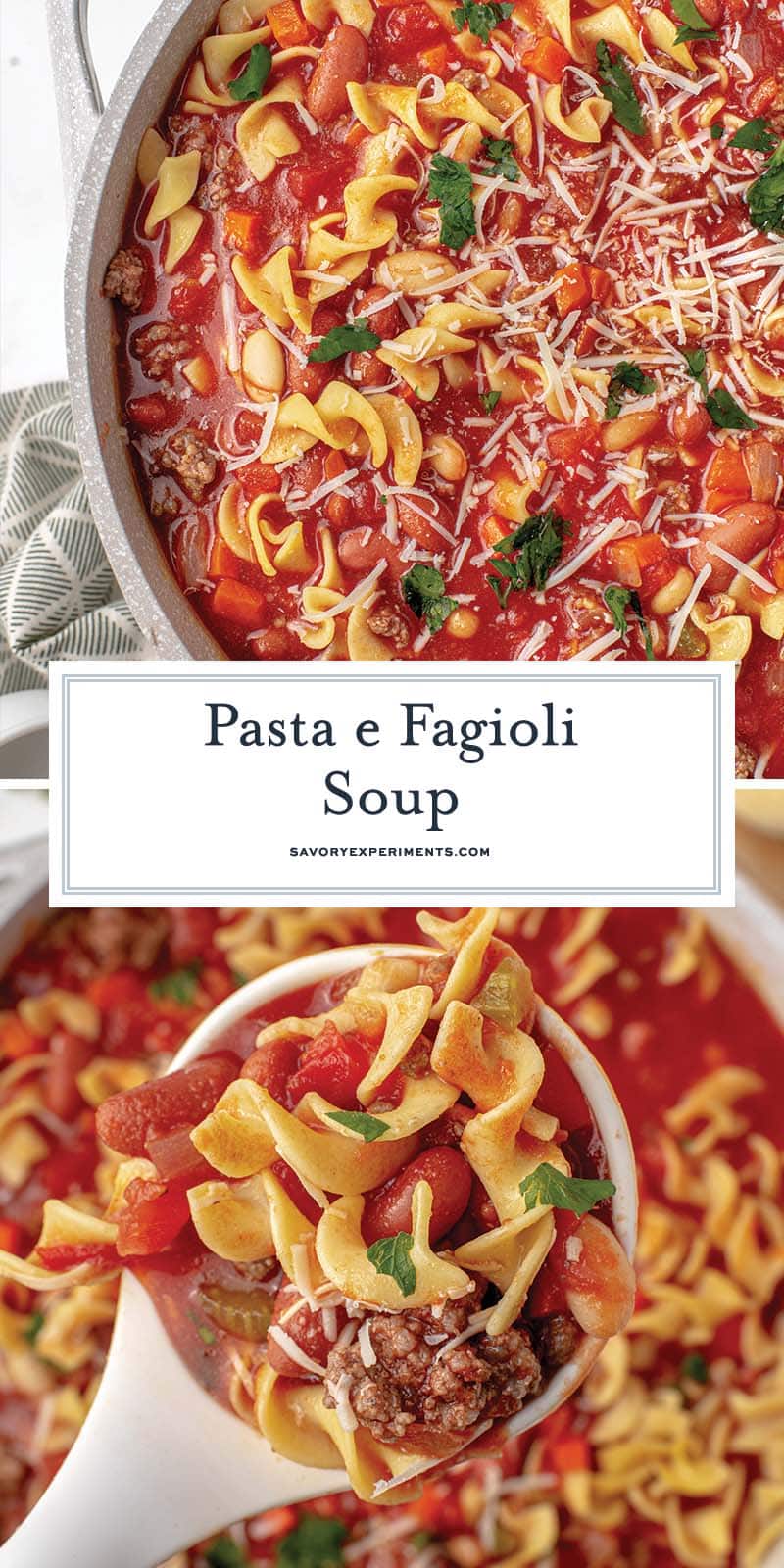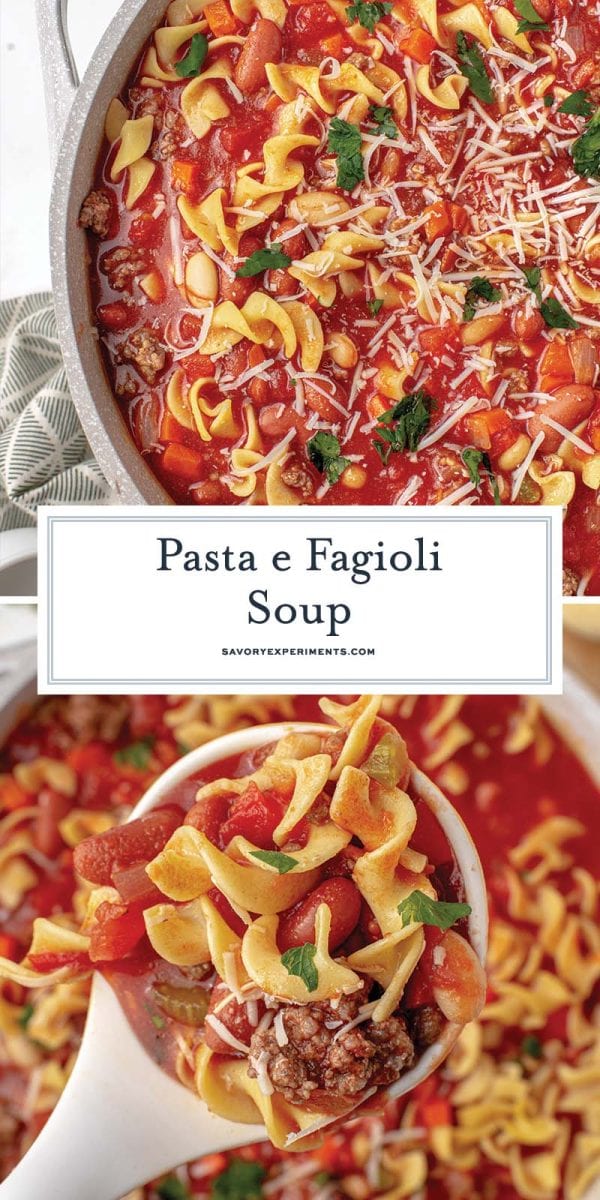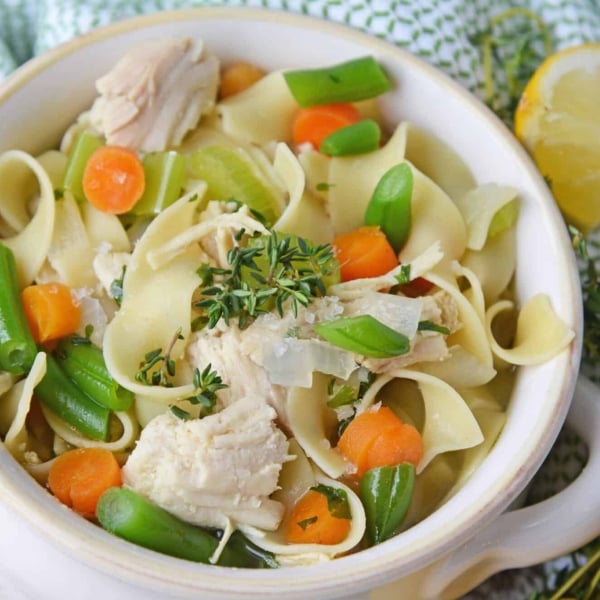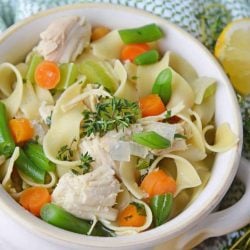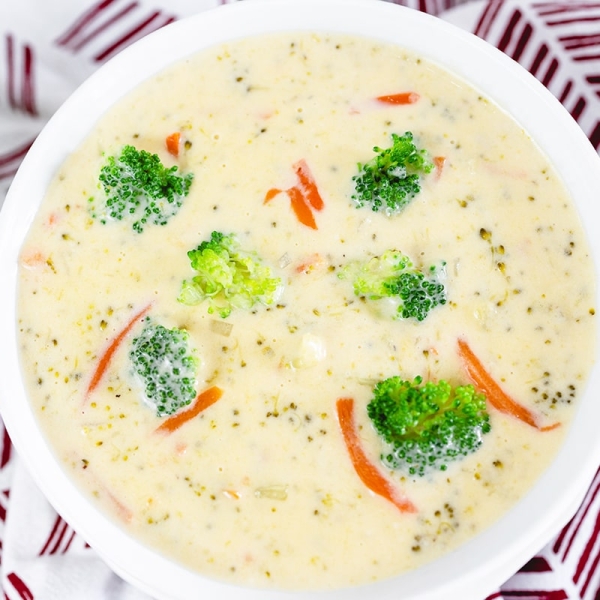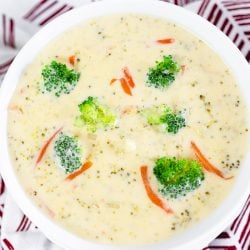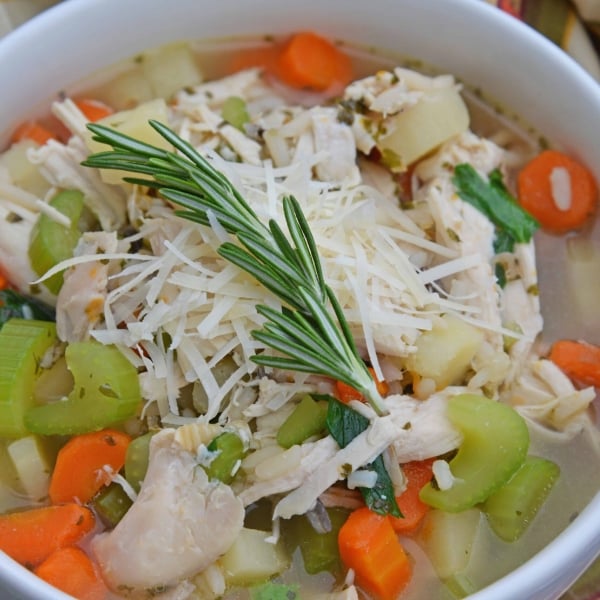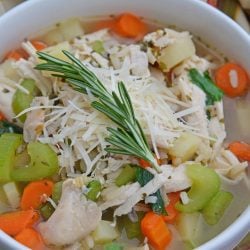 20-Minute Chicken Wild Rice Soup
This 20-Minute Wild Rice Chicken Soup is an incredibly easy but flavorful 20 minute meal made with two kitchen hacks that will make your life so much easier! It'll become a winter soup staple in your home!
See The Recipe!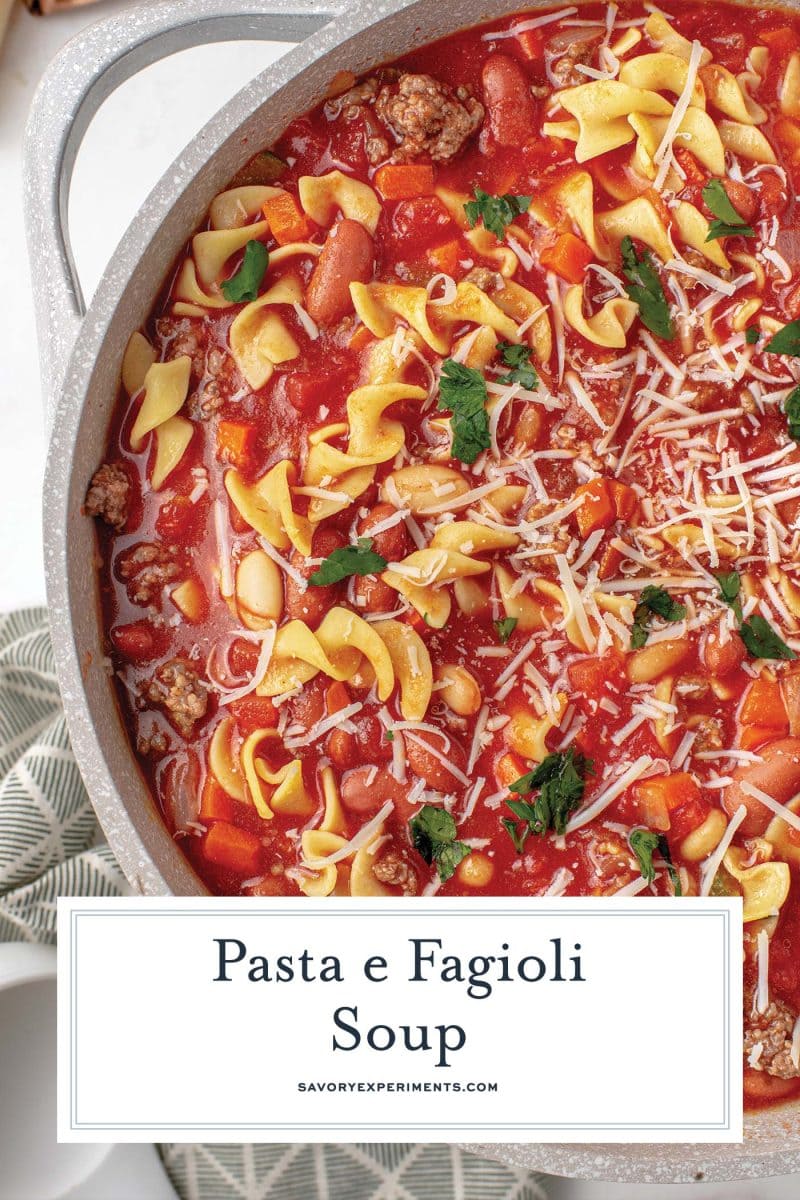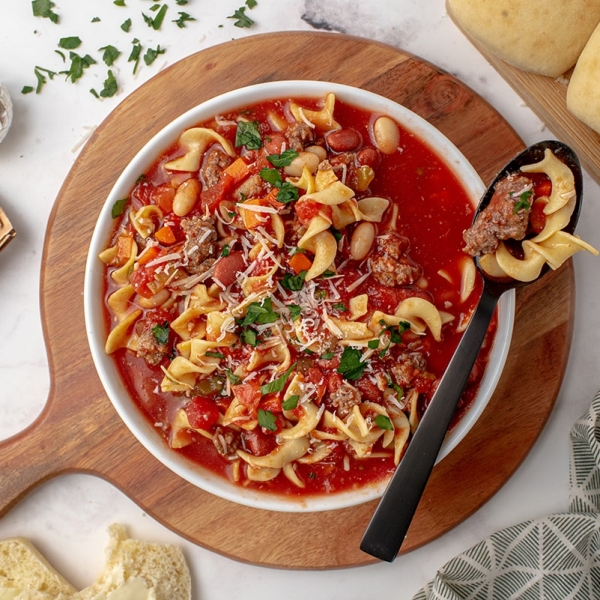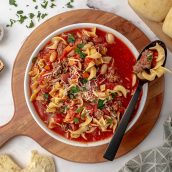 Pasta e Fagioli Soup
Whether you call it Pasta e Fagioli or Pasta Fagioli, this EASY soup recipe is hearty and delicious. Full of authentic Italian flavors in just 30 minutes!
Ingredients
2

tablespoons

olive oil

, divided

1

pound

ground lean ground beef/turkey/chicken

1

medium white onion

, chopped

1

cup

carrots

, diced (about 3)

1

cup

celery

, diced (about 3)

4

cloves

garlic

, minced

1 (24)

ounce

can tomato sauce

1 (24)

ounce

can diced tomatoes

4

cups

chicken broth

1

tablespoon

Italian seasoning

1/2

teaspoon

dried marjoram

1 (15)

ounce

can light red kidney beans

, drained and rinsed

1 (15)

ounce

can great Northern beans

, drained and rinsed

2

cups

wide egg noodles

, cooked to al dente

2

tablespoons

fresh lemon juice

Kosher salt & freshly ground pepper

Parmesan cheese & Parsley for garnish
Instructions
Heat 1 tablespoon of the olive oil in a large Dutch oven over medium heat.

Brown the meat, breaking up as it cooks. Drain and set aside.

Heat the remaining 1 tablespoon oil in the Dutch oven, adding the onion, carrots and celery, cooking for about 4 minutes until just soft. Add the garlic, cooking an additional 1 minute.

Add the tomato sauce, diced tomatoes (with juice), broth, Italian seasoning, marjoram and cooked beef. Allow to simmer on low for 15 minutes.

Add the drained and rinsed beans, cooked egg noodles and lemon juice, stirring to combine and heating for 5 minutes.

Season with the salt and pepper.

Ladle into bowls, topping with the Parmesan cheese and chopped parsley, as desired.

If you've tried this recipe, come back and let us know how it was in the comments or ratings!
Nutrition
Calories:
616
kcal
,
Carbohydrates:
89
g
,
Protein:
44
g
,
Fat:
11
g
,
Saturated Fat:
3
g
,
Polyunsaturated Fat:
2
g
,
Monounsaturated Fat:
5
g
,
Trans Fat:
1
g
,
Cholesterol:
58
mg
,
Sodium:
1456
mg
,
Potassium:
2486
mg
,
Fiber:
20
g
,
Sugar:
12
g
,
Vitamin A:
4316
IU
,
Vitamin C:
40
mg
,
Calcium:
211
mg
,
Iron:
11
mg