Sausage Sandwich Sliders are a game-changer! Layered with flavor, they are a crowd-pleaser perfect for parties, a light lunch or game day. They have fresh and vibrant ingredients, making them a nice change from the usual hot italian sausage drenched with marinara sauce.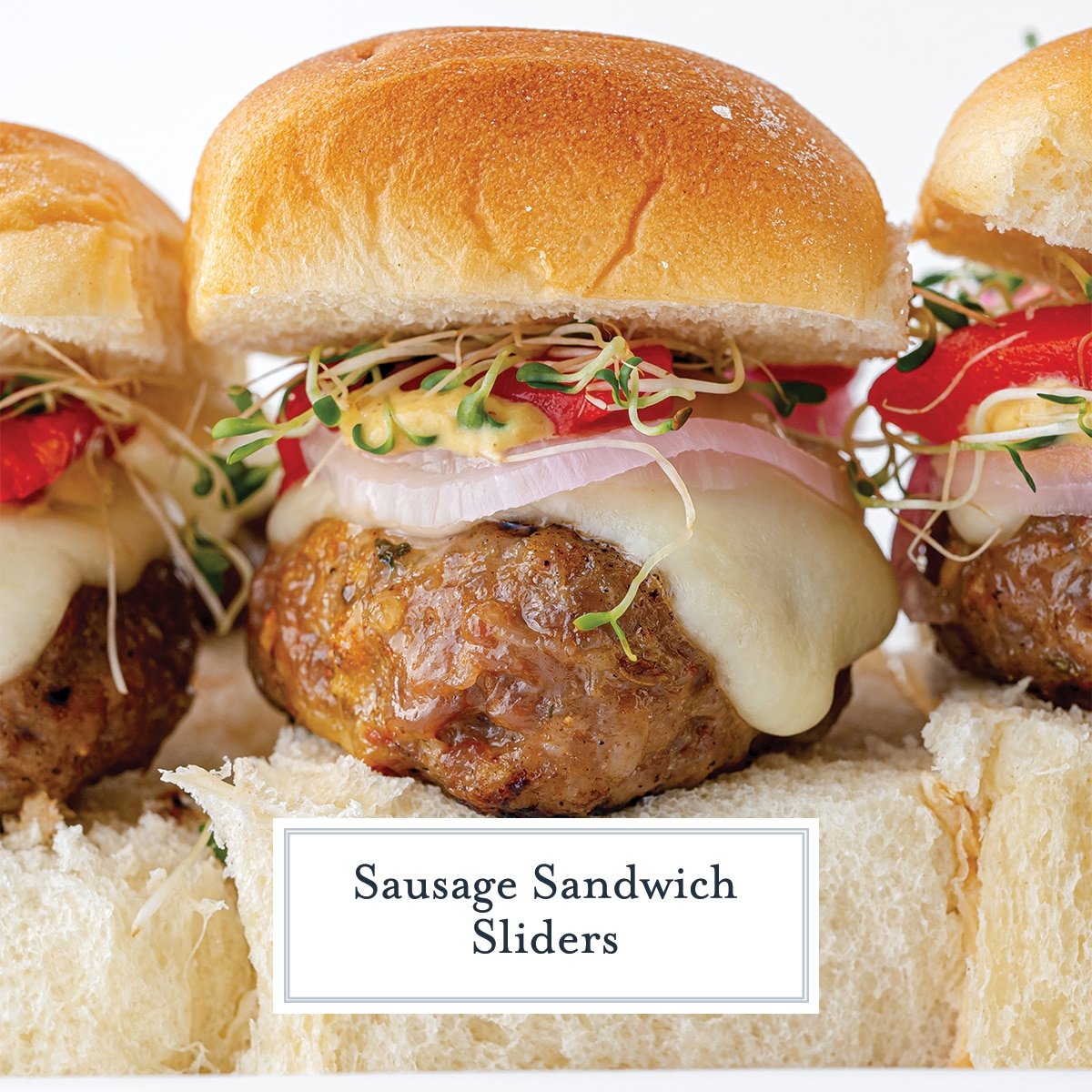 What are Italian Sausage Sandwich Sliders?
These Italian Sausage Sandwich Sliders are easy to prepare and even easier to eat. Featuring grilled sausage and Hawaiian rolls, they are sure to impress.
It's time sliders got the gourmet treatment. Flavorful grilled sausage patties are paired with zippy shallots, sweet roasted red peppers, Dijon mustard and piled high on pillowy-soft, buttery King's Hawaiian Rolls. They are the best slider sandwiches!
These can be made in a skillet or as a grilled sausage sandwich.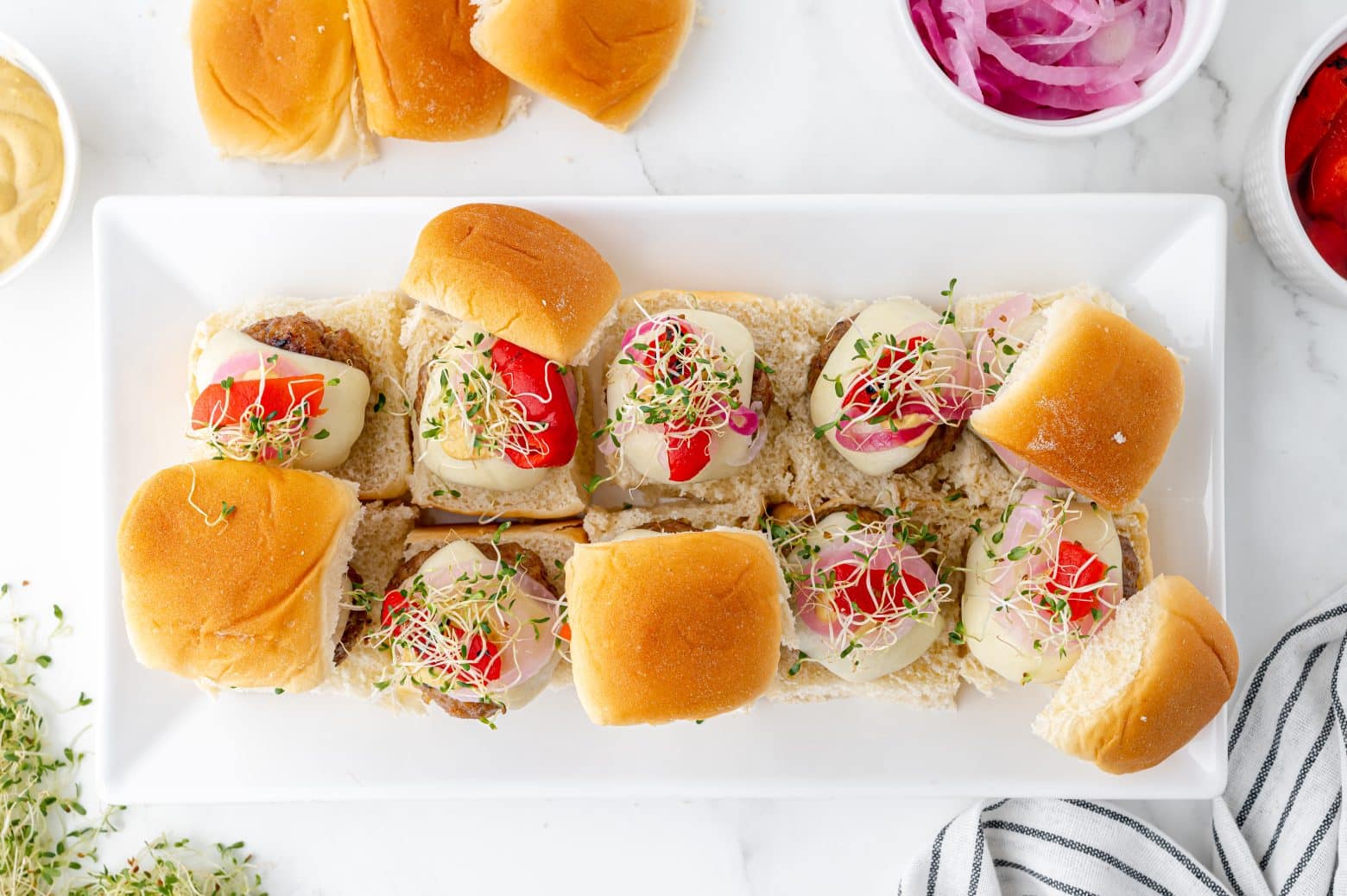 Why You'll Love Italian Sausage Sandwich Sliders
Are the classic slider recipes delicious? Absolutely! I love making mini burgers, chicken sandwiches, and ham and cheese sliders regularly, but sometimes you just need to switch things up. And these are super special.
Hawaiian rolls are key – King's Hawaiian Rolls are addictive because of their fluffy texture and their subtle sweetness. Not to mention their heft – sturdy enough to pack with lots of fillings while still super soft.
Crowd-pleaser – People love easy-to-eat handheld food and these little beauties really hit the mark.
Make Ahead – You can get everything ready to go the day before so all you have to do is cook and assemble day of. What's easier than that?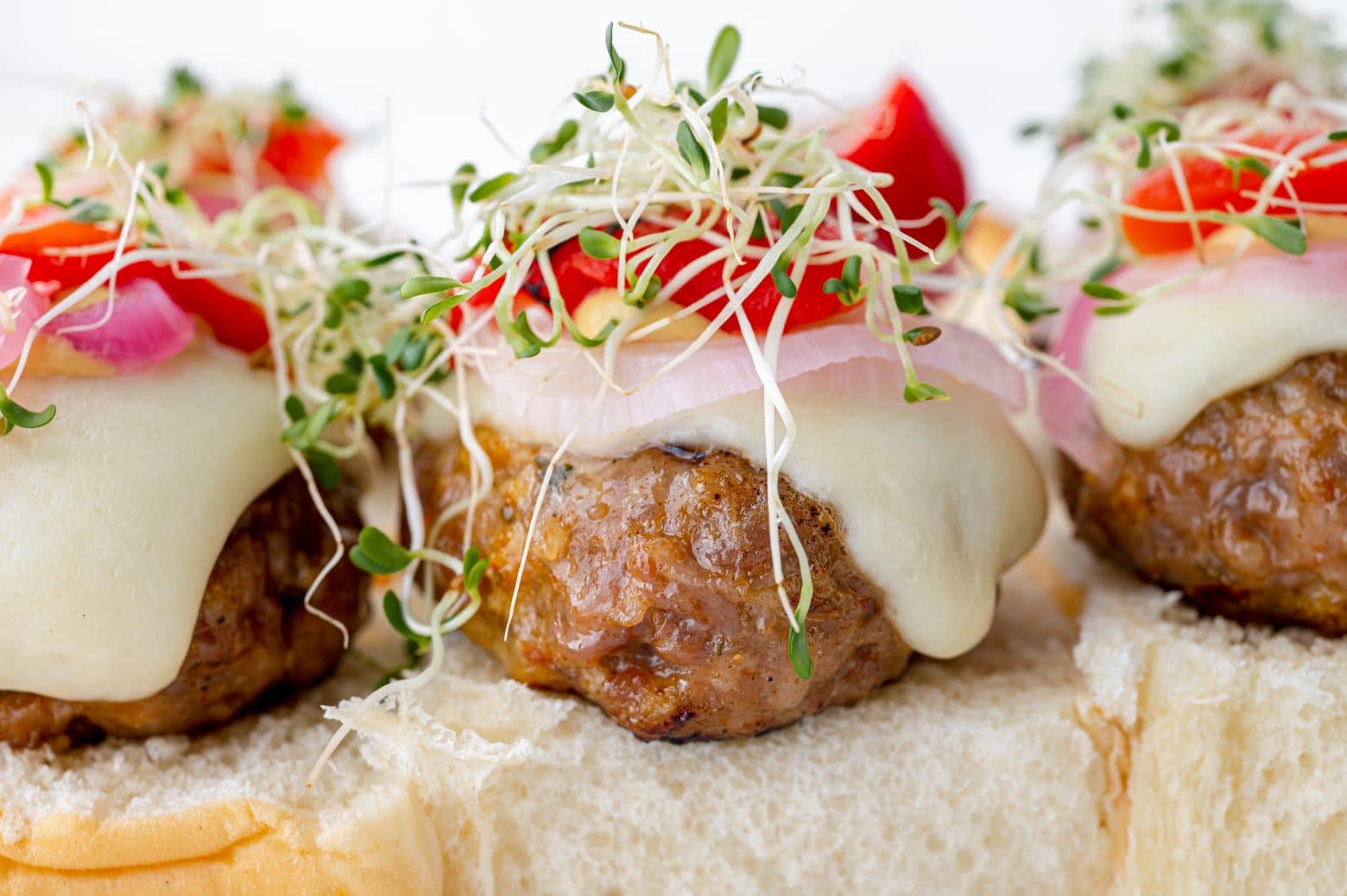 What is Italian Sausage?
Italian sausage is typically a pork-based sausage that is seasoned with a whole host of different spices and aromatics. They can be sweet or spicy.
For these sliders, I prefer to make my own mix and use onion, garlic, dried oregano, and more to create a flavorful blend with a little kick. Super easy to make at home and on the fly.
Ingredients
Thankfully this recipe is easy to shop for and many core ingredients might already be in your pantry or fridge. It is also a verstile recipe, so feel free to omit or swap.
Ground Pork – Pretty straightforward and easy to find at the butcher counter or the meat aisle. An 80/20 fat-to-lean ratio will give you great flavor without being too heavy. Use a spicy or mild based on personal preference.
Onion Powder – Dehydrated and ground onion that gives your patties amazing flavor without adding moisture.
Garlic Powder – Giving loads of flavor without having to mess with fresh garlic cloves. Fresh garlic can also be tricky to stick together, making patties that tend to fall apart on grill grates and with small little patties, you don't need that!
Cayenne Pepper – Brings a bit of heat to the recipe. Use chili powder or single chile powders instead or leave out for a milder version.
Ground White Pepper – A little spicier than black peppercorns for some kick, but you can use black pepper in a pinch.
Crushed Red Pepper Flakes – Dried chiles and their seeds = good heat. Plus great on pizza!
Paprika – Bringing some pepper sweetness to the table. Smoky paprika will add smokiness.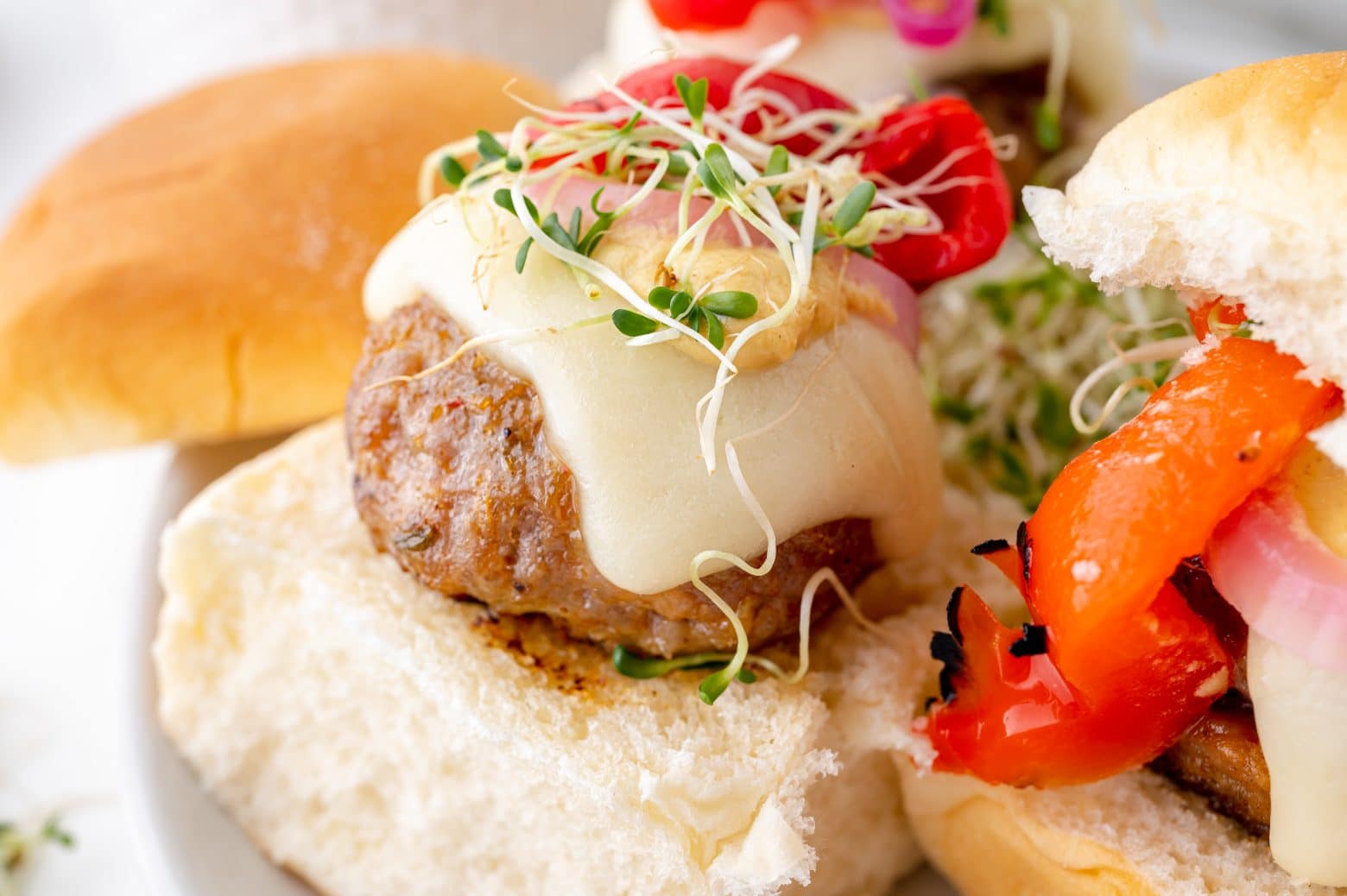 Dried Oregano – Very aromatic. This helps round out the heat and highlights the natural sweetness in the pork.
Breadcrumbs – All meat patties need some sort of binder and that is what these do here.
Egg yolk – Helping keep these patties together.
Mozzarella Cheese– Use a low-moisture cheese so it melts well, but doesn't drip with water.
Pickled Red Onions – If you don't feel like making your own, these are easy to find in the grocery store.
Roasted Red Peppers – Buying these jarred makes life really easy. Cut into smaller strips.
Alfalfa Sprouts – Not a necessity, but they offer an amazing nutty and sweet flavor. Plus, a great way to get a few extra veggies.
Dijon Mustard – Bringing the tang alongside the onions. Other types of mustard can also be used.
Hawaiian Rolls – Sweet and soft but sturdy enough to be the best base for any slider sandwich. Use any small bun, roll or biscuit.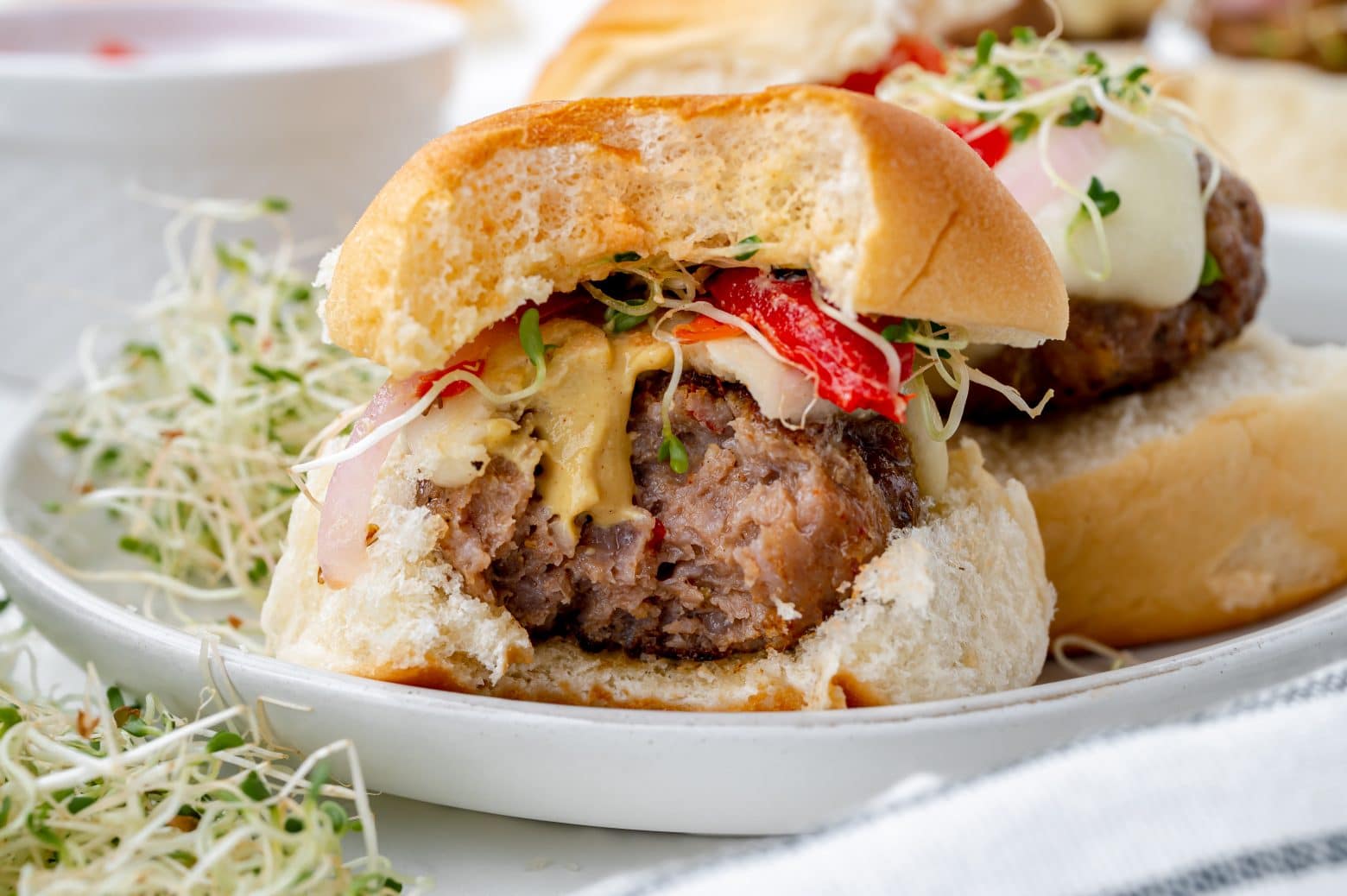 How to Make Italian Sausage Sandwich Sliders
Making these sliders is super easy!
Make your patties. Get your hands a little messy and mix your pork, seasonings, breadcrumbs, and egg yolk together. Think of it like making slightly flat meatballs.
Make your pickled red onions. Can you buy store-bought? Sure! But having the option to make these on the fly when you want to is fantastic and ridiculously fast.
Form the patties and chill. Allowing these to rest allows the flavors to meld and the fat to firm back up. In short, juicier and more flavorful Italian Sausage patties. Place them in a single layer on a plate or a baking sheet.
Cook your patties. Be sure to preheat your pan or skillet well to medium heat or medium-high heat to ensure a nice sear on them. If you want to add even more flavor, bust out the grill and allow the patties to cook over indirect heat for approximately 15 minutes or until they reach that same internal temperture of 145°F and are golden brown. Remember, brown equals flavor! Do not overcook them or you won't have juicy sausages!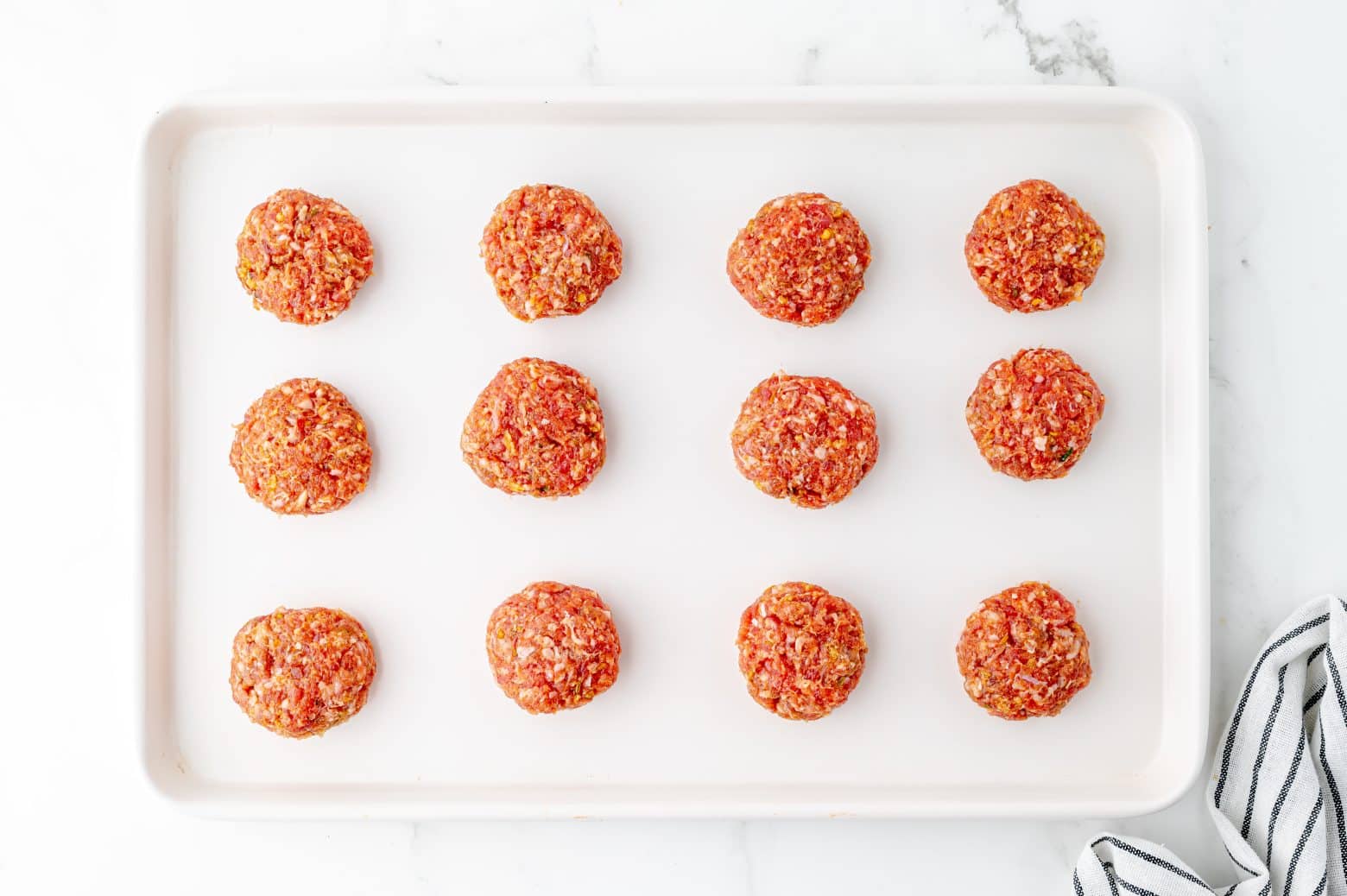 Add Cheese. Top with cheese, allowing cheese to melt. This works best if there is steam, so place a leaf of aluminum foil over top or use a lid. Shouldn't be an issue on a grill.
Assemble the sliders. I like to create an assembly line of sorts so I can easily put these together and get them to hungry guests.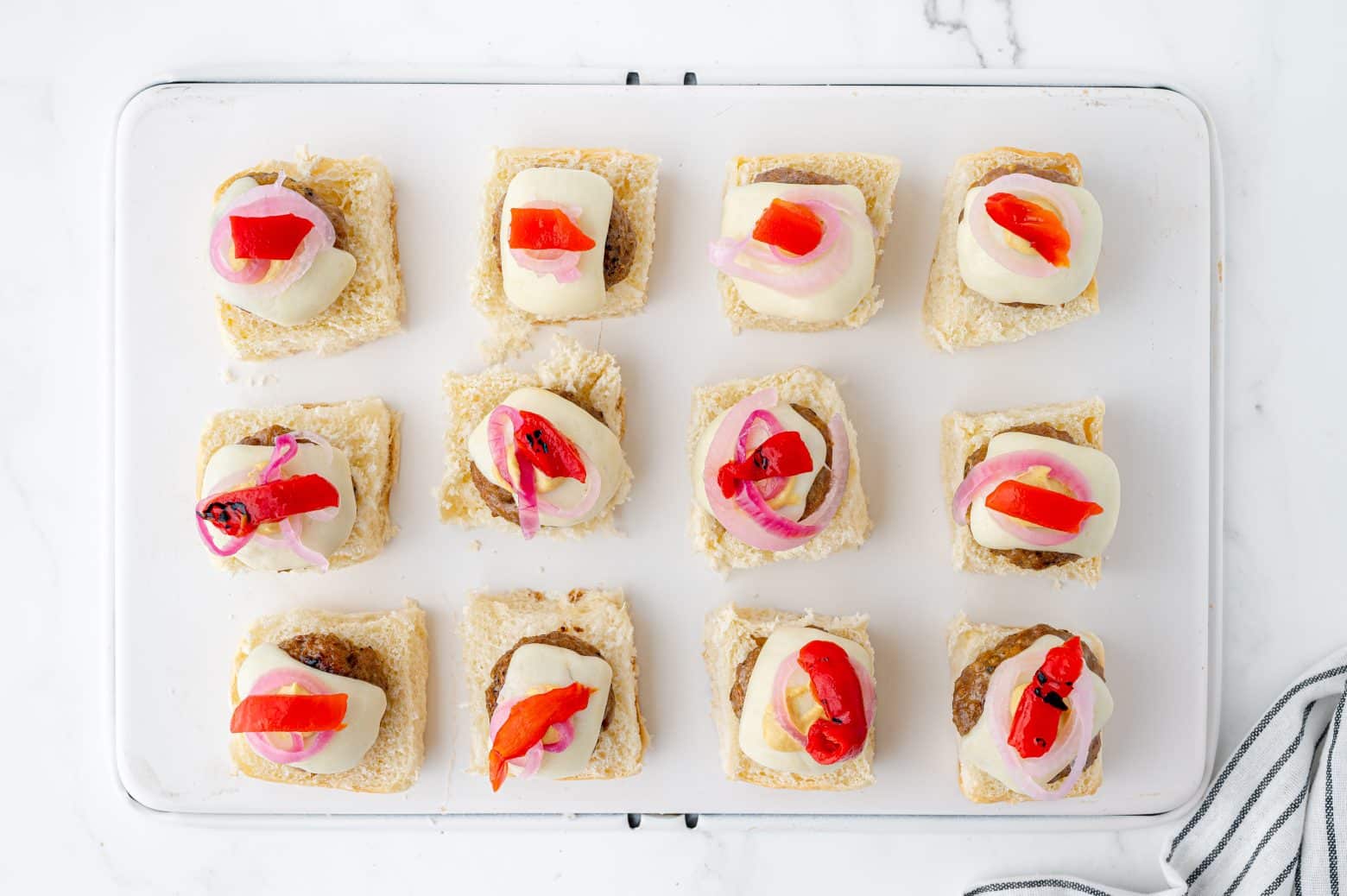 What to Serve with Italian Sausage Sliders
The sky is the limit here! They go well with everything. Some of my personal favorites are pasta salad, grilled corn on the cob, baked beans, or even coleslaw.
They are great alongside other munchies, apps, hot dogs or slider sandwiches like Big Mac Sandwiches, Sloppy Joe Sliders, Cuban Sliders or Ham and Cheese Sliders.
They always pair well just a glass of red wine.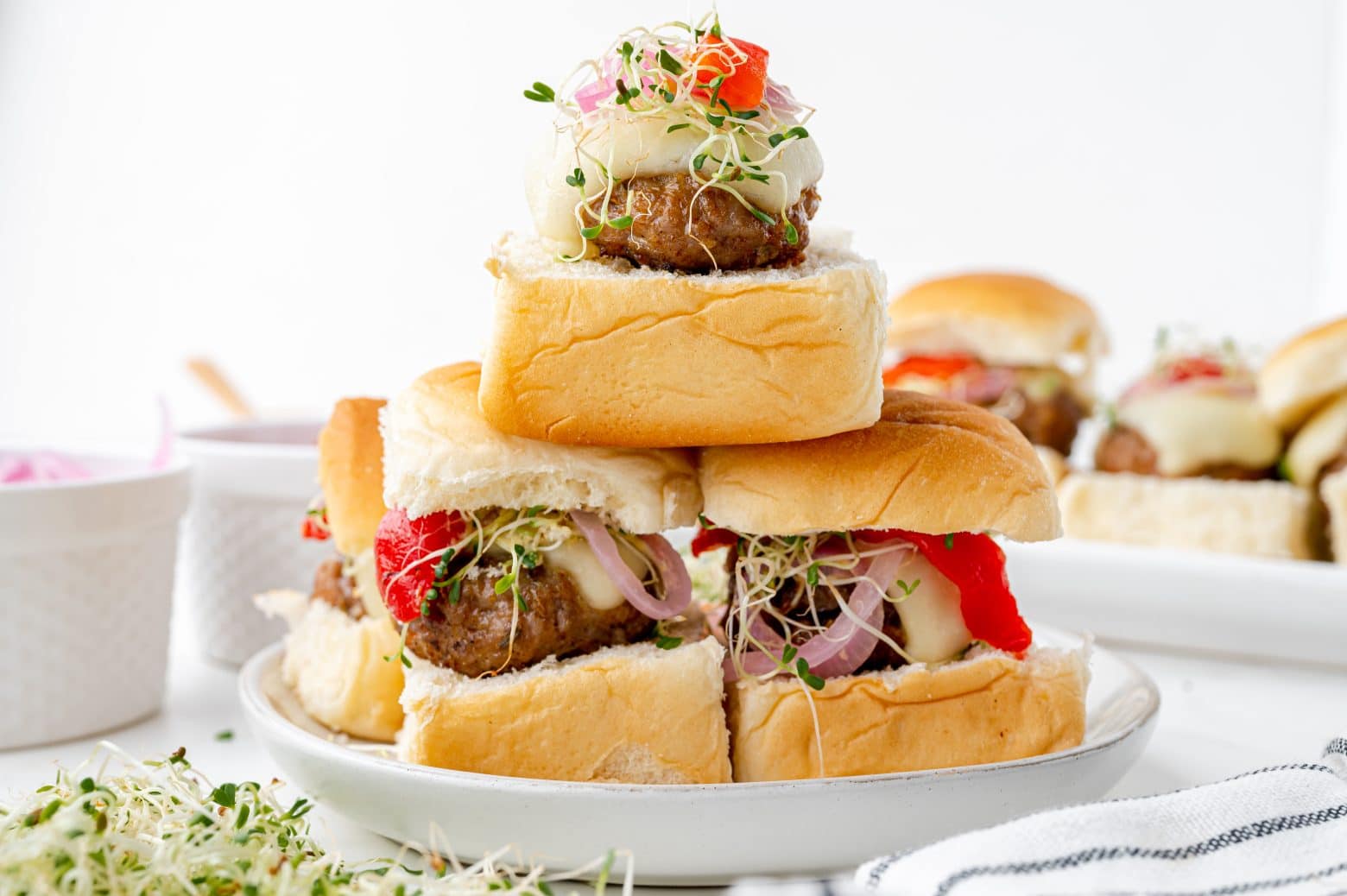 Variations on Italian Sausage Sliders
You know we love you to customize and then let us know how it went!
Pre-seasoned Pork. If you do not want to make your own patties, you can buy pre-made Italian sausage links. My preference is either mild or hot Italian sausage. Before cooking them, remove the casings and work to shape them into patties. Cooking method is the same!
Change up the toppings! Spicy mustard is great. You can even add cheese if you like. Provolone or melty mozzarella make great additions.
Cheesy– Switch up the type of cheese or leave it off. Cheese slices of any kind make the process a tad simpler. Other types of Italian cheese or Swiss are good options for this easy recipe. My husband also loves pepper jack or white cheddar.
Make a Large- If you want larger sandwiches, make the sliders in 4, longer, cylindrical shapes and place them on a hoagie roll, italian bread or other sandwich roll.
Add Peppers– Peppers and onions are a match made in flavor heaven. Saute up green bell peppers and add them to the mix.
Caramelized Onions– While I love the acidity from pickled onions, you can also use sweet caramelized onions.
Sauce– You know I like it saucy! Use a sticky and sweet balsamic glaze.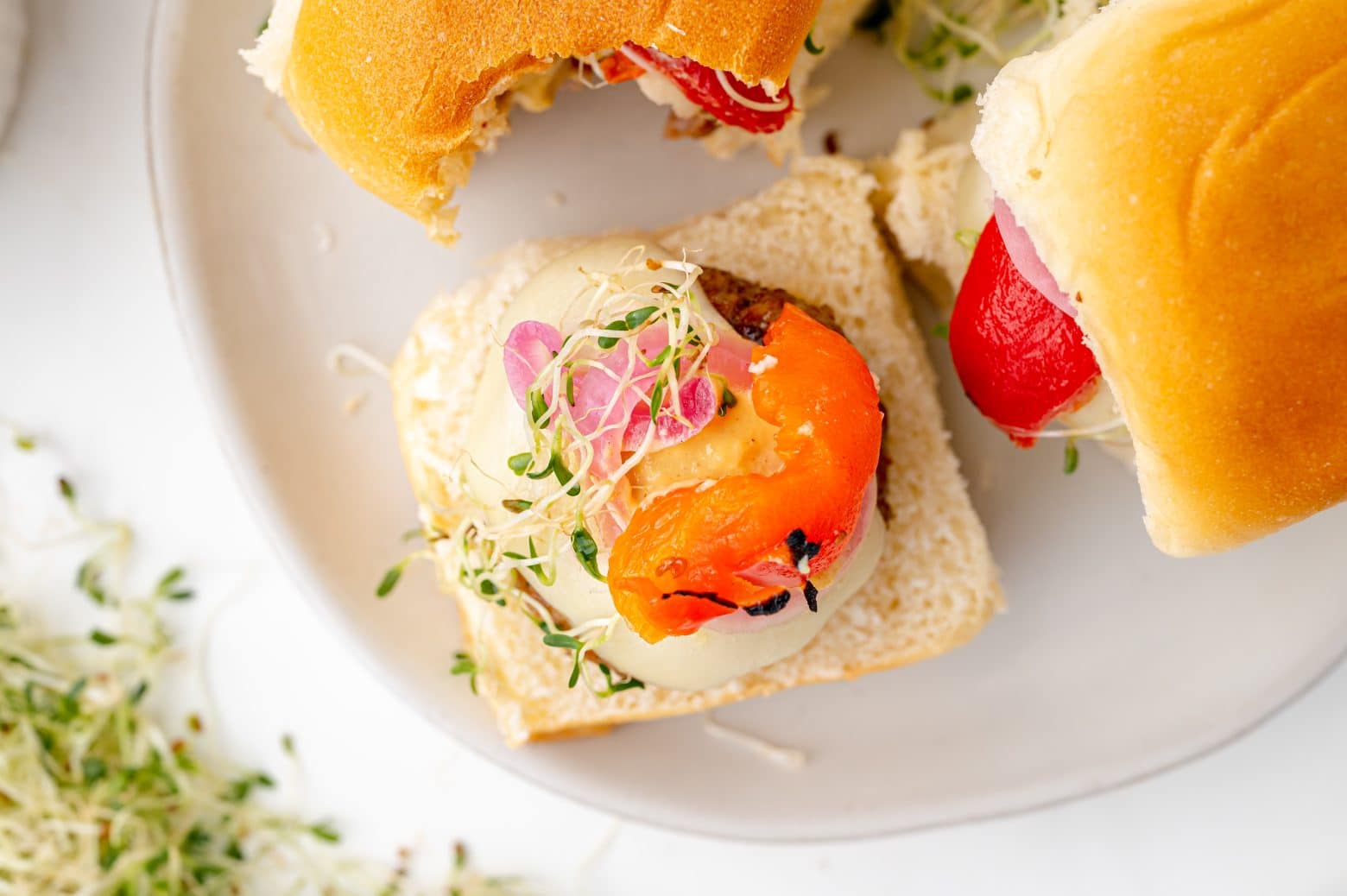 Storage & Freezing
I wouldn't recommend storing the sandwiches already assembled, but you can have some of the pieces ready to go. Sandwiches are tricky to heat up and often the bread gets soggy and then tastees leathery after reheating.
Refrigerator: Raw patties can sit in the fridge up to 24 hours before cooking. Once cooked, they can store for 2-3 days in an airtight container.
Freezer: Allow the cooked patties to come to room temperature and store in an airtight ziploc baggie to prevent freezer burn. Store for 2-3 months.
Common Questions at Italian Sausage Sandwich Sliders
What goes good with Italian Sausage Sandwiches?
Tons of things are great to pair with Italian Sausage Sandwich Sliders! Pasta salad, corn on the cob, baked beans, and coleslaw are just a few.
What condiments do you put on Italian Sausage?
Lots of things! Mustard, pickled red onions, roasted red peppers, alfalfa sprouts, and cheese are all great flavors. Of course, you can go the route of marinara sauce too, but we like to think outside the box.
What is Italian sausage called in Italy?
Salsiccia is the Italian word for raw, rolled sausage.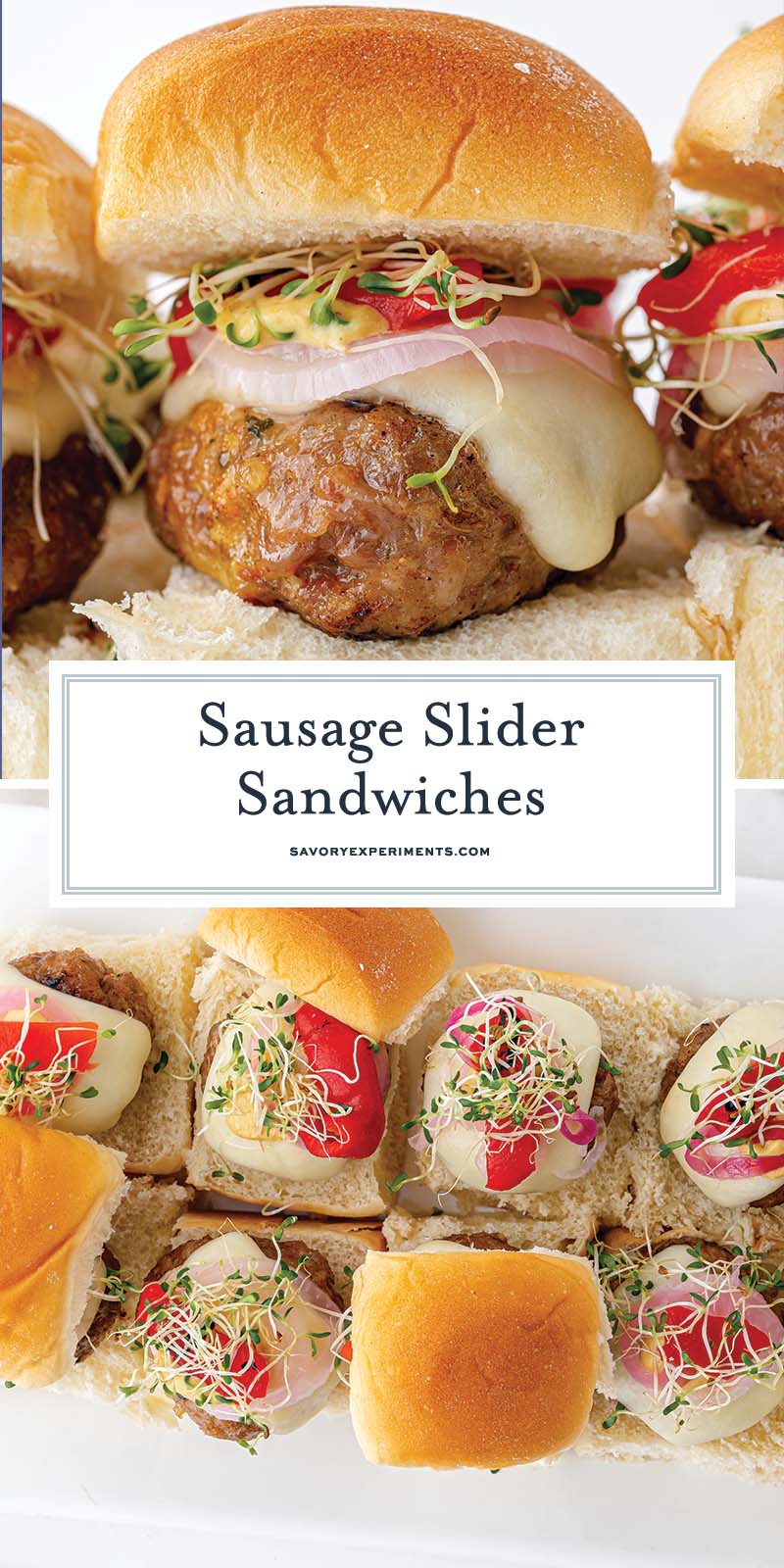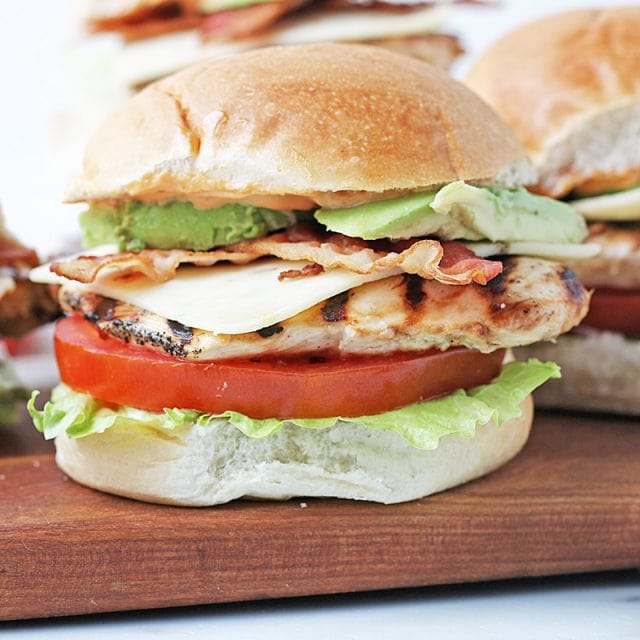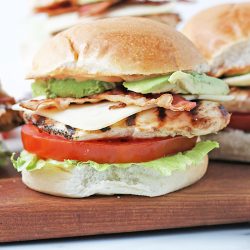 Spicy Chicken Sandwich
This is the best Spicy Chicken Sandwich you will ever taste! Piled high with bacon, cool avocado, spicy chipotle aioli, pepper jack cheese and crisp lettuce.
See The Recipe!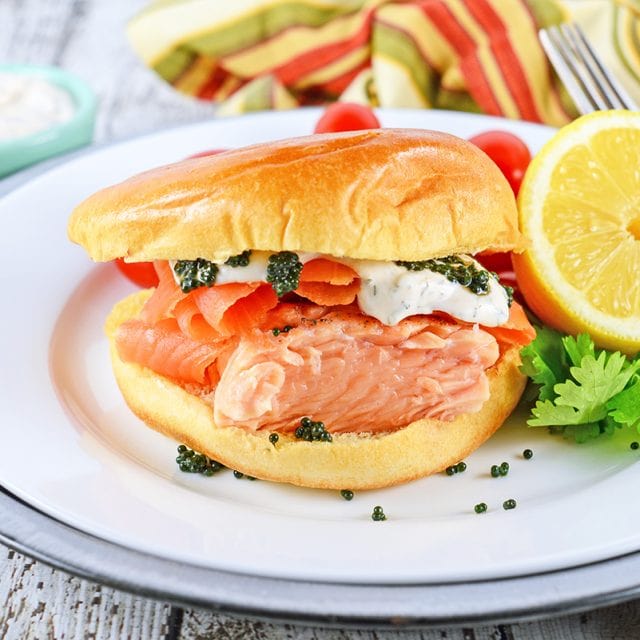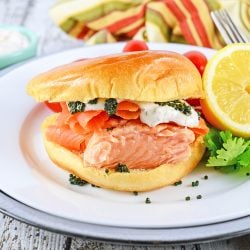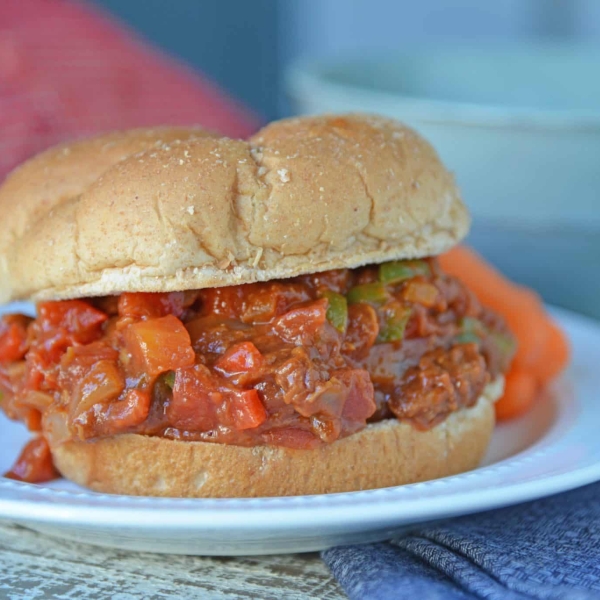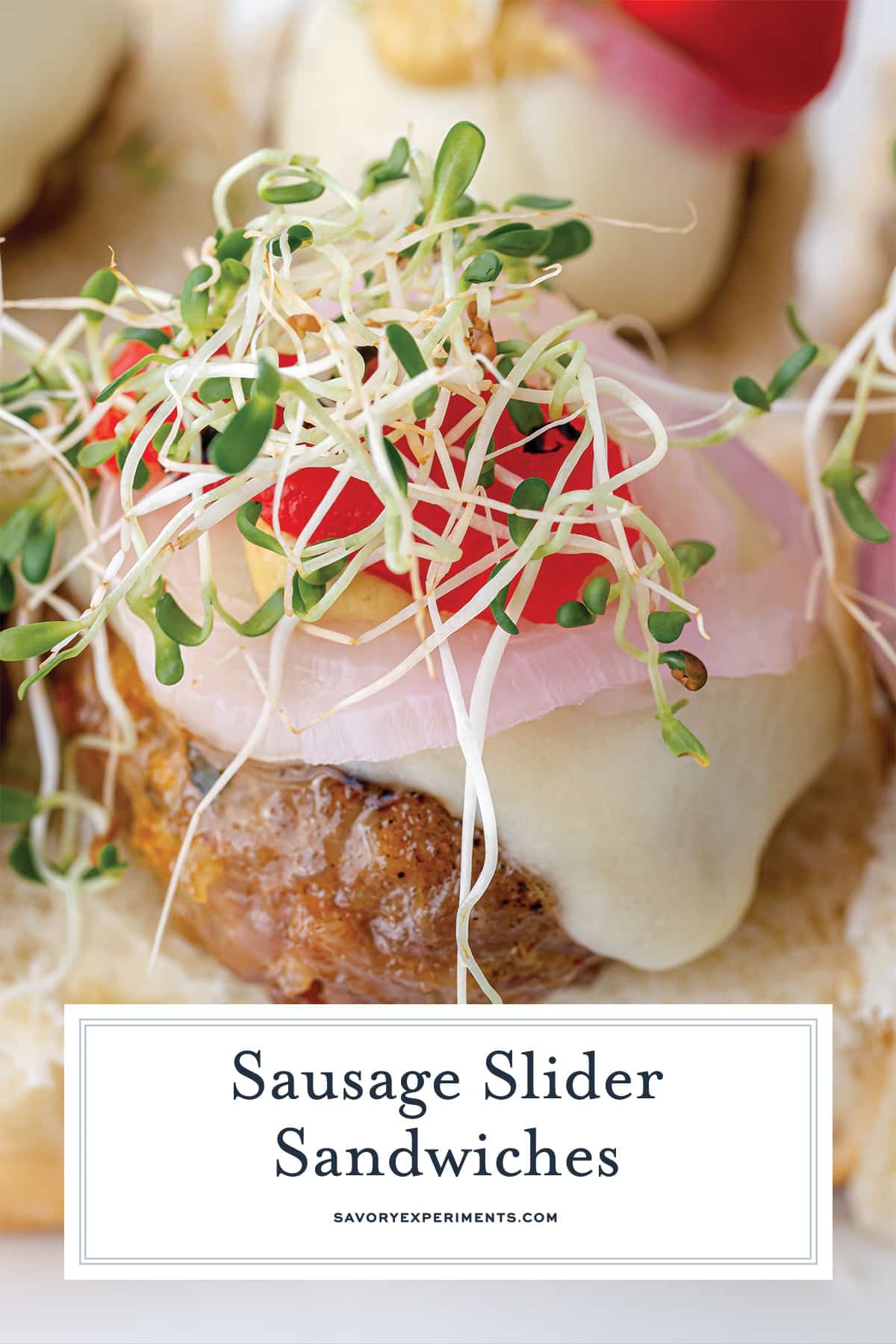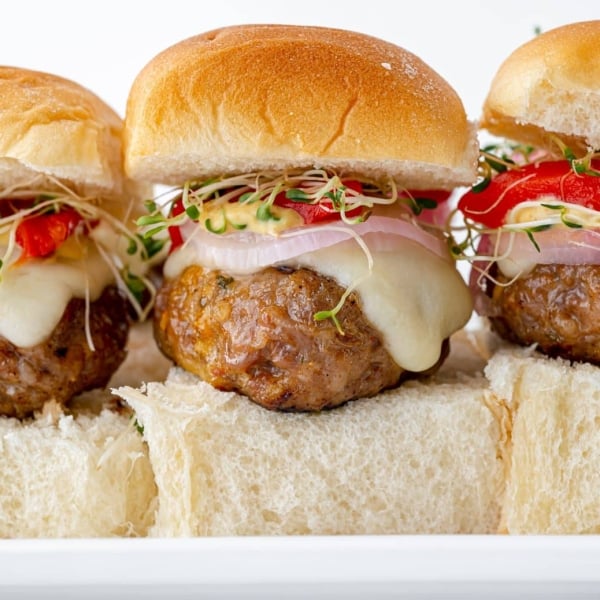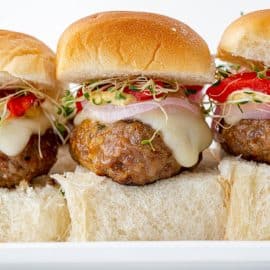 Italian Sausage Sandwich Sliders
A unique combination of flavors all nicely packed on a sweet Hawaiian Roll.
Instructions
By hand, blend together the ground pork, onion powder, garlic powder, cayenne pepper, ground white pepper, crushed red pepper, paprika, oregano, bread crumbs and egg yolk.

Form the meat mixture into 12 2-inch patties. Arrange them in a single layer on a plate, cover, and chill for at least 30 minutes, but up to 24 hours.

When you are ready to cook, prep and heat a large skillet, cast iron skillet or the grill over medium heat. Cook on each side for 5-7 minutes or until pork reaches an internal temperature of 145°F. Place a piece of cheese (about a scant 1-ounce) over each patty and let it melt for 1 minute.

Assemble sliders on slider rolls with one sausage patty a dollop of Dijon mustard, roasted red peppers, pickled red onion, and alfalfa sprouts.

If you've tried this recipe, come back and let us know how it was in the comments or star ratings!
Nutrition
Calories:
199
kcal
,
Carbohydrates:
16
g
,
Protein:
9
g
,
Fat:
10
g
,
Saturated Fat:
4
g
,
Cholesterol:
53
mg
,
Sodium:
153
mg
,
Potassium:
112
mg
,
Sugar:
4
g
,
Vitamin A:
140
IU
,
Vitamin C:
1.8
mg
,
Calcium:
11
mg
,
Iron:
0.5
mg