Pimento Grilled Cheese Sandwiches take the deliciousness of southern style pimento cheese and mash it with an all-American favorite, grilled cheese.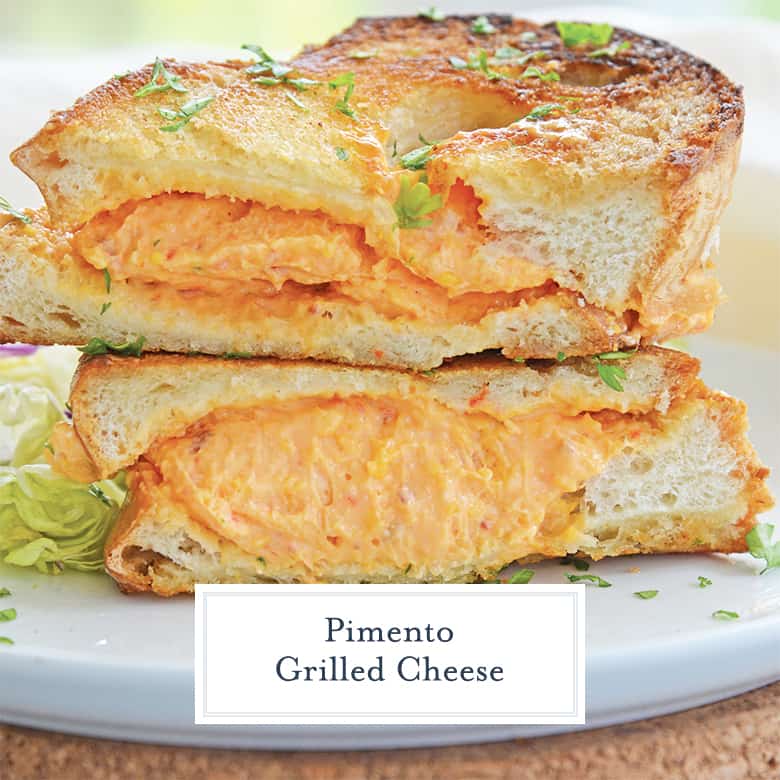 Pimento Grilled Cheese Sandwiches are the ultimate grilled cheese recipe using zesty pimento cheese with bacon.
Chances are you've heard of pimento cheese– or at least seen it on menus across the country as just a sandwich. But maybe you've never thought about making it into a glorious grilled cheese!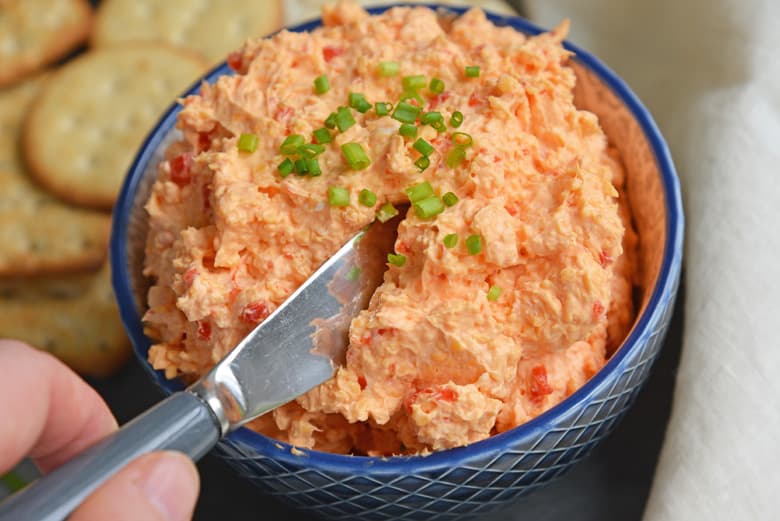 Mind blown. I know. Cheesy goodness from cheddar and cream cheese with creaminess of mayonnaise and flavor from bacon, red peppers and garlic.
Pimento Cheese Spread
Pimento cheese is a cheddar cheese and pimento pepper dip. Pimento is just another word for roasted red bell peppers. This iconic spread originated in the South and sometimes called as "pâté du Sud", Southern pâté or the caviar of the south.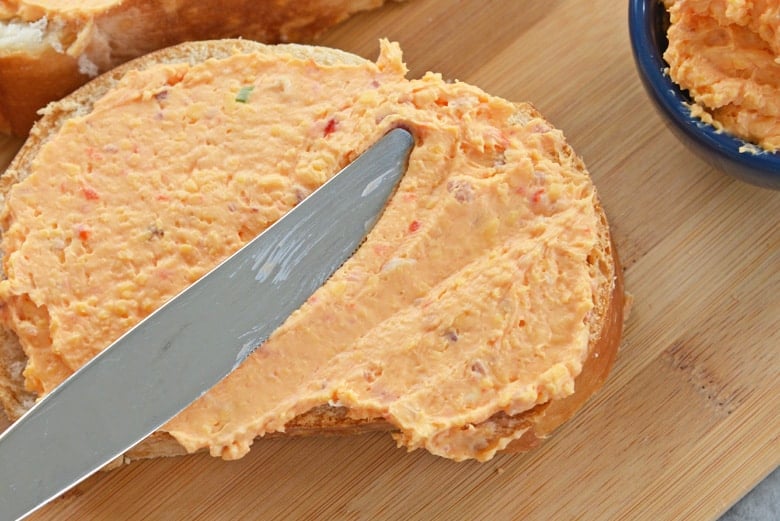 If you happen to find it in the midwest, primarily made with Wisconsin cheese, it might be palmetto pimento cheese or simply palemetto.
Southerners are very particular to how their pimento cheese is prepared and like many regional cheeses there are several "right ways". There are also many fun variations.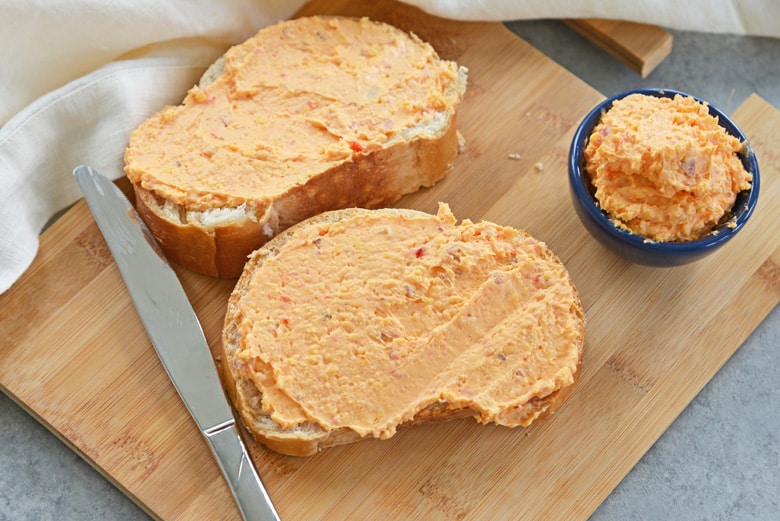 One thing is for sure, it is a chunky mix. It is best made in a food processor with a few pulses (do not just let the machine run, this is not a smooth mix). You can hand mix it in the mixing bowl too, but the cream cheese is hard to blend super smooth.
I once got a pimento cheese burger and when it came out, the cheddar was 100% melted and it totally ruined the experience for me. Pimento spread is supposed to be toothy, foodie friends.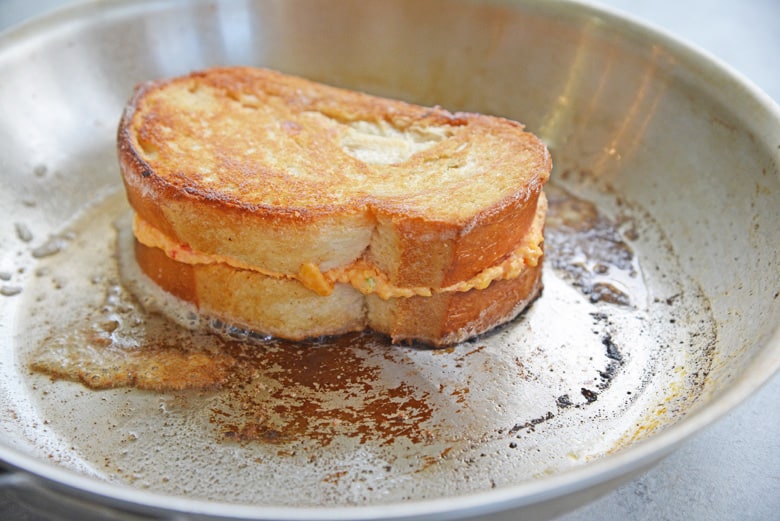 Pimento Cheese Ingredients
This pimento spread is fairly with basic with just 2 minor variations: garlic powder and bacon.
Cheddar Cheese– we like to use a sharp cheddar cheese for flavor and texture. You can switch it up and use a combination of sharp and regular cheddar or even white cheddar. We do strongly recommend shredding your own right off the block. Pre shredded cheese has a light coating of starch to prevent sticking which can impact the texture of your dip.
Cream Cheese– adds even more creamy, cheesy goodness to your grilled cheese.
Pimento Peppers– What is a pimento? Pimento is just a fancy word for roasted red peppers. You can roast them yourself or save some time and buy them in a bottle, most commonly found in the International food aisle near Italian foods or by sandwich condiments and pickles. Make sure they are super drained and blotted dry.
Mayonnaise– Southerners typically have very strong feelings over what brand of mayo to use. Duke's seems to be the most preferred brand, but whatever you do, use a good quality brand since it is the base of the dip. Did you know some folks even use it on the outside of the bread to get a nice crust?
Bacon- Bacon is optional, but I like the salty and chewy flavor. I think it helps bring out the rest of the spread and adds even more textural variety.
Garlic powder– Another optional flavor, but I like it. Alternatively, you can omit it or use onion powder.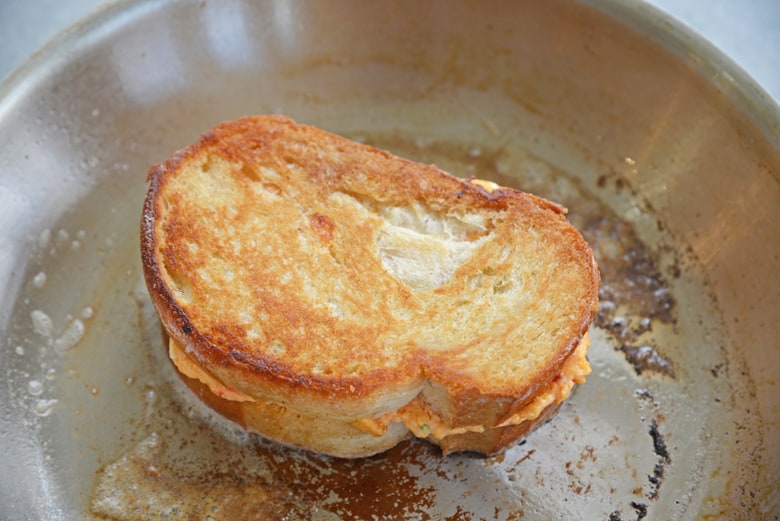 Spicy Grilled Cheese
If you want to make your pimento dip spicy, add 1-2 teaspoons of seeded and diced jalapenos. If you don't want to mess around with chopping peppers, add 1 teaspoon of crushed red pepper flakes.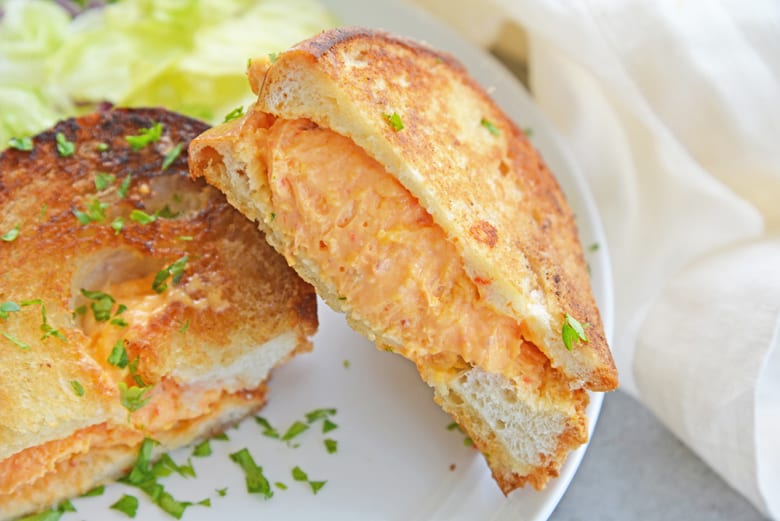 For best results, allow your dip to sit and the spicy flavors to marry and sink into the cream cheese and mayonnaise.
You can also add fresh jalapeno slices right to the sandwich. Layer them on top of your regular pimento cheese spread.
Cheeses
Traditional pimento cheese uses a sharp cheddar cheese, but you can use a combination of any mildly soft cheese. Some use a medium sharp cheddar with sharp.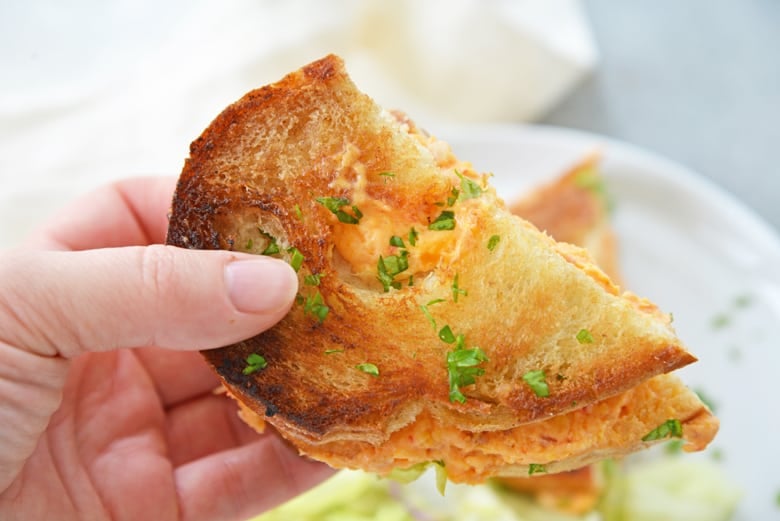 Others prefer smoked gouda or white American cheese. I've even used pepper jack. Totally your call!
Grilled Cheese Bread
Lastly, the bread! For my Pimento Grilled Cheese Sandwiches, I used a thick cut Italian bread loaf. I also love using thick cut potato bread. Sour dough is also good.
I would suggest thick slices, like Texas Toast, since you'll need something hearty to carry all these delicious ingredients. Regular sandwich bread isn't sturdy enough.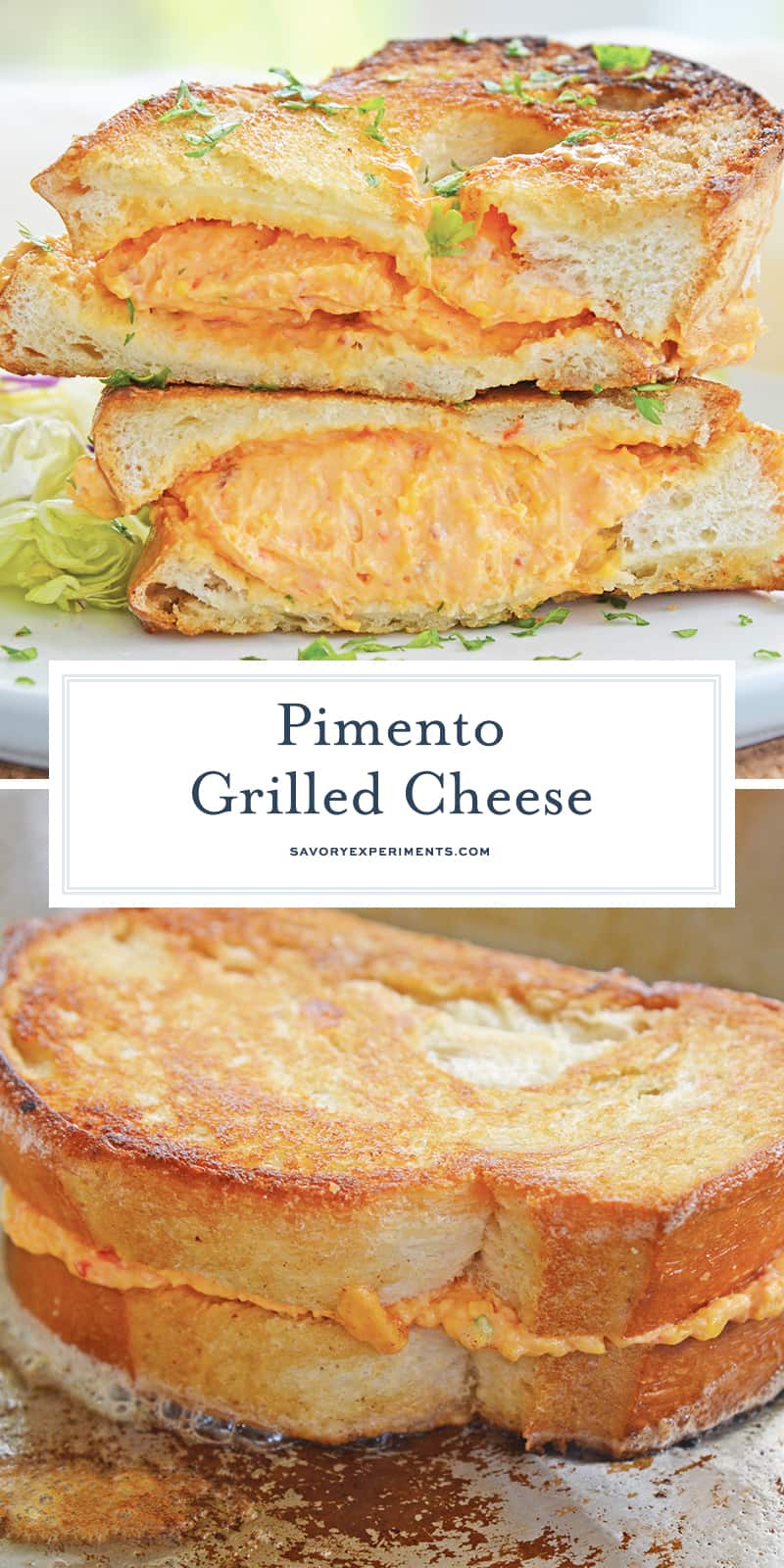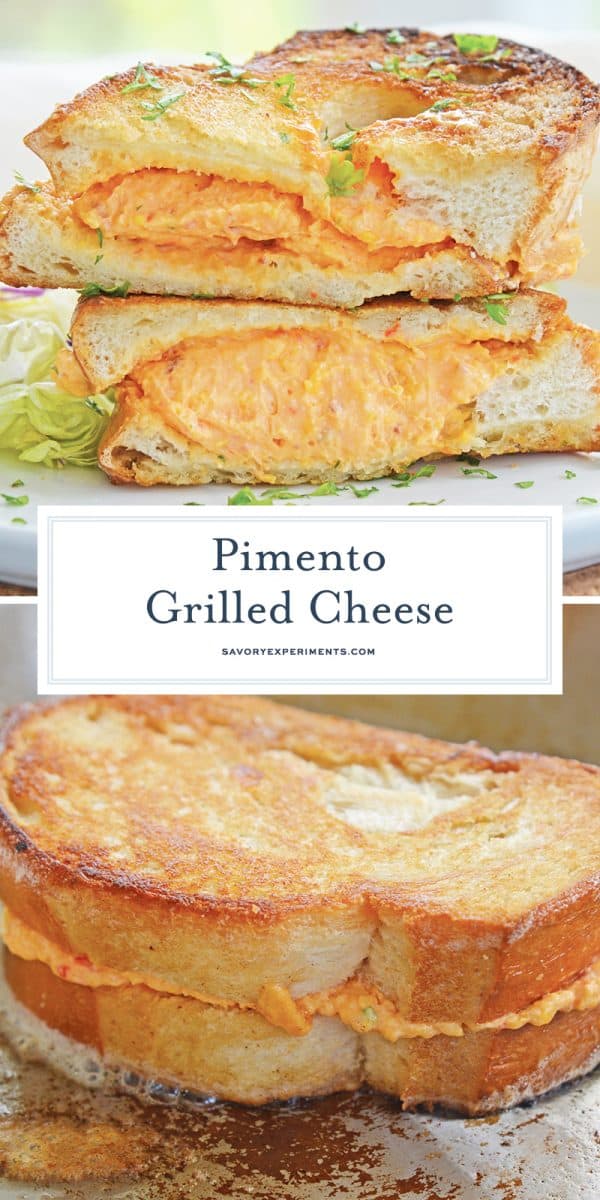 More cheesy recipes: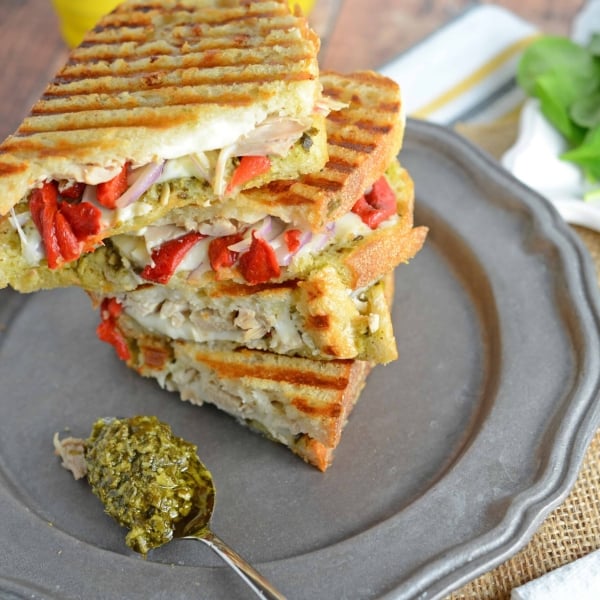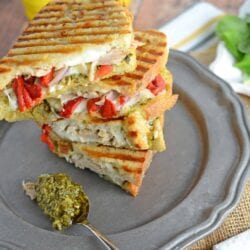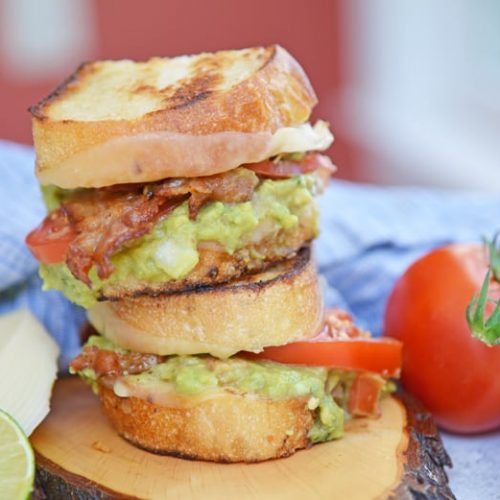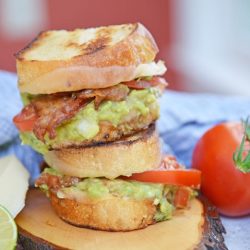 Guacamole Grilled Cheese
This Guacamole Grilled Cheese Sandwich is stuffed with gooey provolone cheese, crispy bacon, juicy tomatoes and freshly made guacamole, all grilled to perfection on crusty bread.
See The Recipe!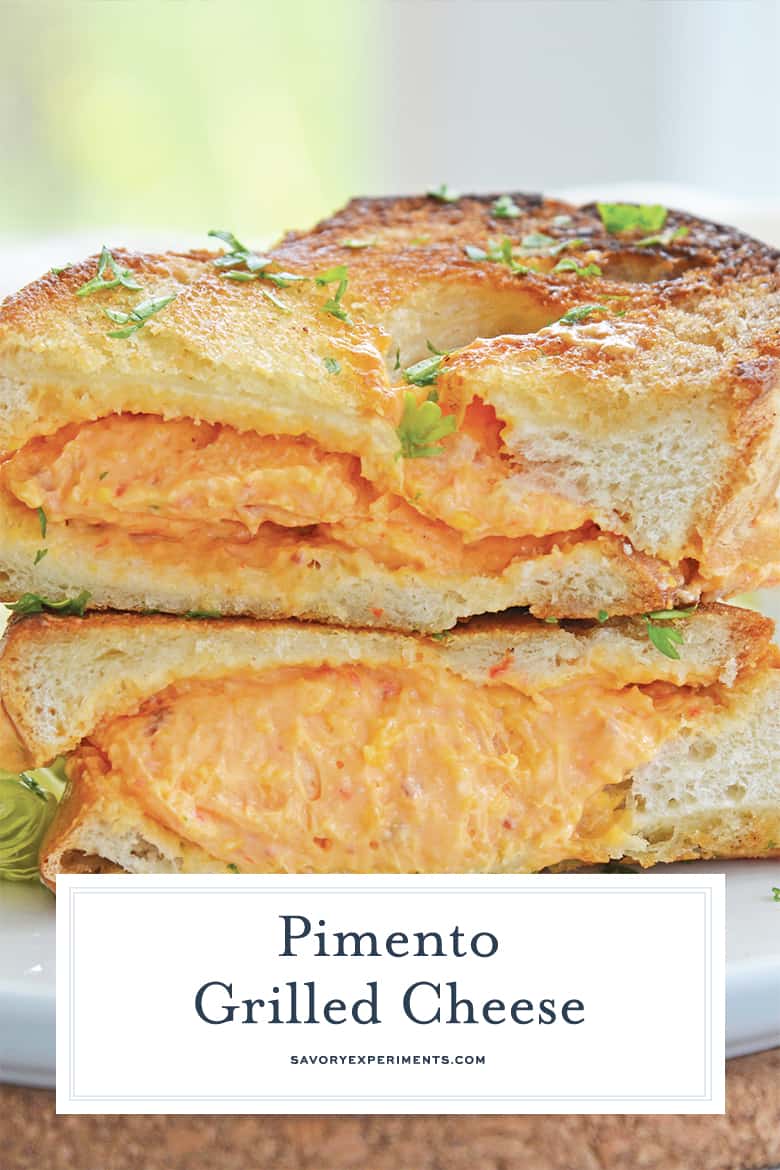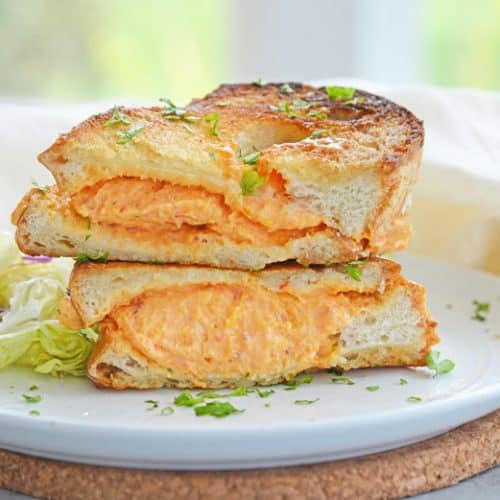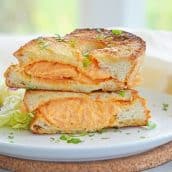 Pimento Grilled Cheese
Pimento Grilled Cheese Sandwiches are the ultimate grilled cheese recipe using zesty pimento cheese with bacon.
Instructions
Combine sharp cheddar, softened cream cheese,mayonnaise, pimento peppers, garlic powder, bacon and Kosher salt in a food processor and pulse it several times until a pale pink and fully combined but still chunky.

Butter one side of each piece of bread.

Spread the pimento spread onto the other side of each piece of bread.

Heat a large skillet to medium heat (large enough for two sandwiches). Working in two batches, add one slice of bread, butter side down and top with another slice, butter side up. Do two sandwiches at a time.

Wait until lightly browned and then flip, gently pressing down to let the two pieces stick, but not so much that the filling comes out.

Wait until the other side browns, then remove and repeat with remaining two sandwiches. The pimento spread won't be totally melted, just warmed.

If you've tried this recipe, come back and let us know how it was!
Notes
Do I need to use a food processor? You don't have to, but it is the best way to achieve the correct texture.
Nutrition
Calories:
541
kcal
,
Carbohydrates:
30
g
,
Protein:
16
g
,
Fat:
40
g
,
Saturated Fat:
18
g
,
Cholesterol:
87
mg
,
Sodium:
1042
mg
,
Potassium:
200
mg
,
Fiber:
2
g
,
Sugar:
5
g
,
Vitamin A:
896
IU
,
Vitamin C:
5
mg
,
Calcium:
313
mg
,
Iron:
2
mg