Last summer I had the distinct pleasure of visiting cattle ranches in Kansas with Certified Angus Beef ® brand. One of (many) highlights of the trip with a spending time with cowboy and Food Network star Kent Rollins and his wife, Shannon.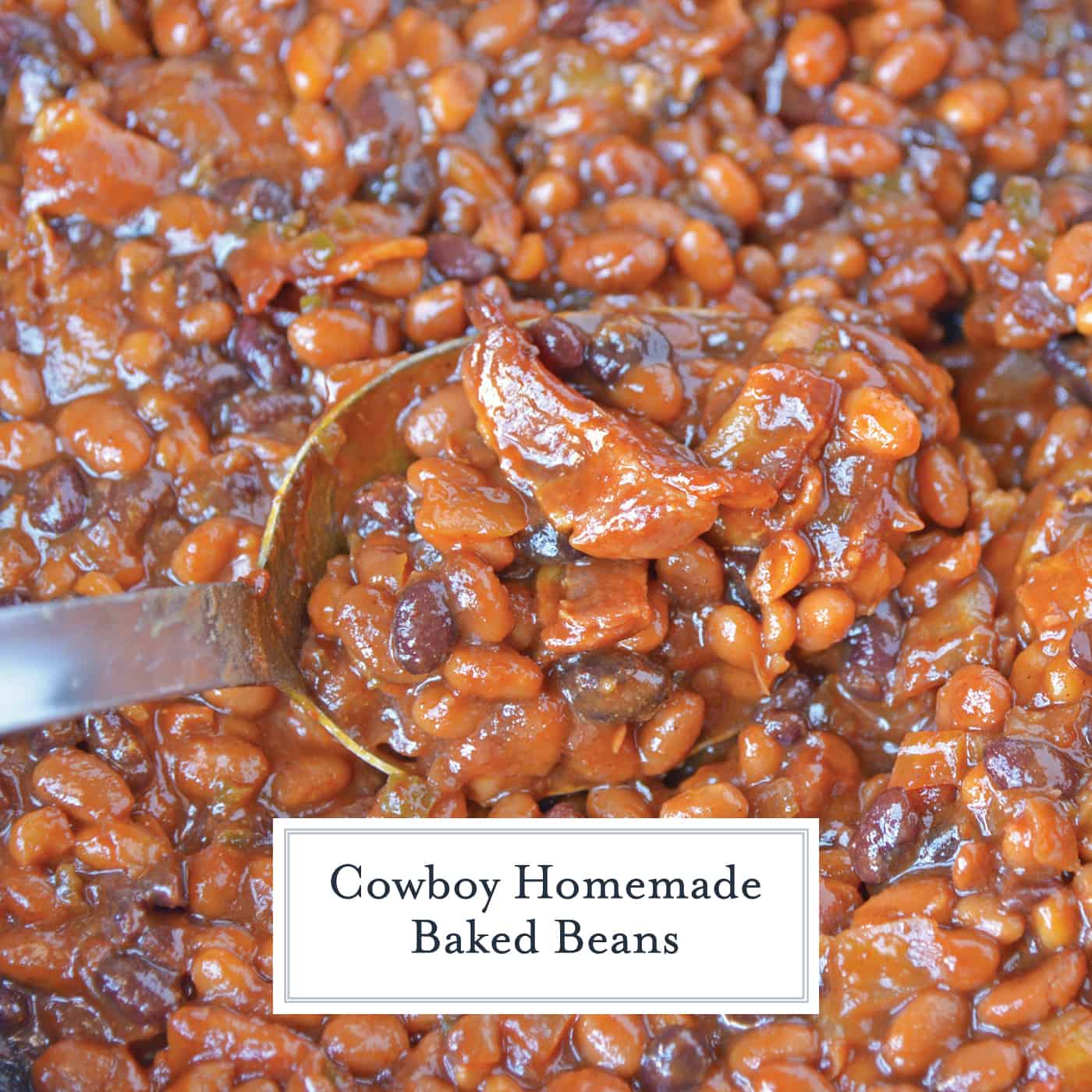 Together, they taught us to make Cowboy Beans over the golden embers of a campfire. A great recipe that soon became a family favorite.
This post is sponsored by the Certified Angus Beef® brand in conjunction with a social media campaign through Sunday Supper LLC. All opinions are my own.
My New Favorite Baked Bean Recipe
Cowboy Homemade Baked Beans are smoky, spicy and sweet. The perfect side dish recipe for BBQ, potlucks and parties.
This dynamic duo is well-known in the foodie world for being the only chuck wagon chefs, teaching us all to cook like a cowboy courtesy of Certified Angus Beef® brand.
After teaching us how to make the best cast iron biscuits using a sourdough starter, we also watched as Kent prepared an amazing dinner out of the chuck wagon.

Chuck Wagon Food
All of the food was remarkable, but perhaps the most translatable to home was his homemade baked beans, also known as Spicy Barbecue and Bacon Baked Beans.
Kent reminisced about his childhood and beans sometimes serving as the "meat" of their meals.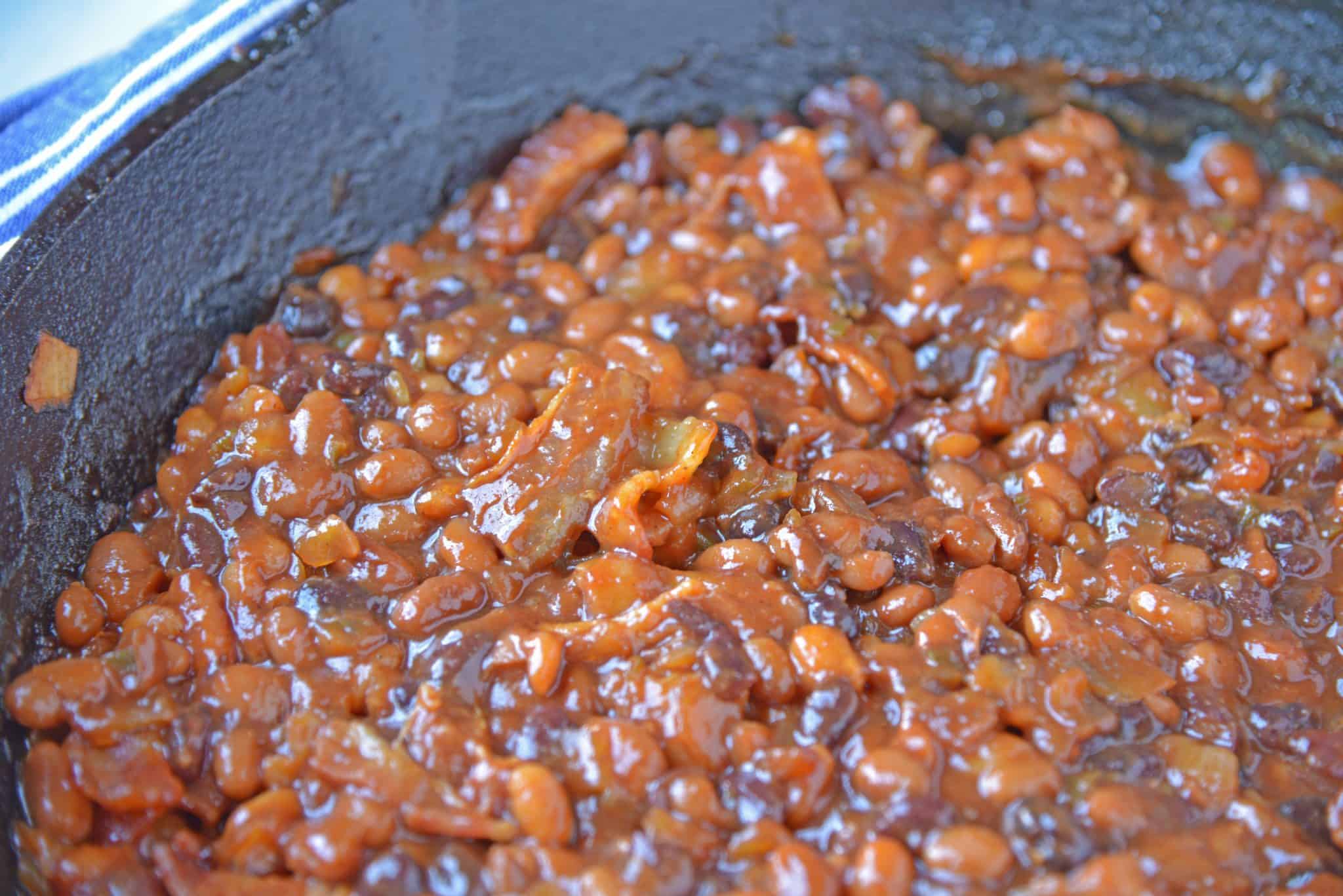 These baked beans with bacon do not disappoint. Of course, I took the liberty of modifying his original recipe to create my own sweet and spicy ranch beans masterpiece.
A couple of things to note are that the type of BBQ sauce you choose will carry the flavor through your beans. I highly recommend going with a sweet BBQ sauce for this one. It will also change the ending color- some are darker burgundy and others will be lighter or even more yellow.
Unless the goal is sweat beads on your nose and forehead, then by all means, go for the spicy!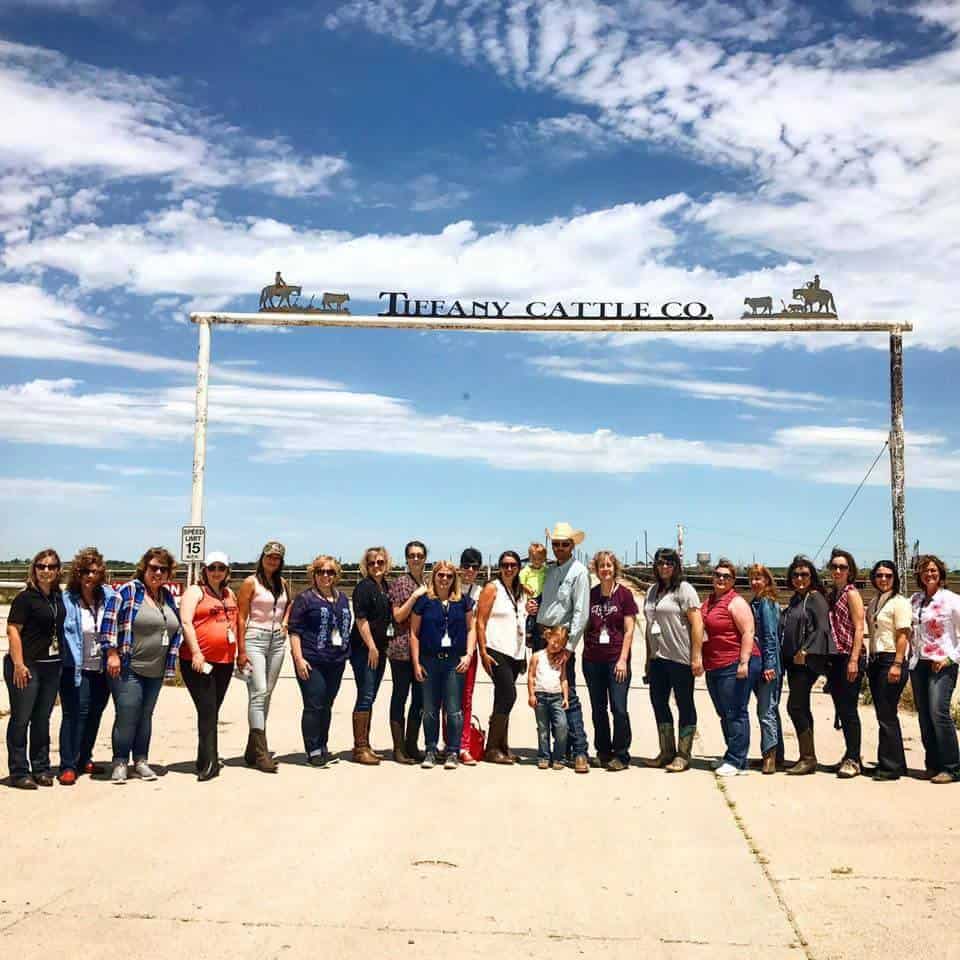 Ranch Style Beans
One question I originally had was "what are ranch style beans?" They are beans simmered with oregano, cumin and chili powder. If you can't find Ranch style beans, look for chili beans, which will have a similar flavor profile.
But I also found another explanation… ranch beans are just any beans that have been doctored up from a basic baked bean recipe.
On thing that surprised me, but then made a ton of sense was that Kent Rollins even used canned beans! But as he explained life on a chuck wagon, the majority of the day is spent in route and moving.
Since ranch beans are so hard to find, I've since modified the recipe to use just pinto beans and remains just as delicious.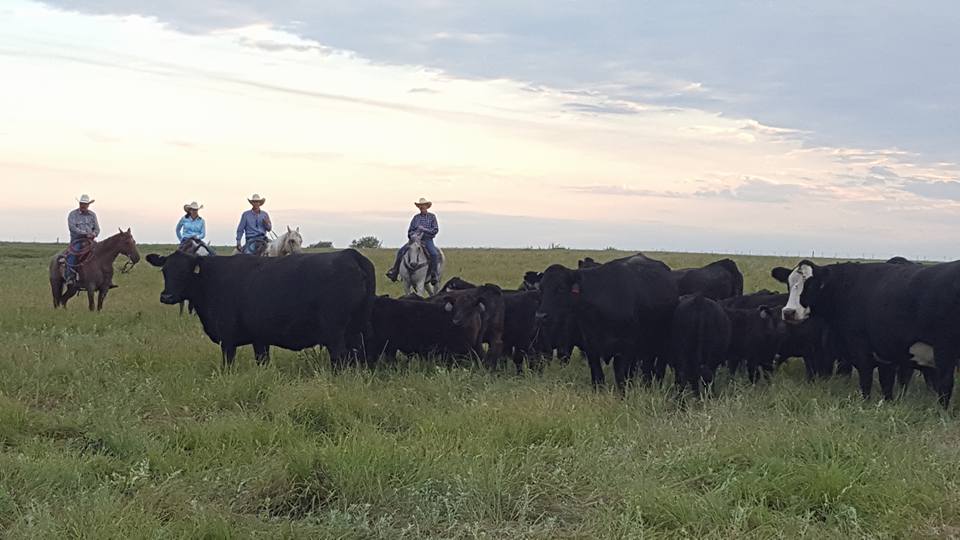 There isn't time for soaking beans with fresh water.
Kent Rollins: "Water is for drinking and daylight is for moving."
There are times they can be on the chuck wagon for weeks, even months, at a time. Canned foods last longer. Surprisingly, dry beans weigh about the same amount as canned beans.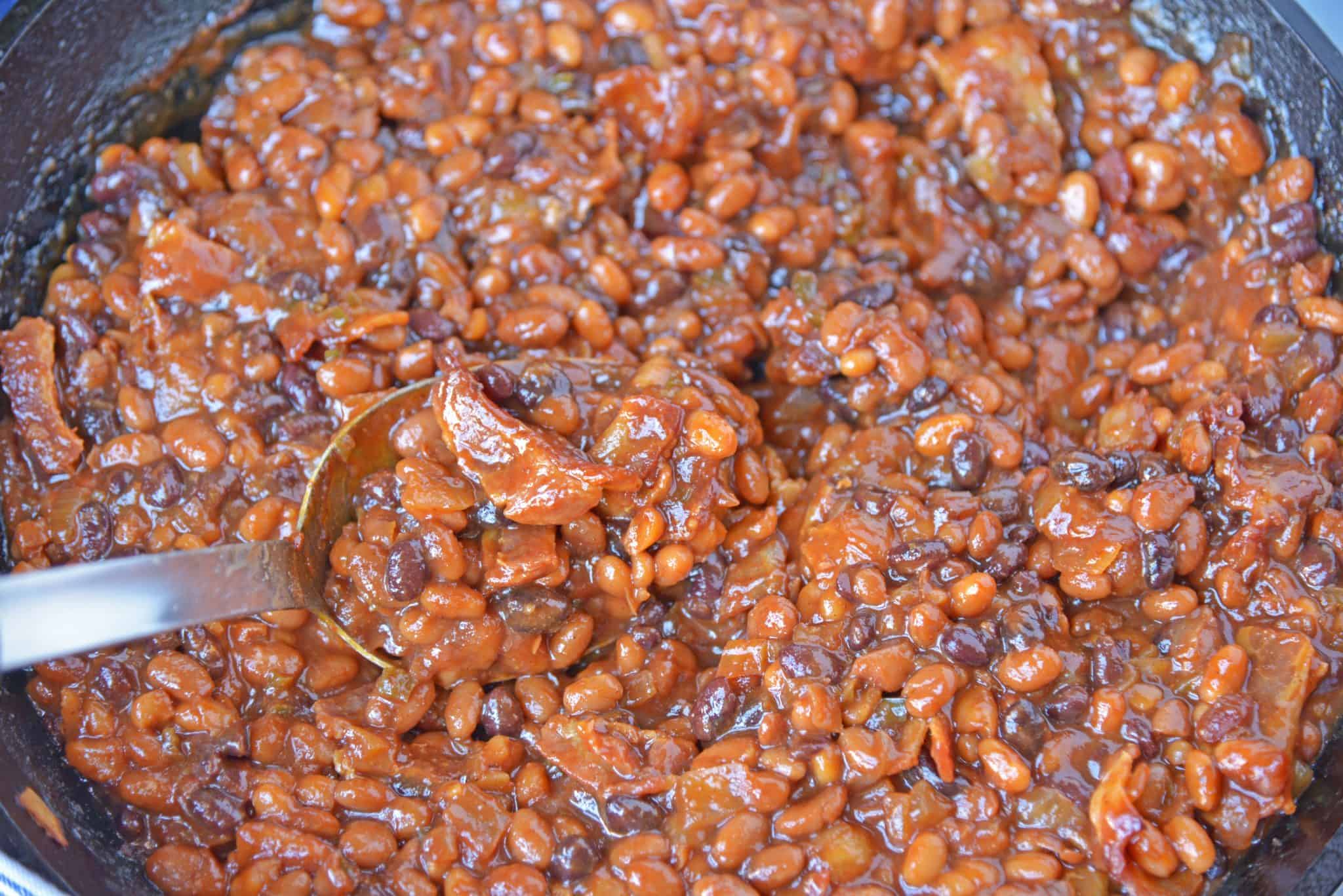 Prep it for Camping
Much like many of our favorite camping recipes, they need to be easily prepared with simple, easy to tote ingredients.
For Cowboy Homemade Baked Beans as your favorite camping food, dice up the onion and jalapeno before you leave.
You can omit or cook the bacon ahead of time if you'd prefer to not travel with raw meat. Of course, it all depends on the event you plan to make them for. I'm not much of a camper, so mine are usually just being made at home on the grill or stovetop.
PRO TIP: Use your favorite canned beans you don't have to stick to the beans your recipe calls for.
While I like to make mine in a cast iron skillet like we did out on the range, you can also make crock pot baked beans by throwing the ingredients in a slow cooker on low for 2 hours. Or follow the same process, but bake them in the oven for 25 minutes at 350 degrees.
To find even more cowboy worthy recipe from life on a chuck wagon, check out A Taste of Cowboy, one of my favorite go-to cookbooks, especially for summer recipes.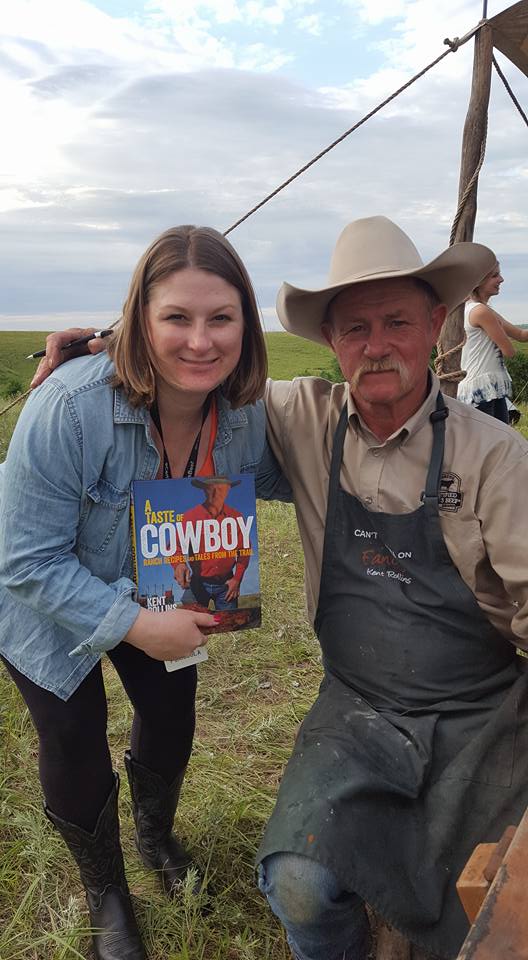 Check out these tasty recipes to serve with your beans!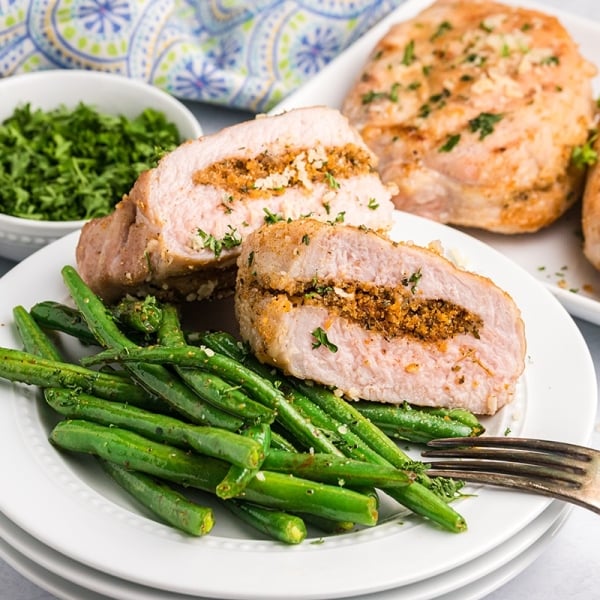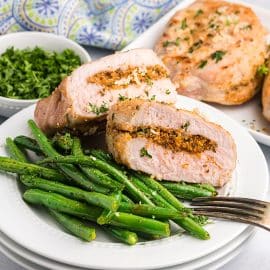 Grilled Stuffed Pork Chops
Grilled Stuffed Pork Chops are an easy grilled pork recipe. Herb marinated pork is stuffed with bread crumbs, herbs and Parmesan cheese and grilled to flavorful perfection in just 15 minutes!
See The Recipe!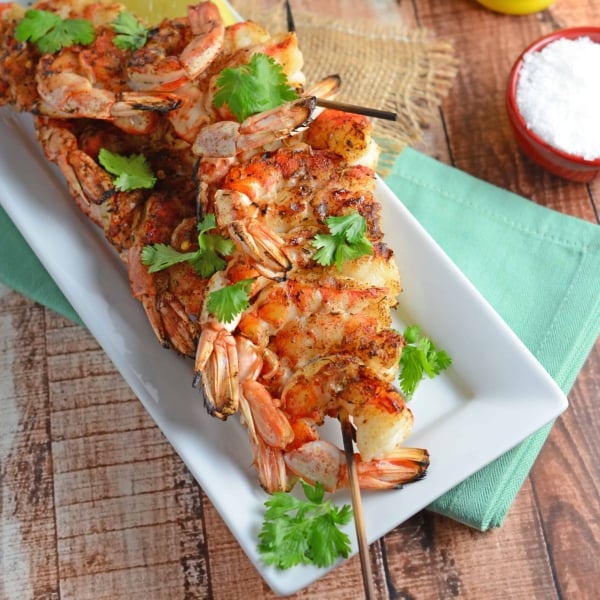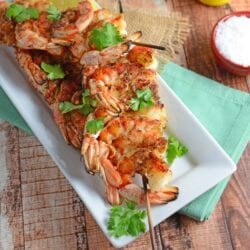 Thai Grilled Shrimp
Thai Grilled Shrimp is an easy and healthy dinner idea, using light coconut milk, Thai seasoning and lime juice, it comes together in a snap!
See The Recipe!
Tools for making Cowboy Homemade Baked Beans:
Heavy Bottom Frying Pan– this will be one of your most used kitchen tools. Having something that is heavy bottom will distribute heat better and prevent burning whether you are using an electric or gas range.
Cast Iron Skillet– Yes they are heavy, yes they take a little extra TLC. Are using cast iron pans worth it? YES!!! Just buy one and you'll thank me later! I have both pre-seasoned and unseasoned. I like them both for different reasons.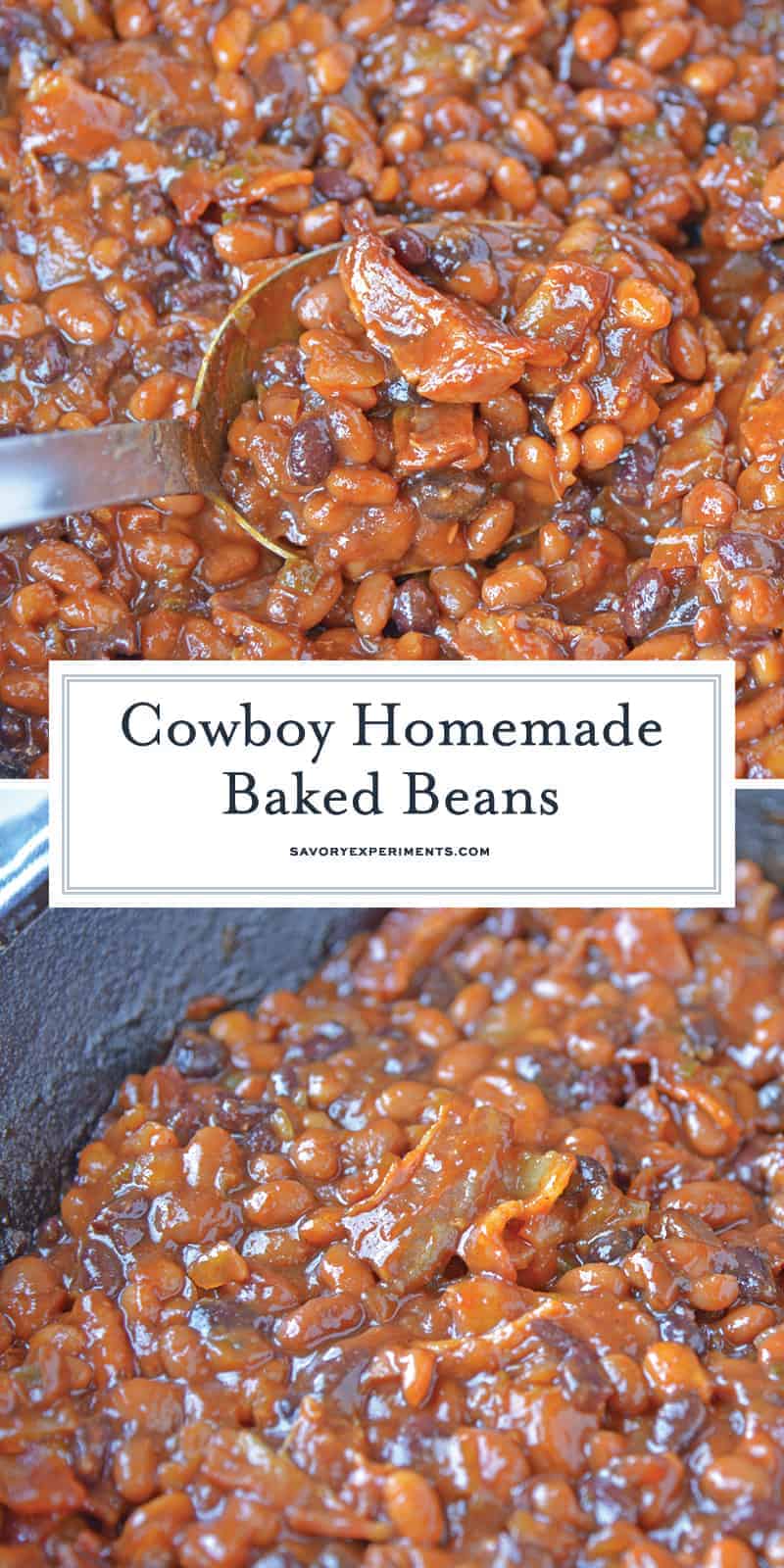 Questions you might have about how to make cowboy baked beans:
Can baked beans be made ahead of time? Sure! Beans are such a sturdy ingredient and can withstand a lot, including being made ahead and reheating. However, as with most recipes, they best eaten within 24 hours of cooking.
How do I reheat baked beans? Like I said above, they are pretty sturdy, so you take your pick of how to reheat them. Saucepan, crock pot, skillet, cast iron, baking dish, oven or even the microwave. It is pretty hard to hurt them!
Can I freeze baked beans? You can freeze cooked baked beans. Place them in an airtight container or plastic bag, trying to get out as much air as possible. They will stay good for up to 4 months.
Can I use a different type of bean? You can substitute whatever type of beans you want! Here are the best beans for baked bean recipes:
Great Northern
White Beans
Pink Pinto Beans
Pinto Beans
Kidney Beans
Black Beans
Navy Beans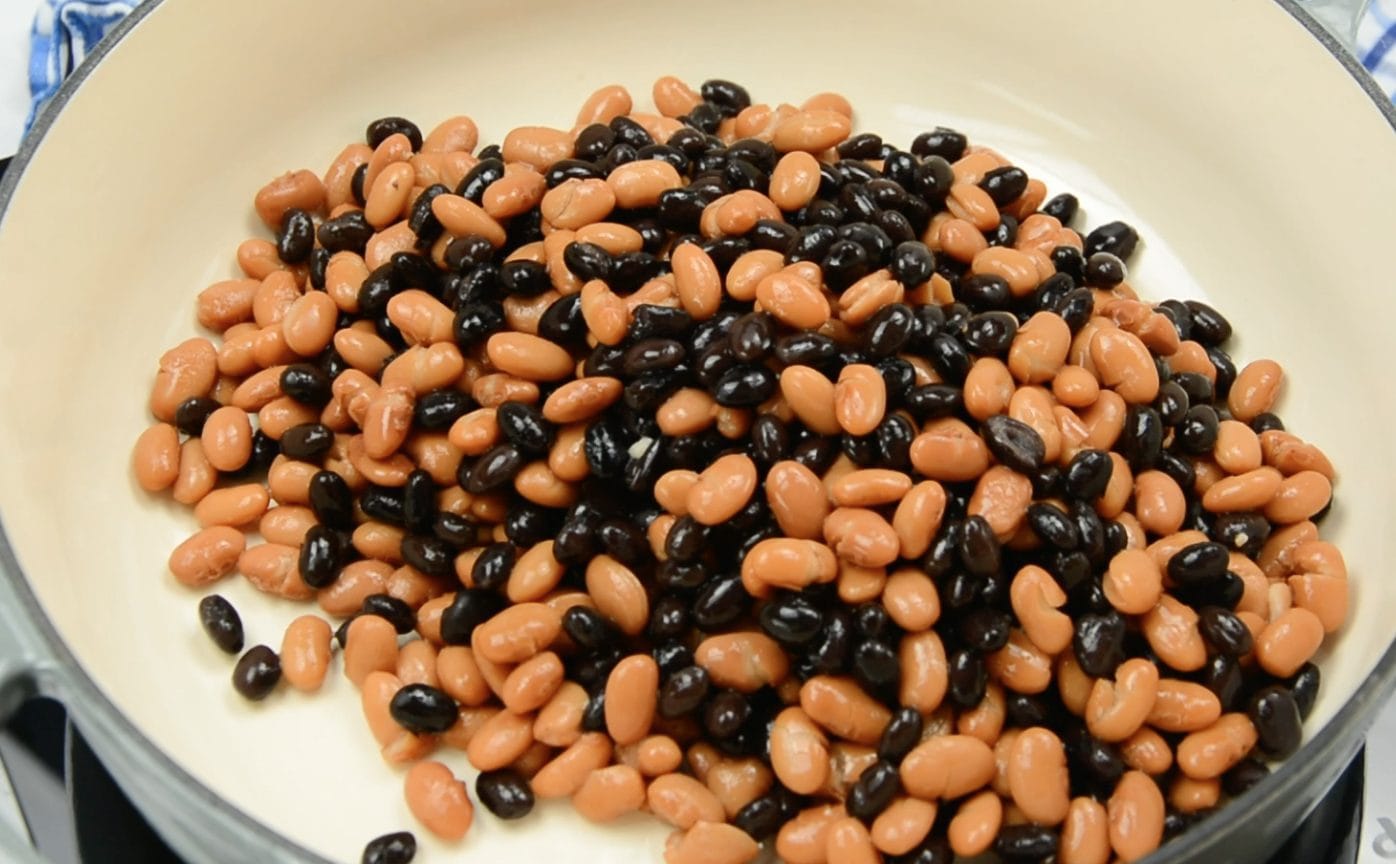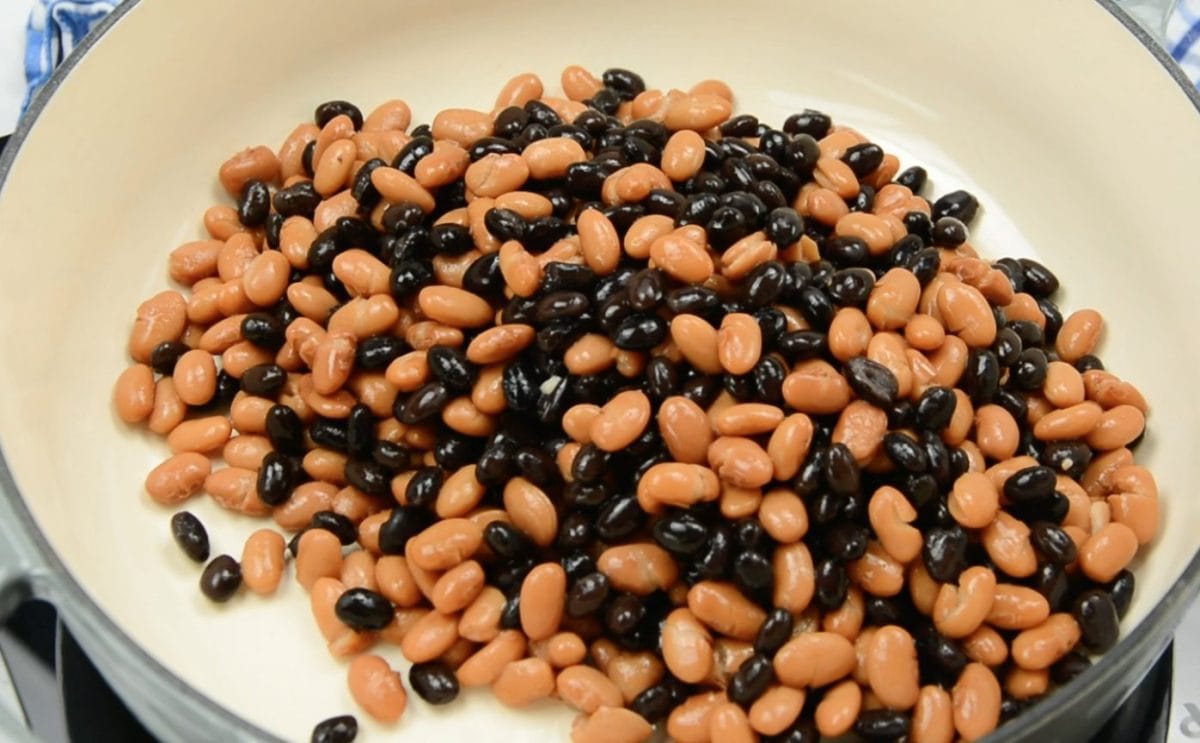 Can I use dry, raw beans instead of canned beans? You sure can! I just usually don't have the time. Start with 2 cups of each type of dry beans. Put them all in a large bowl, cover with water and set in the fridge for 6-8 hours. Pick up where the recipe starts off for the same results!
What can I substitute for bacon? Technically, this is a pork and beans recipe, but you can either omit the bacon altogether or even use cooked, browned ground beef.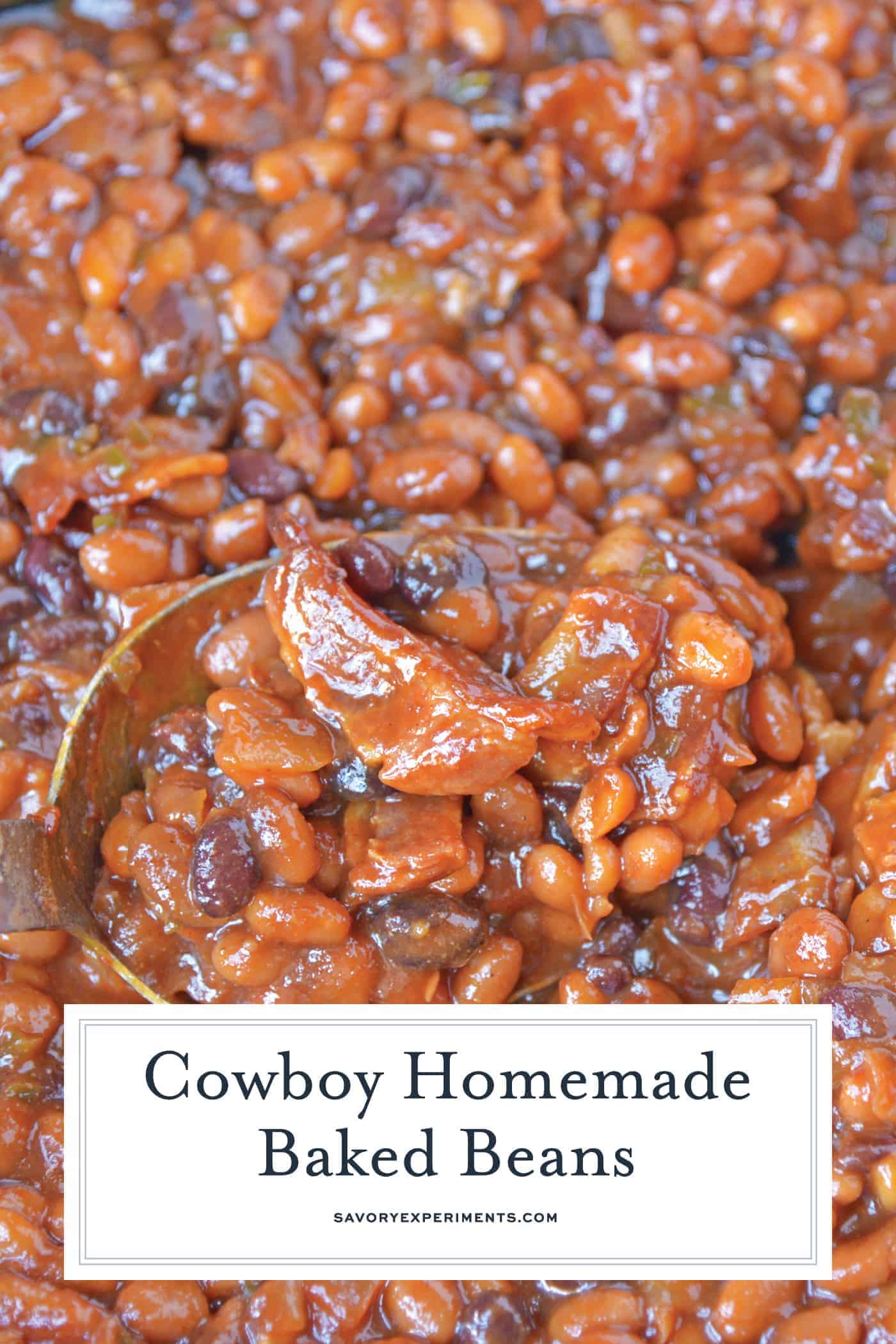 Before you get started, make sure you know how to properly season your cast iron and how to clean your cast iron!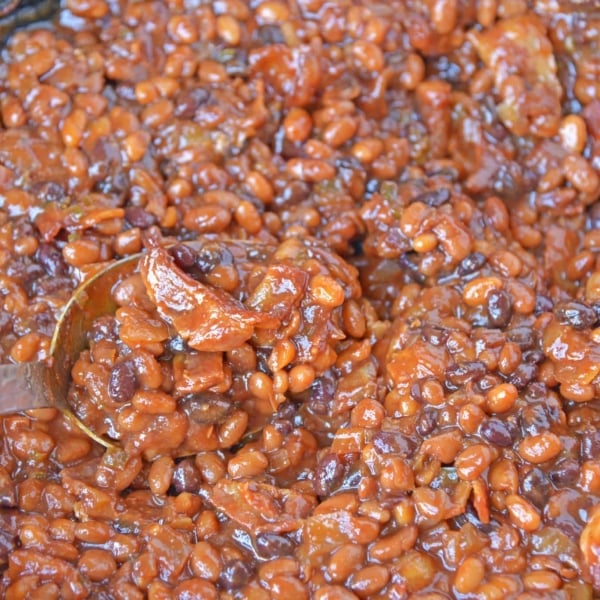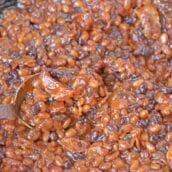 Cowboy Homemade Baked Beans
Cowboy Homemade Baked Beans are smoky, spicy and sweet. The perfect side dish recipe for BBQ, potlucks and parties. An easy baked bean recipe with loads of flavor!
Instructions
Heat a large skillet or cast iron pan over medium heat. Add bacon strips. Cooke until nearly crispy. Remove to a paper towel lined plate. When cool, cut into 1-inch pieces.

Drain excess bacon grease from cast iron, carefully wiping out with a paper towel.

Add black and pinto beans, BBQ sauce, jalapeno, yellow onion, brown sugar and yellow mustard. Mix well.

Bring to a simmer over low heat, stirring frequently. Cook for 20 minutes.

Add bacon back into the mixture, heating for an additional 2-3 minutes to reheat bacon.

Serve hot!

If you've tried this recipe, come back and let us know how it was in the comments or ratings.
Nutrition
Calories:
487
kcal
,
Carbohydrates:
65
g
,
Protein:
15
g
,
Fat:
18
g
,
Saturated Fat:
6
g
,
Cholesterol:
29
mg
,
Sodium:
796
mg
,
Potassium:
669
mg
,
Fiber:
10
g
,
Sugar:
34
g
,
Vitamin A:
75
IU
,
Vitamin C:
4
mg
,
Calcium:
98
mg
,
Iron:
3.2
mg
Learn more about Certified Angus Beef® brand HERE!