Wait a minute… pumpkin butter isn't actually butter? I know, I felt duped at first too. I love butter with all my heart, but you know what, even sans the actual diary, this tart, juicy and slightly sweet spread is just as good and that means a lot coming from a butter lover like me.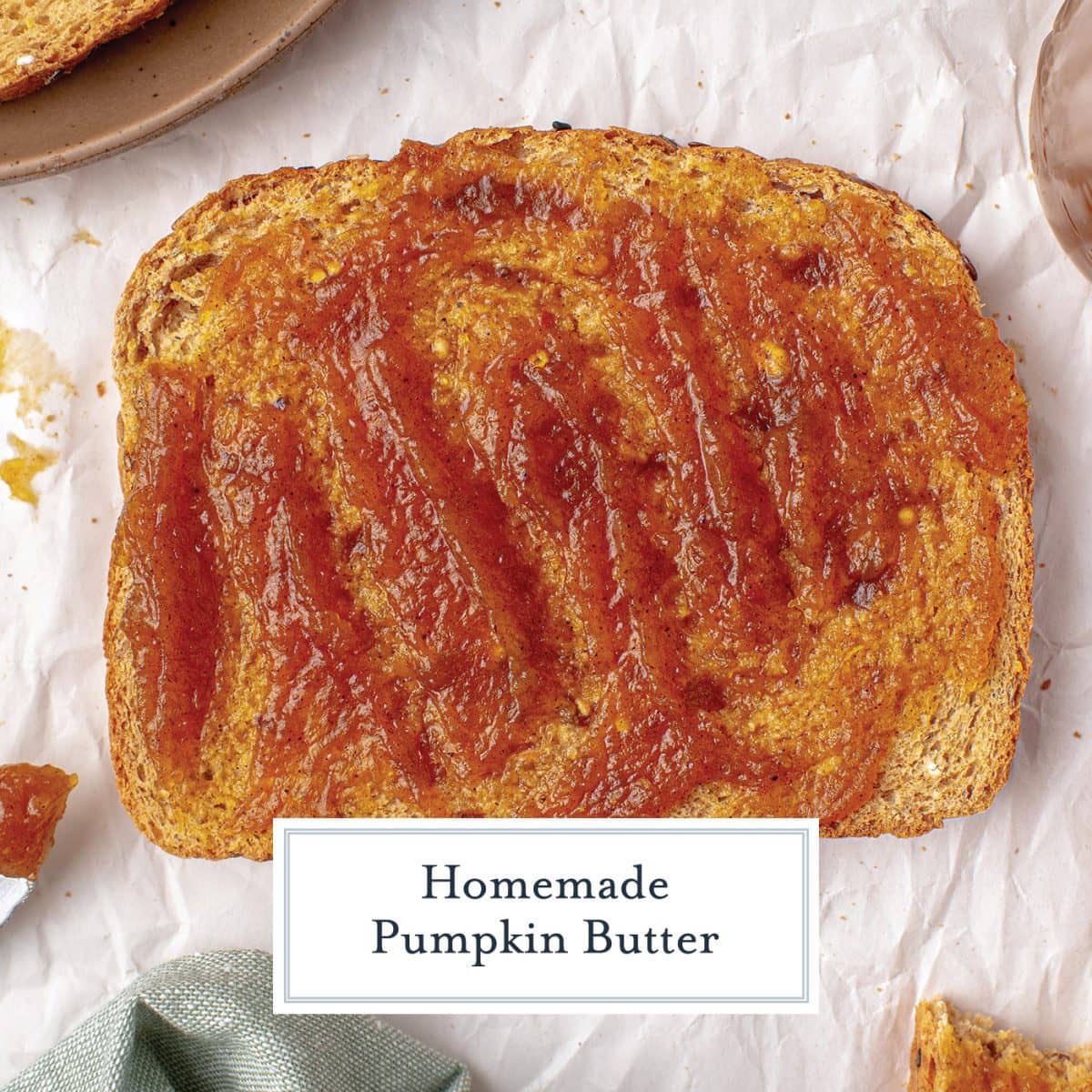 This is a quick and easy recipe that will show you how to make pumpkin butter from fresh pumpkin puree or just a can. Either way, you are sure to be impressed.
What is Pumpkin Butter?
The first time I had pumpkin butter it was on biscuits at a restaurant and what I was envisioning was very different from what showed up at the table. I expected some sort of compound butter, but what came was more of an apple sauce consistency.
Pumpkin butter is a highly concentrated form of pureed pumpkin produced by long, slow cooking with some sort of liquid, seasoning and sweeteners. The long cooking time allows the sugars to caramelize and the puree to break down to a smoother consistency. Kinda of like apple butter, pear butter other fruit butters.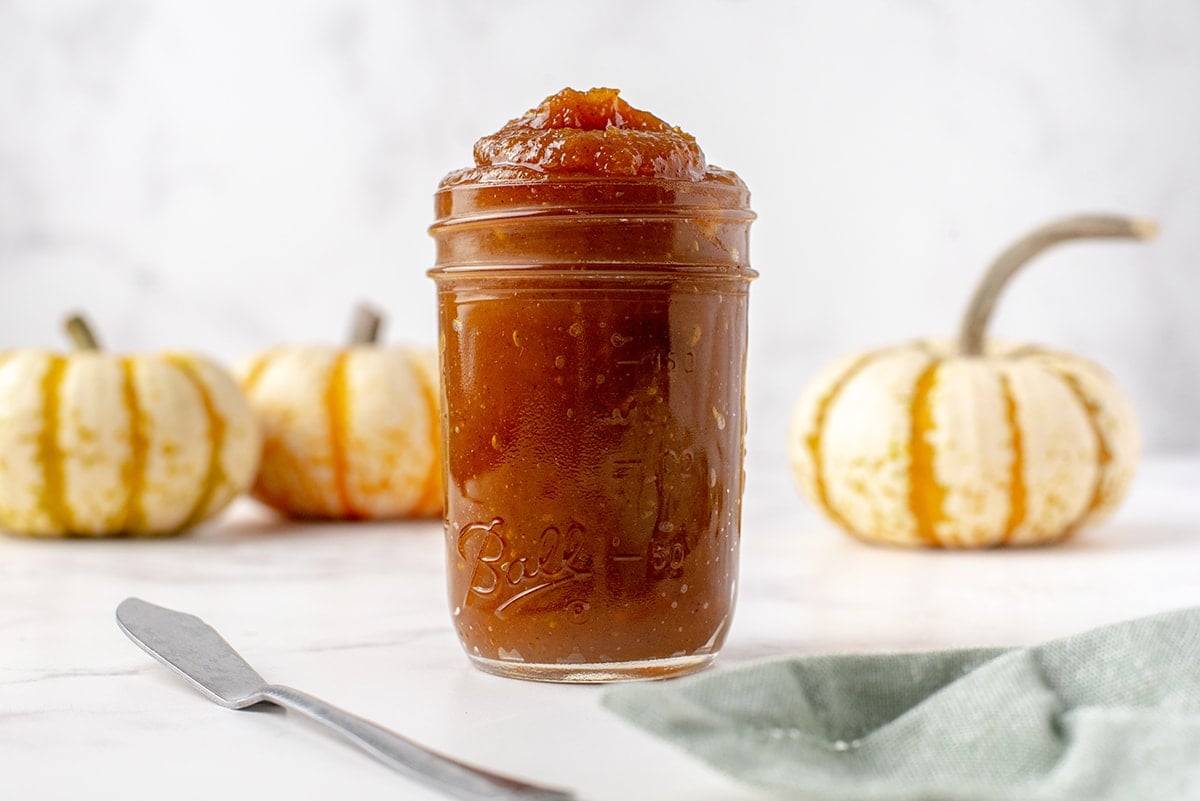 Pumpkin Season
The season for pumpkin everything is upon us and pumpkin lovers are rejoicing! It seems like at the stroke of midnight on September 30th every recipe magically changes to "pumpkin spice" something. More and more that start dates seems to be Labor Day weekend, but I am not complaining.
The irony is this fixation is that most of the recipes you see are just a spice mix that goes well with pumpkin. They don't actually have any sort of pumpkin in, on, or around them. This flavor combo has become the icon for fall flavors. Craziness!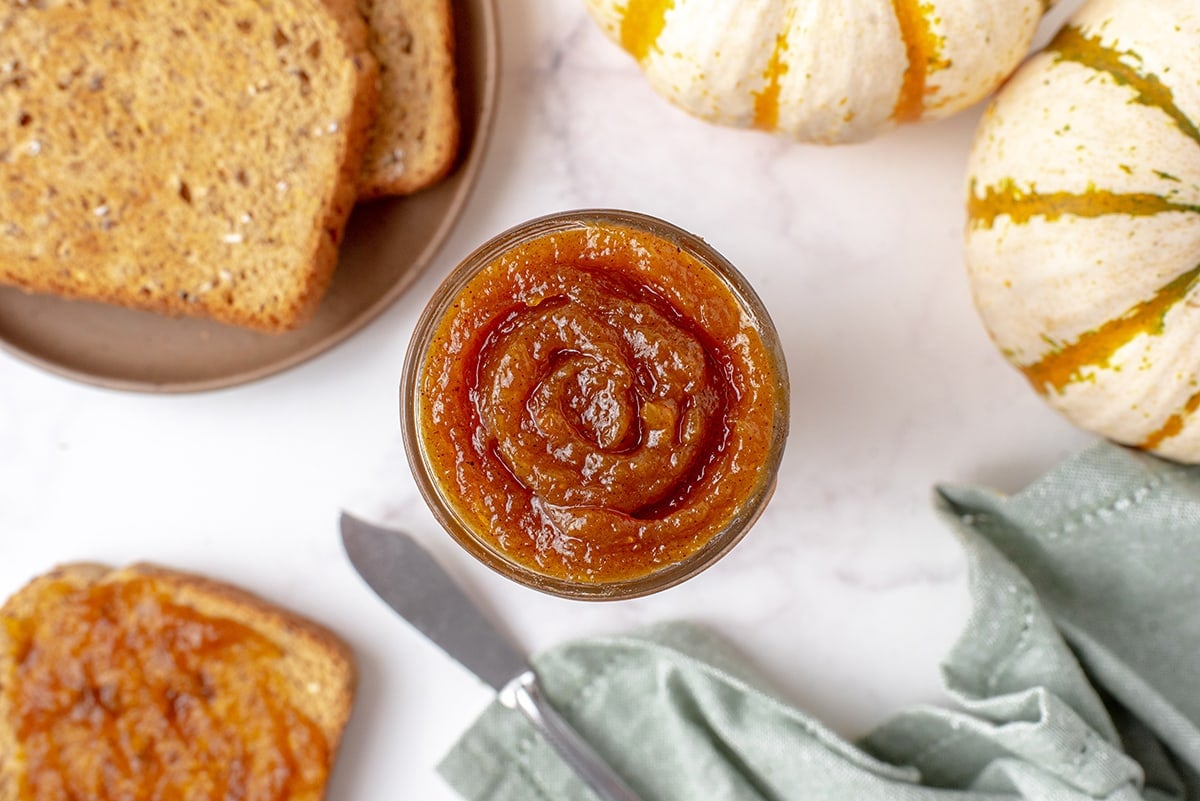 Even crazier… some aren't even pumpkin, they are actually apple pie spice, which is basically the same thing as pumpkin.
Why This Recipe Is Different
My homemade pumpkin butter recipe is actually made with pumpkin. Real pumpkin puree folks. From a pumpkin, not a can. WOW! But wait… it isn't butter?
Some are smooth and velvety, while others are a little more toothy, like mine. And of course the flavors change based on spices, but also the sweeteners.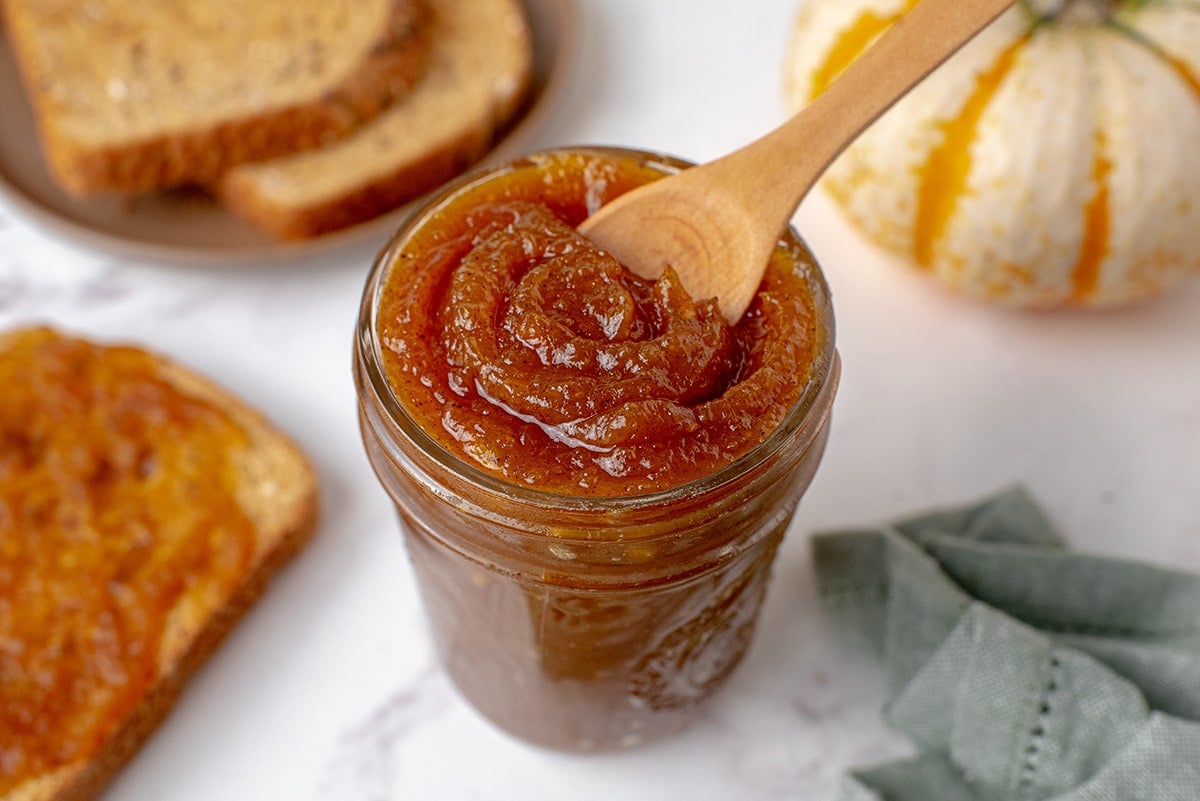 Brown sugar and granulated sugar are the most common, but I like using a touch of maple. Underlying molasses tones gives this version a more sophisticated profile.
I also like to make a homemade pumpkin spice so I can dial in the flavors that make me happy. If you don't feel like doing that or don't have the ingredients to do it, grab a pre-mixed jar at the store.
Ingredients
This pumpkin spread only requires five ingredients. The trick is to let is all simmer and marry. I do this on the stove since it only needs about an hour, but some prefer to use a slow cooker because it offers low and continuous even heat. Your call, the instructions stay the same.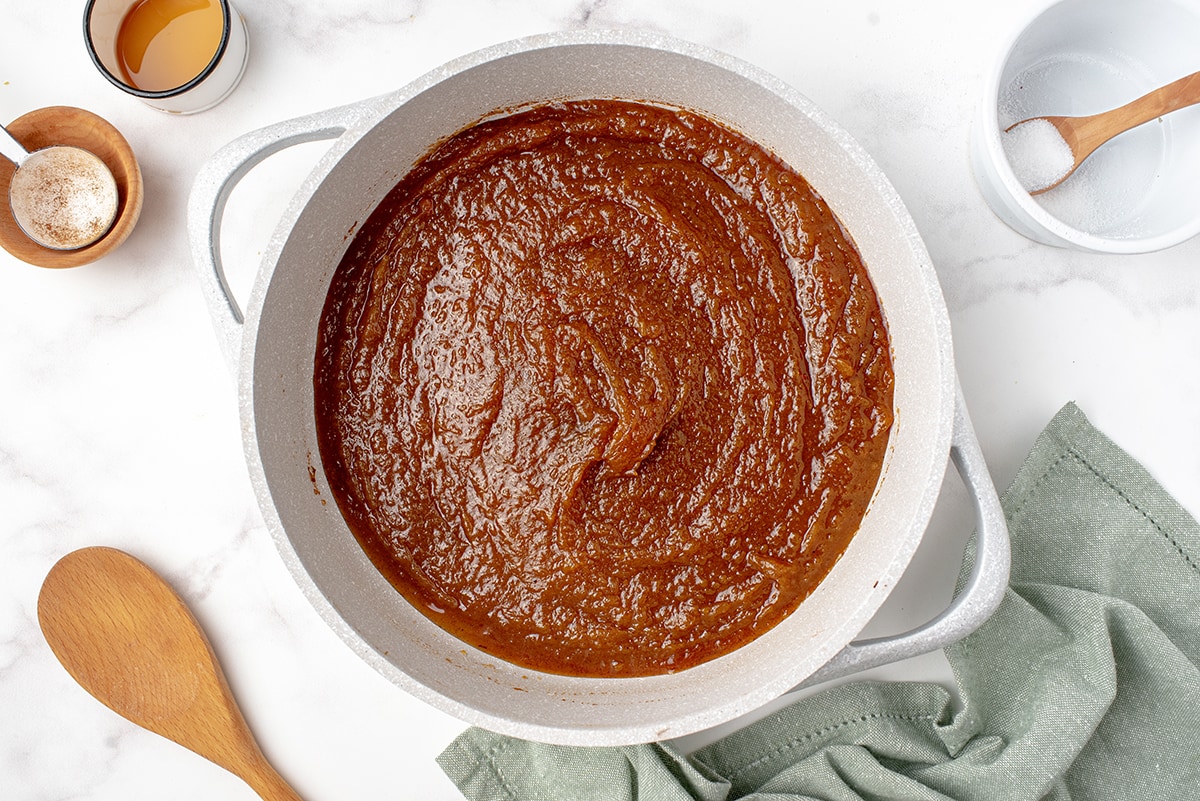 You'll need:
Pumpkin Puree (not pumpkin pie filling)
Apple Juice- or Apple Cider
Sugar – if you want a more molasses flavor, substitute brown sugar
Maple Syrup– alternately, use honey or agave nectar
Spice Mix– use any combo of warm spices like ground cinnamon, nutmeg, ginger and allspice.
Some also use a small splash of lemon juice or apple cider vinegar as an acid, but apple juice will provide a similar balance.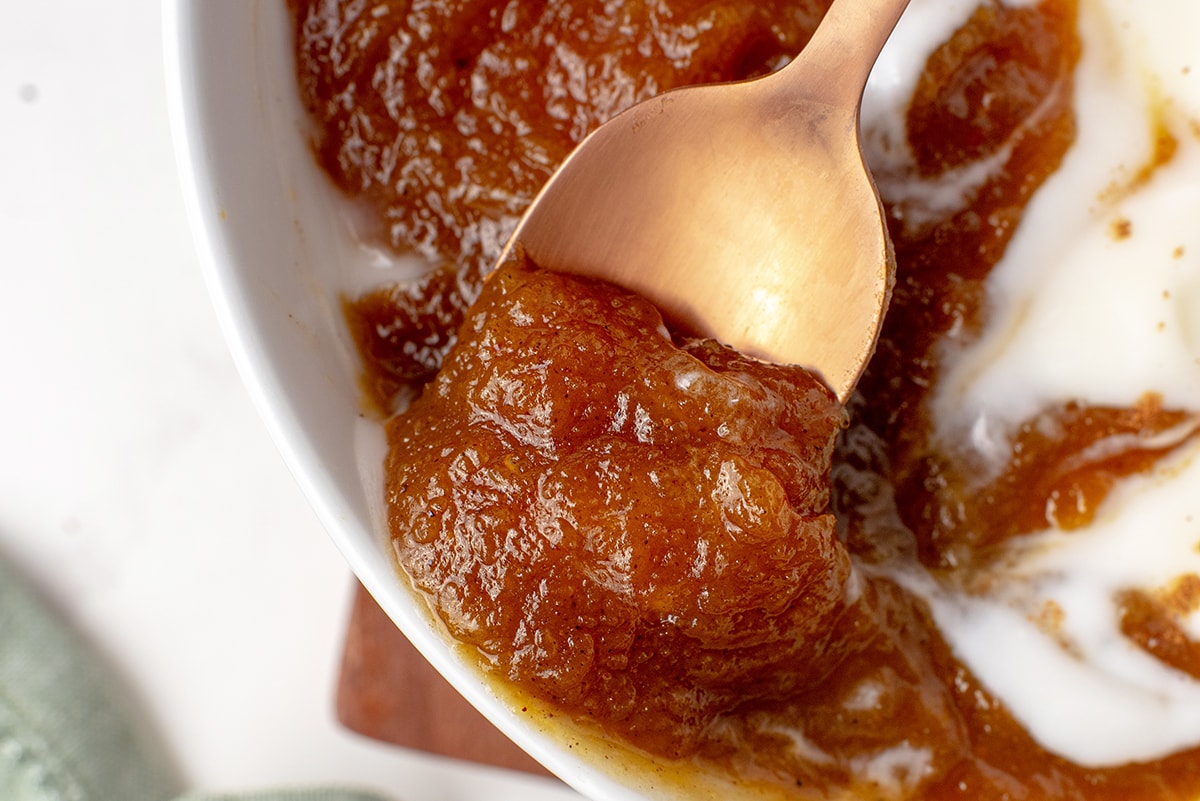 Make It! (Step-by-Step)
Combine pumpkin, apple juice, sugar, maple syrup and spices in a large saucepan, bringing them to a low boil over medium-high and then back it down to a very low simmer.
Continue to cook for about 1 hour, stirring frequently, until it reduces, thickens and darkens.
Serve warm or allow to cool. If refrigerating for later, allow to cool fully before chilling, canning or freezing.
Crock Pot Option
Top make this recipe in the slow cooker, follow the same instructions, but put the slow cooker on low heat for 2-3 hours, stirring frequently.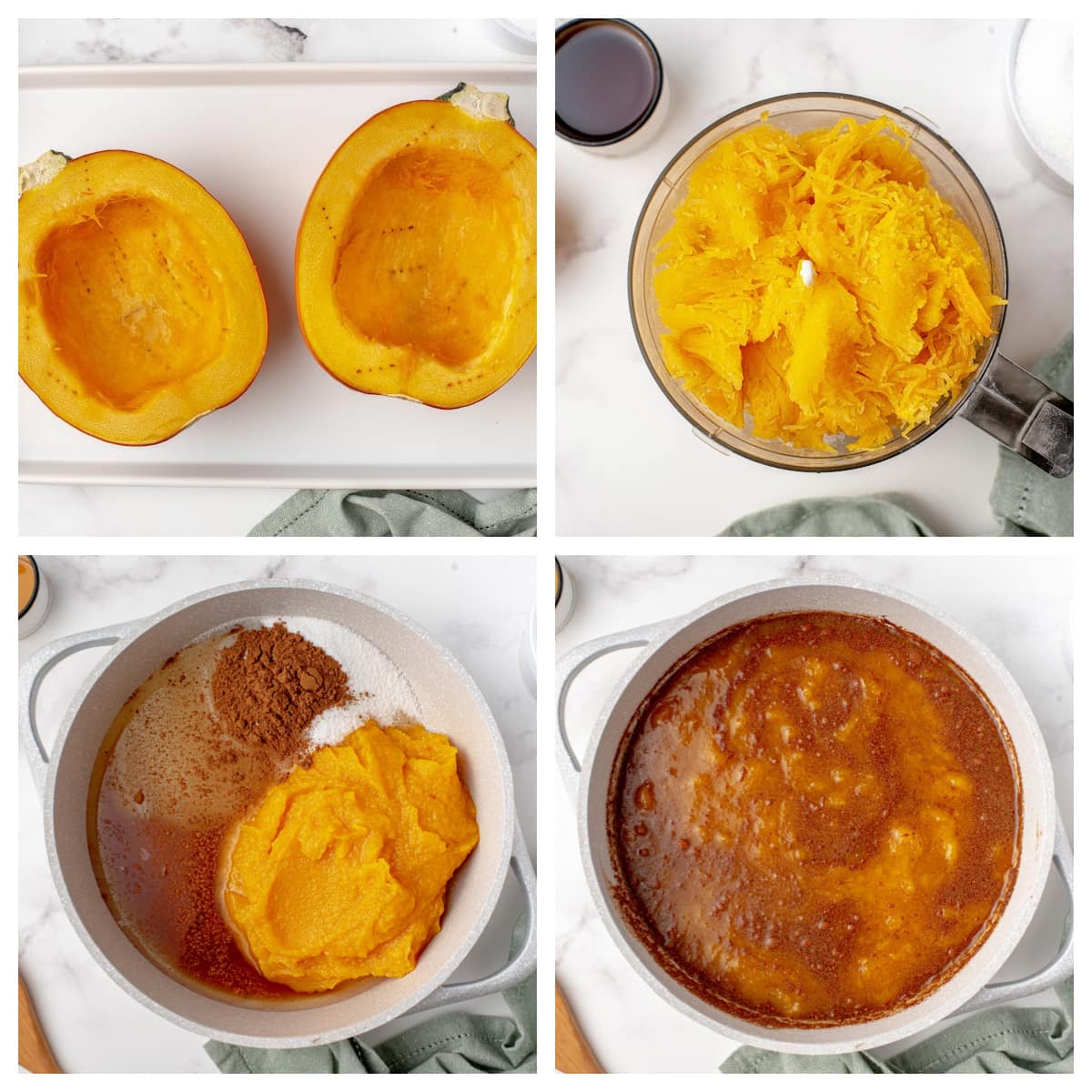 Smooth as Butter
Pumpkin butter has a unique texture that is nice and smooth. The way to achieve this is to use canned pumpkin puree, it is much smoother than freshly made puree, or throw the finished product in the food processor for a spin until a silky spreadable form.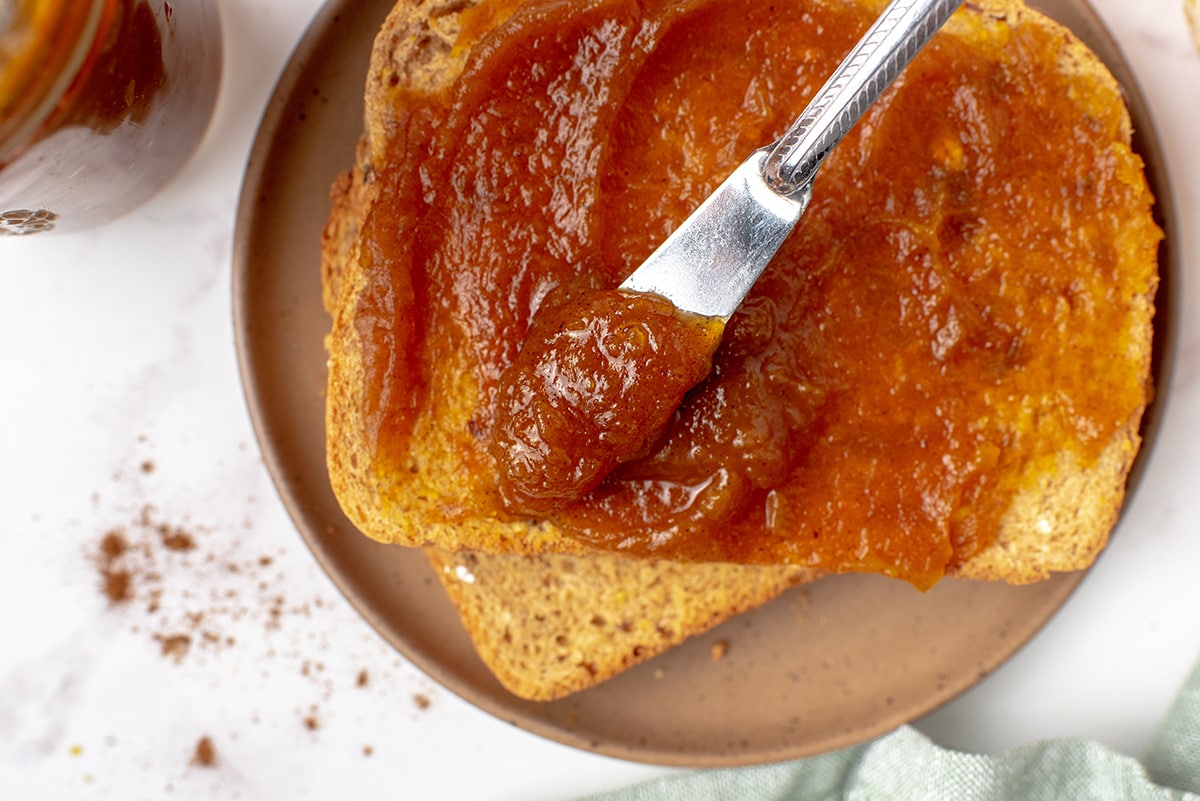 What to Serve it On
It is the perfect spread for scones, muffins, pancakes, waffles, English muffins, toast, baked sweet potatoes, over vanilla ice cream and the list goes on. But one of my favorites? Simply mixing it with vanilla yogurt. It is heavenly! My kids they like to use it as a dip for graham crackers.
Some folks also like to blend it with nut butters like peanut butter or almond butter.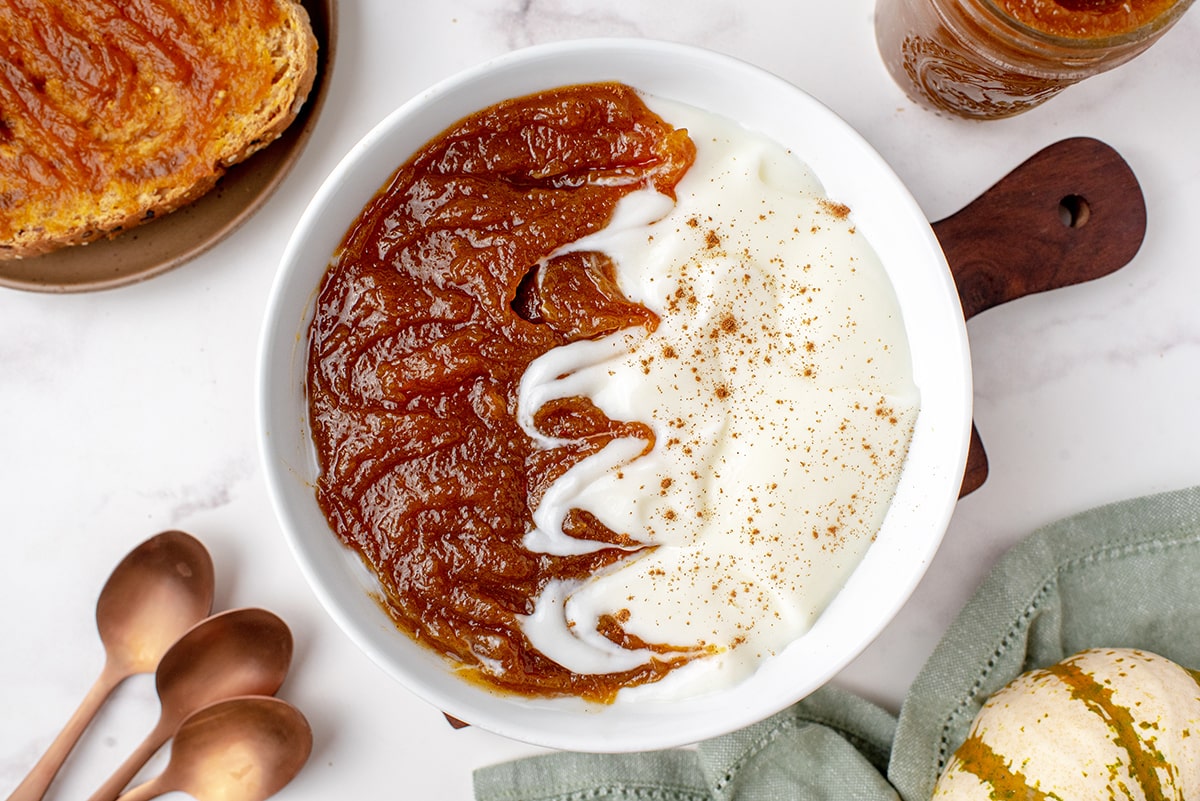 But that's not it! Pumpkin butter can be used in so much more than that and not just as a topping. You can make pumpkin milkshakes, pumpkin lattes, pumpkin sundaes!
Get creative those creative juices flowing and the sky will be the limit.
Storage & Freezing
This easy recipe is great for making ahead, freezing and/or canning. Allow it to come fully to room temperature before attempting any storage.
For short periods, place in an airtight container and store in the fridge for up to 14 days. Freeze for up to 6 months.
I am not an expert on canning, but from what I hear, it isn't recommended to pressure can any pureed squash. You can still give it as a great gift in a pretty jar and festive ribbon with a note about storage instructions.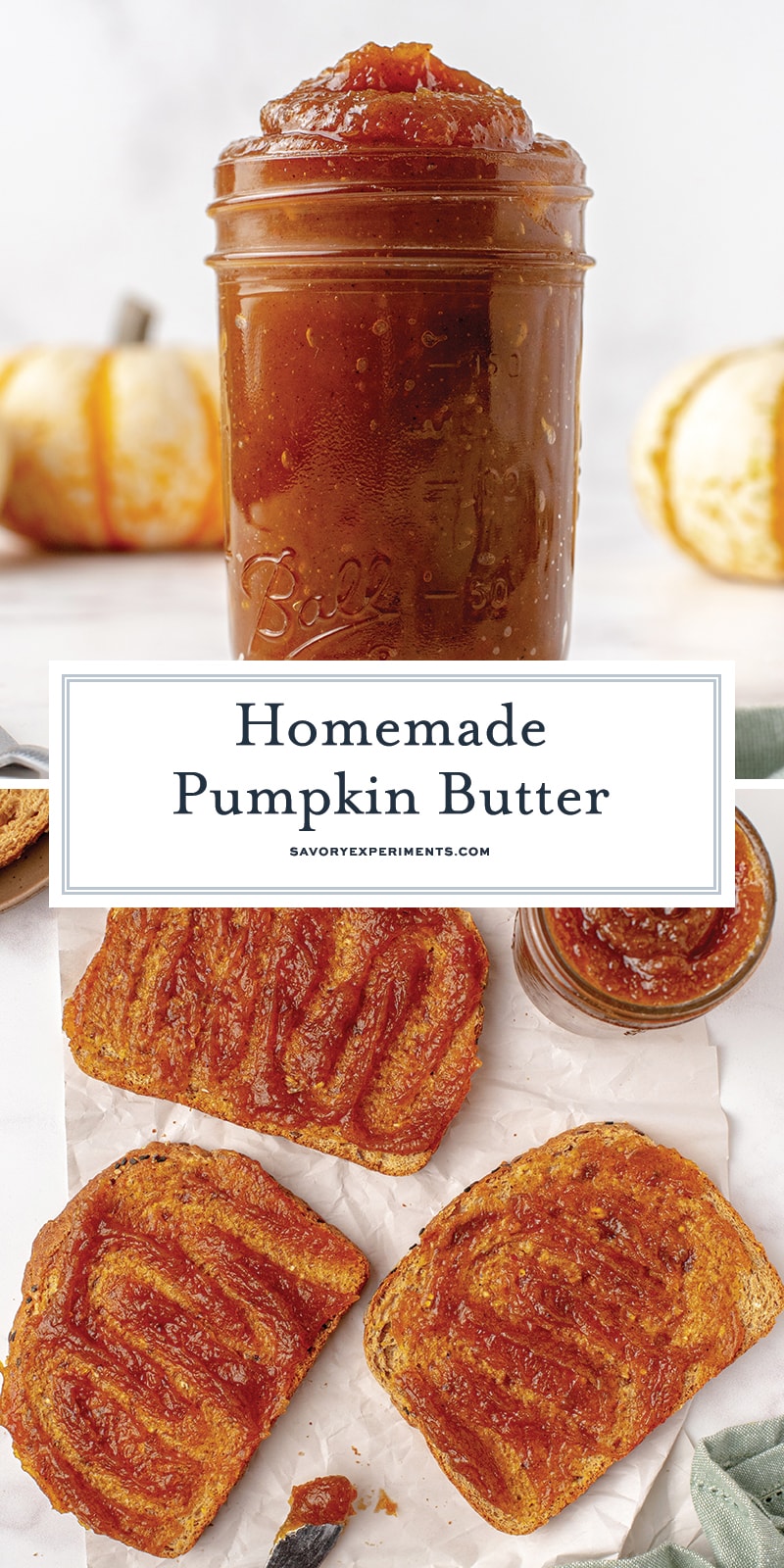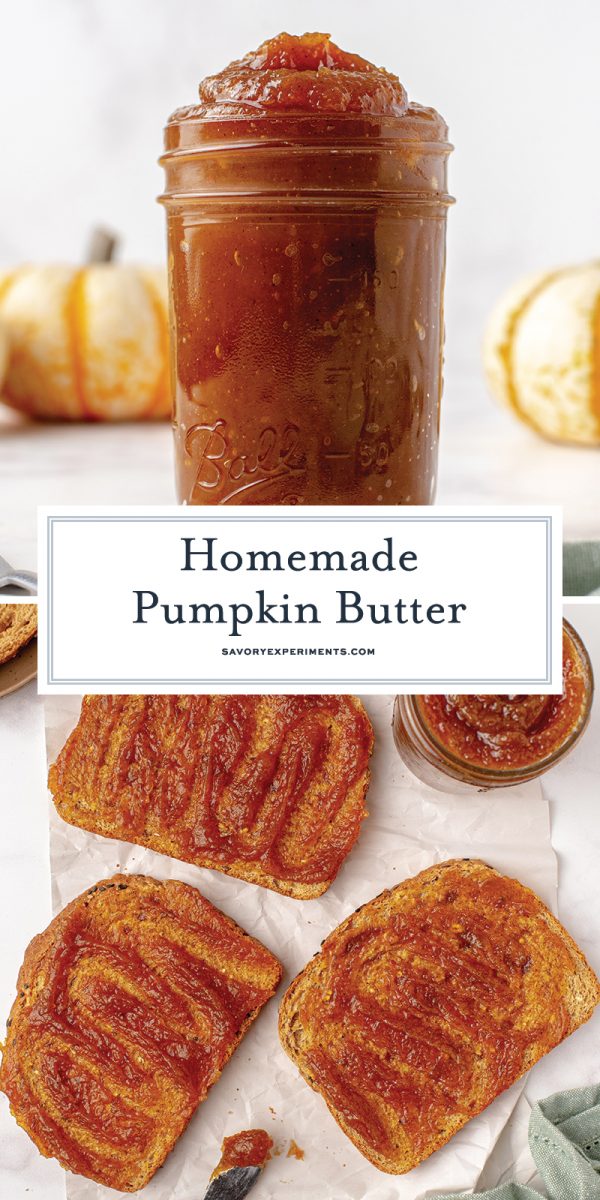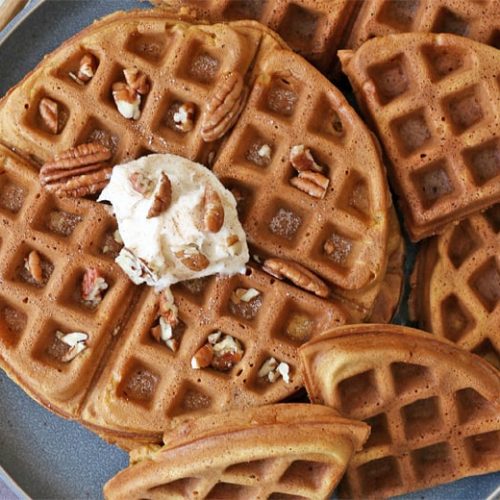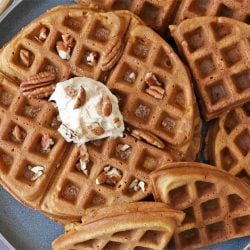 Pumpkin Waffles
Homemade waffles don't get much better than these Pumpkin Waffles! Full of fall flavor and perfect for breakfast or brunch! Homemade waffles don't get much better than these Pumpkin Waffles! Full of fall flavor and perfect for breakfast or brunch!
See The Recipe!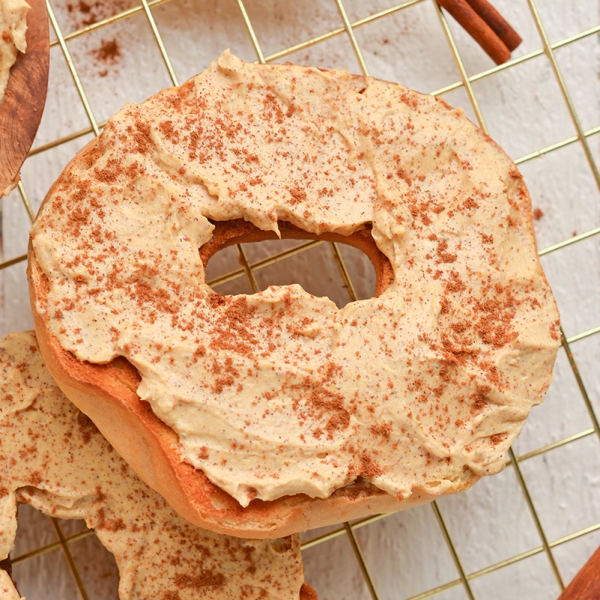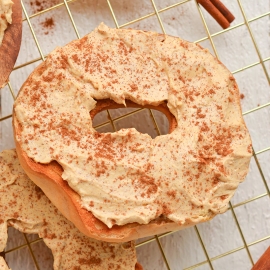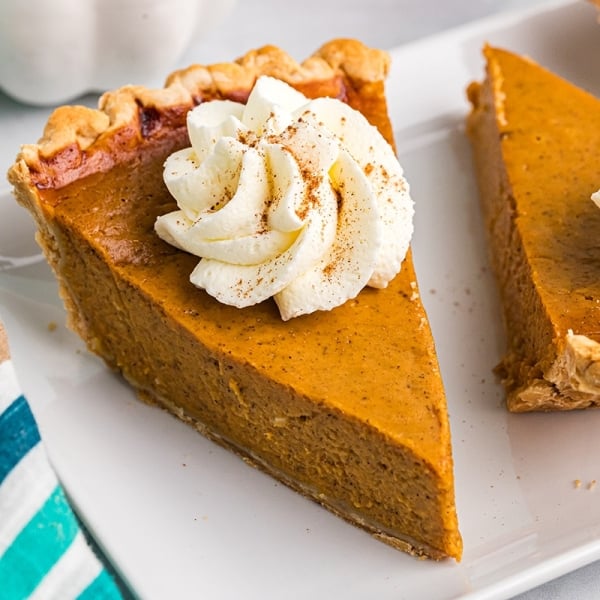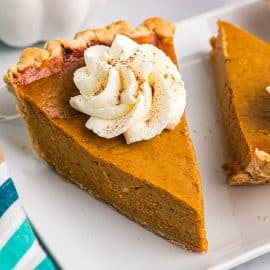 Easy Pumpkin Pie
This Easy Pumpkin Pie is just perfect for Thanksgiving! Perfectly creamy and delicious, this pumpkin pie recipe is perfection!
See The Recipe!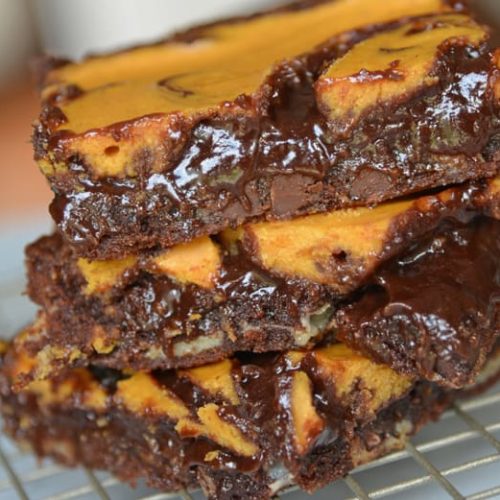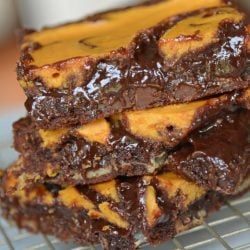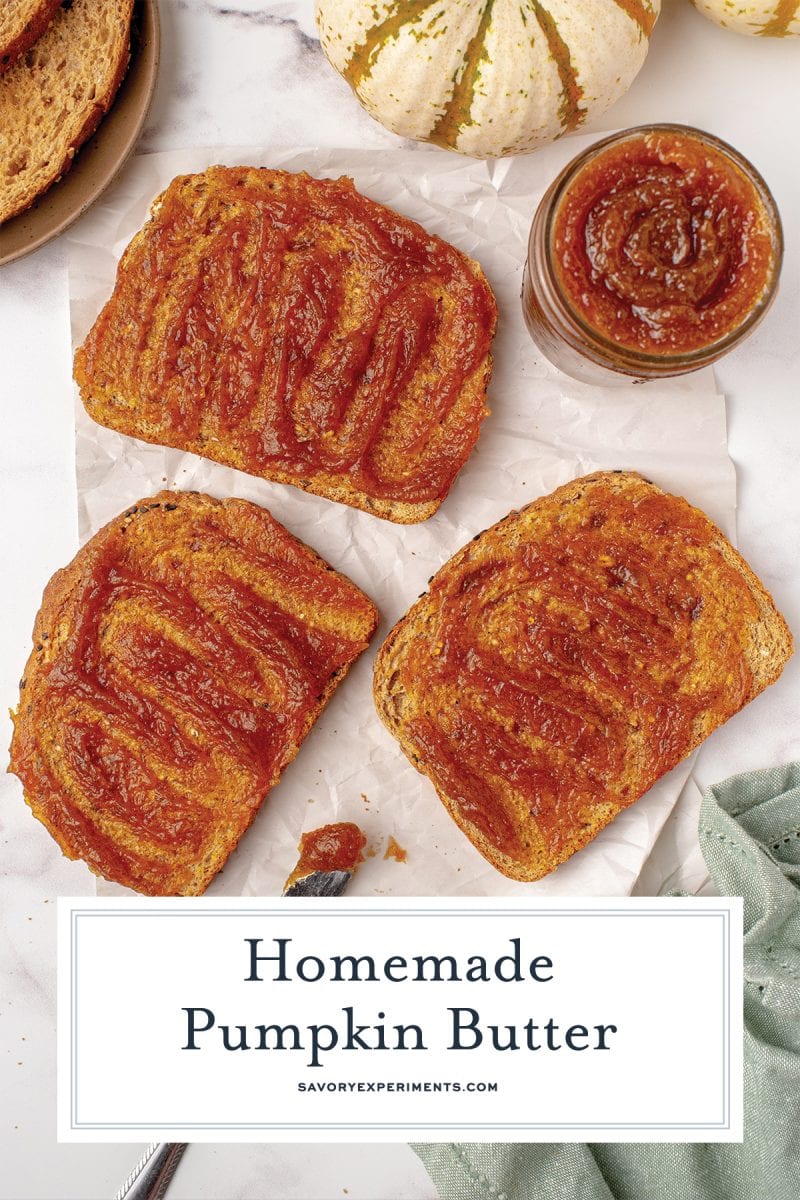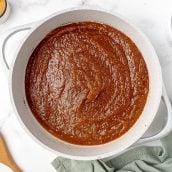 Homemade Pumpkin Butter
Pumpkin Butter is an easy spread that can be used on everything from pancakes to dinner rolls and everything between! Make extra to give as presents, hostess gifts or party favors during the fall months.
Instructions
Preheat oven to 325°F. Cut the pumpkin in half, stem to base. Scrape out seeds and pulp. Reserve seeds to make baked seeds, if desired.

Place halves on a rimmed baking sheet. Sit halves meat side up (cut a small slice out on the bottom of each to allow them to sit evenly without rolling).Cover each half with aluminum foil. Bake for 60 minutes, or until pumpkin meat is fork tender.

Scrape pumpkin meat from shell halves and puree in a blender or food processor. Remove any remaining stringy pieces or seeds. If it is super thick, add 1 tablespoon of water.

Place the pumpkin puree (about 3 1/2 cups), sugar, apple juice, maple syrup and pumpkin pie spice in a heavy bottom sauce pan. Heat over medium-low until lightly simmering.

Stir well and reduce heat to low. Continue to stir and simmer for 40-60 minutes. This greatly depends on the water content of your pumpkin puree, so watch carefully to make sure it doesn't get too thick or scald. Canned pumpkin will need less time than fresh pumpkin puree.

Mixture will have some texture, place in a food processor to make it smooth, if desired. It should be thick and spreadable, but not too watery.

If you've tried this recipe, come back and let us know how it was in the comments or ratings.
Notes
This recipe can be made in the slow cooker, simple follow the same instructions for assembly and cook on low for 2-3 hours.
For smoother pumpkin butter, give it a few spins in a food processor or blender.
Nutrition
Calories:
591
kcal
,
Carbohydrates:
149
g
,
Protein:
3
g
,
Fat:
1
g
,
Sodium:
21
mg
,
Potassium:
725
mg
,
Fiber:
8
g
,
Sugar:
131
g
,
Vitamin A:
44485
IU
,
Vitamin C:
13
mg
,
Calcium:
122
mg
,
Iron:
4.4
mg