Roasted Pumpkin Seeds are a fall staple in my house and they will be in yours as well. This is a spiced and savory recipe that takes minimal prep time and the rest of the time they're baking in the oven.
Roasted Pumpkin Seeds
Yippee! I am glad you made it over here for my Roasted Pumpkin Seeds recipe. I get sad seeing pulpy pumpkin seeds go to waste after the grand carving of the pumpkins.
Carving jack o'lanterns is an activity the whole family can enjoy. And making roasted pumpkin seeds is too!
Whether you call them roasted or baked pumpkin seeds, they are amazingly delicious. The actual seed doesn't hold much flavor, but they do have a unique texture and are a blank slate for so many different spice blends.
Today I'm sharing a basic zesty and salty pumpkin seed seasoning that is easy to customize and also totally crave worthy.
Pumpkin Seed Benefits
Truth is, these bad boys are delicious and nutritious. This is the best pumpkin seed recipe ever.
So what are the health benefits of pumpkin seeds?
High in fiber
Contain magnesium and zinc
Linked to improving prostate health, diabetes and inflammation
A low calorie food
A low fat food
Ingredients
Pumpkin seeds – The next time you and the family carve pumpkins, don't throw out the seeds! Larger carving pumpkins yield cups and cups of seeds. I always prefer fresh pumpkin seeds too. You want clean seeds, so make sure they are completely clean from the slimy pumpkin flesh.
Butter – In order to get that delicious spice blend to stick to the cleaned seeds, we need a binding agent. Melted butter does just that, but also provides great flavor. You could use olive oil instead if you prefer.
Fine sea salt – If you are using salted butter, I would omit the salt or at the very least cut it down. I like using fine sea for this tasty snack.
Seasonings – I like to use a blend of garlic powder, onion powder, paprika and ground red pepper. Of course, the combinations are endless, so read below to discover other seasoning options.
Pumpkin Seeds vs. Pepitas
You might also be wondering what the difference is between these big pumpkin seeds and the smaller seeds commonly known as pepitas.
Well, they both come from a pumpkin, but different types of pumpkins. Oilseed or Styrian pumpkins grow seeds without an outer shell (the large white exterior) and instead the shells turn green.
If you were to break open a regular large white pumpkin seed, there would be a tiny seed inside, but it won't be green.
Try pepitas on everything from salads to desserts, like my Pumpkin Cheesecake (I love the salty and sweet). I like salty snacks, so I try to make my healthy snacks, like kale chips and roasted pumpkin seeds into the flavor I crave.
How to Make Roast Pumpkin Seeds
So now are you wondering how to bake pumpkin seeds? It is really quite easy, just take some butter and seasoning and roast.
PRO TIP: Spread the seeds in an even single layer to make sure they cook evenly.
I like to leave a little of the pulp on there to add flavor, but hubby prefers them to be rinsed. Your choice.
Even if you aren't carving pumpkins or making homemade pumpkin puree to get your own seeds, you can easily buy pumpkin seeds at the store. You can even toss them in pumpkin pie spice for a sweet treat!.
Prepare oven and sheet pan. Preheat oven and cover a rimmed baking sheet with aluminum foil.
Make seasoning blend. Combine fine sea salt through ground red pepper in a small bowl, mix well.
Toss seeds. In a medium mixing bowl, toss pumpkin seeds with butter to coat evenly. Add spice mix, tossing to coat.
Bake. Lay in a single layer on prepared baking sheet and roast, turning halfway through until golden brown.
Of course they make a great snack just like sunflower seeds, but you can really use them for so much more than a healthy snack. Top any number of pumpkin recipes like pumpkin soup, pumpkin bread or even pumpkin muffins.
Variations
There are many ways to season this easy roasted pumpkin seeds recipe. Here are a few of my favorite ways:
Black pepper
Curry powder
Chili powder
Cayenne pepper
Parmesan cheese
You could even make them sweet instead of savory with things like:
Maple syrup
Brown sugar
Cinnamon sugar
Storage & Freezing
They don't need to be refrigerated, so you can carry them around with you as a snack. They are also excellent for incorporating into recipes like topping a salad or pasta dish.
The best way to store them is at room temperature for up to a week in an airtight container, but good luck getting them to last that long!
Pumpkin seeds can be frozen for up to 3 months in an airtight plastic bag or container.
Pumpkin Apple Pie with Pecan Crust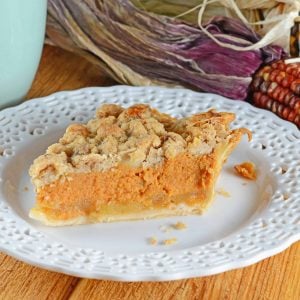 Pumpkin Apple Pie is the best of both worlds! Pumpkin pie and apple pie merged together in a pecan crust with streusel topping. The perfect holiday dessert!
Frosted Pumpkin Pie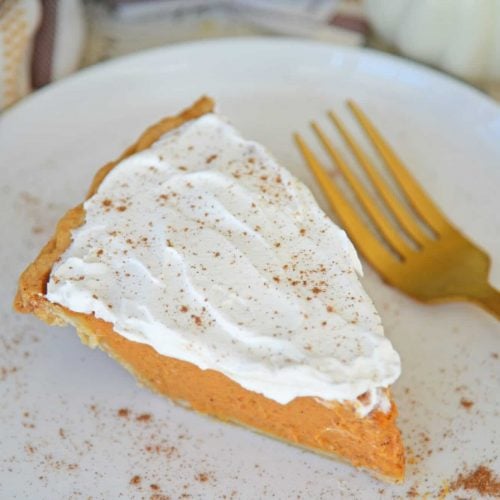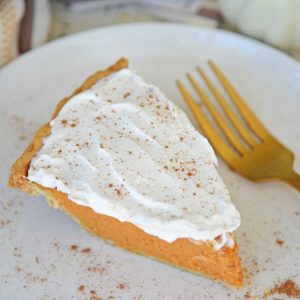 Pumpkin Pie with a whipped cream frosting.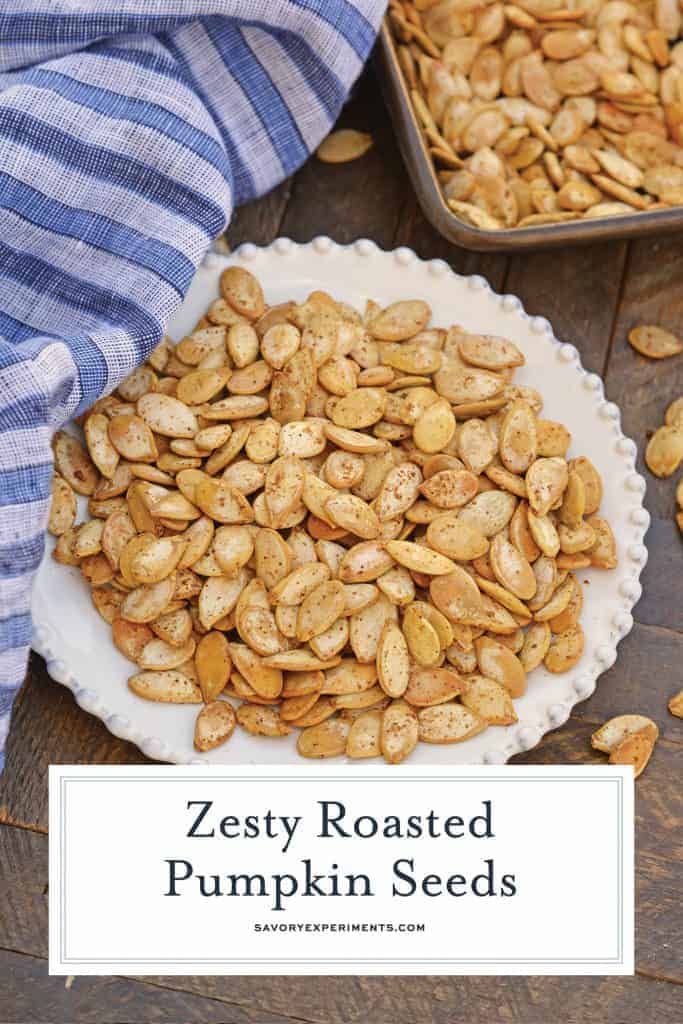 Roasted Pumpkin Seeds
Chances are you are Googling "how to make salted pumpkin seeds" and you came across my Roasted Pumpkin Seeds Recipe!
Instructions
Preheat oven to 300 degrees and cover a rimmed baking sheet with aluminum foil.

Combine fine sea salt through ground red pepper in a small bowl, mix well.

In a medium mixing bowl, toss pumpkin seeds with butter to coat evenly. Add spice mix, tossing to coat.

Lay in a single layer on baking sheet, roasting for 20 minutes. Turn and roast for an additional 20 minutes.

Eat warm or room temperature.
Nutrition
Calories:
231
kcal
|
Carbohydrates:
3
g
|
Protein:
9
g
|
Fat:
21
g
|
Saturated Fat:
6
g
|
Cholesterol:
15
mg
|
Sodium:
1796
mg
|
Potassium:
258
mg
|
Fiber:
1
g
|
Vitamin A:
235
IU
|
Vitamin C:
0.6
mg
|
Calcium:
15
mg
|
Iron:
2.8
mg