Roasted Pumpkin Seeds are a fall staple in my house and they will be in yours as well. This is a spiced and savory recipe that takes minimal prep time and the rest of the time they're baking in the oven.
These Roasted Pumpkin Seeds are the perfect fall snack, or topping to add to salads or pasta! Roasted Pumpkin Seeds benefits are that they are healthy, nutritious, and delicious!
Yippee! I am glad you made it over here for my Roasted Pumpkin Seeds recipe. I get sad seeing pulpy pumpkin seeds go to waste after the grand craving of the pumpkins.
Truth is, these bad boys are delicious and nutritious. This is the best pumpkin seed recipe ever.
So what are the health benefits of pumpkin seeds?
High in fiber
Contain magnesium and zinc
Linked to improving prostate health, diabetes and inflammation
A low calorie food
A low fat food
They don't need to be refrigerated, so you can carry them around with you as a snack. They are also excellent for incorporating into recipes like topping a salad or pasta dish.
You might also be wondering what the difference is between these big pumpkin seeds and the green pumpkin seeds commonly known as pepitas.
Well, they both come from a pumpkin, but different types of pumpkins. Oilseed or Styrian pumpkins grow seeds without a hull (the large white exterior) and instead the shells turn green.
If you were to break open a regular large white pumpkin seed, there would be a tiny seed inside, but it won't be green.
Try pepitas on everything from salads to desserts, like my Pumpkin Cheesecake (I love the salty and sweet). I like salty snacks, so I try to make my healthy snacks, like kale chips and roasted pumpkin seeds into the flavor I crave.
So now are you wondering how to bake pumpkin seeds? It is really quite easy, just take some butter and seasoning and roast.
PRO TIP: Spread the seeds in an even single layer to make sure they cook evenly.
I like to leave a little of the pulp on there to add flavor, but hubby prefers them to be rinsed.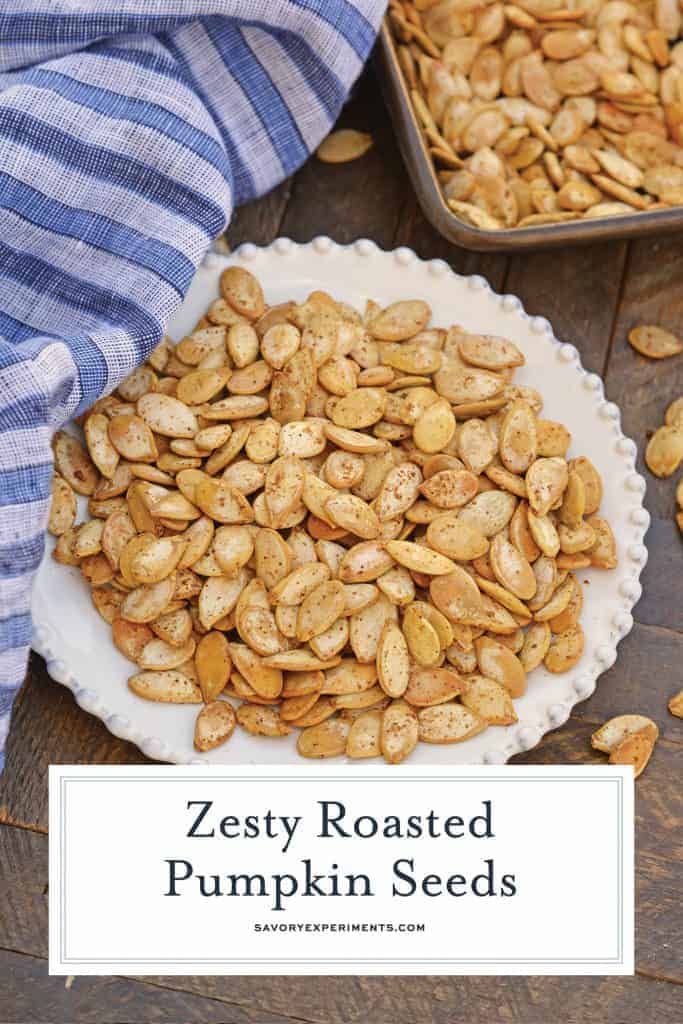 Your choice! Even if you aren't carving pumpkins or making pumpkin puree to get your own seeds, you can easily buy pumpkin seeds at the store. You can even toss them in pumpkin pie spice!
Questions about how to make pumpkins seeds:
Can I freeze pumpkin seeds? You sure can! Just make sure you put them in an airtight plastic bag. They tend to get freezer burnt a little faster than other foods, so use them within 3 months.
How do I store roasted pumpkins seeds? In an airtight container at room temperature.
Are pumpkin seeds healthy? I loathe this questions. The honest answer is that I am not a nutrition professional and the definition of "healthy" is different for everyone. Especially these days with so many specialty diets.
Scroll on down and check out the nutritional information to judge for yourself.
If you want to make them even healthier, omit the melted butter and use a whisked egg white instead to bond the seasoning to your seeds.
Are pumpkins seeds gluten free? This recipe is gluten free.
CONNECT WITH SAVORY EXPERIMENTS!

Be sure to follow me on social media, so you never miss a post!

Facebook | Twitter | Youtube
Pinterest | Instagram

Get our FREE 8 Day E-Course on How to Be a Better Home Cook. Sign up HERE!