While I might not be all in on a pumpkin spice latte in August (just like winter holiday decor at retail stores in September), once the cool weather hits I am definitely ready for some fall festivity in the form of food. These pumpkin muffins with streusel topping are one of the first fall recipes I take to making.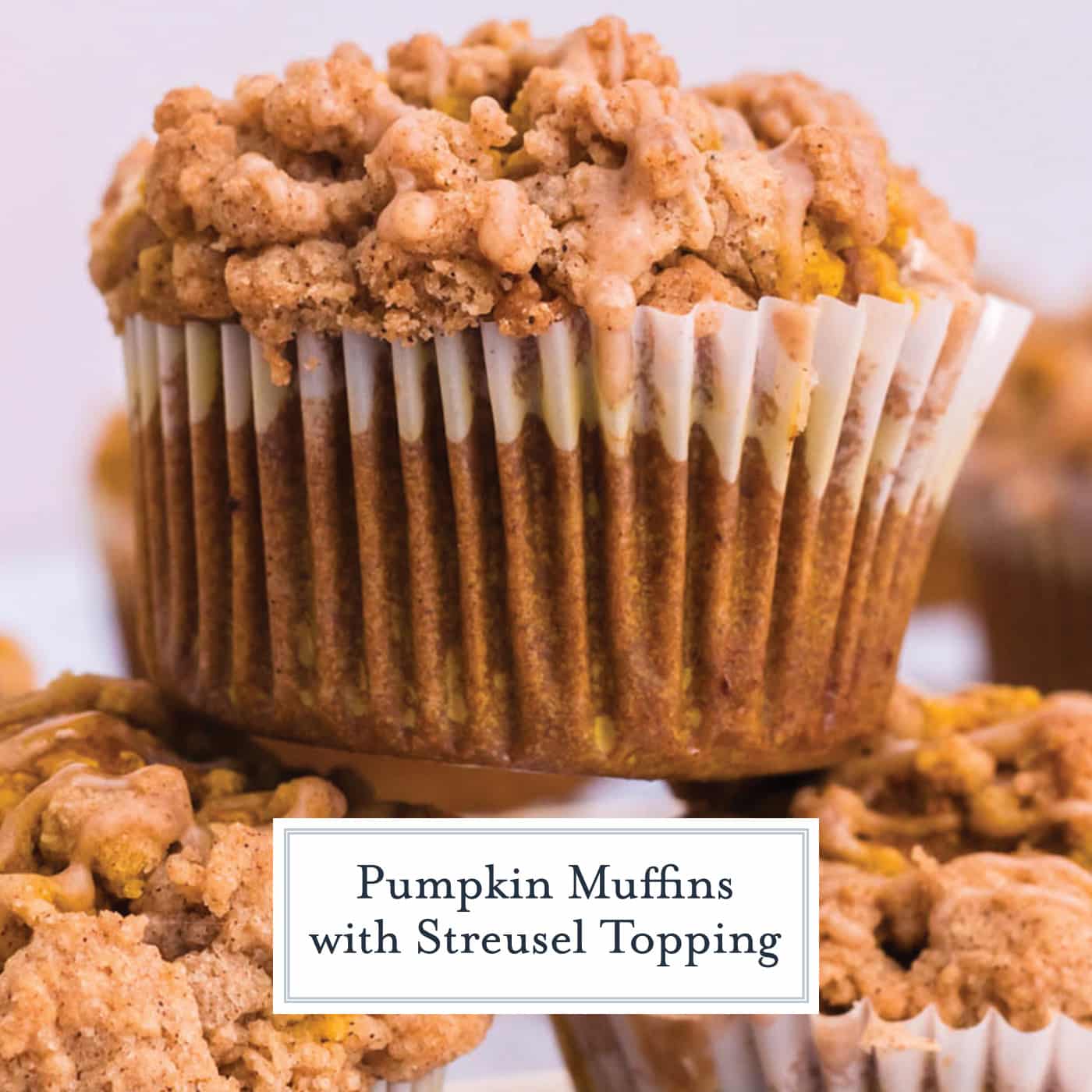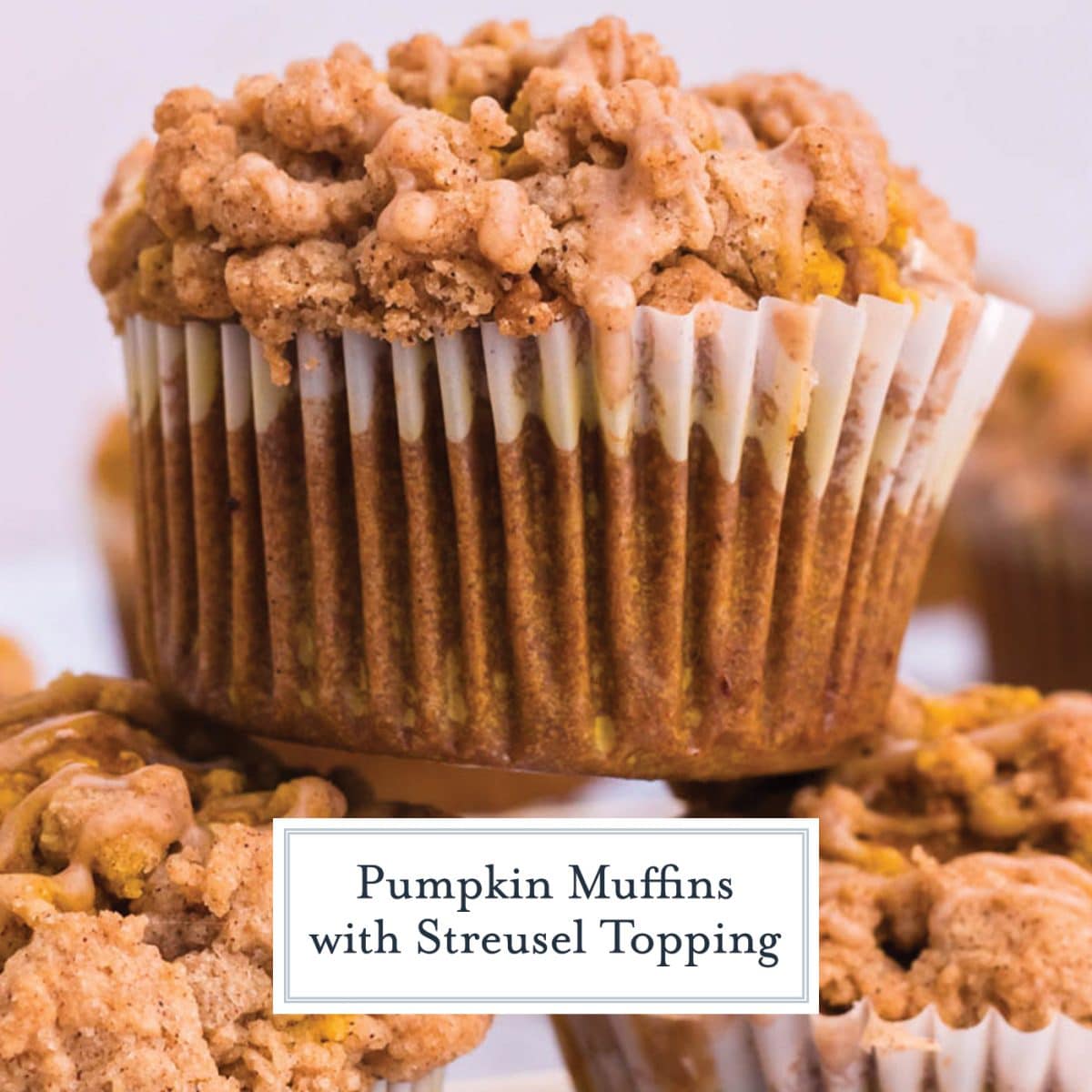 There's no other time of year with spices that completely bring the flavor of the season to you like autumn. Cinnamon, cloves, nutmeg, and obviously pumpkin spice, bring the aromas and tastes to the kitchen that just epitomize fall in a flavor format.
I love pretty much any sweet treat that is fall-inspired from pumpkin cheesecake to cupcakes. However, this is one of my favorites since you can enjoy it as a breakfast treat as easily as you can make it an after-dinner dessert.
The next time you're looking for an easy recipe that imparts all of the flavors of the leaf-peeping season, try this pumpkin muffin recipe. There's nothing better than sitting down on a brisk fall morning with your coffee and these crunchy-topped pumpkin flavored muffins.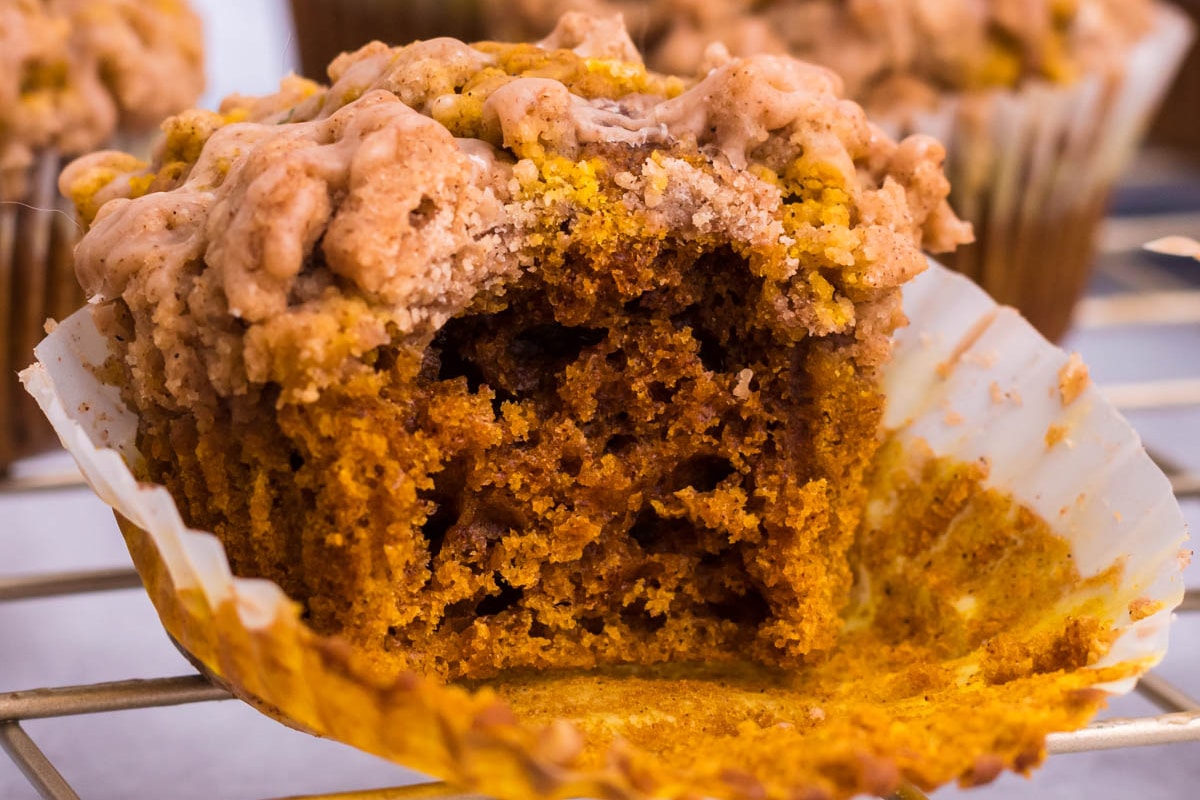 Why You'll Love These Muffins
The muffins are perfect all year but they're especially amazing in autumn. There are plenty of reasons to fall in love with them.
Pretty – These muffins with their textured topping are going to attract any party-goer or houseguest to grab one right up.
Seasonal – Whether you're basic or not, pumpkin spices bring all the fall flavor to the table. These muffins harness the taste of the season from the time the first leaf flutters to the ground until well after Thanksgiving.
Portable – Throw these on a covered cake carrier and bring them to any event from bonfires and cookouts to trunk-or-treats.
Customizable – You can add any flavors to these muffins that will make them your own from added spices in the batter or crunchy streusel topping to the fillings.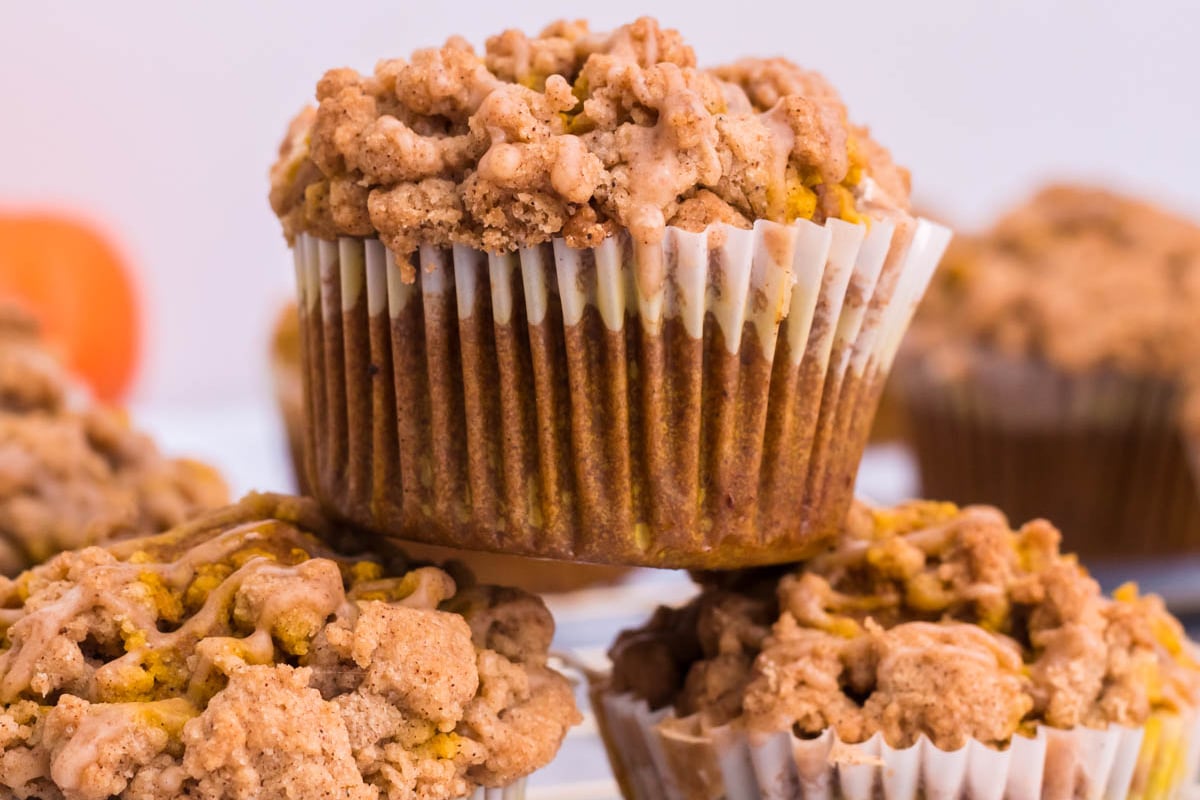 Ingredients
You probably keep most of these basic ingredients handy in your pantry. If not, they're easily accessible online and at local grocery stores.
Muffins
All-purpose flour – This ingredient will blend well and give your muffins the perfect rise.
Baking soda – A leavening ingredient, baking soda also helps your muffins to rise right.
Ground cinnamon – You can buy it ground or grind it at home, but cinnamon imparts the perfect aroma and flavor.
Pumpkin pie spice – Don't skimp on this important ingredient. It gives these muffins all of the autumnal flavor these muffins bring to the table.
Salt – Salt brings out all of the flavors incorporated into a baked good. Use whichever variety you prefer.
Vegetable oil – Vegetable oil is good for nearly any baked good but if you have a preferred oil you can switch it out.
Milk – Use regular milk for this to get just the right amount of moisture in these muffins.
Eggs – Whether you buy them or use the ones from your own chickens, make sure that they are about large sized.
Vanilla extract – This rounds out any baked good recipe — buy it or make it on your own to keep around for other baking endeavors.
Rum extract – While you may not have previously kept this around on the regular, it's amazing in these muffins and you can also use it in eggnogs, mocktails, and lattes.
Granulated sugar – The granules of typical white sugar dissolve quickly which makes them perfect for baked goods.
Light brown sugar – If you want your muffin to have that lighter colored look, stick with this. If you want more molasses flavor and don't mind darker coloration you can use dark brown sugar.
Pumpkin puree – Like the spice, this puree is a necessity to make these muffins pumpkin-y. You can make your own homemade pumpkin puree or you can buy it at the store, but just make sure to get the puree and not pumpkin pie filling.
Streusel Topping
All-purpose flour – Flour acts as a binder for the other streusel ingredients.
Granulated sugar – While it may not dissolve in the same the way that it does in the muffin batter, table sugar adds necessary sweetness and a bit of texture to the topping.
Light brown sugar – Just as with the muffin batter, you can certainly switch this out for dark brown sugar if it's what you have around.
Pumpkin pie spice – You can't miss out on adding more pumpkin flavor to the topping.
Ground cinnamon – A fall staple, cinnamon is a must-have on these muffins.
Unsalted butter – Make sure to use melted butter and not cold butter. The entire topping will mix more easily.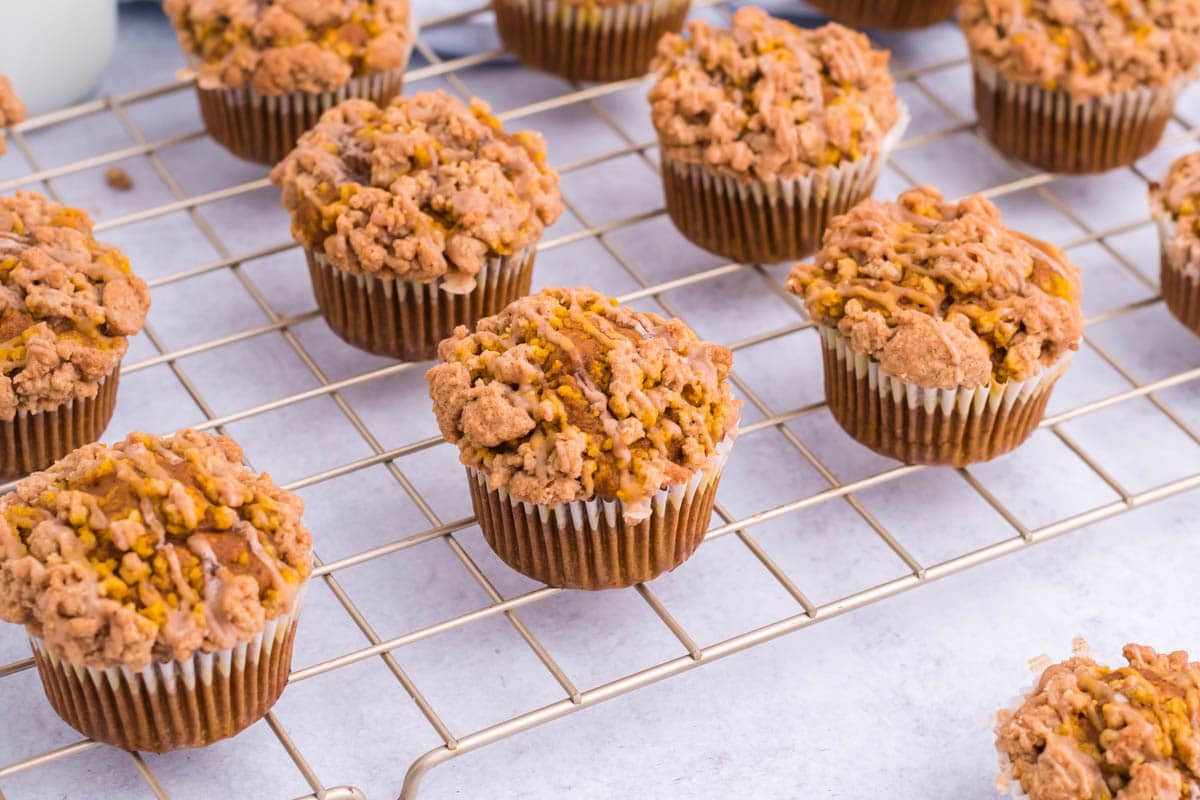 How To Make Pumpkin Muffins
Combine most of the dry ingredients for the muffins (flour, baking soda, cinnamon, pumpkin pie spice, and salt) in a large bowl.
Whisk together to fully combine.
After combining the wet ingredients (vegetable oil, milk, eggs, and extracts)nin a small bowl, add them and mix until they are fully combined — all dry ingredients should be moist. Avoid over-mixing to prevent dome-shaped or dense muffins.
Next, pour in the sugars and mix again until the sugars are combined and dissolved.
Finally, fold in the pumpkin puree and mix until the pumpkin mixture is entirely streak free.
Pour the pumpkin muffin batter into the muffin tin prepared with cupcake liners before setting aside to assemble the topping. The paper liners will make cleaning up the muffin cups a breeze.
For the crumb topping, combine all streusel toppings In a mixing bowl and mix until full combined.
Evenly distribute the topping on top of each of the batter filled liners.
Place the muffin pan in the oven and bake the streusel-topped batter and remove from the oven when toothpicks come out clean.
While the muffins are cooling on a wire rack, prepare the icing.
Place the sugar, cinnamon, and milk into a medium bowl and then whisk until it is silky smooth and free of lumps.
Spoon the icing into a piping bag or plastic bag. If using a plastic bag, cut off a small part of the corner when ready to use it.
Pipe the icing over the top of the muffins and enjoy immediately or store in the refrigerator.

Variations
These pumpkin muffins are perfect as they are but if you want to customize or elevate them the possibilities are endless.
Pumpkin seeds – Add some roasted seeds to the batter for crunchy texture or sprinkle them on top.
Chocolate chips – Chocolate makes everything better! Add dark, milk, or semi-sweet chips to the batter.
Cream cheese – Try using a cream cheese concoction to elevate these muffins, like this pumpkin cheesecake frosting. Pipe it into the center for a cream cheese filling or spread it over top before sprinkling the streusel.
Spice – Add any extra spices you might like from nutmeg to allspice or cloves.
Sour cream – Boost the moisture in any baked good using sour cream or Greek yogurt. It also adds a little tang.
Maple syrup – Drizzle a little maple syrup over the muffins after adding the streusel to really amp up that fall flavor, or just add it to the mixture before topping to make a sweet streusel.
Flour – If you want a lower carb count in the muffin or the topping, experiment with swapping out all purpose flour for alternative flours like almond or coconut.
Vanilla – You can add vanilla to the icing to make it a vanilla glaze with pumpkin flavor.
Bread – Instead of muffins, pour the batter in a loaf pan and make pumpkin bread instead.
Banana – Add some mashed ripe bananas to your batter to make pumpkin banana muffins.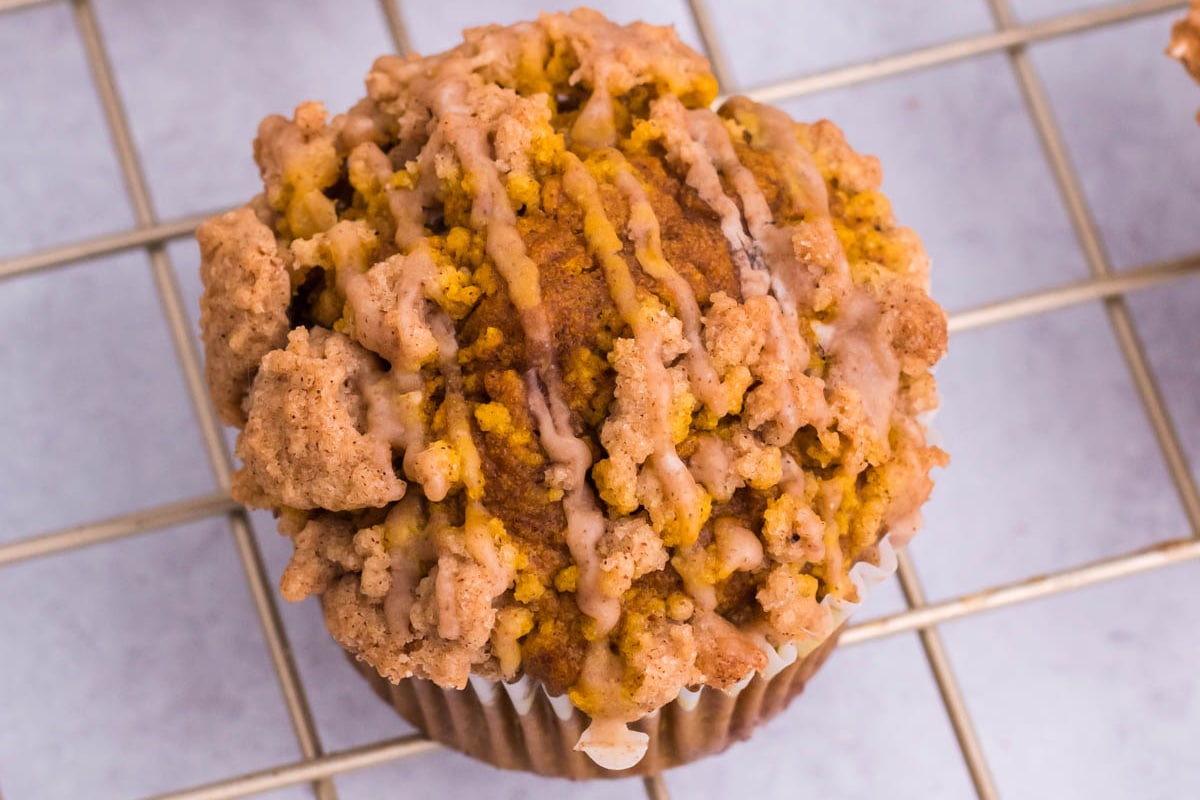 Storage & Freezing
Storage: You can store pumpkin muffins in an airtight container at room temperature for up to 4 days or 7 days in the refrigerator.
Freezing: You can individually wrap the muffins in plastic wrap and store for up to 3 months. These are better stored frozen when wrapping just the muffin and adding the topping later.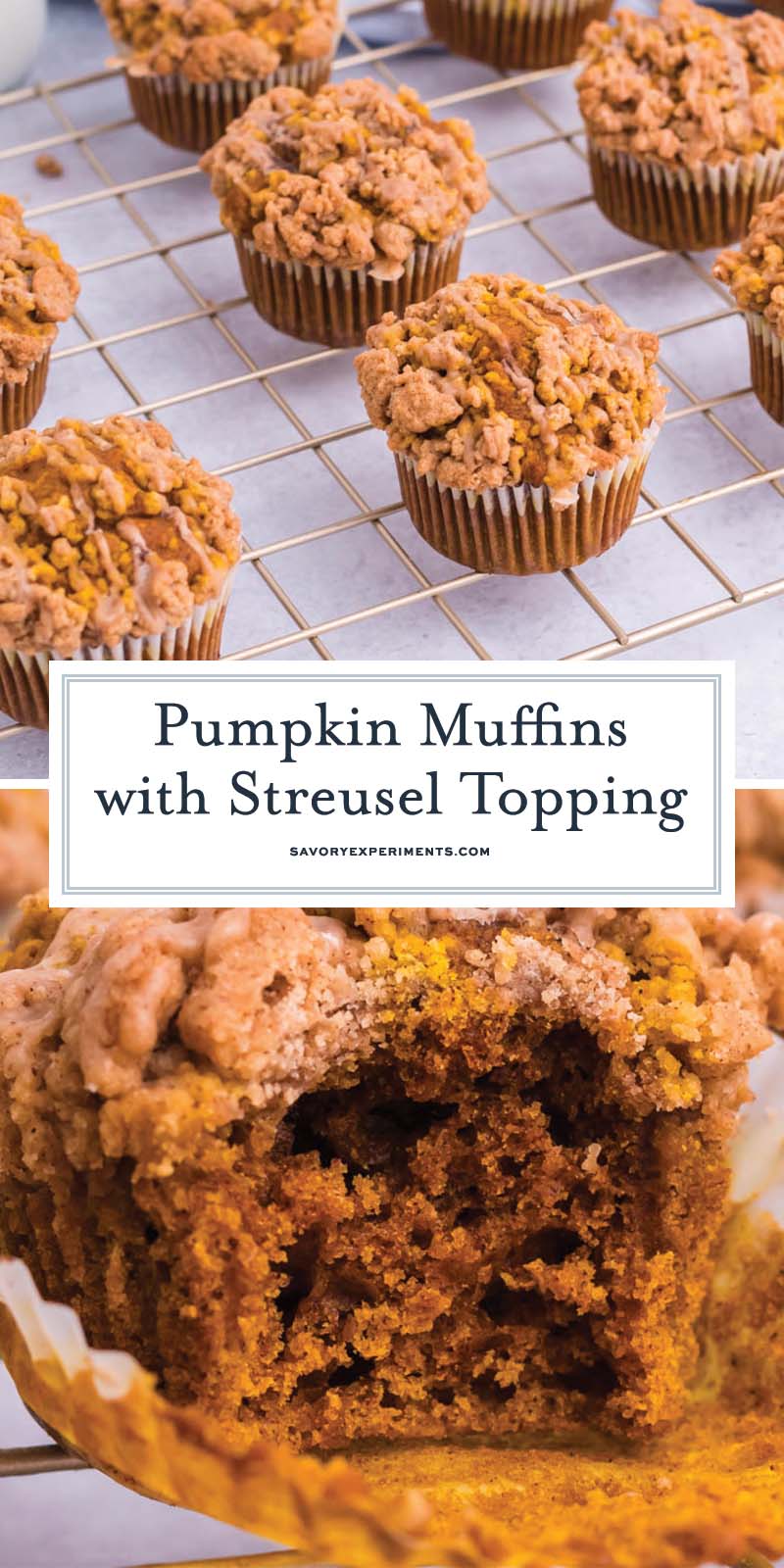 More Muffin Recipes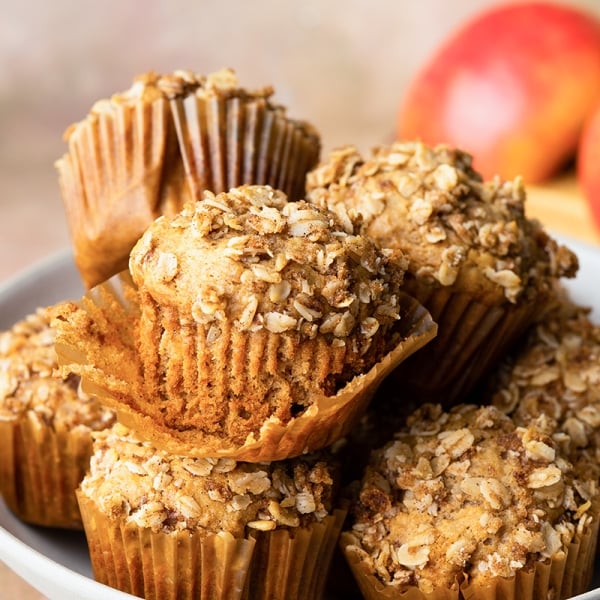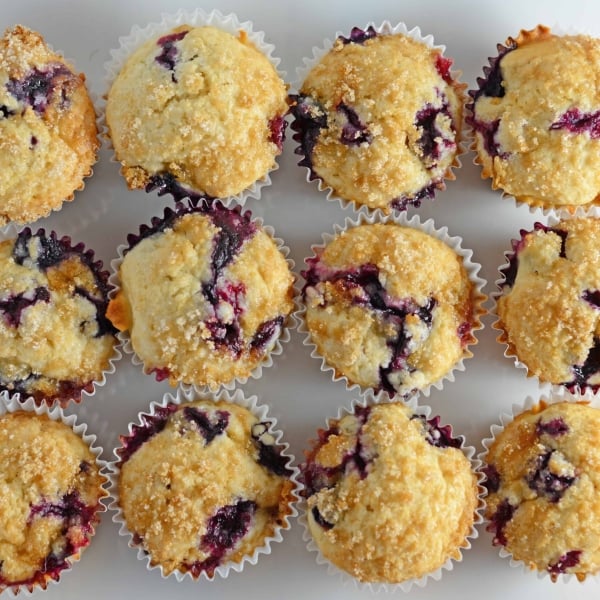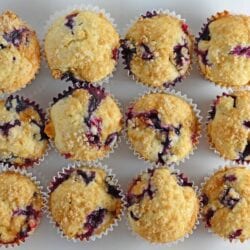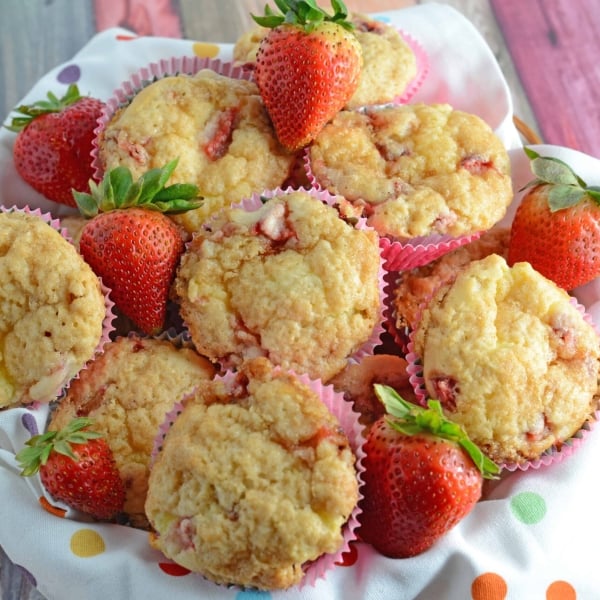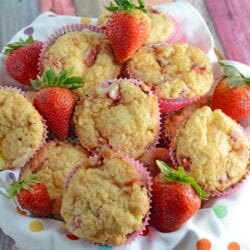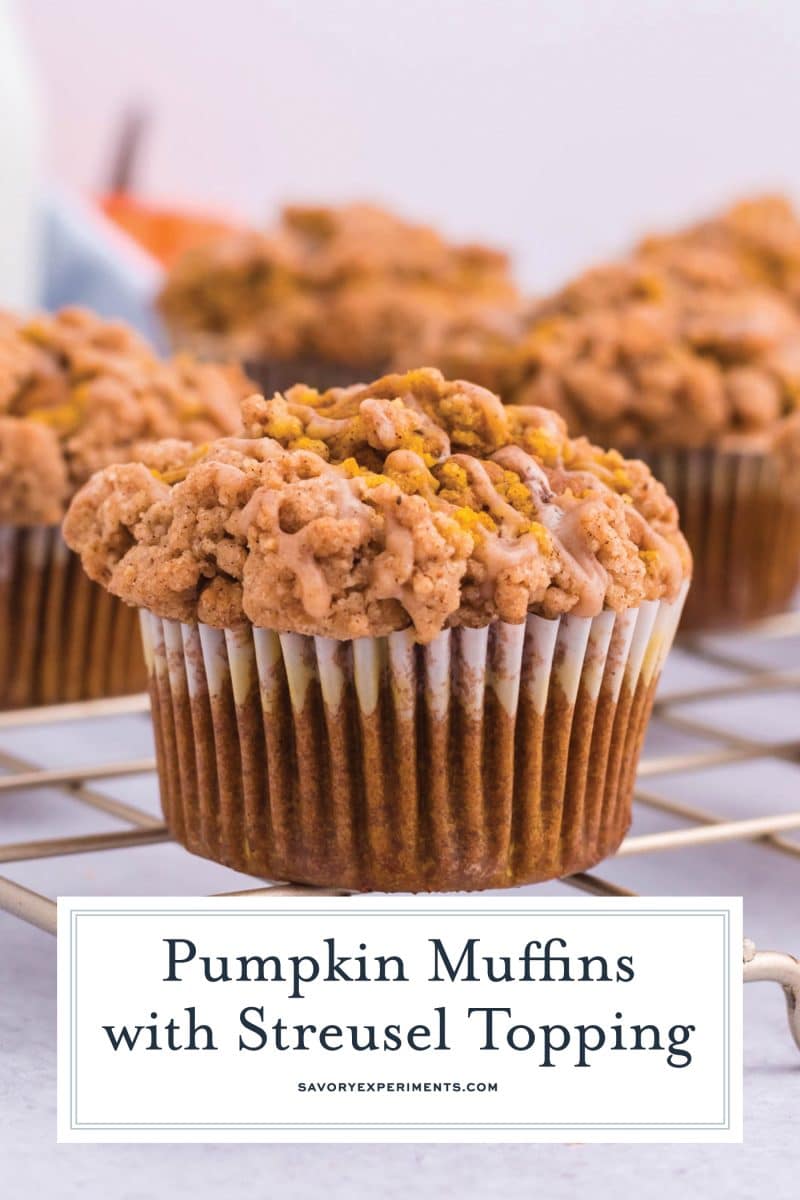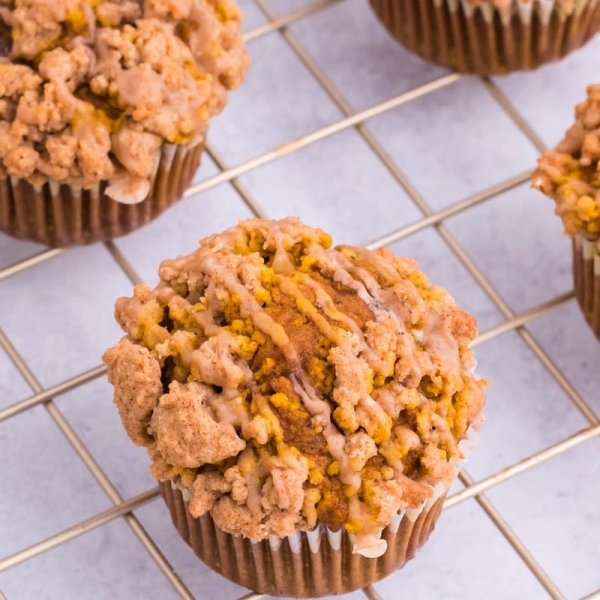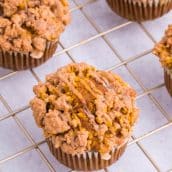 Pumpkin Muffins with Streusel Topping
If you love pumpkin spice, you'll absolutely fall in love with these EASY Pumpkin Muffins with a crunchy streusel topping!
Instructions
Pumpkin Muffins:
Preheat the oven to 425°F. Line a standard 16 muffin tins with liners.

Sift or whisk together the flour, baking soda, cinnamon, pumpkin pie spice, and salt in a large mixing bowl or the bowl of a stand mixer fitted with the paddle attachment.

Whisk in the vegetable oil, milk, eggs, rum extract and vanilla extract until no dry spots remain.

Add the white sugar, brown sugar and pumpkin puree until mixture is blended, but do not overmix.

Pour the batter into each muffin well ¾ of the way full.

Top with streusel topping.
Streusel Topping:
In a mixing bowl, combine the flour, sugars, pumpkin pie spice, cinnamon and melted butter until a crumbly mixture has formed.

Top each muffin with approximately 1 1/2 tablespoons of streusel, gently pressing into the tops to adhere.

Bake for 5 minutes, then without opening the oven, reduce the heat to 350°F and bake for an additional 16-17 minutes or until they pass the toothpick test.

Remove from the oven and allow to cool for 3-5 minutes.
Icing:
Whisk together the sugar, cinnamon, and milk in a bowl until smooth.

Pour the icing into a piping bag or plastic bag and cut a tiny hole at the end of the bag. Drizzle over each muffin.

If you've tried this recipe, come back and let us know how it was in the comments or ratings!
Notes
Store in an airtight container at room temperature for up to 4 days.
Be sure to use pumpkin puree and not pumpkin pie filling.
Nutrition
Calories:
265
kcal
,
Carbohydrates:
37
g
,
Protein:
3
g
,
Fat:
12
g
,
Saturated Fat:
4
g
,
Polyunsaturated Fat:
4
g
,
Monounsaturated Fat:
3
g
,
Trans Fat:
0.2
g
,
Cholesterol:
32
mg
,
Sodium:
189
mg
,
Potassium:
100
mg
,
Fiber:
1
g
,
Sugar:
20
g
,
Vitamin A:
3743
IU
,
Vitamin C:
1
mg
,
Calcium:
32
mg
,
Iron:
1
mg