When it comes to fall desserts, these Gooey Pumpkin Cheesecake Brownies are the best! They're made super easy thanks to a boxed brownie mix, too!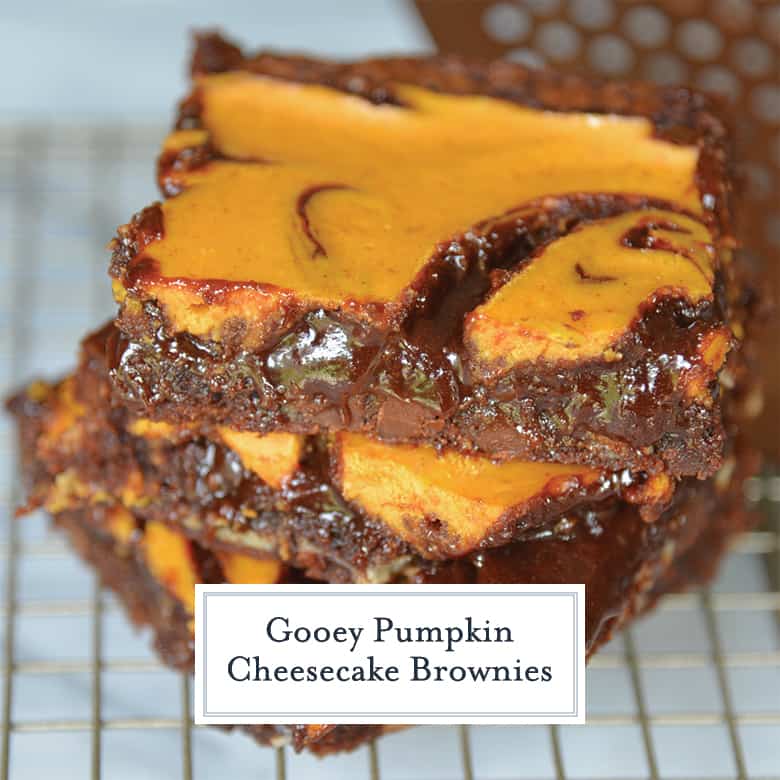 There is no better gooey brownie recipe than these Pumpkin Cheesecake Brownies! Fudgy brownies, pumpkin cheesecake and a gooey layer of chocolate.
Tis the season for all things pumpkin! And unlike most recipes that call themselves pumpkin just because they contain an iota of pumpkin spice seasoning, this recipe uses real pumpkin (and pumpkin pie spice).
As far as pumpkin recipes go, I want the full flavor of pumpkin. Not pumpkin pie filling, not a sprinkling of pumpkin pie spice. I want the real flavor of pumpkin puree.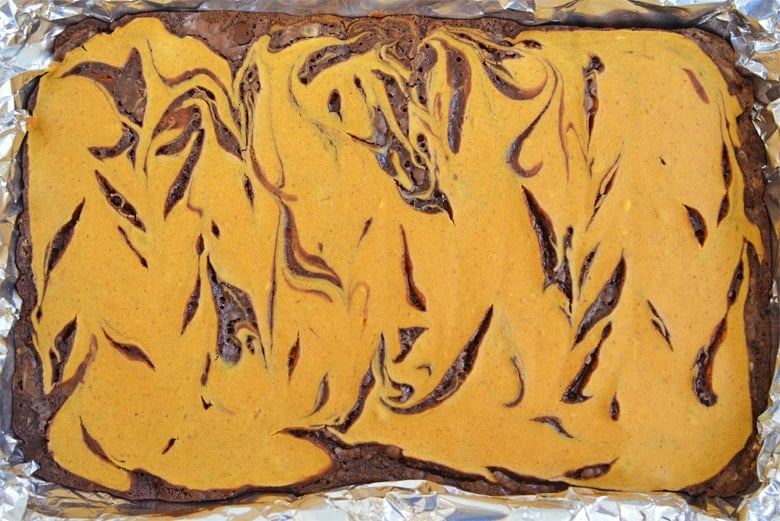 And while it's easy to buy a can of pumpkin puree at the store, it's also pretty easy to make your own! I actually have a recipe for Homemade Pumpkin Puree that you can check out.
PRO TIP: Line your pan with aluminum foil so you can easily take them out. They are messy and getting them removed can be a chore without it.
Let me also clear the air on that fact that these Pumpkin Cheesecake Brownies are GOOEY. If you are looking for a pumpkin bar, one you can cleanly cut and store nice and neat in a plastic container, these aren't for you.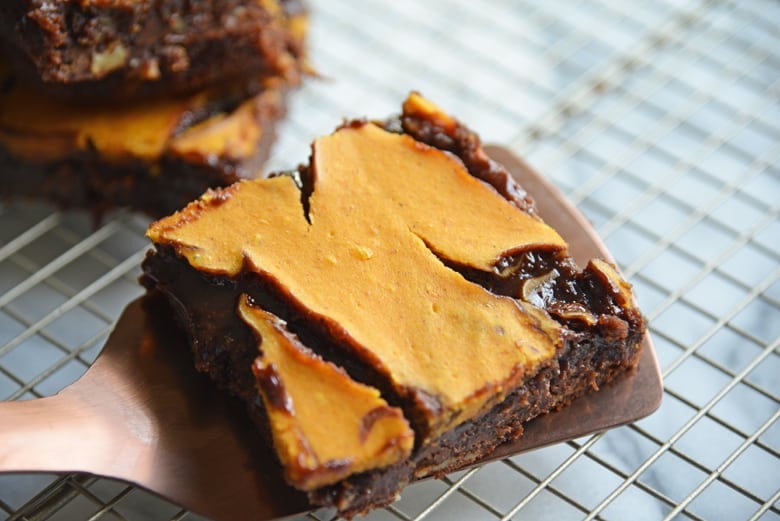 They are a messy bar. You might need to use a fork.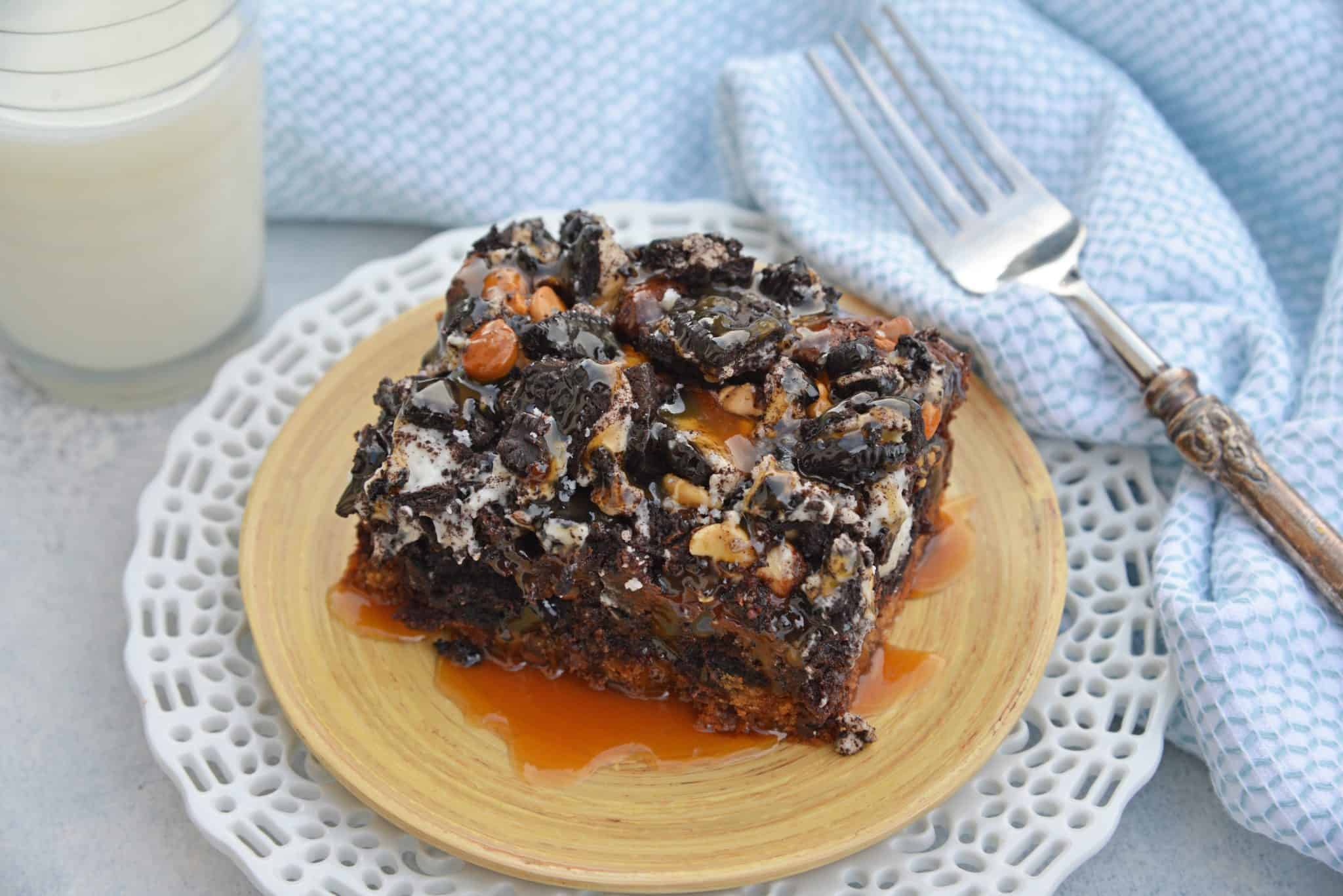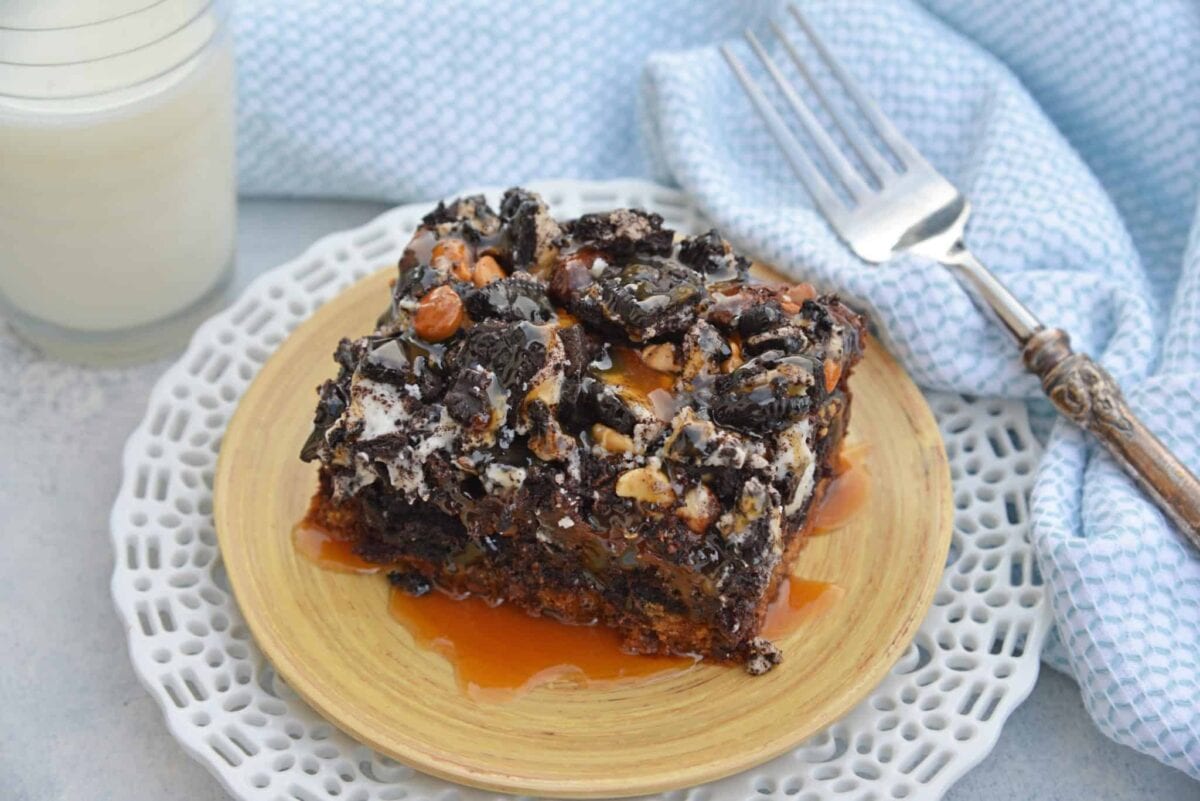 Layers of rich deliciousness. Brownie base, sweetened condensed milk and chocolate chip center and another layer of brownie swirled with pumpkin cheesecake. What's not to love?
PRO TIP: Sift brownie mix to remove clumps.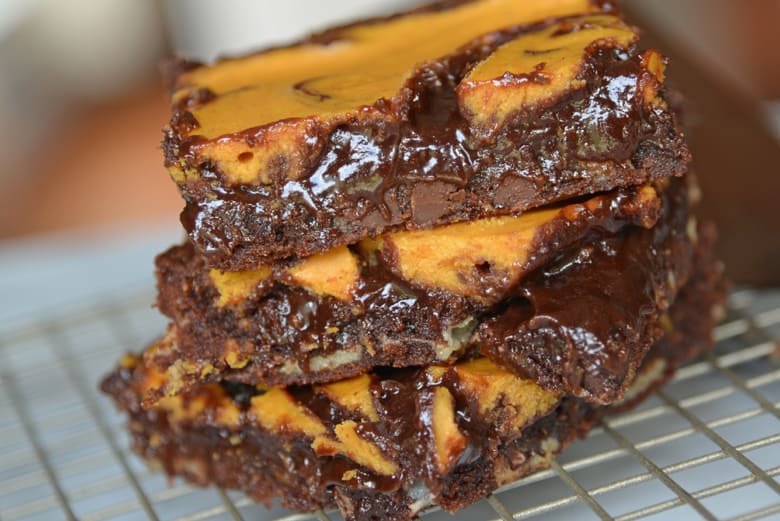 Before you get started, here are a few notes about making these delicious pumpkin cheesecake brownies:
Make sure your cream cheese is softened. Take it out of the refrigerator about 30 minutes or more before making your brownies.
To quickly soften cream cheese, place on microwavable plate (wrapper removed) and microwave uncovered for 10 seconds.
The toothpick test (a toothpick inserted into the center) doesn't work on these due to the cream cheese layer and the sweetened evaporated milk. Instead, look for the center to stop jiggling.
I can not stress this enough: USE ALUMINUM FOIL! Line the baking pan with foil, allowing some to hang over edges of pan. When you are ready to cut or serve, you can easily lift them out of the pan onto a large cutting board, peel foil away and cut into squares.
You can freeze leftover pumpkin puree in an airtight container.
The first thing you'll want to do to make these Pumpkin Cheesecake Brownies is to make the cheesecake batter. Beat the cream cheese in the bowl of a stand mixer until smooth.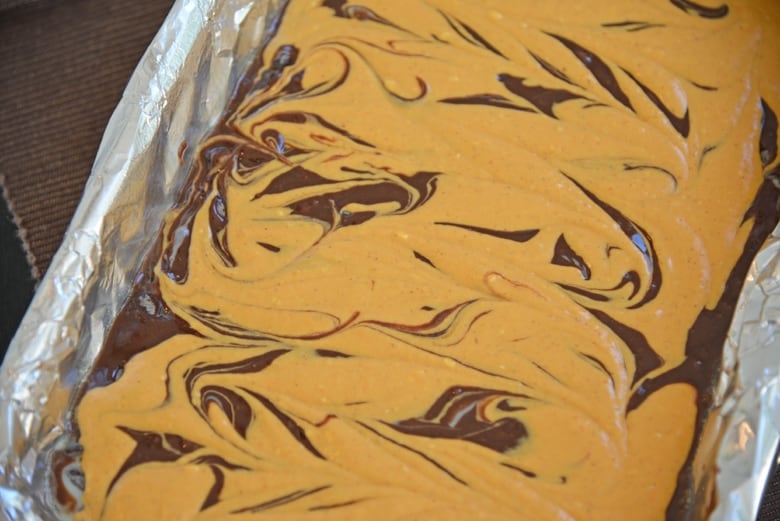 Next, add in the flour and sugar and beat until combined. Then add in the pumpkin and beat until mixed well. After mixed, add in the egg, vanilla and pumpkin pie spice, and mix that well also. Set the pumpkin batter aside for later.
PRO TIP: Canned "pure pumpkin" is usually not pumpkin at all, is another type of squash. FDA requirements have lax requirements about what is technically a pumpkin, so companies use a blend of butternut and other types of squashes so it is a deeper orange and sweet.
So… make your own pumpkin puree at home for the real deal.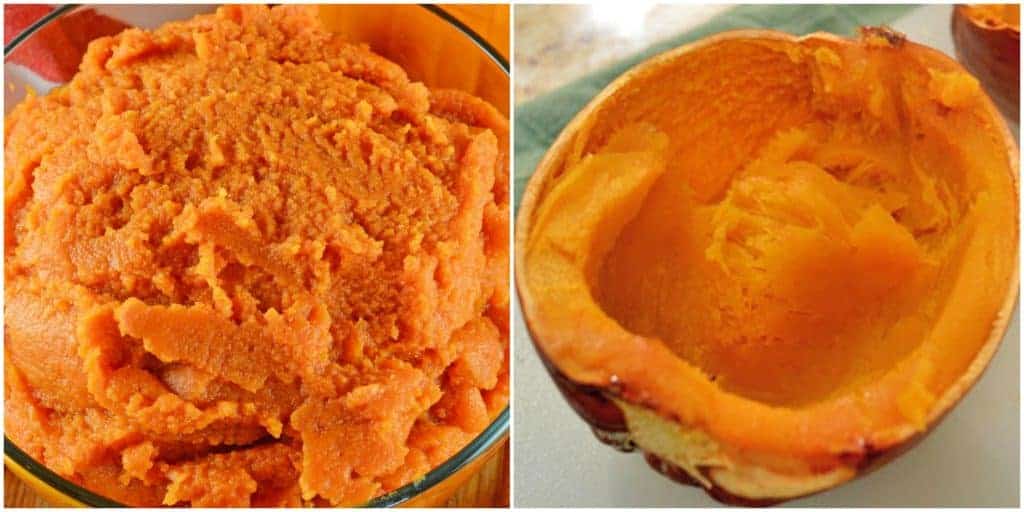 In a separate bowl, make the brownie batter according to the package instructions. All except one thing – add one extra egg! This makes sure they are super fudgy brownies.
After the brownie batter is made, pour half of the batter into the prepared pan (and by prepared, I mean lined with aluminium foil.) Drizzle a 1/2 cup of sweetened condensed milk on top of the brownie batter, and sprinkle on the 1/2 cup of chocolate chips.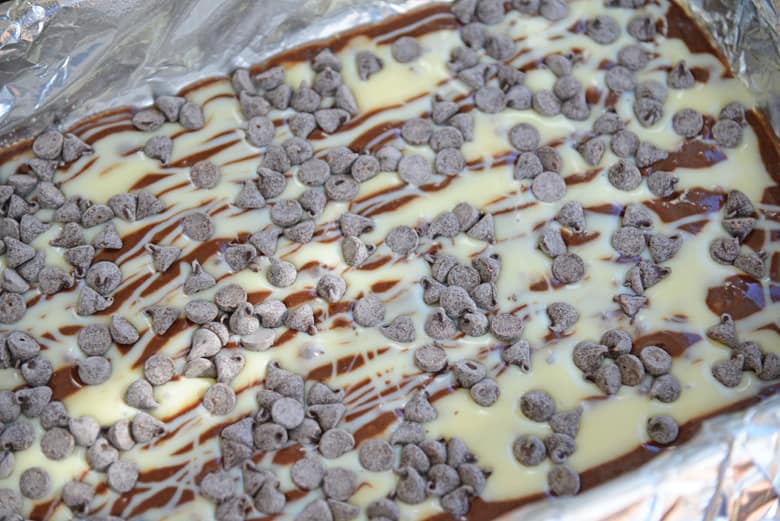 Pour the remaining brownie batter on top of the sweetened condensed milk and chocolate chip layer. It's ok if some of that layer pokes through.
Now on to the pumpkin cheesecake layer. Drop spoonfuls of the cheesecake mixture on top of the brownie batter. Then using a butter knife, swirl the dollops of cheesecake into the brownie mixture. Make sure not to over mix or you will lose the effect of the layers.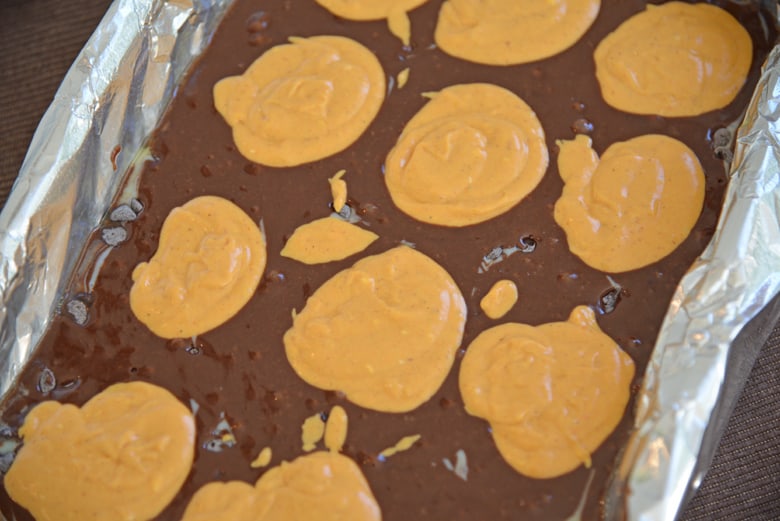 Bake the pumpkin cheesecake brownies in a 350 degree oven for a cooking time of 30-35 minutes. Before taking out of the oven, make sure the center no longer jiggles.
After baking, allow your pumpkin cheesecake brownies cool for about 30 minutes on a cooling rack. Then cover it with aluminum foil or plastic wrap, and refrigerate for an hour before cutting and serving. This time allows the cheesecake layer to fully set.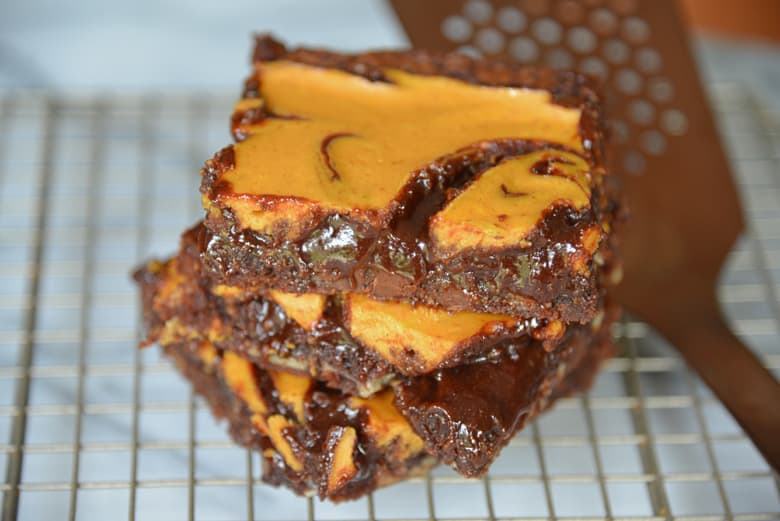 Questions you might have about how to make pumpkin brownies:
My cream cheese is all lumpy, why? This is a common problem and generally, it is because you skipped a step. Beating the cream cheese before adding other ingredients and adding anything liquidy slow is imperative to making sure the cream cheese mixture is smooth.
Is is virtually impossible to reverse after all the ingredients have been added, but the good news is that is doesn't impact the flavor. Go ahead and use it, it will taste the same.
How long do cheesecake brownies last? Because cheesecake is swirled into these chewy brownies, they don't last quite as long as regular brownies do. Store them in the refrigerator, and they should last about two weeks.
Is there a way to reduce the sugar? Chances are, if you're reading this Pumpkin Cheesecake Brownies recipe, you aren't too concerned about sugar. I don't recommend making any substitutions in this recipe, because the brownies might not set up the way they are supposed to.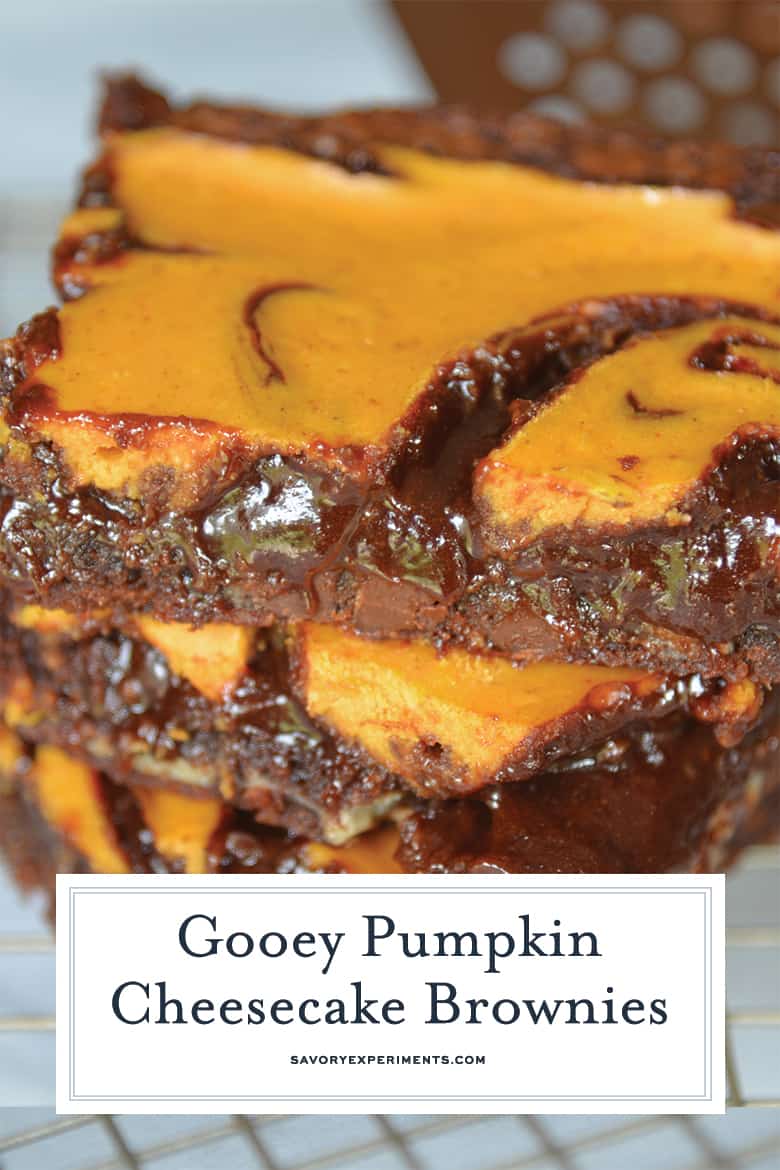 No Bake Pumpkin Pie Parfaits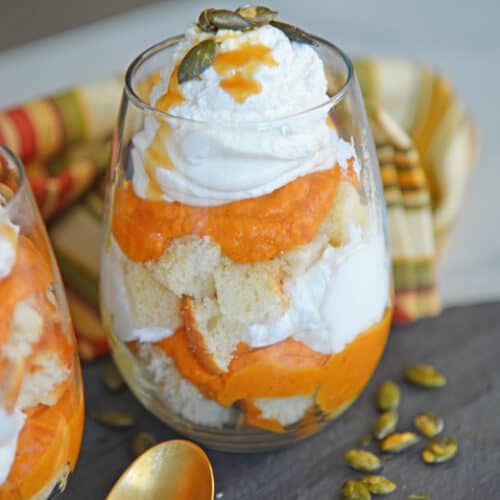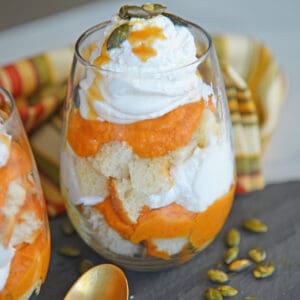 Pumpkin Pie Parfaits are an easy, no bake and make ahead dessert that everyone will love and you won't beleive what we use for the "crust"!
Pumpkin Apple Pie with Pecan Crust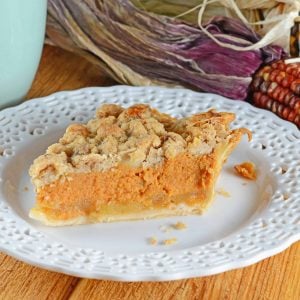 Pumpkin Apple Pie is the best of both worlds! Pumpkin pie and apple pie merged together in a pecan crust with streusel topping. The perfect holiday dessert!
Roasted Pumpkin Seeds
Chances are you are Googling "how to make salted pumpkin seeds" and you came across my Roasted Pumpkin Seeds Recipe!
Tools for making Pumpkin Cheesecake Brownies:
Stand Mixer– I lived for a long time without one. My life was changed when I finally bit the bullet and bought one. Just do it and thank yourself later.
9 x 13 Glass Baking Dish– an absolute essential for any kitchen! Use it for baking, marinating or storing. Get one with a lid, you'll thank me later.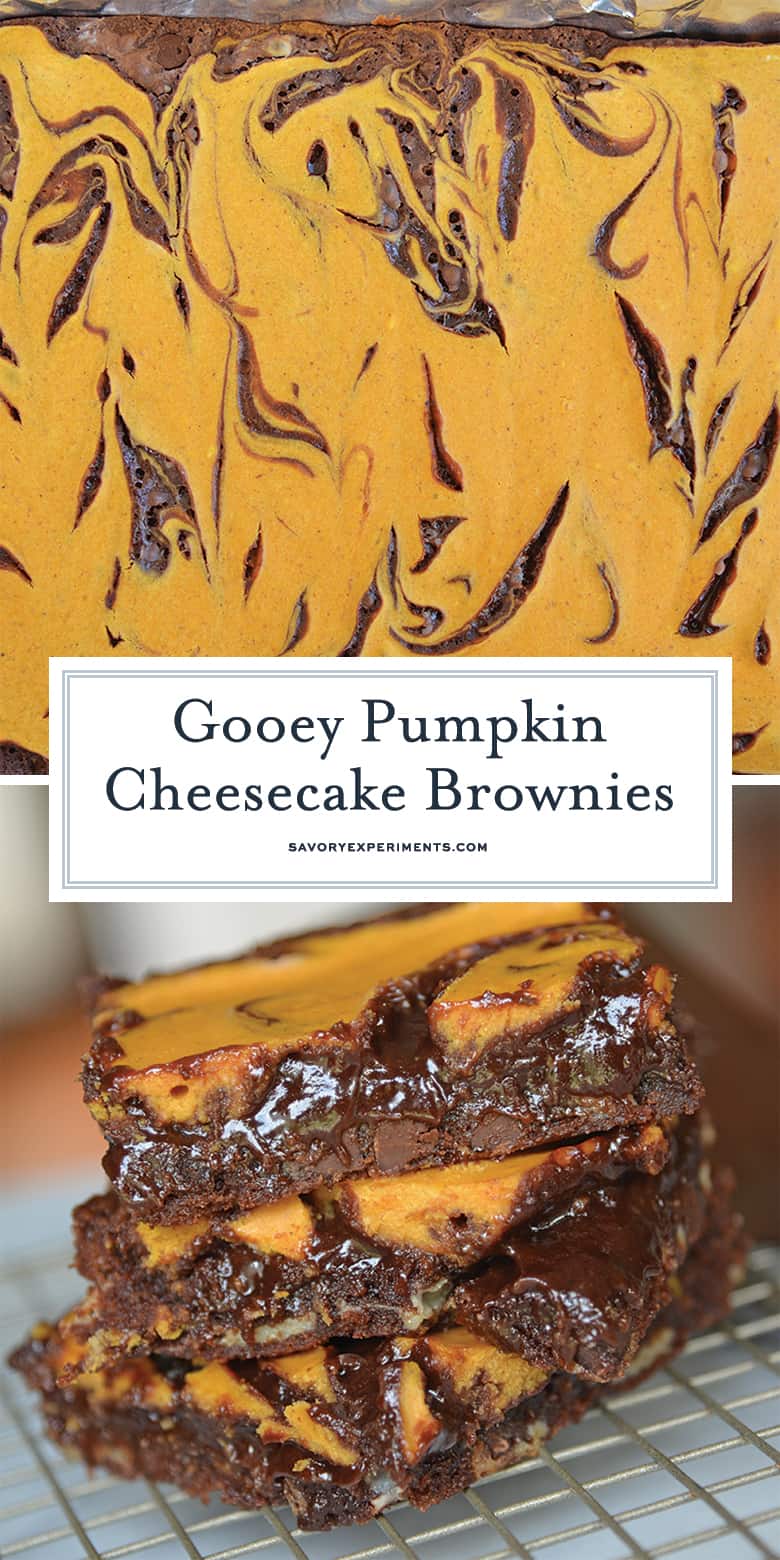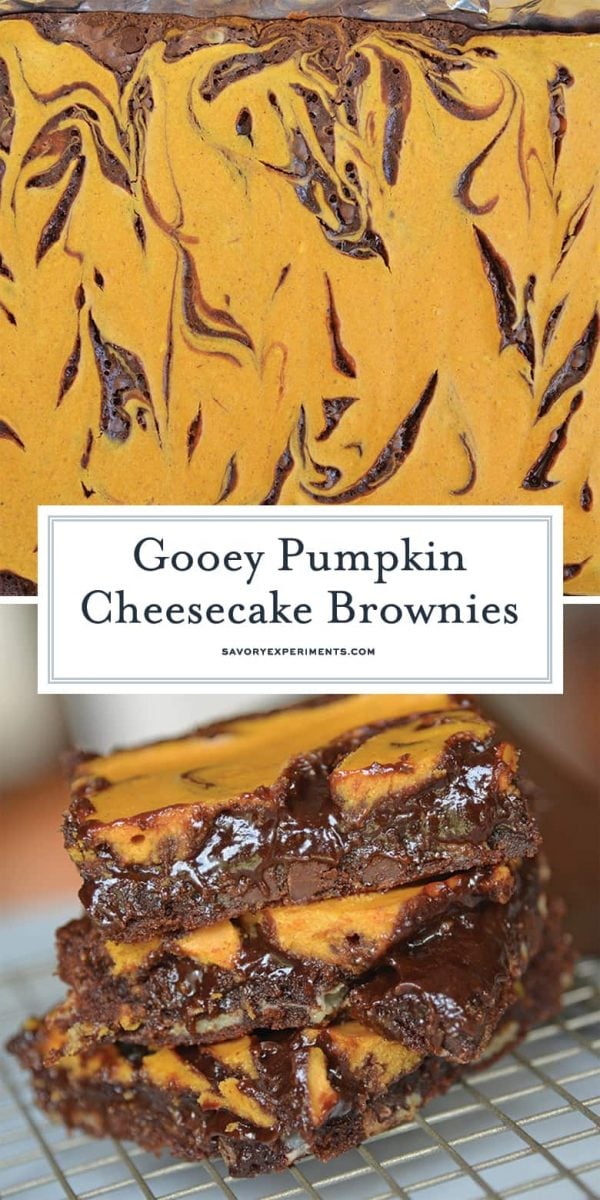 ---
Get our FREE 8 Day E-Course on How to Be a Better Home Cook. Sign up HERE!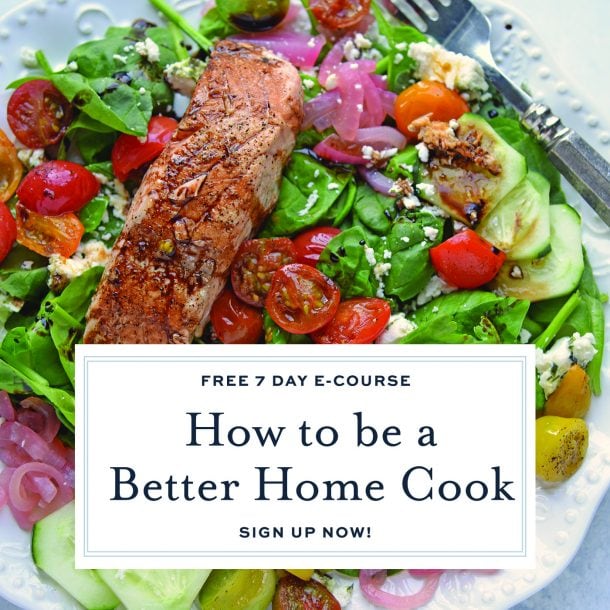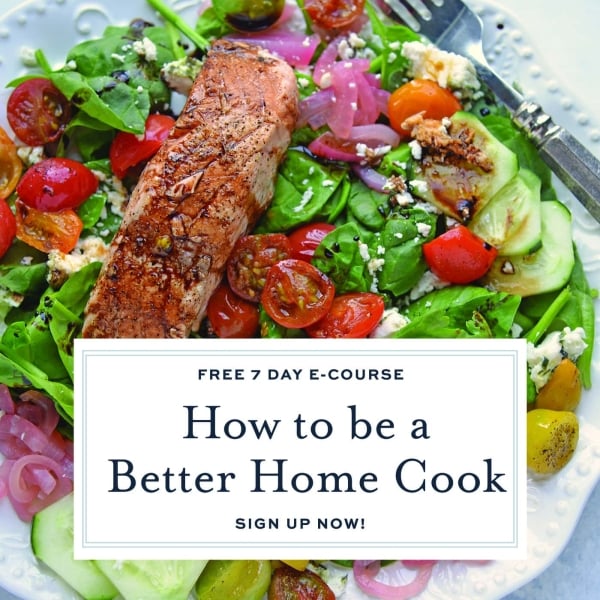 CONNECT WITH SAVORY EXPERIMENTS!

Be sure to follow me on social media, so you never miss a post!

Facebook | Twitter | Youtube 
 Pinterest | Instagram 
---
Pumpkin Cheesecake Brownies
There is no better gooey brownie recipe than these Pumpkin Cheesecake Brownies! Fudgy brownies, pumpkin cheesecake and a gooey layer of chocolate.There is no better gooey brownie recipe than these Pumpkin Cheesecake Brownies! Fudgy brownies, pumpkin cheesecake and a gooey layer of chocolate.
Instructions
Preheat oven to 350 degrees.

Line 9×13 baking dish with aluminum foil.

In a large mixing bowl or stand mixer fitted with the paddle attachment, beat cream cheese until smooth.

Add flour and sugar, beating until combine.

Add pumpkin puree, mixing well again.

Add vanilla extract, pumpkin pie spice and 1 egg, blending until combined. Set aside.

In a different bowl, make brownie batter according to package directions. Add one additional egg to the brownie batter.

Spoon half of the brownie batter into prepared 9×13 pan.

Drizzle with sweetened condensed milk and top with semi-sweet chocolate chips.

Spoon remaining brownie batter on top, there might be some holes, this is fine.

Spoon dollops of pumpkin cheesecake mixture on top.

Using a cake tester or butter knife, gently swirl pumpkin cheesecake into the brownies. Do not over stir, or you'll lose the layers.

Bake for 30-35 minutes or until center no longer jiggles.

Remove and allow to cool for 30 minutes.

Cover and refrigerate for 1 hour to set.

Remove from pan by lifting out aluminum foil.

Cut into squares right before serving so the sweetened condensed milk layer doesn't escape.

If you've tried this recipe, come back and let us know how it was!
Notes
*not pumpkin pie filling!
Nutrition
Calories:
105
kcal
|
Carbohydrates:
12
g
|
Protein:
2
g
|
Fat:
5
g
|
Saturated Fat:
3
g
|
Cholesterol:
30
mg
|
Sodium:
38
mg
|
Potassium:
90
mg
|
Fiber:
1
g
|
Sugar:
11
g
|
Vitamin A:
722
IU
|
Vitamin C:
1
mg
|
Calcium:
40
mg
|
Iron:
1
mg