Pumpkin Puree is a kitchen staple during the Thanksgiving season. Homemade pumpkin puree, also known as baked pumpkin or roast pumpkin, is super easy to make and only uses 1 ingredient: pumpkin.
Pumpkin spice season is upon us and with comes pumpkin everything. Pumpkin pie, pumpkin spice bundt cake, pumpkin sugar cookies, pumpkin lattes, pumpkin cheesecake, pumpkin soup, pumpkin butter, pumpkin waffles… it is pumpkin mania! The one thing people don't make too much, their own pumpkin puree.
Most people either are or aren't pumpkin people. Or at least they think. The truth is that homemade pumpkin puree doesn't actually taste like much at all. In fact, until blended with spices and sugar, it is just a orange mush. So people aren't actually "not pumpkin people", they are usually not pumpkin spice people.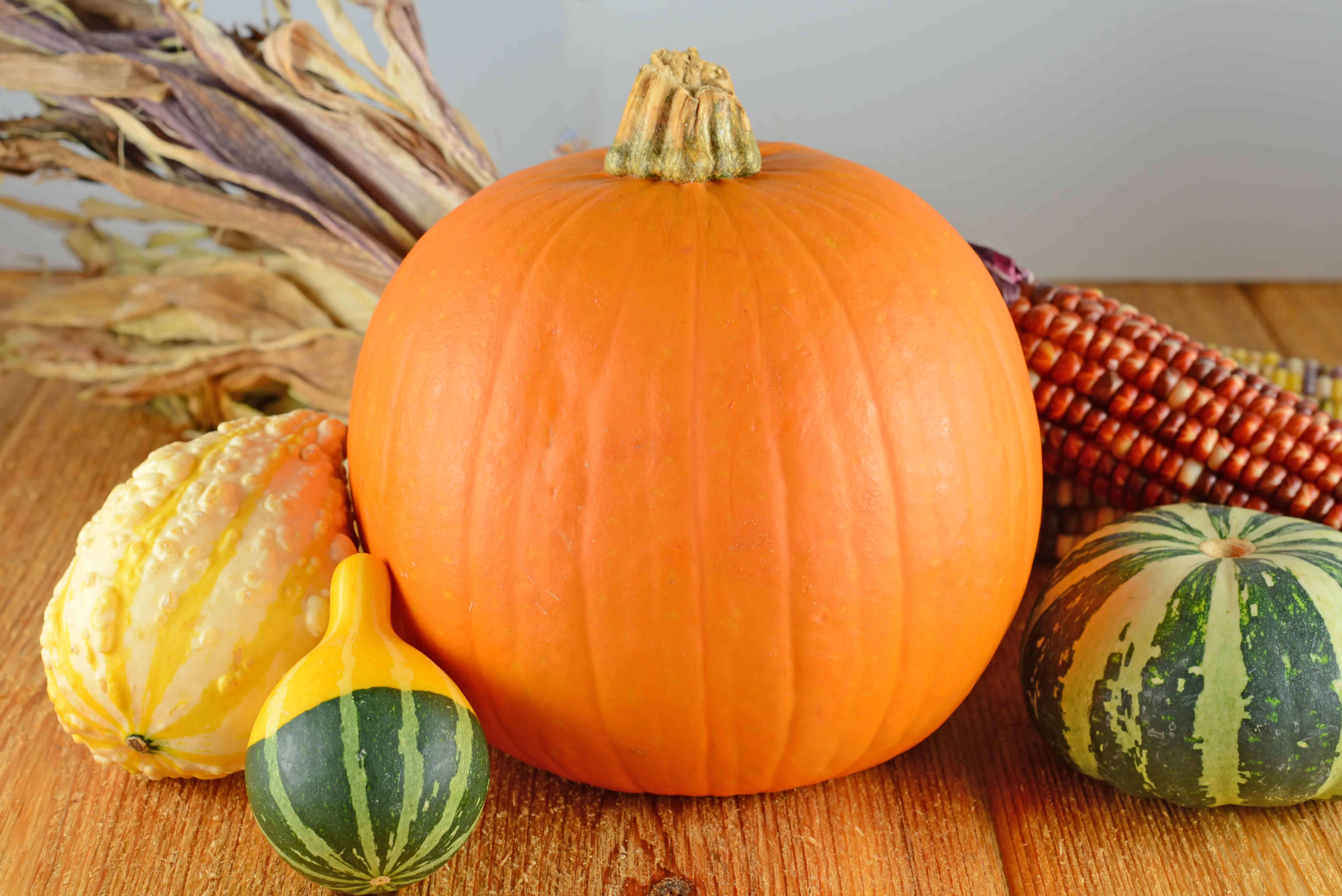 Making your own pumpkin puree is super simple and only requires one whole ingredient: pumpkin. Which means that picking your pumpkin will be the most important part of making your homemade pumpkin puree. There are three types of pumpkins: ornamental, pie and carving. The only ones that will achieve your desired pumpkin taste are known as "pie pumpkins", sometimes "sugar pumpkins". The other two are even more bland than a pie pumpkin!
Pie pumpkins are about the size of a cantaloupe and are easily hacked open. Your grocery store will have them labeled. Whatever you do, don't assume that your carving pumpkin will also make a good pie. However, those seeds will make a tasty snack, see my baking pumpkins seeds tutorial for a tasty treat.
Pumpkin puree can turn out different shades of orange, it just depends on the pumpkin. I've has some light, I've had some dark. Do not fret, it will all be delicious when you add it to your desired recipe. The amount yielded will also vary greatly depending on the size of your pie pumpkin, but the average will be about 2 cups (a little more than the average can).
Don't forget to PIN Pumpkin Puree!
Pumpkin Puree
Make your own pumpkin puree using one ingredient: pumpkin. Learn about the pie pumpkin and find pumpkin recipes to use your pumpkin puree.
Instructions
Preheat oven to 325 degrees.

Cut the pumpkin in half, stem to base. Scrape out seeds and pulp. Reserve seeds to make baked seeds.

Place halves on a rimmed baking sheet. Sit halves meat side up (cut a small slice out on the bottom of each to allow them to sit evenly without rolling).

Cover each half with aluminum foil. Bake for 60 minutes, or until pumpkin meat is fork tender.

Scrape pumpkin meat from shell halves and puree in a blender. Strain to remove any remaining stringy pieces or seeds. You might need to add just a little water to make it a "blendable" consistency.