Pumpkin is a kitchen staple during the Thanksgiving season. Fresh pumpkin puree, also known as baked pumpkin or roast pumpkin, is super easy to make and only uses 1 ingredient. Literally.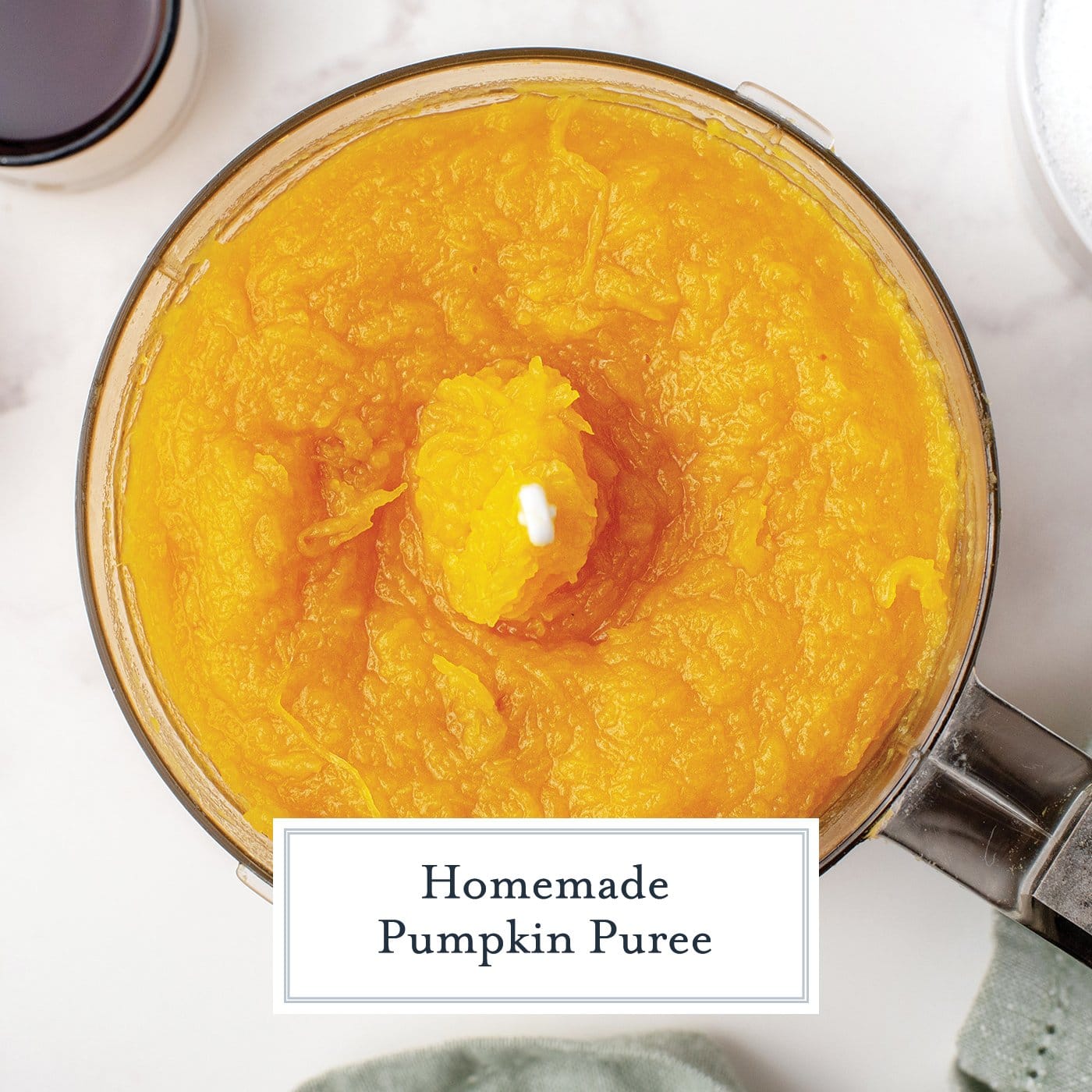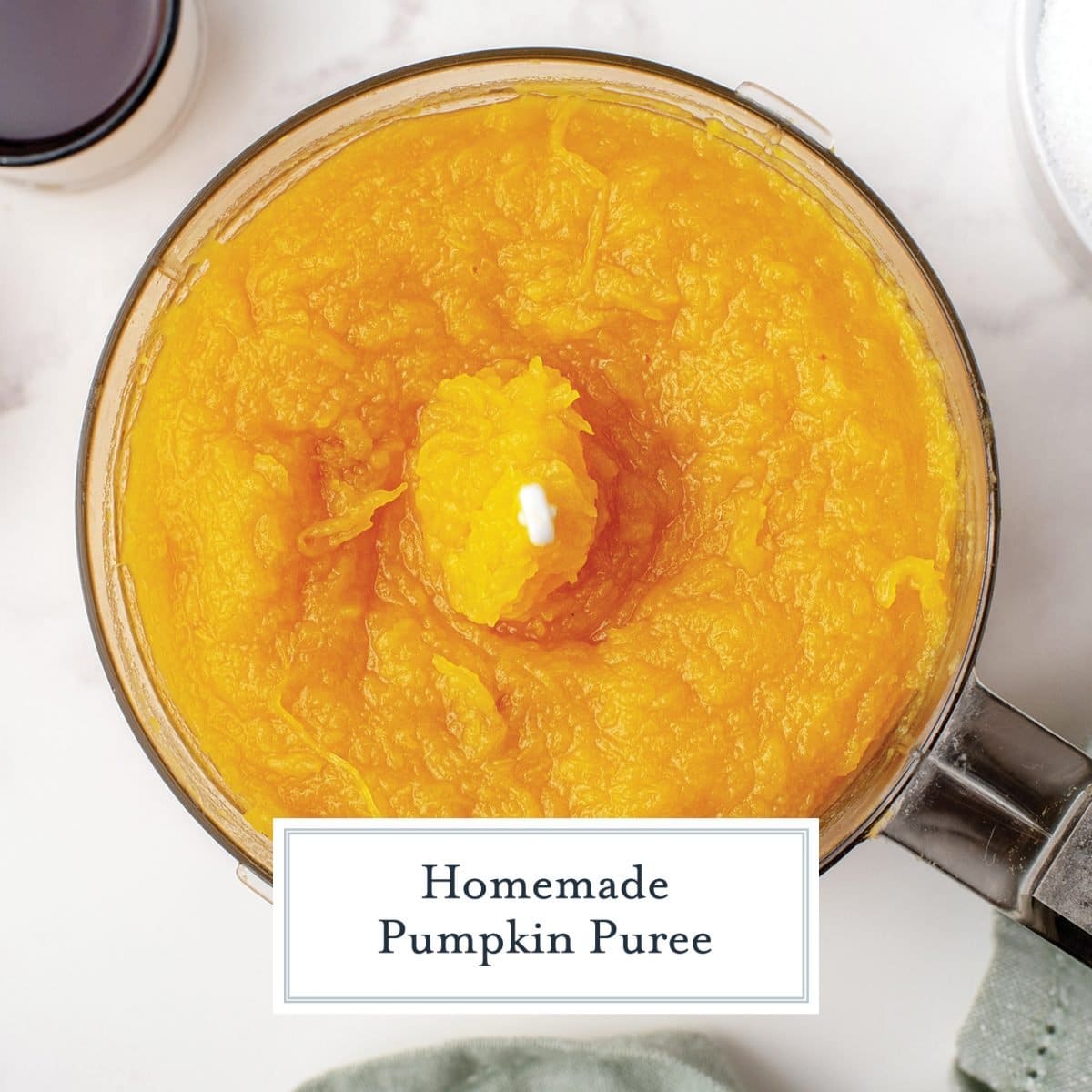 Homemade Pumpkin Puree
Forget the canned stuff—our velvety-smooth, luscious pumpkin puree is a true labor of love that captures the essence of autumn in every spoonful.
It might take a little longer, but the flavor you get from homemade pumpkin puree is unparalleled.
What is Pumpkin Puree?
It is simple cooked pumpkin that is blended until it is smooth. It can then be used in sweet or savory recipes.
Most people either are or aren't pumpkin people. Or at least they think. The truth is that pumpkin puree doesn't actually taste like much at all.
In fact, until blended with spices and sugar, it is just a orange mush. So people aren't actually "not pumpkin people", they are usually not pumpkin spice people.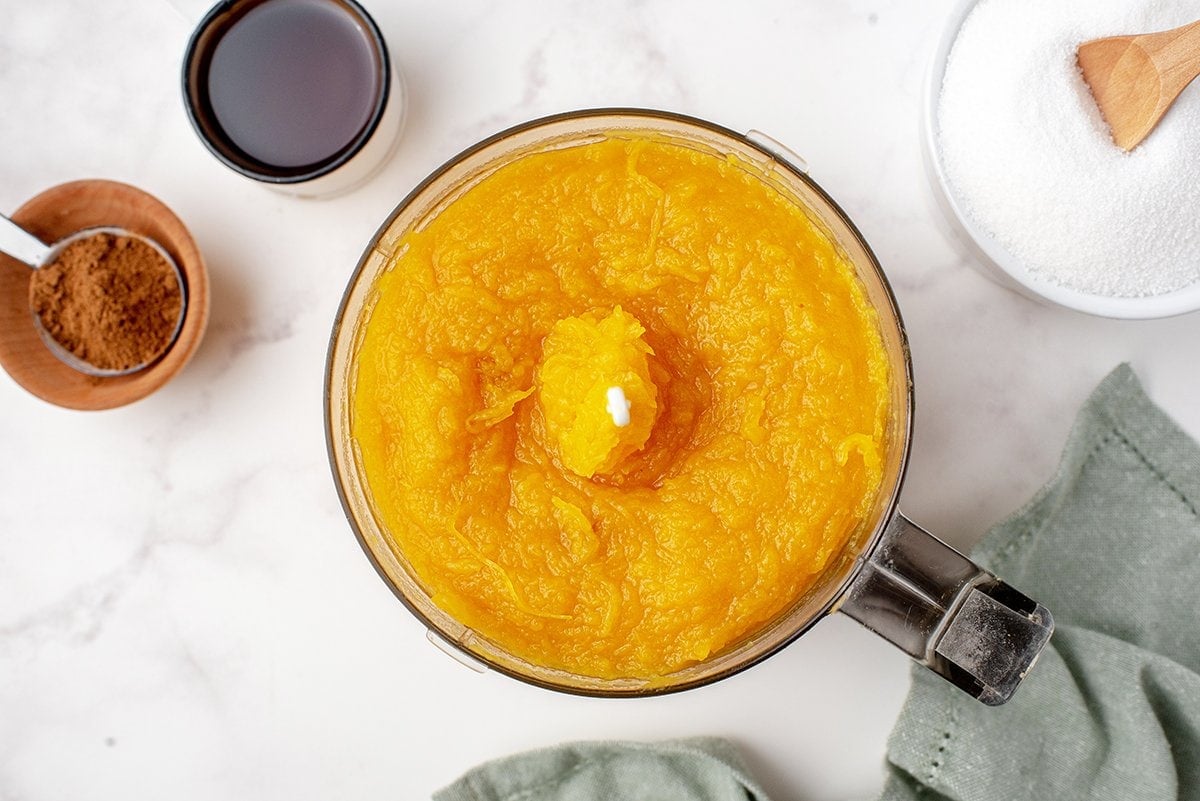 Pumpkin spices ranges depending on if the recipe calls for savory or sweet, but the most common added flavors are brown sugar, cinnamon and nutmeg.
If you purchase pumpkin pie filling (see below), it will already be seasoned and sweetened.
How to use this Homemade Pumpkin Puree
Pumpkin spice season is upon us and with comes pumpkin everything- especially a million pumpkin puree recipes and of course famous pumpkin spice lattes.
Pumpkin pie, pumpkin spice bundt cake, pumpkin sugar cookies, pumpkin cheesecake, pumpkin soup, pumpkin pancakes, pumpkin butter, quick breads, pumpkin waffles… it is pumpkin mania!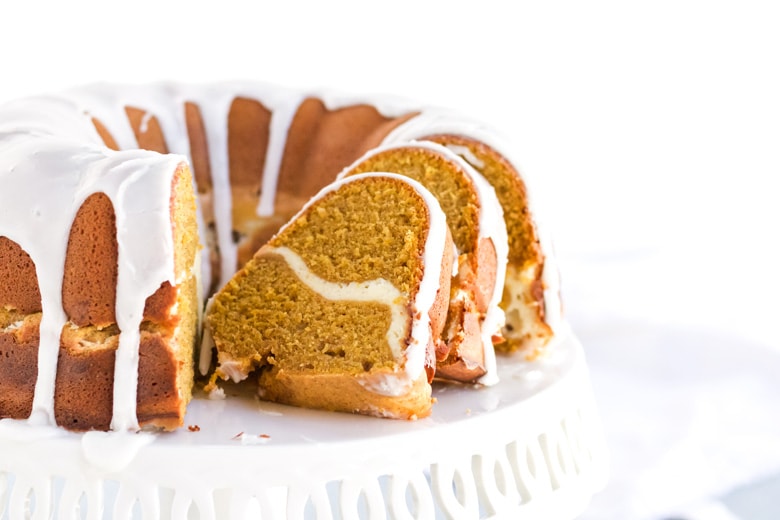 The one thing people don't make too much, homemade puree.
Best pumpkin for making Pumpkin Puree
Making this easy recipe is super simple and only requires one whole ingredient: pumpkin. Which means that picking your pumpkin will be the most important part.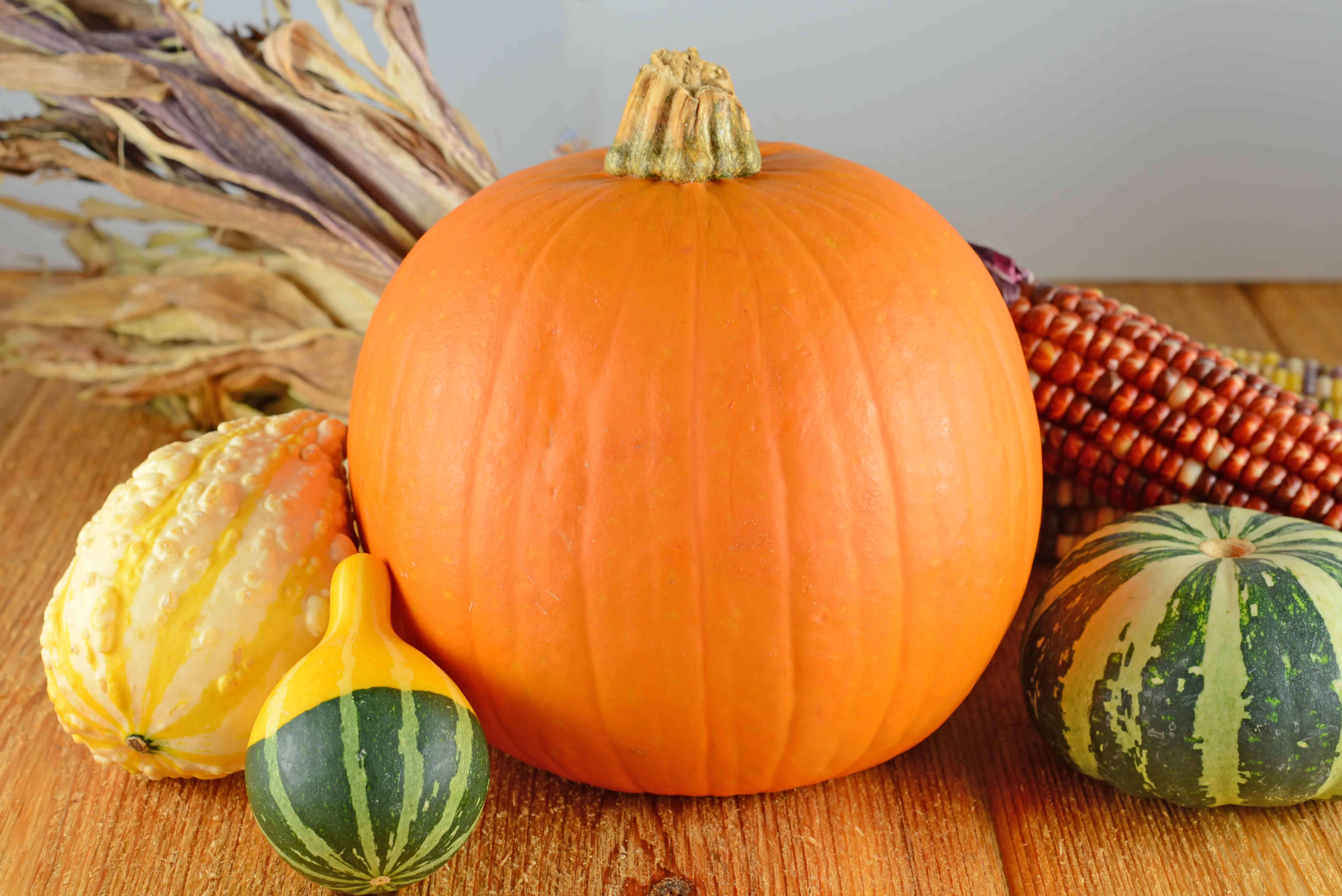 PRO TIP: There are three types of pumpkins: ornamental, pie (sugar) and carving.
The only ones that will achieve your desired pumpkin taste are known as "pie pumpkins", sometimes "sugar pumpkins". The other two are more for ornamental purposes and won't have much flavor.
Pie pumpkins are about the size of a cantaloupe and are easily hacked open. Your grocery store will have them labeled, but they are also common at pumpkin patches and farmer's markets.
However, those seeds will make a tasty snack, see my baking pumpkins seeds tutorial for a tasty treat.
How to Make Pumpkin Puree
Using a sharp knife, cut your fresh pumpkin in half. Scoop out the seeds.
Bake it, halved side up, on a baking sheet for 45- 60 minutes or until the pumpkin meat is soft. This depends on the size of the pumpkin and thickness of the walls. Use parchment paper for easy clean up.
Scoop out the pumpkin flesh.
Blend in a food processor it until it's smooth puree with a creamy texture, but still some body and volume. Alternately, use a potato masher or ricer.
For a thicker puree, drain through a fine mesh sieve to get out excess water.
Bake, cook or freeze.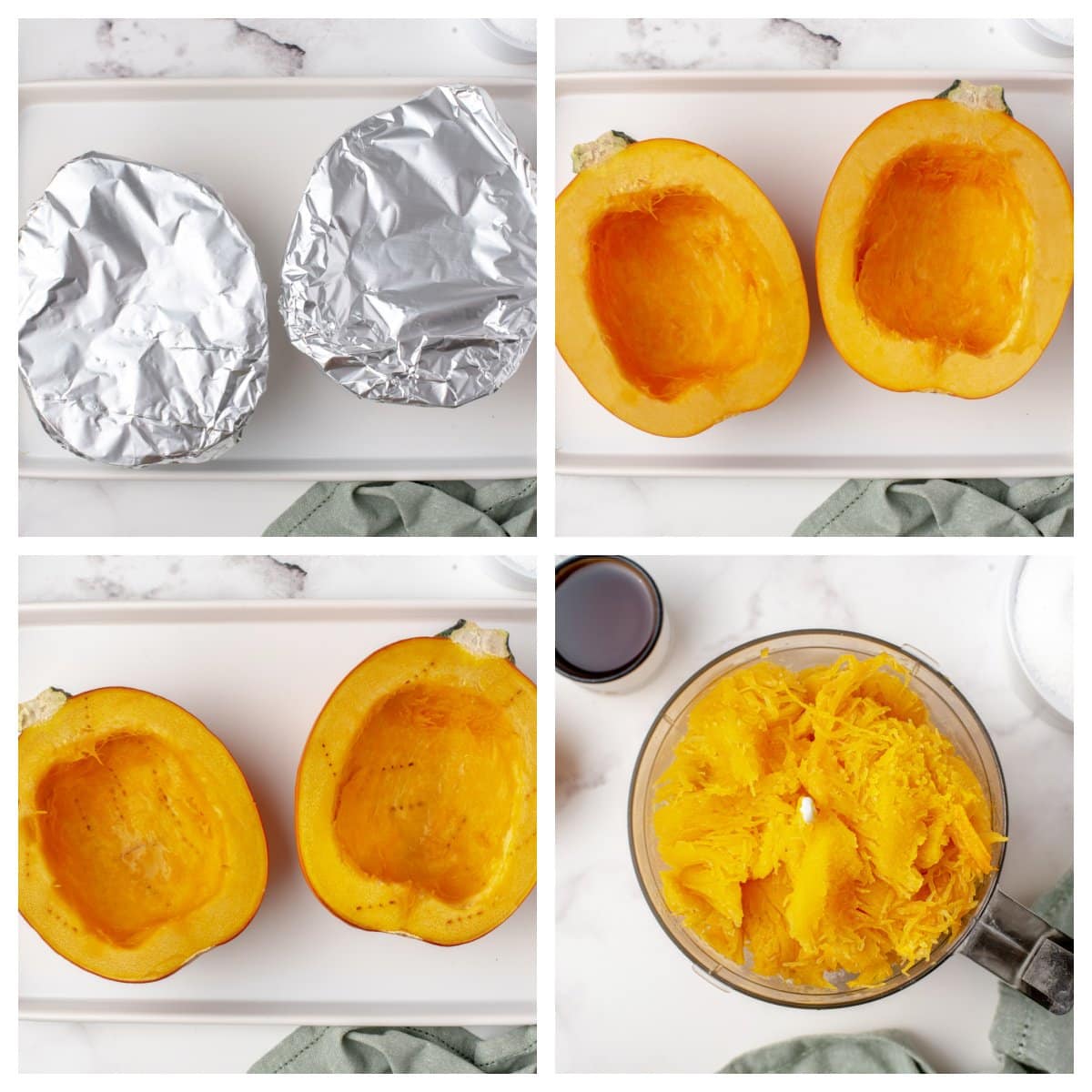 Pumpkin puree can turn out different shades of orange, it just depends on the type of pumpkin. I've has some light, I've had some dark. Do not fret, it will all be delicious when you add it to your desired recipe.
How much will this Pumpkin Puree recipe make?
The amount yielded will also vary greatly depending on the size of your pie pumpkin, but the average will be about 2 cups (a little more than the average can).
The rule is 3 pound pumpkin yields 1 can of puree (15.4 ounces).
Pumpkin Pie Filling vs Puree
Puree is different than pumpkin pie filling. Filling is fresh puree laced with pumpkin pie spice. It still needs the addition of sugar and egg to achieve the right consistency.
To make filling, combine 2 cups of puree with a 12-ounce can of condensed milk, 2 eggs, 1 cup of brown or white sugar and 2 teaspoons of pumpkin pie spice.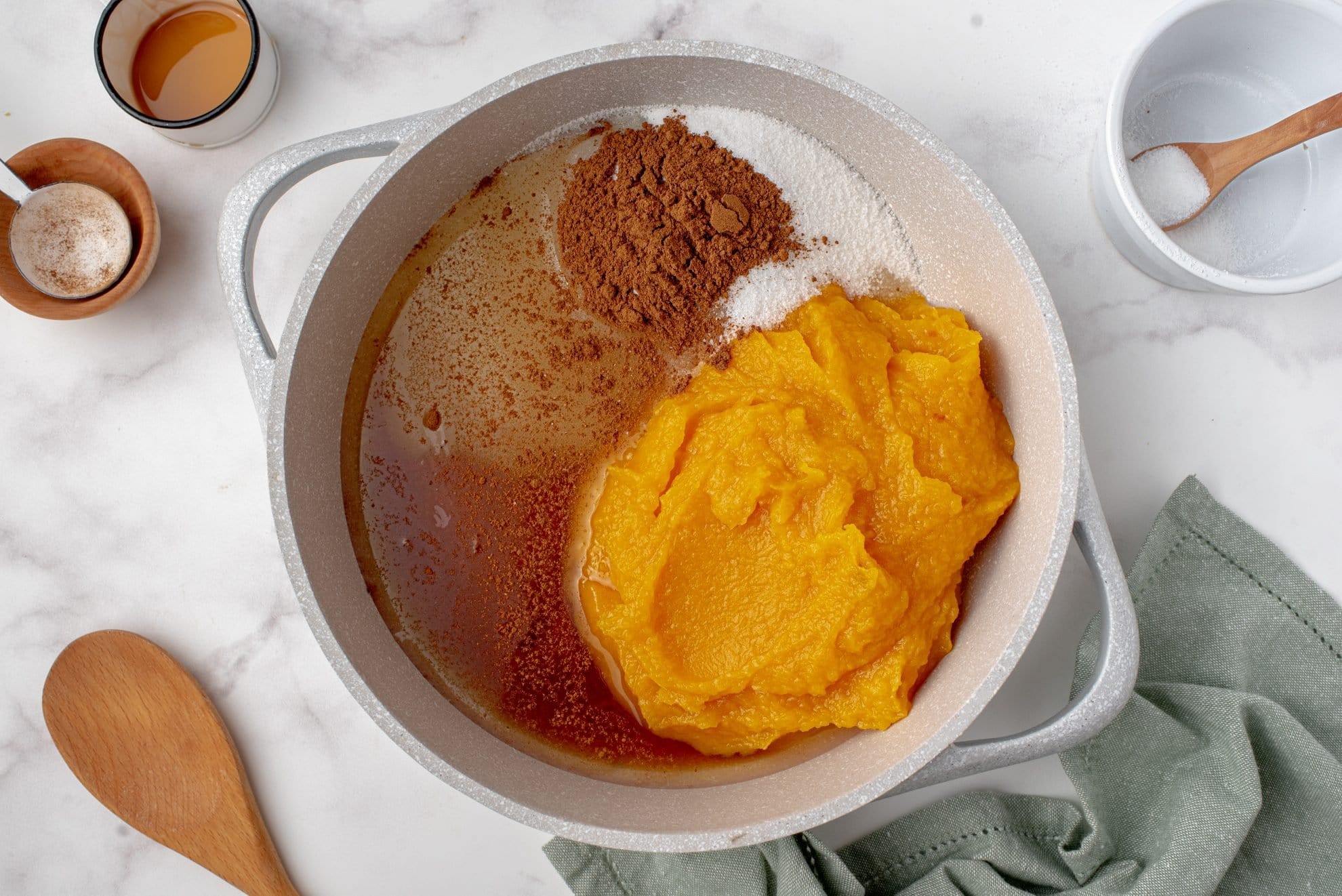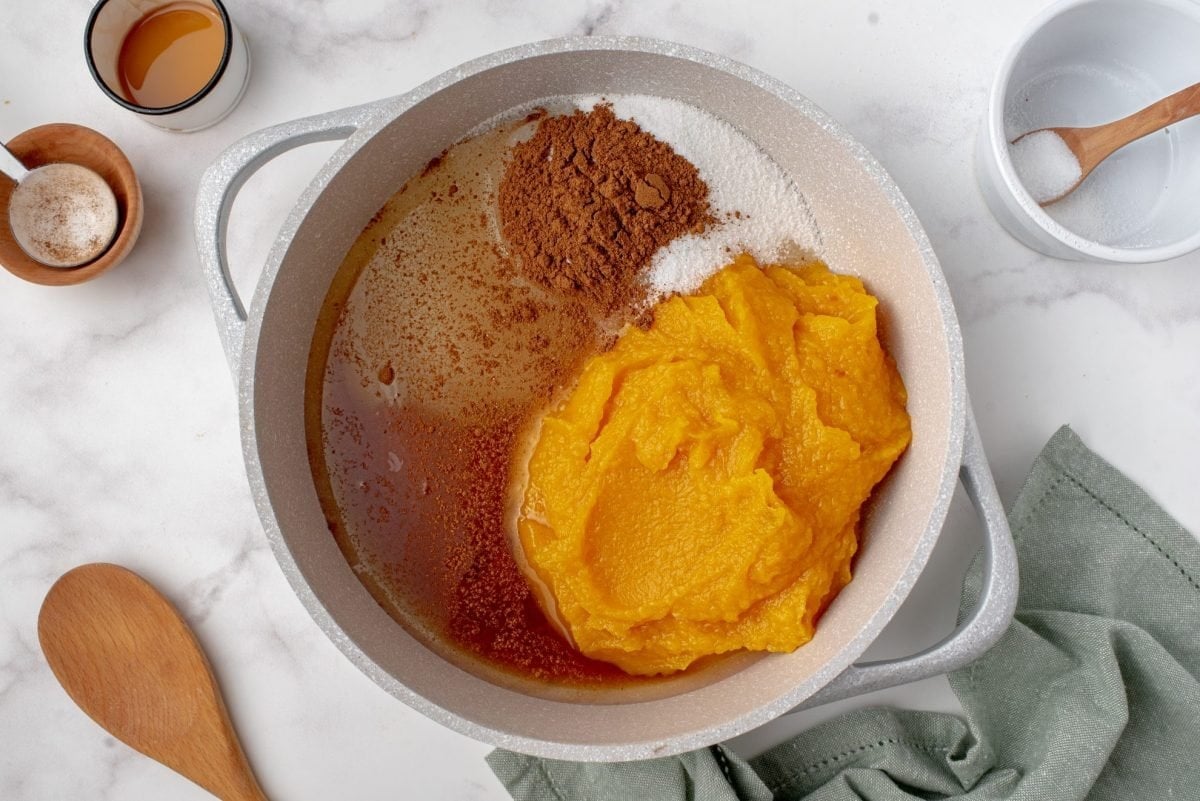 How to store Homemade Pumpkin Puree
How long does Pumpkin Puree last in the fridge?
Since this is homemade and doesn't contain preservatives or additives, it will last in the fridge for about 3-5 days in an airtight container. At that point you'll either need to bake or cook with it or freeze it.
Can you freeze Pumpkin Puree?
This works with canned or homemade pumpkin puree. Simply place it in an airtight plastic bag, remove as much air as possible and then freeze.
If you need small amounts on hand, freeze it in an ice cube tray and pop them out when frozen. Thaw however much you need in little cubes.
FAQs for making Pumpkin Puree
Homemade Pumpkin Puree vs Canned
Listen, there are pros and cons to everything, but there is one very important fact to know about canned pumpkin. It isn't really pumpkin.
Mind blown, I know. Technically speaking, the FDA says that any type of squash or gourd can qualify so it is generally a blend of butternut, acorn and other more flavorful squashes with a little bit of actual pumpkin.
They add orange food dye for color and salt to preserve and sometimes even artificial flavors. I'd be lying if I said I've never used it- I still do to save time, but when I want real pumpkin, I make my own.
Is pumpkin puree just mashed pumpkin?
Yes, pumpkin puree is essentially roast, mashed pumpkin that has been processed into a smooth and creamy consistency.
Is it better to boil or roast pumpkin for puree?
While you can boil pumpkin, I believe that roasting gives the best, full flavors since it allows the natural sugars to caramelize.
Can you puree a pumpkin without a food processor?
You can also use a blender or even potato masher, but a potato masher might not give you the same smooth consistency.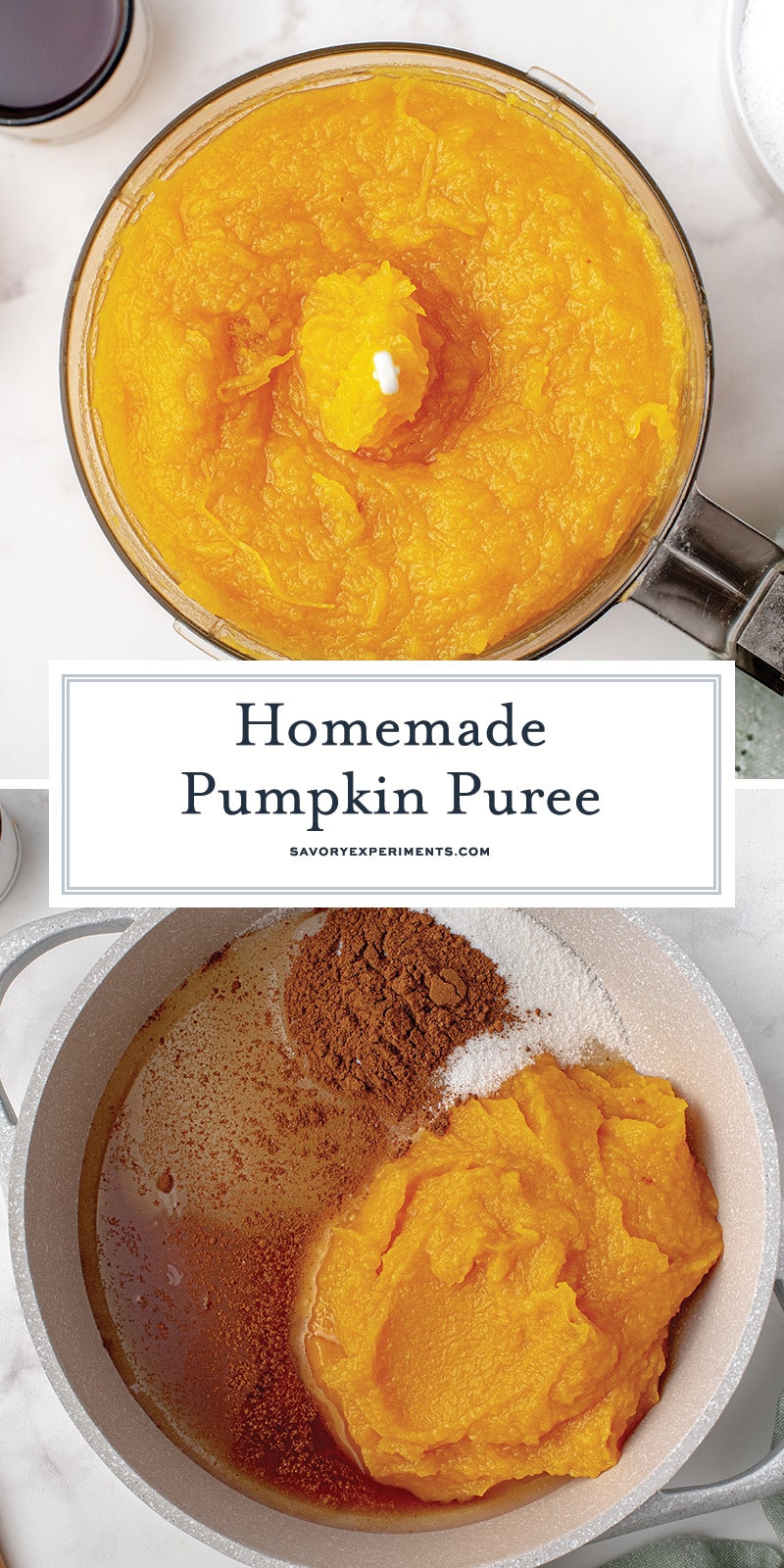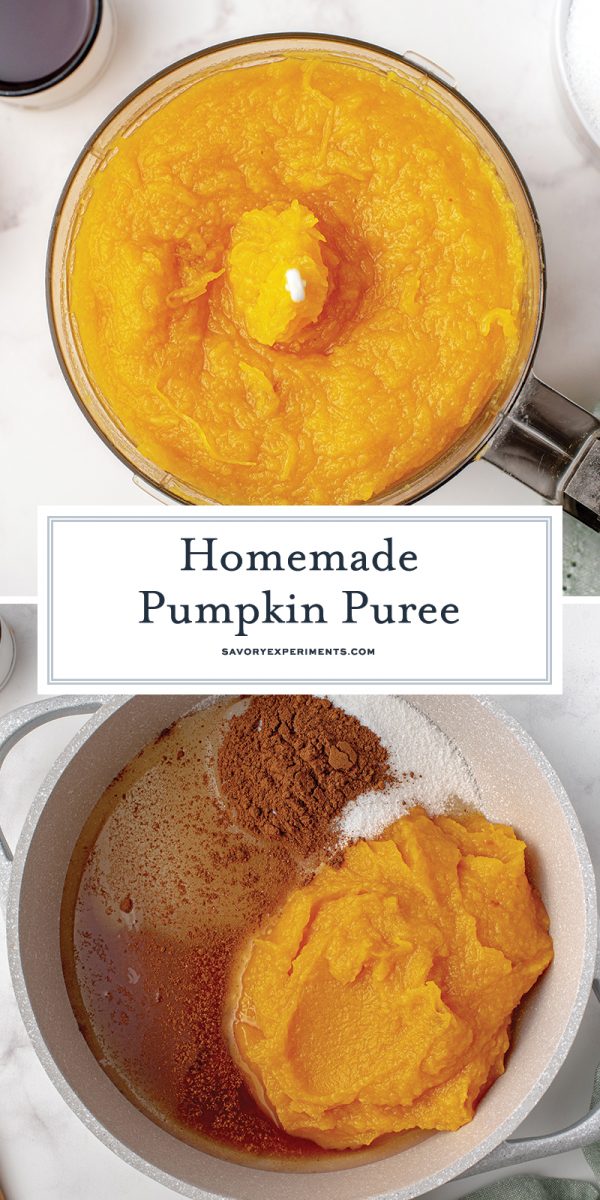 Recipes with Pumpkin Puree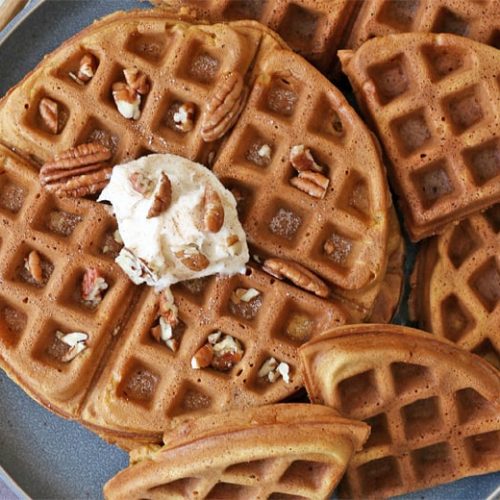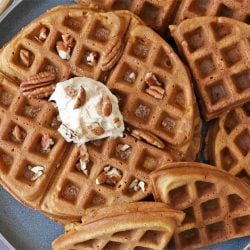 Pumpkin Waffles
Homemade waffles don't get much better than these Pumpkin Waffles! Full of fall flavor and perfect for breakfast or brunch! Homemade waffles don't get much better than these Pumpkin Waffles! Full of fall flavor and perfect for breakfast or brunch!
See The Recipe!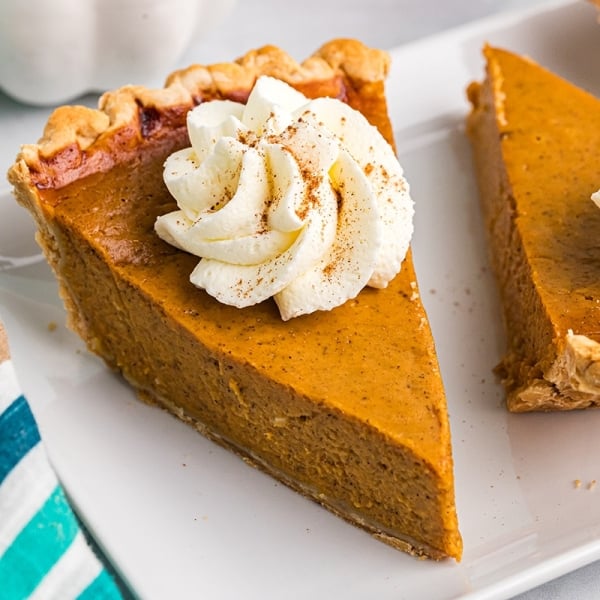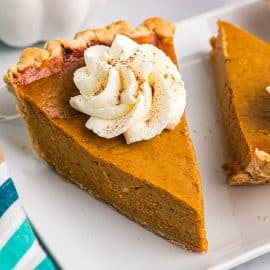 Easy Pumpkin Pie
This Easy Pumpkin Pie is just perfect for Thanksgiving! Perfectly creamy and delicious, this pumpkin pie recipe is perfection!
See The Recipe!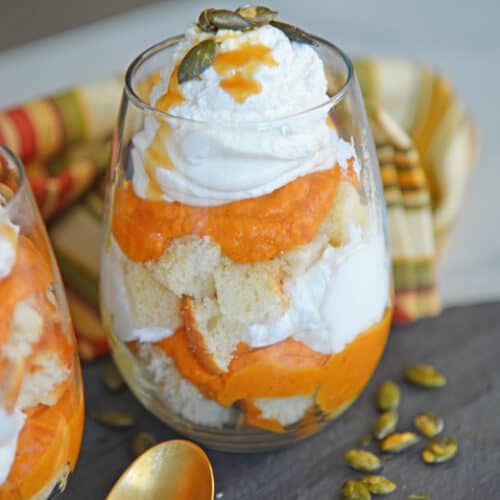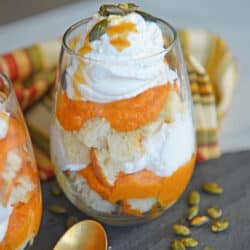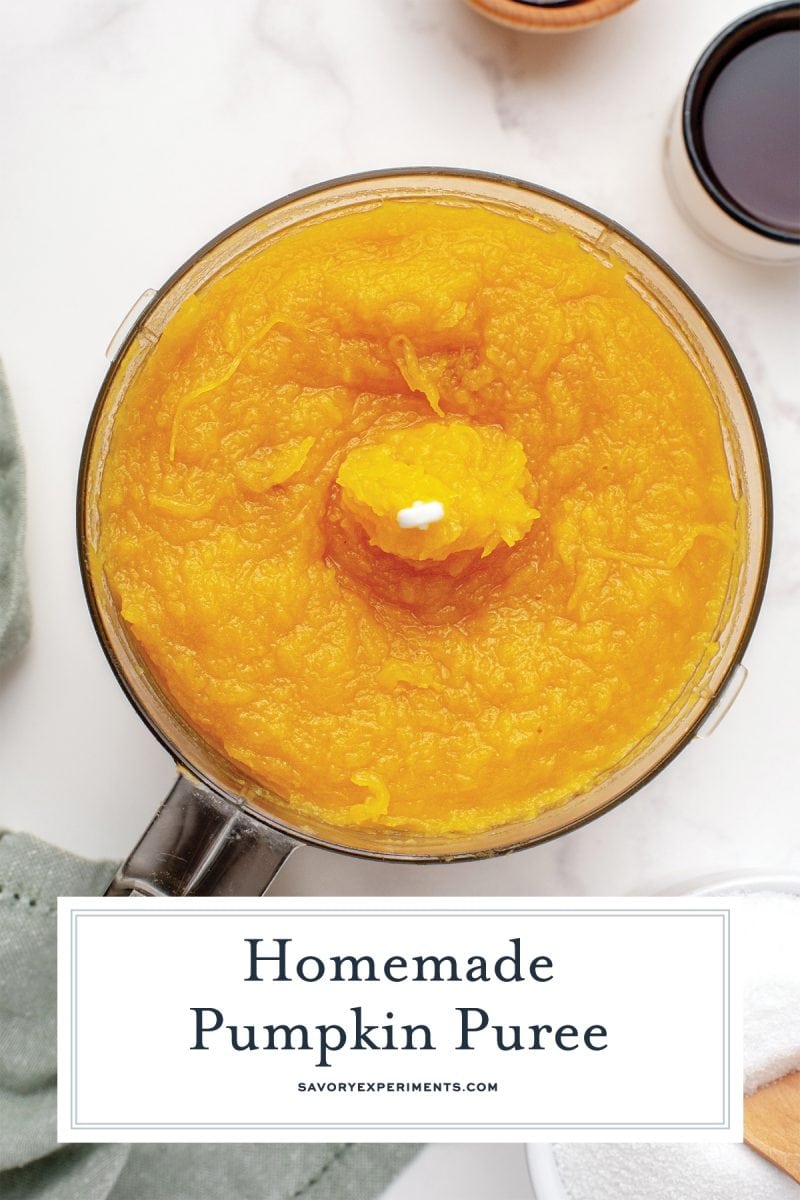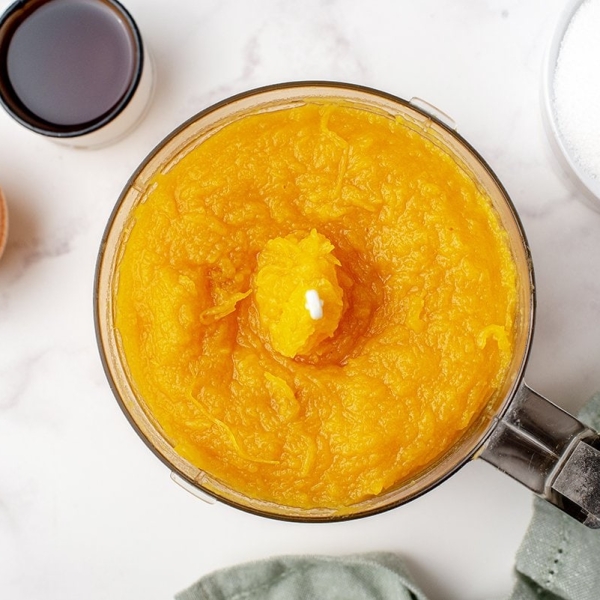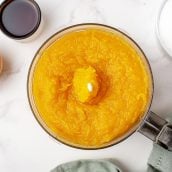 Homemade Pumpkin Puree
Make your own pumpkin puree using one ingredient: pumpkin. Learn about the pie pumpkin and find pumpkin recipes to use your pumpkin puree.
Instructions
Cut the pumpkin in half, stem to base. Scrape out the seeds and pulp. Reserve seeds to make baked seeds.

Place the halves on a rimmed baking sheet. Sit halves meat side up (cut a small slice out on the bottom of each to allow them to sit evenly without rolling).

Cover each half with aluminum foil. Bake for 60 minutes, or until pumpkin flesh is fork tender.

Scrape the pumpkin flesh from shell halves and puree in a food processor. Strain to remove any remaining stringy pieces or seeds. You might need to add just a little water to make it a "blendable" consistency. On the other hand, some are watery and need to be drained.

If you've tried this recipe, come back and let us know how it was in the comments or ratings.
Nutrition
Calories:
176
kcal
,
Carbohydrates:
44
g
,
Protein:
6
g
,
Sodium:
6
mg
,
Potassium:
2312
mg
,
Fiber:
3
g
,
Sugar:
18
g
,
Vitamin A:
57890
IU
,
Vitamin C:
61.2
mg
,
Calcium:
143
mg
,
Iron:
5.4
mg