This is one of my favorite pumpkin bread recipes! Moist and delicious bread blended with real pumpkin puree, spices and of course, chocolate chips!
This recipe is sponsored by LIBBY'S® 100% Pure Pumpkin and NESTLÉ® TOLL HOUSE® Morsels.
Pumpkin Seasoning Is Here Again!
How do the holidays sneak up on me every year? All too often, they come on fast and then, in the blink of an eye, they are gone.
I always think of the recipes I didn't make or the new ones I didn't get a chance to try in all the hubbub.
This year I am home alone the week before Thanksgiving, but I'm actually looking forward to taking advantage of that time in the kitchen. Chocolate Chip Pumpkin Bread is one of those recipes that is at the top of my baking list.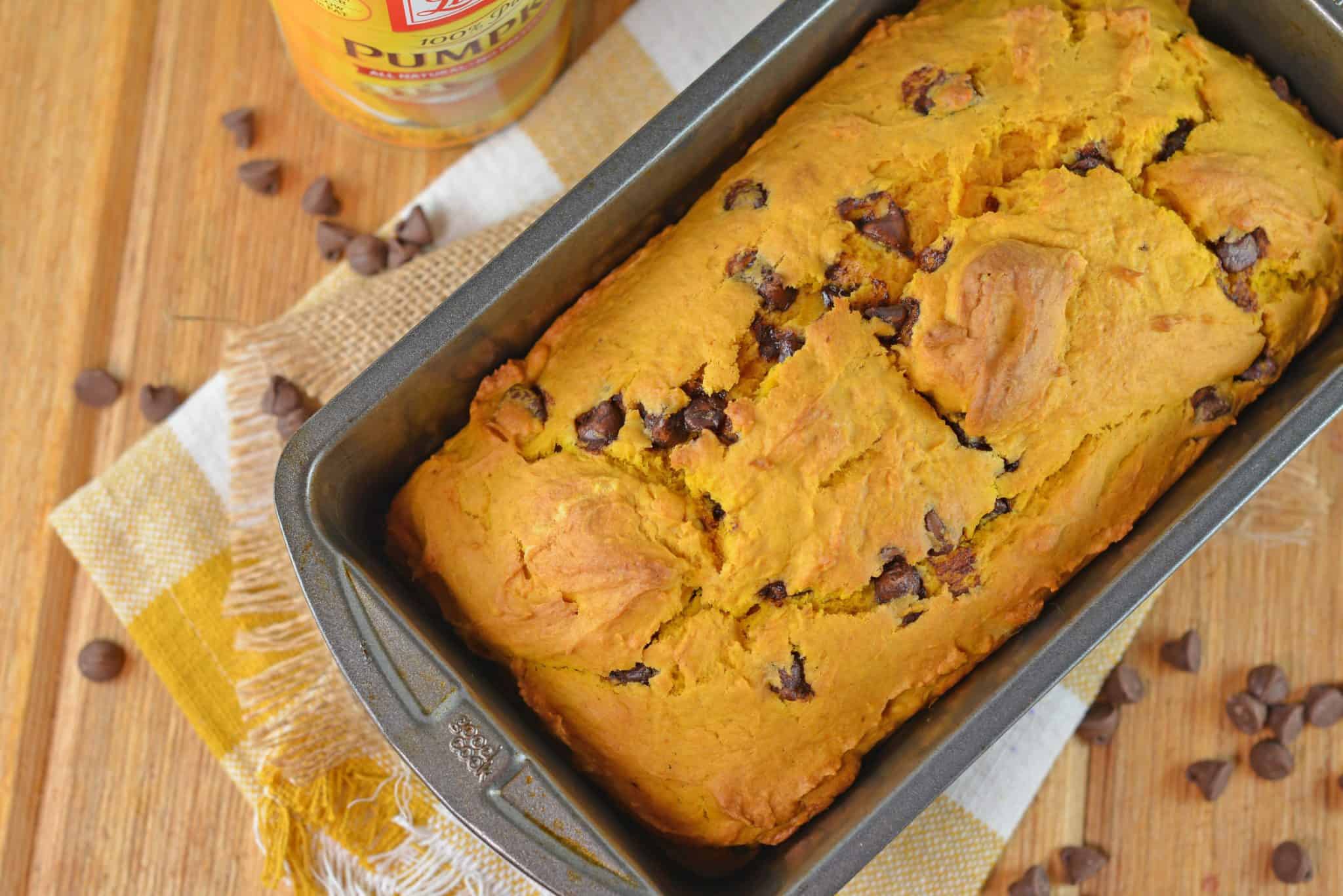 While it is super quiet this week, next week will be absolute madness between friends and family coming and going. I like to stock the kitchen with readily snackable recipes.
Pumpkin Bread Recipe
This recipe is just the thing to serve guests for breakfast, as an afternoon snack, or for dessert. Heck, it might even be a midnight snack.
Pumpkin chocolate chip bread is based on my banana walnut bread, which is one of my most popular recipes. Think of it as a banana bread for sweater weather. Sweet, moist, and a hint of the season.
The only things you may need to buy at the store are, LIBBY'S® 100% Pure Pumpkin and NESTLÉ® TOLL HOUSE® Morsels. You will most likely have the rest of the ingredients in your pantry and the fridge already.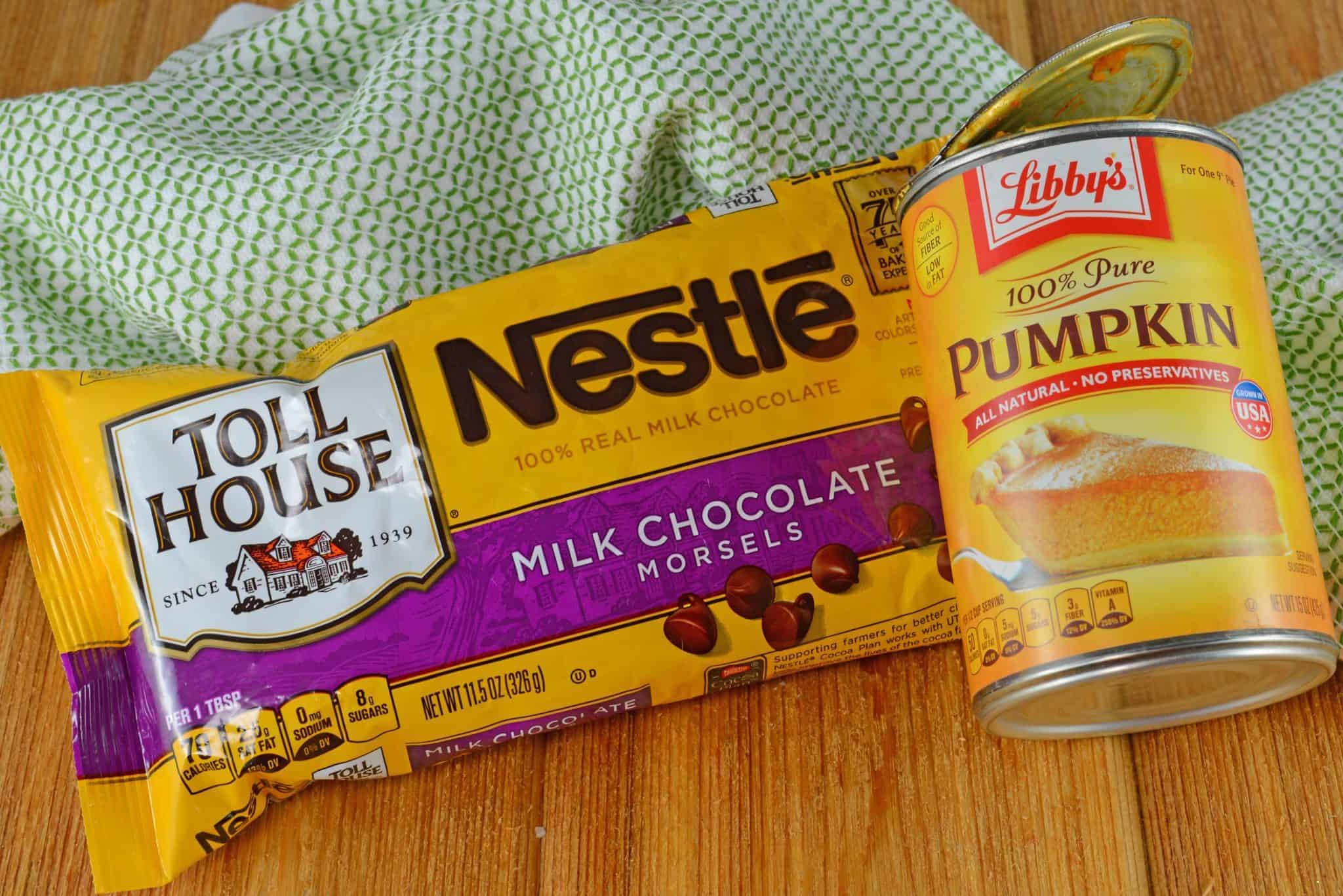 Pumpkin is a fantastic ingredient for bread much like bananas. Both offer up a huge amount of moisture, both give a great amount of flavor, and each has enough sugar to sweeten things up without making them too saccharin.
Leftover Pumpkin Puree
This recipe is ideal for when you have just a little pumpkin puree leftover from your pumpkin cheesecake or pumpkin sugar cookies. Spread the pumpkin wealth around!
Only one cup is needed to give this loaf a beautiful orange hue. If you are feeling really ambitious, you could use homemade pumpkin puree as well.
The chocolate chips, while not necessary, give it a hint of bittersweet that is delightful. Chopped walnuts would be another great addition to this recipe.
Make Ahead & Freezing
Nearly all breads are best within the first 1-2 days of baking, but if you keep this bread tightly wrapped at room temperature, it will stay moist for up to 5 days. If it lasts that long…
Another bonus? It freezes well! Wrap tightly in plastic wrap and some foil or put it in a freezer bag for added protection and keep it in the freezer for up to 2 months.
When you are ready to enjoy the Pumpkin Bread, take it out of the fridge and allow it to come to room temperature for an hour or two on the counter. Slice and serve!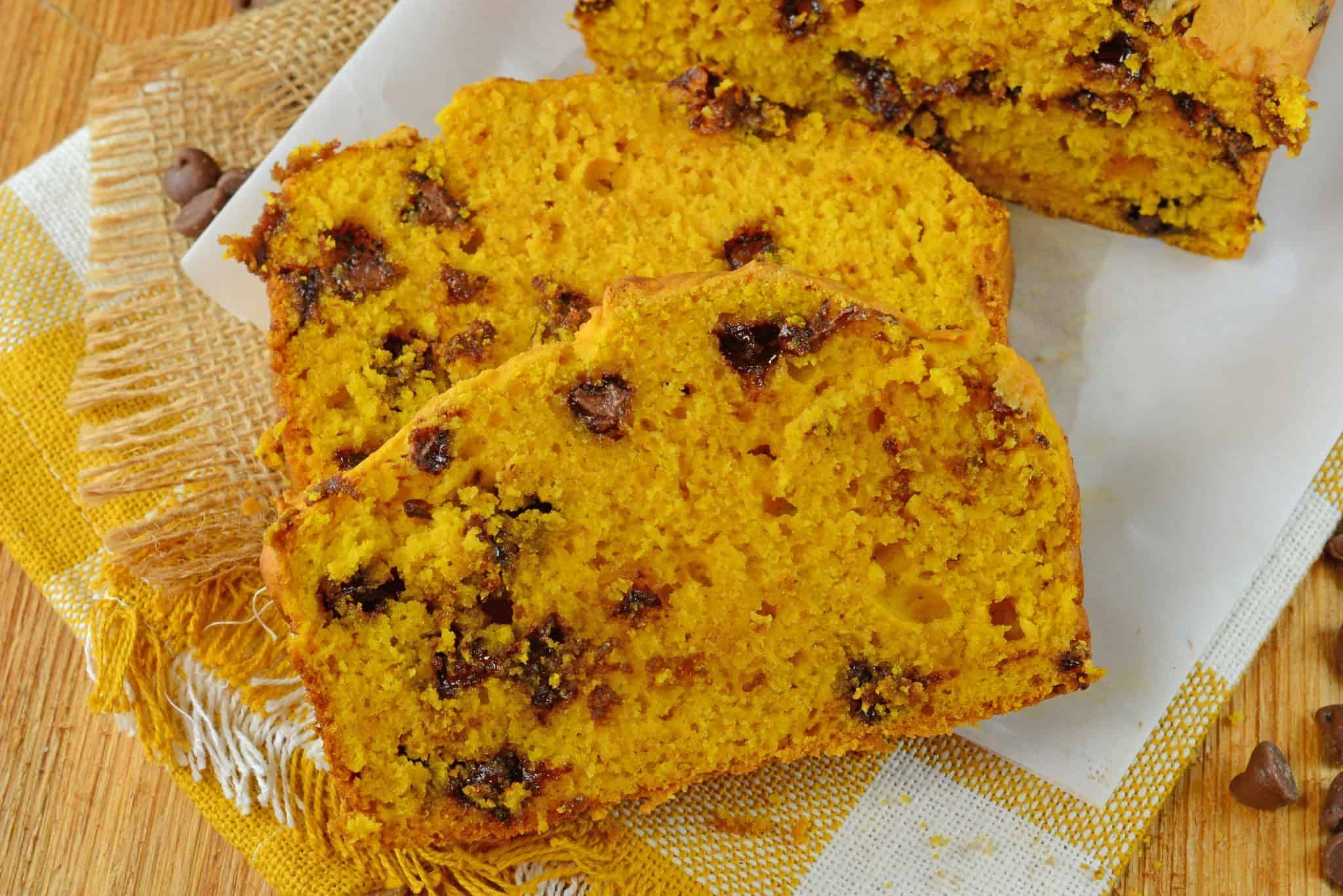 Whether you are making it for yourself or for a crowd, it is sure to please. Yippee for pumpkin bread!
Pumpkin Waffles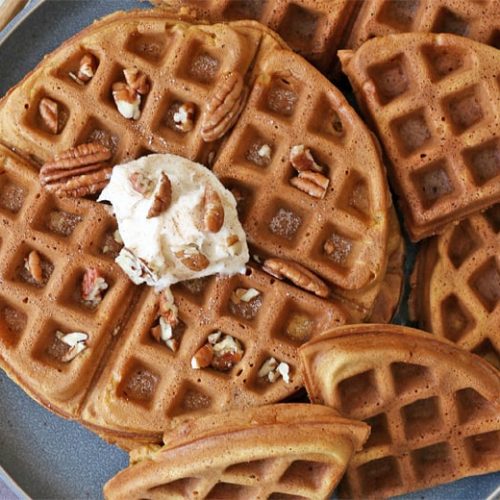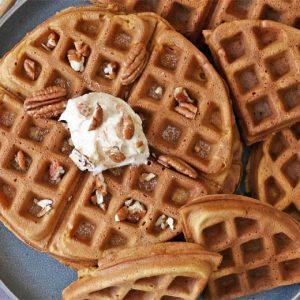 Homemade waffles don't get much better than these Pumpkin Waffles! Full of fall flavor and perfect for breakfast or brunch! Homemade waffles don't get much better than these Pumpkin Waffles! Full of fall flavor and perfect for breakfast or brunch!
Easy Pumpkin Pie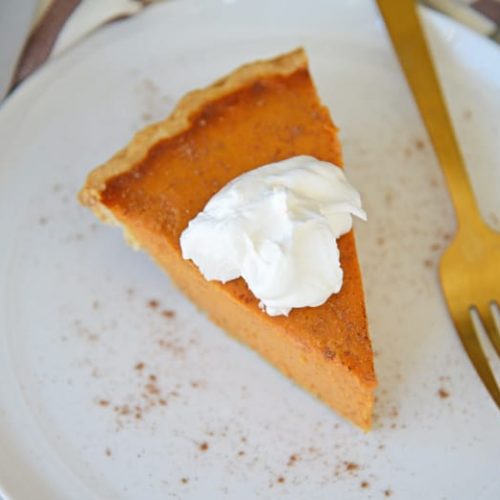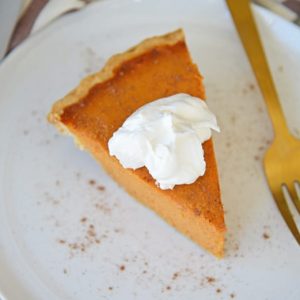 This Easy Pumpkin Pie is just perfect for Thanksgiving! Perfectly creamy and delicious, this pumpkin pie recipe is perfection!
Pumpkin Spice Hot Chocolate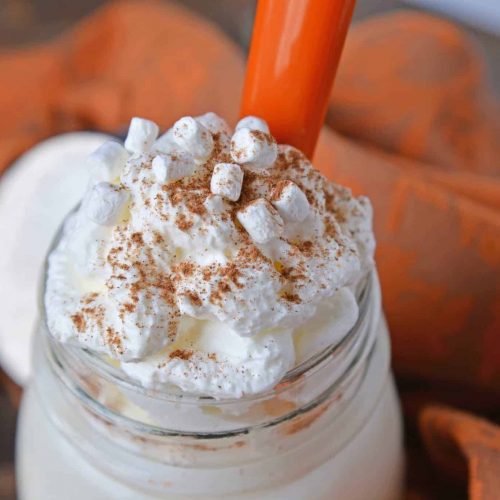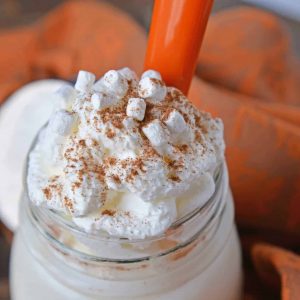 Pumpkin Spice Hot Chocolate is the perfect combination of white hot chocolate and pumpkin pie spice. The best hot chocolate recipe for fall!
---
---
Chocolate Chip Pumpkin Bread
Chocolate Chip Pumpkin Bread is easy to make, soft and flavorful. A perfect loaf for breakfast or dessert!
Instructions
Preheat oven to 350 degrees.

In a large mixing bowl or the bowl of a stand mixer fitted with a paddle attachment, cream shortening and sugar, then add eggs and pumpkin puree. Blend on low until just mixed, over blending or beating will result in tough bread, so keep it slow and just until it comes together.

In a separate bowl sift together flour, baking powder and baking soda. Gradually add to wet mixture until combined.

By hand, fold in chocolate morsels with a spatula.

Lightly coat a 9-inch bread pan with cooking spray and line bottom with parchment paper for easy removal. Transfer batter into bread pan.

Bake for 50 minutes or until top is lightly brown and it passes the toothpick test. If the top starts to brown too fast, loosely cover with a leaf of aluminum foil.

Cool for 15-20 minutes and then remove from pan by gently turning upside down.

East immediately or wrap well and freeze.
Nutrition
Calories:
250
kcal
|
Carbohydrates:
39
g
|
Protein:
3
g
|
Fat:
8
g
|
Saturated Fat:
3
g
|
Cholesterol:
29
mg
|
Sodium:
141
mg
|
Potassium:
132
mg
|
Fiber:
1
g
|
Sugar:
22
g
|
Vitamin A:
895
IU
|
Vitamin C:
1
mg
|
Calcium:
56
mg
|
Iron:
1.4
mg