So many nonnas would roll over in their graves if they knew my secret: I made this Italian Beef Braciole without hard boiled egg (or raisins). Gasp!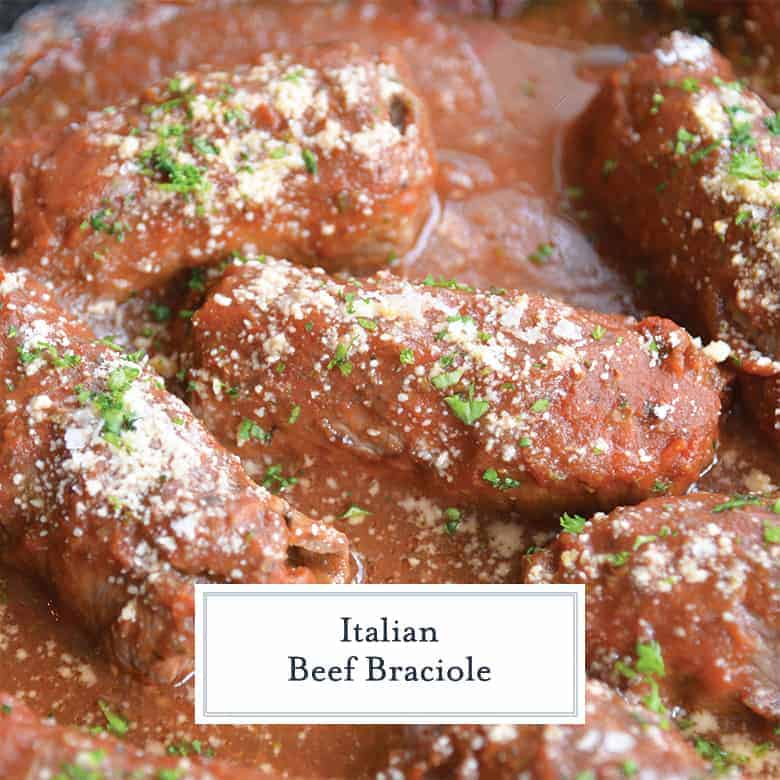 This EASY Beef Braciole recipe is the best Italian comfort food. Juicy flank steak, tomato sauce, herbs and cheese make up this delicious Italian rolled steak! Whether you've eaten it for years or just heard the word on the Sopranos, you'll are going to love this recipe.
Rolled Italian beef has a few names. The most popular is, of course, braciole, but you might also see it called braciola or involtini.
Beef Braciole Recipe
Foodie friends, I just can't get behind braciole with egg! There is something I don't like about chopped up egg rolled into my steak. Nor do I like the old school beef braciole filling using raisins.
So I made my own. Some may call it unauthentic and others boring, but I like it. Listen, I'm Italian and I know good Italian food- so whether you like it or not, this is how I like mine.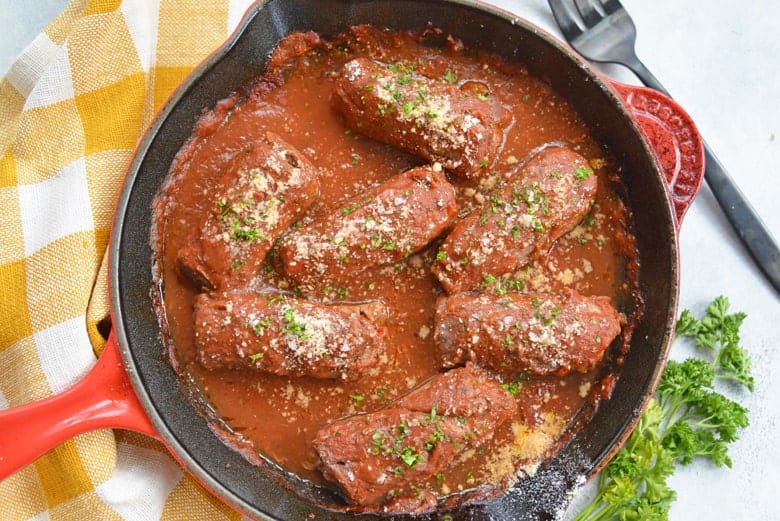 What is beef braciole?
The first step of making beef braciole is knowing how to pronounce it or how to spell it. It is pronounced bra-CHO-le.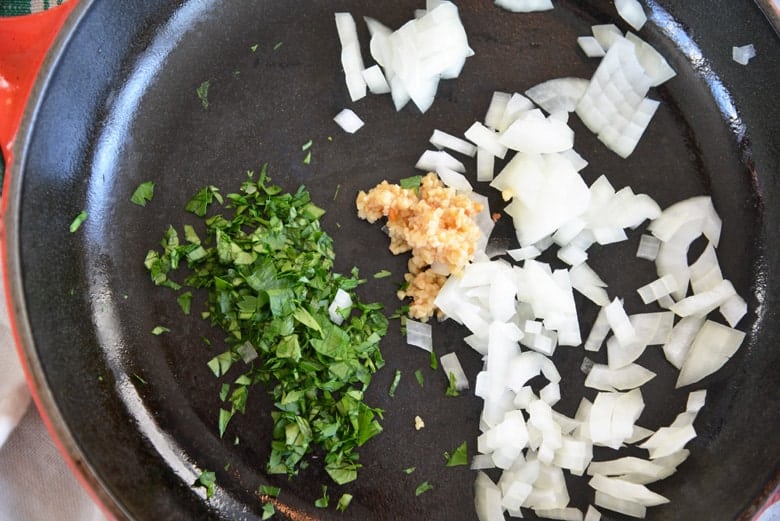 The second is knowing what that means. Beef Braciole simply means a stuffed Italian Beef Roll. Rolled Beef. It can also be made with pork, veal, lamb or chicken. As long as it is pounded thin and rolled with a savory filling, it counts.
Now that it's out of the way… onto the important stuff. The beef.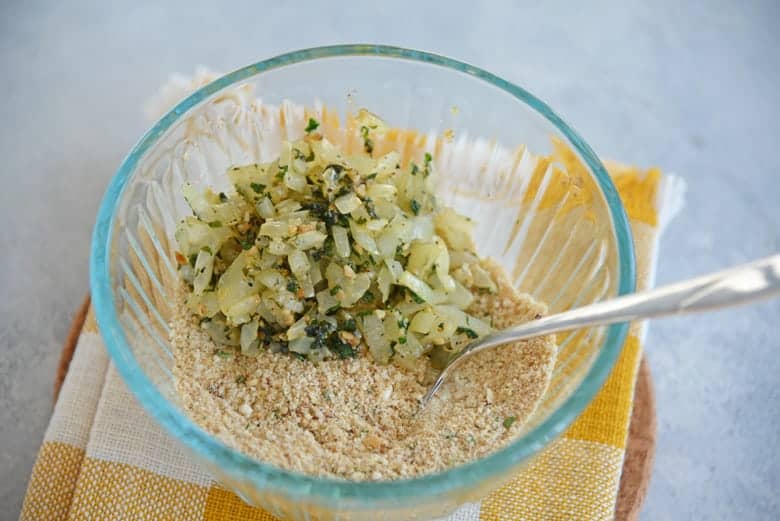 What cut of beef is used to make Beef Braciole?
Traditionally, Italian beef braciole is made with flank steak tenderized to a very thin measurement. Think about 1/4 inch thick.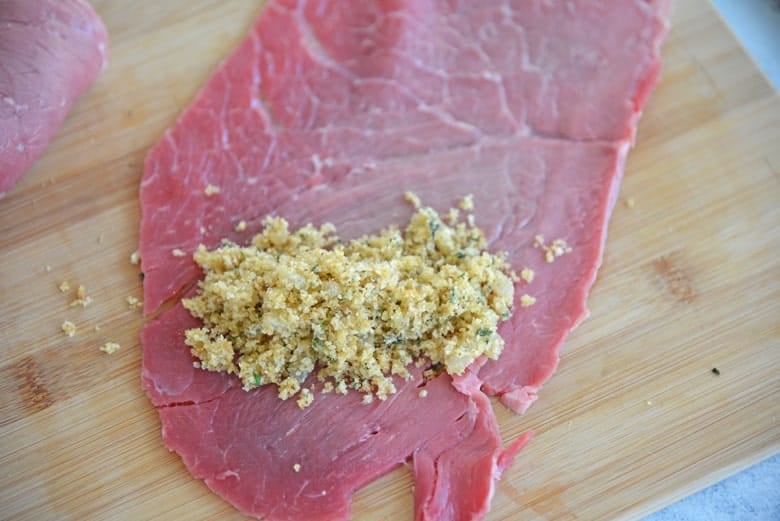 Flank steak is a little tougher and needs some TLC to be fork tender. Tenderizing and then cooking low and slow.
But sometimes it is hard to find a large cut of flank steak, my grocer often sells half pieces instead of whole. Those large pieces are best when you want a large roll to cut into pinwheel pieces.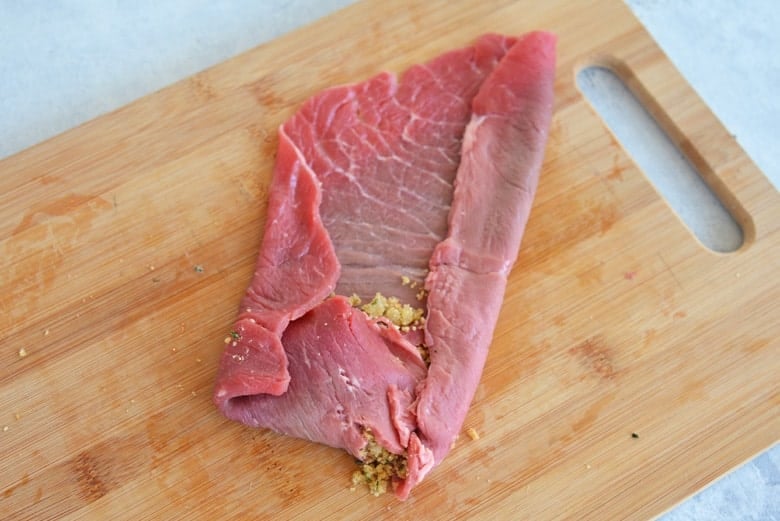 The alternative is using other cuts of beef to make your beef braciole recipe. Thin cuts also include skirt steak and flat iron, however these aren't as lean and either require more trimming or will just have more fat.
Milanese Style
But the best option is to find Milanese style beef. This is often found in Latin grocery stores, but can be requested at the butcher counter.
Milanese just refers to a thin cut of beef. It is typically made from the top round or bottom round. Instead of tenderizing until then, the beef is cut thin from the start.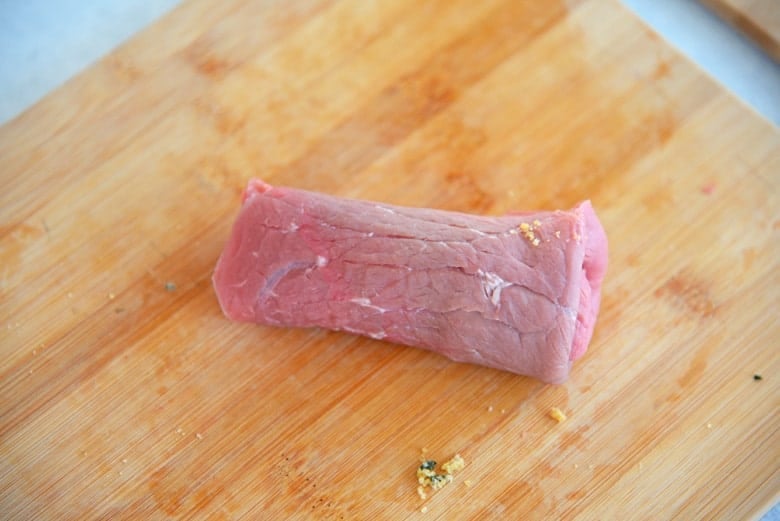 This is commonly achieved by freezing the whole roast and then slicing on a commercial grade deli slicer. Much like how I make my beef carpaccio.
Can I slice my own beef milanese style? Unless you have a commercial grade deli slicer like I mentioned above, I don't recommend slicing your own beef. However, the butcher at your local grocery store should be able to do this easily!
These cuts also need a little help to be tender, but have no fear, a low and slow simmer will achieve this, and your stuffed beef braciole will turn out just fine.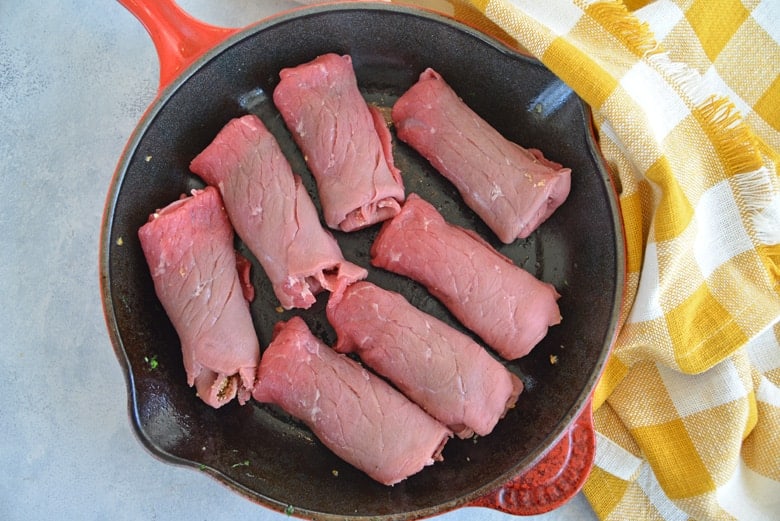 Small Bundles
The biggest difference is that your rolls using a milanese style will be individual bundles that (to me) resemble dolomites (stuffed grape leaves).
If wrapped well, you can get away with no using toothpicks or butchers twine, but you can use these tools if needed.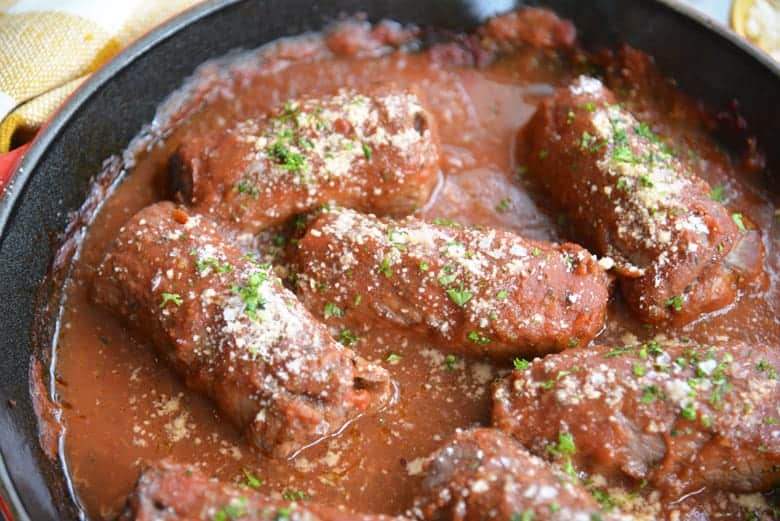 Both are great options, they just result in dramatically different presentation. I used milanese style beef for these.
The other benefits to using these single serving beef filets is that they cook a little faster and more evenly. These take about 45 minutes as opposed to nearly 2 hours using a thicker flank steak.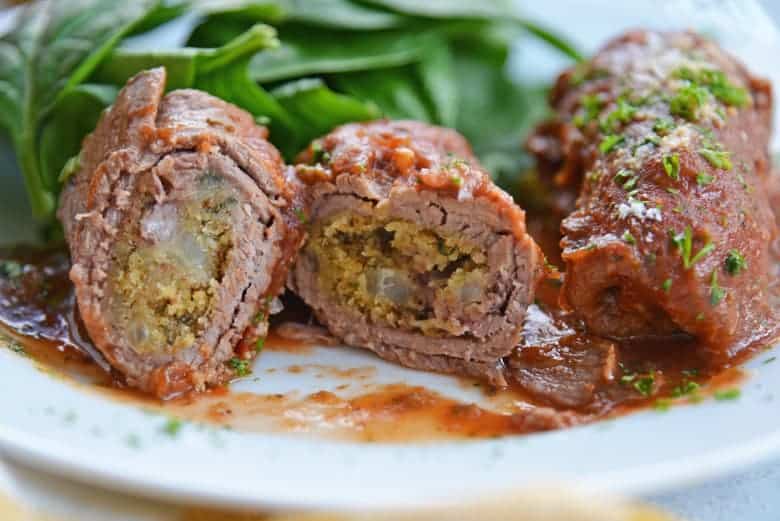 PRO TIP: Use a good olive oil for these! A good olive oil will taste like, well, olives, while a poorly made one will taste like vegetable oil. Gross. While people tend to favor Italian and Greek olive oils, I prefer to buy mine domestically.

There are some great ones out there from all over the world, but the reporting of ingredients isn't always the same and you could find that your super expensive olive oil was actually cut with vegetable oil.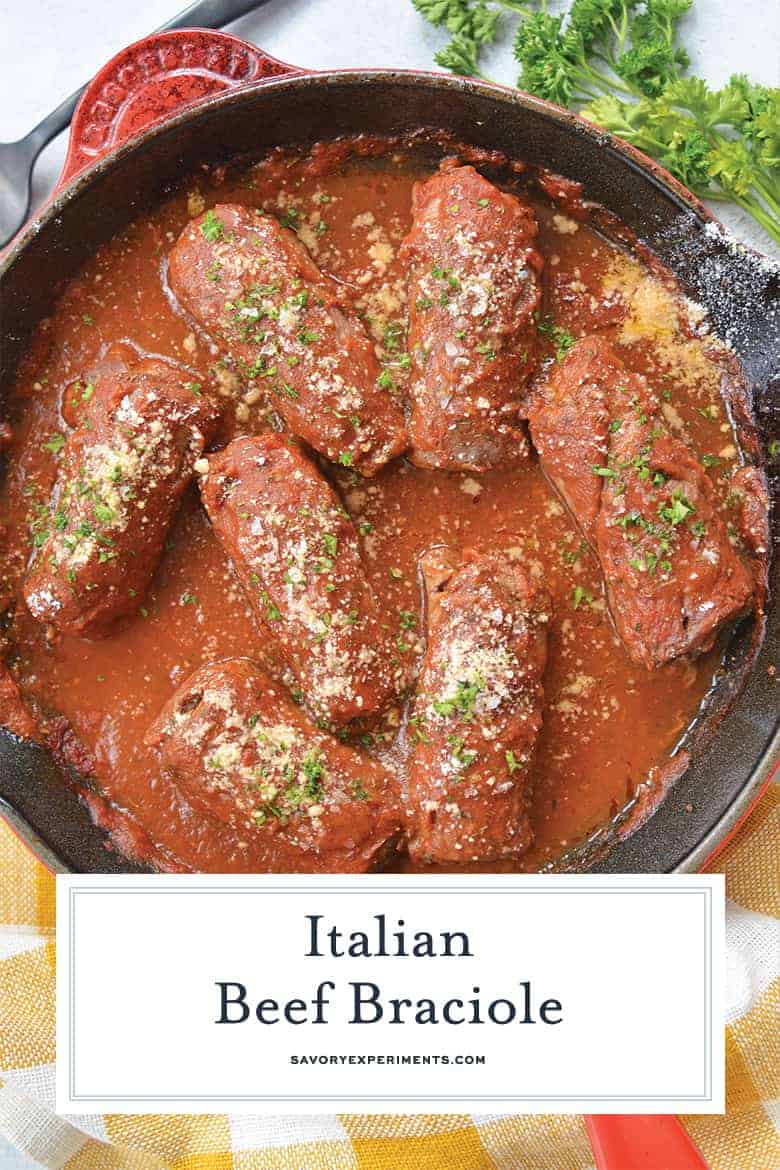 Make Ahead & Freezing
Can I make this ahead of time? I don't recommend making this ahead of time. The breadcrumbs will get soggy and the sautéed veggies won't heat up with the same texture.
Can I freeze beef braciole? I wouldn't freeze this recipe. The breadcrumbs and sautéed veggies just don't reheat the same!
While this Italian stuffed beef braciole is one of my favorites, here are some other Italian recipes that I love: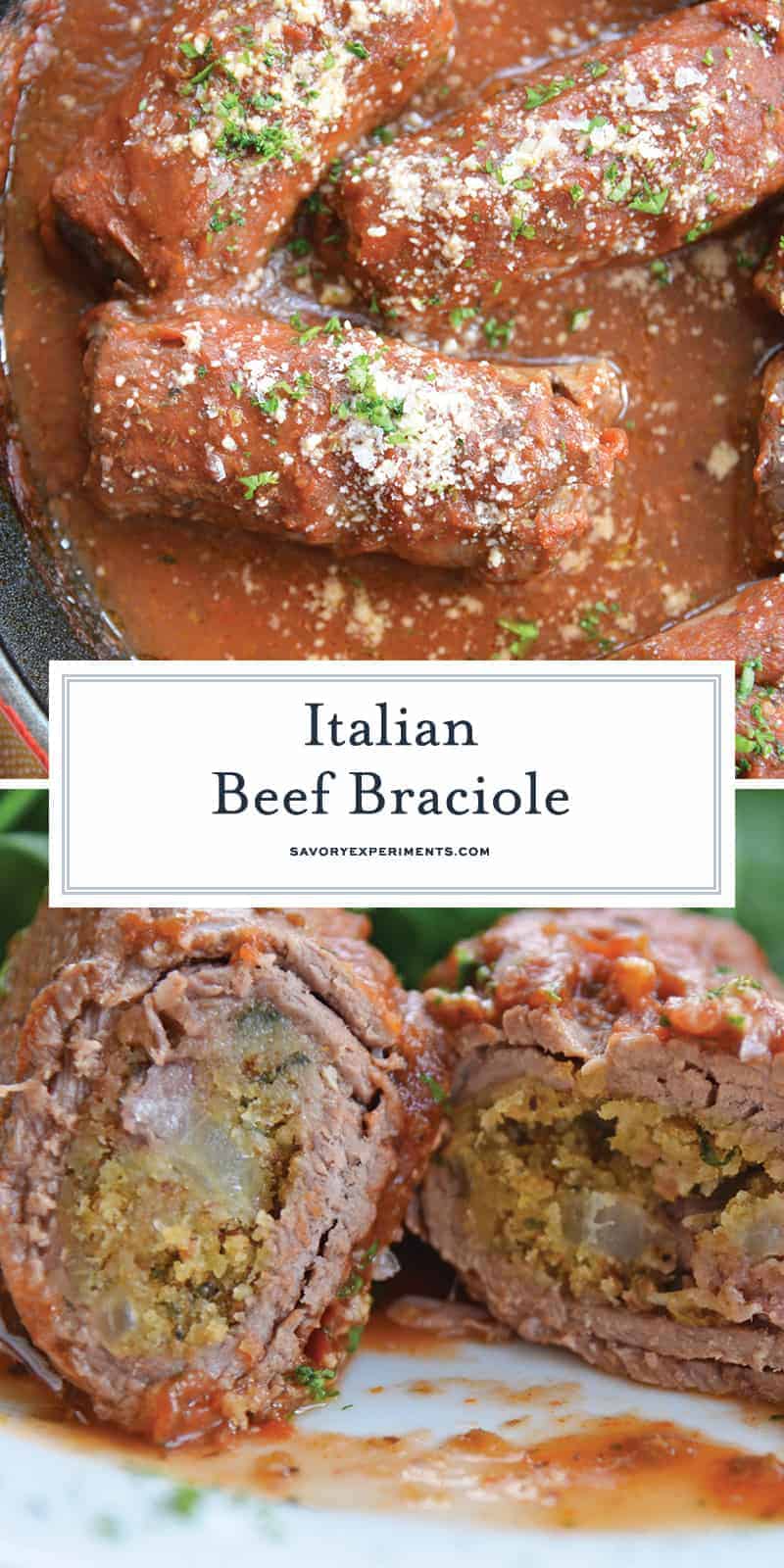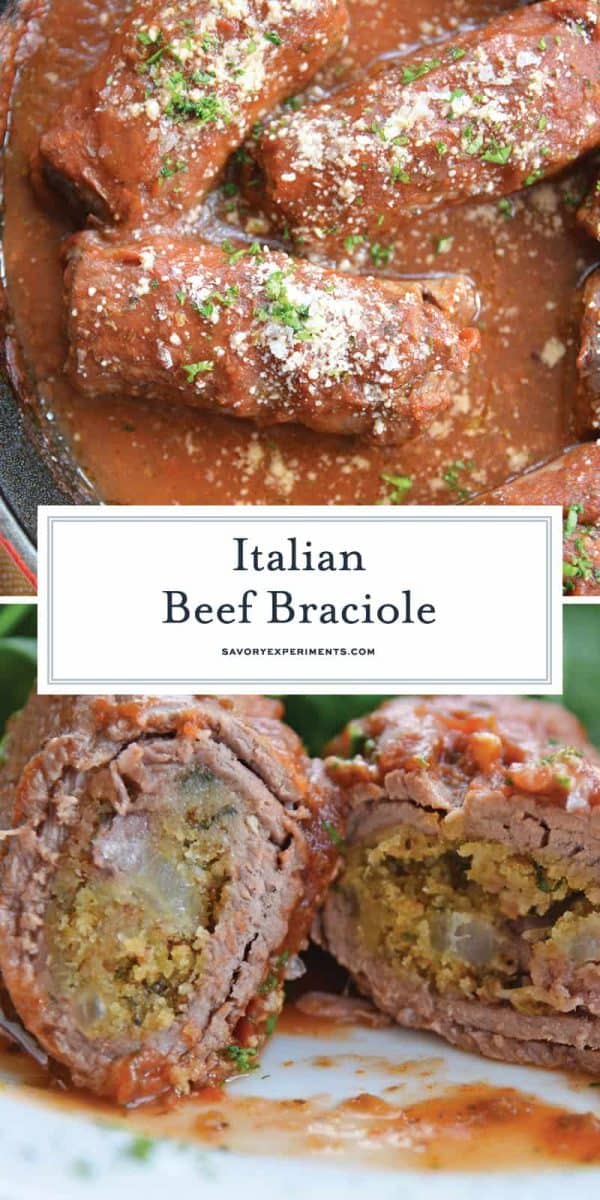 Why do you have to brown the meat before braising
Browning meat before braising is important because it helps to lock in the juices of the meat. No one likes dry meat, so I don't recommend skipping this step!
Do I have to use marinara sauce?
You don't have to, but it helps to break down the fibers and tenderize the meat while keeping it moist. You can buy a jarred marinara or make your own marinara sauce.
Can I skip sauteing the onions?
I don't recommend skipping this step because it helps to release liquid from the onions. If you don't do this, then your sauce will end up watery.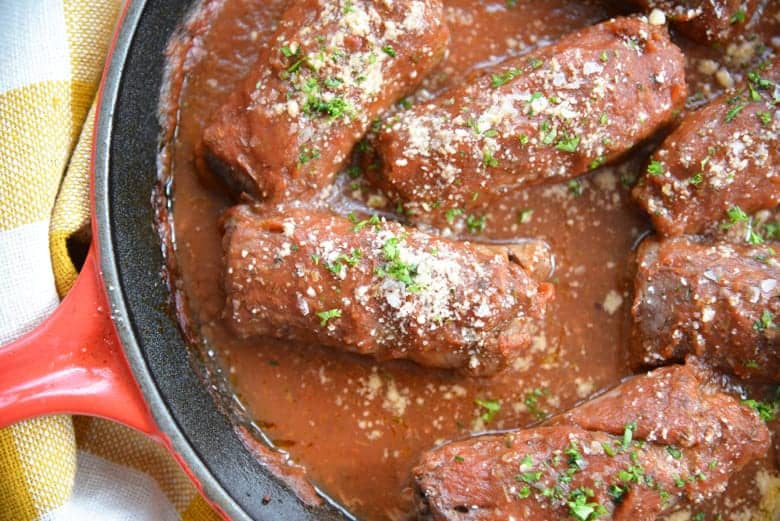 I'm hoping you give beef braciole a go- even if you haven't had it before. It is sure to be a new family favorite!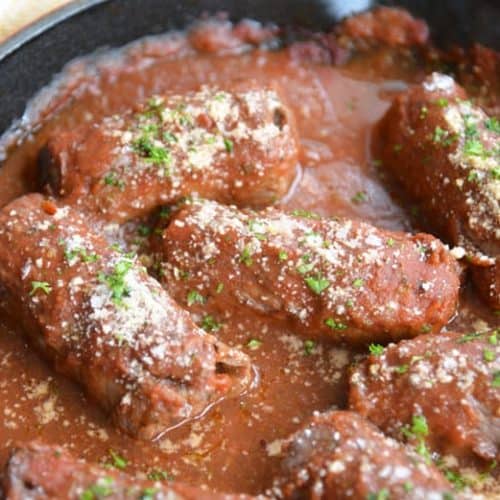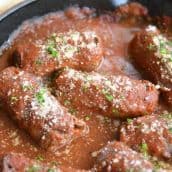 Italian Beef Braciole without Egg
This EASY Beef Braciole recipe is the best Italian comfort food! Juicy flank steak, tomato sauce, herbs and cheese make up this delicious Italian rolled steak!
Instructions
Preheat oven to 275 degrees.

Heat 1 tablespoon olive oil in a small skillet over medium heat.

Add chopped onion, garlic and flat parsley. Saute until softened. Add breadcrumbs and remaining olive oil.

Toss until it is fully mixed and pasty.

Remove from heat and add Parmesan cheese. Set aside.

On a cutting board, place 1-2 tablespoons breadcrumb mixture on the short edge. Roll up, folding in the edges like an envelope.

Place, seam side down, in an oven safe skillet.

Repeat with remaining filets.

Brown beef rolls over medium heat.

In a separate bowl, combine tomato sauce with dried oregano.

Top beef rolls with tomato sauce.

Place in oven, uncovered, for 45 minutes.

Remove and allow to rest for 5 minutes before serving.

If you've tried this recipe, come back and let us know how it was!
Nutrition
Calories:
333
kcal
,
Carbohydrates:
7
g
,
Protein:
25
g
,
Fat:
24
g
,
Saturated Fat:
8
g
,
Cholesterol:
70
mg
,
Sodium:
562
mg
,
Potassium:
624
mg
,
Fiber:
2
g
,
Sugar:
4
g
,
Vitamin A:
520
IU
,
Vitamin C:
9
mg
,
Calcium:
57
mg
,
Iron:
3
mg