What is calamari? Fried Calamari is crispy squid fried to golden brown perfection, that is dipped in marinara sauce. Usually served as a appetizer but scrumptious all the same!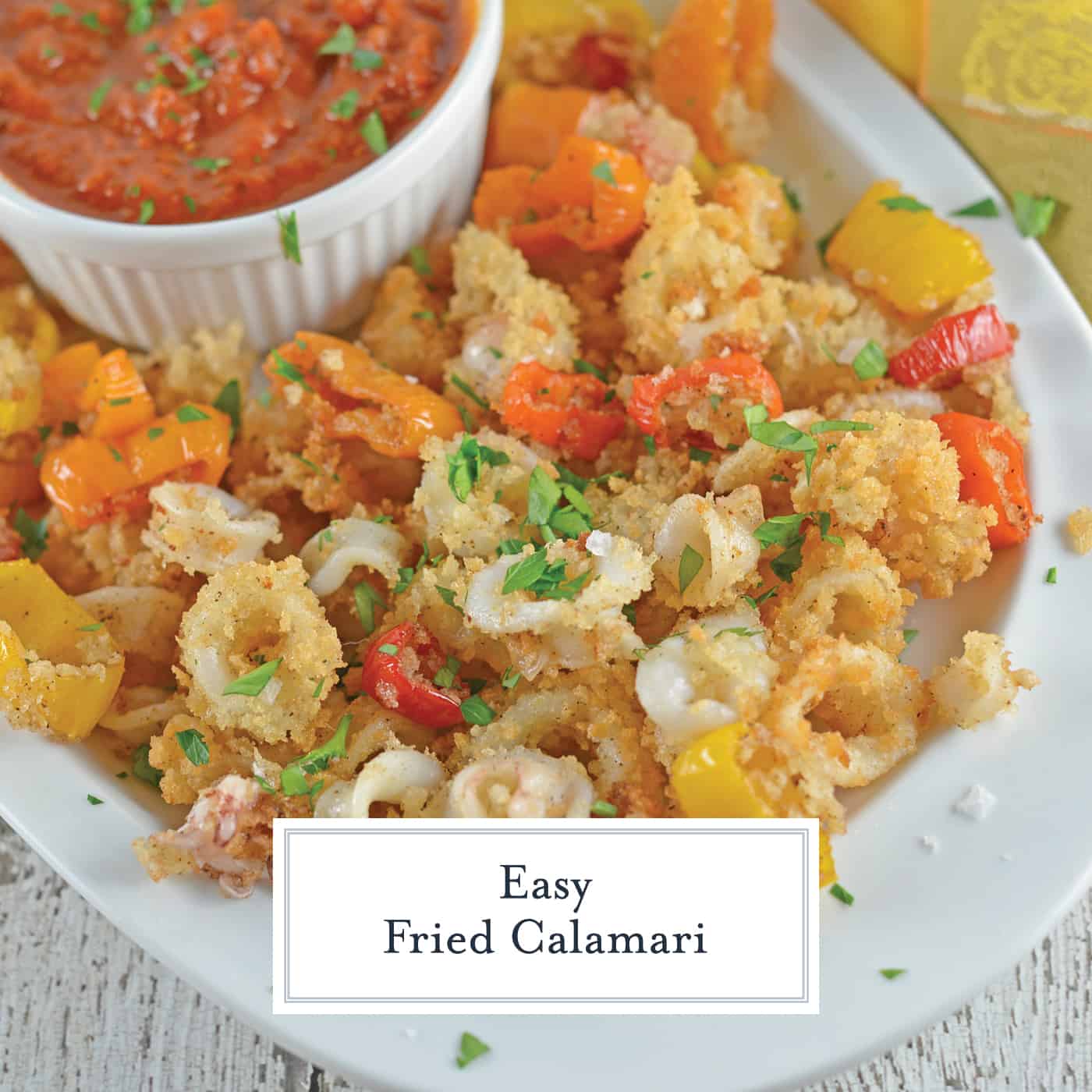 This is the best calamari recipe that you will come across! Calamari fritti is easy to make at home with a zesty calamari sauce!
Fried calamari, Italian for fried squid and also known as calamari fritti, is a dish served throughout the Mediterranean, but also very popular in the states. Served with a calamari sauce, which is usually a simple marinara or spicy marinara, they are easy to make at home too!
Calamari and squid are synonymous in the US. Squid is the actual name of this mollusk, however, it is commonly prepared in Italian restaurants which refer to deep fried squid as calamari. All parts of the squid are edible except the beak and gadlius (pen).
In the States and Italy, most dishes commonly utilize the mantle (body which produces calamari rings when cut horizontally) and the tentacles Other Mediterranean and Asian cultures will also use the ink, arms or eat them whole. Squid ink can be used to color and flavor pastas as well.

The fried calamari lover knows that good calamari can be difficult to come by. Fried too long and it is rubbery and chewy. However, not fried long enough; inedible with the same rubbery texture.
Too much breading results in not being able to taste the squid and too little is just a squid ring.
The perfect blend of seasoning is also difficult to achieve. Some folks prefer to do a battered calamari, using something similar to a beer batter slurry.
Others like to bread them with either bread crumbs or panko, which is actually a Japanese bread crumb. I am of the latter group.
Panko pieces are a little larger, but pack from punch from the crunch. It is light, yet crunchy and will not overpower the squid. Just a couple of shakes of seasoning is plenty.
This fried calamari recipes is paired with a basic calamari sauce, also known as a simple marinara. Feel free to make your own or buy it at the store.
Don't stop there though, you can also use some other fabulous dipping sauces like a Chipotle Aioli or Nashville Hot Sauce for "rings of fire" or even a Creamy Italian Dressing. Or you can also go simple with a spritz of fresh lemon juice!
Here are a couple more easy Italian recipes to try with your Fried Calamari:
Tools for making Easy Fried Calamari:
Pie Plates
– I think every kitchen should have at least three shallow dishes or pie plates for the process of breading and frying. You can also bake pies in them! Hehe.
Heavy Bottom Sauce Pan
– this will be one of your most used kitchen tools. Having something that is heavy bottom will distribute heat better and prevent burning whether you are using an electric or gas range.
Ramekins
– I like giving folks their own individual sauce cups. Then you don't have to worry about double dipping! Ramekins are also great for ingredient preparation and baking mini souffles.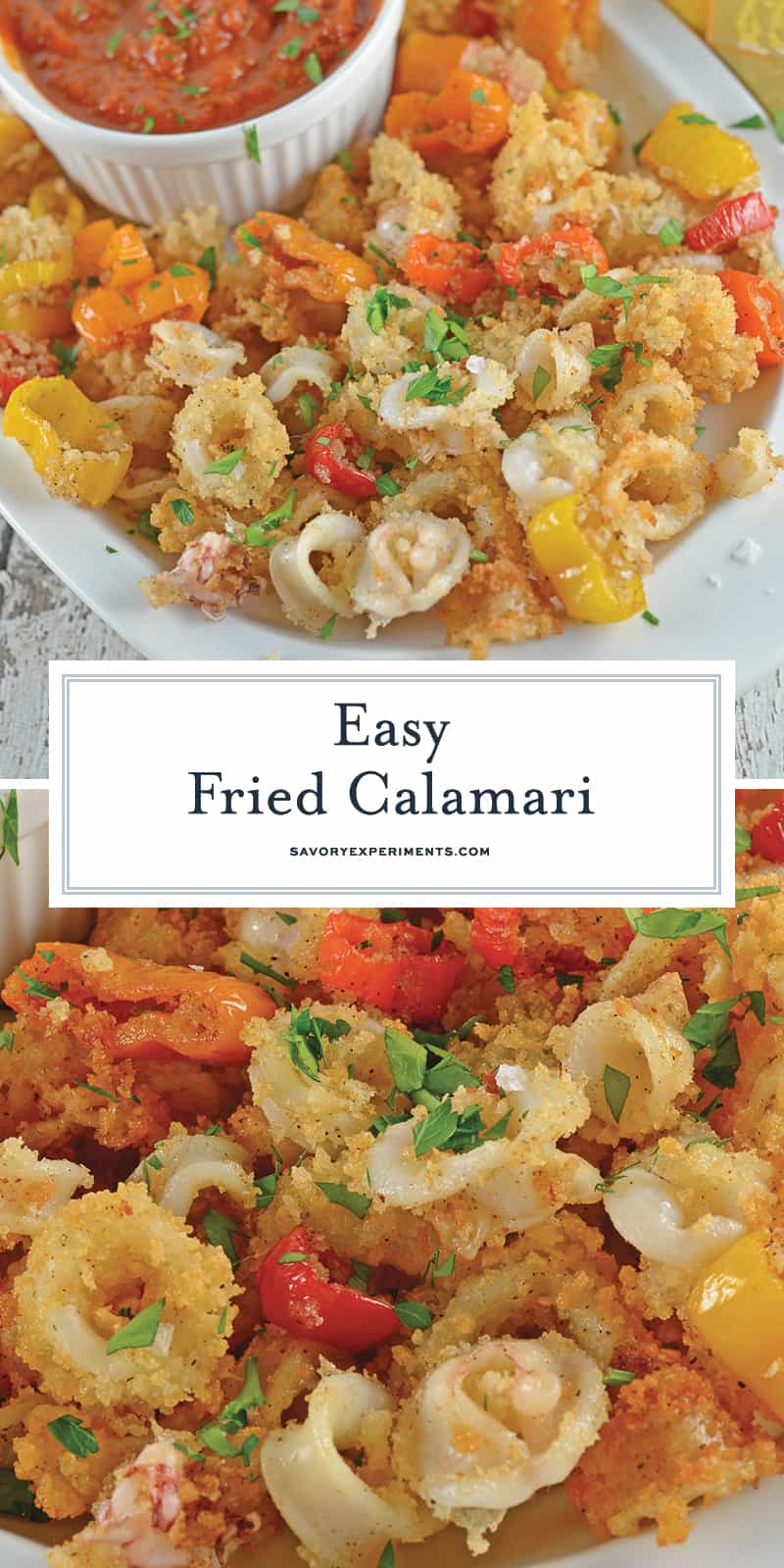 If you are looking for even more fabulous appetizers, snag a copy of my Easy Appetizers Beyond Dips Mini-Cookbook. Available here for only $0.99, one of these fun and festive appetizers sure to be the hit of any gathering!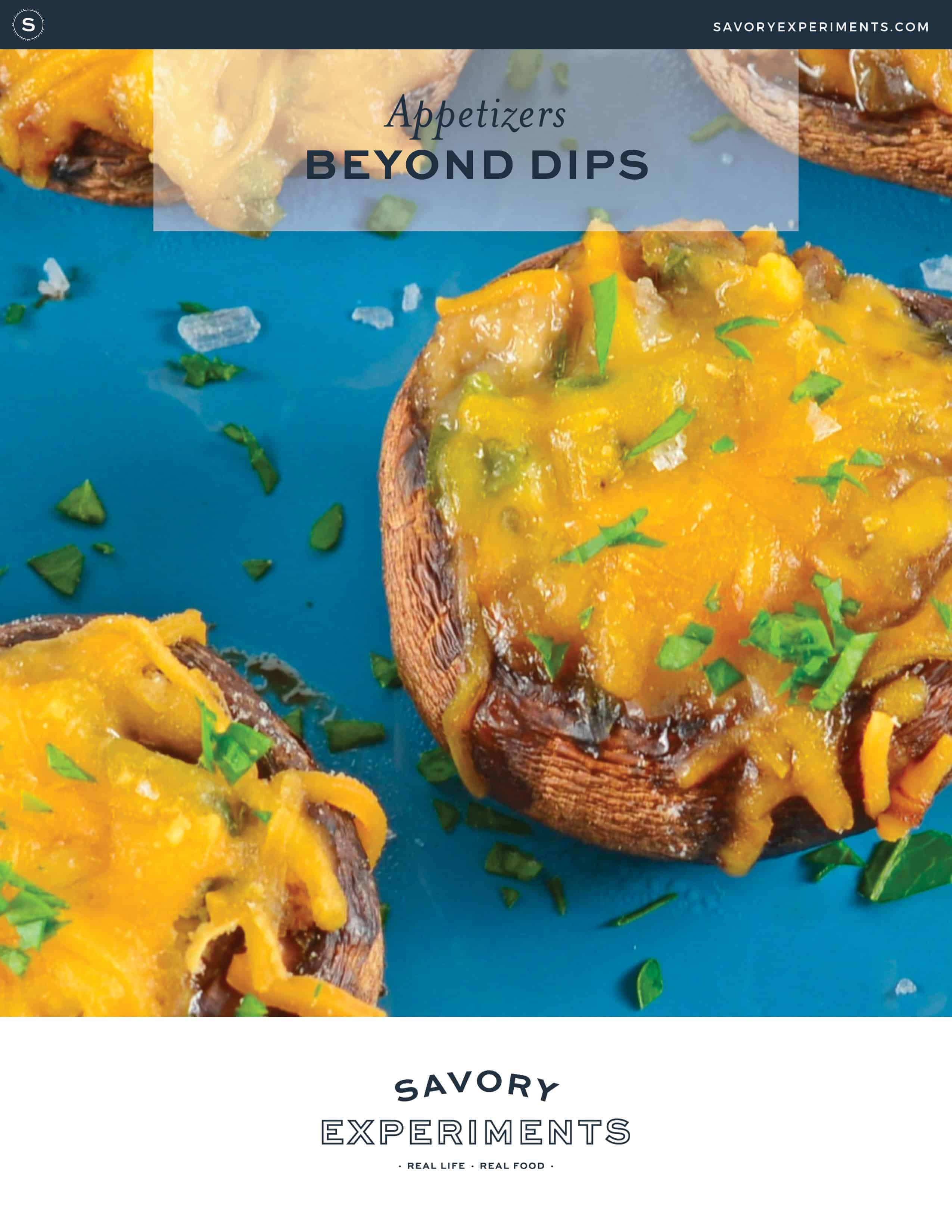 Fried Calamari
Fried Calamari are crispy squid fried to golden brown perfection. Battered Calamari is easy to make at home with a zesty calamari sauce!
Ingredients
1

pound

squid

, your choice of tubes only or a combination of tubes and tentacles

2

cups

Panko bread crumbs

Fine sea salt and freshly ground pepper

3

egg whites

1/3

cup

flour

4-5

sweet peppers

, cut into rings, seeds discarded

Vegetable oil

, enough to fill your frying pan up to 1 1/2 inches

1

cup

marinara sauce
Maldon sea salt

, for garnish

Parlsey

, minced, for garnish
Instructions
Thoroughly clean squid pieces under cold water, running water through tubes. Dab dry. The tips might have a jelly-like tendon that will need to be cut off and discarded. Cut tubes into 1/2 inch rings. Rinse tentacles and leave whole. Set in refrigerator to dry out further.

In a medium bowl combine panko bread crumbs with a few dashes of fine sea salt and a couple turns of a freshly ground pepper.

In another medium bowl whisk together egg whites and flour to make a paste.

Preheat oven to "warm", 150-200 degrees. Line a baking sheet with paper towels.

Heat oil over high heat. Dredge calamari rings in egg white mixture. Rings do not need to be fully coated. Allow excess coating to drip off and transfer to panko mixture. Pat bread crumbs into calamari and transfer to hot oil.

Fry until rings are lightly browned, turning throughout the process. This a quick, flash fry, and will only take 2-3 minutes. Over cooking will result in a rubbery, chewy mess. Remove to a paper towel lined baking sheet and place in oven to keep warm.

Dredge sweet pepper rings in egg white mixture and then panko mixture, following the same instructions as the calamari. remove to paper towel lined baking sheet.

Serve with easy marinara sauce!

If you've tried this recipe, let us know how it was!
Nutrition Facts
Fried Calamari
Amount Per Serving
Calories 324
Calories from Fat 27
% Daily Value*
Total Fat 3g 5%
Cholesterol 264mg 88%
Sodium 632mg 26%
Potassium 839mg 24%
Total Carbohydrates 43g 14%
Protein 27g 54%
* Percent Daily Values are based on a 2000 calorie diet.