Picture this, it's a cold winter day and you feel like eating something that's going to not only satisfy your hunger but also warm you up. Well I have the answer to all your problems, Short Rib Soup!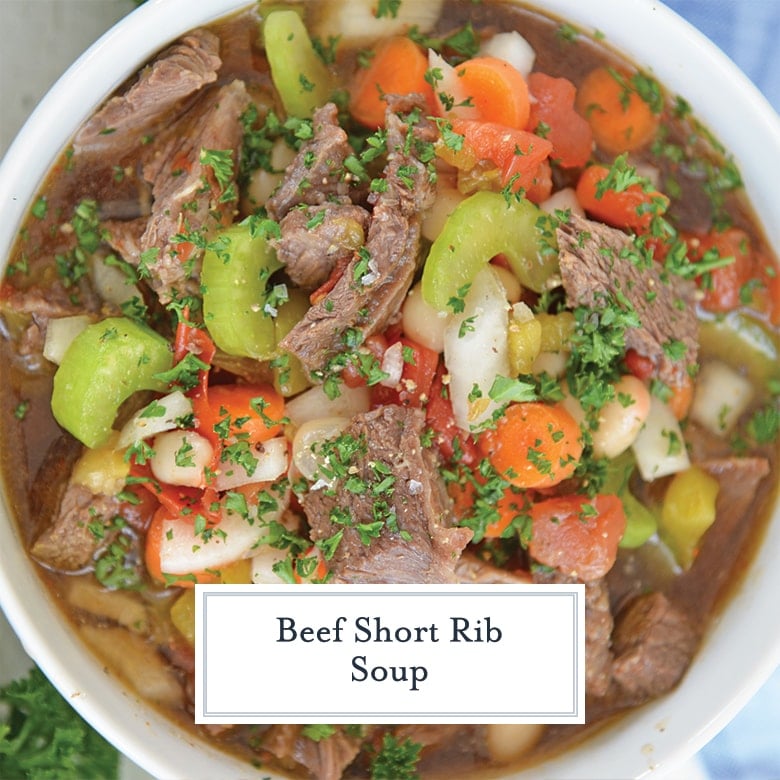 Short Rib Soup
I've been obsessed with short ribs lately. This typically chewy cut of meat when seasoned and cooked properly turns into a fork tender cut that will literally melt in your mouth.
My mother had told me about this beefy recipe she had made on several occasions with rave reviews, so I had to try it myself and I had to agree, Short Rib Soup is pretty darn tasty!
Short Rib Soup is a hearty soup that could easily be a main entree or an appetizer, make sure you serve it with a hearty loaf of bread or Sweet Potato Cornbread to soak up all of the zesty goodness. I also served mine with a leafy green side salad.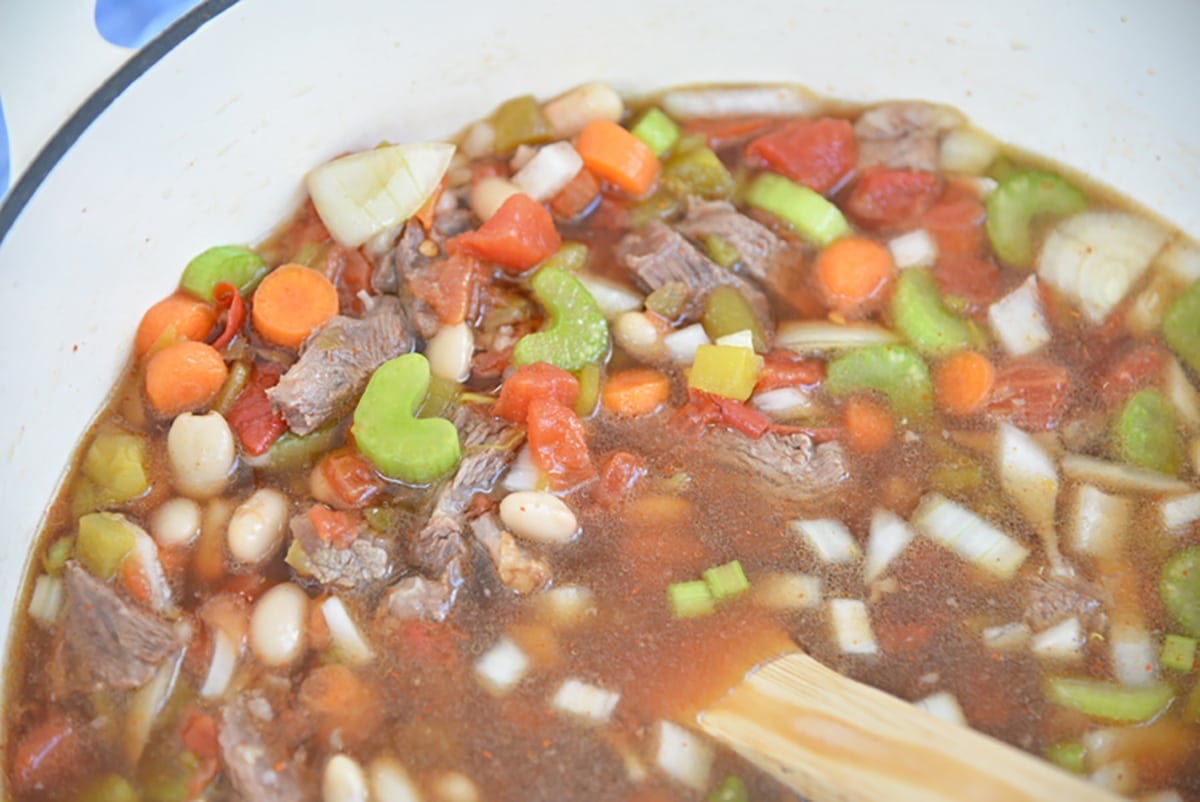 Bone-In vs Boneless Short Ribs
What is the Difference Between Boneless and Bone-In Short Ribs?
What are beef short ribs? Short ribs are pretty much self explanatory from their name, they're the shorter section of the rib bone covered in different thicknesses of meat.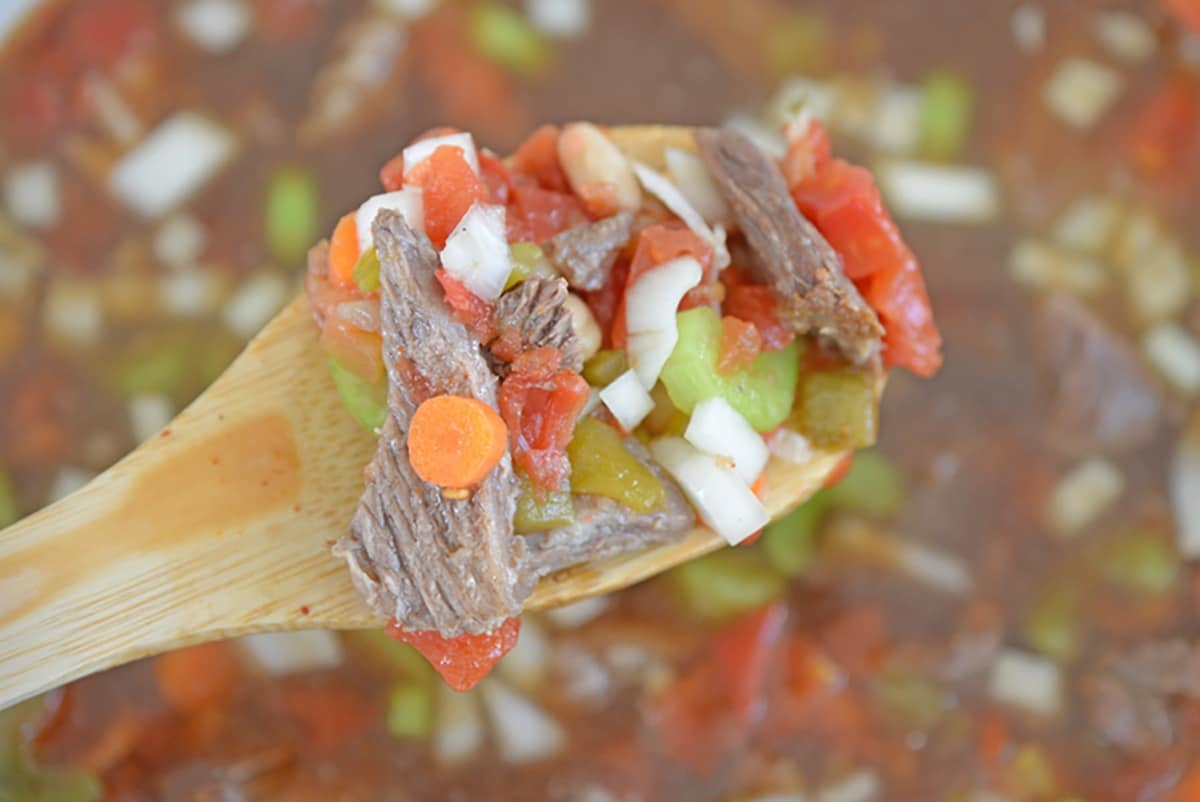 The cut of beef is usually from the brisket, chuck, plate, or rib. You'll find short ribs more commonly in Chinese, Korean, and Jewish cooking. They cook best using methods of pressure cooking, braising and low simmering, which is why they work in soup.
I like using boneless for this recipe. They generally have a thicker meat and then you don't have to mess around with the bone. However, there are some that prefer bone-in believing it adds flavor.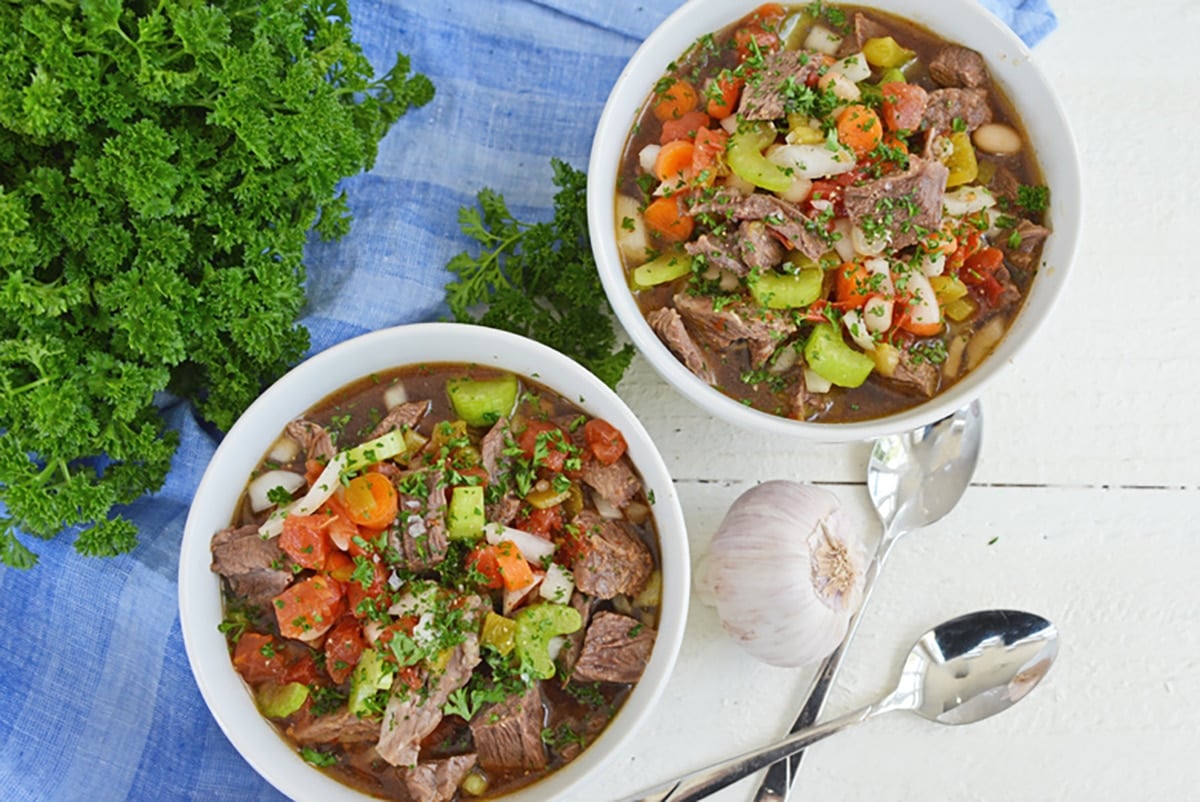 Can I Use Bone-In Short Ribs?
If boneless ribs are unavailable, substitute 7 pounds of bone in beef short ribs at least 4 inches long with 1 inch of meat above the bone. The amount of useable meat varies greatly, you might even want to purchase a few extra to make sure you have enough.
Some won't have any meat left on them after cooking, they tend to shrink, so look for a meaty pack. Also of note, they are still pretty expensive and you are paying for a lot of bone and you might have to separate out more fatty piece and silver skin.
If you don't see boneless out, ask the butcher. Chances are they have some in the back and it is WAY easier.
Ingredients
The ingredients for this soup have a southwestern flare with green chiles and Mexican stewed tomatoes. You can easily omit one or both of those flavors to make it more mild. Also, the chili powder.
Olive oil – You can really use any neutral oil here. Some people choose to use sesame oil or any other oil you have on hand.
Short ribs – If you weren't sure, short ribs are actually beef ribs. They are the lower portion of the cows rib, very close to the breastbone. There is no such thing as pork.
Onion – I like using a sweet onion here. Yellow onion is my favorite, but you can also use a white onion. The only one I wouldn't use is red onion as you don't want the flavor to be too strong.
Celery – Aromatic vegetables like celery and carrots just belong in a comforting soup. Make sure to cut into bite-size pieces to make consuming easier.
Carrot – Carrots are sweet and absolutely belong in delicious soup, especially this delicious short rib soup recipe.
Chili powder – This soup has the best flavor without a bunch additional seasoning. To celebrate the flavor of the beef and other ingredients, we just need a little chili powder.
White beans – You can easily find a can of white beans at the grocery store. They're found
Beef broth – You can use beef stock, but I don't recommend using chicken stock or vegetable stock. You want a flavorful broth, and beef will pair best with these short ribs.
Canned diced tomatoes – No need to drain these. The liquid in the can will add to the delicate flavor of the soup.
If you want to make it hotter, add a few shakes of Aleppo Pepper Flakes.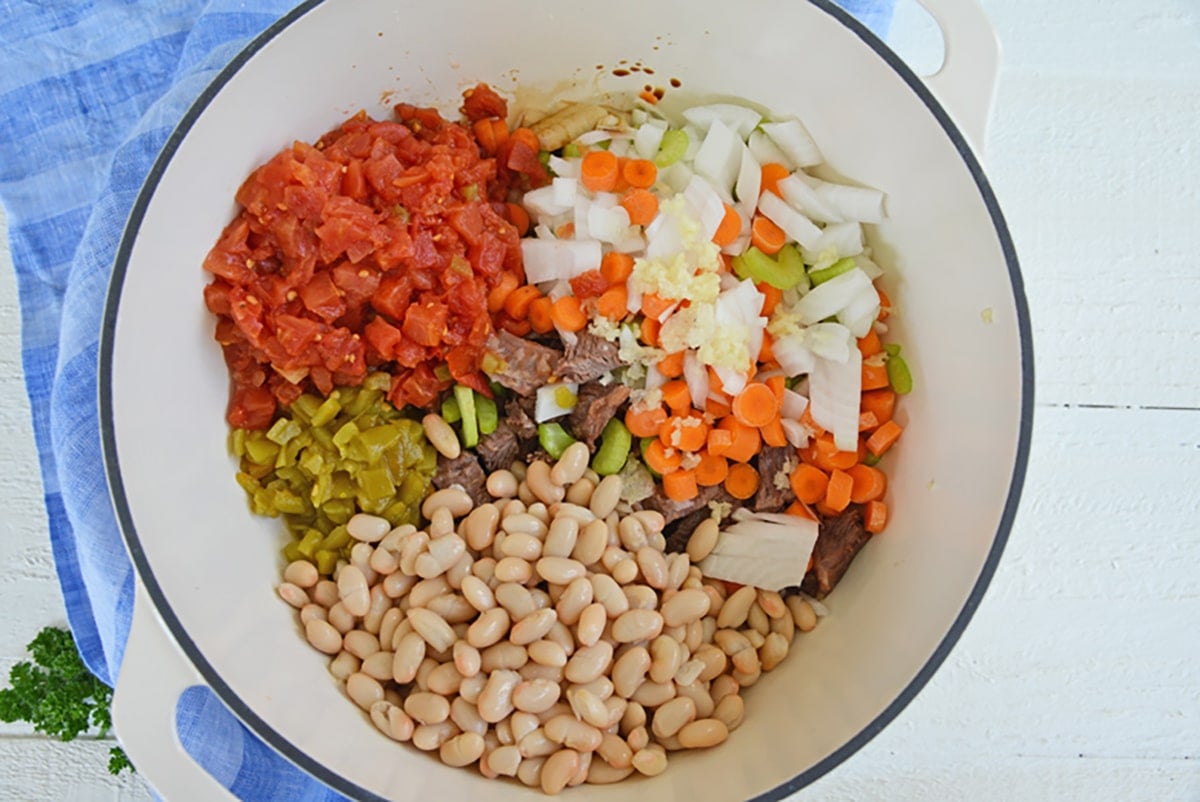 How to Make Short Rib Soup
Which takes us to the next most important question, how to cook short ribs? The first step is to make sure your short ribs are dabbed dry with a paper towel so you get all the moisture off.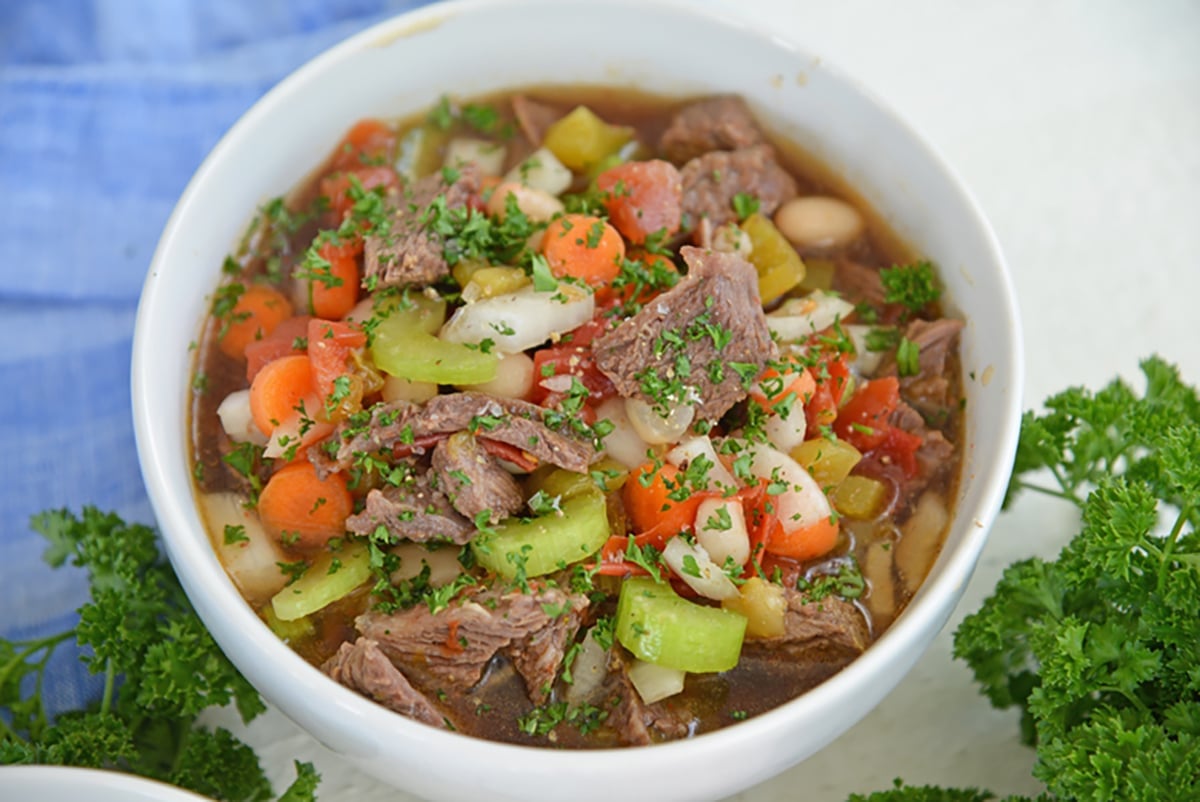 Next all you have to do is lightly season them with salt and pepper and toss them in the pan to brown and develop flavor.
After simmering in the soup you should be able to shred them with a fork or coarsely chop the meat. I actually prefer chopping, my fingers start to get cramps with all that shredding!
This recipe has southwest flavors, but the heat can be toned down if you omit chile powder. You can also add other veggies like potatoes, bell pepper or squash.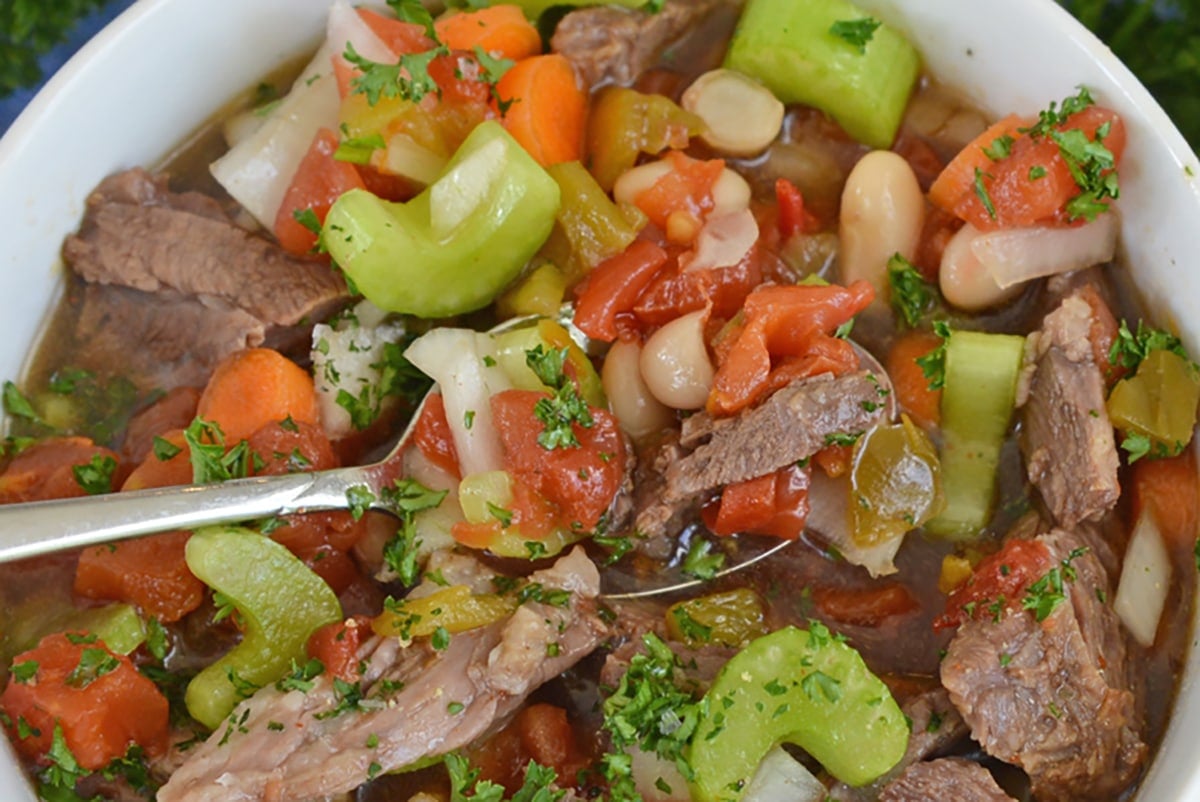 Storage & Freezing
Make Ahead: This soup can be made ahead of time, in fact, you can freeze it just after combining to keep the veggies crisp and not limp.
Storage: If kept covered in the fridge, it will last for up to a week. Be mindful that any soup when chilled generally needs to have the seasonings corrected when reheated, especially salt which becomes muted.
Freezing: Short Rib Soup also freezes well in an airtight container, so make a double batch for a second full meal!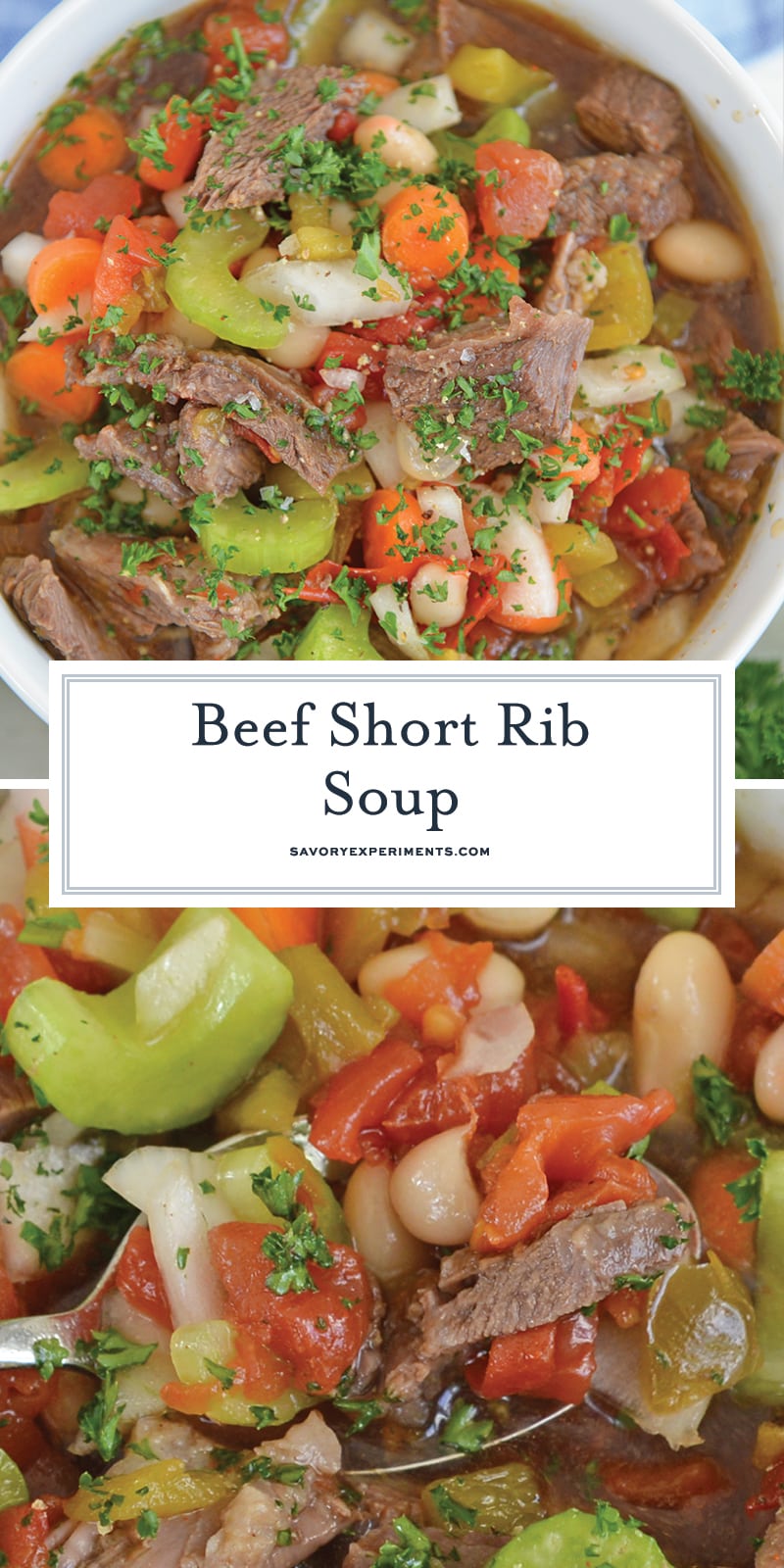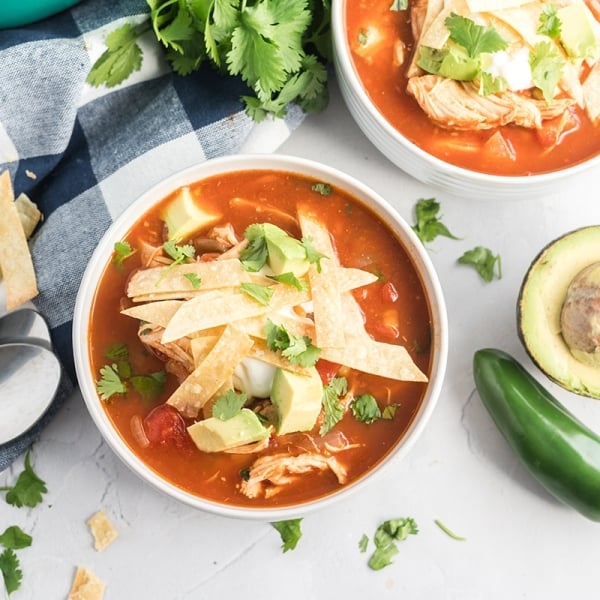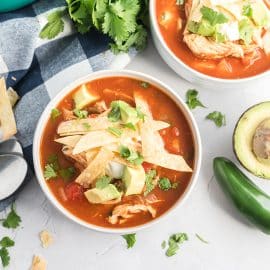 Easy Chicken Tortilla Soup
This is an easy chicken tortilla soup that can be on your table in less than an hour. A rich tomato broth with a bit of spice and large chunks of chicken make this a hearty and comforting meal!
See The Recipe!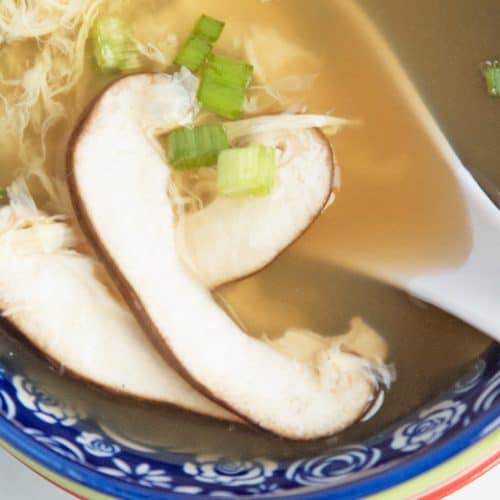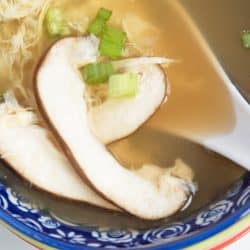 Egg Drop Soup
This Chinese Egg Drop Soup is the BEST! It's quick and easy to make, making it perfect for a quick lunch or starter for dinner. It's made in only 15 minutes!
See The Recipe!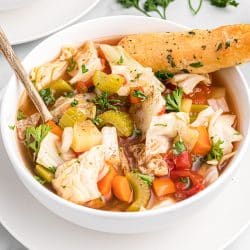 Healthy Cabbage Soup
This Healthy Cabbage Soup is based off from the Weightloss Wonder Soup and is full of nothing but veggies for healthy vegetable soup that may even help you lose a few pounds!
See The Recipe!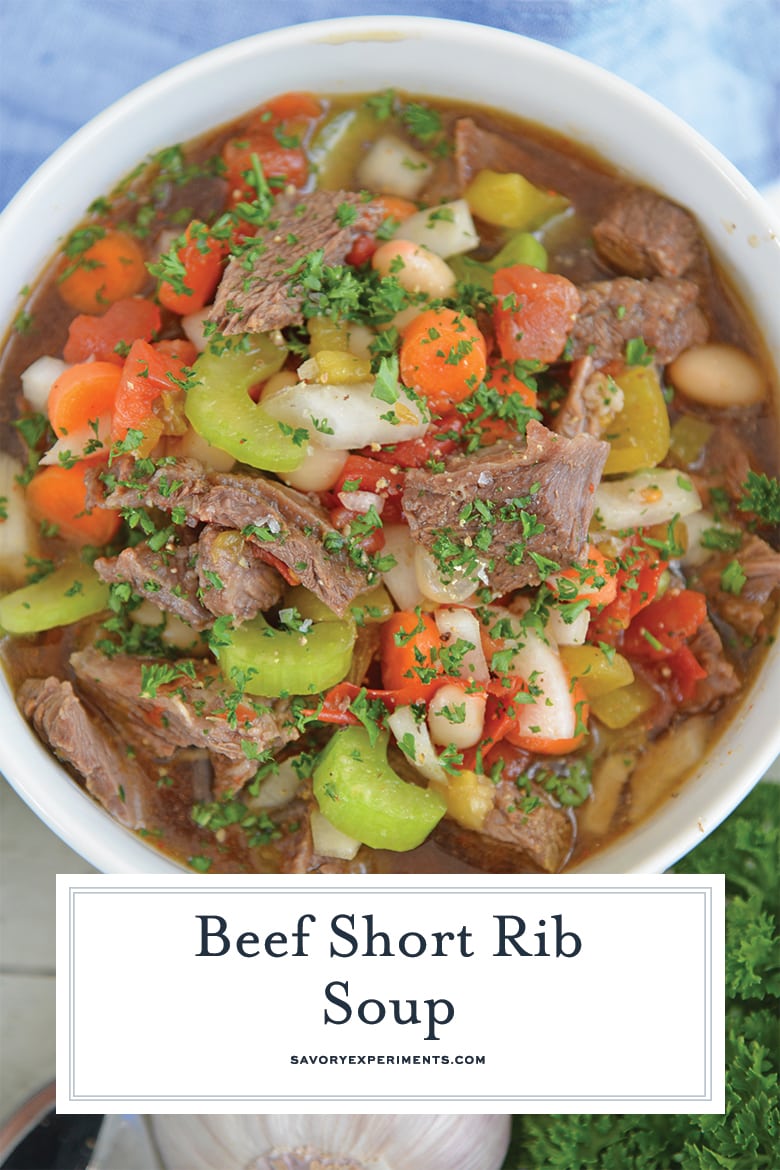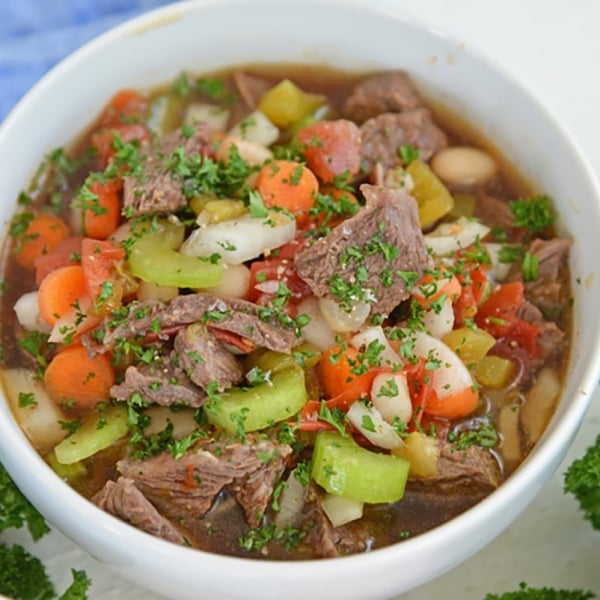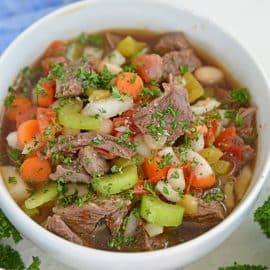 Short Rib Soup
Mildly hot short rib soup is sure to warm your soul and your belly. Tender pieces of beef with veggies and southwest flavors.
Instructions
Heat olive oil in a large Dutch oven, over medium heat.

Dry short ribs with paper towels, making sure they are very dry. Season lightly with Kosher salt and freshly ground black pepper.

Brown in three batches, making sure to not crowd the pan. Brown on all sides, removing to a plate. Repeat with all three batches.

Add onions, celery and carrots to Dutch oven and allow them to soften, approximately 1 to 2 minutes. If bottom is dry, add an additional 1 tablespoon olive oil to prevent sticking.

Add diced green chilies, chili powder, beans, tomatoes and broth to the mixture and add back the short ribs. Allow to simmer on the lowest heat possible, covered for 30-40 minutes stirring occasionally.

Check the largest rib to see if it is cooked the whole way through. If it is, remove all ribs and either coarsely chop or shred, throwing out any bones, fat or silver skin.

Return beef to soup. Check for seasoning, additional Kosher salt, ground black pepper or Aleppo pepper, if desired.

If you tried this recipe, come back and let us know how it was in the ratings or comments!
Notes
Other add-ins:
Top with parmesan cheese or add parmesan cheese rind to the simmering broth.
Top with croutons or dill oyster crackers.
Top with fresh cilantro.
Top with sour cream.
Potatoes, bell pepper and chopped squash are also good veggies to toss in!
Nutrition
Calories:
972
kcal
,
Carbohydrates:
63
g
,
Protein:
89
g
,
Fat:
39
g
,
Saturated Fat:
15
g
,
Cholesterol:
200
mg
,
Sodium:
1143
mg
,
Potassium:
2849
mg
,
Fiber:
15
g
,
Sugar:
5
g
,
Vitamin A:
5570
IU
,
Vitamin C:
9.7
mg
,
Calcium:
279
mg
,
Iron:
16.6
mg