This Brussels sprouts gratin recipe brings together healthy Brussels sprouts with savory and salty bacon and a creamy cheese sauce for a dish with so much flavor no one will be able to turn it down.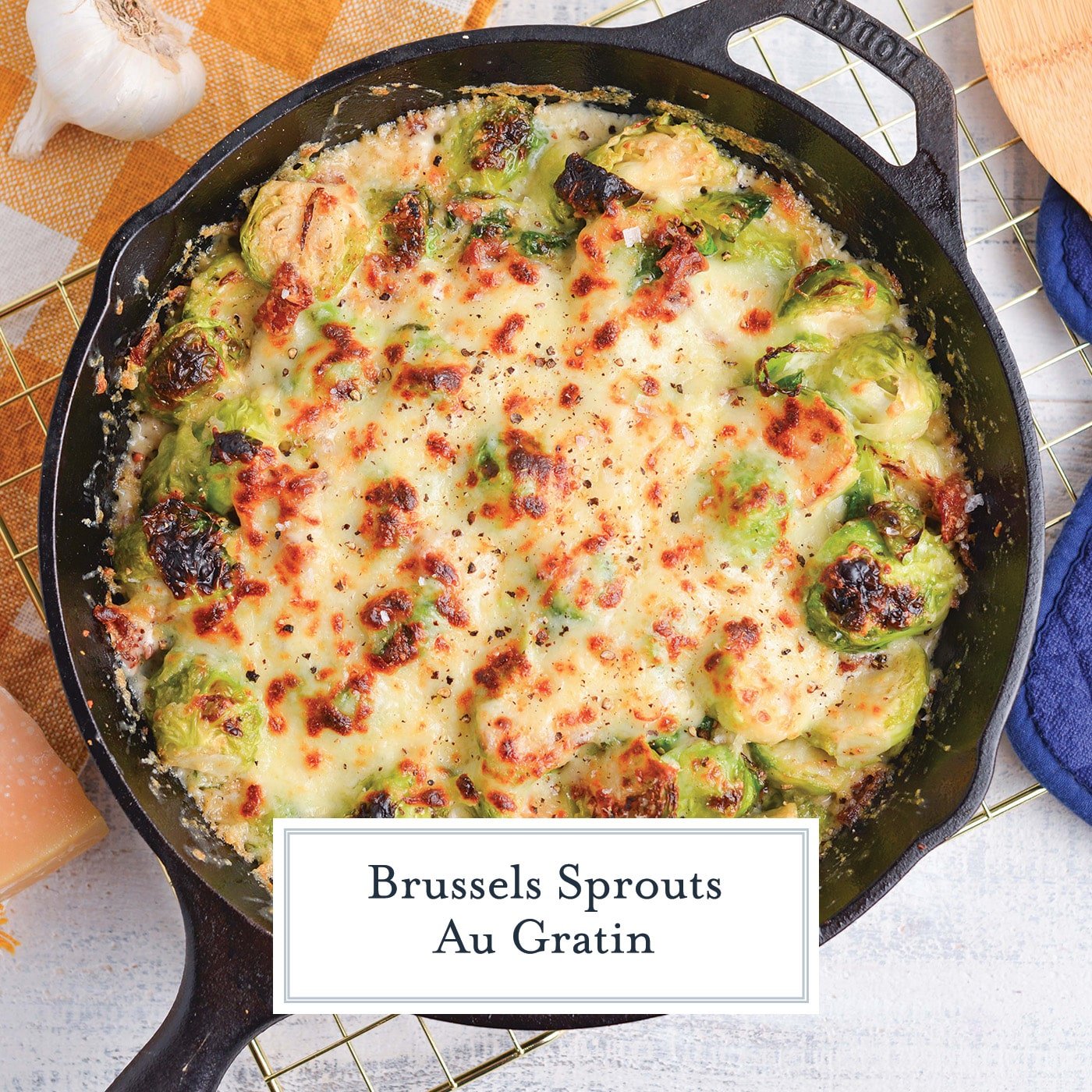 Some might refer to a recipe like this gratin as a Brussels sprouts casserole or even just cheesy brussels sprouts, but technically speaking, it is an "au gratin."
What Does Au Gratin Mean?
Don't be fooled by the fancy name, though — it's super easy. "Au gratin" just refers to the dish being topped with cheese (or in some cases, bread crumbs), and broiled.
Whether you put these creamy Brussels sprouts on your Thanksgiving menu, are having the dish with another holiday meal, or just want to make a weeknight side that's sure to be a crowd pleaser, this dish delivers.
The next time you're looking for the perfect side dish that is bursting with cheesy goodness (but still incorporates healthy vegetables), turn to this easy casserole that is sure to be a hit.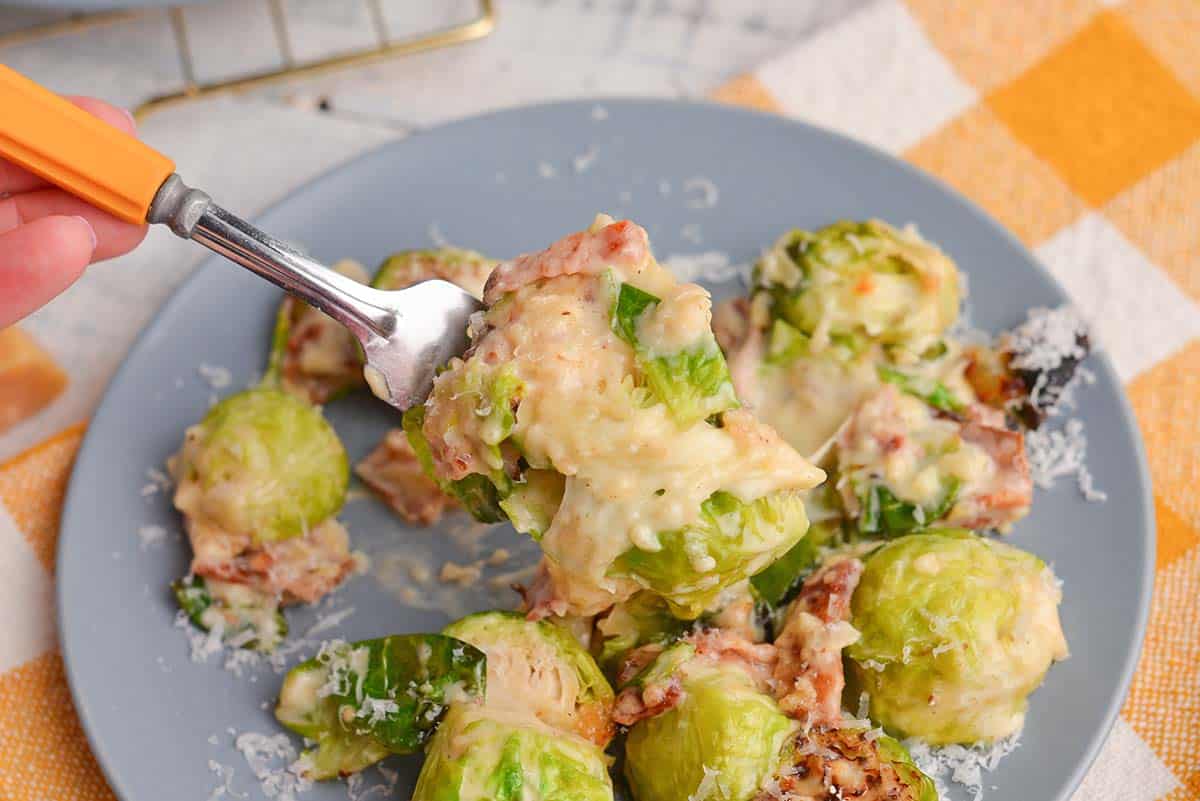 Why You'll Love Homemade Brussels Sprouts au Gratin
Cheese lovers will adore these dressed-up Brussels sprouts.
Easy – It couldn't be easier to quickly put together this impressive side dish.
Customizable – Switch up the veggies or change out the cheese — or make spice substitutes for flavors you prefer.
Versatile – This is just as easily made as a side dish as it is a main course. Plus, you can serve it with anything from simple standards like grilled chicken or pork chops to more elevated meals like stuffed beef tenderloin on special occasions.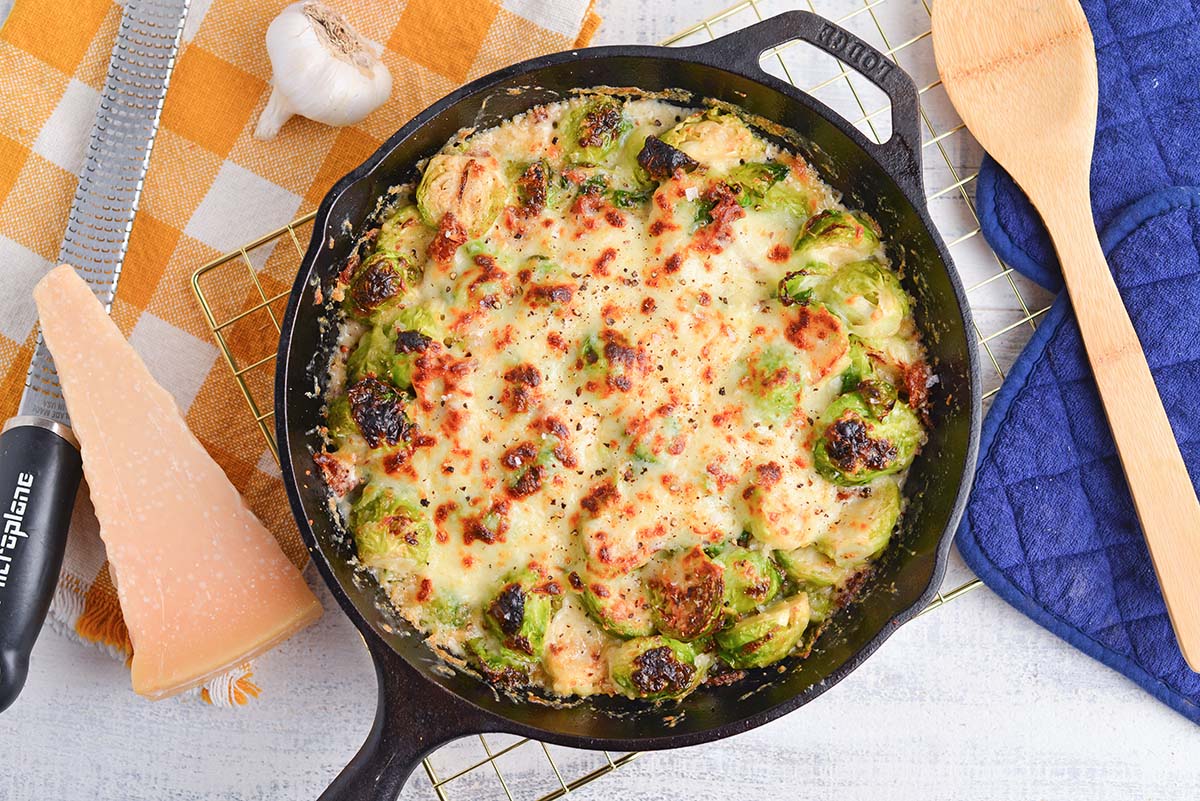 Ingredients for Brussel Sprout Gratin
These simple ingredients require little prep time and come together to create an indulgent veggie-based dish with an incredible, creamy sauce that makes for the ultimate comfort food.
Olive Oil – Olive oil helps to coat the Brussels sprouts before roasting, helping them caramelize and become tender.
Fresh Brussels Sprouts – Be sure to trim and halve the Brussels sprouts before cooking. Frozen brussels will not work in this situation, they will be mushy.
Cooked Bacon – Everything's better with bacon, right? Plus, this crispy bacon adds a little flavor to the oil and butter in the pan, seasoning the other ingredients.
Unsalted Butter – Butter helps to make the sauce velvety and indulgent. Use unsalted so you can control the salt. Bacon also brings salt, as does cheese, so this dish has the potential be over salty fast if you don't put it together carefully.
Shallots – Shallots bring a subtly sweet, oniony flavor to the dish. Any type of onion can be used.
Garlic – Garlic adds depth and pungent flavor to the sauce. Use fresh opposed to jarred, which can be sweet and offer muted garlicky flavor.
Flour – All-purpose flour thickens the sauce and gives it a creamy consistency.
Heavy Cream – Heavy cream helps to give the sauce its luxurious richness. You can also substitute whole milk or coconut milk, though they may not create quite as creamy a sauce.
Dijon Mustard – Dijon mustard adds a tangy and earthy note to the sauce. This can be omitted or swapped for a preferred mustard flavor.
Coarse Kosher Salt – Salt rounds out the flavors of the dish.
Ground Black Pepper – Black pepper provides gentle spiciness. Use freshly ground for full-boded flavor.
Low Moisture Mozzarella Cheese – Mozzarella makes this dish decadent with its meltiness. Try to grate your own — the flavor will be far better than any pre-shredded cheeses. Low moisture melts the best without leaving a puddle of water in the sprouts.
Parmesan Cheese – Parmesan adds sharp and nutty flavor.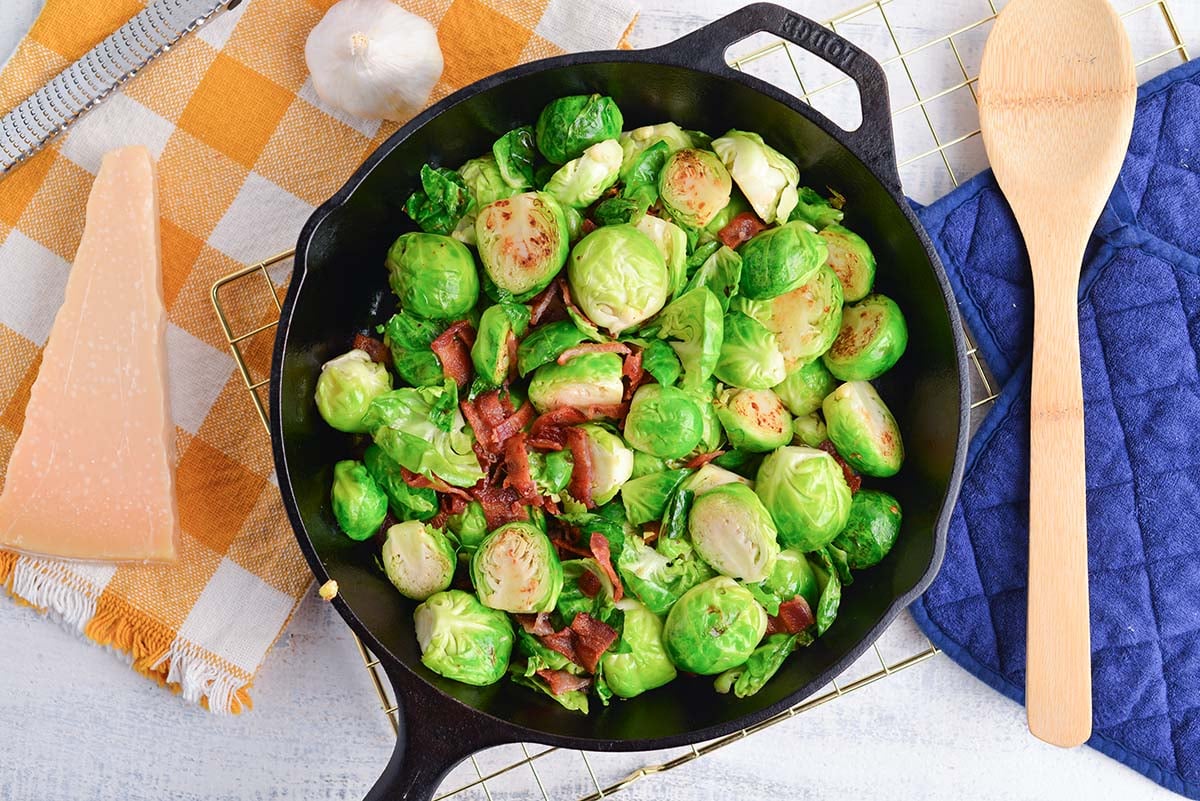 How to Make Brussels Sprouts Gratin
You are going to love how quick and easy this side dish is!
Sauté sprouts. Add the prepared Brussels sprouts to a preheated cast iron skillet drizzle with olive oil. Cook the sprouts until they remain bright green but are also lightly browned.
Add bacon. Transfer the bacon to the pan and continue to cook briefly. Use a slotted spoon to remove the Brussels sprouts and bacon and place them in a large bowl.
Sauté garlic and shallot. Place the butter in the pan and allow to melt. Add the shallot and garlic and sauté briefly.
Make roux. Form a roux by stirring in the flour. Add the cream and allow the mixture to simmer. Then, add Dijon mustard, salt, and pepper.
Return sprouts and bacon to pan. After stirring briefly, remove the pan from the heat and add the Brussels sprouts and bacon in. Stir until well combined.
Add cheese. Sprinkle the cheeses over top and place in the oven. (If not using a cast iron skillet, transfer the sprouts and sauce to a prepared baking dish.)
Bake. Bake for the recommended time before broiling briefly. After removing from the oven, sprinkle salt and pepper over top and serve.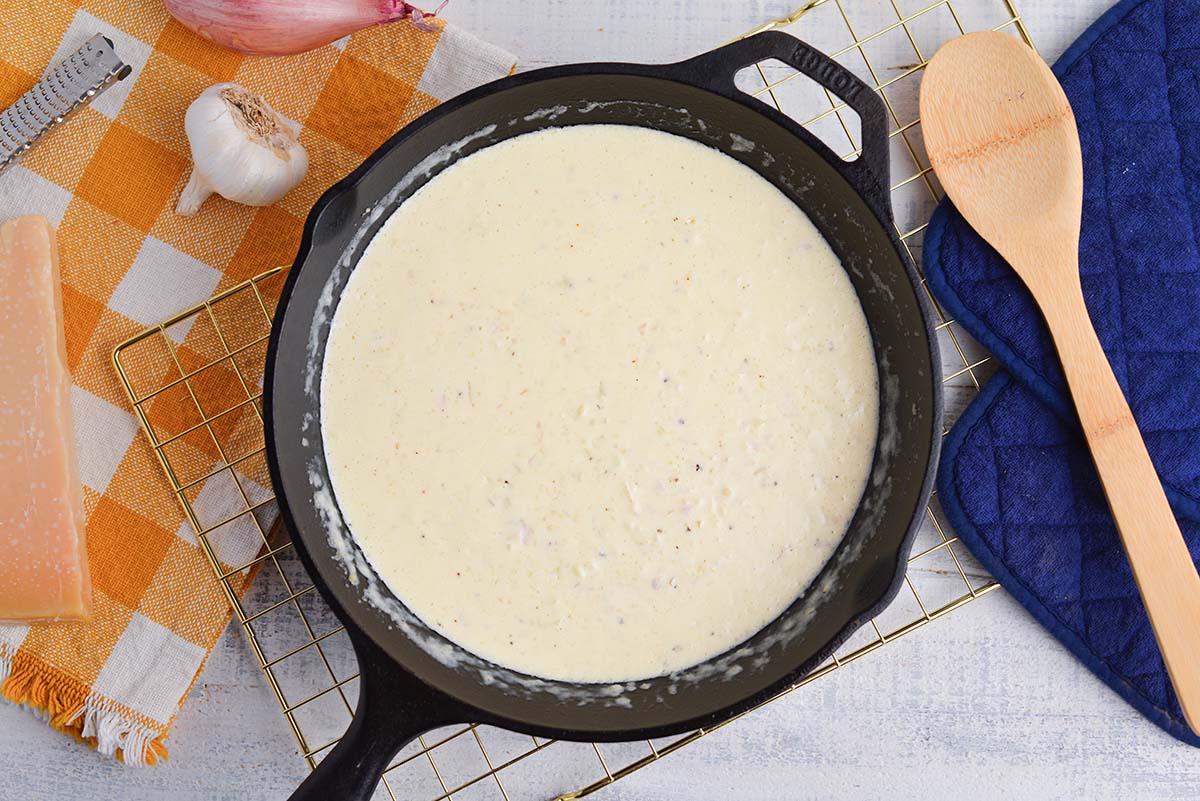 What to Serve with Simple Brussels Sprouts au Gratin
You can serve nearly any protein, or plant-based protein, with this dish or dig into it all on its own. Try serving it as a side dish alongside stuffed meatloaf, baked salmon, or sausage stuffed bell peppers.
It's also great as a side for creamy leek and potato soup, hearty minestrone soup, French onion soup, or chicken noodle soup.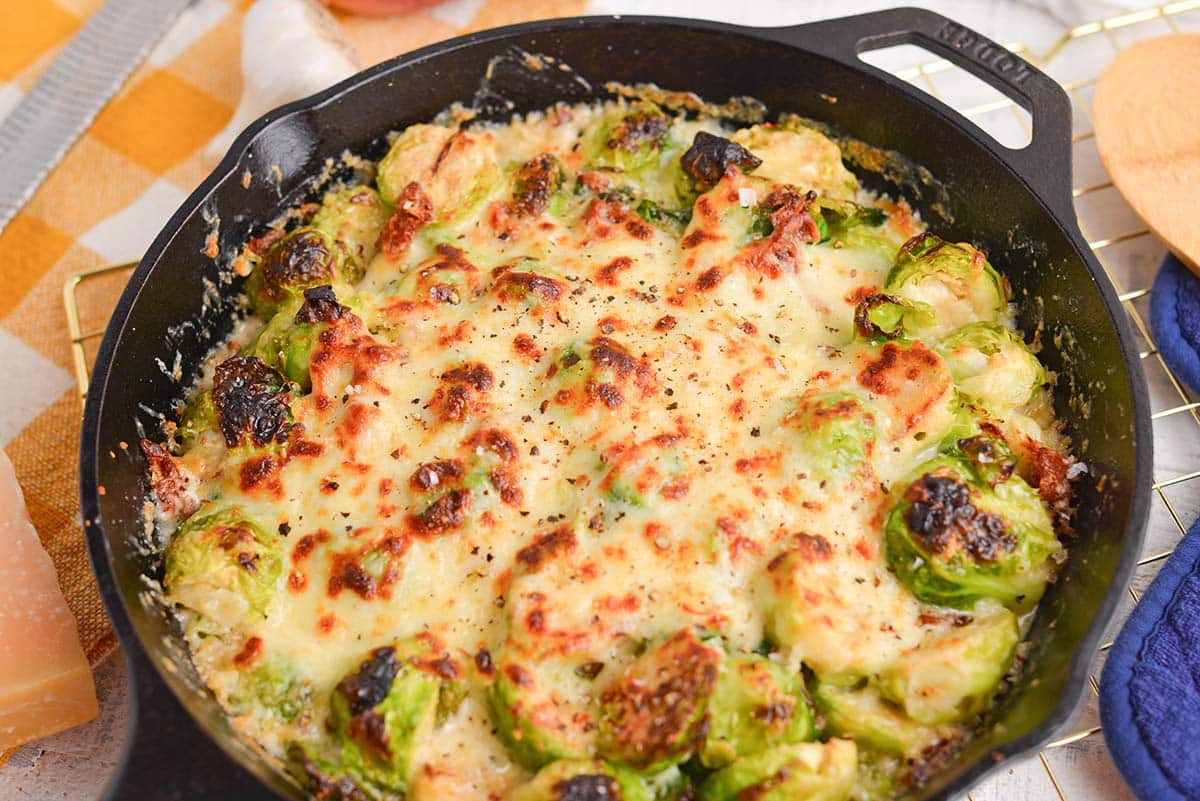 Variations
Build your own delicious gratin with a few of these changes.
Bacon – Instead of the bacon, use prosciutto or pancetta. Or omit the bacon entirely.
Cheese – Substitute other varieties like gruyère cheese or sharp cheddar for the mozzarella or romano for the parmesan.
Vegetables – Try making another vegetable gratin using cauliflower, squash, or broccoli instead of Brussels sprouts. You can also use your favorite variety of potatoes to make potato gratin.
Heat – Add some spiciness with cayenne pepper or red pepper flakes.
Toasted Bread Crumbs – Add buttery, crispy bread crumbs to the top for added crunch. Use traditional bread crumbs, or try using panko breadcrumbs.
Herbs – Try adding fresh thyme, sage, or rosemary.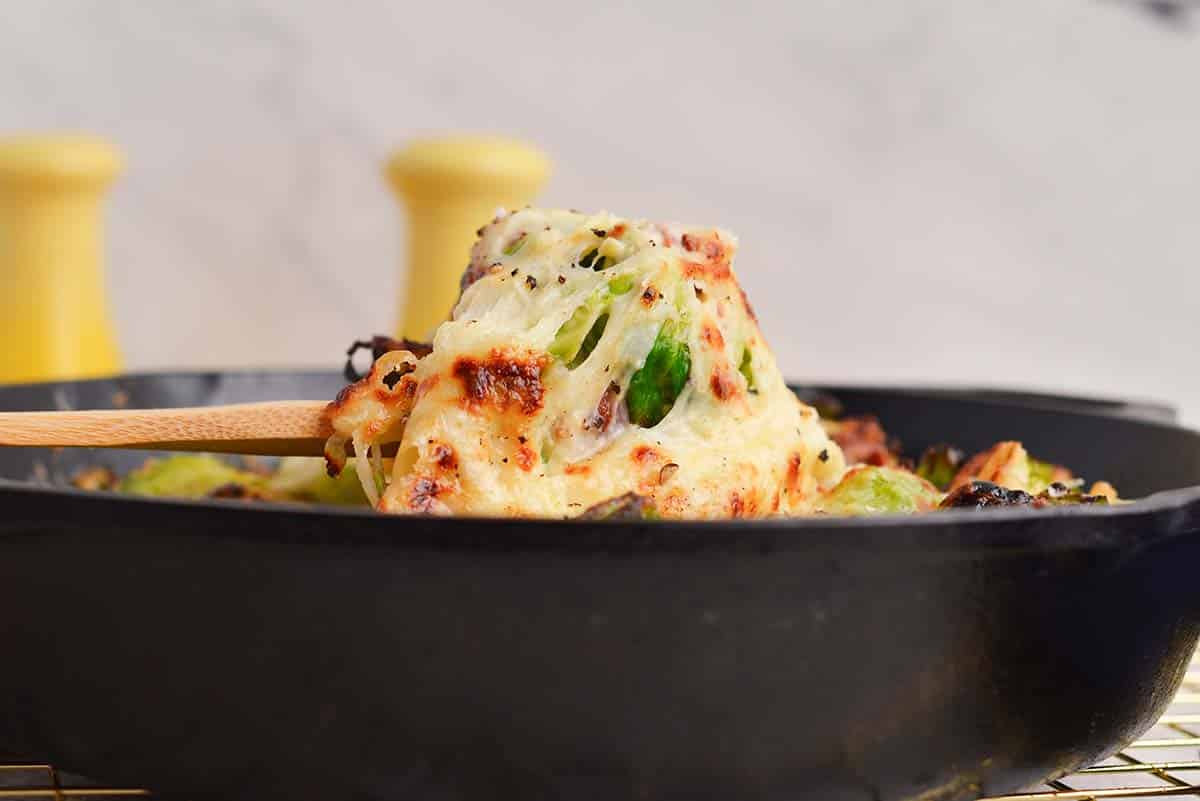 Storage and Freezing
You can store this cheesy Brussels sprouts casserole for several days, making it perfect for meal prep.
Make-Ahead: You can cook the Brussels sprouts with the bacon and store in the refrigerator for up to 24 hours before making the rest of the dish.
Refrigerator: Once it has cooled to room temperature, refrigerate this simple casserole for up to 4 days in the refrigerator in an airtight container or covered with plastic wrap or aluminum foil.
Freezer: Freeze this dish for up to 3 months in a freezer-safe container.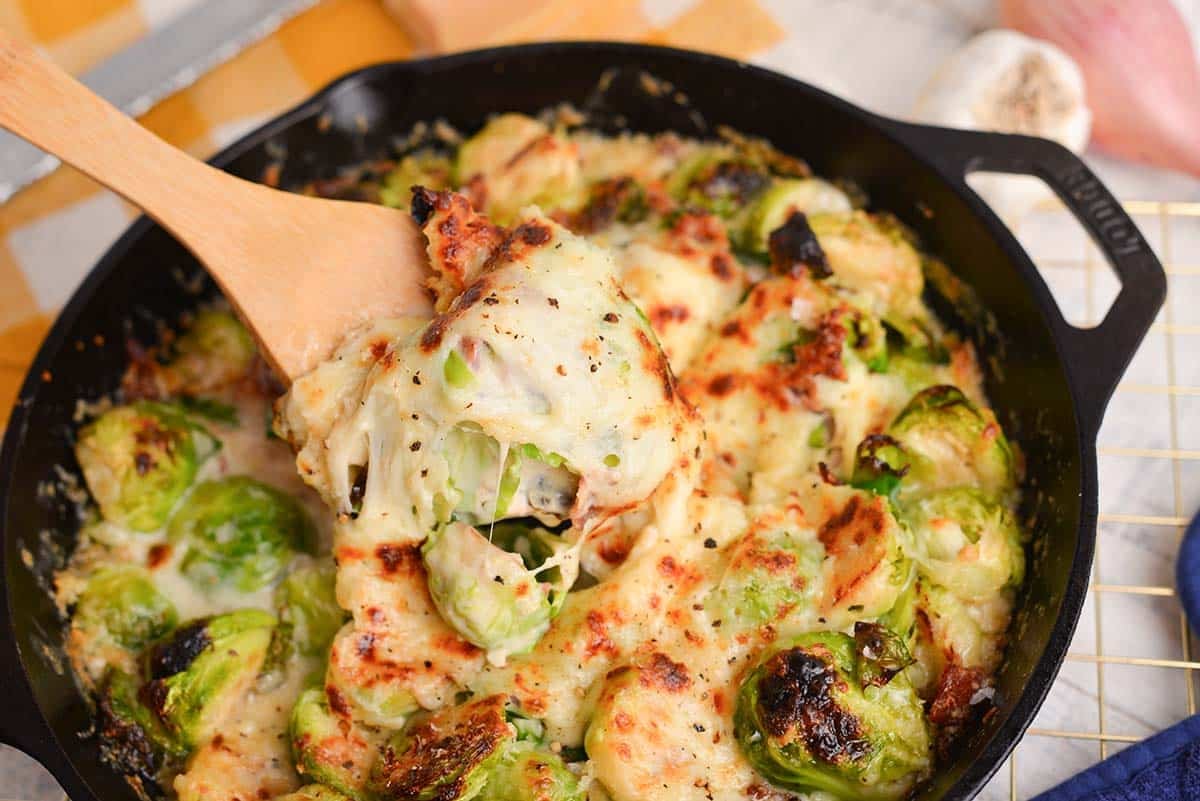 Common Questions About Brussels Sprouts au Gratin
How do you keep Brussels sprouts from getting soggy?
The key to avoiding soggy Brussels sprouts in to use plenty of fat and heat to get them crisp on the outside. Oil, bacon grease, and butter can all help the sprouts to get perfectly crispy.
How do you not overcook Brussels sprouts?
Keep a close eye on Brussels sprouts when they are cooking and make sure that they are not becoming overly brown. When steaming, be sure to stick to recommended times so that they do not become mushy.
What happens if you overcook Brussels sprouts?
Overcooked Brussels sprouts lose their vibrant color and become soggy. They can also have an unpleasant odor.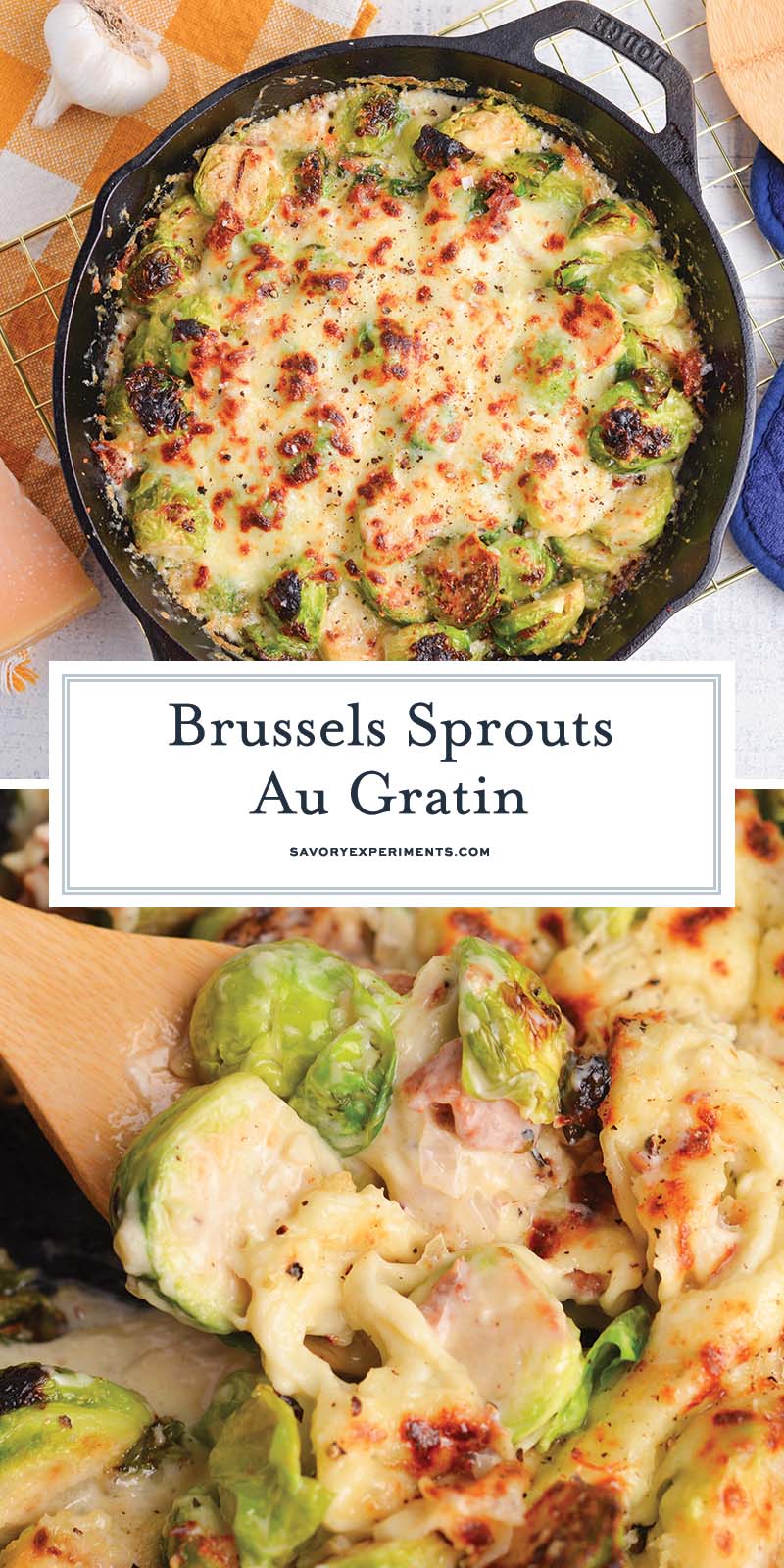 Other Vegetable Side Dishes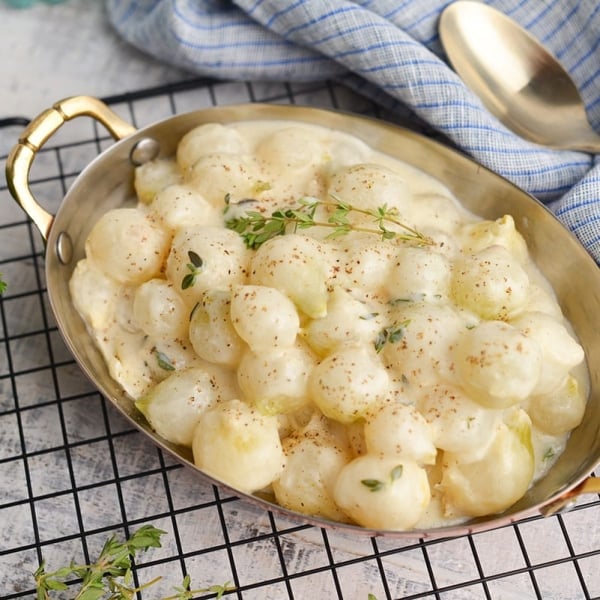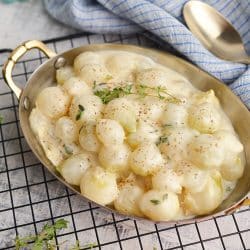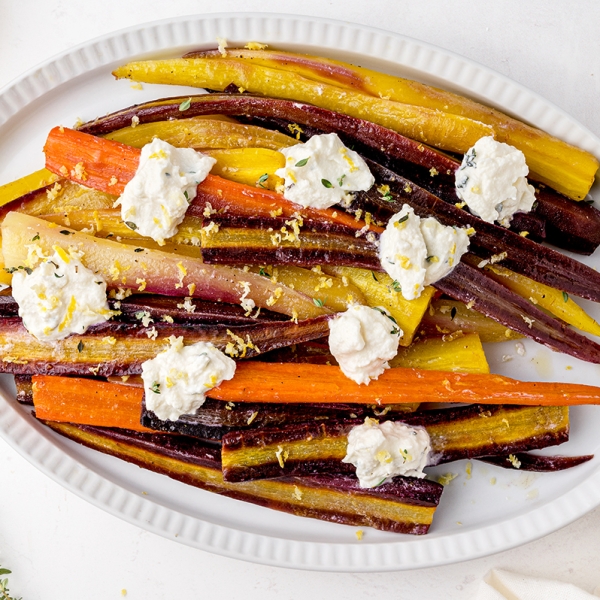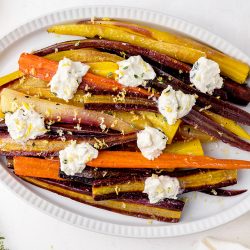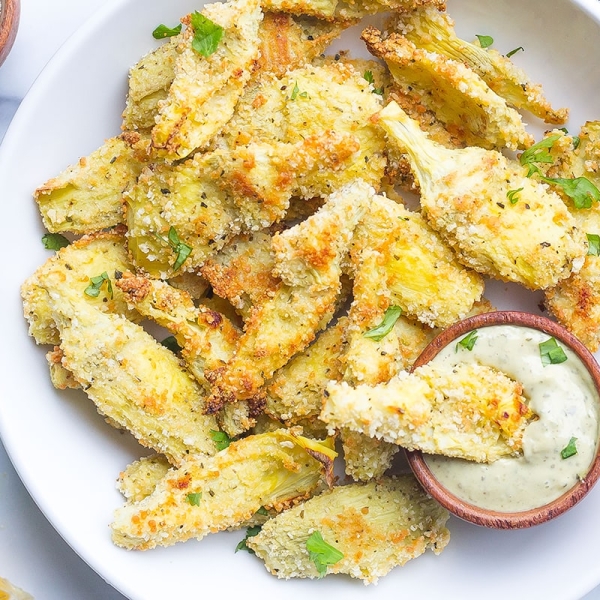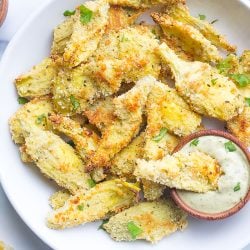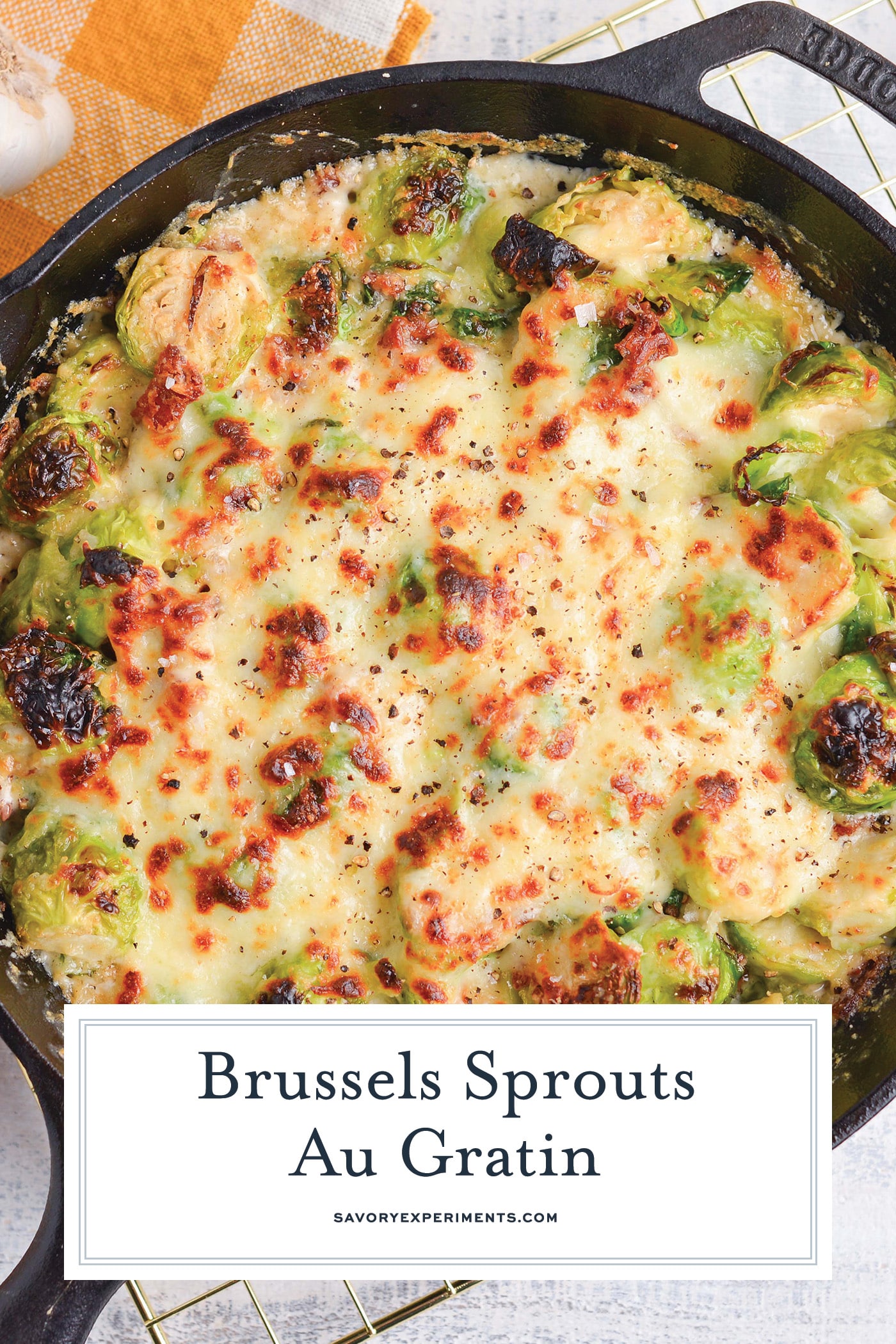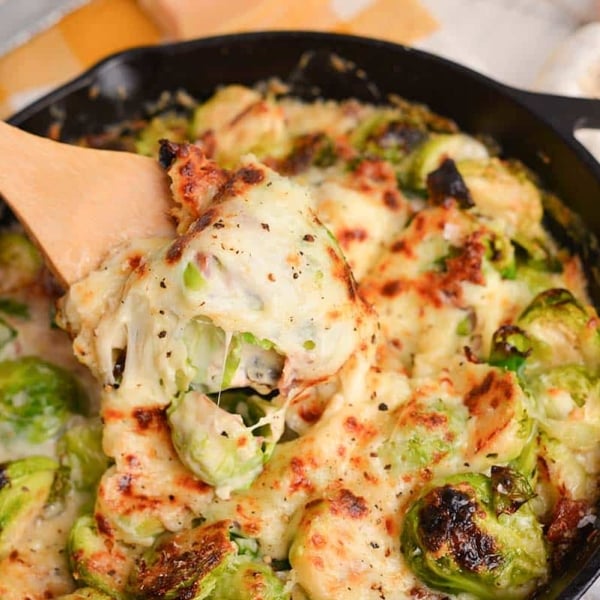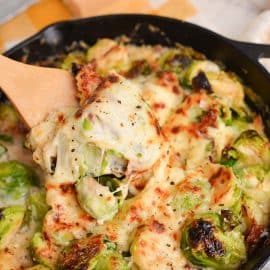 Brussels Sprouts Gratin Recipe
This EASY Brussels Sprouts Au Gratin recipe brings together healthy Brussels sprouts with savory and salty bacon and a creamy cheese sauce!
Instructions
Preheat the oven to 350°F.

Heat the olive oil in a large cast iron pan over medium heat. Add the Brussel sprouts, cooking until lightly browned and vibrant green. Add the bacon, continuing to cook for 2 minutes. Remove to a bowl and return hot pan to the stove.

Add the butter, shallot and garlic to the hot pan over low heat. Saute until slightly soft, approximately 2 minutes.

Stir in the flour until it forms a paste, then stir in the cream and bring to a low dimmer. Stir in the Dijon mustard, salt and pepper. Mixture will be thick like gravy. Remove from the heat.

Stir back in the Brussels sprouts and bacon until coated. Top with shredded mozzarella and parmesan cheeses.

Bake in the oven for 10 minutes, turn on the broiler and brown for 1-2 minutes, keeping a watchful eye. Top with more salt and pepper, if desired.

Serve immediately.

If you've tried this recipe, come back and let us know how it was in the comments or star ratings.
Nutrition
Calories:
394
kcal
,
Carbohydrates:
17
g
,
Protein:
13
g
,
Fat:
32
g
,
Saturated Fat:
16
g
,
Polyunsaturated Fat:
3
g
,
Monounsaturated Fat:
11
g
,
Trans Fat:
0.2
g
,
Cholesterol:
74
mg
,
Sodium:
506
mg
,
Potassium:
607
mg
,
Fiber:
5
g
,
Sugar:
5
g
,
Vitamin A:
1532
IU
,
Vitamin C:
98
mg
,
Calcium:
192
mg
,
Iron:
2
mg