Looking for the perfect sauce to top your castle of ice cream? Pecan Caramel Sauce will fill all your ice cream topping dreams.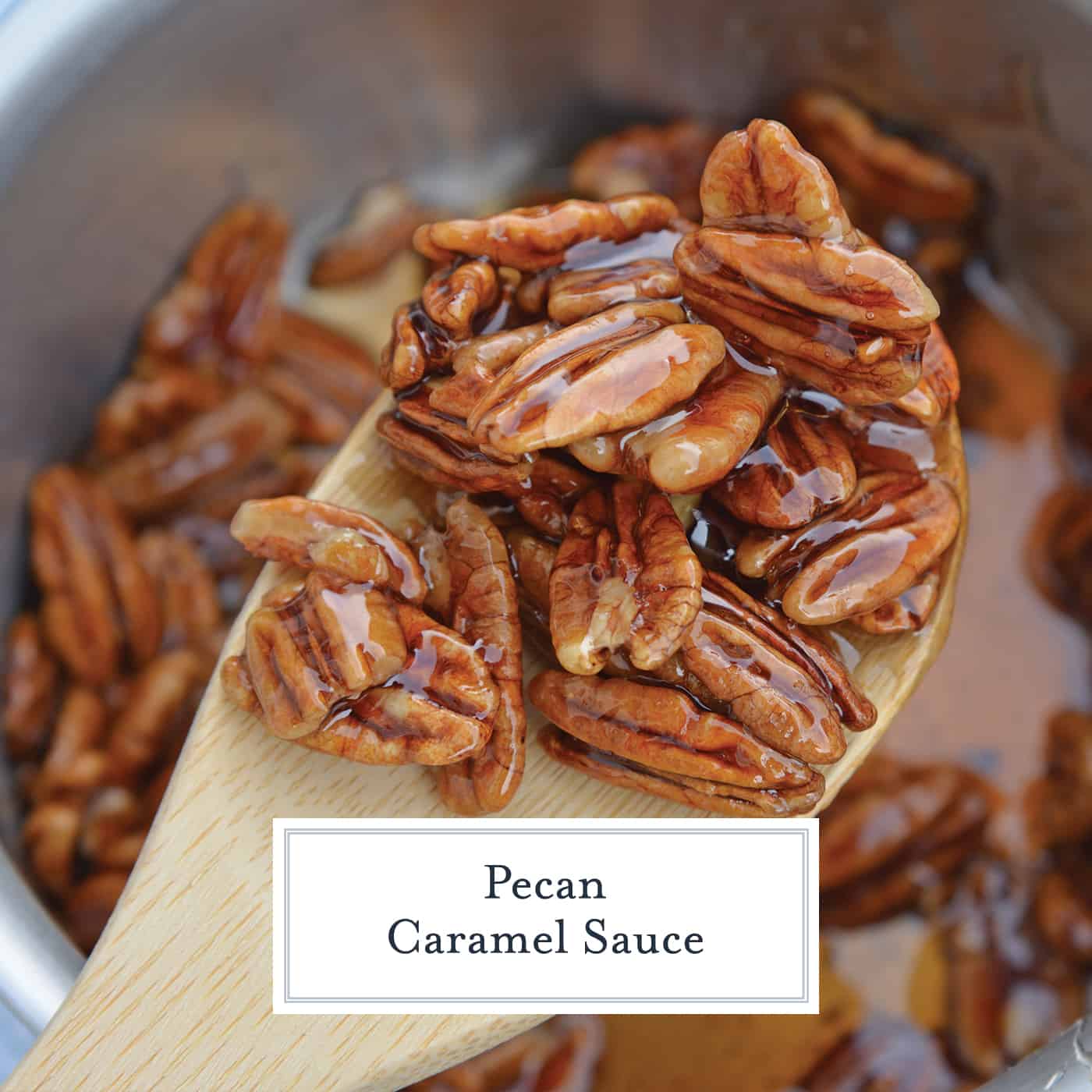 Pecan Caramel Sauce is a salted caramel sauce with crunchy pecans. The perfect ice cream topping no matter what flavor your favorite flavor!
I have an ice cream flavor that I make that is a little out of the ordinary, but not really. It is Buttered Flavored Ice Cream. Most people immediately look at me with disgust.
However, I am not ashamed to tell them how much I love and appreciate butter. One of my favorite foods, there are times when the bread is just a socially acceptable tool to get butter from the table into my mouth.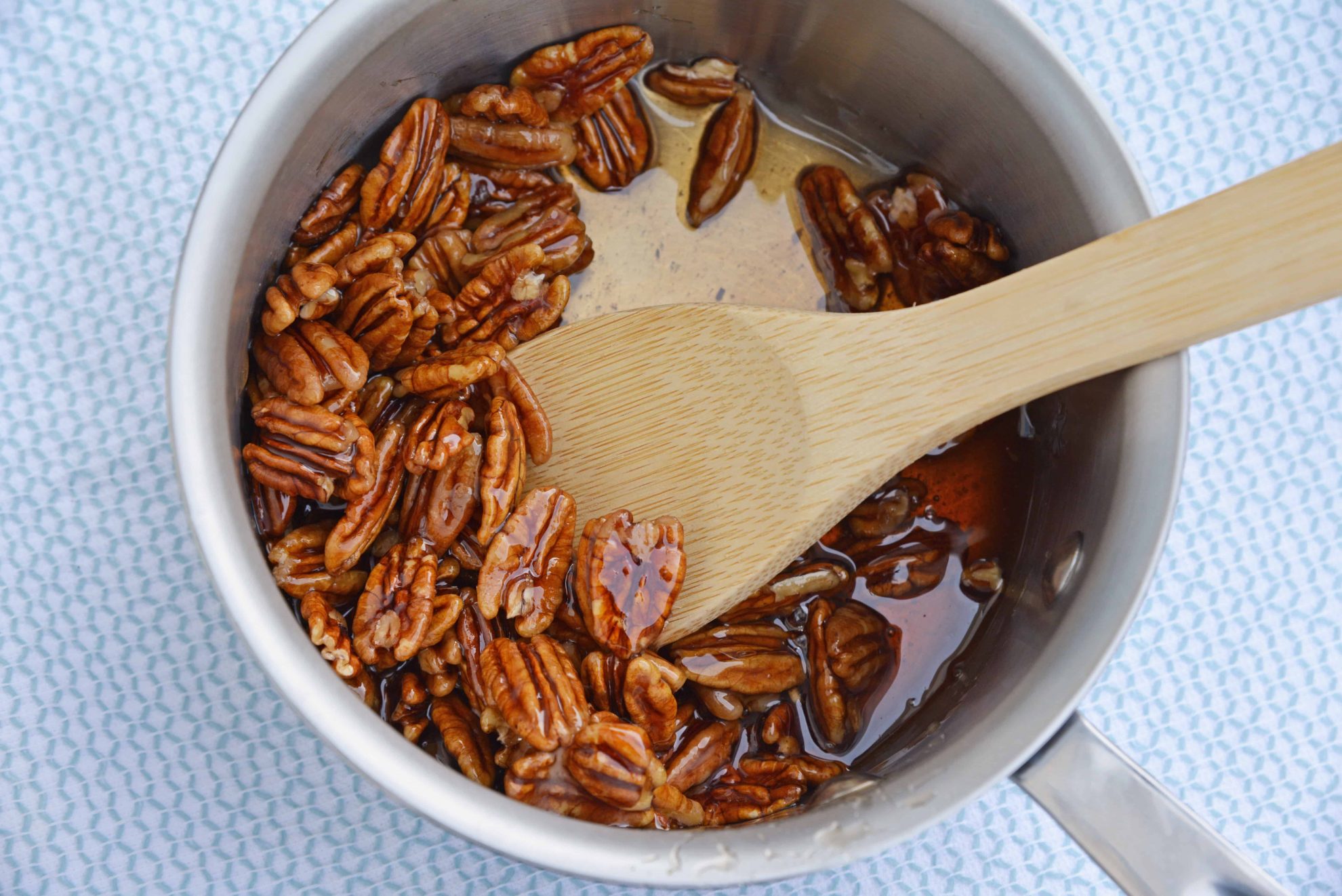 It came as no surprise (at least to me) that when I had the opportunity for a talented chef to serve me browned butter blondies with butter ice cream that I take her up on it. Butter, butter, BUTTER!
After we discussed all the wonderfully delicious, non-traditional things to do with butter and she deemed me to be a butter afficenadno like herself, she kindly shared her butter ice cream recipe.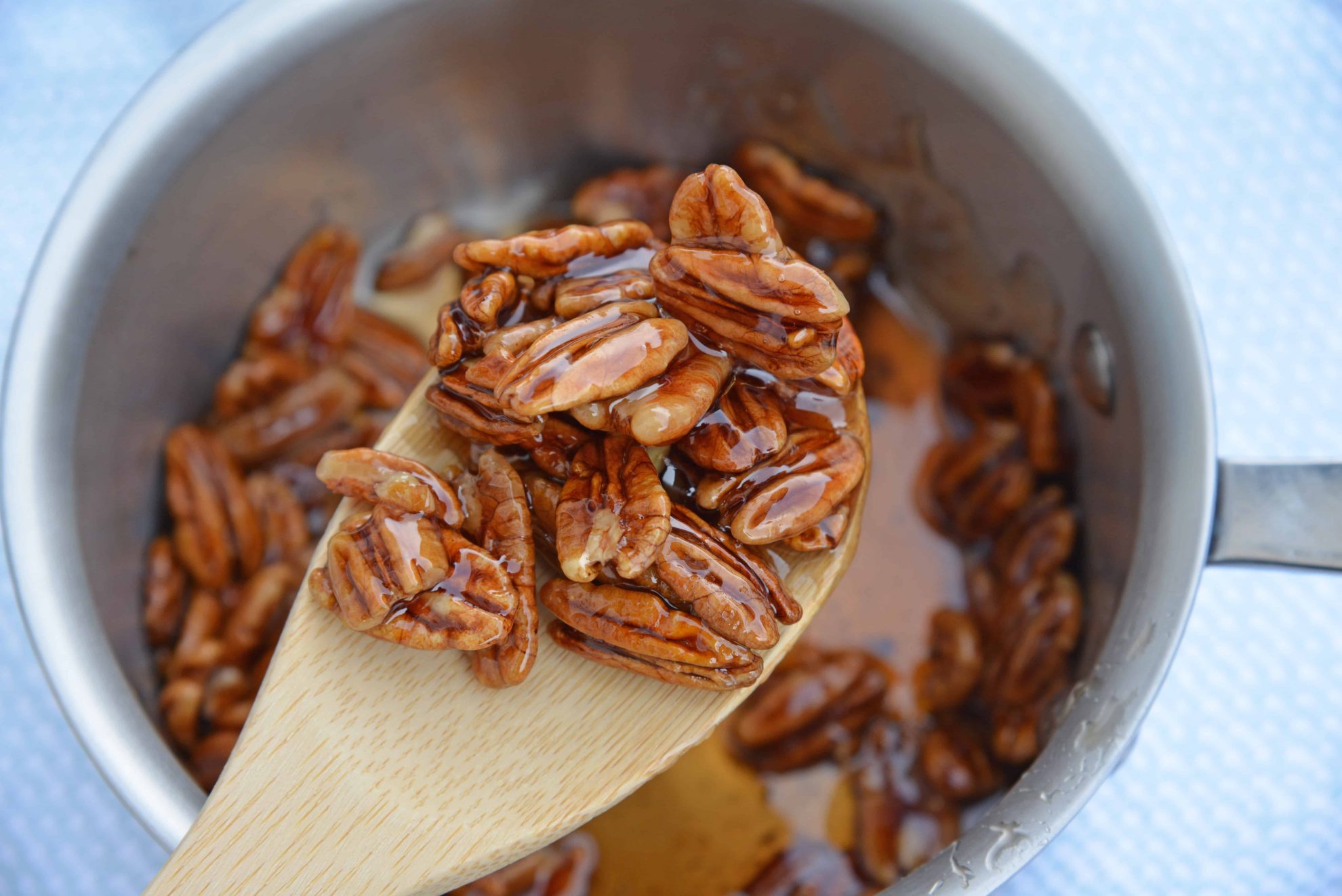 I made myself browned butter blondies and butter ice cream, but mine, for whatever reason was missing something. I decided it needed a sauce. The easiest way to dress up any dish, savory or sweet, is sauce, right?
Pecan Caramel Sauce was the obvious choice. When you think about it, butter ice cream really isn't all the non-traditional seeing it is the base for butter pecan ice cream.
What are the most popular ice cream flavors in the world? According to the Norfolk Daily News:
Mint chocolate chip, 16%
Chocolate, 15%
Cookies and cream, 15%
Vanilla, 12%
Butter pecan, 11%
Rocky road, 10%
Strawberry, 10%
Chocolate chip, 5%
Butter pecan ranks #5, so there must be some others out there who will understand my ridiculously long rant about butter, ice cream and caramel sauce, right?
Bueller… Bueller… Instead of blending the pecans right into the ice cream, I made an ice cream sauce topping!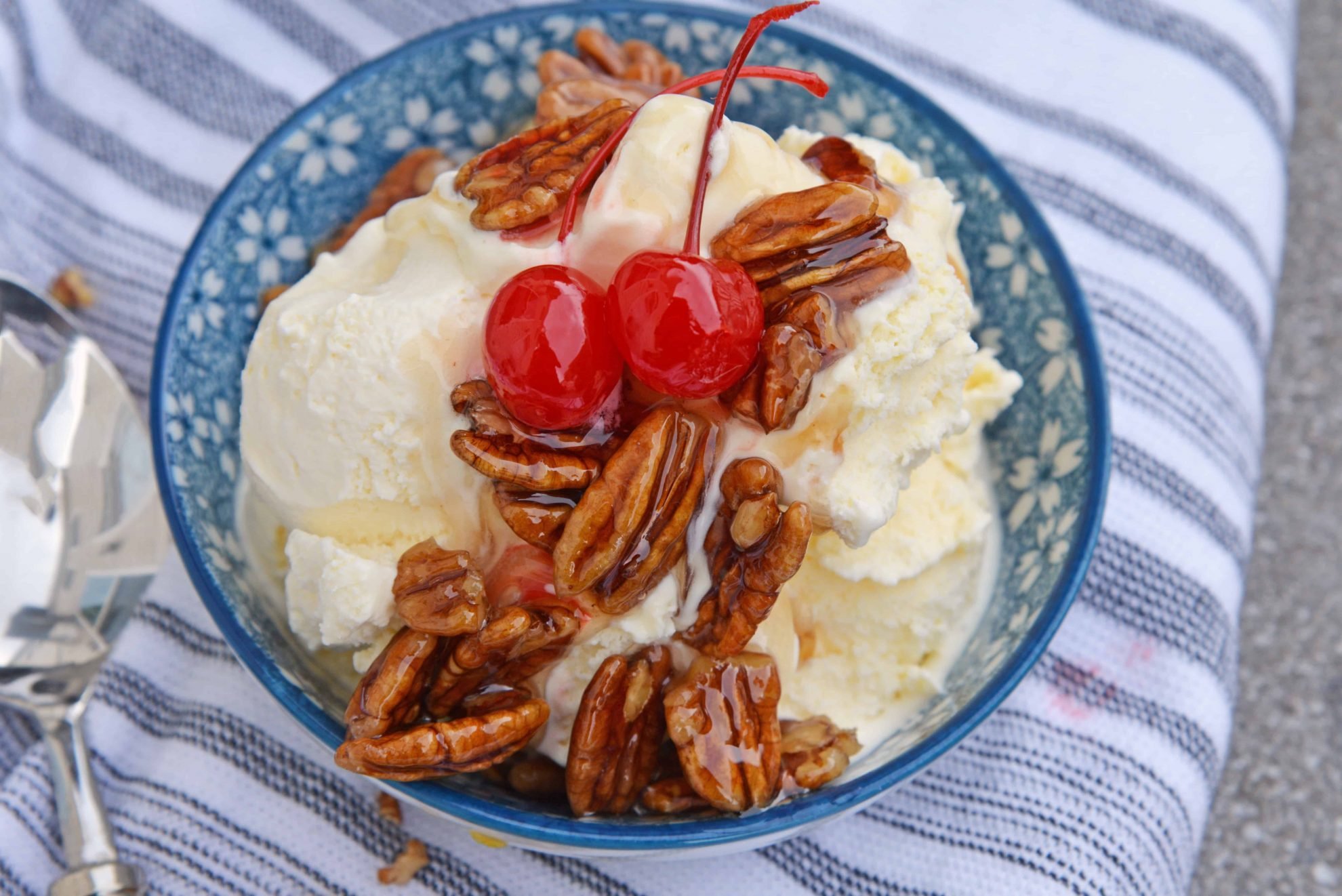 To make Pecan Caramel Sauce I used the base for my Easy Caramel Sauce and essentially just added whole pecans. You can do the same and use our Bourbon Caramel too. Which brings me to another commonly asked questions: what is the difference between a pecan and praline?
The term praline is commonly used interchangeably with the word pecan, however they are different things, sort of. Pralines are pecans that have been caramelized in sugar and cream. When this happens the pecan softens and loses its hard nuttiness.
If you want to get all technical, this is a recipe for praline sauce, not pecan caramel sauce. Something tells me that my foodie friends really don't give a hoot as long as it tastes good, and that it does!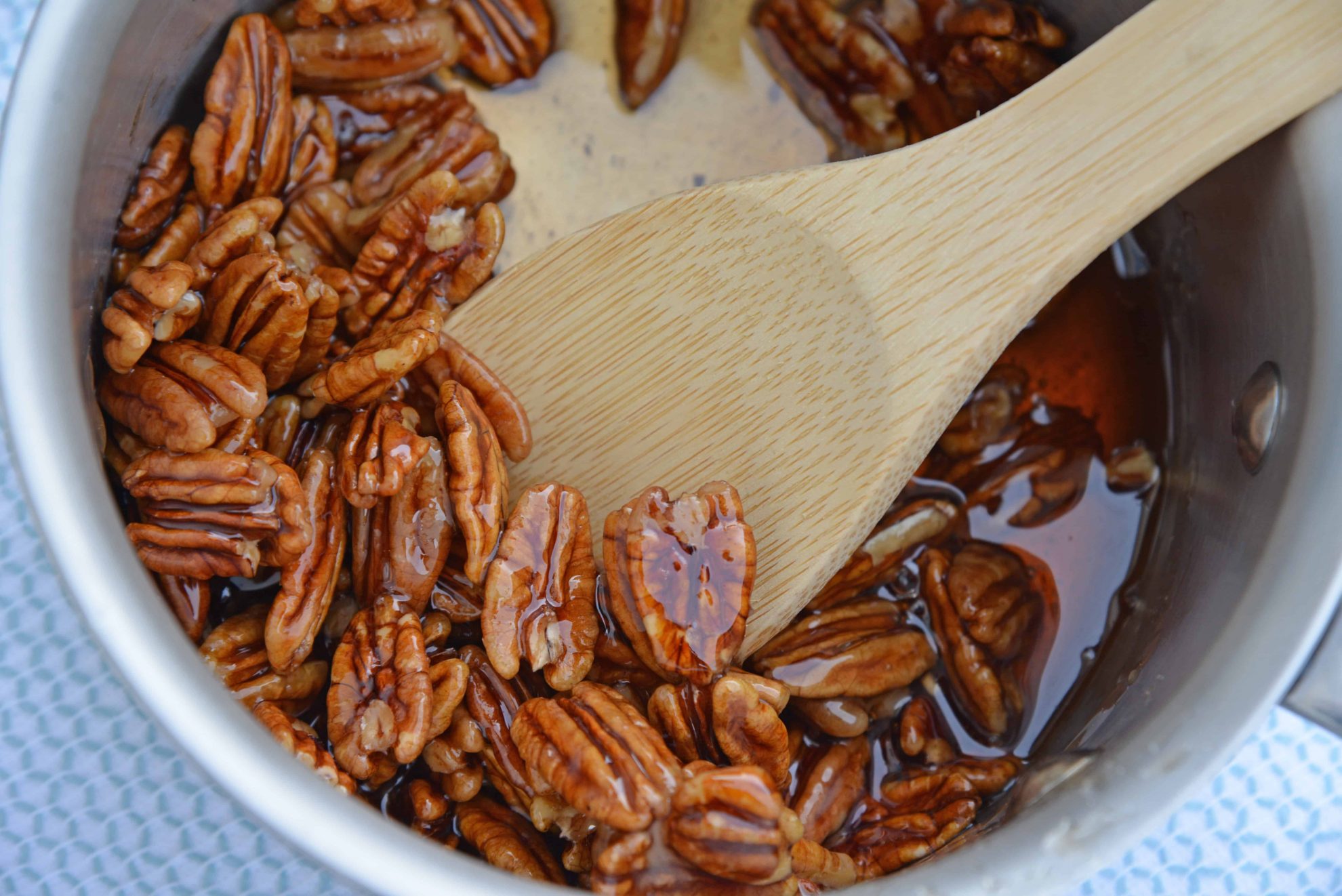 So don't be shy. Get a big ole' heaping spoonful of Pecan Caramel Sauce and smother something. Smother ice cream, cake, brownies, blondies, pies and more. It's like have a chocolate turtle on top of your dessert. Delicious!
More sweet sauces: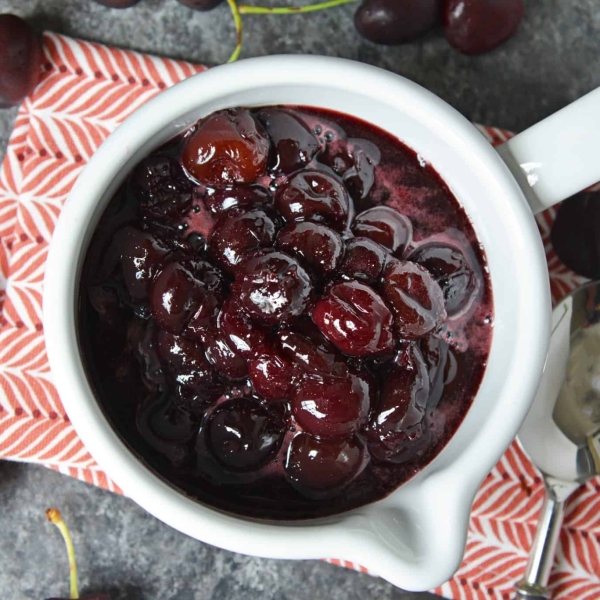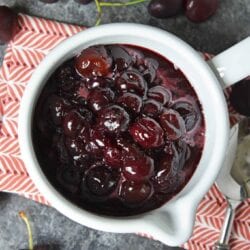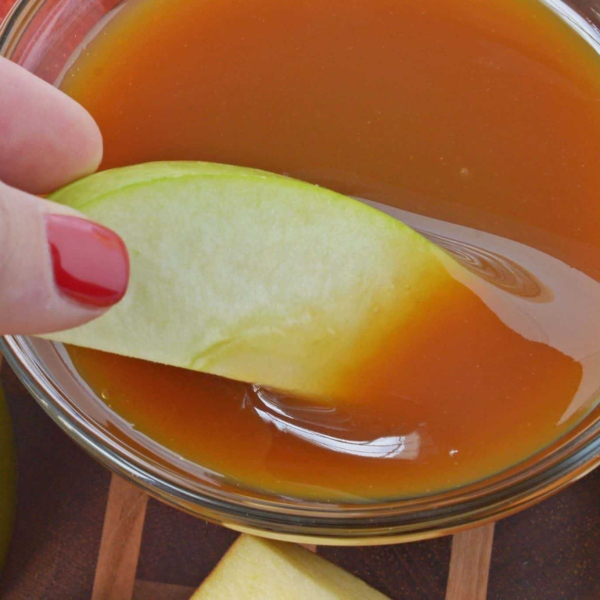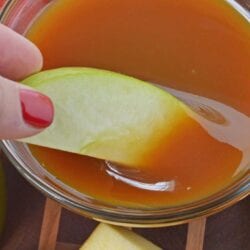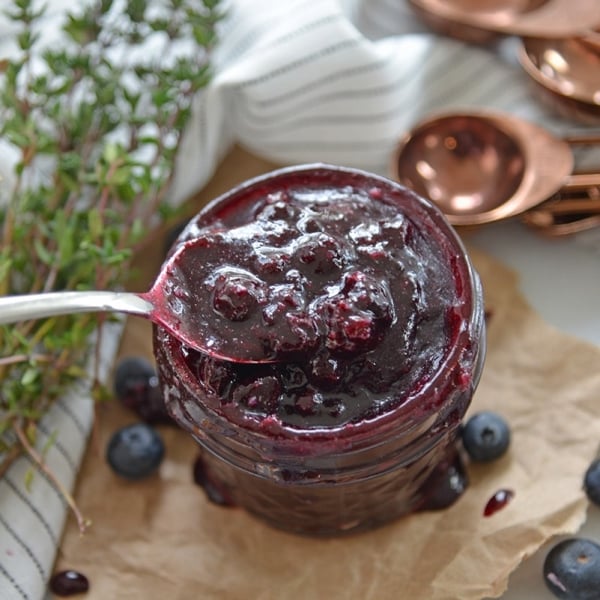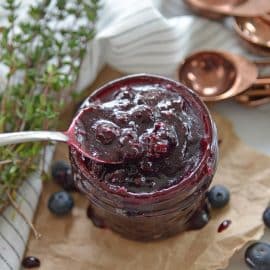 Savory Blueberry Sauce
This Savory Blueberry Sauce is perfect for adding that special something to your beef, pork or chicken. Fresh blueberries with thyme, shallot and balsamic reduction sauce.
See The Recipe!
Tools for making Pecan Caramel Sauce:
Heavy Bottom Saucepan– having a heavy bottom is very important, especially for this type of sauce. The heat distributed more evenly and keeps it further away from the heating element, making it less likely to burn.
When working with sugar, the possibility of burning is much higher, so a heavy bottom pan prevents that. It is still possible though… take it from me.
Wooden Spoons– I buy wooden spoons in quantity and just toss them when they get too yucky. They are ideal for sticky sauces like a caramel sauce recipe.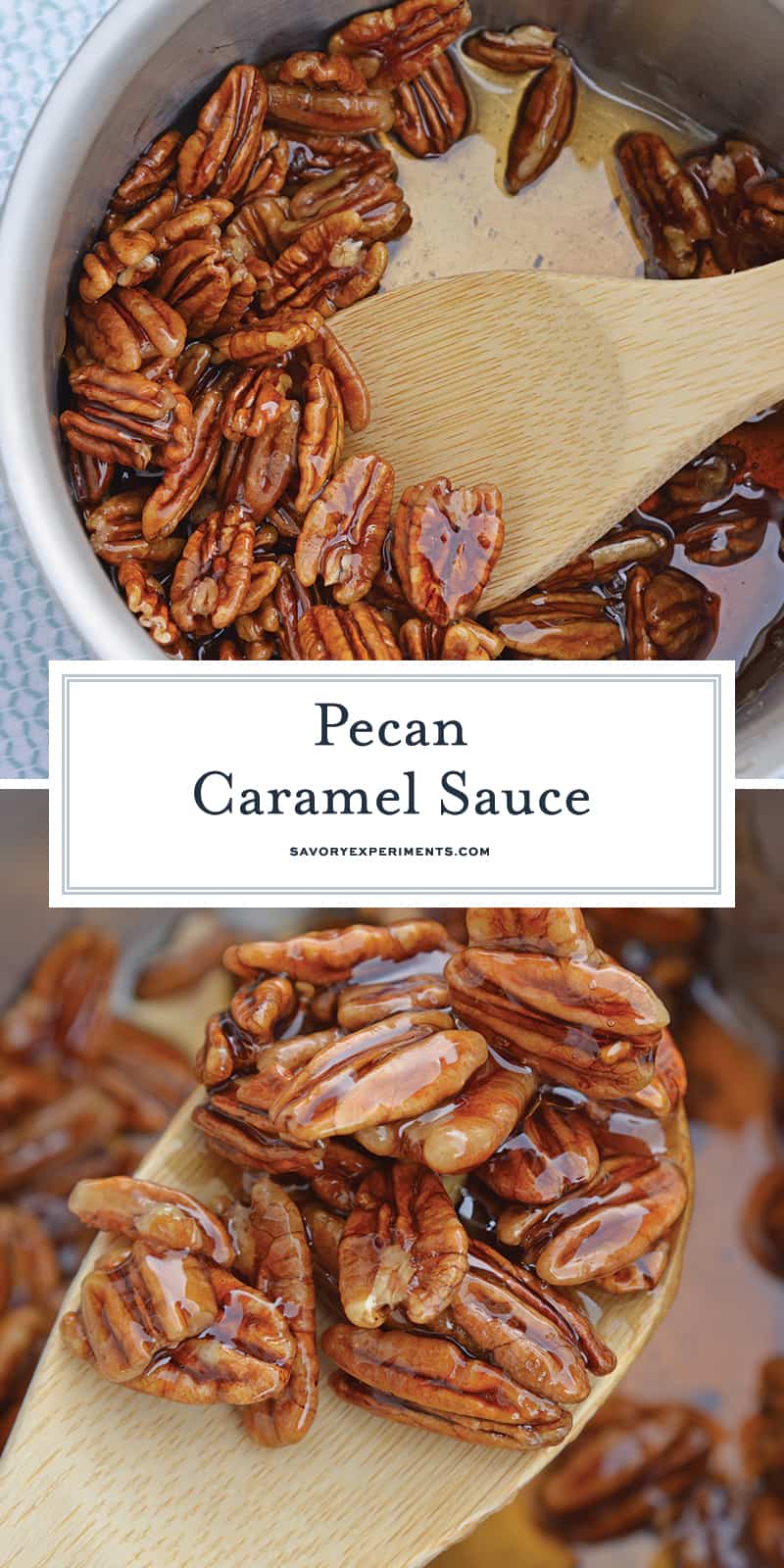 Questions you might have about how to make caramel sauce:
Can I freeze caramel sauce? You sure can! Caramel sauce will stay good in the freezer for 3-4 months if packaged correctly. Just make sure you freeze it in plastic, either a container or bag, because milk expands and glass containers will explode.
Is pecan caramel sauce gluten free? Yes, this is a gluten free caramel sauce recipe.
Can caramel sauce be made without dairy? I am sure it can, but my recipe has only been tested using cream.
Can caramel sauce be left at room temperture? You can safely leave it at room temperature for up to an hour or so, but after that you'll want to refrigerate it since it does have dairy.
It will harden when chilled, just microwave it for a few seconds and stir to get it back to the right consistency. If it is still too thick, try stirring in a small amount (1-2 teaspoons) of cream.
Why is my caramel sauce grainy? Chances are you didn't let the sugar fully dissolve OR the caramel sauce is too old and it has recrystallized.
Why did my caramel separate? When the recipe calls for constant whisking or stirring, it means it! Caramel and toffee have the tendency to separate if not constantly agitated.
Can I use chopped pecans instead of whole pecans? Yes, you can, but I'd reduce the amount to about 1/2-3/4 cup. The actual volume in the cup is less because they take up less space.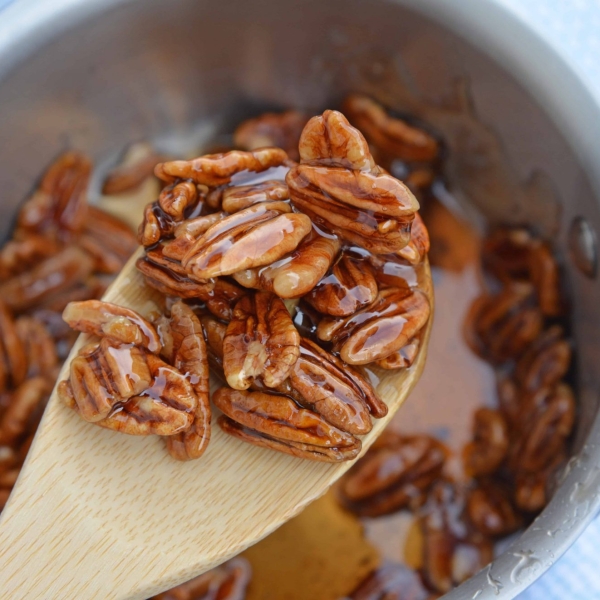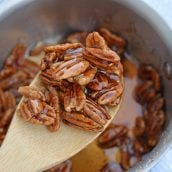 Pecan Caramel Sauce
Pecan Caramel Sauce is a salted caramel sauce with crunchy pecans. The perfect ice cream topping no matter what flavor your favorite flavor!
Instructions
In a heavy saucepan, combine sugar and water over medium-low heat until the sugar dissolves. Increase the heat and bring to a low boil, swirling the saucepan gently, but not stirring. Keep the mixture constantly moving.

Simmer until the mixture is syrupy and a deep caramel color, about 5-10 minutes.

Remove mixture from heat and whisk in butter and cream, being mindful that the mixture will spit and sizzle, so be careful. Whisky vigorously until it reaches a smooth, sticky consistency.

Whisk in vanilla and fleur de sel.

Stir in whole pecans.

Depending on the recipe, allow your caramel sauce to cool or serve hot.

If you've tried this recipe, come back and let us know how it was!
Nutrition
Calories:
432
kcal
,
Carbohydrates:
42
g
,
Protein:
2
g
,
Fat:
29
g
,
Saturated Fat:
12
g
,
Cholesterol:
59
mg
,
Sodium:
13
mg
,
Potassium:
89
mg
,
Fiber:
1
g
,
Sugar:
40
g
,
Vitamin A:
660
IU
,
Vitamin C:
0.3
mg
,
Calcium:
33
mg
,
Iron:
0.4
mg