Use up those ripened bananas to make a delicious loaf of banana bread!
From chocolate chips to strawberries, and everything in between, these banana bread recipes have extra ingredients and flavors that will make your mouth water.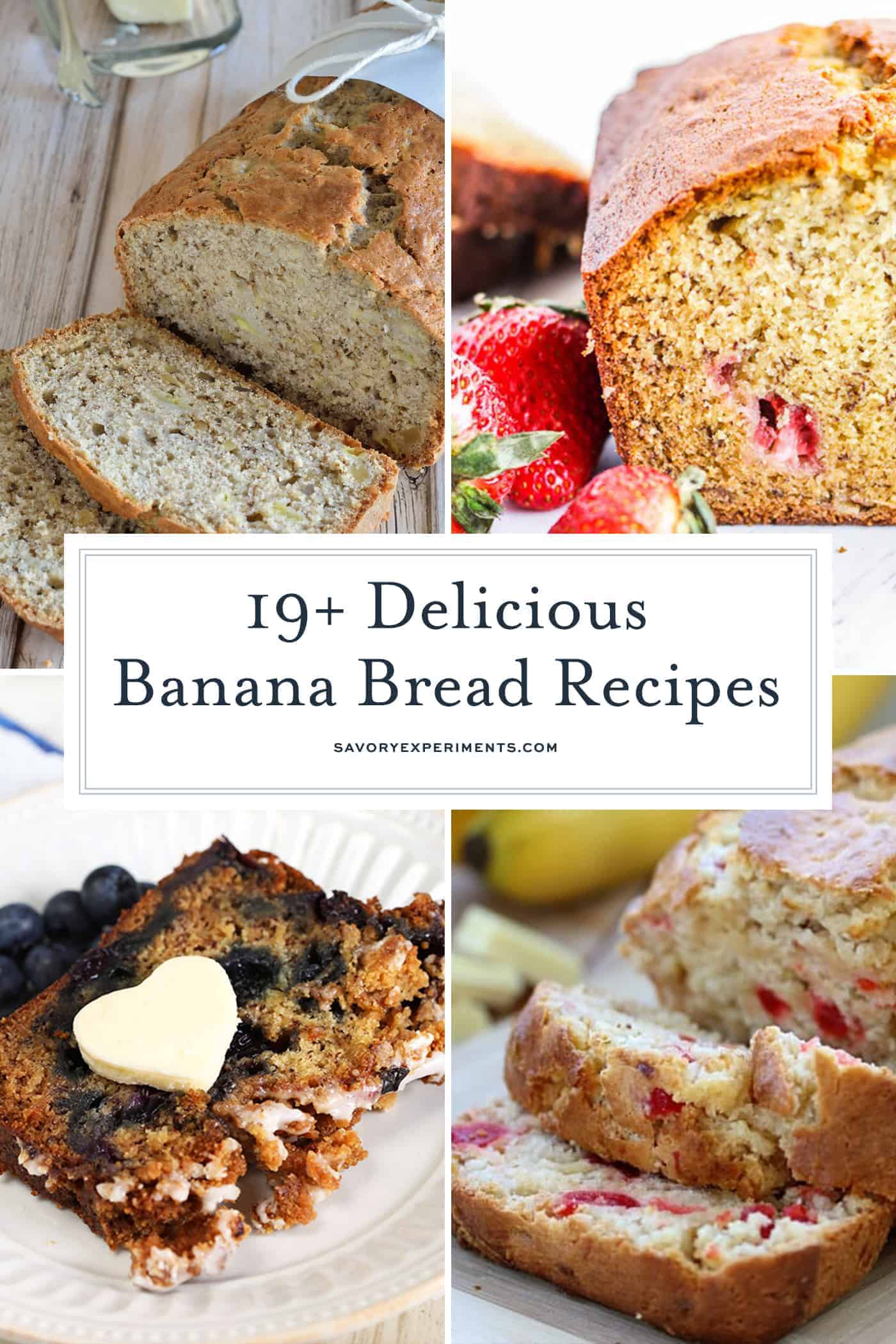 Looking for the perfect recipe to make banana bread? From classic banana bread recipes to unique banana bread ingredients, this list has it all!
It never fails that every time I buy bananas, at least one or two don't get eaten and turn brown far too quickly. And what better to do with overripe bananas than to make an easy banana bread recipe!
Basic banana bread recipes typically use basic ingredients that you probably already have on hand. The dry ingredients include things like brown sugar, all purpose flour (or whole wheat flour,) baking soda and granulated sugar. The wet ingredients include things like mashed bananas, vanilla extract, sour cream, melted butter and a whole egg.
When making banana recipes like banana muffins, banana cake or these good banana bread recipes, it's important to have bananas with plenty of brown spots. Extra ripe bananas help to ensure you get the maximum banana flavor!
And if your bananas aren't fully ripe yet, here are a few ways to make that happen!
Microwave– The quickest way, but least likely to produce super sweet results. Nuke it for 30 seconds to one minute. Basically, you are cooking it and allowing the sugars to release a little before you put it into the recipe.
Oven- the same concept as the microwave. Heat to 350 degrees and bake for 5-30 minutes.
Brown Paper Bag – My mother used this technique, but it still takes about a day. Place your bananas in a brown paper bag and roll it closed. Ethylene will build up and speed up the ripening process.
Tropical Environment – Everything ages faster in the heat. Place your bananas someplace warm, like in a sunny window. It will still take up to a day, depending on how ripe the banana was to begin with.
Single them out – lastly, pull your bananas apart. They ripen much faster separated than they do still hooked together.
Storage
Homemade banana bread usually keeps pretty well for at least a few days. Store it in an airtight container or wrap tightly with plastic wrap is the best way to keep a moist banana bread recipe.
If you liked these banana bread recipes, check out these other bread recipes: