Use up those ripened bananas to make a delicious loaf of banana bread!
From chocolate chips to strawberries, and everything in between, these banana bread recipes have extra ingredients and flavors that will make your mouth water.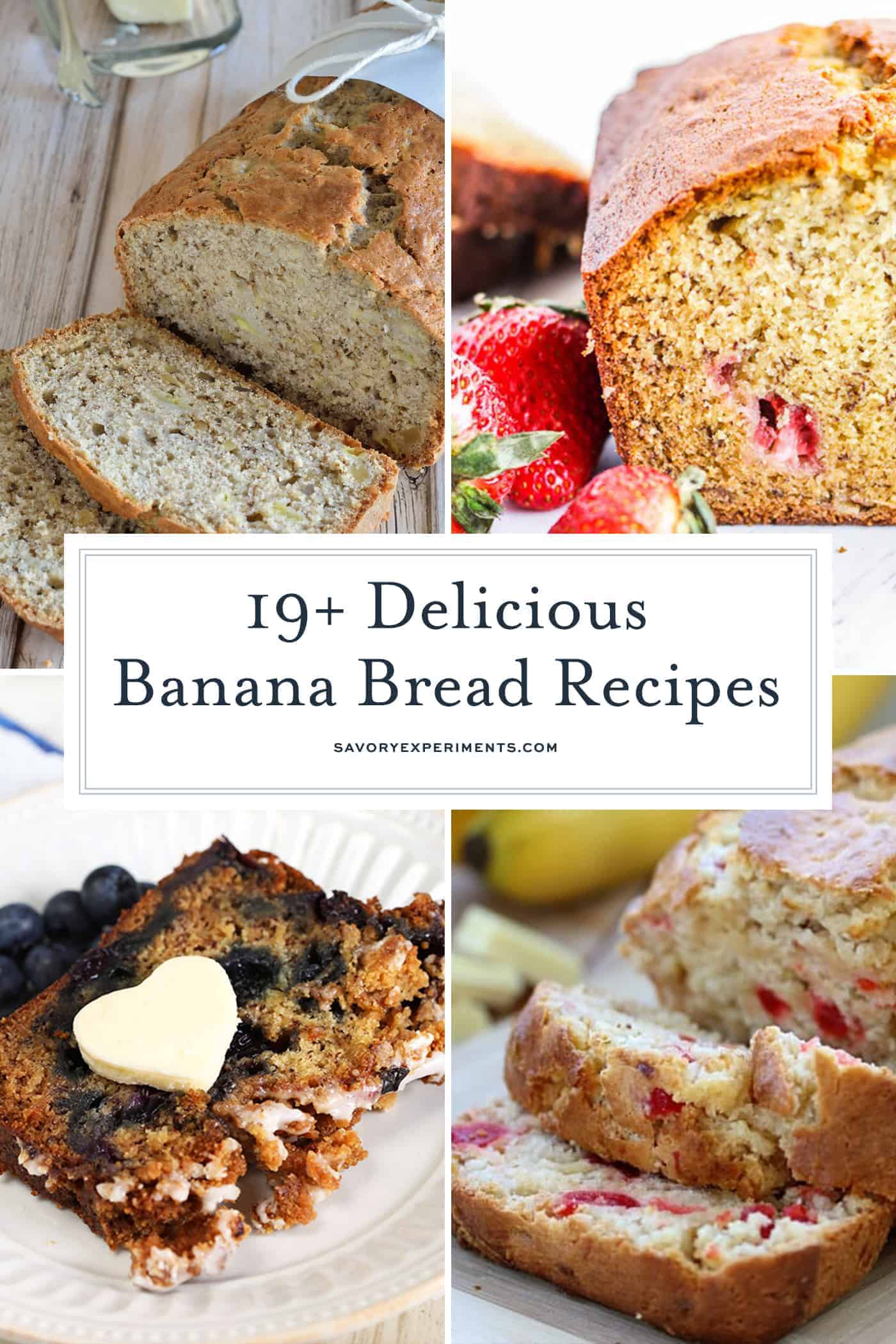 Looking for the perfect recipe to make banana bread? From classic banana bread recipes to unique banana bread ingredients, this list has it all!
It never fails that every time I buy bananas, at least one or two don't get eaten and turn brown far too quickly. And what better to do with overripe bananas than to make banana bread!
Classic banana bread is always a winner, but sometimes it's nice to add in a little something extra! Whether it's another fruit like strawberries or blueberries, or even something sweet like chocolate chips or pumpkin, you can never go wrong with a loaf of banana bread.
And if your bananas aren't fully ripe yet, here are a few ways to make that happen!
Microwave– The quickest way, but least likely to produce super sweet results. Nuke it for 30 seconds to one minute. Basically, you are cooking it and allowing the sugars to release a little before you put it into the recipe.
Oven- the same concept as the microwave. Heat to 350 degrees and bake for 5-30 minutes.
Brown Paper Bag – My mother used this technique, but it still takes about a day. Place your bananas in a brown paper bag and roll it closed. Ethylene will build up and speed up the ripening process.
Tropical Environment – Everything ages faster in the heat. Place your bananas someplace warm, like in a sunny window. It will still take up to a day, depending on how ripe the banana was to begin with.
Single them out – lastly, pull your bananas apart. They ripen much faster separated than they do still hooked together.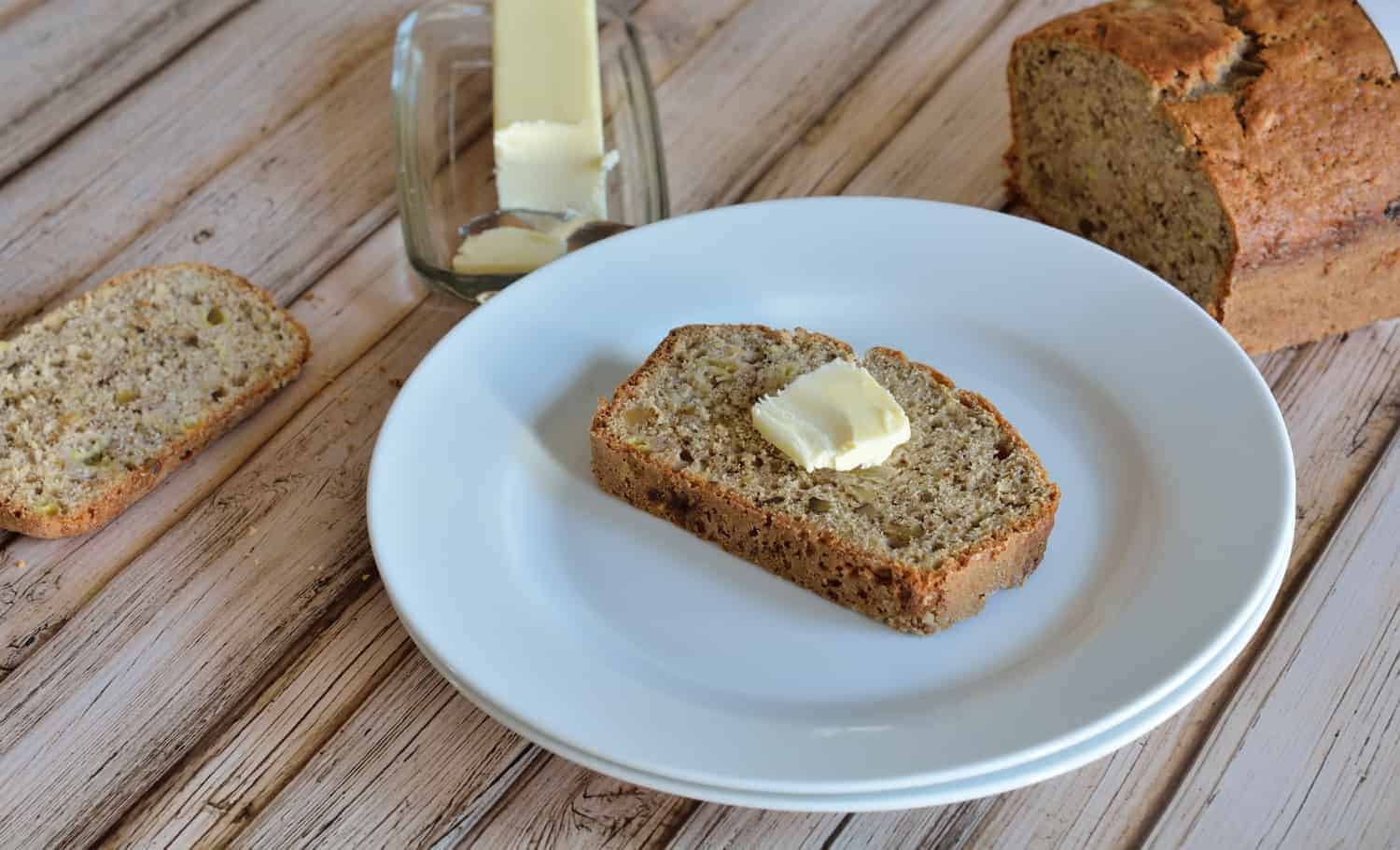 This Banana Walnut Bread is mouthwateringly delicious! This simple, classic recipe is exactly what comes to mind when you think of a banana bread recipe.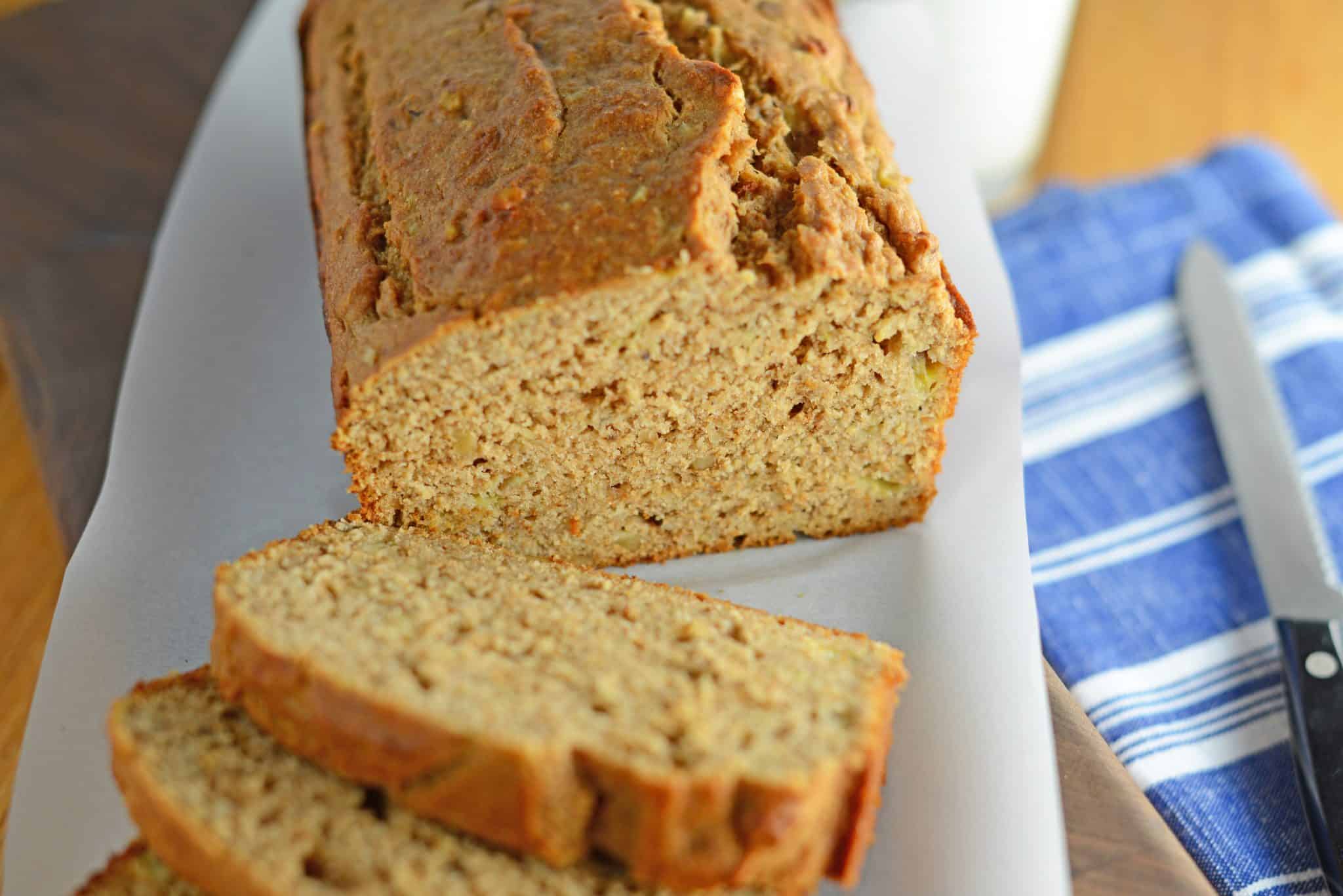 Whole Wheat Banana Bread is a healthier version of regular banana bread. Add pecans or walnuts for even more flavor.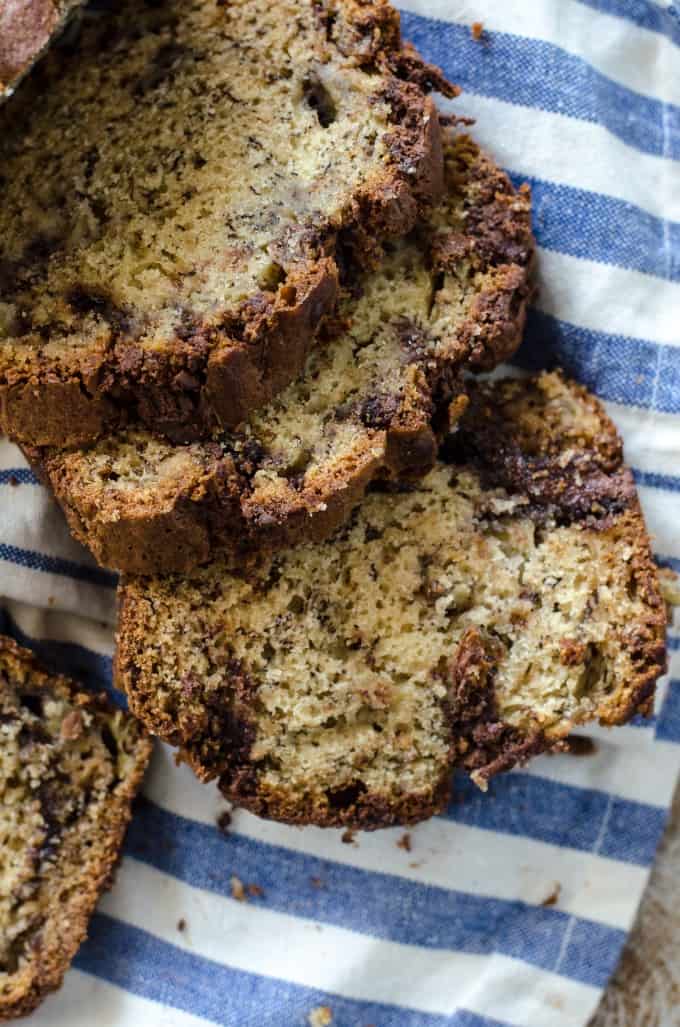 If you need an easy and delicious dessert, this Nutella Banana Bread recipe is perfect! It is great for the whole family to enjoy. You can find the recipe here.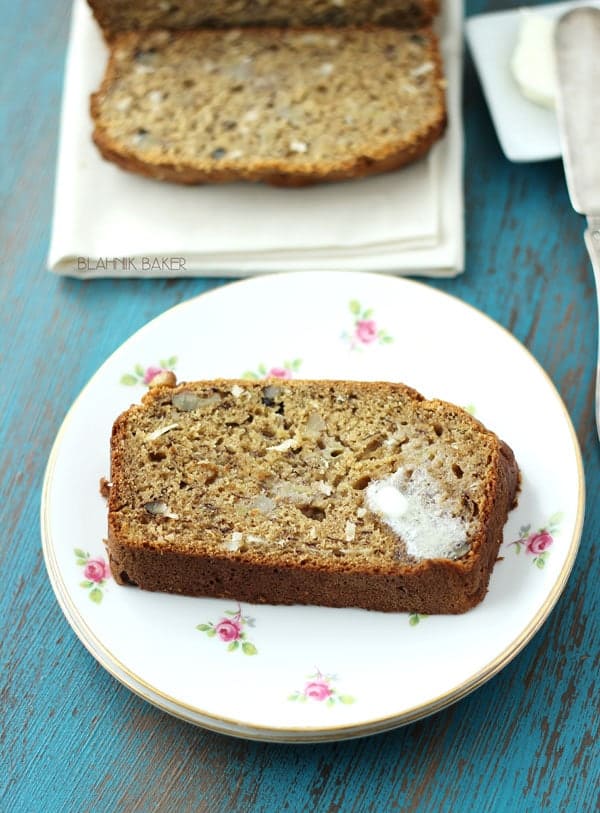 Add some tropical flair to your next banana bread recipe with this Banana Coconut Bread! This bread is soft, moist and of course bursting with coconut flavor! You can find the recipe here.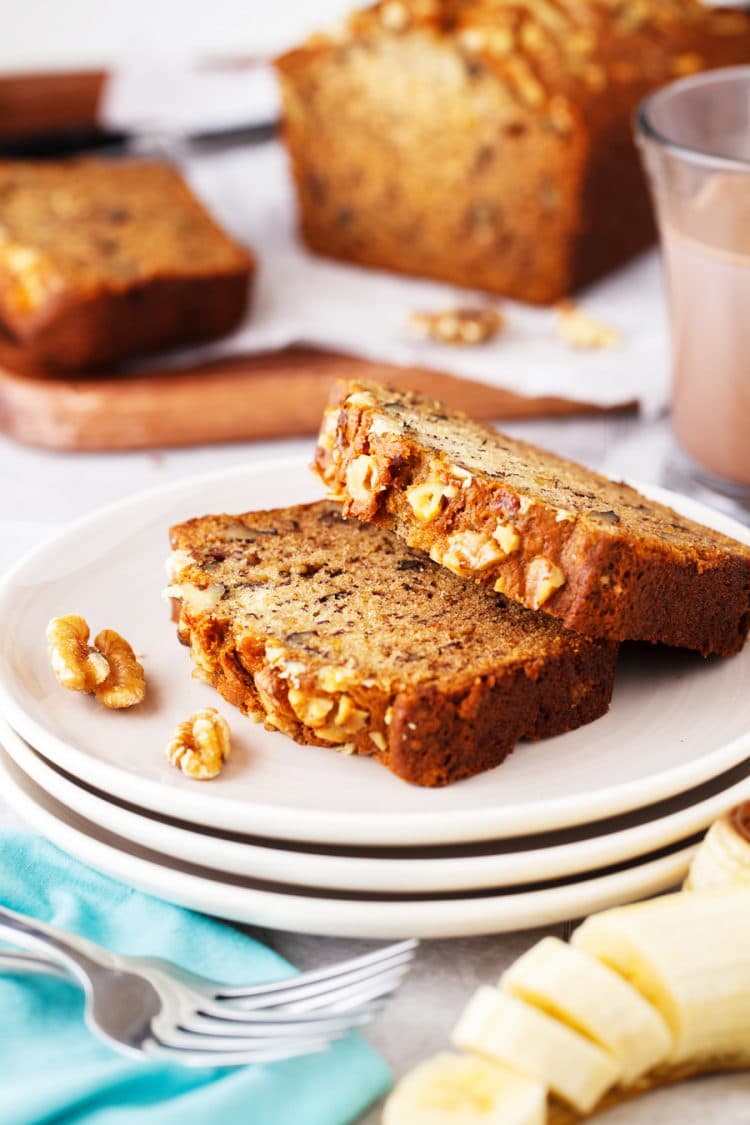 This Starbucks Copycat Banana Bread recipe is a delicious sweet bread loaded with walnuts and delicious bananas. It's pure comfort and tastes amazing warm with a bit of butter! You can find the recipe here.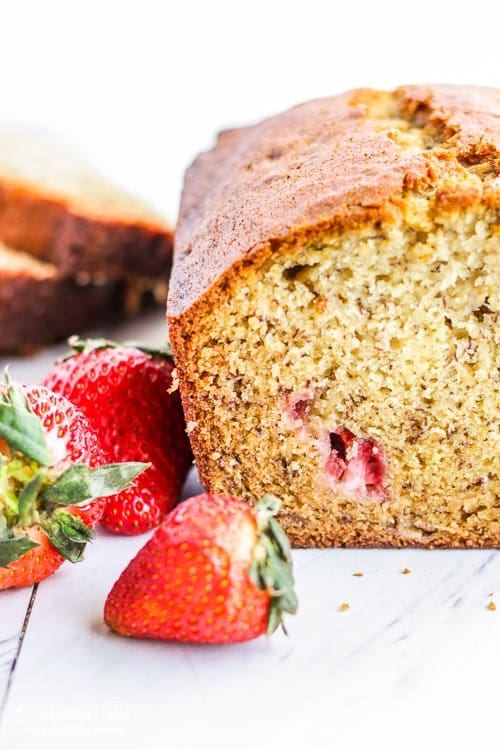 This Strawberry Banana Bread is moist, flavorful and turns out every single time! A smooth texture with small chunks of strawberries, this strawberry banana bread will be a family favorite for sure. You can find the recipe here.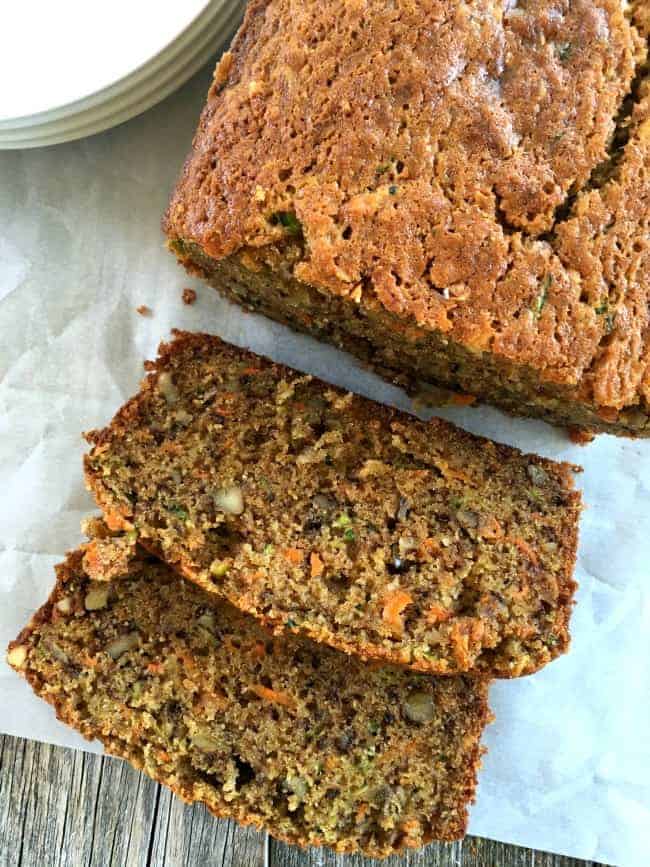 Use up not only those ripened bananas, but also your garden zucchini to make this Carrot Zucchini Banana Bread! A great way to make those banana bread recipes a little healthier. You can find the recipe here.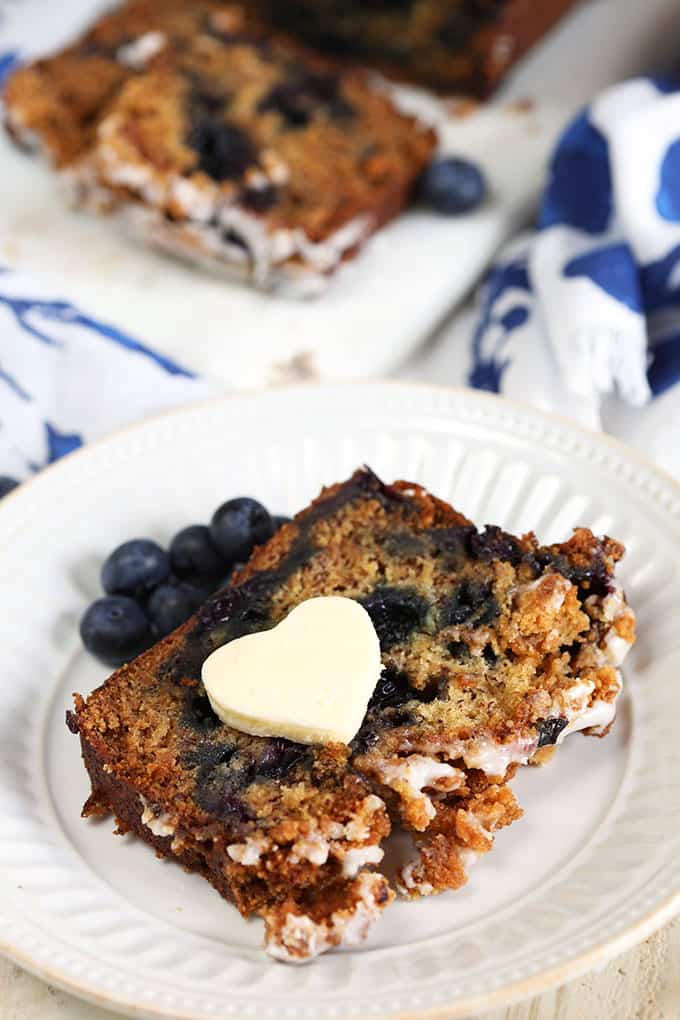 This Blueberry Banana Bread with Cinnamon Streusel and Lemon Glaze has a flavor combination that will blow your mind! You can find the recipe here.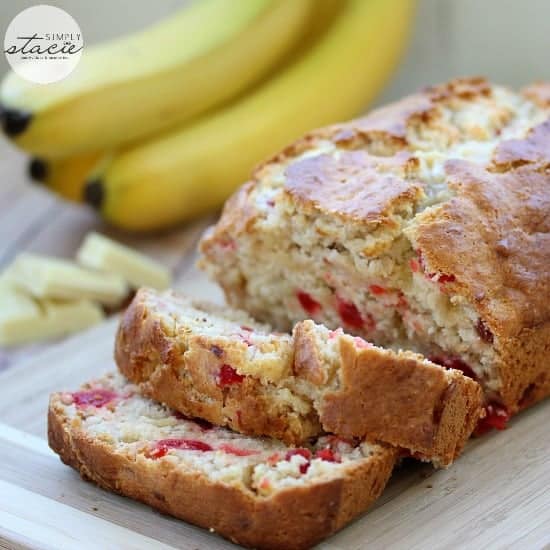 White chocolate and cherries add an extra bit of "sweet" to this White Chocolate Cherry Banana Bread! You can find the recipe here.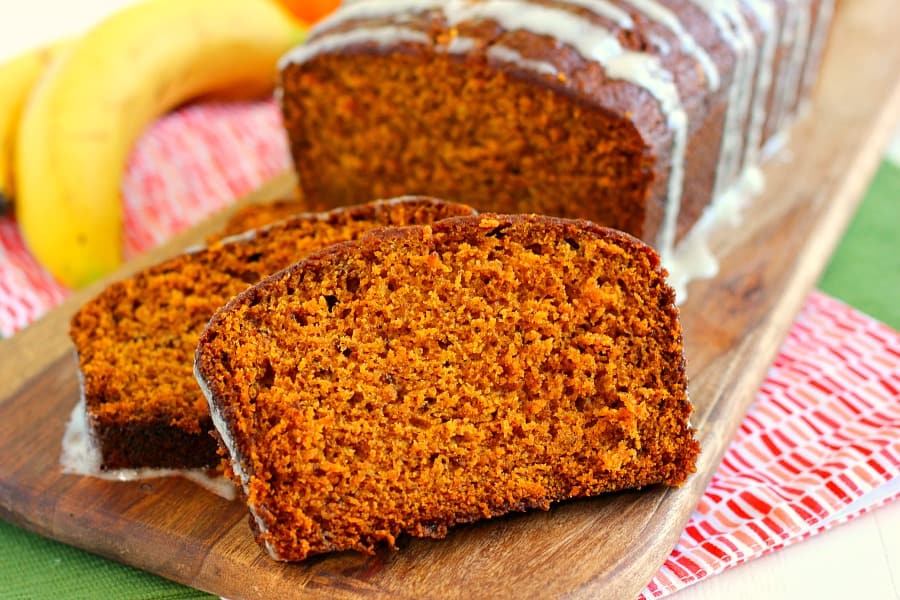 This Honey Glazed Pumpkin Banana Bread combines the classic fall flavor of pumpkin, swirled with hints of banana, and then topped with a sweet honey glaze. This bread soft, moist, and bursting with just the right amount of flavor! You can find the recipe here.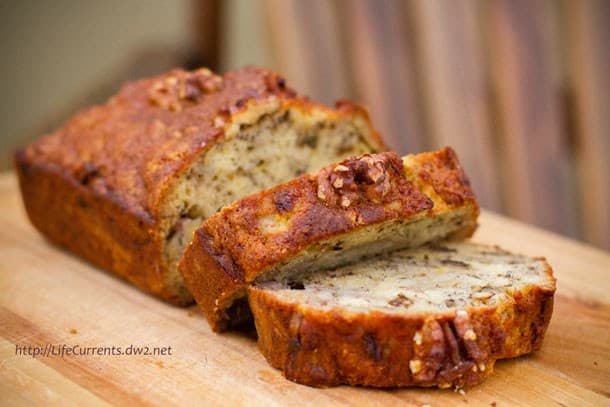 This Bourbon Banana Walnut Bread has an extra kick to really sends one of the best banana bread recipes over the top! You can find the recipe here.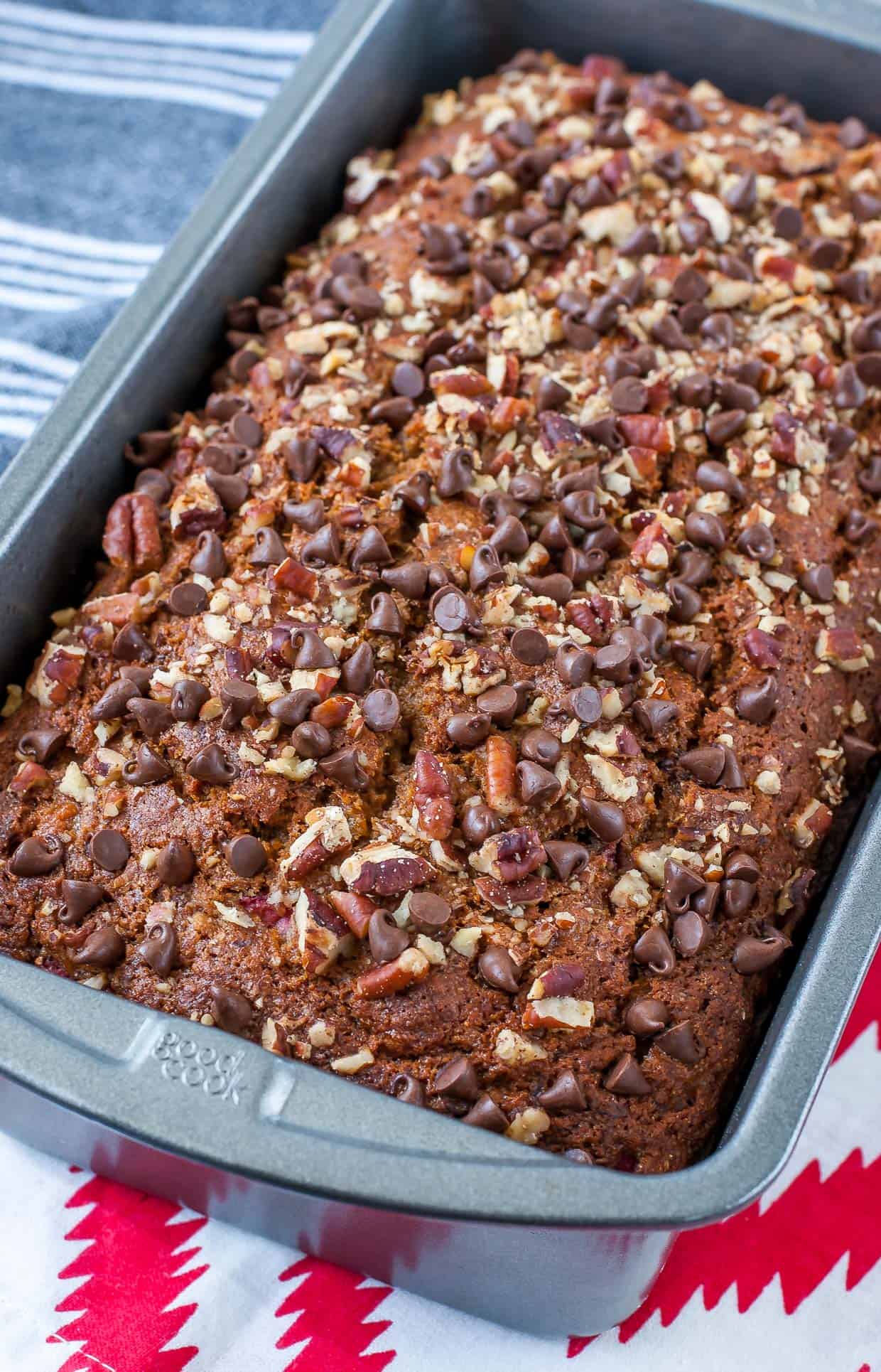 Looking for an excuse to eat a banana split for breakfast? Look no further! This Banana Split Banana Bread is flecked with strawberries, pecans, and chocolate chips! You can find the recipe here.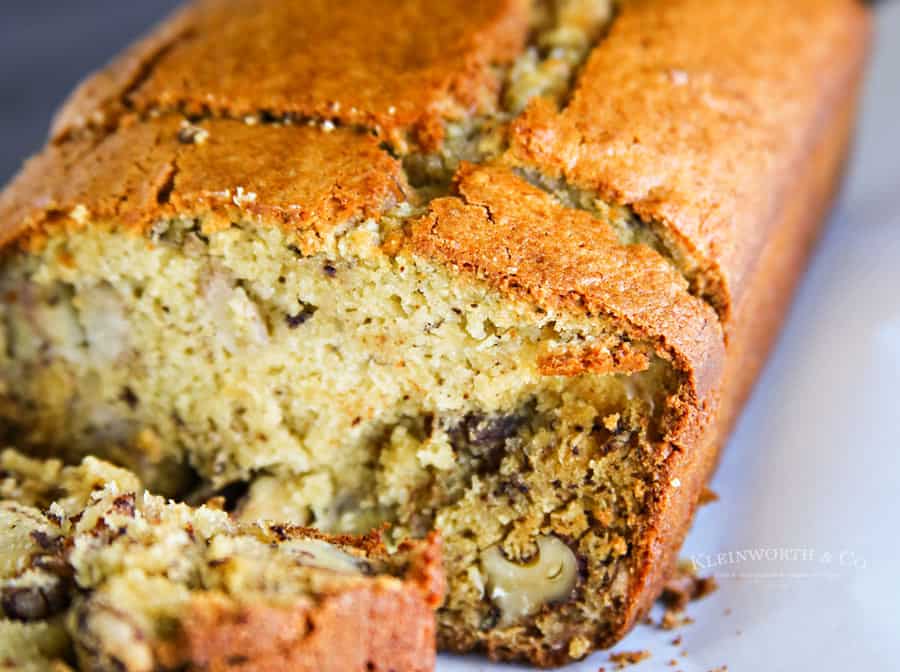 Ricotta Banana Nut Bread is a simple banana bread recipe that the whole family will love. A moist, sweet, cake-like quick bread that's great for breakfast! You can find the recipe here.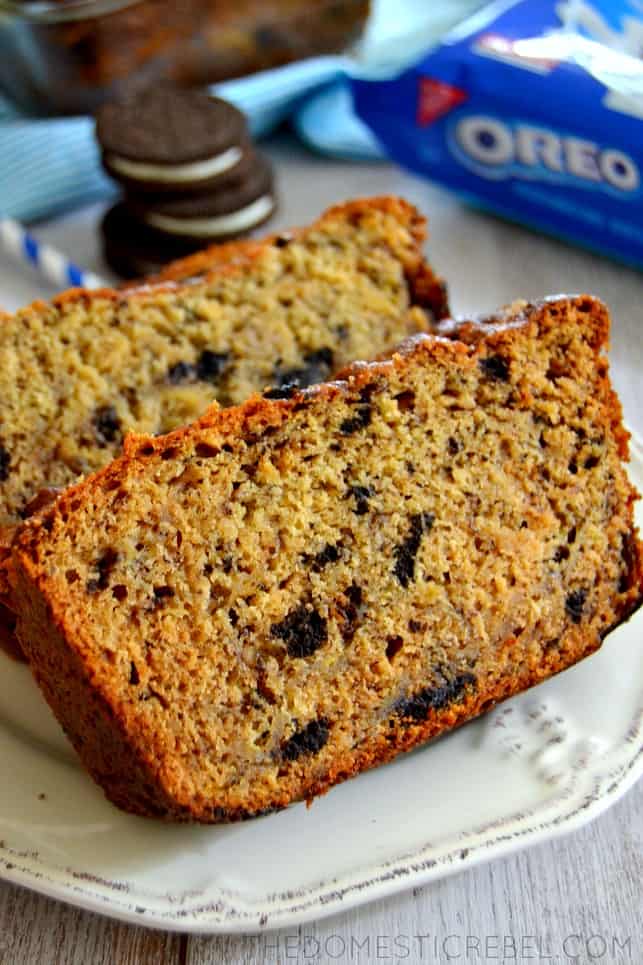 This delightful Cookies and Cream Banana Bread combines a classic banana bread recipe with Oreo cookies! The result is a moist and sweet banana bread studded with chopped Oreos for a fun cookies & cream flavor everyone will love. You can find the recipe here.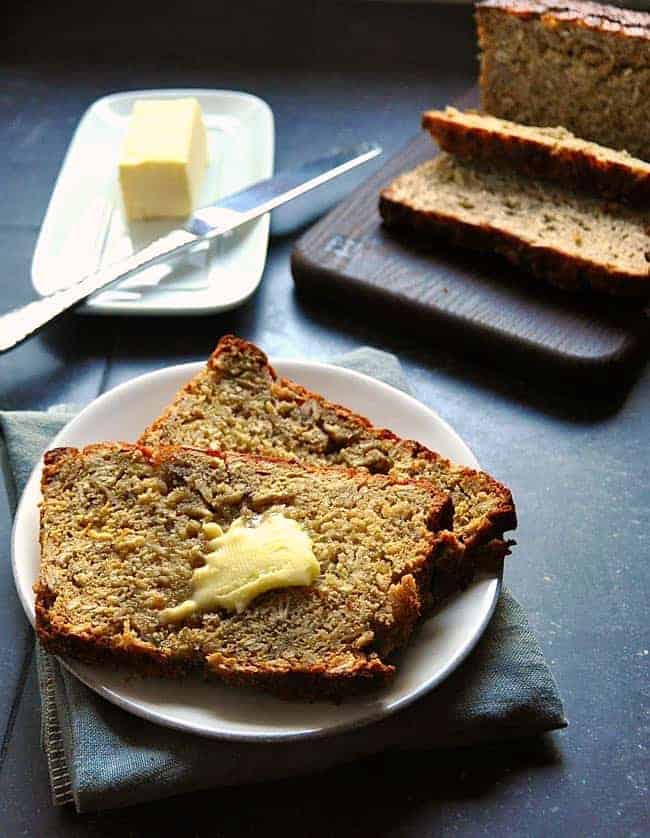 Imagine waking up to a toasted slice of Oatmeal Banana Bread slathered in butter. Not a bad way to start the day! Especially when this delicious quick bread recipe is loaded with nutritious things like oats, bananas and whole grain flour! You can find the recipe here.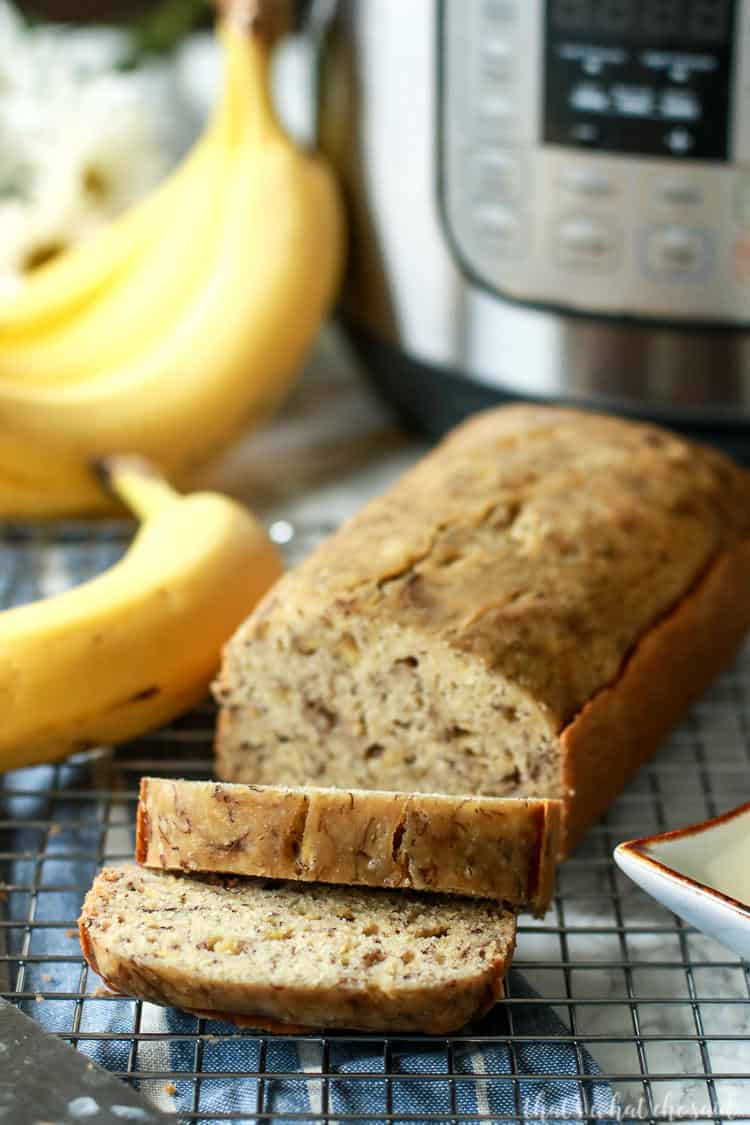 This Instant Pot Banana Bread will become your favorite new Instant Pot Dessert! Perfect for camping trips, pot lucks or anywhere there is not an oven! You can find the recipe here.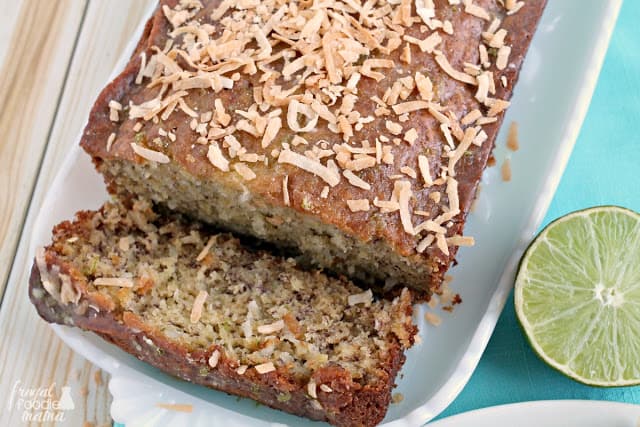 This Lime in the Coconut Banana Bread is the perfect combination of sweet & tart thanks to creamy coconut and a hint of fresh lime! You can find the recipe here.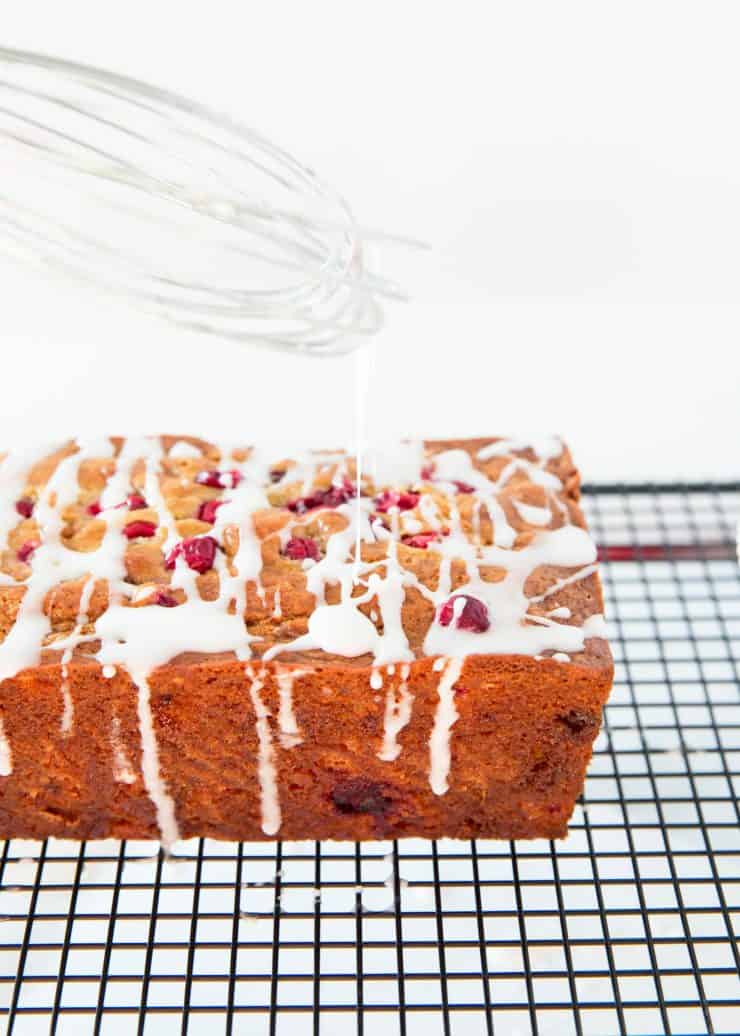 Cranberry Banana Bread… filled with white chocolate chips and topped with a powdered sugar glaze. So soft and full of flavor! You can find the recipe here.
If you liked these banana bread recipes, check out these other bread recipes: