Besides banana bread, what do you do with the overripe bananas sitting on your counter? I've found the answer – banana cookies!
These Soft Banana Cookies will quickly become one of your go-to ripe banana recipes. Made with simple baking ingredients, these banana cookies taste great alone or dunked in a big glass of milk!
Am I the only one who regularly ends up with a bunch of overripe bananas on their kitchen counter?
I swear sometimes bananas are a lot like avocados – they go from unripe straight to overripe, with approximately 10 seconds of the perfect level of ripe in the middle.
I buy them unripe planning to eat them in a few days and the next day, they're too ripe to just eat plain.
Luckily, there are plenty of ripe banana recipes, beyond the typical banana bread to use up all of your overripe bananas. This banana cookie recipe has quickly become one of my favorites.
The recipe to these is very similar to the recipe for delicious sugar cookies, so what you get is essentially sugar cookies with the taste of banana. Yum!
I know these soft sugar cookies are always a holiday staple but who says you can't enjoy them year-round?
No need to wait until November or December to indulge in a batch of soft sugar cookies when you can make these banana cookies.
I think these banana cookies taste like spring and summer. The flavor in them is light, not what you'd expect from a typical sugar cookie, but they're just as soft and chewy.
They're definitely "can't eat just one" cookies….but, I mean, they have banana in them so that makes them healthy-ish, right? (Okay, probably not but let's pretend anyway.)
I've decided that cookies make a great dessert to serve at cookouts and parties. They're just so much more portable and mess-free than cake and pies, especially when young ones are in attendance.
This banana cookie recipe is now one of my go-tos for spring and summer get-togethers. Everyone is always pleasantly surprised when they bite into them, expecting a regular soft sugar cookie but get the yummy banana flavor too.
Even the kids love them!
Banana cookies are great by themselves but also yummy for dunking in a glass of milk.
If you need cookies and your bananas aren't ripe yet, try these hacks!
Microwave– The quickest way, but least likely to produce super sweet results. Nuke it for 30 seconds to one minute. Basically, you are cooking it and allowing the sugars to release a little before you put it into the recipe.
Oven- the same concept as the microwave. Heat to 350 degrees and bake for 5-30 minutes.
Brown Paper Bag – My mother used this technique, but it still takes about a day. Place your bananas in a brown paper bag and roll it closed. Ethylene will build up and speed up the ripening process.
Tropical Environment – Everything ages faster in the heat. Place your bananas someplace warm, like in a sunny window. It will still take up to a day, depending on how ripe the banana was to begin with.
Single them out – lastly, pull your bananas apart. They ripen much faster separated than they do still hooked together.
Since you like this Soft Banana Cookies recipe, you may like these other easy cookie recipes:
Or even these delicious banana recipes:
Tools for making Soft Banana Cookies:
Stand Mixer– I lived for a long time without one. My life was changed when I finally bit the bullet and bought one. Just do it and thank yourself later.
Insulated Cookie Sheet– Insulated cookie sheets allow hot air to circulate around the entire cookie, resulting in even baking.
Questions you might about how to make ripe banana cookies:
Can I freeze overripe banana cookies? You sure can! In fact, I suggest it. You can take just one out anytime you'd like!
About how many bananas is one cup? Bananas range greatly in size, but I estimate about 2-3 average size bananas.
Do I have to use ripe bananas? You don't have to- you can use regular bananas, however, overly ripe bananas are softer and sweeter, so they are better for baking.
This brings out a stronger banana flavor. So while you can use regular bananas, you might lose some of the flavor you were looking for.
CONNECT WITH SAVORY EXPERIMENTS!

Be sure to follow me on social media, so you never miss a post!

Facebook | Twitter | Youtube
Pinterest | Instagram
Get our FREE 8 Day E-Course on How to Be a Better Home Cook. Sign up HERE!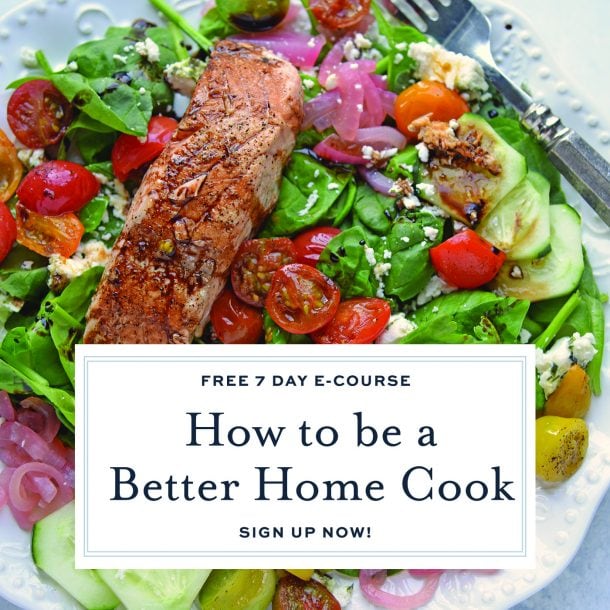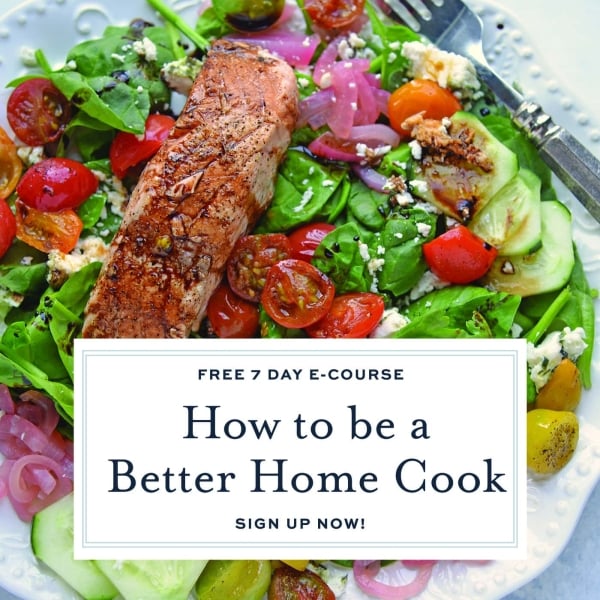 Banana Cookies
These Soft Banana Cookies will become your favorite thing to make with overripe bananas! They're soft, chewy and delicious – great with a glass of milk!
Instructions
In a medium mixing bowl, sift together dry ingredients including flour, salt, cinnamon and nutmeg.

In a large mixing bowl or stand mixer fitted with the paddle attachment, cream together butter, sugar and light brown sugar. When blended, light and creamy, add egg, vanilla and mashed banana.

Gradually add dry mixture to wet until fully combined.

Cover bowl with plastic wrap and refrigerate for a minimum of 2 hours.

After dough has chilled, preheat oven to 350 degrees.

In a small bowl, mix topping ingredients, sugar and cinnamon.

With clean hands, roll dough into 1 1/2 inch balls. Dough might be sticky and not roll well, have no fear, just plop it into the sugar and coat.

Place onto a parchment paper or silicone mat lined cookie sheet about 2 inches apart.

Bake for 13-15 minutes or until cookie tops start to crack. Do not wait until cookies brown, they will be overdone.

Allow to cool on cookie sheet for at least 5 minutes before carefully transferring to a cooling rack using a spatula.

If you've tried this recipe, please come back and leave a comment to let us know how it went and if you made any modifications!
Nutrition
Calories:
144
kcal
|
Carbohydrates:
22
g
|
Protein:
1
g
|
Fat:
5
g
|
Saturated Fat:
3
g
|
Cholesterol:
18
mg
|
Sodium:
36
mg
|
Potassium:
60
mg
|
Sugar:
12
g
|
Vitamin A:
170
IU
|
Vitamin C:
0.6
mg
|
Calcium:
15
mg
|
Iron:
0.7
mg