In the words of my 4-year-old daughter "sprinkles make everything better" and as if a good batch of pancakes needed to be made better, apparently funfetti is the answer. And while I love all of the delicious birthday desserts, I want to start my special day off with a birthday breakfast too.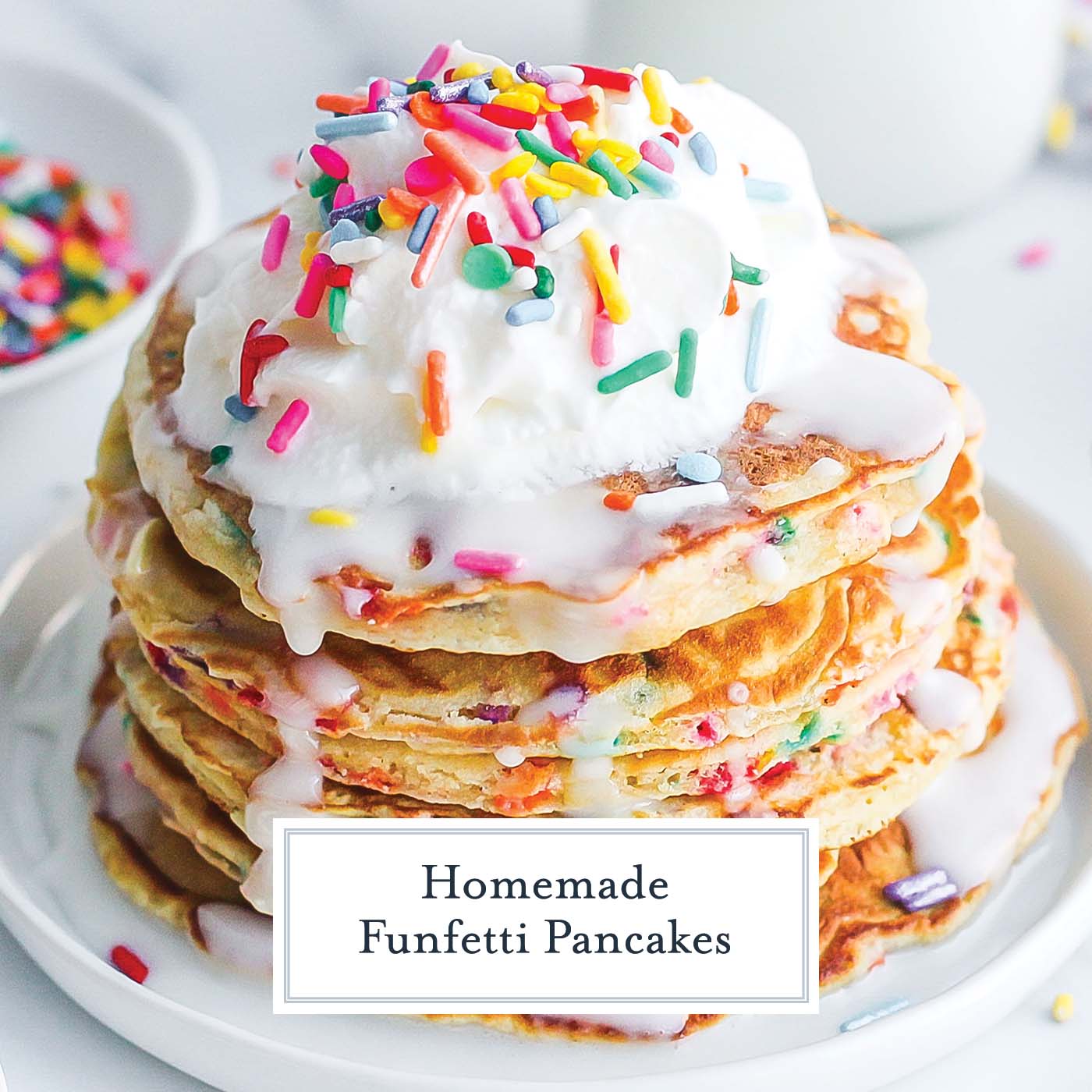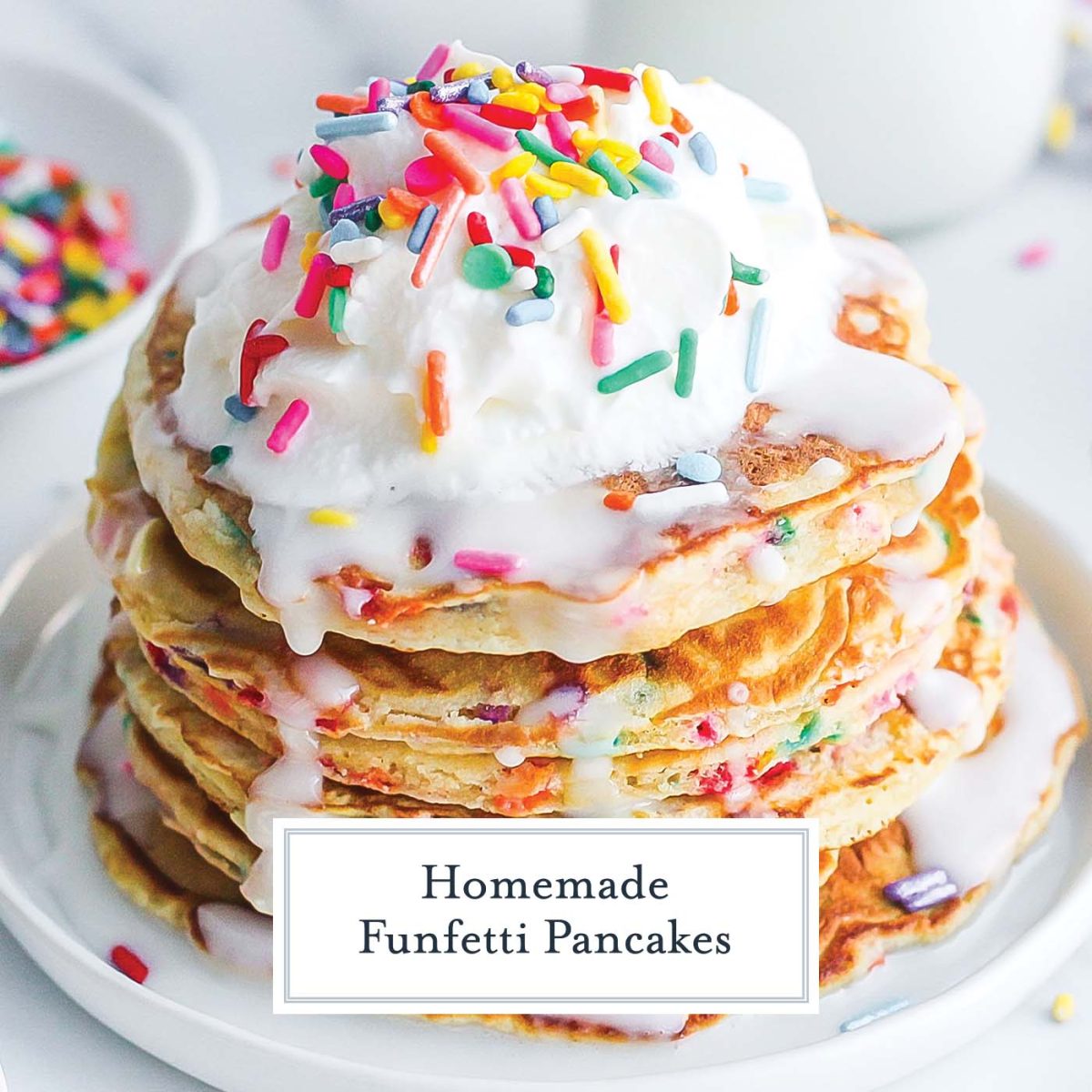 Who can say no to a tower of rainbow speckled deliciousness drizzled with an almond glaze and topped with whipped cream and more sprinkles? No one!
Homemade Funfetti Pancakes
So many of the recipes out there start with a box of cake mix, ours is made 100% from scratch using kitchen staples. They are velvety and super fluffy, they truly melt in your mouth.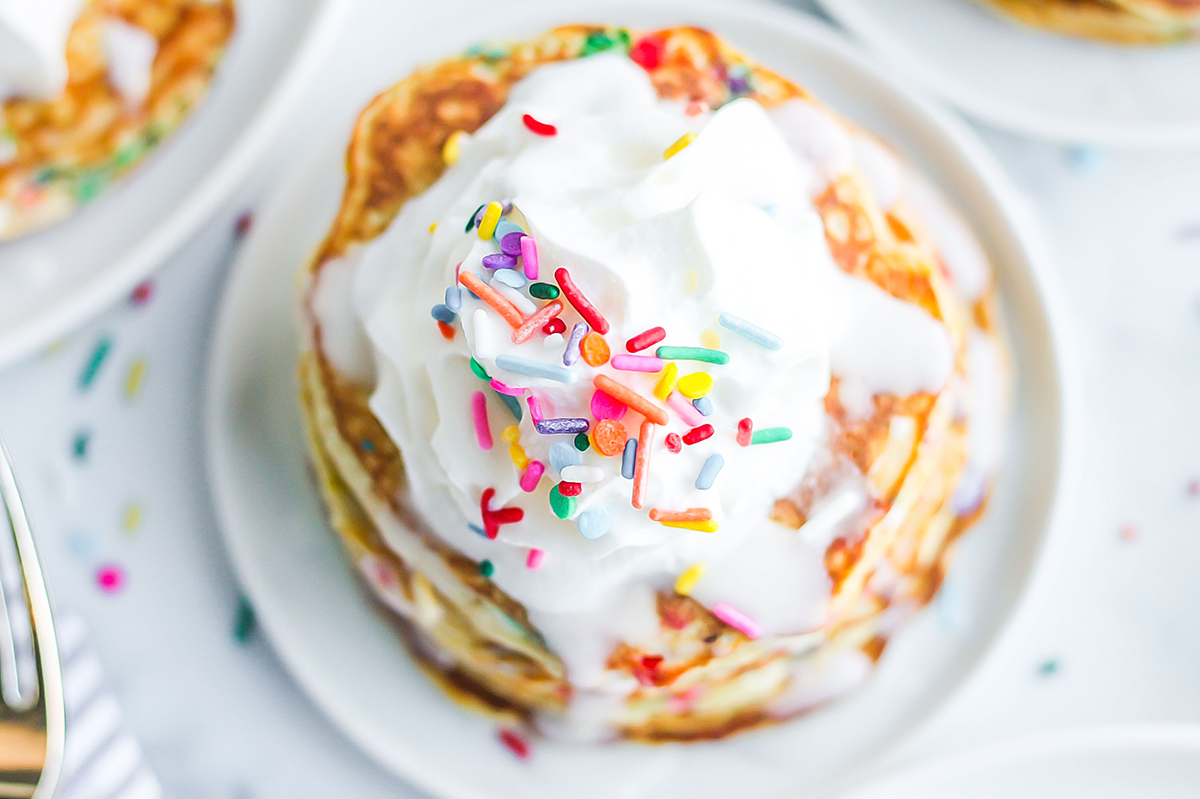 They are the ideal birthday pancakes, good for any random Sunday and also can be catered to any holiday using color coordinated sprinkles. You can even replace them with a birthday cake and stick in a candle in the center. Don't feel tethered rainbow.
And how are they different from other homemade pancake recipes? Well, we use a lot of fluffy leaveners! Baking soda and baking powder along with eggs give these bad boys luft and create air pockets galore.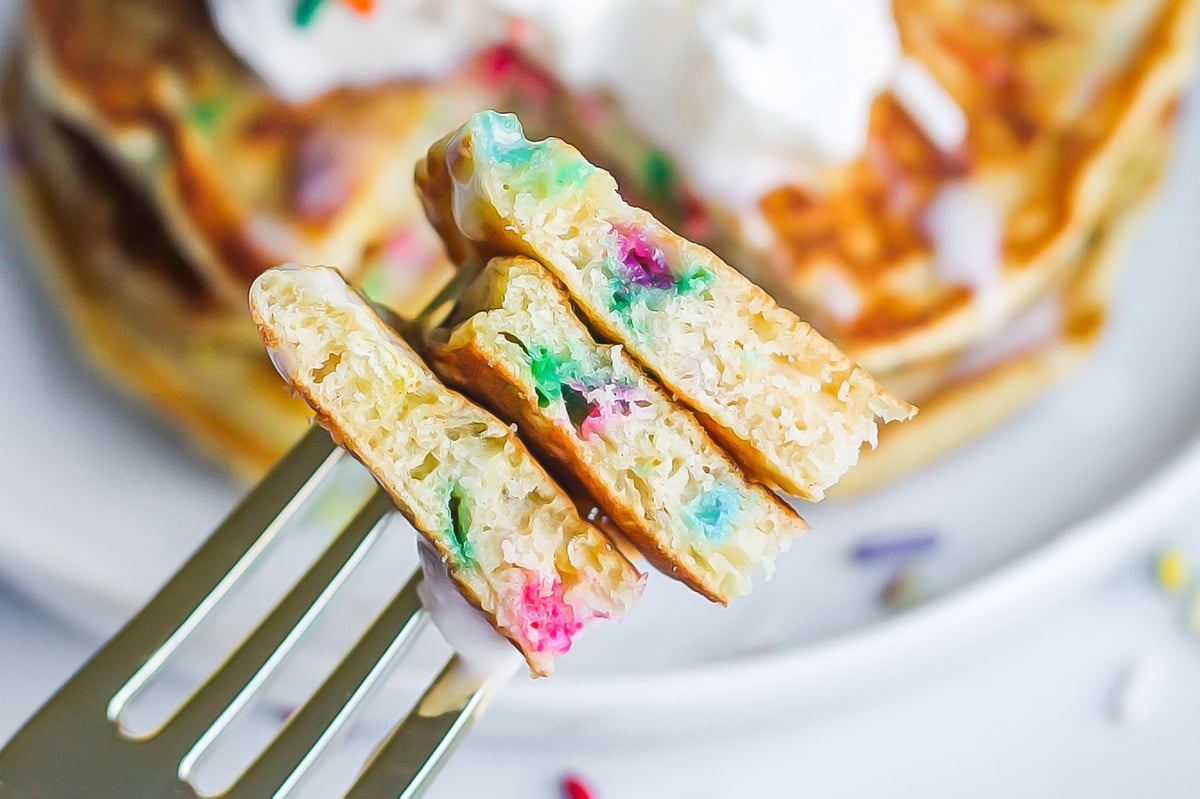 What You'll Need
Thankfully all the ingredients are kitchen staples, at least in our house. And yes, rainbow sprinkles are considered a kitchen staple.
All-Purpose Flour– Take them a step further and opt for cake flour instead of all-purpose. It has a lower protein and gluten content so the result is even more feathery and light.
Baking Powder & Baking Soda- While powder needs something acidic or heat to activate, soda just needs moisture. You are coming at the "create pockets of fluffy" from two different angles.
Fine Sea Salt– Coarse can be used as well, but since this batter doesn't have traditional liquids, it will take longer to dissolve.
Sugar- While pancakes themselves are typically savory with the syrup being sweet, a small amount of sugar in the batter helps to balance flavors but also caramelize and brown on the griddle.
Butter- Use a good quality butter for a recipe like this. Lower qualities have large amounts of water and less of the good stuff.
Eggs– They add structure, richness and leaven as well. Try to beat your eggs well before adding so you don't over mix the batter. This also introduces air.
Milk- Don't skimp on these- whole milk is best!
Vanilla Extract and Almond Extract- One thing I've learned on my quest to be a better home cook is that each extract is nice indepently, but together they make a flavor explosion like none other. Use just one if you need, but try for both.
Sprinkles- The star of the show, there is no substitution folks!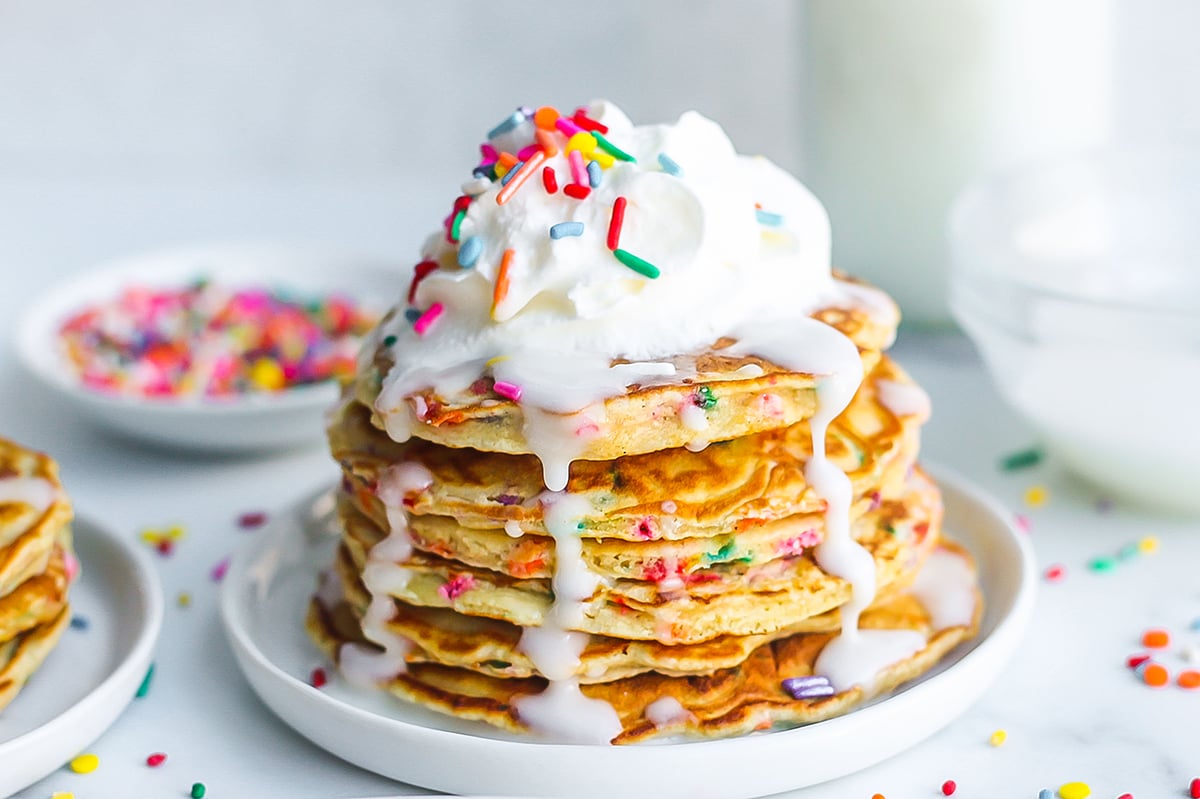 How to Make
The trick to making stellar pancakes, regardless of the recipe, is to make the wet and dry ingredients separately. It helps ingredients to evenly distribute without over mixing the flour after it comes in contact with moisture and you run the rick of your pancakes being tough because gluten had time to overdevelop.
Whisk or sift together the dry ingredients in a large mixing bowl. Set aside- do not skip this step, it is important!
Whisk together the wet ingredients in a separate, medium bowl.
Add the wet ingredients to the dry ingredients until just mixed, resist overmixing, the batter may be lumpy.
Gently fold in the sprinkles and do not over mix here otherwise you'll end up with some shade of brown when the sprinkles start to leave little trails of color.
Allow the mixture to rest for a minimum of 3 minutes or until you see little bubbles rising to the top, that means the baking powder is activated and doing its job to help make you the fluffiest pancakes ever.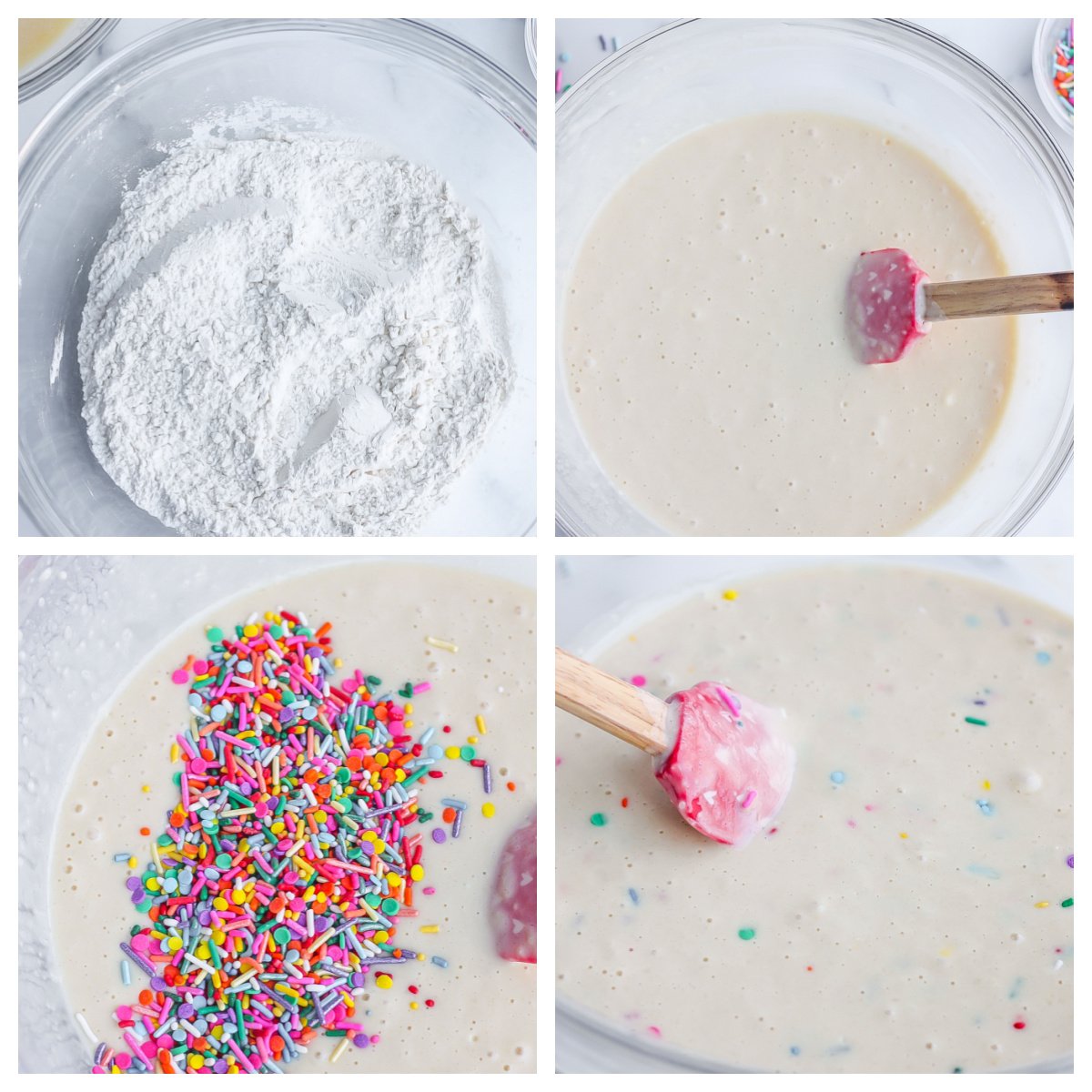 Heat a skillet or griddle (350°F) on medium heat. Butter has a smoke point of 350°F, so do not go over, in fact you are best off going a tad down. Once heated, grease with butter and scoop approximately 1/4 cup of pancake batter into griddle. Use a spatula or spoon to spread out to the correct size and then wait until the bottom had browned nicely. You'll know this when it starts to bubble.
Carefully flip and cook on the other side for about 2 minutes.
Transfer the pancakes to a wire rack in a warm oven, preferably in a single layer. This prevents steam developing between each pancakes, which could also make them though.
Pancake Toppings
Ask any diner in the US and they'll tell you that the options for pancake topping are endless. We've included our favorite simple glaze made from powdered sugar, milk, almond extract and butter, but feel free to branch out and either combine it with or use one of our other fan favorites!
Classic maple syrup- make sure it is real maple syrup, not the maple "flavored" stuff.
Dutch Honey- Our homemade blond syrup that goes on everything from ice cream to biscuits.
Fresh fruit – make a festival of colors with kwi, strawberries, raspberries and more!
Raspberry Sauce – made from fresh strawberries
Cranberry Syrup – ruby red and slightly tart, this one is the perfect color for a brightly colored stack of pancakes.
Whipped Cream – because every stack of pancakes deserves a dollop of whipped cream!
More sprinkles!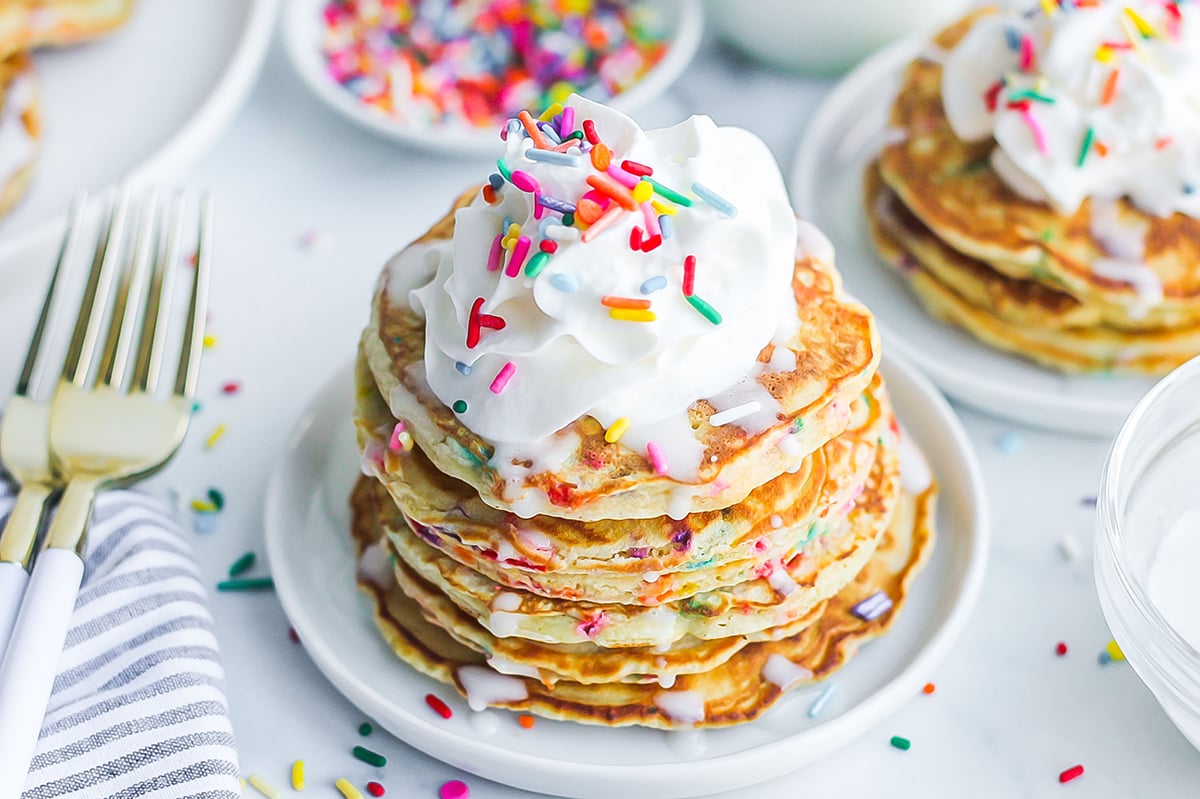 Storage & Freezing
Pancakes are surprisingly freezer friendly. Wait until they are fully cooled and then place them in an airtight plastic bag separated by wax or parchment paper. This prevents them from sticking to one another so you can just take out one at a time.
To reheat, wrap in a paper towel and heat in the microwave at 75% power for 20-25 seconds or place in a hot skillet for 1 minute on each side. The stove top is less likely to create rubbery pancakes whether they are frozen or just leftovers.
Leftovers can be stored in the fridge in an airtight container for up to a week.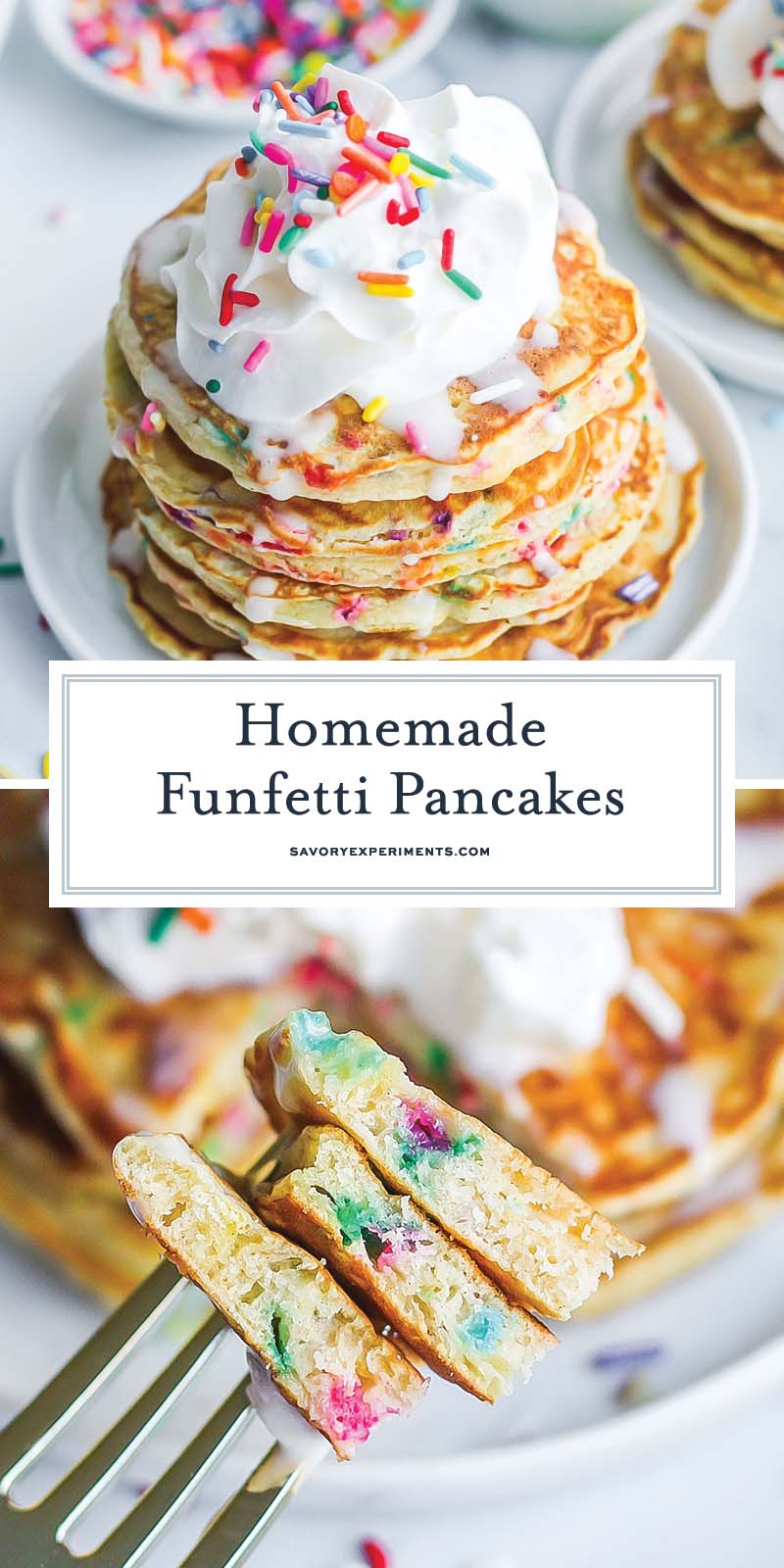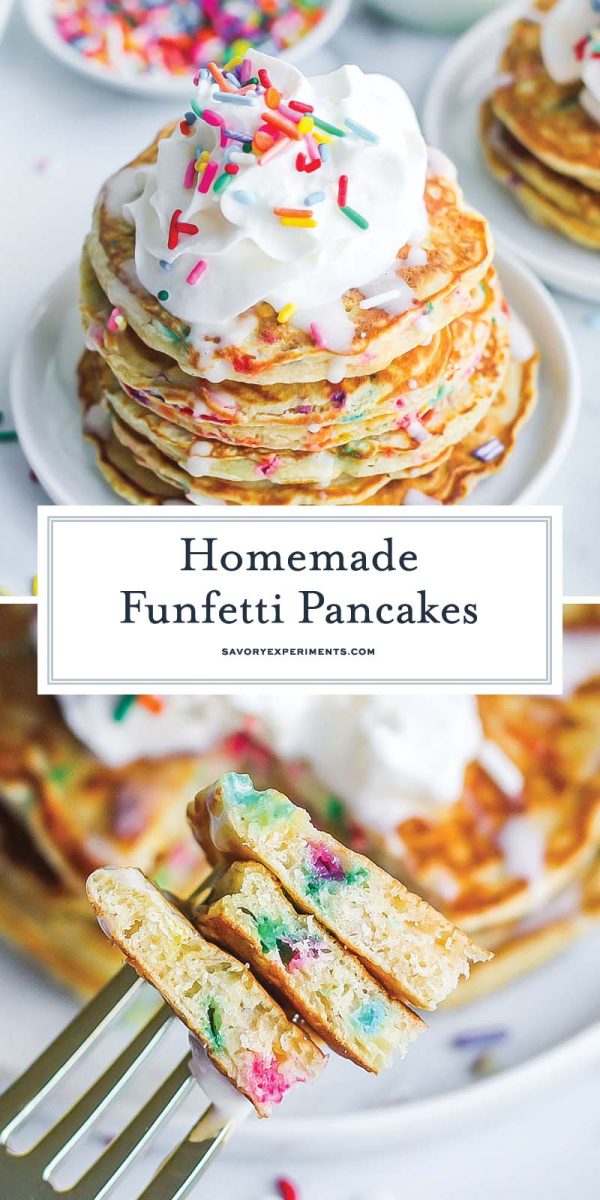 More Pancake Recipes: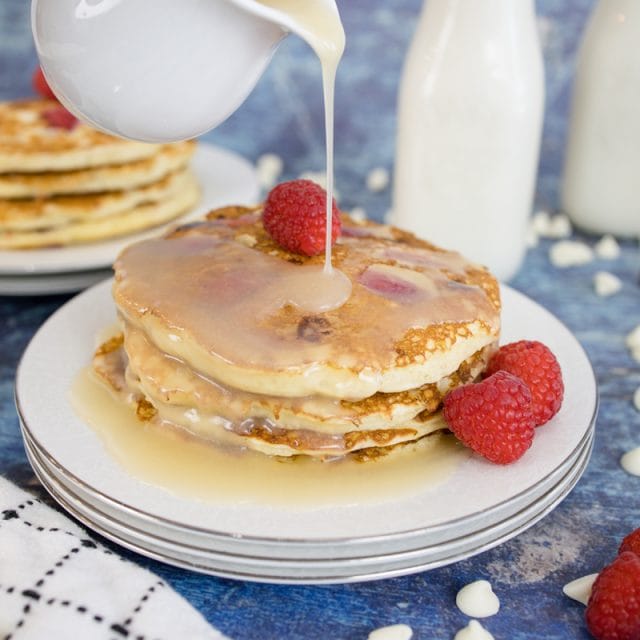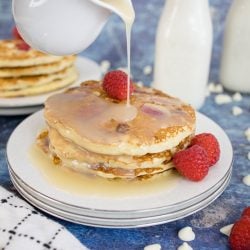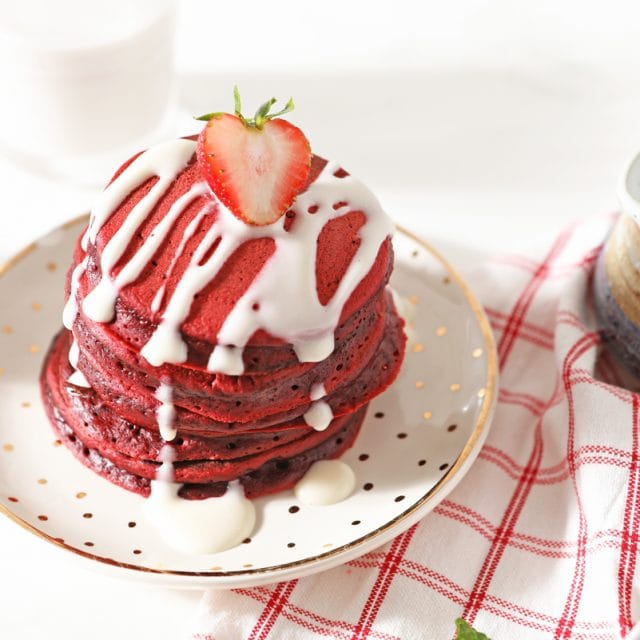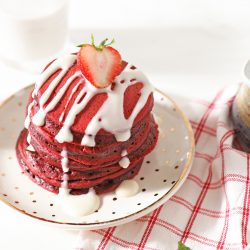 Red Velvet Pancakes
Make breakfast colorful and sweet with Red Velvet Pancakes! They are drizzled with a cream cheese glaze and perfect for weekends and holidays!
See The Recipe!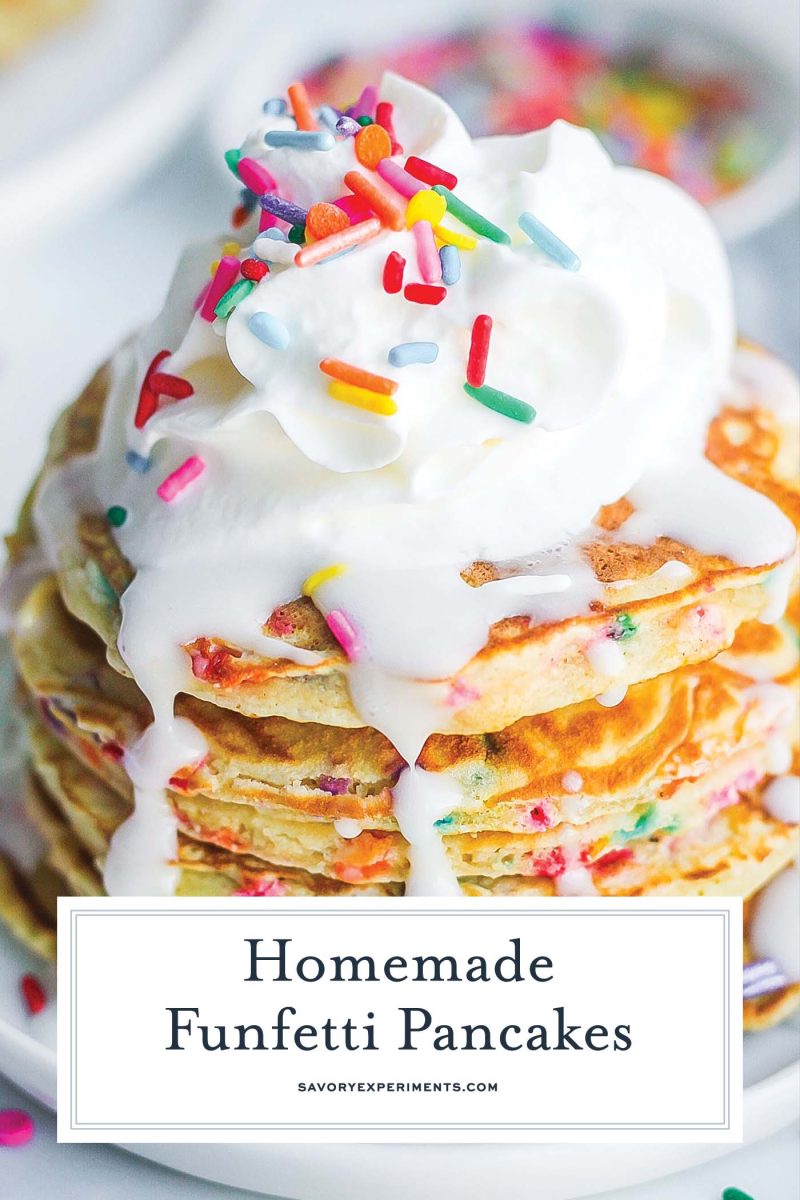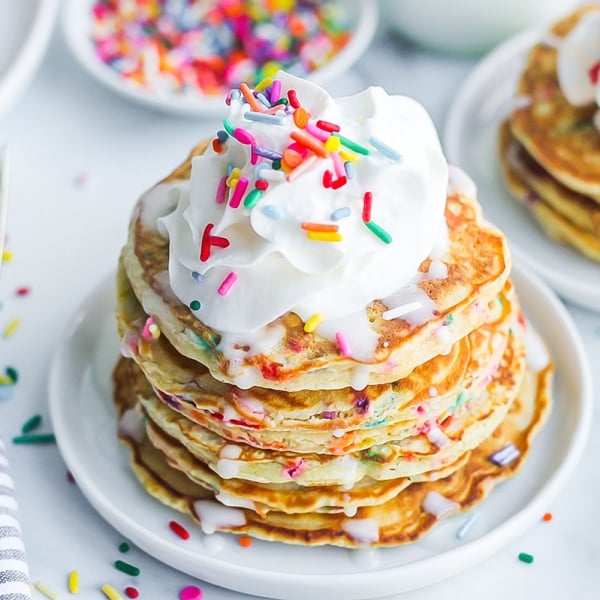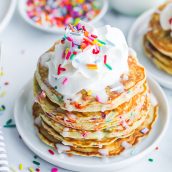 Funfetti Pancakes
Perfect for breakfast or brinner, this light and fluffy Funfetti Pancake recipe is perfect for birthday pancakes or Sunday brunch!
Servings:
4-inch pancakes
Equipment
Heat Resistant Rubber Spatula
Instructions
Pancakes:
Whisk or sift together the flour, baking powder, baking soda, salt and sugar in a large mixing bowl. Set aside.

Whisk together the butter, eggs, milk and extracts until blended.

Add the wet ingredients to the dry ingredients until just mixed, resist overmixing, the batter may be lumpy. Fold in the sprinkles. Let the pancake batter rest for 3 minutes.

Heat a skillet or griddle (350°F) on medium heat. Once heated, grease with butter and scoop approximately 1/4 cup of pancake batter into griddle. You may need to use a spoon to form a pancake shape.

When bubbles start to form, carefully flip with a spatula and cook until pancakes are golden brown on both sides, approximately 2 minutes.

Transfer the pancakes to a cooling rack until all of the batter is cooked or you can place the pancakes on a baking sheet and leave them in a warmed oven (300°F) until all of the pancakes are cooked to keep warm.
Vanilla Glaze:
To make the glaze, in a small bowl, whisk together the powdered sugar, milk, extract and butter until smooth.

When ready to serve, transfer the pancakes to a serving plate and top with the glaze, whipped cream, and more sprinkles or any toppings of your choice.

If you've tried this recipe, come back and let us know how it was in the comments or ratings!
Nutrition
Calories:
130
kcal
,
Carbohydrates:
22
g
,
Protein:
2
g
,
Fat:
4
g
,
Saturated Fat:
2
g
,
Polyunsaturated Fat:
1
g
,
Monounsaturated Fat:
1
g
,
Trans Fat:
1
g
,
Cholesterol:
23
mg
,
Sodium:
100
mg
,
Potassium:
84
mg
,
Fiber:
1
g
,
Sugar:
14
g
,
Vitamin A:
122
IU
,
Calcium:
44
mg
,
Iron:
1
mg