Banana bread, banana muffins, banana pancakes, why not banana cake? This can be served as a cake or pre-cut into prefect little squares.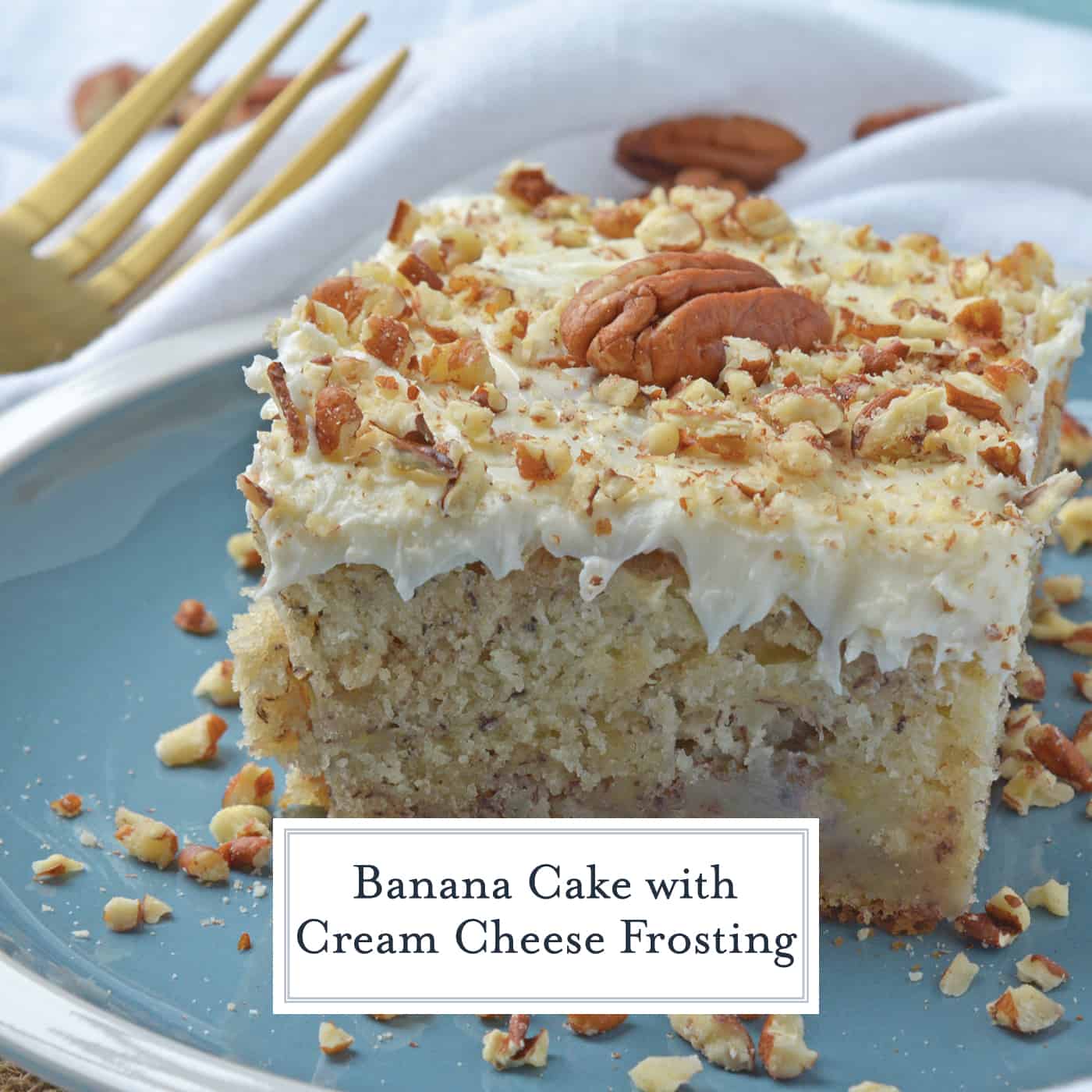 Super moist Banana Cake is a great way to use ripe bananas. Mix it with walnuts and top with a cream cheese frosting for a fabulous breakfast cake or fruity dessert.
Although good for dessert, I tend to eat this cake for breakfast. It is a very moist, but dense cake, so take a small square for yourself.
The inspiration for this cake came from banana bars, basically banana bread thinly baked into a jelly roll pan and then frosted with cream cheese.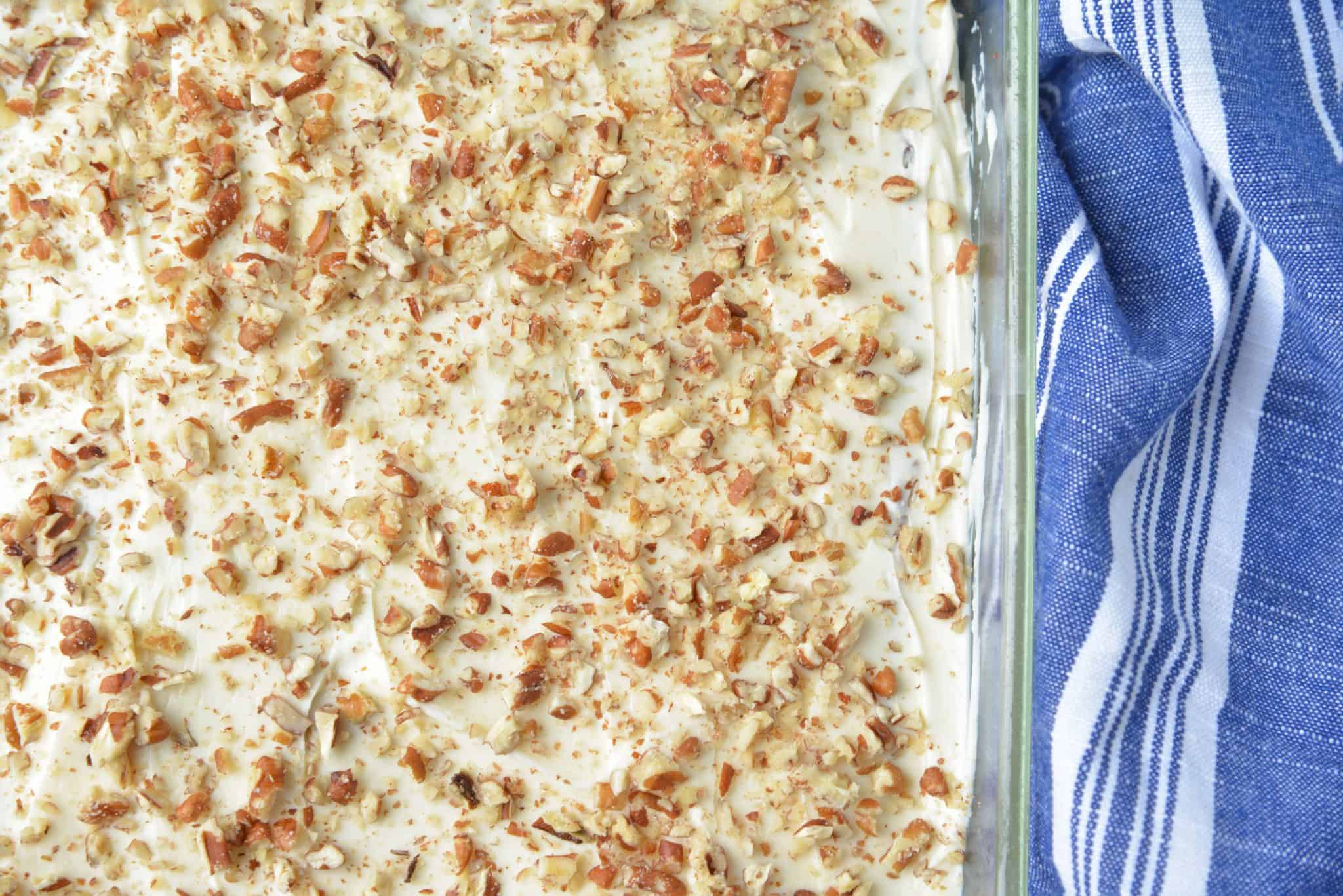 They were good, but the cake to frosting ratio was off and it was missing two key items that most certainly should always go with banana anything- walnuts and cinnamon.
After playing around with cooking times and pan sizes I created the perfect banana cake.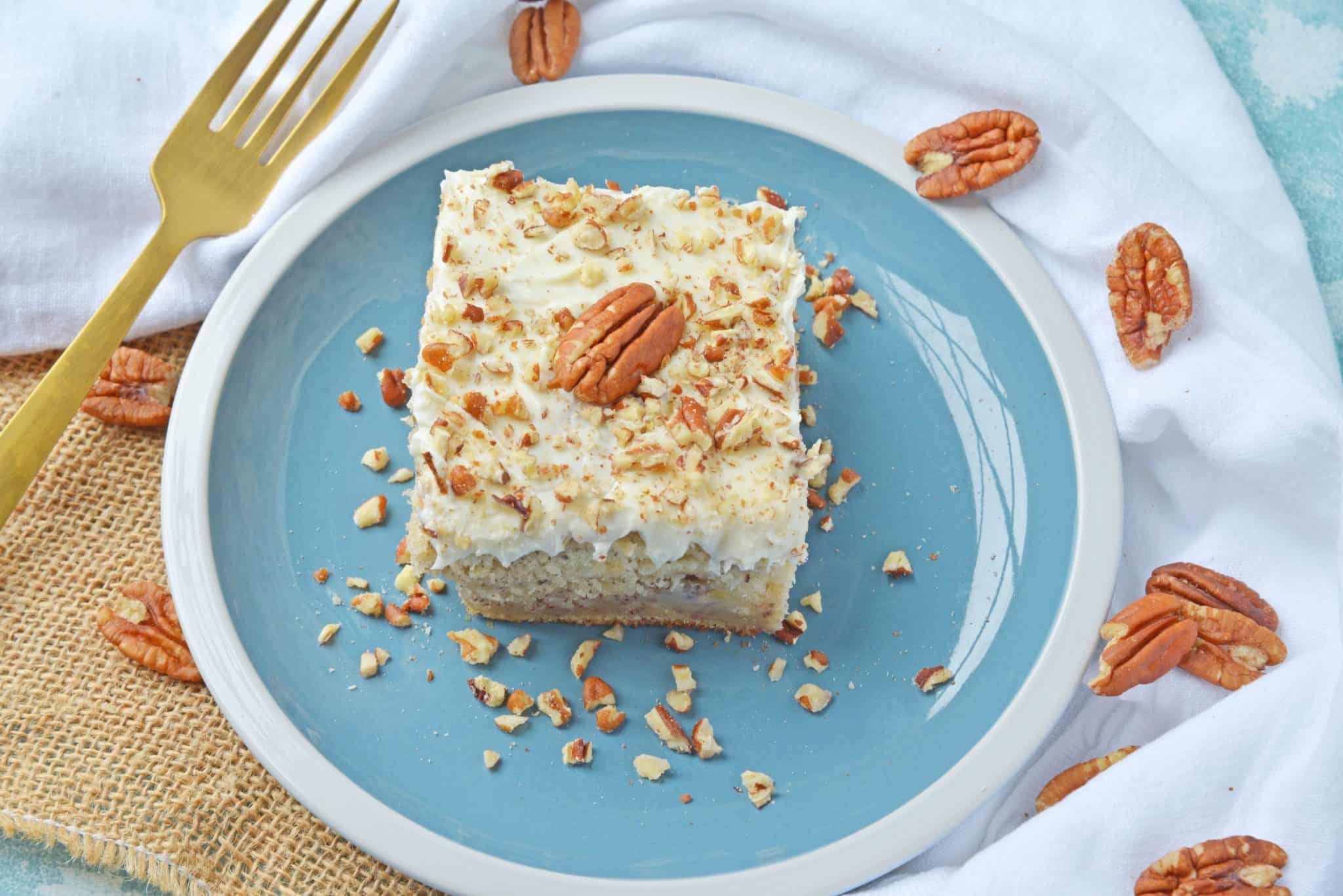 The secret ingredient is sour cream. This adds moisture, but also a little tart flavor to the cake, much like in Sour Cream Coffee Cake. This cake also starts with butter, while most cakes start with an oil as their fat.
Which is also a little funny because I just realized I have 51 recipes that use sour cream and I don't even particularly care for it…
Another thing I love about cinnamon banana cake is that it is made in a 9×13 baking dish. Layer cakes are pretty and all the rage, but man, they are time consuming and troublesome.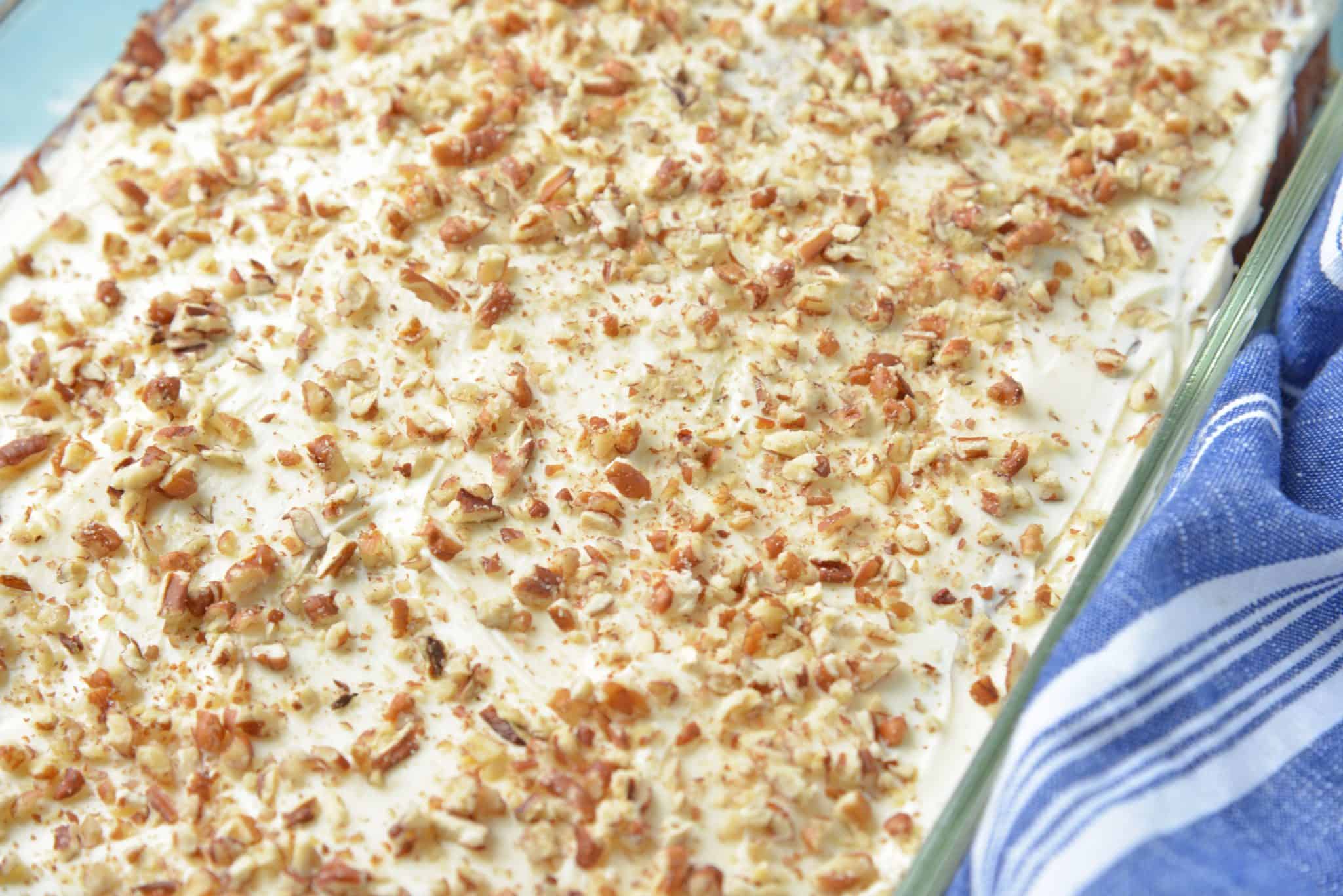 A nice sheet cake makes life so much easier.One more tip; make sure you are using ripe or overly ripe, brown bananas. Bananas get sweeter as they ripen is that their starch is broken down into sugar, reducing the amount of raw sugar needed in the recipe.
They are more flavorful and also more fragrant. And they mash easier, which is just an added bonus.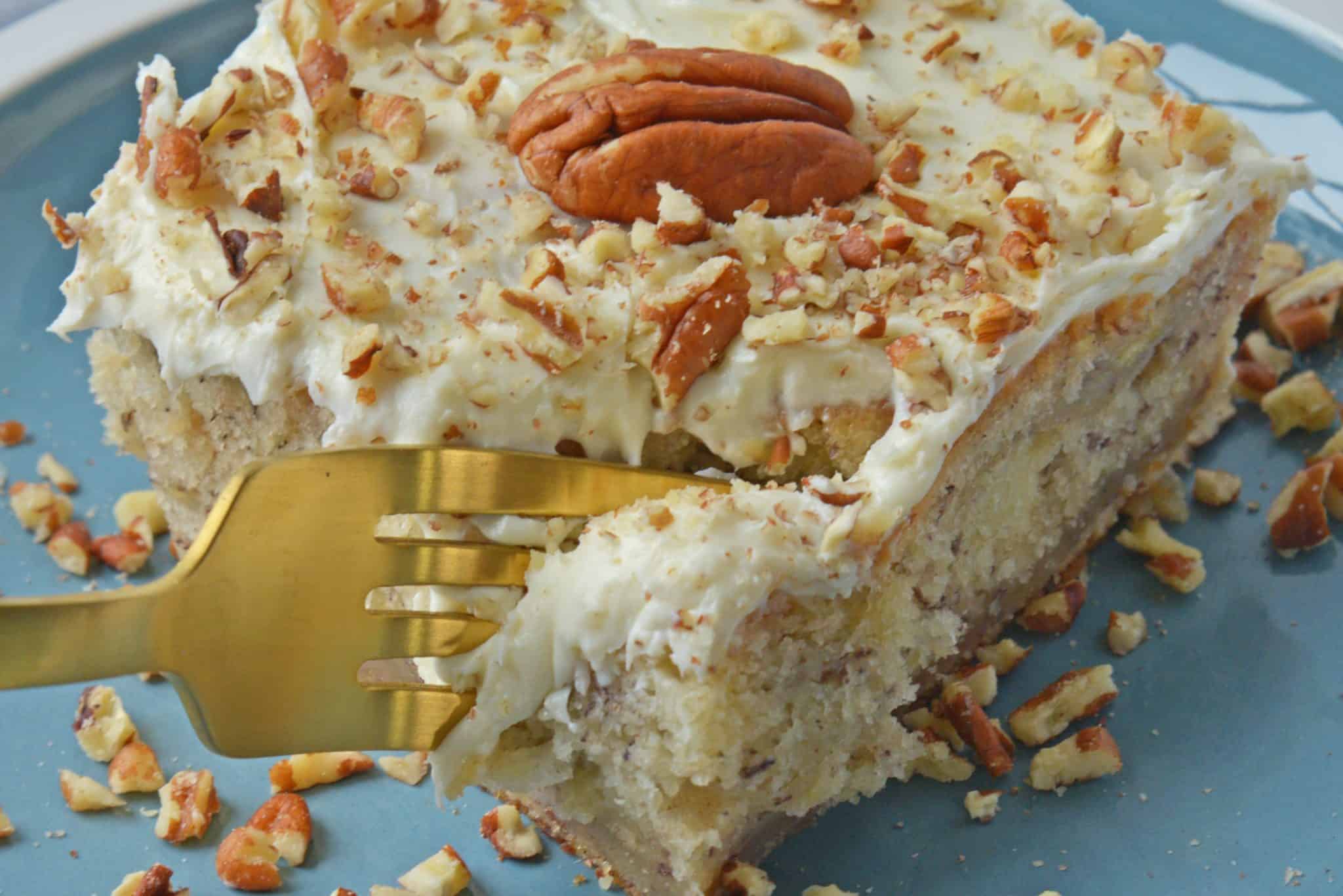 How to ripen bananas fast!
Microwave– The quickest way, but least likely to produce super sweet results. Nuke it for 30 seconds to one minute. Basically, you are cooking it and allowing the sugars to release a little before you put it into the recipe.
Oven- the same concept as the microwave. Heat to 350 degrees and bake for 5-30 minutes.
Brown Paper Bag – My mother used this technique, but it still takes about a day. Place your bananas in a brown paper bag and roll it closed. Ethylene will build up and speed up the ripening process.
Tropical Environment – Everything ages faster in the heat. Place your bananas someplace warm, like in a sunny window. It will still take up to a day, depending on how ripe the banana was to begin with.
Single them out – lastly, pull your bananas apart. They ripen much faster separated than they do still hooked together.
If you liked this recipe, you'll probably also love these banana recipes!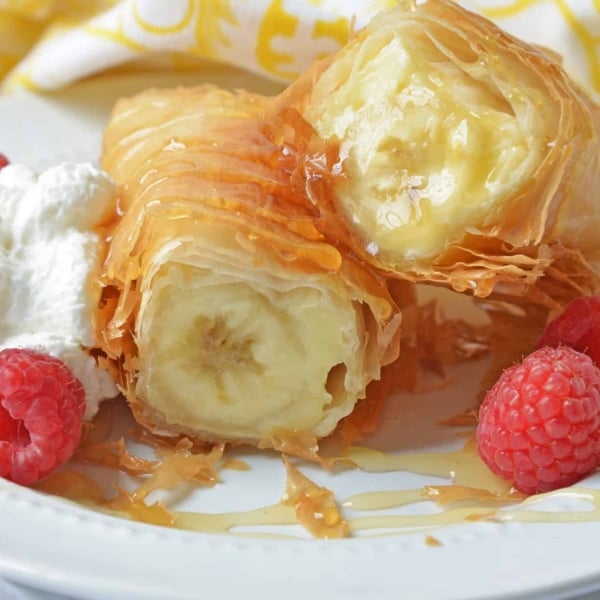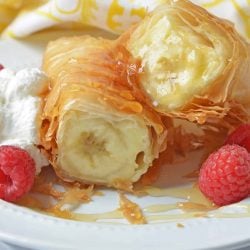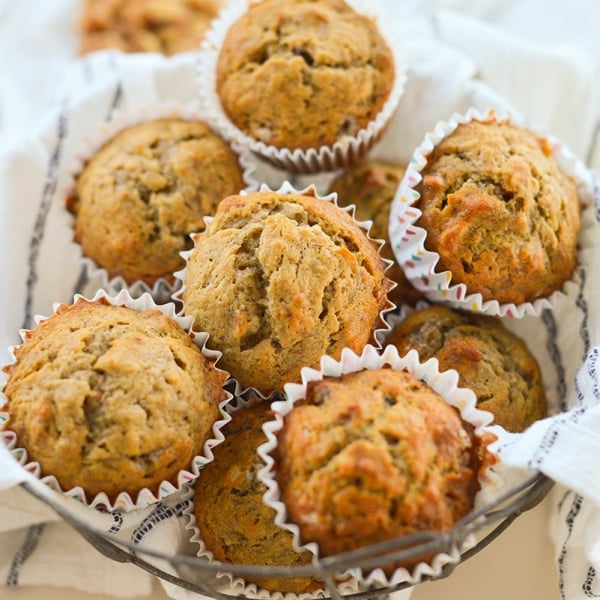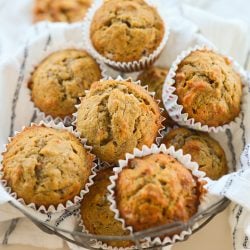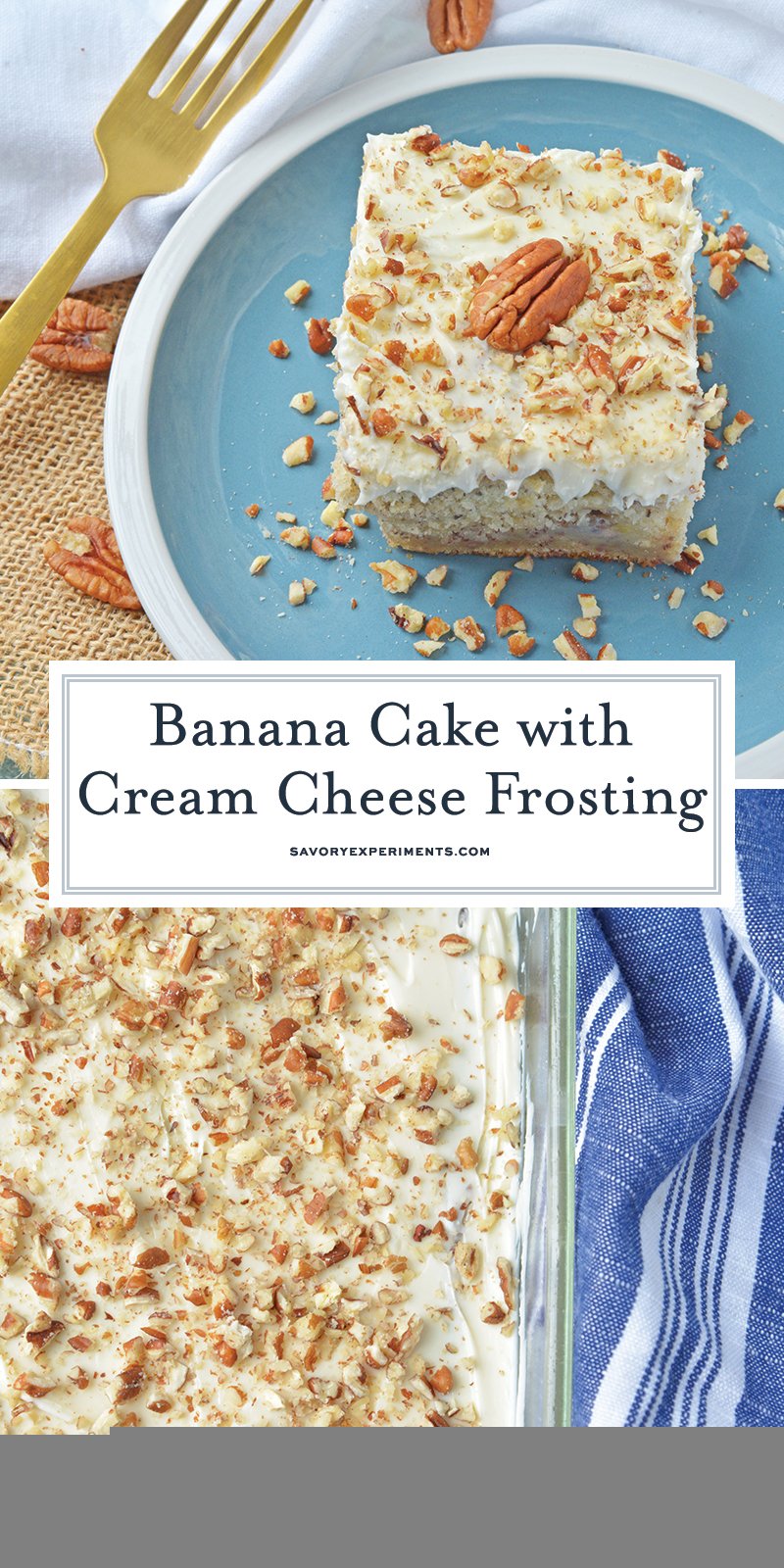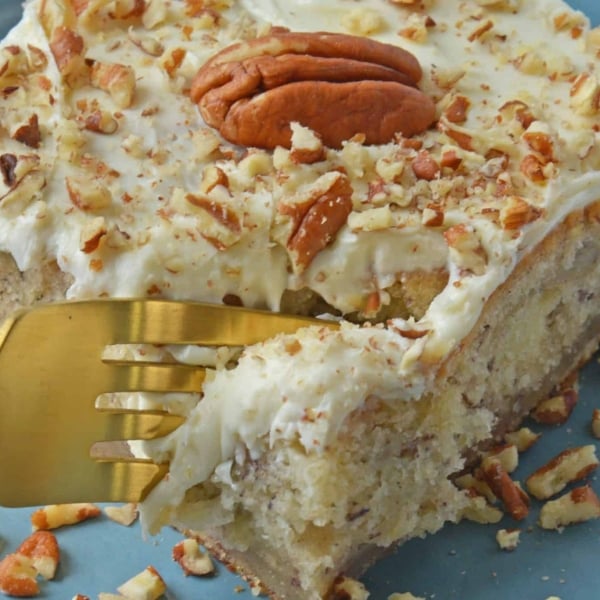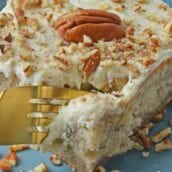 Banana Cake with Cream Cheese Frosting
Super moist Banana Cake is a great way to use ripe bananas. Mix it with walnuts and top with a cream cheese frosting for a fabulous breakfast cake or fruity dessert.
Instructions
Preheat oven to 350 degrees. Spray a 9×13 glass baking dish with cooking spray. Set aside.

In a large bowl, using an electric mixer or a stand mixer fitted with the paddle attachment, cream together butter and sugar.

Beat in eggs one at a time. Add sour cream and vanilla.

In a separate bowl sift flour, baking soda and salt.

Slowly blend dry mixture into wet mixture.

Mash bananas and cinnamon together using a fork. Fold into batter.

Pour into prepared 9×13 baking dish. Bake for 30-35 minutes or until it passes the toothpick test.

For the cream cheese frosting, beat cream cheese until fluffy and smooth. Add in milk, vanilla and powdered sugar, continuing to mix.

When cake has cooled, frost with cream cheese frosting. Top with chopped walnuts.

If you've tried this recipe, come back and let us know how it was!
Nutrition
Calories:
425
kcal
,
Carbohydrates:
68
g
,
Protein:
4
g
,
Fat:
15
g
,
Saturated Fat:
8
g
,
Cholesterol:
58
mg
,
Sodium:
258
mg
,
Potassium:
180
mg
,
Fiber:
1
g
,
Sugar:
52
g
,
Vitamin A:
505
IU
,
Vitamin C:
2.7
mg
,
Calcium:
43
mg
,
Iron:
1.1
mg